When you think about visiting Gulmarg in January, you would really have to do some serious planning and preparations. Every part of the trip would have to be carefully thought of, right from your packing to how you intended to travel. But in the end, it will all be worth it.
The weather in Gulmarg starts to turn freezing cold in October itself. Usually, by late December, the entire region starts to receive snow.
Some light spells of snow may occur in earlier months like November too but the intensity and frequency increase only towards the end of December. By January, snow will start to stick to the ground and would start to accumulate several feet high.
We caught a flight from Delhi to Srinagar in the early morning hours and then booked a cab straight from the airport to arrive in Gulmarg by noon on Day 1.
Our Day 2 was spent enjoying a snow-covered Gulmarg in January and visiting some of the local tourist attractions that I will talk about in the post below. To read the previous part of the travelogue, please click on the link above.
If you want to know what I am talking about, take a look at this video that I shot during my winter trip to Gulmarg. This video was shot during one of my later winter trips to Gulmarg but should give you an idea of how Gulmarg looks in winter.
Gulmarg in January
For a winter trip to Gulmarg, you will have to prepare yourself for some seriously cold weather. If you were planning to stay there for a few days as I did, then chances are that you will catch a live snowfall as well.
You will have to pack clothes that can cover you from head to toe and keep you dry. Your shoes should be high enough to keep the snow out and survive the snow. Normal sports shoes just won't do and within a couple of days, their soles will start to come off.
Thankfully though, you can focus more on what clothes you should bring. If you think you don't have appropriate shoes, then you can always arrive in Gulmarg in your normal shoes and rent snow boots there for a couple of hundred bucks per day.
Also Read: How to Plan a Trip to Kashmir – A Complete Travel Guide
Taxi for Gulmarg
Arriving in Gulmarg too will be a bit of a challenge in the winter season. Your taxi from Srinagar will not be allowed to travel all the way to Gulmarg.
It will drop you only till Tangmarg. From there, you will have to rent another cab that will cost you Rs. 1000 for a drop to Gulmarg.
If you were traveling on a budget, then you can either look for a shared cab called 'service gaadi" from the Tangmarg Bus stand or board a Bus. Both the shared cab and the Bus will cost you Rs. 25-50 per person.
Gulmarg Weather in January
"Extremely cold" is the word that describes the weather of Gulmarg in January the best. Day temperature will remain a couple of degrees below zero and will drop further down to -15 degrees Celsius by night.
It can snow at any time and if it does, you will be restricted indoors only. Depending on the weather, there may not be any sun in the sky for days. It may just remain foggy and gloomy all along.
If the weather turned extreme, even the road can get blocked for a couple of days covered in several feet of snow.
If you have any questions, you can contact me on Instagram. For all other details on Kashmir like mobile connectivity, public transport, taxi services, and several other tips, please take a look at How to Plan a Trip to Kashmir – A Complete Travel Guide.
Day 2 – Sightseeing in Gulmarg
Continuing the travelogue, I woke up early in the morning which is usually always the case with me when I am on a trip. My cousin was still deep in sleep and so was the entire hotel in fact.
The weather was freezing cold and I so badly wanted to get a cup of tea. When I called the hotel kitchen, they were all in their beds. I was told that nothing will be available at least until 7 AM.
So I decided to take a morning walk and have a cup of tea at Sohail's hotel instead which I knew would definitely be open.
A freezing gust of wind greeted me the moment I stepped out of the hotel's gate. The entire town seemed deserted. It was in fact me who pushed the door of the hotel open that morning because the entire staff was still in their bed.
Despite the freezing temperature, I actually enjoyed walking through the empty roads of Gulmarg and in all that snow.
Sohail as I expected was already up. His kitchen too was thankfully up and running. I ordered a much-needed cup of tea. I spent the next one hour sitting at the restaurant chatting around with Sohail.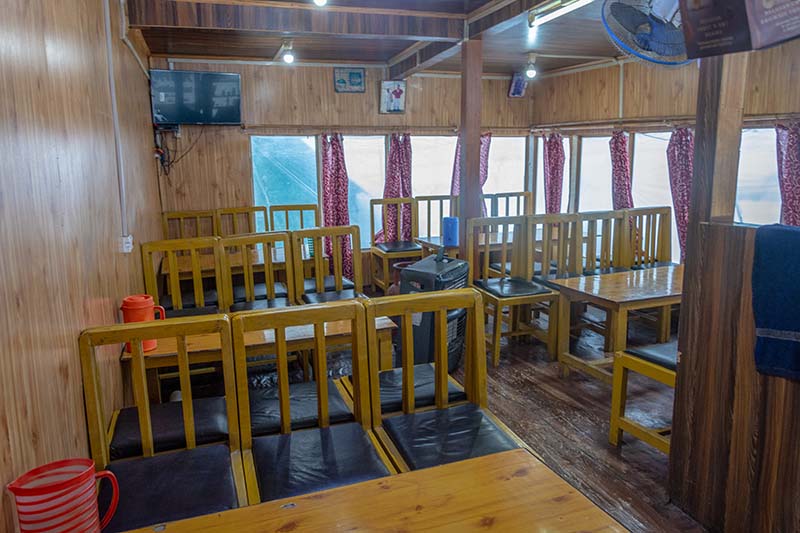 Met this puppy on the way who did not seem to be bothered by cold and snow at all. He was happily running around the street and did not mind sitting down for a minute and posing for me though.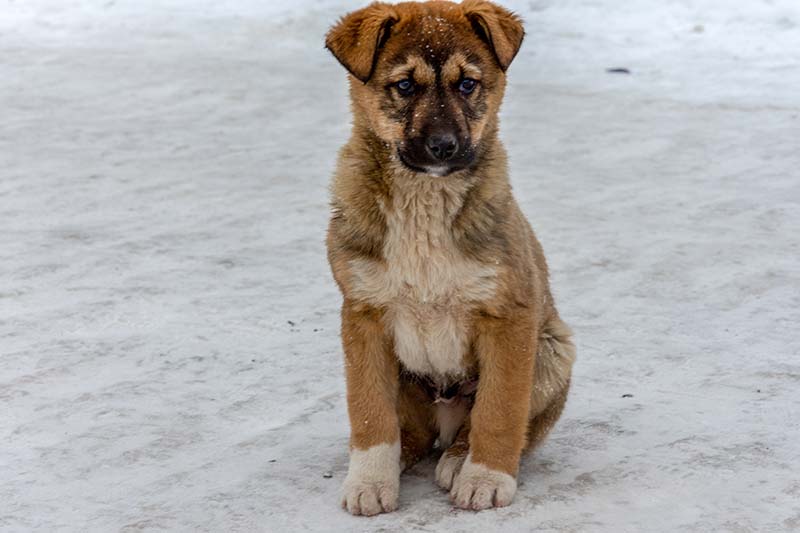 A Day of Winter in Gulmarg
I returned to the hotel and woke my cousin up. This is where our plan started to change. My cousin looked out of the window and upon seeing the white Gulmarg, he decided he was going to stay here for a day more.
Our original plan was that we will arrive in Gulmarg on the 9th, stay for the 10th, and go to Pahalgam on the 11th. But my cousin was adamant about relaxing in Gulmarg itself.
He was not too eager on spending a day on the road traveling to Pahalgam. Seeing his enthusiasm, I did not want to disappoint him and agreed.
So the first thing to do was to call or driver Gulzar and let him know to come to Tangmarg to pick us up on the 12th instead and not on the 11th as per the original plan.
As it turned out, he too was not feeling too well and was happy that he would not have to drive around the next day. Now Pahalgam was dumped entirely and our plan changed to return to Srinagar on the 12th and fly out on the 13th.
Thanks to my cousin, this trip in a way got dedicated entirely to Gulmarg. Something that I too was a bit happy about actually.
Sightseeing in Gulmarg
Now with our stay in Gulmarg extended, we were both in no hurry. We ordered something to eat and spent most of the first half of the day in the hotel itself.
Thankfully, the weather was clear today and not as foggy as it was yesterday. At around 11 AM, we got ready and decided to step out for some sightseeing.
Maharaja Palace I was told was closed, and I had no intention of going to Baba Reshi shrine. So our goal for this day was to just walk around in the town clicking pictures and indulge in some snow sports.
Another activity was the Gondola ride which we decided to do the next day.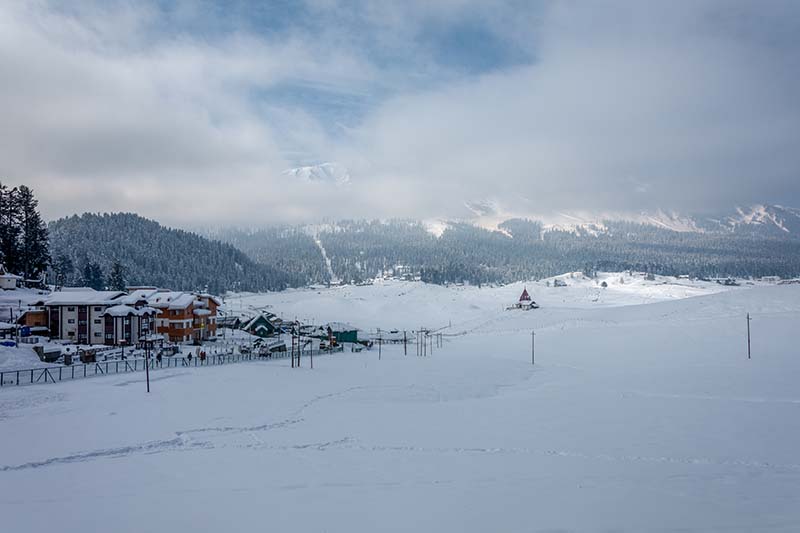 Gulmarg Winter Youth Festival
We just walked around Gulmarg for the next 4 hours. We went all the way to Strawberry valley and then returned to the Golf Course which now was actually the Ski ground.
It was a sunny day and the entire town was filled with people enjoying Skiing and other winter activities.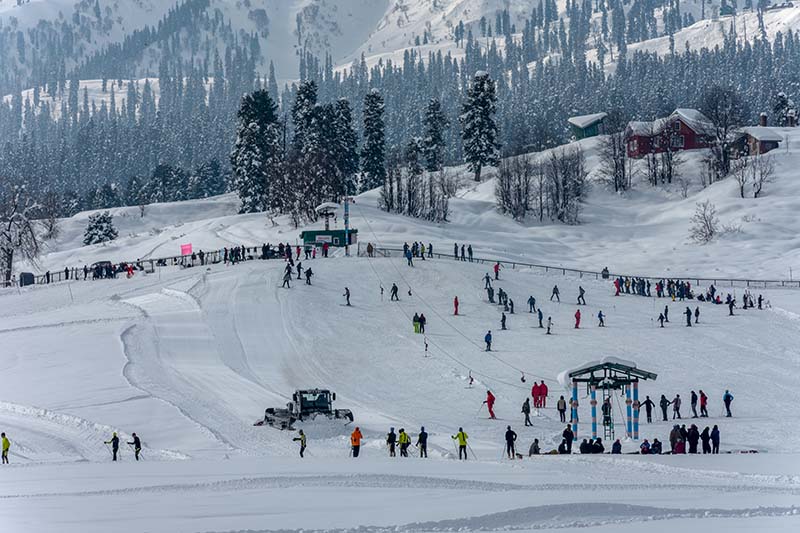 We found out that there was in fact a Winter Youth Festival going on that day. It was a mix of sports and cultural programs by both the local Kashmiri people and the Indian Army.
A Zorbing Ball. I was so eager to try this one out, but then decided not to when they told me that it was going to cost me Rs. 3000 for rolling down the hill for 5 mins.
We both went for a snow scooter ride instead, and then half an hour of skiing which cost us Rs. 700 per person for half an hour each.
We then paid a visit to Saint Mary's Church.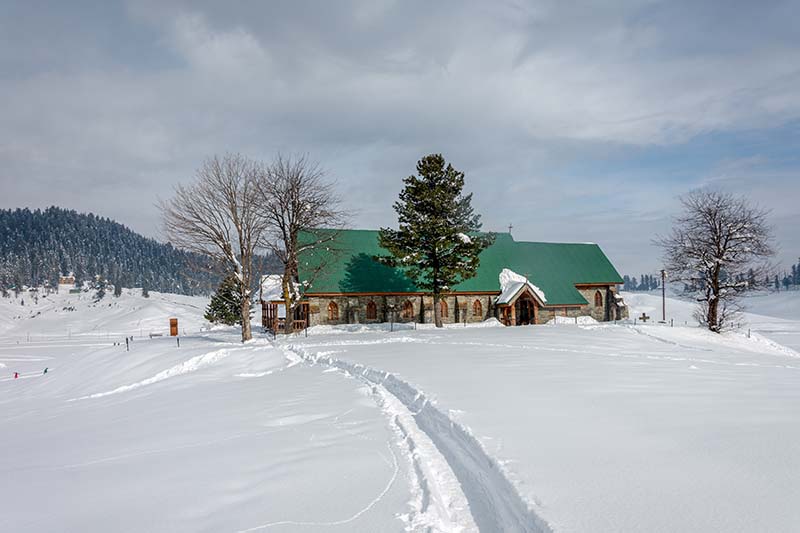 We then just circled back to Sohail's restaurant while visiting Maharani Temple on the way. It was already 3 PM by then but surprisingly neither of us was hungry; thanks to the heavy late breakfast we had at the hotel.
We had a cup of tea and then just returned to the hotel.
There were a lot of senior Army Officers and other officials attending the youth festival due to which the security too was increased.
Two Army helicopters continued to circle over the town all day long.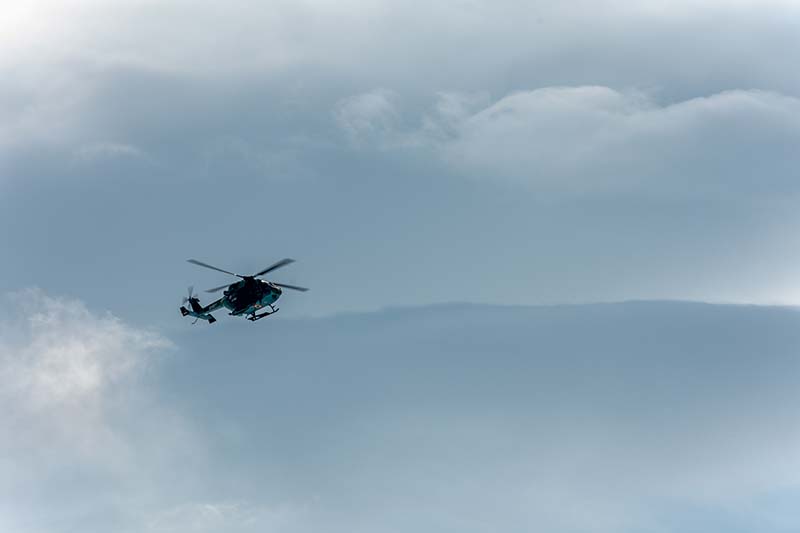 End of Day 2
And that was pretty much the end of our second day in Gulmarg. Not much happened after this. It was 4 PM by the time we reached the hotel.
We were both dead tired after 5-hour long walk covering the entire Gulmarg. So we just relaxed in the hotel for the rest of the evening.
At around 8 PM, we stepped out to go to Sohail's restaurant to have dinner and a surprise awaited us. It had started to snow lightly as soon as the sun went down.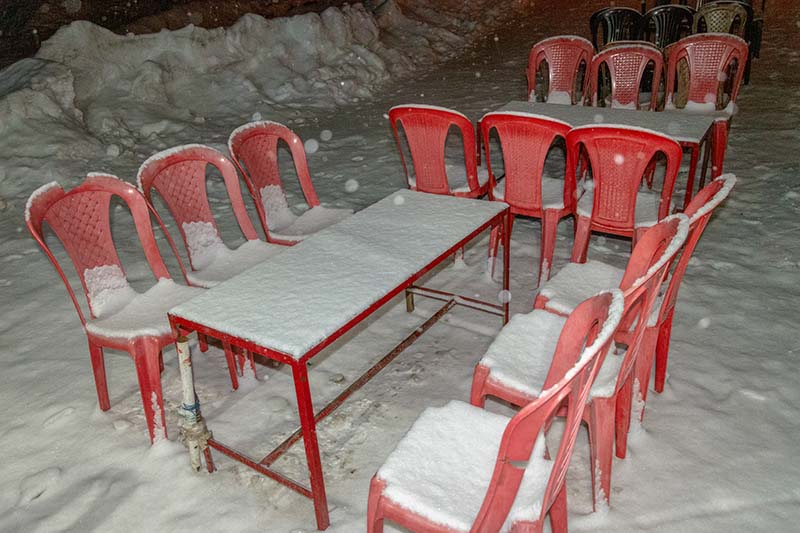 I was actually hoping to catch a live snowfall and indeed was very happy to see it happening. We had some Kashmiri non-veg for dinner and returned to the hotel. A couple of hours of TV later, we were both happily buried under our blankets sleeping.
The plan for the next day was to stay in Gulmarg and enjoy a Gondola ride. Please click on the link above to continue reading the next part of the travelogue.
Gulmarg in January – Conclusion
I hope the travelogue and information above on visiting Gulmarg in January were of help. If you have any questions, you can contact me on Instagram and I will be happy to answer. You can also consider subscribing to my YouTube channel and asking a question there.