Our last night in Gulmarg was a bit scary actually and probably the coldest. It snowed all night long and almost turned into a snowstorm. The entire night I was worried if we would even be able to make our return journey from Gulmarg to Delhi.
The temperature dipped drastically and despite 3 heaters in the room and 3 blankets on top of us, we were still feeling cold. The speed of the wind was such that it felt like the entire hotel was shaking.
To make matters worse, because of the high winds, power was gone in the middle of the night. Things started to feel as if they were getting out of hand and surviving the night itself became a difficult task.
Journey So Far:
Our last 4 days in Gulmarg were spent enjoying snow sports and visiting some of the local tourist attractions. The initial plan was to stay in Gulmarg for just 2 days but we ended up spending our entire trip there and gave up Pahalgam and Srinagar. To read the previous parts of the travelogue, please click on the links above.
Last Night in Gulmarg
You can also take a look at this video that I shot during my winter trip to Gulmarg. This video was shot during one of my later winter trips to Gulmarg but should give you an idea of how Gulmarg looks in winter.
Three things bothered me the most that night. The first one was the way the weather turned, the intense snowfall, high wind, and freezing temperature.
All our nights in Gulmarg were cold but this one was the coldest. This probably was the only time when I woke up at least 10 times in the night because of the wind banging on the windows. A peaceful sleep was a thing that really became impossible.
The second was the power cut. The only thing that was keeping us comfortable that night were the heaters in the room and as soon as the power went away, the heaters got turned off.
It took about half an hour for the hotel staff to get up and turned the generator on. But that half an hour was the most difficult time of our entire trip.
Within minutes of the power cut, the room got so cold that both I and my cousin started to shiver badly. We both had to cuddle up against each other and use our body heat to survive those difficult 30 minutes.
Just when I was about to get out of the room and ask the hotel staff for more blankets, they turned the generator on. The power was back and the heaters started working.
Without the power and the heaters, I don't think anyone will be able to survive even a single night of winter in Gulmarg.
Also Read: How to Plan a Trip to Kashmir – A Complete Travel Guide
Last Morning in Gulmarg
The thing that bothered me the most however was the fear of the road getting blocked. We were to catch a flight out of Srinagar at 3 PM. But the way the weather was trending, I started to doubt if we would be able to get out of Gulmarg tomorrow.
I could tell that the intensity of snowfall had increased outside. If it continued that way, we may end up getting stuck till the road was cleared.
Thankfully, nothing of the sort happened and the snowfall stopped in the early morning hours. At around 6 AM, I got out of my bed and stepped out of the hotel.
While the night was a scary and turbulent one, the morning that followed was the exact opposite. I was greeted by a beautiful and peaceful morning in Gulmarg with calm and clear weather.
The first thing I did, like in all other mornings, was to walk up to Sohail's restaurant for a cup of coffee or tea. His shop is probably the first one to open in all of Gulmarg.
Like always, I found the hard-working guy cleaning up snow and getting ready for the day ahead.
It had been snowing in Gulmarg non-stop for the last 2 days and everything was buried at least under 3 to 4 ft of snow. Saw this truck clearing snow early in the morning.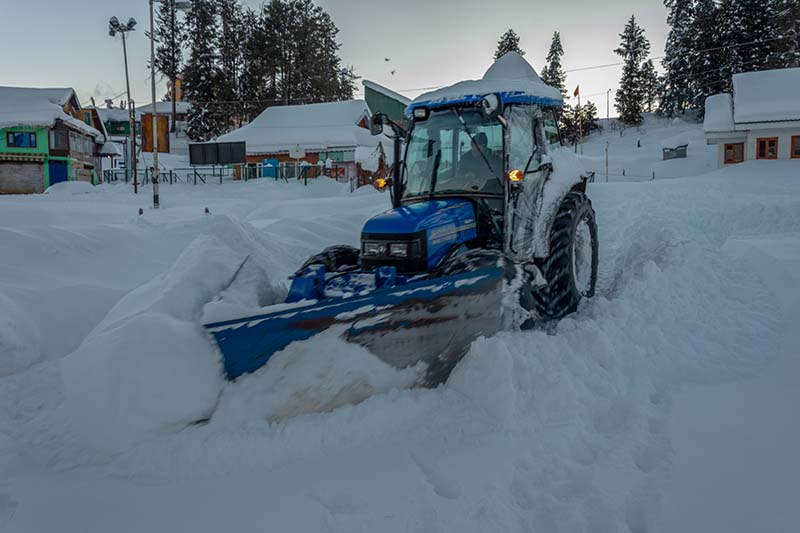 And then the sun started to come up. The top of the Affarwat peak was the first one to turn orange.
And the rest of the Gulmarg followed too.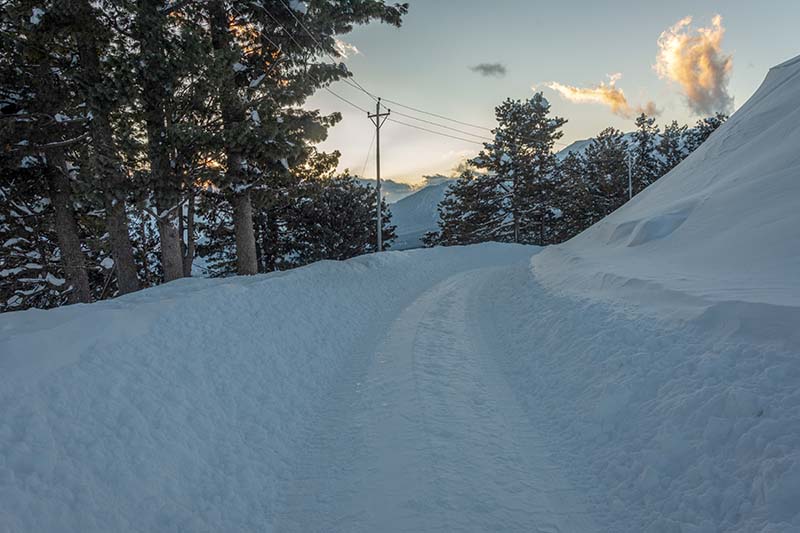 Return to Hotel
I walked around for almost one hour in knee-deep snow trying to get some good shots but failing miserably. One thing that I learned from this trip was to get some knowledge about winter and snow photography.
I do not consider myself an expert in photography but I can definitely click decent enough pictures. This trip however was my first time when I was clicking in so much snow and bad weather. As a result, I probably did not get even a single good picture.
I came back to the hotel and asked Sajjad about what time our cab would be arriving. The plan was to be on our way by 10 AM at most so I wanted to make sure that our cab would arrive in time.
I was surprised to find out that the driver had actually arrived the night before itself and was already at the hotel.
Gulmarg to Tangmarg
Not much happened after that really. We packed up, had our breakfast, checked out of the hotel, bid goodbye to Sohail on the way, and were on our way to Tangmarg.
Snow-clearing work was in progress on the way.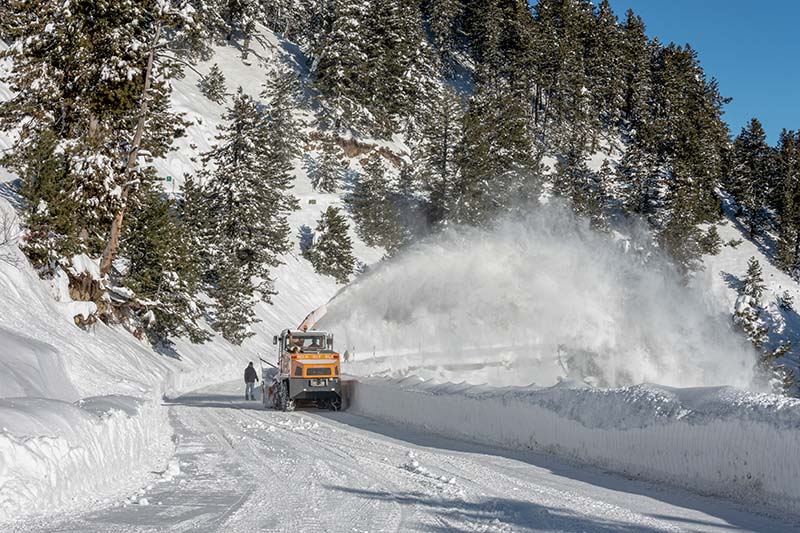 The cab that we hired was a Sumo and turned out to be a really bad one. I don't know when was the last time it was cleaned and was stinking from the inside.
There were cracks in its floor somewhere and a cold wind was managing easily to find its way inside. In short, it was a really uncomfortable journey. My cousin kept complaining all the way that his feet were freezing in a painful manner.
We reached Tangmarg in about an hour. The first thing we did was step inside a hotel with a heater so my cousin could warm up his cold and hurting feet.
While he was doing that, I ordered a cup of tea and clicked a few pictures of the busy town of Tangmarg, already crowded in the early morning with taxi drivers and guides.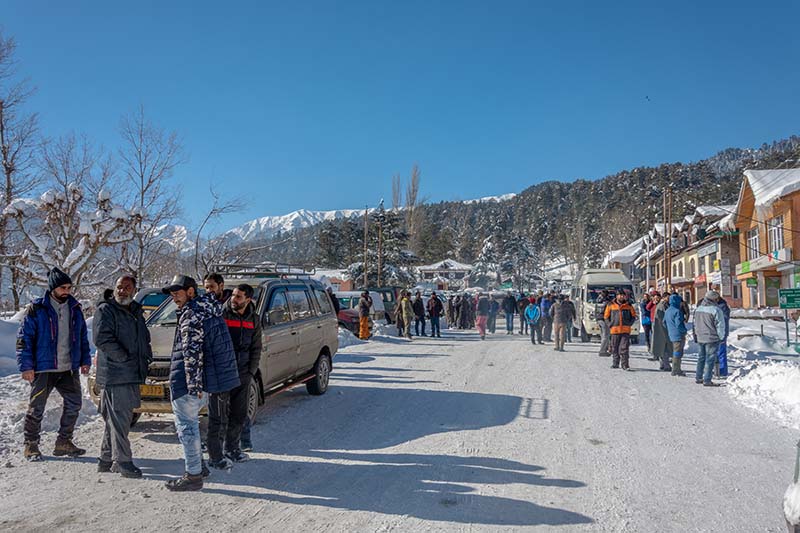 Tangmarg to Srinagar & Srinagar to Delhi
We spent about half an hour in Tangmarg and from there, it was a non-stop drive to Srinagar. We arrived at the airport at about 1 PM, boarded our flight, took off at 3:20 PM, landed in Delhi at 4.45, and were home by 5.30 PM
And hence ended a memorable journey of 5 days. A trip that both my cousin and I knew we were going to remember for all our lives.
Gulmarg to Delhi Flight
Srinagar is the nearest airport to Gulmarg, and several airlines operate daily flights to Srinagar. If you want to reach Gulmarg by flight, you would first have to reach Srinagar by air and then rent a taxi to reach Gulmarg.
Gulmarg is about 50 kilometers from Srinagar airport and it will take you 2 hours to get there.
Gulmarg to Delhi Distance
Depending on which route you chose, the total distance between Delhi and Gulmarg is approximately 900 kilometers.
Gulmarg to Delhi Road
The route from Gulmarg to Delhi will be as mentioned below.
Gulmarg – Tangmarg – Srinagar – Patnitop – Jammu – Pathankot – Ludhiana – Kurukshetra – Delhi
Gulmarg to Delhi by Train
Srinagar is the nearest airport to Gulmarg but it is not yet completely operational. If you want to return to Delhi by train, you will first have to reach Jammu for now and board a train from there for Delhi.
Conclusion
I hope the travelogue, pictures, and information on traveling from Gulmarg to Delhi were of help. If you have any questions, you can contact me on Instagram and I will be happy to answer. You can also consider subscribing to my YouTube channel and asking a question there.