There is an old saying that goes be careful what you wish for. Only in my case, it literally came true during our winter trip to Gulmarg. After 2 and a half days of sightseeing, we were to travel back to Srinagar from Gulmarg on Day 4. But the weather changed so drastically the night before that it changed our entire plan with it.
We had already spent the last couple of days in Gulmarg and there was nothing new to be seen really. We had already enjoyed most of the winter sports like skiing, snow scooter, etc. With the Gondola ride shut down due to bad weather, there was nothing left to be done as well.
Still, for some reason, I had this strange feeling last night wishing we could just stay in Gulmarg for a day more. Little did I know that I will wake up the next day only to find it coming true.
Journey So Far:
Our initial plan was to spend 2 days in Gulmarg, 1 day in Pahalgam, and 1 in Srinagar. But instead, we ended up spending all of our 4 days in Gulmarg only. To read the previous parts of the travelogue, please click on the links above.
If you want to know what I am talking about, take a look at this video that I shot during my winter trip to Gulmarg. This video was shot during one of my later winter trips to Gulmarg but should give you an idea of how Gulmarg looks in winter.
Day 4: Winter Trip to Gulmarg
I woke up the next day to a phone call from our driver Gulzar. He was supposed to come to pick us up from Tangmarg today and then drop us in Srinagar.
Gulzar was from a village near Kupwara. With the weather being bad for the last 2 days, it has been snowing pretty much everywhere in Kashmir.
He told me that the road out of his village was completely snowed out and there was no way he was going to be able to make it to Gulmarg today.
The thing with places like Gulmarg is that they are tourist magnets. So authorities keep the road to here clear all the time. But that is not the case with the local villages.
Sometimes in remote areas, locals get stuck for days before someone arrives to clear snow off the roads. So if Gulzar was unable to come today, I knew that he would not be able to make it tomorrow as well.
The weather was still quite bad and it was snowing quite fiercely. I couldn't really blame Gulzar as well for not coming but then it also threw a hitch in my plans.
Change of Plans
Unsure of what to do next, I called the manager at Hotel Affarwat. His name was Sajjad and I kind of got a bit on friendlier terms with him, this being my second trip to Gulmarg.
Before I came to Gulmarg, he had asked me if he should arrange a cab for me to pick us up from the airport. Since I already had Gulzar booked for that purpose, I had turned him down at that time. But now I guess was a good time to take him up on the offer.
Sajjad immediately agreed to book a cab for me to Srinagar. Unfortunately, however, due to the snowstorm, vehicles weren't moving between Tangmarg and Gulmarg at that time. It was already 10 AM and the earliest he said he could arrange a cab would be in the second half of the day, after 2 PM.
This brought in the second change in our plans. If we left Gulmarg at 2, we would reach Srinagar after dark. Our entire day today will get wasted waiting for the weather to clear and for the cab to arrive.
"Why not stay in Gulmarg today as well and go straight to the airport tomorrow from here?" Suggested my cousin.
I thought about it. It actually sounded like a logical thing to do because there was still no guarantee of what time we will actually be able to leave Gulmarg today. 2 PM was just a guess but it all depended on the weather.
In the end, I too agreed to my cousin's suggestion. My wish came true and we got to stay in Gulmarg for another day even though we had no plans to do so initially.
Also Read: How to Plan a Trip to Kashmir – A Complete Travel Guide
Another Day in Gulmarg

So now our itinerary had changed completely. What initially was a plan to cover Gulmarg, Pahalgam, and Srinagar and be a winter trip to Kashmir now becamee exclusively a winter trip to Gulmarg only.
We arrived here straight from the airport and would be going back to the airport only, covering no other place at all. I told Sajjad of our changed plans and asked him to keep the cab ready for tomorrow.
Our flight was at 3 PM from Srinagar so if we left Gulmarg by 10 AM, we would easily make it to the airport in time. All that was needed now was for the weather to calm down for which I was keeping my fingers crossed.
While I was talking to Sajjad, he asked me how my stay at Royal Park was. He wanted to know if I would like to continue staying here or move back to Affarwat. The moment he asked me this, my immediate answer was to move back.
There was nothing wrong with Hotel Royal Park really but I just did not like it. It is in fact a costlier hotel than Affarwat but the entire staff felt a bit cold and unfriendly.
To be honest, I am not even sure if it was just the staff there or something else but I just did not enjoy my stay at Royal Park.
I have provided a detailed review of this hotel at Hotel Royal Park – Average & Overpriced. So when Sajjad said that he could get the same room ready for me again if I wanted to move back, I immediately agreed.
Change of Hotels
My cousin was not happy with this arrangement at all. He really liked Hotel Royal Park better than Affarwat and wanted to continue staying here. After a bit of discussion and argument, he halfheartedly agreed.
I told Sajjad to send a couple of his men to move our stuff back and in the next half an hour, we were back in the same room at Affarwat where we were earlier staying at.
I called the owner of Hotel Grand Valley Inn in Srinagar and let him know that I will not be arriving as planned.  With that being done, there was nothing else left for us to do at all except to enjoy a Gulmarg buried under several feet of snow.
Hotel Royal Park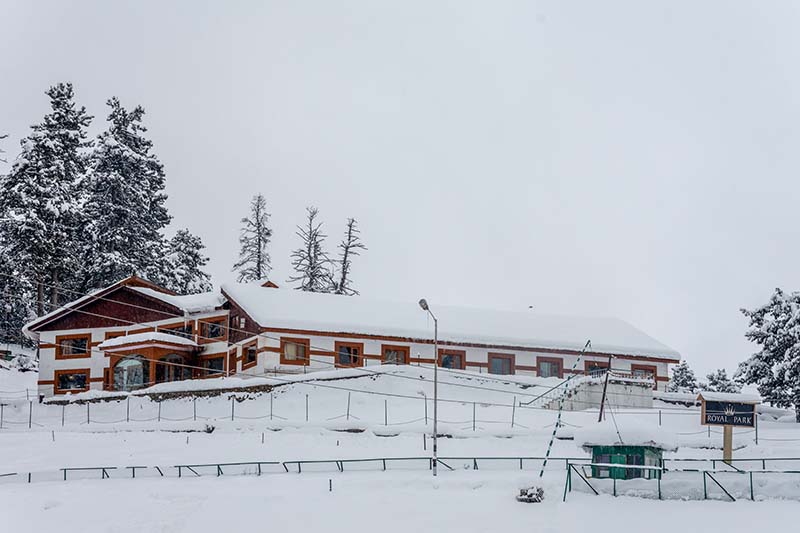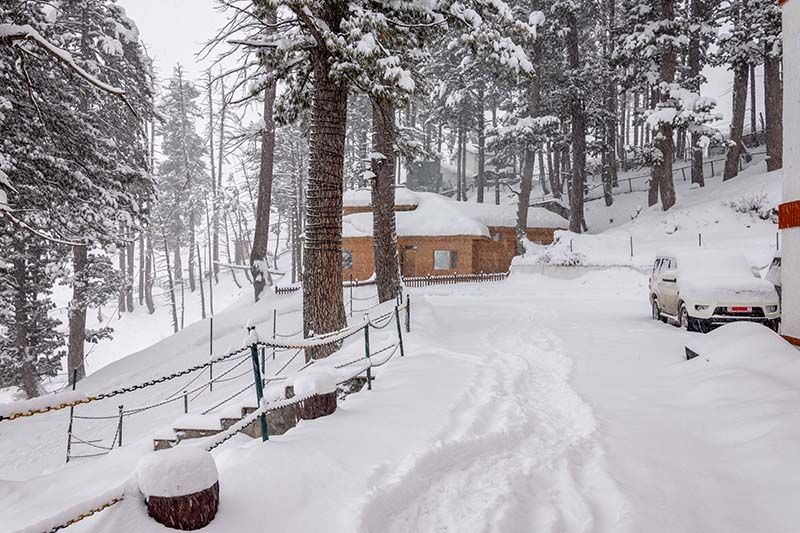 Gulmarg in Winter
It had been snowing for the last 2 days non-stop and pretty much everything was covered deep under snow. We came out to have lunch at Sohail's restaurant and it was almost half-buried in snow.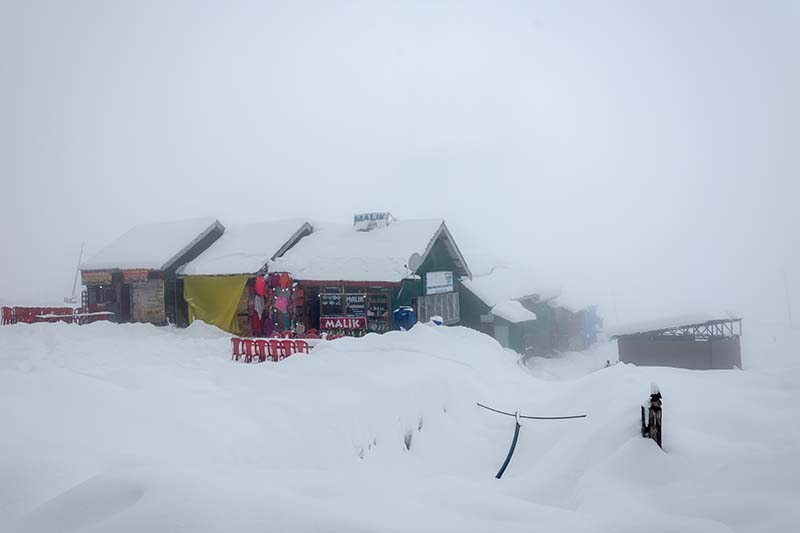 The market area in Gulmarg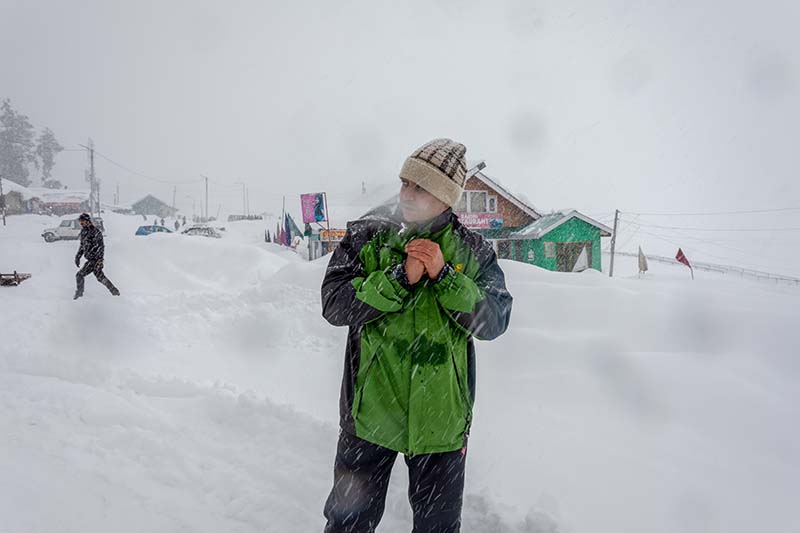 These dogs really made me wonder how they survived such cold weather.
A guy cleaning snow off the roof.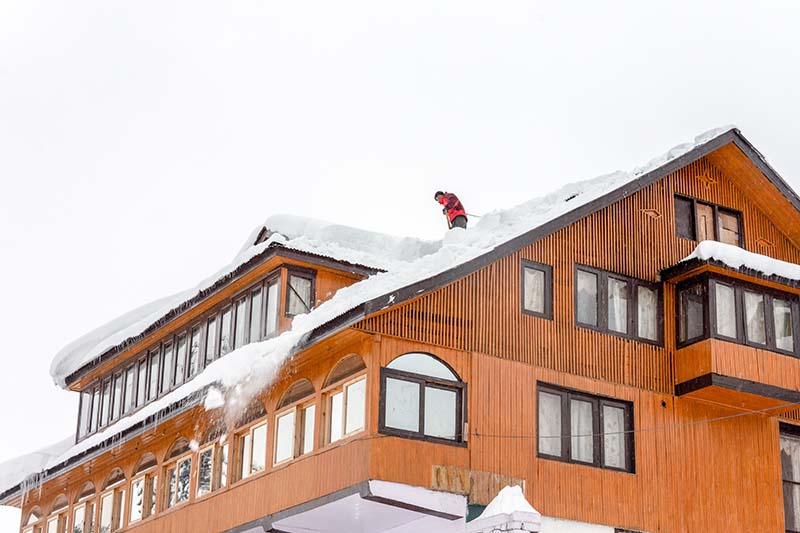 View from Hotel Affarwat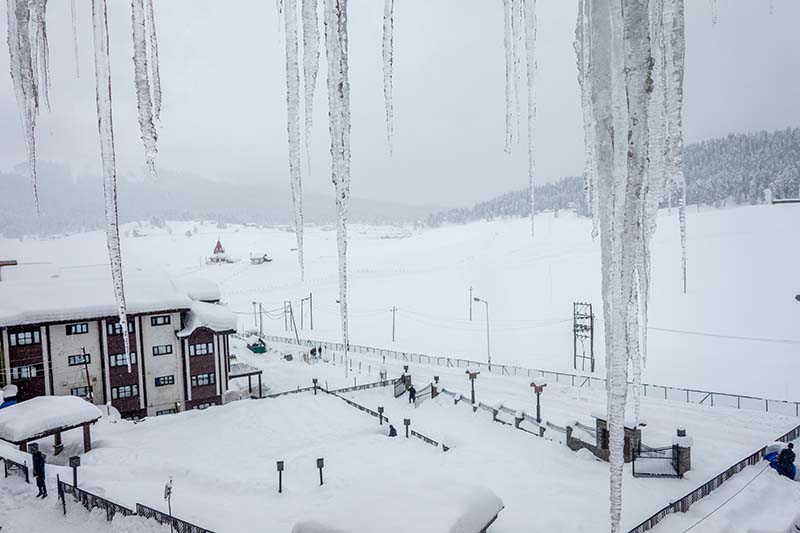 We walked around for a while and returned to the hotel. The intensity of snowfall increased even more as the evening started to settle. The rest of our day was spent in the hotel only and we only got out at night to have dinner.
Thus ended our 4th day of the trip, which in a way was also the last day. Tomorrow we were to drive back to Srinagar and catch a flight to Delhi.
Sajjad confirmed that our driver will come to pick us up sharp by 9 AM. We watched a bit of TV and went to sleep a little late at night. Please click on the link above to continue reading the last part of the travelogue.
Winter Trip to Gulmarg – Conclusion
I hope the travelogue so far, pictures, and information on planning a winter trip to Gulmarg were of help. If you have any questions, you can contact me on Instagram and I will be happy to answer. You can also consider subscribing to my YouTube channel and asking a question there.
This error message is only visible to WordPress admins
Error: No feed found.
Please go to the Instagram Feed settings page to create a feed.