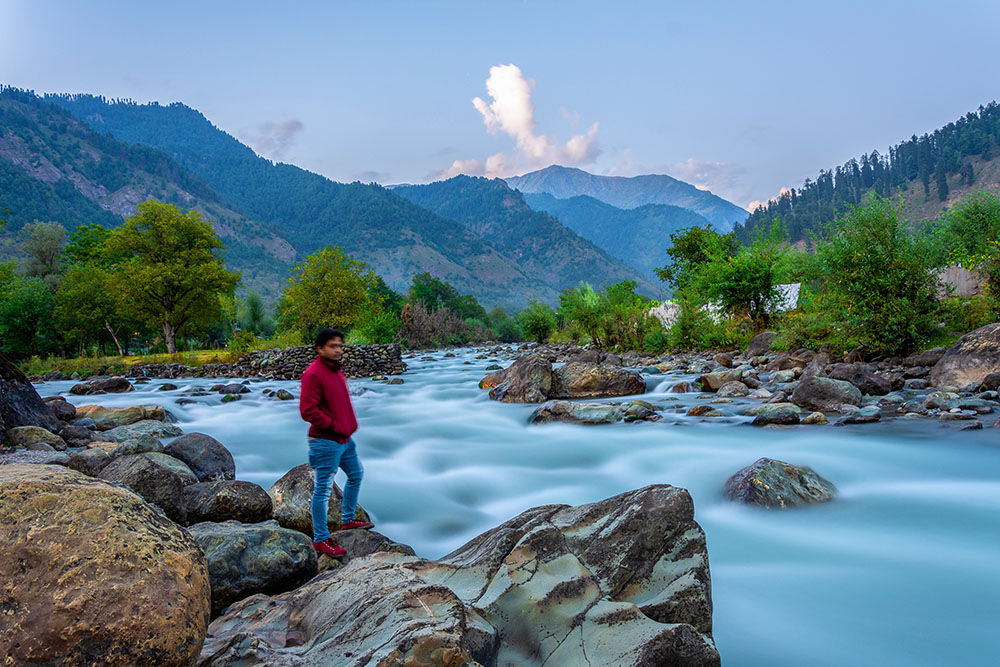 The name Pahalgam needs to introduction. It is one of the most visited destinations of Kashmir, one that receives tourists all year long. No trip to Kashmir is complete unless Pahalgam is a part of the itinerary.
Located at a distance of about 100 kilometers from Srinagar, Pahalgam is best known for its awe-inspiring vistas, lush green meadows, dense forests, and pristine waters. The place is also noted for the annual pilgrimage to the shrine Amarnath Yatra that starts here in July and August.
In this article, I will provide complete details on how to plan a trip to Pahalgam. The post below covers information like how to reach, where to stay, places to visit, things to do, what & where to eat, mobile network, shopping, and other safety tips.
For all other details on Kashmir like mobile connectivity, public transport, taxi services, and several other tips, please take a look at How to Plan a Trip to Kashmir – A Complete Travel Guide.
For getting the best hotel rates, and taxi charges, and to organize your trip to Kashmir, you can speak with Kunal @ 9910 402 252. Give him my reference and you will surely get a discounted rate.
Below is a video that I shot in Pahalgam during my recent winter trip. You can also consider checking out this video for more details.
About Pahalgam
The name Pahalgam literally means a village of shepherds in the Kashmiri language. The town is located in the Anantnag district of Jammu and Kashmir.
Because of its religious significance, natural beauty, and role as a base camp for Amarnath Yatra, the town attracts roughly around 70% of visitors to the valley.
Pahalgam is a little different than other tourist destinations in Kashmir. While places like Gulmarg and Sonamarg are quite small in size, Pahalgam is comparatively bigger and spread over a larger area.
The place remains open for tourists for all 12 months but the majority of its visitors arrive in late June, July, and early August.
There is not much to see or do in Pahalgam itself, to be honest. Most of its primary tourist attractions are located at a distance of 8-10 kilometers from the main town.
The majority of the hotels however are located in Pahalgam. Because of this, it serves as a base to explore all of the nearby areas.
Religious Significance
Pahalgam is one of the two starting points of the annual Amarnath Pilgrimage, the other being Baltal near Sonamarg. Chandanwari is where the trek to the Amarnath Cave starts and it is located about 15 kilometers uphill from the main town.
As per the mythology, Lord Shiva is believed to impart the secret of immortality (Amrit Vachan) to Parvati in Pahalgam. Before entering Amarnath cave Shiv left Nandi in Pahalgam, the moon in Chandanwari, snakes in Sheshnag Lake, Ganesha on Mahaguna Parbat, and five elements at Panchtarni. (Source: Wikipedia)
Where is Pahalgam Located
Pahalgam is located at a distance of about 100 kilometers from Srinagar, depending on where you were starting from in the city. From Anantnag, the distance is about 41 kilometers.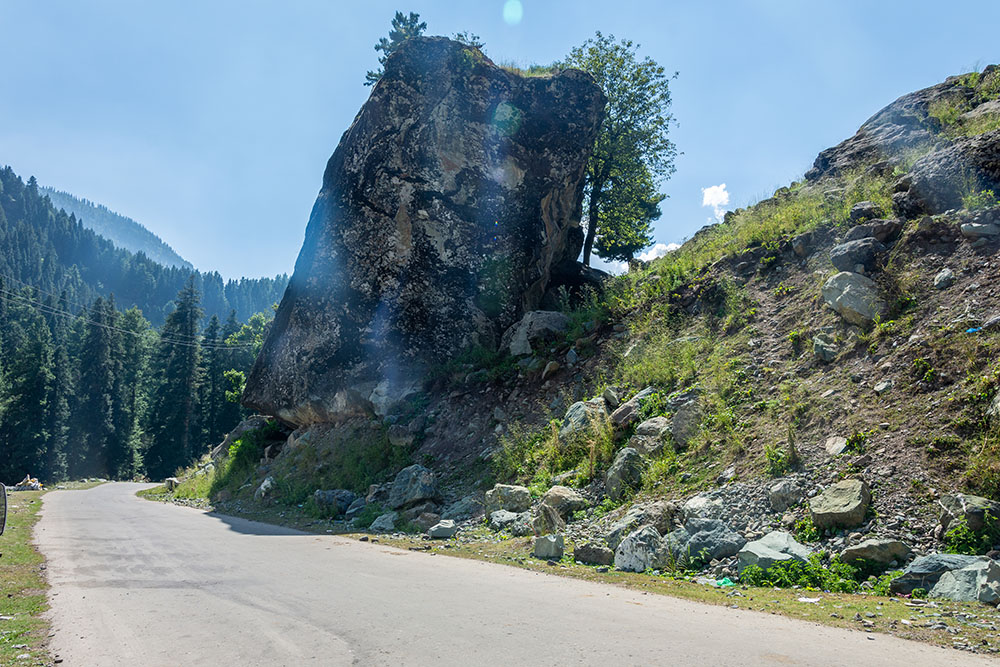 How to reach Pahalgam
Let me first talk about how to reach Pahalgam by different modes of transport. If you were coming from a place like Delhi, Mumbai, or Hyderabad, then you will first have to get to Srinagar.
The place is very well connected to the rest of the country and can be reached either by road, train, or flight. For more details, please take a look at How to Plan a Trip to Srinagar.
Once you have arrived in Srinagar, the only way to reach Pahalgam is by road. There is a helicopter service available as well but it is mostly during the time of Amarnath Yatra only.
For regular tourists, you will either have to drive on your own, find a private or shared taxi, or board a Bus.
Srinagar to Pahalgam by Road
Let us first take a look at how the journey will be if you were traveling by your self-owned vehicle, either in a car or on a bike.
The route of the journey will be as mentioned below.
Srinagar – Qasim Bagh – Pampore – Awantipora – Anantnag – Mattan – Hassan Noor – Aishmuqam – Pahalgam
This is the most commonly used route for the journey. From Srinagar, you drive through the city, cross Qasim Bagh, and reach NH44 (Jammu Srinagar Highway).
From there, you start driving towards Pampore and Awantipora. You will not have to drive through the towns though. Both Pampore and Awantipora will be on your left but you will remain on the highway and drive past them.
As you get closer to Anantnag, you exit the highway and take the single-lane road to your left. You will then drive through the busy towns of Anantnag, Mattan, and Hassan Noor to reach Aishmuqam.
Aishmuqam is the place where the famous qawwali 'Bhar do Jholi Meri' in Bajrangi Bhaijaan was shot. The dargah sits on the top of a hillock and is visible from the road. If you had time in hand, you can take the uphill road to the shrine and pay a visit.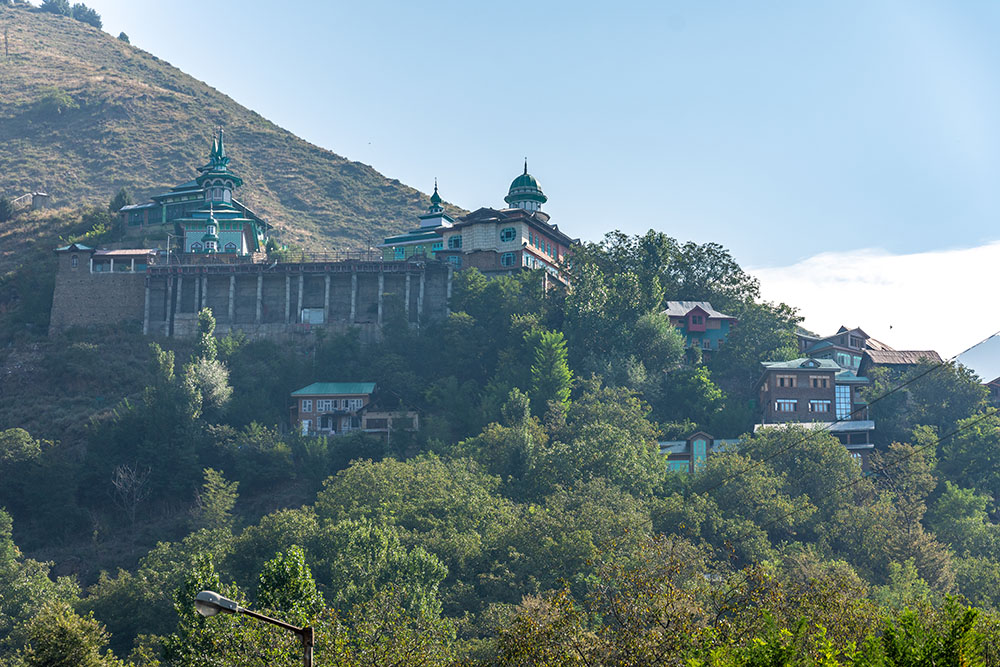 After Aishmuqam, continue driving along the Lidder River for another 40 kilometers to reach Pahalgam. The views also will get better after Aishmuqam and the drive will become more enjoyable.
The condition of the road on this entire route is a mix of good and average. There are hardly any bad sections in between and the journey can easily be completed in about 3 hours.
Alternate Route
There is another route that exists for this journey. You will have to ask around a bit for this as it is not easy to locate and Google Maps by default will take you through Anantnag.
To travel by the second route, you leave NH44 about 15 kilometers before Anantnag and take a road to your left. This will have you avoid traveling through the busy and congested Anantnag roads and exit straight near Hassan Noor. It also shortens the distance by about 10 kilometers.
My suggestion would however be that you stick to the main Anantnag road. It is easier to navigate and in better condition.
If possible, start from Srinagar as early as 7 AM. This way, you will get past Srinagar and Anantnag before the traffic built up and the markets open.
Srinagar to Pahalgam Bus Service
The direct bus between Srinagar and Pahalgam remains available only during the Amarnath Yatra season, from late June to early August.
This bus starts from Pantha Chowk in Srinagar and reaches Pahalgam via the Anantnag route that I mentioned above. You can also look for a bus to Anantnag from Dal Gate but the chances of finding one are very little.
For the rest of the year, if you were traveling by public transport, you will have to break your journey into two parts. From Dal Gate, you will first have to look for a bus for Anantnag. These buses are privately owned and operated and there is no set timing for them.
From Anantnag, you will then have to look for another mode of transport for Pahalgam. Regular buses are available throughout the day and like Srinagar, they do not stick to any specific timings.
By Taxi
A taxi will come in two forms, a private taxi, and a shared cab. If you were looking for a private cab, it will cost you anywhere between Rs. 2000 to Rs. 3000 for a drop to Pahalgam, depending on your negotiation skills.
A better way to manage your trip by cab in Kashmir is to book one taxi for the entire trip. That way, you will be able to reduce the taxi cost a little.
One important thing to note here is that a taxi from Srinagar will only be able to drop you off in Pahalgam. You cannot use the same cab for local sightseeing. The local taxi union restricts the Srinagar cab from taking tourists to places like Betaab Valley, Chandanwari, or Aru Valley.
For visiting local attractions, you will have to rent another cab from Pahalgam itself. Depending on the places you want to visit, this will cost you another Rs. 2000 for a day approximately.
For more details on the rates, please take a look at Pahalgam Local Sightseeing Taxi Rates.
Srinagar to Pahalgam Shared Taxi
Shared cabs work pretty much in the same manner as a bus. You will first have to look for a shared cab for Anantnag from Dal Lake in Srinagar. Once you get to Anantnag, you will then board another shared cab for Pahalgam.
The frequency of the shared cabs is much better than a bus in Kashmir and you will have no trouble finding one.
Srinagar to Pahalgam Bus Fare
The fare per person for a journey from Srinagar to Pahalgam is Rs. 150 approximately. The same journey by shared cab will cost you slightly more, around Rs. 200 per person.
Srinagar to Pahalgam by Helicopter
As I mentioned, the helicopter service remains available mostly during the Amarnath Yatra. For the rest of the year, you will have to travel by road. I am sorry but I do not have any more information on this.
Srinagar to Pahalgam by Bike
If you wish to, you can also rent a bike in Srinagar. The benefit of a bike will be that you will not have to rent another taxi in Pahalgam. The rent of a bike will be around Rs. 1500 to Rs. 2500, depending on the bike you chose.
For renting a bike in Srinagar, you can contact Faisal at 9596 410 670. For more details, please take a look at How to rent a bike in Srinagar.
Srinagar to Pahalgam by Train
There is no train service available between Srinagar and Pahalgam.
Srinagar to Pahalgam Flight
There are no flights between Srinagar and Pahalgam. Helicopter service, as I mentioned above, may be available during the Amarnath Yatra season.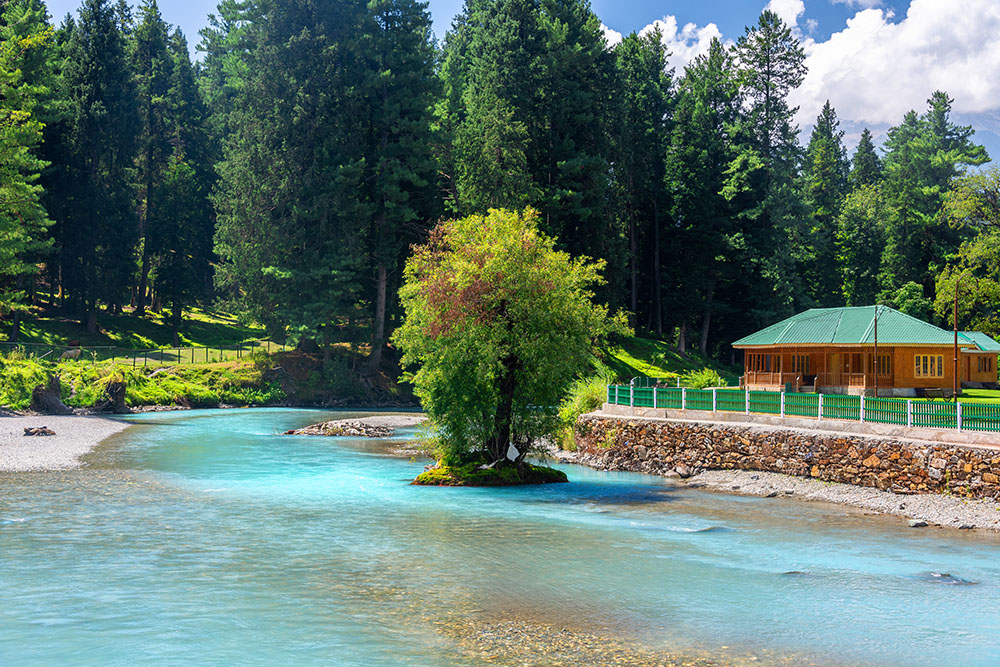 Where to Stay in Pahalgam
Being the popular tourist destination that Pahalgam is, there is no scarcity of hotels here. The entire town has a lot of hotels and guest houses to choose from.
The only thing that you should keep in mind is that the hotels here can be a little on the expensive side, especially in June, July, and August during Amarnath Yatra.
The average rate of a decent enough hotel will be around Rs. 2000 to Rs. 2500. If you were getting a room for lesser, the hotel will either be in a poor condition or at a little distance from Pahalgam.
Whether or not to book in advance is entirely up to you. My recommendation will be that if your trip is around Amarnath Yatra time, then you must book in advance. Hotels in these months get occupied completely and you may not find a place to stay at all.
For the rest of the year, booking in advance is not necessary but you may do so for peace of your mind.
Budget Hotels in Pahalgam
If you were looking for budgeted accommodation, I will recommend staying in Aru Village. Hotels there are considerably cheaper and you will easily be able to get a room for Rs. 800 to 1000.
I do not recommend any hotel in particular though. Just take a walk through the village, see a few hotels, and check into the one that you liked the most.
Best Location to Stay in Pahalgam
Aru Valley is the best location to stay in Pahalgam. Other than the tariff, Aru is also much more scenic. So staying there will be beneficial in that way as well.
There are no hotels near Betaab Valley, Chandanwari, and Baisaran Valley.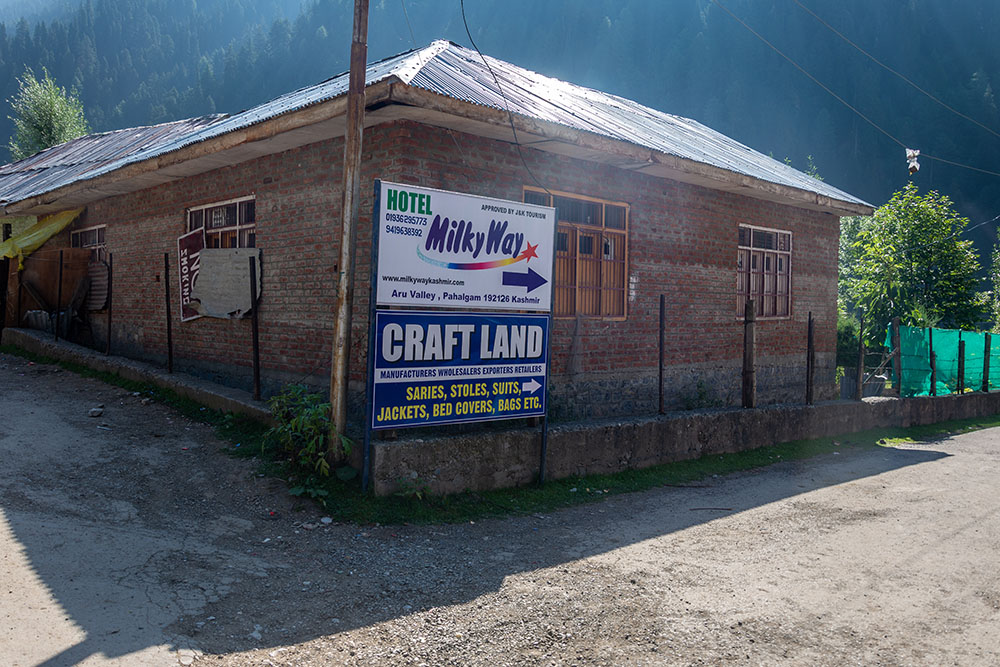 What to see in Pahalgam
This may be just my personal opinion but, in all honesty, Pahalgam is not that scenic. I was disappointed by it the first time I visited there. It just looks like an ordinary town with no scenic beauty. Horse dung is everywhere and its smell will surely drive you crazy.
With that being said, the areas around are very scenic. When you plan to visit here, you do not see Pahalgam but the places around it. Pahalgam just becomes the base to explore those places because most of the hotels in the region are located here.
I have covered this topic in another article Places to Visit in Pahalgam and Things to Do. But for a brief overview, I will list these places here as well.
Betaab Valley
Without any doubt, Betaab Valley is possibly the most popular tourist attraction in Pahalgam. It is uphill at a distance of about 7 kilometers from the main town.
So, what is Betaab Valley? Before 1983, it was just a meadow that the local shepherds use to graze their livestock in. At that time, it was called Hagan Valley or Hagoon.
Then in 1983, Sunny Deol and Amrita Singh starred Betaab was shot here. Both the movie and the valley were instant hits. Due to the popularity of the movie, the meadow itself was renamed Betaab Valley.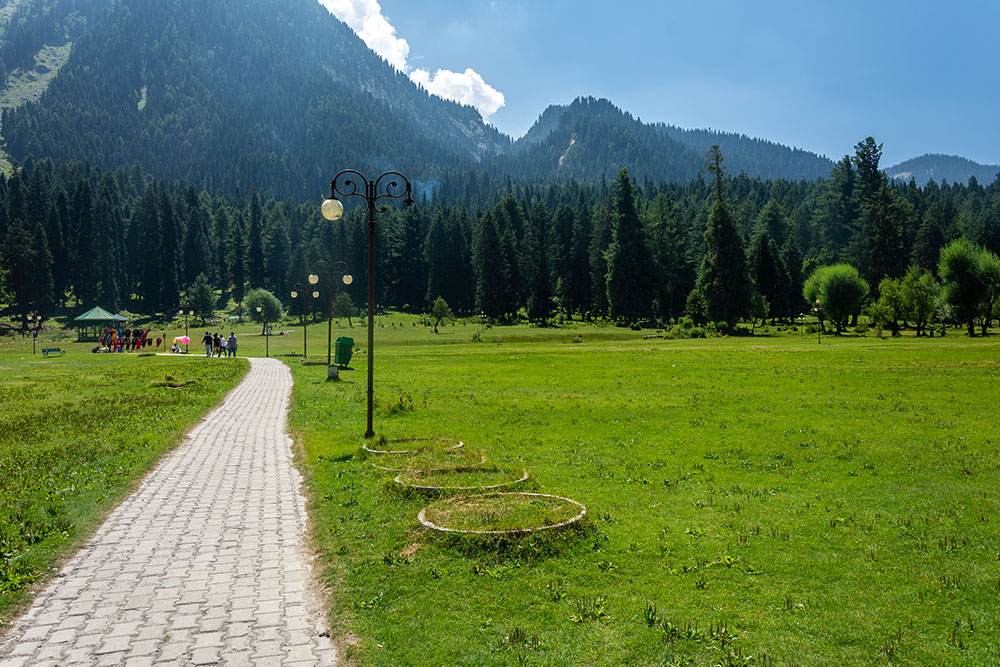 It has now been converted into a park-like area and is a favorite among the locals as well. You will find a lot of Kashmiri families here out for a picnic. The entire setting of the place is very scenic with the Lidder River flowing right next to it.
To read more about Betaab Valley, take a look at Road Trip from Pahalgam to Betaab Valley.
Chandanwari
The next on the list is Chandanwari, located at a distance of about 8 kilometers further from Betaab Valley and 15 kilometers from Pahalgam. This is the place where the motorable road ends and the trek for Amarnath Cave begins.
There is nothing special about Chandanwari, to be honest. It is located in the middle of the forest and is marked by a lot of small dhabas.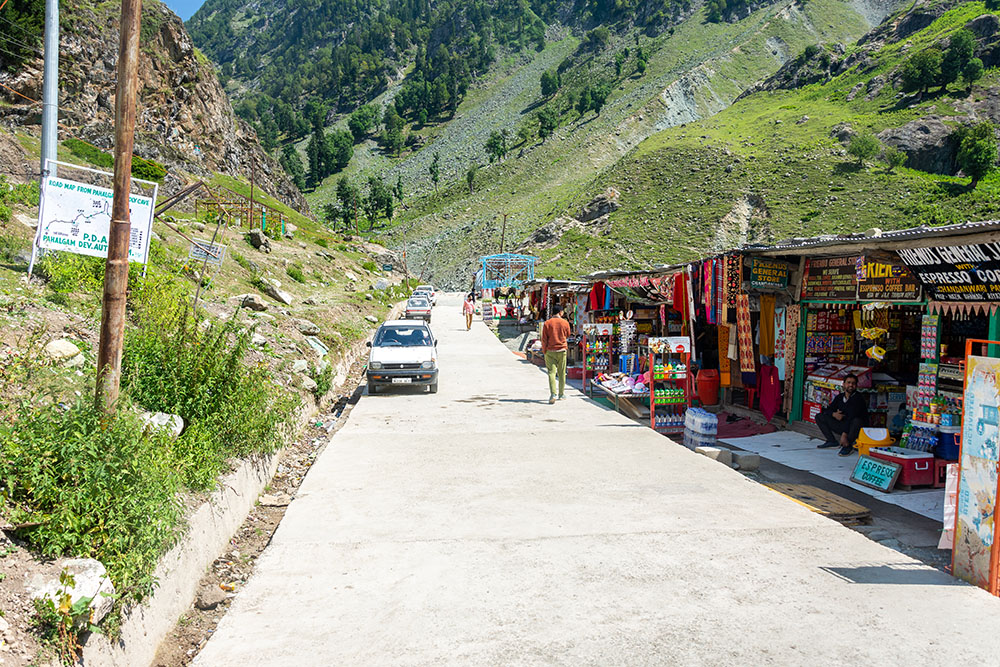 It is only the setting of the place and the natural beauty around it that makes it worth a visit. Even the drive from Pahalgam to Chananwari is quite scenic.
If you wanted to explore a little more, you can hire a pony and venture into the forest. There is a waterfall as well somewhere nearby (as per the pony owners) but I cannot comment on how it was because I did not go.
For more details, please take a look at Pahalgam to Chandanwari Road Trip.
Aru Valley
This in my opinion is the most scenic place near Pahalgam. The small village of Aru is located about 12 kilometers from Pahalgam. It is the starting point of several treks and is always bustling with trekkers either starting or returning from their excursion.
There is also a meadow at one end of the village which is perfect to spend some time and have fun.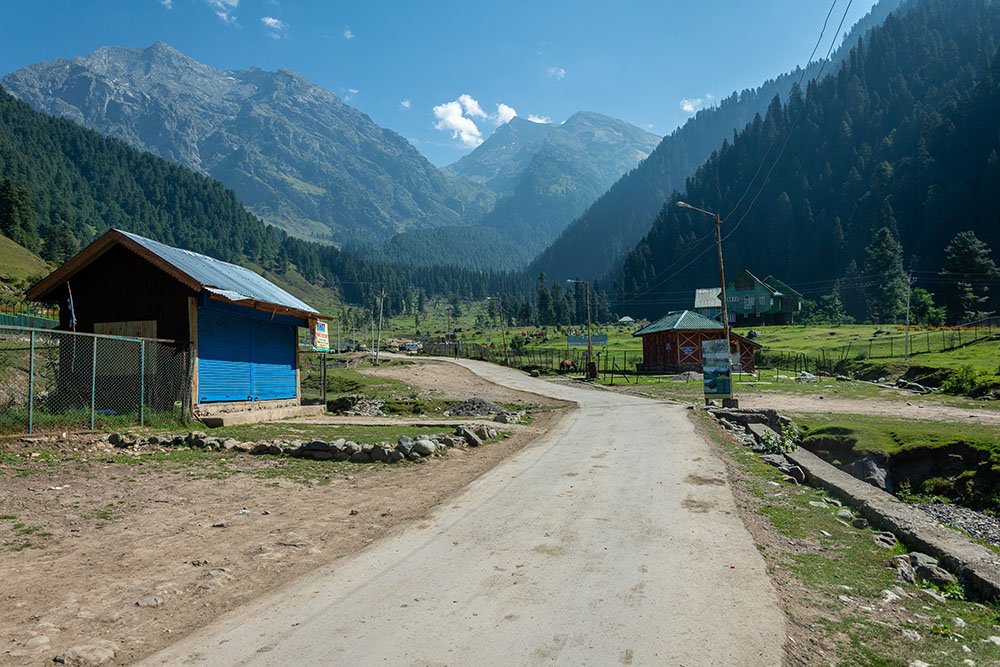 Even the drive from Pahalgam to Aru is quite scenic with several viewpoints in between. Aru Village, as I also mentioned previously, also has a lot of cost-effective hotels which makes it a great place to stay for budget travelers.
For more details, please take a look at Pahalgam to Aru Valley Road Trip.
Baisaran Valley
It is a valley or a meadow located about 6 kilometers from Pahalgam. The place can only be accessed either on foot or on a pony. The trek takes you through a dense forest before ending in a village called Baisaran up in the mountains.
The same trek then goes further up to other villages like Kani Marg and Tulian Valley (also Tulian Lake). The difficulty level of the trek is Beginner to Intermediate and is great for anyone who isn't into trekking but would like to add the experience to their travel plans.
Hiring a pony is the best and most preferred way to explore Baisaran. The entire trek can be easily completed in a few hours and the pony owners usually charge around Rs. 1500 per person for a day.
Aishmuqam
Remember the song Bhar do Jholi Meri from the movie Bajrangi Bhaijaan? It was shot near Pahalgam at a place called Aishmuqaam. It is the shrine of a Sufi saint Baba Zaina-ud-din Wali, also known as Zaino Shah Sahib.
Aishmuqaam is located about 19 kilometers before Pahalgam and 34 kilometers from Anantnag. You can visit it while going to Pahalgam or coming back. The shrine is located on a hillock and is visible from the road itself.
Pahalgam Golf Course
There is also a golf course in Pahalgam which is a popular destination for tourists. Several golf tournaments are held here and even as a beginner, you can try your hand at the sport for a few hundred bucks an hour. Even if you are not interested in golf, it is still a great place to visit and explore.
Lidder River
Last but not least is the Lidder River.  It is a glacial river that originates from the Kolahoi glacier, flows through the valleys of Pahalgam, and will be your companion for the most part of your trip here.
Its crystal-clear water is home to many different kinds of fish and is also a lifeline for the locals as it gets used for irrigation purposes as well.
Many tourist activities like white water rafting, angling, horse riding, and fishing are done in the Lidder River.
Now, these were some of the most popular tourist destinations in Pahalgam. There are a few others that are not so popular but definitely worth visiting. For a complete list, I will recommend taking a look at this post Places to Visit in Pahalgam and Things to Do.
I do not want to add all this information here again because that will just render this one post too long.
Things to Do in Pahalgam
Below is a list of things to do in Pahalgam apart from visiting all of the above-mentioned places.
Trekking
White Water Rafting
Skiing
Shopping
Camping
Angling
Fishing in Lidder River
Horse Riding
Photography
All of these activities are explained in detail in the post Places to Visit in Pahalgam & Things to Do.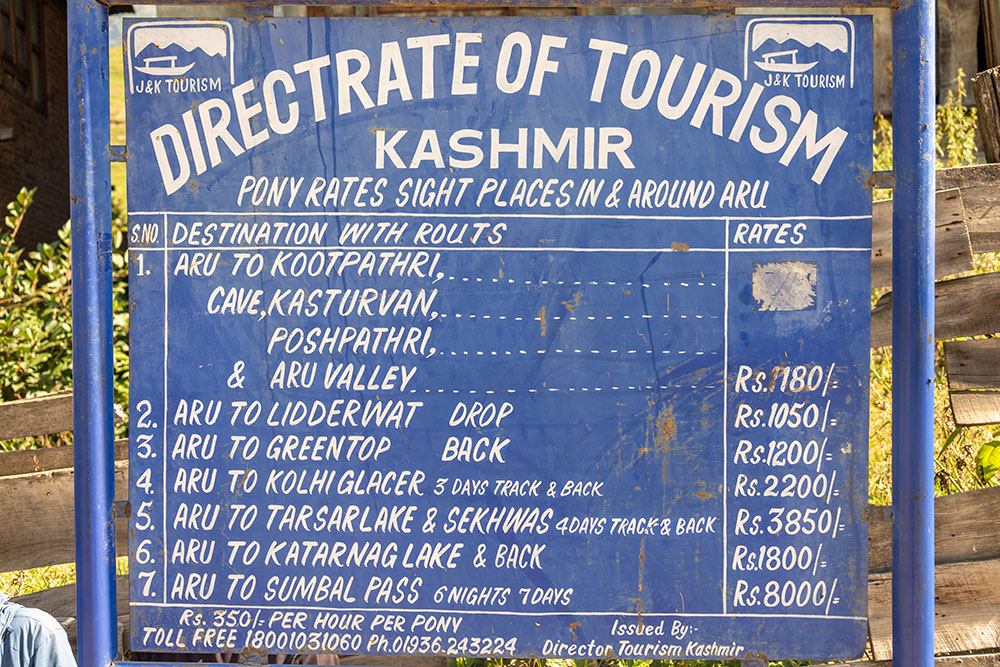 Best Time to Visit Pahalgam
The best time to visit Pahalgam is the months of April, May, and September. But it also depends on what kind of trip you wanted. Let me give a brief overview.
Pahalgam remains open in the winter season and receives quite a bit of snow in January and February. This will be the best time to plan a winter trip. Keep in mind though that places like Chandanwari and Aru Valley may not be accessible in winter.
The months of April and May are perfect if you just want to enjoy pleasant weather and beautiful scenery. This is a great time to plan a family trip.
The months of June, July, and August are best avoided for two reasons. The first is that it gets very crowded here during Amarnath Yatra.
The second is the risk of the monsoon season. Pahalgam receives heavy rainfall each year in July and August. Remember the 2014 incident when Amarnath Yatris were stranded because of the landslides?
For photography, September and October will be the best time. This is when the views here are the best. For my honeymoon, I will recommend March and April.
For more details on this topic, please take a look at When is the Best Time to Visit Pahalgam.
Weather in Pahalgam
Pahalgam has a sub-tropical climate which means that winters here are very cold but summers are pleasantly warm. It snows here heavily from late December to March and that is why even the roads can sometimes get blocked. The temperature in these months drops several degrees below zero.
Areas near Pahalgam like Betaab Valley, Chandanwari, and Aru Valley continue to receive snow until early April. From May to June, it mostly remains pleasant and dry during the day.
Monsoon arrives by late June and it rains heavily in this region throughout July and August, until early September.
It starts to get cold again in late September and by mid-October, it can snow anytime in Pahalgam. The weather remains to be very cold until March next year.
The important thing to note is that Pahalgam is not at a very high altitude. There will be a very significant difference in the temperature here and in places like Betaab and Aru Valley.
Clothes to Pack
This will depend on the month you are planning to visit. For a winter trip, you will have to pack all heavy woolen clothes, a windproof jacket, gloves, caps, thermals, and woolen socks.
If you were visiting in April, May, June, or September, your regular cotton clothes will do just fine. You will however have to still carry a light jacket because the weather will get cold in the evening and at night. Early Mornings will also be pretty cold.
For a trip in July and August, try and pack clothes that are easier to dry, like polyester. An umbrella or a waterproof rain jacket will also be very helpful if you were traveling in your self-owned car.
In terms of shoes, for winter, you should carry waterproof boots, if possible. For the rest of the year, your regular sports shoes will be fine. Rubber Sandals (like crocs) will be greatly beneficial in the monsoon season.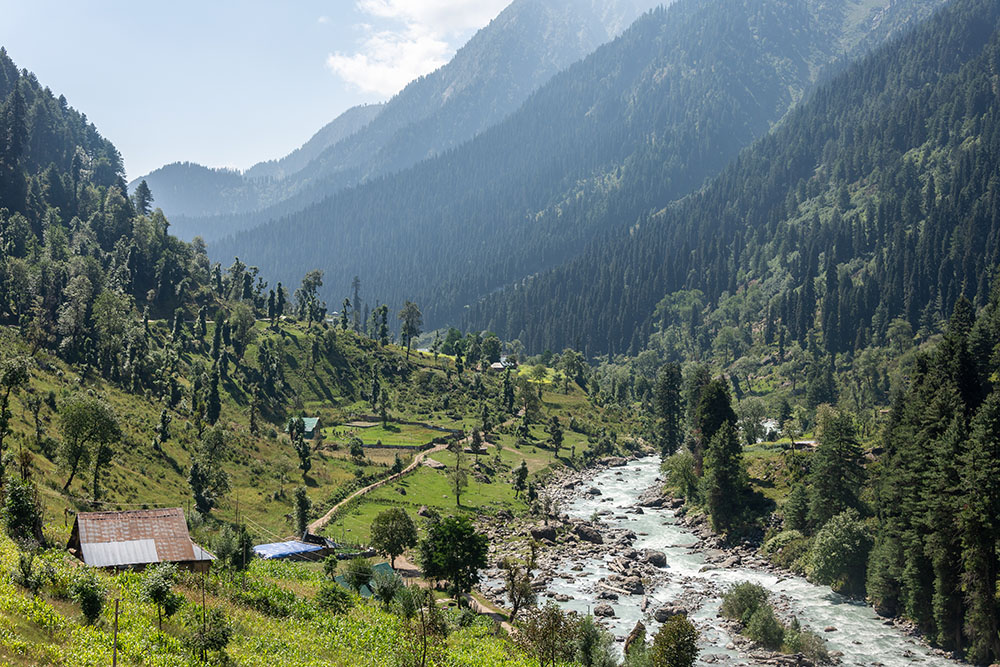 Mobile Network & Data Connectivity
All cellular companies have good coverage in Pahalgam and you will get 4G data as well. No matter which network you were on, your phone will work fine in Pahalgam.
The reception will hold strong in Betaab Valley and Aru Valley as well but you may lose network in Chandanwari sometimes. There is no reception in Baisaran Valley or Tulian Valley though.
All the hotels here have free wifi available. BSNL currently provides internet services in Pahalgam. The last time I was there, I heard that Airtel and Jio were planning to bring Fiber internet to Pahalgam after which it will only get even better.
Shopping in Pahalgam
Pahalgam, to be honest, is just a small town, or a large village. There are a few shops here selling day-to-day items, shawls, dry fruits, and handicrafts but there aren't many.
For any shopping in Kashmir, Srinagar is the place where you should do it and not anywhere else. You will get a much better selection there and at better prices. In the rest of the places, you will most likely be scammed if you went shopping.
What & Where to Eat
Food will not be a problem in Pahalgam. There are several small restaurants and dhabas serving both vegetarian and non-vegetarian food items. You can also order at your own hotel as well if you did not want to step out.
Do keep in mind that the food in Pahalgam is a little on the expensive side. No matter what or where you eat, the prices will seem a bit steep but that is the case with almost every restaurant here.
There is no specific restaurant that I will recommend. I have eaten at a few and the food at all of them was just average, nothing too great.
If you were a pure vegetarian, go through the main market road before the Lidder bridge and you will come across Dhabas that serve vegetarians only.
For people who are Ok with non-vegetarian food, my suggestion will be that you eat at your hotel only rather than trying to find a restaurant outside.
If you were staying in Aru, there are several Dhabas in the small village market. In Aru, you should try eating out rather than at your hotel.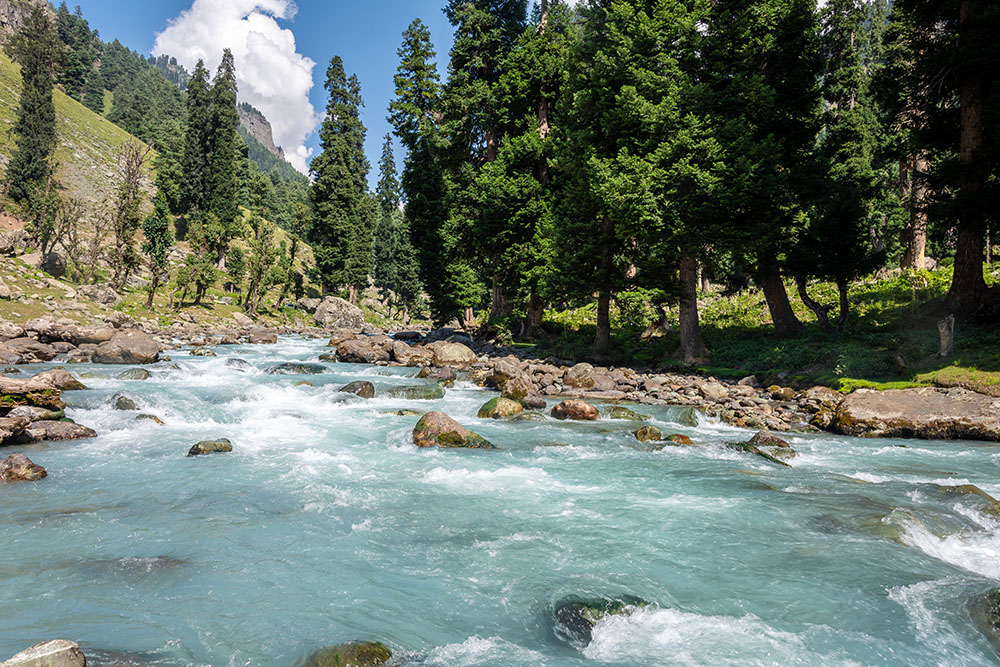 Srinagar to Pahalgam itinerary
An ideal time for visiting Pahalgam is 2-3 days, but the journey can also be completed easily in a single day. If you wanted to go on a trek that will last a few days in the forest, then the situation will of course change but for a regular tourist, 2 or 3 days is what I will recommend.
Below is an example of the itinerary that I will recommend.
Day 1: Srinagar to Aru Valley
Start early from Srinagar between 7 and 8 AM and you will make it to Pahalgam by 9.30 or 10 am at most. Drive straight to Betaab Valley and then to Chandanwari.
Drive back to Pahalgam, have lunch in the market, and then drive to Aru Valley. Spend the evening in the Aru meadow and stay there for the night.
Day 2: Local Sightseeing in Pahalgam

There are a few different ways this day can be planned. Drive down from Aru Valley to Pahalgam and go for a trek or pony ride to Baisaran Valley.
Going to Baisaran and coming back to Pahalgam will eat up a few hours. Spend the evening on the Pahalgam golf course, see the park, and stay for the night in Pahalgam.
Day 3: Pahalgam to Srinagar
On this day, you will drive back to either Srinagar or straight to your next destination. If you were short on time, then skip Baisaran Valley and go back to Srinagar after visiting Lidder Park and the golf course.
Srinagar to Pahalgam Day Trip
If you want to make a day trip to Pahalgam, you must start as early as possible, by 7 am at most. You will get to Pahalgam by 9.30 am. Go straight to Betaab Valley and Chandanwari first. You should be able to get back to Pahalgam at 1 pm.
Have lunch and then go visit Aru Village. This will take another couple of hours and you should be able to be back in Pahalgam by 4 pm. Visit the golf course, and amusement park and drive back to Srinagar. You should be able to reach your hotel by 8 or 9 pm.
It will be a long day but yes, you will be able to cover all the major tourist places. Just make sure that you get up early by 7 am at most.
A day trip to Pahalgam from Srinagar can be done, though it is not recommended. My suggestion would be that you stay there for one night at least.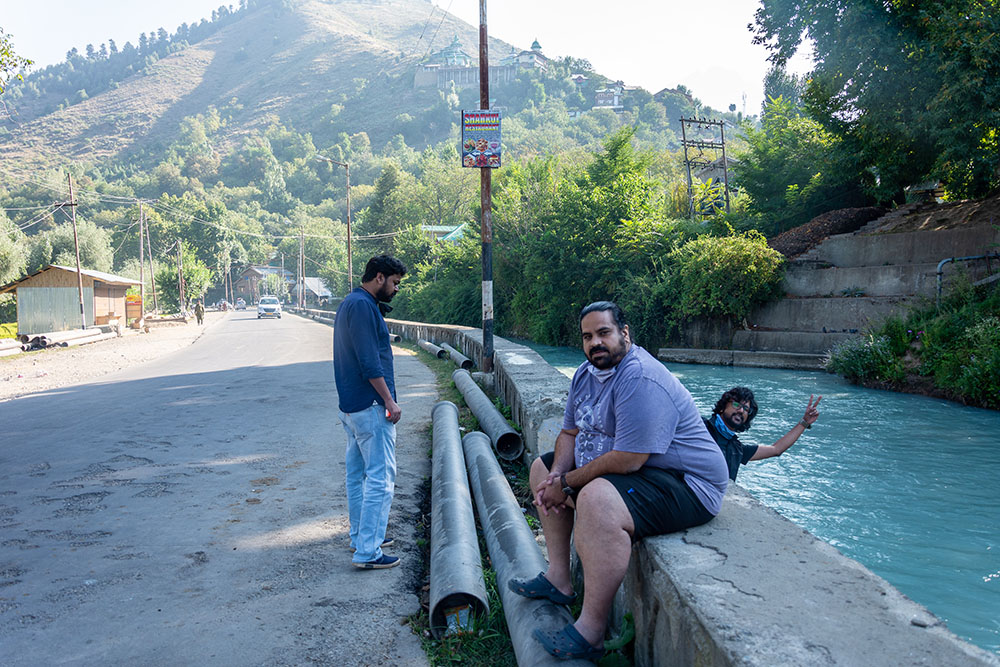 Other Facilities
Mentioned below is information on other facilities.
Banks / ATM Services
I have seen branches of SBI, J&K Banks, and Axis Bank in Pahalgam and they all have their ATMs as well. On the way as well, you will notice a couple of ATMs in Anantnag. To be on the safer side though, I will recommend carrying cash from Srinagar itself.
The hotels here accept UPI payments as well but the same cannot be said about the restaurants/dhabas. Some may accept and others may not.
Medical Assistance
There is a government hospital in Pahalgam where can you get some basic medical assistance. There is a small hospital in Anantnag as well. For anything serious though, you will have to rush back to Srinagar.
I also noticed a chemist's shop in the market area where you can buy some basic medicines.
Petrol Pump / Mechanics
There are a couple of petrol pumps in Pahalgam and you will also notice a few on the way after Anantnag. In terms of Mechanics, you can find someone for minor repairs here but for any major fault, you will have to seek help from Srinagar.
Srinagar to Pahalgam Road Conditions
The entire stretch of the road from Srinagar is in good condition. A major part of it is the NH44, Jammu Srinagar Highway which is super smooth. The rest of the road after Anantnag is also tarred and well-maintained.
The roads leading to Betaab Valley, Aru, and Chandanwari are a mix of good, bad, and average.
Best Vehicle
There is no best vehicle as such for visiting this region. As I mentioned, it is not at a significant height and is mostly in the valley. Irrespective of which car or bike you had, you will easily be able to reach Pahalgam without any problem.
The roads to Betaab Valley, Chandawari, and Aru Valley are quite steep though. For visiting here, you will just have to make sure that your car or bike is good enough to climb steep ascents and will not stall.
FAQs
1. How to reach Pahalgam from Jammu?
Jammu to Pahalgam will be a day-long trip. You will start early from Jammy, take NH44, and arrive in Anantnag. From there, rather than continuing to Srinagar, turn right and take the road toward Pahalgam. The travel time will be around 7 to 8 hours covering 253 kilometers.
2. How to reach Pahalgam from Katra
To get to Pahalgam from Katra, you will have to drive, you will have to drive back about 15 kilometers to Sen Brahmana where you will exit on NH44. From there, drive towards Udhampur and Anantnag. From Anantnag, you will then turn right and reach Pahalgam.
3. How to reach Pahalgam from Gulmarg?
There is no direct road between Pahalgam and Gulmarg. To travel between both these places, you will have to first drive back to Srinagar and then take the route towards Pahalgam that I discussed earlier in this article.
4. How to reach Pahalgam Valley?
This is a question I often get asked. Pahalgam town and Pahalgam valley are the same places. When you reach Pahalgam town, you are in Pahalgam valley only.
5. Srinagar to Pahalgam Distance
Srinagar to Pahalgam distance by road, irrespective of whether you were traveling by your private car or a bus, is about 90-100 kilometers.
This will also depend on where you were starting from in Srinagar. From Dal Lake, the distance is 95 kilometers whereas, from Srinagar airport, it is about 89 kilometers.
6. Srinagar Airport to Pahalgam Bus Fare
There is no direct bus from Srinagar airport to Pahalgam. You will first have to reach Dal Gate and look for a bus there for Anantnag. In Anantnag, you will change buses and board another for Pahalgam.
7. Srinagar Airport to Pahalgam Taxi Fare
A taxi from Srinagar Airport to Pahalgam will cost you around Rs. 2000 – 2500 approximately.
8. Srinagar to Pahalgam in January
Yes, you can travel from Srinagar to Pahalgam in January as well. However, you may not be able to reach places like Chandanwari and Aru Valley as these roads get blocked by snow.
If there was a heavy snowfall recently, you may not even be able to get to Betaab Valley.
9. Srinagar to Pahalgam Travel Time
The travel time from Srinagar to Pahalgam is 3 hours by car and bike and 5-6 hours by Bus.
10. Where is Pahalgam Amusement Park?
Pahalgam amusement park is located on the road to Aru Valley. It is also known as Lidder Amusement Park.
11. Where is Pahalgam Main Market?
The main market mostly consists of a few shops selling day-to-day groceries and some tourist items like shawls, dry fruits, handicrafts, etc. It is easy to locate. Just follow the same main road that you took to reach Pahalgam and you will get to the main market.
12. How far is Pahalgam from Srinagar?
Pahalgam is at a distance of 95 kilometers from Srinagar.
13. Pahalgam Entry Fee
There is an entry fee of Rs. 50 for Pahalgam. The fee needs to be paid a couple of kilometers before Pahalgam, just as you are about to enter the valley.
14. Pahalgam Open and Close Time
There is no opening or closing time for Pahalgam. It is a town and remains accessible for all 12 hours.
15. Is Pahalgam Safe?
Pahalgam is one of the most visited destinations in Kashmir and a safe place.
Conclusion
I hope the information above on planning a trip to Pahalgam was of help. If you have any questions, you can contact me on Instagram and I will be happy to answer. You can also consider subscribing to my YouTube channel and asking a question there.
This error message is only visible to WordPress admins
Error: No feed found.
Please go to the Instagram Feed settings page to create a feed.