Once upon a time, the Mughal Emperor Jahangir was traveling in the far north of his domain. After several weeks of arduous travel, his expedition reached what is now Kashmir Valley. He was awestruck at first glimpse; he could hardly believe that a place so beautiful beyond compare could exist in this world! Silent and still, with an undercurrent of stirring life, Kashmir captivated him. Spontaneously, he uttered this Persian couplet – "Gar Firdaus, ruhe zamin ast, hamin asto, hamin asto, hamin asto" meaning "If there exists heaven on earth, it's here, it's here, it's here". The rest is history.
While it was Kashmir's natural wonders that ensnared Jahangir, he may as well have been speaking of the local Kashmiri food. Every fan of Kashmiri cuisine will be quick to repeat his words verbatim! Can any vision of heaven be complete without mouth-watering dishes to indulge in? As a lucky traveler will soon discover, Kashmir is not only a haven in the lap of the Himalayas but also offers an enormous range of exotic delicacies. Perfected over the centuries, the best Kashmiri dishes blend Brahmin Pandit-Mughal-Afghan-Persian-Tibetan influences into one incomparable cooking style. The traditional food of Kashmir is rich in luscious meats, fragrant with rice and redolent of herbs and spices.
Image: By gahdjun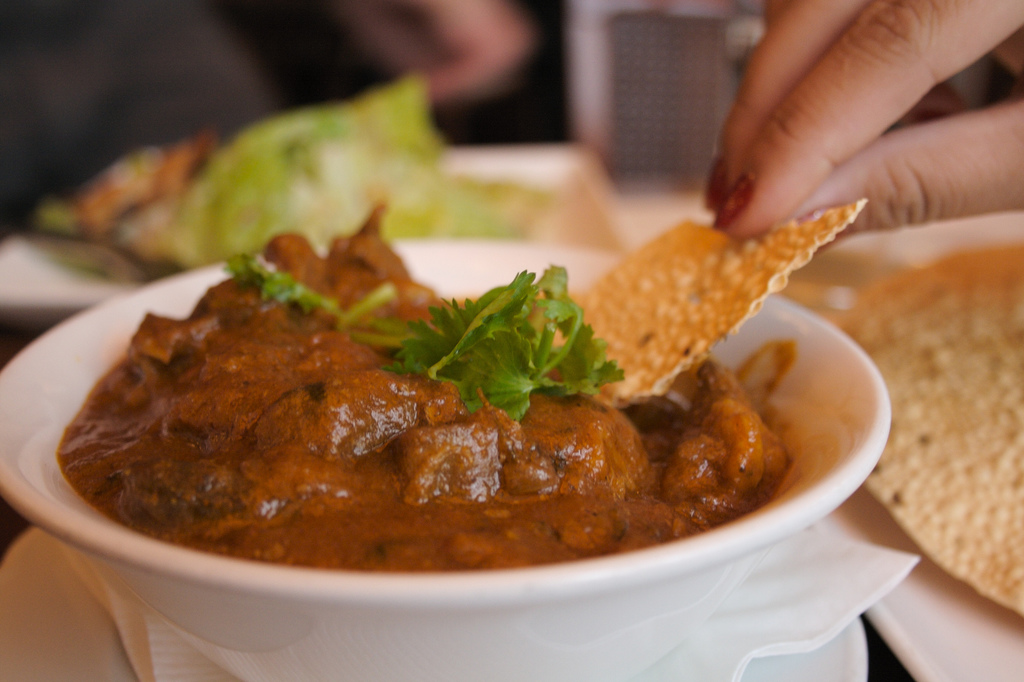 What makes Kashmiri cuisine so appetizing?
Known fondly as "Zaeka-E-Kashmir", or taste of Kashmir, authentic dishes of the Kashmir Valley are today enjoyed across the country. From mild to sizzling, the Kashmiri palate is quite diverse. If a dish has the following features, you can safely mark its recipe as "Made in Kashmir"!
Spices: Kashmir is a leading producer of several spices, such as cinnamon, cloves, cardamom, fennel, and ginger to name a few. Accordingly, they are used amply in many dishes, particularly meat-based ones. Kashmiri red chillies can really zing up any dish! In stark contrast to the rest of the Indian subcontinent, gravies here do not contain the quintessential onion-garlic paste
Saffron: Kashmir is one of only three places in the world where the royal Saffron flowers bloom to yield the world's most expensive spice. This warm, orange-golden spice is employed as a seasoning and coloring agent in many Kashmir dishes, notably in Pulao and sweets. This Saffron aroma has become a signature of Kashmir cuisine
Turmeric and yogurt: These two form a base for most Kashmir gravies and curries and impart a mild taste but rich flavor. The yogurt is also a basic marinade for most meat-based dishes here
Dry fruits: Lashings of dry fruit over lip-smacking dishes entice many a diehard food lover to eat more than their stomachs can hold!
Ghee: Aromatic, exquisite meat or vegetables swimming in ghee: doesn't that conjure a mouth-watering mental image?
Food to try in Kashmir
Are you planning on visiting Kashmir? Wondering which traditional Kashmiri dishes to try out? Read on to find a list of the best food to eat in Kashmir:
Also Read: How to Plan a Trip to Gulmarg
Kashmiri Non Vegetarian dishes
Mutton Rogan Josh
Wazwan
Matschgand
Yakhni
Kashmiri Muji Gaad
Aab Gosht
Gushtaba (soft meat balls cooked in natural yoghurt, white curry)
Rista (Soft Meat Balls in delicious Gravy, Red Curry)
Kashmiri Style Mutton Ribs
Chicken Pulao
Dhaniwal Korma
Tabak maaz (Deep fried ribs of a lamb)
Kanti (small chunks of meat cooked with a lot of onions).
Seekh-Tuji – Marinated and freshly barbecued meat pieces eaten with chutney
Grilled Mutton called Tilli or Tekh
Marzunga Korma
Shami Kabab
Meeth Maaz
Vegetarian Kashmiri Dishes
Dum Aloo
Lyodur Tschaman
Paneer Chaman
Kashmiri Saag
Khatte Baingan
Nadroo Yakhni
Morel Palov
Tamatar Zaman (Paneer)
Nundur Yakhin (Lotus Stem prepared in Yogurt)
Haak (Kashmiri Saag)
Kashmiri Traditional Breads
Tsochvoru and Tsot
Kulcha
Lavasa
Sheermal or Krippe
Roth
Kashmiri Sweets
Modhur Pulao
Mittha Bhaat
Apple or raw mango chutney

Kashmiri Drinks
Let us explore these traditional Kashmir dishes in yummy detail!
What to eat in Kashmir
I will start with the non vegetarian Kashmiri dishes and provide a little more details on all of the above.
Also Read: How to Plan a Trip to Yusmarg
Rogan Josh
Arguably the single most famous food of Kashmir, Rogan Josh is an iconic lamb curry introduced by the Mughals. No lamb lover can pass up a plate (or several!). A robust meat preparation served with naan or rice, Rogan Josh is a staple at every Kashmiri dinner party and special occasion. Soft, succulent lamb meat is first marinated in yogurt. Then, it is cooked with browned onions and spices with the Kashmiri red chilies adding a final dramatic touch. The liberal use of these local chilies is what gives Rogan Josh its blistering red color. Contrary to popular opinion, Rogan Josh is a low-fat dish, and easy on the stomach. The yogurt which forms the base of the dish balances the fire in the spices.
Goshtaba / Gushtaba

A traditional delicacy of Kashmir, Goshtaba is minced mutton cooked in flavorful yogurt gravy and spices. This dish is prepared on royal occasions and it indeed has a royal taste and flavor which can tease you appetite to urge for more. It earns its reputation as a dish for the aristocracy.
Rista
Rista is a mouth-watering, famous dish of kashmiri wazwan. It is similar to Gushtaba. Rista too are meatballs but with red curry. It is prepared in red chilly powder and other spices in a very special manner. It is a delicious culinary delight with a ladeful gravy to be enjoyed with naan and cumin rice.
Also Read: How to Plan a Trek to Alpather Lake
Wazwan
The crowning glory of Kashmiri Muslim culinary tradition is the multi-course royal meal, called Wazwan. This captivating dish may consist of nearly 36 courses, most of which are meat based. The dish takes its name from two Urdu words: "Waza" (meaning chef) and "Wan" (meaning shop). Fittingly, the dish is prepared by a team of chefs known as "Wazas", who assist the head chef or "Vasta Waza". Most dishes in the Wazwan require incredible precision and overnight cooking. Such is the Wazwan's importance in local culture that the art is passed on from one generation to another, and trade secrets are not shared with anyone outside of the family. Every significant occasion or celebration in Kashmir is incomplete without the Wazwan, and the chefs invited to prepare these dishes command great respect and awe.
How does one dig into this impressive, aristocratic dish? First, an attendant comes around with a jug of water so that the guest can wash their hands. Then, the dishes are served in a sizeable copper plate, each of which can serve up to four guests. Heaps of rice are served up with a succession of sheek kebabs, barbecued ribs, kormas accompanied by dips, chutneys and yoghurt.
While every Wazwan will be slightly different, owing to being prepared by a different Vasta Waza, there are seven mandatory dishes which can be found in every Wazwan. These are:
Tabakhmaaz or Qabargaah: Barbecued ribs of lamb cooked with ghee, milk and spices
Rista: Spicy meatball gravy
Damiwal Korma: Roasted lamb cooked with onion paste, spices, yoghurt and coriander leaves
Rogan Josh: Needs no introduction
Gushtaba: Meatballs in a spicy yoghurt gravy
Marchhwangan Korma: Chicken pieces cooked with onions and spices
Aab Gosht: Lamb chunks cooked in thickened milk and seasoned with fennel and cardamom
Matschgand
This is a meatball dish prepared in red chilli gravy. This dish is the best example of the words "fatal attraction". It bewitches your senses, but this dish is not for the faint-hearted! Eat a bowl of Matschgand with jeera rice. If you dare, that is!
Also Read: How to Plan a Journey on Mughal Road
Yakhni
This is the best example of comfort food which Kashmir can offer. Lamb is cooked to perfection in an onion-yoghurt gravy and then seasoned with green and black cardamom, dry mint and aromatic fennel. The standout ingredient is the rare Mawal flowers, which impart a unique taste. Pair a bowl of Yakhni with fragrant Kashmiri rice and you'll have a combination worth remembering!
Kashmiri Muji Gaad
In a land of lamb, chicken and beef dishes, this one stands out. A festival fish preparation is served mostly in December. Fish, radish and lotus stems are deep fried in a gravy of ginger and fennel. Then, local herbs and spices are added to searing effect! This one can truly warm you up during freezing winter!
Aab Gosht
The vast majority of Kashmir kitchens simply cannot function without mutton. In fact, some of the best Kashmir dishes are mutton based. One of these is the Aab Gosht. Although it is of Persian origin, nearly 30 local variants exist today. Here, lamb is cooked in milk and spices to great effect, with black pepper and cardamom adding the final yummy touch!
Kashmiri Style Mutton Ribs
These mutton ribs count among the best food in Kashmir. They are prepared with spices and milk, wrapped in a batter of gram flour and fried golden. Beats KFC any day, right?
Chicken Pulao
Every region in India has a variation of the classic Chicken Pulao but the Kashmiri version stands alone. Fragrant rice is redolent with rich spices and juicy chicken chunks, seasoned with ghee and Kashmir chillies for that perfect balance.
Also Read: Gulmarg Gondola – How to Plan a Ride
Dhaniwal Korma
Want a break from creamy Kashmir dishes and curries? Then try the Dhaniwal Korma. This mellow curry takes its name from the liberal use of coriander leaves. Essentially, it is a yoghurt marinated meat dish fragrant with cardamoms and cloves.
Tabak Mazz
Here, lamb ribs are deep fried with chillies and salt and then stuffed full of spices. A dish to satisfy any gourmet!
Veg Food to Eat in Kashmir
Now let me provide some informaiton on vegetarian Kashmiri dishes listed above.
Dum Aloo
Think Kashmir dishes are all about meat, meat and more meat? Think again! One of Kashmir's most famous food exports is the Dum Aloo. Simple and satisfying, potatoes are fried golden and then cooked in yoghurt. Fennel, ginger powder and Kashmiri chillies are added to get a spicy curry. Usually served with naan, rotis or rice, this dish can make anyone weak with hunger!
Lyodur Tschaman
This dish owes its origins to the Kashmiri Pandits and is a staple in Kashmiri kitchens. In fact, it is a rare but popular option here in this land of confirmed meat lovers. Try this lip-smacking paneer (cottage cheese) curry prepared in a creamy base of spices and yoghurt. Turmeric is the key ingredient which imparts the exotic yellow color, while the yogurt mellows the sharp spices.
Paneer Chaman
Another hearty paneer dish, this time cooked in milk and sprinkled with spices till it turns a gentle, earthy brown colour.
Kashmiri Saag
An iconic Kashmir vegetarian dish, it is also one of the simplest and fastest to prepare. A quintessential part of winter cuisine in the valley, spinach is cooked in mustard oil and seasoned with red chillies and garlic. A perfect accompaniment to piping hot rotis.
Also Read: How to Plan a Trip to Srinagar
Khatte Baingan
The humble eggplant is fried golden and transformed into a thick, scintillating gravy. It is a  popular side dish at most Kashmiri feasts.
Nadroo Yakhni
This is an offbeat dish with crunchy fresh lotus stems being the main ingredient. They are cooked with yogurt and infused with ginger, cardamom and bay leaves. It's a relatively mild dish but packs in an underlying tangy taste which sneaks up on you!
Morel Pulao
Kashmir food incorporates quite a few rare ingredients, found only on the remote Himalayan slopes. Many of them such as Saffron were highly prized through the centuries and lured merchants from the Silk Road and as far as Europe!
This dish incorporates one such rare ingredient – the Morel, a species of mushroom. Such is its value that an ordinary Kashmiri household may taste it only during a very significant occasion, such as a marriage. It's scarcity, cost and uncommon flavor have firmly cemented it as a royal dish. The most important step is to clean the mushrooms without flaking away from the top layers. Then, mushroom pieces are added to white rice and garnished with fennel, black cumin, ginger powder and mustard oil.
Tschok Wangan
Tangy and fiery at the same time, this is another eggplant dish, prepared with gusto throughout the year. The signature component is the tamarind water which offsets the warmth of the spices.
Traditional Breads of Kashmir
All those dips, curries and gravies need the perfect partner. Thankfully, Kashmiri cuisine is noted for its traditional bakeries known as Kaandars which are around every corner. They offer complementary breads for every season. Some of the breads in Kashmiri dishes are:
Tsochvoru and Tsot – Small and round, these crisp, flaky breads are topped with poppy and sesame seeds
Kulcha – Hard, dry and crumbly to the touch, they are decorated with a peanut in the middle
Lavasa – A large, flatbread which can be soft or crispy
Sheermal or Krippe –  A crumbly, dry bread served with the Kehwa drink
Roth – A giant bread which resembles a fruit cake
Bakerkhani – A biscuit-like bread with a hard crust, it is thick, round and flat. The uppermost layer is decorated with sesame sprinkles

Kashmir Local Cuisine – Sweets
Mentioned below are some sweet dishes that you must try while visiting Kashmir.
Also Read: How to Plan a Trip to Gurez Valley
Modhur Pulao
Kashmir dishes do not include many sweets, but the few sweet dishes pack a punch! One such dish is the Modhur Pulao. This dessert is essentially a rice dish sweetened with sugar. Ghee, milk, cashews, almonds, cardamom and of course saffron give it the distinctive taste and wondrous color.
Mitha Bhat
This tender but delectable pulao is a welcome after all the hot meat dishes. Pineapples, pomegranates, walnuts, cashews, almonds are added to fragrant Kashmiri rice to get a mild, sweet dessert dish.
Apple and Raw Mango Chutney
Five minutes are more than enough to prepare this sweet and sour chutney. Crushed apples and raw mangoes are garnished with yoghurt, nuts, cardamom and the ever-present saffron for a delicious blend. It works magic as a side dish or dip. 
Local Food in kashmir – Beverages

Last but not the least, listed below are a couple of local drinks that you can have a sip of in Kashmir.
Noon Chai
This traditional salt tea is common to Kashmir, Ladakh and Himachal Pradesh. In Kashmir, this tea is consumed a minimum is 2-3 times a day. Made with milk, black tea, salt and bicarbonate of soda, it's a classic breakfast drink to accompany freshly baked bread.
Also Read: How to Plan a Trip to Doodhpathri
Kahwah
Known in villages as "Mughal Chai' and in the towns as "Kahwah", this green tea is prepared with powdered almonds, walnuts, spices and saffron. It is customary to serve Kahwah at festivals, occasions and religious events. Today, more than 20 different ways to prepare Kahwah are in existence, so it is likely that every cup you drink will be different!
Food to Try in Kashmir – Conclusion
The list I provided above are just a few from a long list of mouth watering dishes that Kashmir has to offer. I am sure there are many more food items that will leave its taste on your toungues for days to come. I hope the information above was of help. If you have any questions; please feel fee to ask in the comments section below; or at our Community Forum; and I will be glad to answer.