If you do a Google search, you will get an endless list of articles telling you just how pretty Ladakh is and how a trip here is an experience you must get. But for someone planning their first visit, the biggest question is of what to do in Ladakh? Being an absolutely stunning and paradisiacal place is OK but then what?
Beyond any doubt, Ladakh is pretty much the 'tourism capital' of India right now. It is one place that everyone everywhere in the country is planning to go to. The number of people visiting here rises each year.
But once you get there, do you just look out the window and admire the natural beauty of the place? Or is there something else? How do you best utilize your time in hand and make the most out of your trip? What are some of the must-do things in Leh Ladakh?
These are some of the questions that I intend to answer in this post. For any other information on visiting Ladakh like the best time to reach, how to travel, where to say, and other safety tips, please read How to Plan a Trip to Ladakh – A Complete Travel Guide.
What to do in Ladakh
In case you did not know already, Ladakh is the second largest district in India after Kutch in Gujarat. So we are talking about a vast area and all of which is considered as a tourist destination in today's date. So the list of things to do in Leh Ladakh too is going to be a pretty lengthy one.
Sightseeing in Ladakh
This one actually goes without saying but I still thought to add it here. Ladakh has an endless list of places to visit and things to see. The natural beauty of the place will definitely be on top of this list but there are plenty of other tourist places as well that are worthy of mention.
I have in fact covered this topic in detail in an entirely different post because it is too much information to add here. If you want a quick list for reference, then please read A Complete List of tourist attractions in Ladakh.
Photography in Ladakh
I am really listing down these things based on how frequently and often it will happen. With that logic, photography is really one of the most commonly enjoyed activities in Ladakh.
It does not matter if you are a serious photographer with a huge DSLR hung around your neck; or just an amateur with a Smartphone camera; Ladakh will present you endless opportunities to click thousands of pictures.
You can indulge in the landscape, portrait, people, star trails, night skies, or any other kind of photography that you are into. Every turn of the road here will present you with a different landscape and a different moment to capture.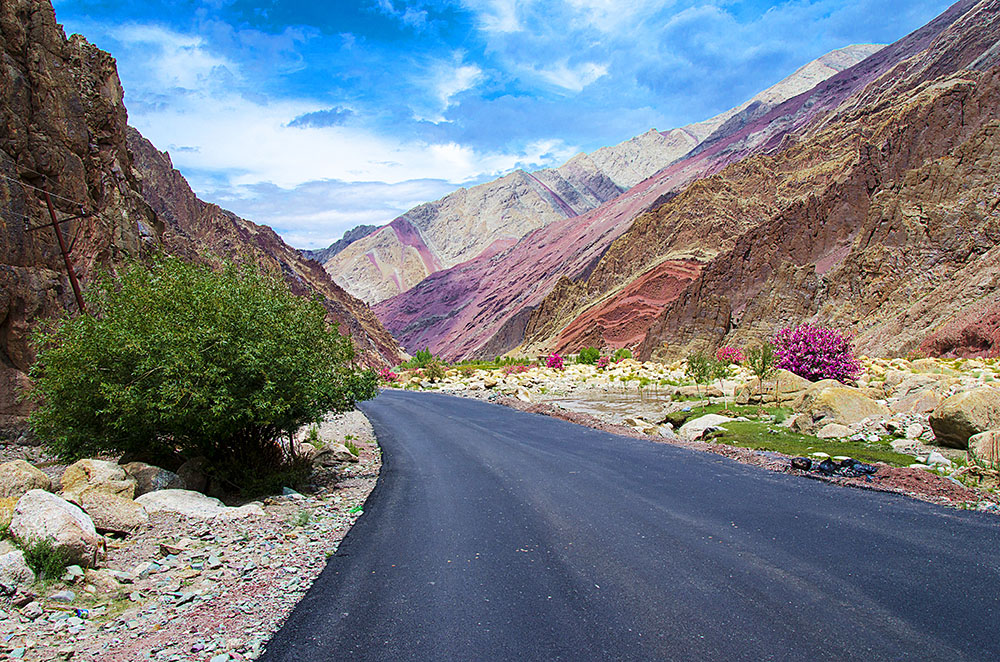 Enjoy the Snow
Snow is one of the biggest reasons for the majority of the people visiting Ladakh. Finding some snow on the way and hopefully also catch a live snowfall always finds places in every tourist's itinerary.
Come in any month to Ladakh and you will not be disappointed. And I really mean in ANY month. While you will not catch a snowfall unless you went in winter, but you will definitely find some snow on the ground at high altitude passes like Baralacha La, Khardung La, Chang La, and Zoji La.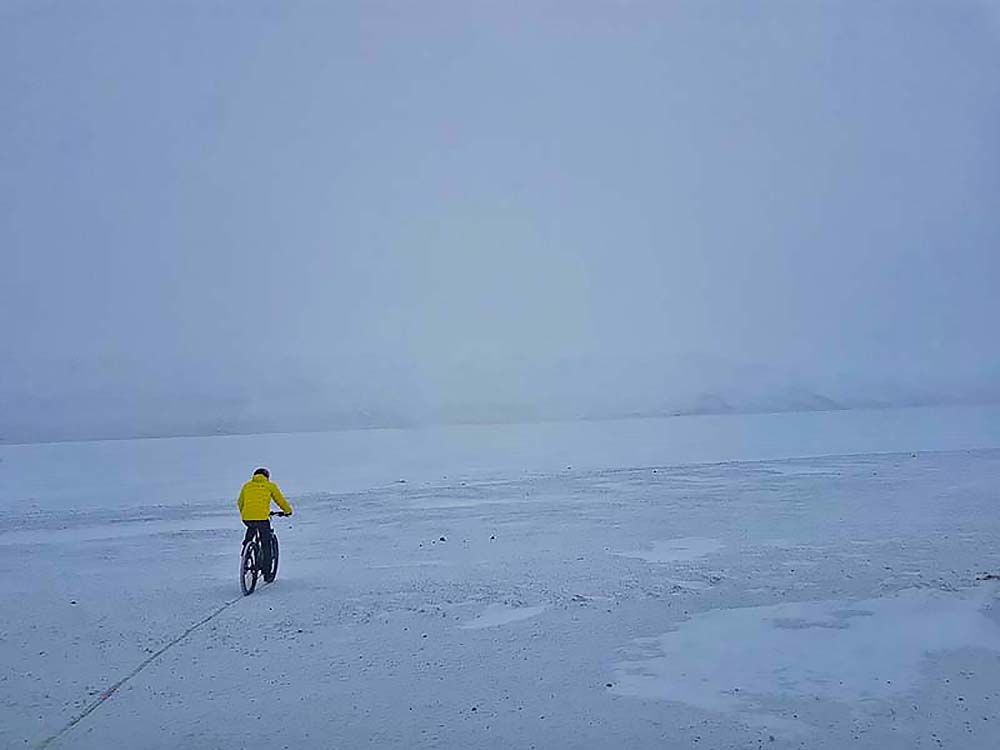 Camping in Ladakh
This is definitely among the top tourist activities in Ladakh that people look forward to. There are three types of camping opportunities in Ladakh.
One is staying at a Chadar tent which is really more of an 'accommodation in budget' deal rather than camping but an experience nonetheless.
The second is staying at campsites that are scattered all over the region. Pangong Tso, Nubra Valley, Tso Moriri, Manali Leh Highway, and Srinagar Leh Highway are where most people go camping. Of all these, Pangong Tso is really the main spot for camping and has the largest number of campsites available.
The third option is of course to go self-camping in Ladakh. If you are carrying all the necessary gear, then all of Ladakh is open for you to pitch your tent. My serious advice, however, is to not camp in the middle of nowhere.
Pay an existing campsite or a Dhaba owner to give you a spot close to their set up and you can camp there. Another upside of doing so would be that you can eat at the dhaba and also use their washroom facilities.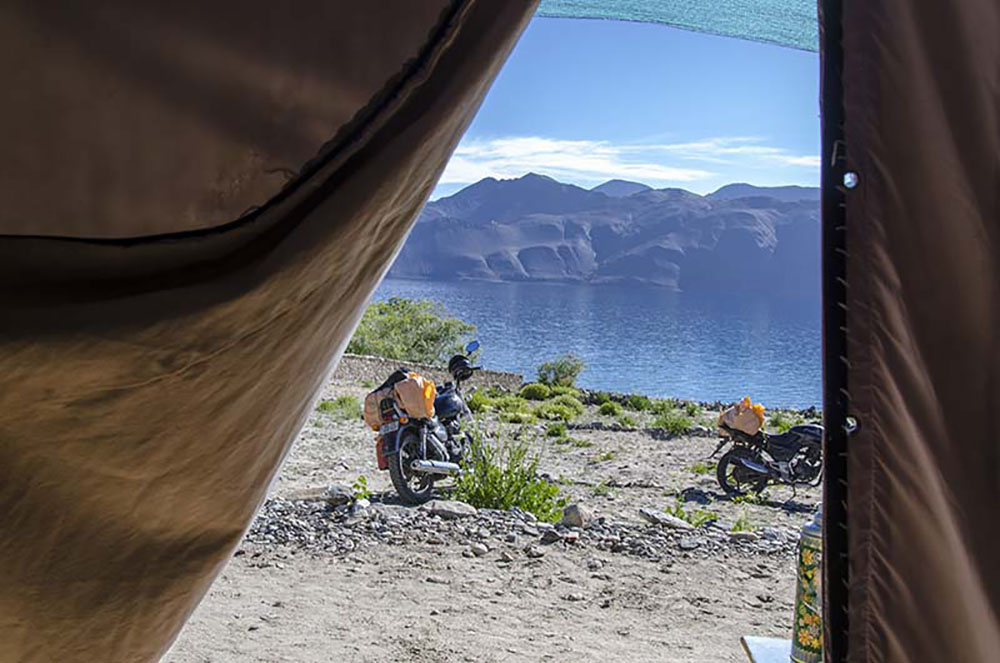 Trekking in Ladakh
Ladakh offers the ideal landscape for trekking – rank amateurs and experienced trekkers can all test themselves here! A tough and challenging trek is the one to Drang Drung glacier through the Suru valley.
The Chadar trek, on the other hand, takes place in November over the frozen Zanskar River and attracts adventure enthusiasts from all over the world. Some other beautiful treks are Lamayuru to Chilling, Spituk to Matho, Markha Valley, Lamayuru to Stok Kangri, Padum to Darcha, Chadar, and Rumtse to Tso Moriri.
Driving / Motorcycling
You can drive both bikes and cars on the Ladakh roads. A hundred miles may pass without encountering any other human or animal. A solitary bike ride or a drive with friends through this landscape will be truly memorable.
You will pass quaint villages and Buddhist Gompas. Ladakh is known as a biker's paradise and for a good enough reason. A motorcycle journey to Ladakh is a dream of millions in our country in today's date.
However, if a car is more your thing than a motorcycle then you got yourself an even better deal. Drive through some of the most adventurous roads you have ever been on and get a true taste of adventure and off-roading.
The high altitude mountain passes and water crossings en route will get the adrenaline pumping in your veins.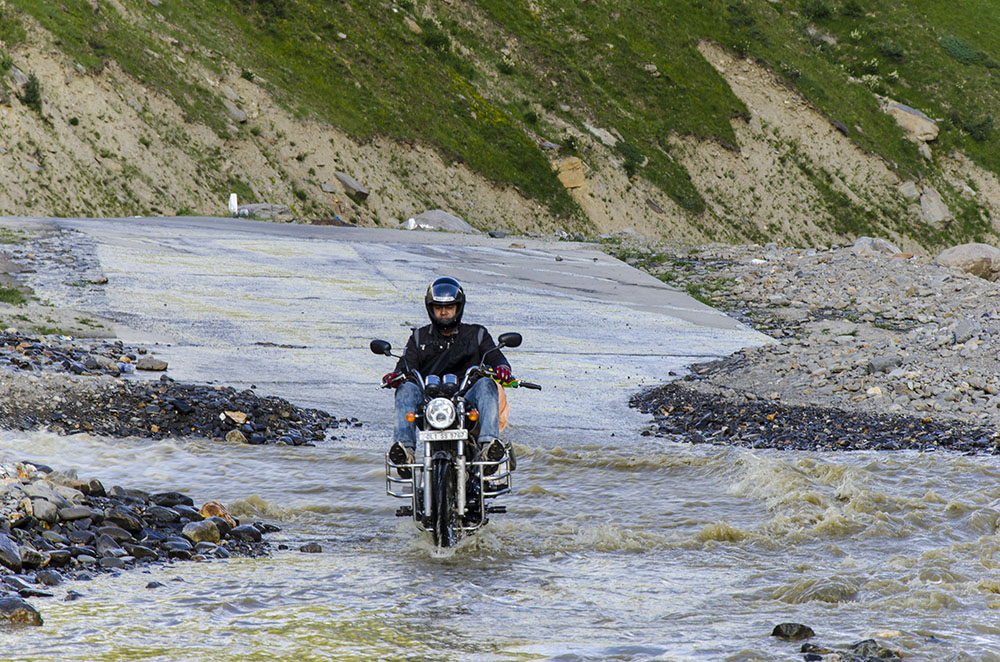 Cycling in Ladakh
It is definitely not everyone's cup of tea and not something that you can just decide to do in Ladakh. Cycling at such a high altitude, up and down the steep roads, with a lack of oxygen, is going to be a task that will need practice.
But if you are into cycling and have what it takes, then cycling to and in Ladakh is going to be an amazingly memorable experience.
You do not even have to go all the way from home on a cycle if you were short on time. Just land in Leh, rent a bicycle there, and pedal on.
One of the most common short cycling trails here is Leh to Khardung La top which is about 35 kilometers of a steep climb. It is easily doable in a day and is perfect who want to do it just for an experience.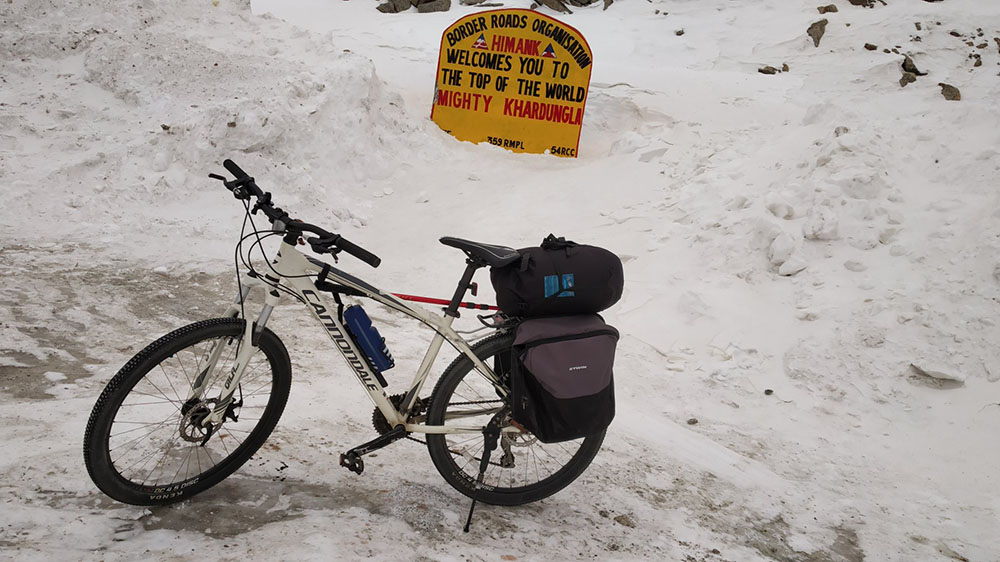 Attend & Enjoy a Local Festival
Every season has its own particular festivals, so no matter when you visit, you will have the opportunity to experience some of them.
An important event takes place at the Matho monastery in March, called the Nagrang festival. It features Buddhist oracles that perform stunning old-world dances and ceremonies. They are also known to go into trances and predict future events.
The Sindhu Darshan festival in June takes place on the banks of the river Sindhu and features local art and culture. The Hemis monastery celebrates its own festival in June or July for two whole days. Centuries-old masked dances are accompanied by traditional music. For shoppers, a handicraft fair also takes place during this festival.
The Nubra festival features local dances and music. The Ladakh festival is held in Leh and includes street processions, archery competitions, music, and dance performances, polo matches, and handicrafts exhibitions.
In November, the Thiksey monastery holds its annual Gustor ritual for two days. Winter also has its own set of events – the Ladakhi New Year is celebrated with a fifteen-day festival.
In February, the Leh Palace, Likir and Diskit monasteries hold a grand celebration of good over evil for two days. It is known as Dosmoche. By far, the most famous is the Hemis Festival where monks perform Chham dances wearing costumes and masks. It is a celebration of the victory of good over evil.
For more information on festivals celebrated in Ladakh, please read Festivals of Ladakh – A Celebration of Life.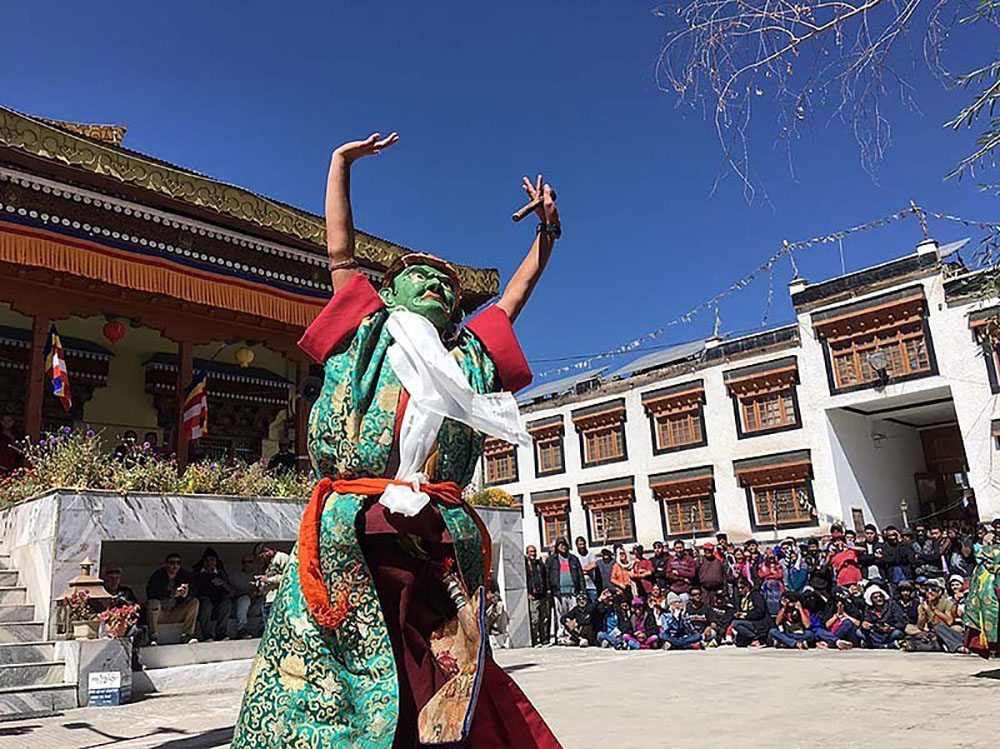 View & Witness the Mountain Ranges
The towering Himalayan ranges provide an alluring and ever-present backdrop to all your adventures. Perpetually snow-capped, their steep terrains are a challenge to every traveler.
Prepare to be awed by the majestic rivers which flow through these valleys. Zanskar and Ladakh are the prominent mountain ranges here that provide an ecosystem to the local wildlife.
Throughout your journey, you will be driving up and down some of the most famous high mountain passes like Rohtang La, Khardung La, and Zoji La; names that you have only heard and read about.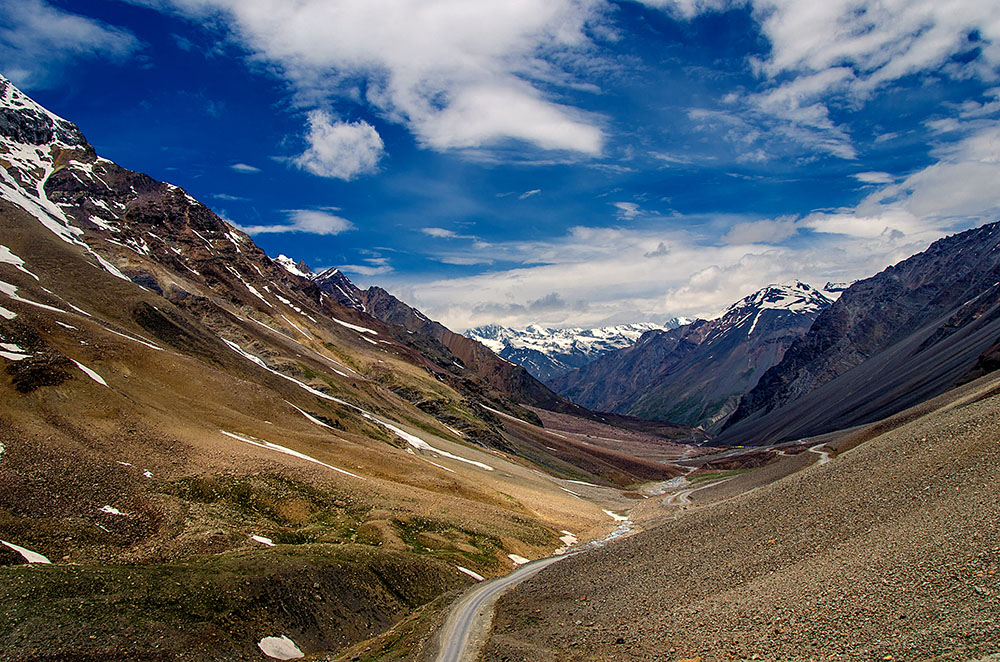 Lakes in Ladakh
Ladakh has abundant water bodies, the most famous being the breathtaking Pangong-Tso lake on the border between India and Tibet at a height of more than 4300 meters.
As bright as a sapphire, this lake is a tourist hotspot. Its banks are often used for camping during summers. The lake freezes over during winter.
Another lake, the Tso-Moriri is off the beaten tourist track at a height of 4000 meters. Its calm waters are bordered by lush green meadows, blazing blue skies, and snow-capped peaks. A number of ethnic nomadic tribes can be encountered here as well.
These are however just the two of the biggest ones and most visited lakes in Ladakh. But by no means has the list ended here.
There are numerous other smaller but equally beautiful lakes spread all over Ladakh that too deserve a visit. For a complete list, please read Lakes in Ladakh – A Complete Travel Guide.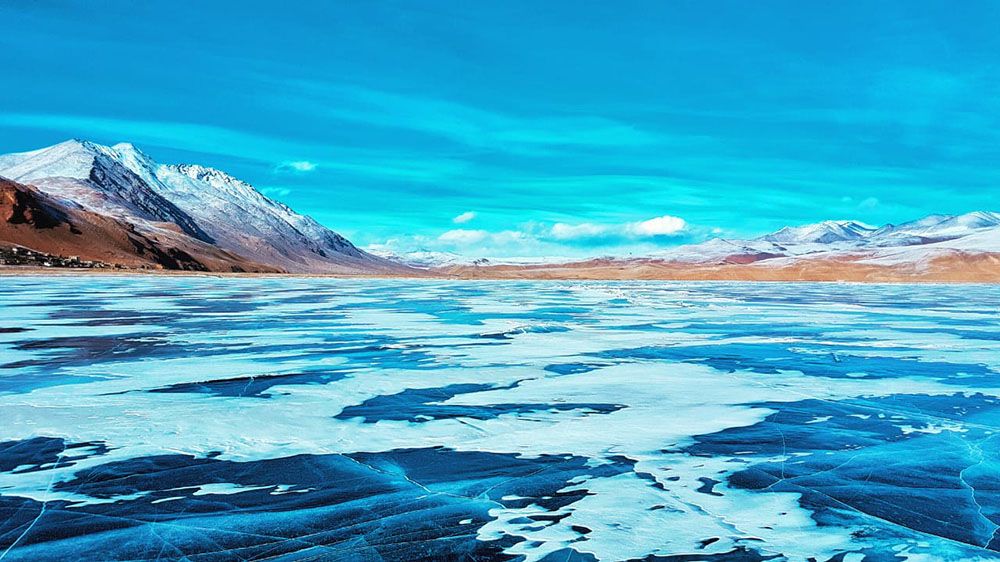 Experience the Monasteries
There are several monasteries scattered throughout Ladakh, and each one is prominent in its own right. Inhabited by Buddhist monks and young children in training, these places are a haven of peace and simplicity.
Most of them welcome volunteers to help out with daily chores and share in the lifestyle. Provided you are respectful, the monks may even allow you to assist in their ceremonies.
What is more? Some of these monasteries even allow tourists to stay overnight. So if you want to add a little taste of spiritualism and experience a monk's life, do visit any of the local monasteries of Ladakh and if time allows, stay there for a night.
Listed below are the names of some of the most well-known monasteries in Ladakh.
Spituk: Carved out over a hilltop
Namgyal: The Buddha deity enshrined here is particularly famous for its craftsmanship and history. Monks frequently visit, including the Dalai Lama himself
Hemis Gompa: The biggest monastery in Ladakh but hidden away in the mountains. Soak in the intricate Tibetan Buddhist paintings and Thangkas. It is famous for hosting the annual Hemis festival in July which draws large crowds
Likir: Intricate wood carvings and decorations, and a museum illustrating the history of Ladakh
Lamayuru: This is the oldest monastery in Ladakh. If you are an avid fan of meditation and spirituality, this is the one for you
Thiksey: Visit here with hours to spare, for you will need it to wander through the temples and explore the statues. Its resemblance to the Potola Palace in Tibet is unmistakable.
Special shout out: Gurudwara Pathar Sahib
En route to Leh on the Leh Kargil highway, this Gurudwara was constructed by the Indian Army in honor of the first Sikh Guru Guru Nanak Ji.
It is a sacred site, revered by both Buddhists and Sikhs. This shrine hosts a boulder, one which neither man nor machine has been able to move to date.
It is a tranquil spot, not frequented by tourists. This shrine also has a communal kitchen called langar which feeds visitors every day. For more information, please read Gurudwara Pathar Sahib – Exploring Ladakh.
White Water Rafting in Ladakh
Ladakh is home to two incredibly majestic rivers – the Zanskar and the Indus. These two are distinctly different colors. The Indus is a shining green-blue, while the Zanskar is a muddy brown. Stop at Sangam Point on National Highway 1 to feast your eyes on the confluence of these two rivers.
The mountain rivers flowing through Ladakh offer some of the best rafting waters anywhere in the world.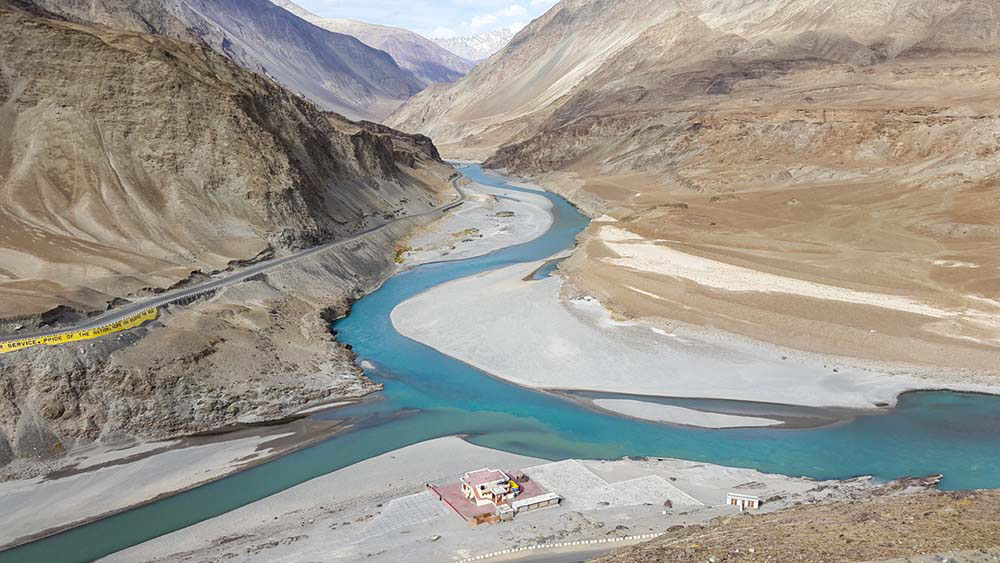 Paragliding in Ladakh
This is not really an activity that you enjoy in Ladakh but rather while going to Ladakh. Manali plays a host to events like Paragliding and rafting both.
So if you had some time in hand, spend a day in Manali and indulge in getting a view of the town from up above.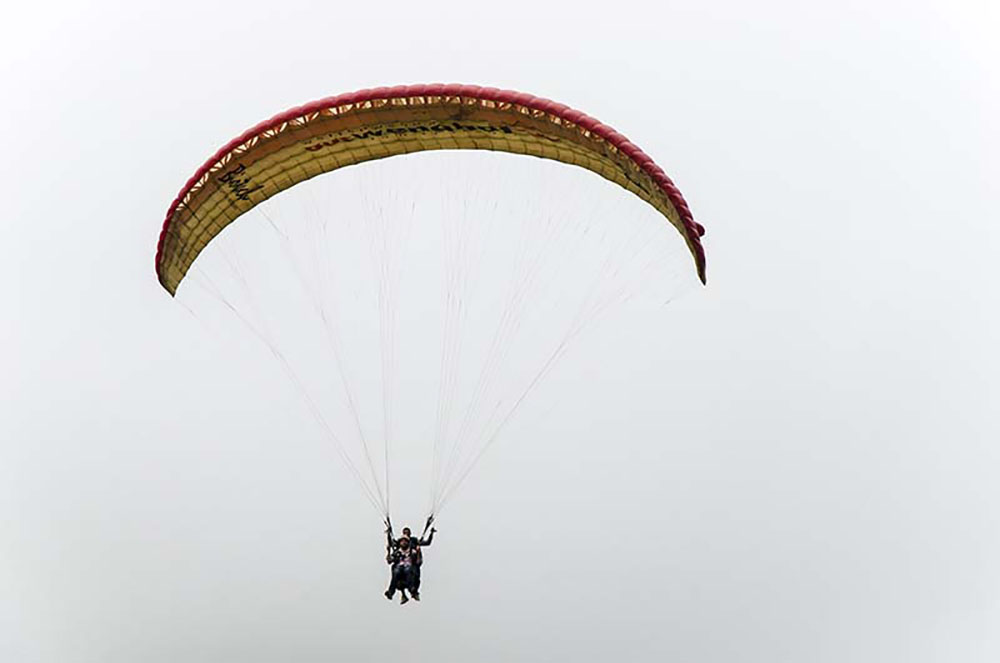 Mountaineering in Ladakh
OK, so this one is not everyone's or a regular tourist's cup of tea. But if you are into rock climbing and mountaineering then Ladakh is a treat you just can't say no to.
Challenge yourself to scale the high peaks in Ladakh. Become one with nature and experience exotic wildlife and panoramic views. Some favorite high altitudes to conquer are Chamsher, Lingser Langri, Nun Kun, Stok Kangri, and Mentok Kangri. Each step is guaranteed to create unforgettable memories.
Shopping in Ladakh
The markets here are small but astounding in the variety of items offered. All of them are sure to be handmade and the souvenirs and artifacts on offer are genuine.
The colorful displays entice every die-hard shopper and the shopkeepers are always ready to haggle. A local specialty is the Pashmina wool dress.
In Leh, be sure to visit the Tibetan refugee markets for handmade jewelry and unique artifacts. This will also contribute to the Tibetan community's welfare. To know more about what you can buy here, Shopping in Ladakh – What to Buy in Ladakh.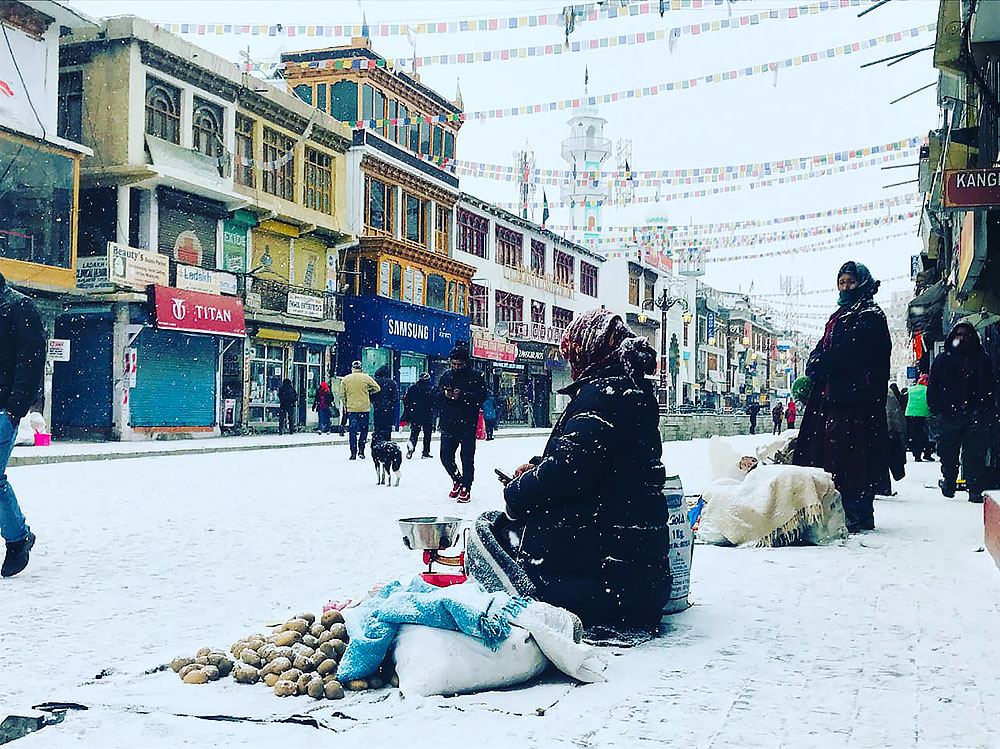 Cuisine of Ladakh

Being on the crossroads between Kashmir and Tibet, Ladakh nonetheless has a unique and flavorful cuisine all of its own. Get out of the momo and noodles mindset and explore the rich array of soups, stews, bread, jams, teas, and cheese here.
A home-cooked meal is the best way to experience authentic Ladakh food. Although Leh has a number of restaurants that offer various cuisines, give them a miss and choose to eat what the locals do. For a list of some of the most delicious food that you can try while visiting Ladakh, please read Foods to try in Ladakh – What to Eat in Ladakh.
Flora and Fauna / The Wildlife of Ladakh

Spring is the best time to visit if you want to watch this otherwise barren landscape suddenly burst into a riot of colors. A number of animals inhabit the mountain slopes, the most famous being the elusive Snow Leopard.
This big cat is rarely seen in the wild, even by locals, but keep your fingers crossed! Some other endangered species that inhabit the alpine climate are Bharals, Wild Yaks, Ibex, Mouse Hares, Wild Asses, Nyan, Red Foxes, Shapu, Wolves, and Tibetan Antelopes.
This rich biodiversity is on full display at higher ranges of the Hemis National park.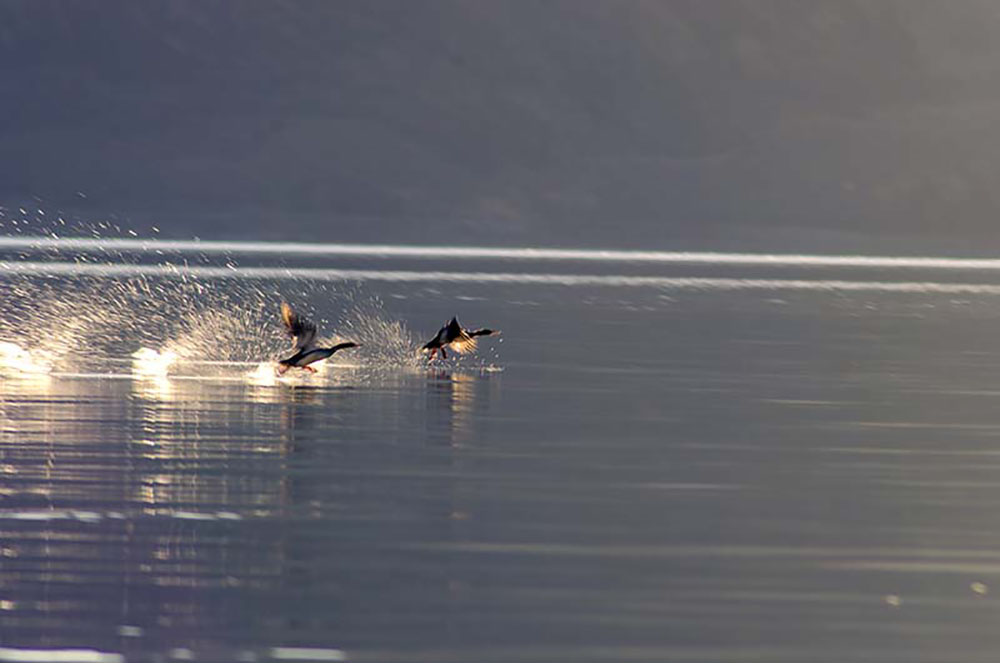 Skygazing / Skies of Ladakh
The isolation of Ladakh makes it a perfect place to view the Milky Way in all its glory. Far from the maddening light pollution in the cities, the endless starry sky is sure to leave you spellbound.
For this reason, it's a favorite haunt of astrophotographers, who spend hours waiting for the perfect snap. Always check whether your trip coincides with an astronomical event, such as a meteor shower. If you are lucky, the night sky will put on a show just for you!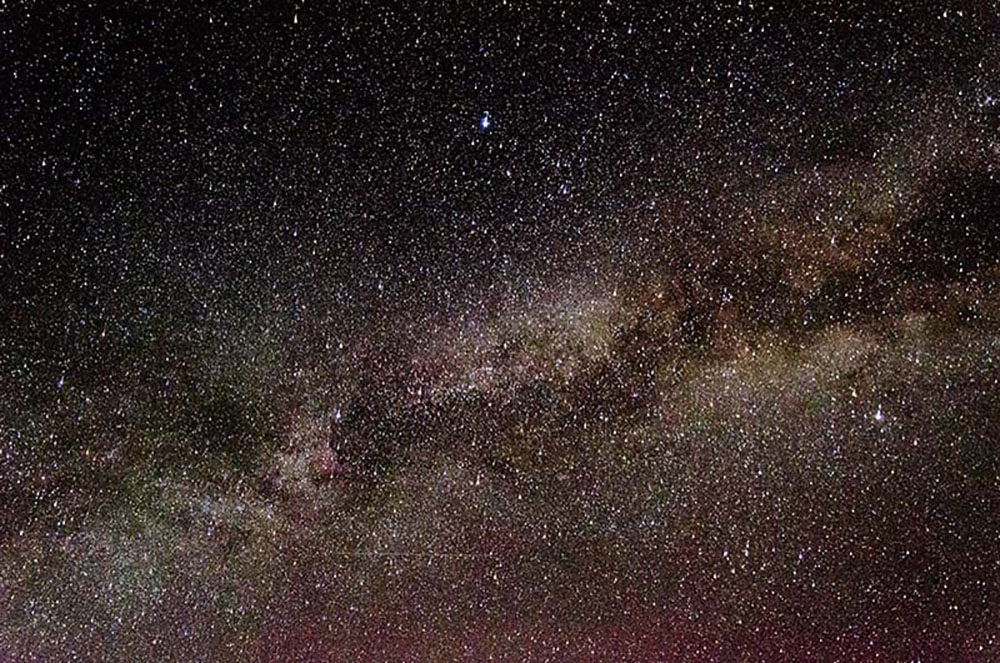 Magic of Magnetic Hill
This is a head-scratcher. Due to some as yet unknown phenomenon, any vehicle parked at the base of this particular hill with unlocked brakes starts crawling uphill!
Need any more proof that Ladakh is a truly magical place? If one is to list down places that are most known to tourists visiting Ladakh, Magnetic Hill will top that list.
Bringing your vehicle to a complete halt and watch it move uphill on its own is on the list of things to do in Ladakh for almost every tourist. To know more, please read Magnetic Hill of Ladakh – The Mysterious Road.
Go for a Desert Safari
To top things off, Ladakh even has a bona fide desert in the Nubra Valley. Mount a Bactrian camel and wander these desolate and endless sands. Let your camel set the pace to enjoy a relaxing safari and drink in the magical vistas before you. Charming villages such as Diskit are located along the camel trails.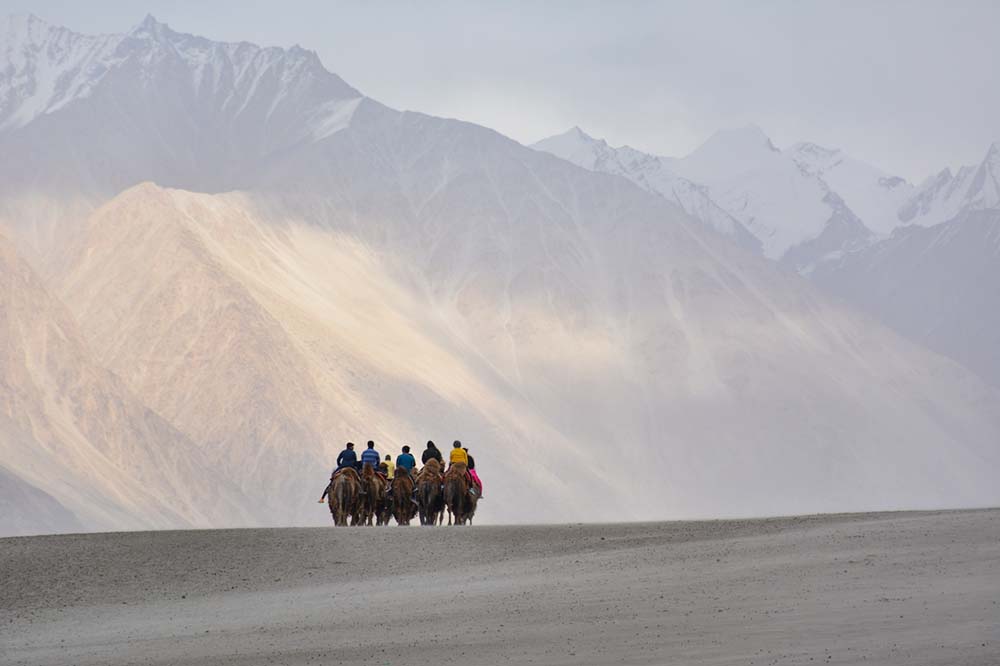 Yak Safari
If you want to do something entirely different then try doing this safari sitting on a Yak rater than a camel. Yaks are huge animals, about 6 ft in height and close to 1000 Kg in weight, but not aggressive at all which makes a journey sitting on its back a great experience.
And do not worry, they are strong animals who are native of this harsh terrain so you sitting on their backs is not going to be any kind of animal torture or abuse. They probably won't even feel you there.
See a Glacier
Ever imagined that you could see a glacier without having to trek up in the mountains for several days? No? Well, Ladakh is a place where you can do so. Drang Drung Glacier in Zanskar Valley is the one that you can view up close while sitting inside your car, or just stepping out on the road.
On the way from Kargil to Padum, you drive to the top of Pensi La pass and view the magnificent wonder that Drang Drung is. You will also see other glaciers like Parkachik Glacier while on the way.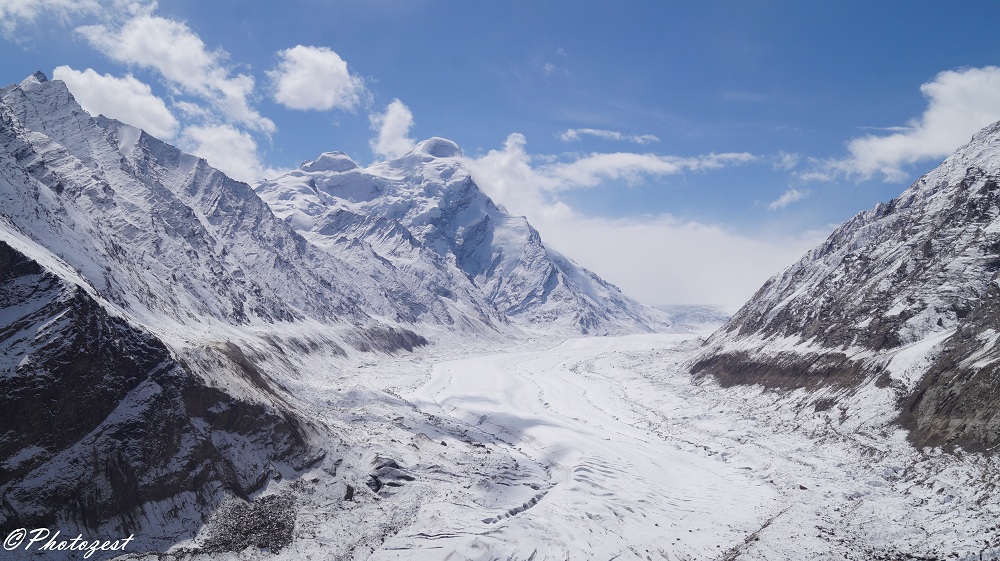 Make new Friends
The locals are extremely friendly, always willing to help out or lend an ear. The monks too are welcoming and monasteries always offer shelter and food to weary travelers.
One of the best things about traveling is to meet new people and make friends. In a place like Ladakh with people so warm, you have a great opportunity to not only learn about local culture but also to share your stories with other travelers.
See the Dalai Lama
His Holiness the Dalai Lama frequently visits Ladakh and conducts speeches and meetings every year. Try to attend one of his events. The Dalai Lama's positivity and vibes of universal wellbeing will have an unending impact on your mind.
Boating
Yes, I went boating in Pangong Lake but that was a long long time ago when tourists in Ladakh were next to none.
Since I was the only tourist on the banks of Pangong that morning, the Army guys did not mind taking me along on their patrol boat for a ride. This is not really an option open for every tourist but you can try your luck.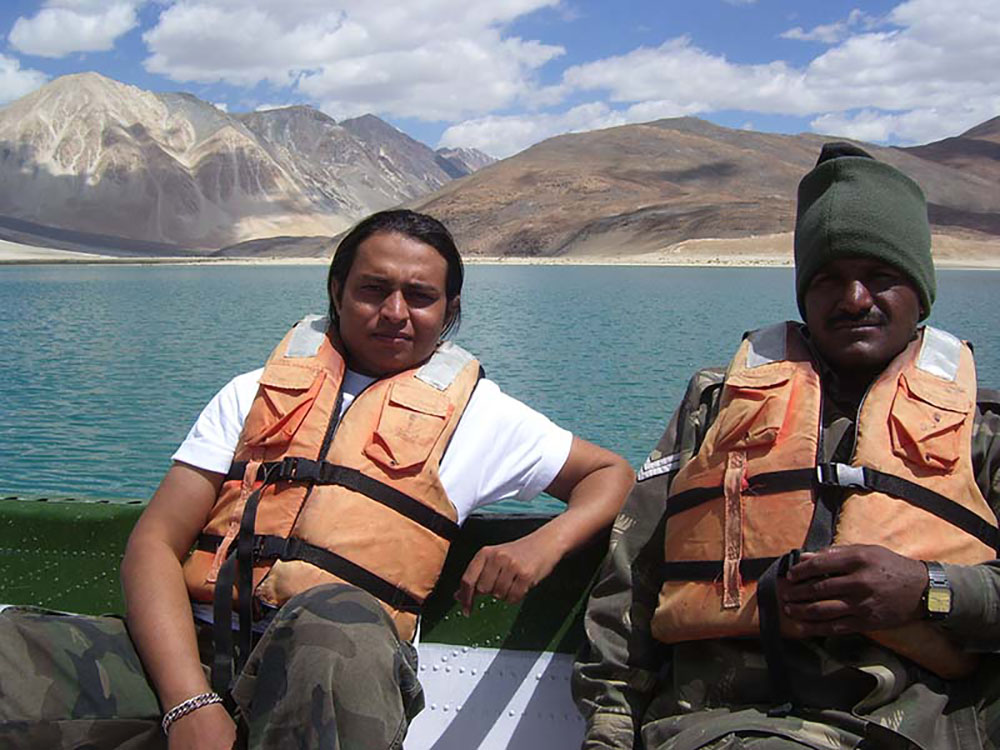 What to Do in Ladakh – Conclusion
I can go on and on for another 3000 words and I am sure that I will still be far from completing this list. Such is the magic that we call Ladakh. My advice? Stop reading the list and go and experience it yourself. You won't regret it I promise.
I hope the information above on what to do in Ladakh was of help. If you have any questions, please feel free to ask in the comments section below or at our Community Forum, and I will be glad to answer.