Tso Kar is a Salt Lake located near the Manali Leh Highway in Ladakh. Also pronounces as Tsho Kar, it is one of the three most famous lakes of Ladakh, the other two being Pangong Tso and Tso Moriri.
The lake is located at a distance of about 150 kilometers from Leh and 312 kilometers from Manali. Due to the high altitude and the extreme climate in winter, it remains accessible for only about 6 months a year.
Even though it is located close to the Manali Leh highway, Tso Kar does not receive as many tourists as the other regions of Ladakh do. This makes it an ideal spot for people who want to visit offbeat destinations. It is also a perfect place for camping away from the crowd.
We visited Tso Kar during my recent two-month-long trip to Leh Ladakh. We first reached Tso Moriri and then drove to Tso Kar via Polokongka La, intending to camp there for the night. To read the previous parts of the travelogue, you can follow the links below.
Journey So Far:
Did we camp at Tso Kar and how was our experience there? Would I recommend it to other tourists and travelers and is it worth including Tso Kar in your itinerary? Read on to find out. Below is a video of our journey to Tso Kar that you can also take a look at.
Tso Kar and Tso Moriri
It was the 22nd day of our trip and a beautiful cold morning in Karzok. We woke up early and stepped out of our hotel to go for a small walk in the village.
Karzok was just coming to life and the sun was getting brighter and harsher by the minute. People went on with their daily lives and routines. Shops and restaurants were just opening up and barely anyone noticed two tourists walking around with numerous cameras in their hands.
We had tea at a small eatery and returned to our homestay, Crane Guest House. We were served a simple yet delicious breakfast of bread, butter, jam, and omelets. With our bellies full, we got ready to leave and checked out of the hotel.
Before we were on our way though, there were a couple of places that I wanted to visit in Karzok which we did. The first was the Karzok Monastery and the second was the Karzok viewpoint. I have talked about this in detail in the previous part of the travelogue.
Finally, at around 10 am, we drove out of Karzok and started on our way to our next destination, the Tso Kar Lake, where we intended to camp for the night.
Also Read: How to Plan a Trip to Leh Ladakh – A Complete Travel Guide
Tso Kar Lake Map
You can refer to the map below to understand the different routes that you can take to get to Tso Kar Lake.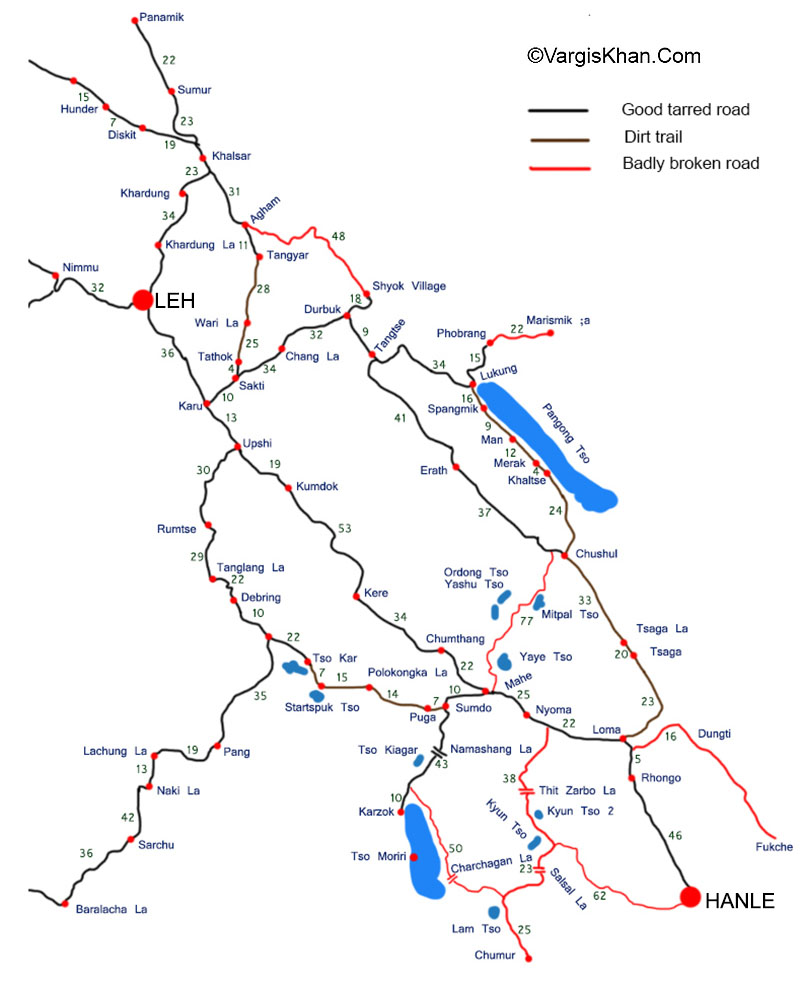 Tso Moriri to Tso Kar
The distance between Tso Moriri and Tso is about 75 kilometers. But due to the bad condition of the road, this journey can easily take as long as 3 to 4 hours.
With this calculation, I expected us to reach the lake by 2 to 3 pm at most since I knew we were going to take a lot of breaks on the way anyway.
Our affair with the bad roads started in Karzok itself. There was no tarr on the road. It was quite apparent that the road in the village was never tarred as a matter of fact.
The first 50 kilometers to Sumdo were to be on the same road that we drove on yesterday to reach Karzok. On the way, we once again drove by the beautiful Kiagar Tso and could not help taking a couple of breaks.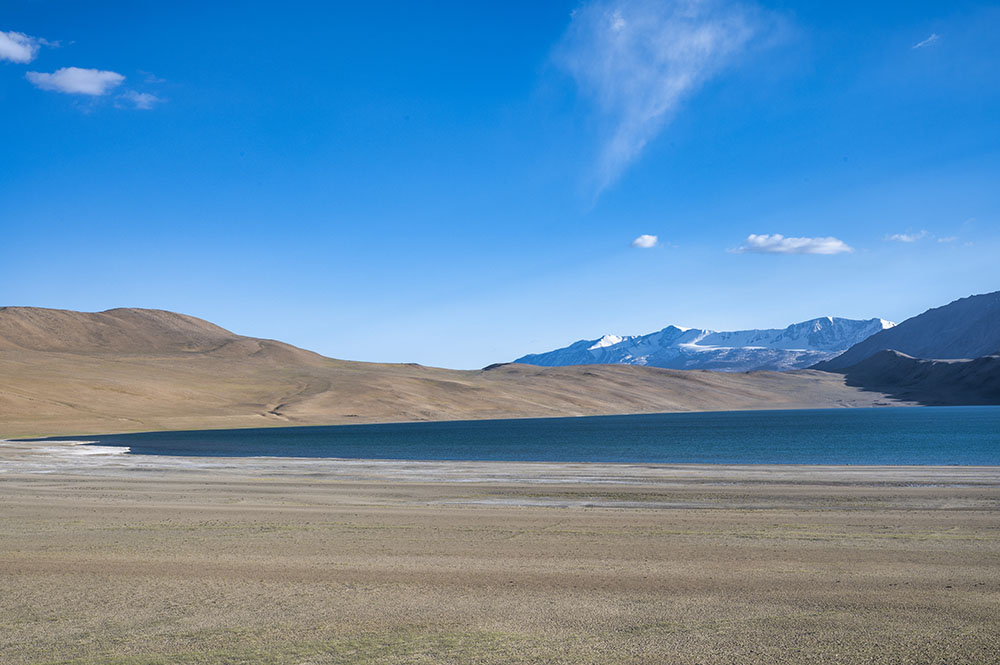 After a slow and bumpy ride of about 1 hour, we arrived at the top of Namshang La, also known as Kiagar La. The distance covered was only 28 kilometers but since we were stopping now and then, it took us an hour to cover it.
Namshang La / Kiagar La
At an altitude of 16,270 ft, Namshang La (also known as Kiagar La) is one of the easier passes of Ladakh. The incline of the pass is not that steep and you will barely notice the uphill climb.
Had it not been for the bad roads and the flags at the top of the pass, you will not even realize that you actually crossed a high-altitude pass.
This was the second time that we were crossing this pass in 2 days. This time, it was the 14th high-altitude pass that we crossed in our trip so far.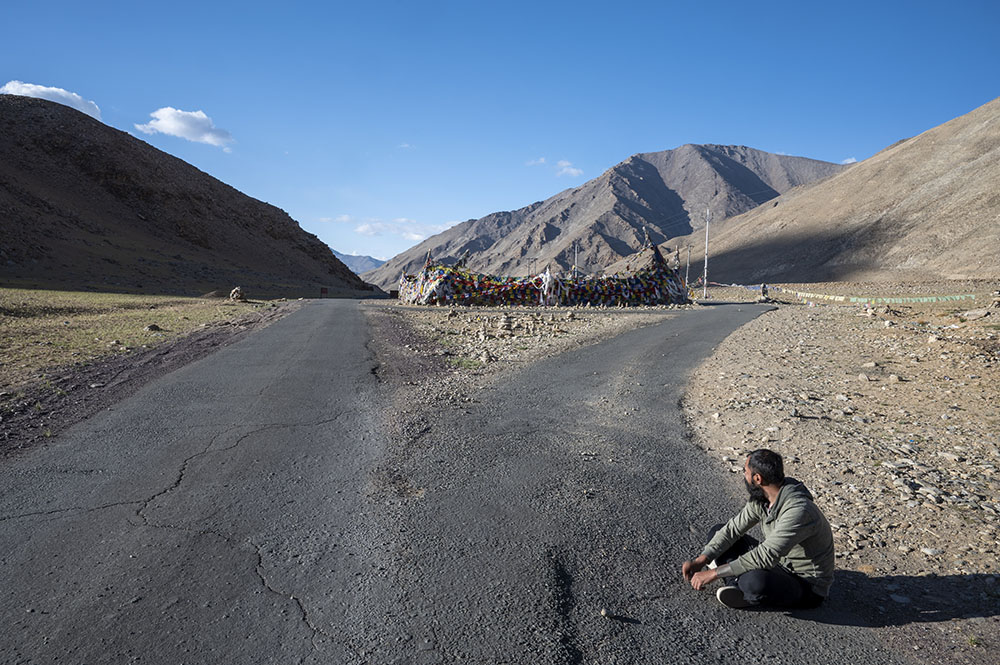 We took a short break at the top of Namshang La Pass and then started driving down on its other side to Sumdo. The road continued to remain extremely bad and after a super bumpy drive, we reached the village of Sumdo.
Sumdo is just a small village on this route. There is nothing to see here as such. We only stopped briefly at a small restaurant to get some tea and continued our journey to Puga Village.
Also Read: Clothes for Leh Ladakh Trip – What to Pack
Puga Valley
Two things make Puga Village famous. The first is the Puga Hot Water Spring and the second is the Puga Valley.
There are three famous hot water springs in Ladakh. The first one is in the Panamik Village in Nubra Valley. The second one is in the Chumathang Village and the third one is near Puga Village.
But the difference is that the hot springs in Panamik and Chumathang are developed and promoted as tourist destinations. There are proper bathing arrangements near these springs which is not the case in Puga.
The hot spring in Puga spreads over a vast area. The water flows down the valley leaving a white sulphuric trail, turning the landscape white. See the picture below to know what I am talking about.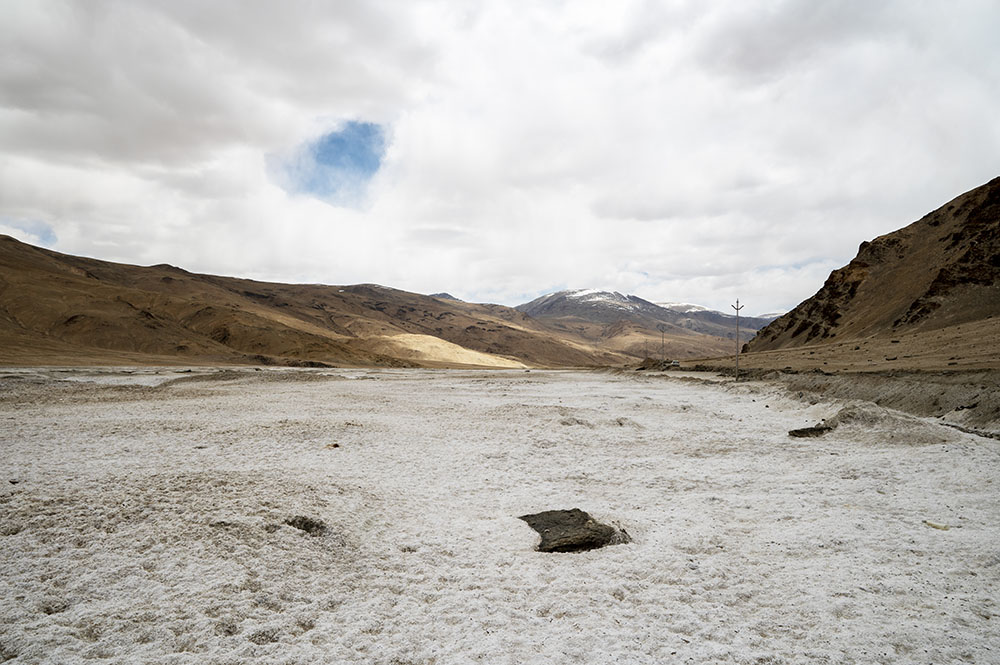 The second attraction of Puga Village is the green landscape known as Puga Valley. It is at a distance of about 2 kilometers from the village and is a popular spot not only for tourists but as well as the locals. You will often find this spot occupied by the locals having a picnic or organizing a function.
After Sumdo, we shortly reached the Puga Village and first stopped at this beautiful white landscape created by the water from the spring.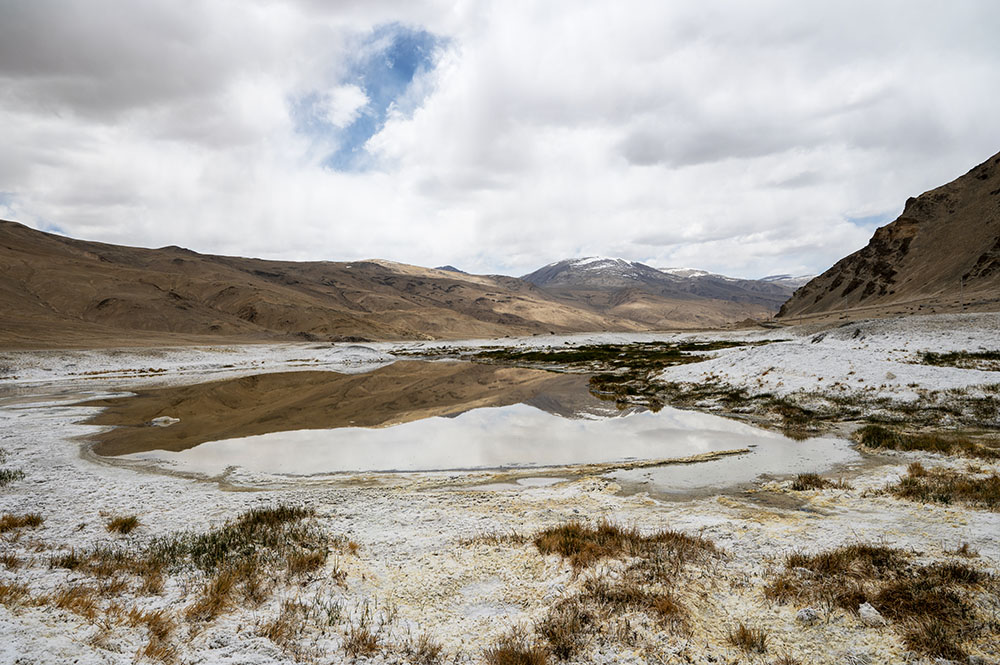 After that, we continued driving and took another break in the green valley.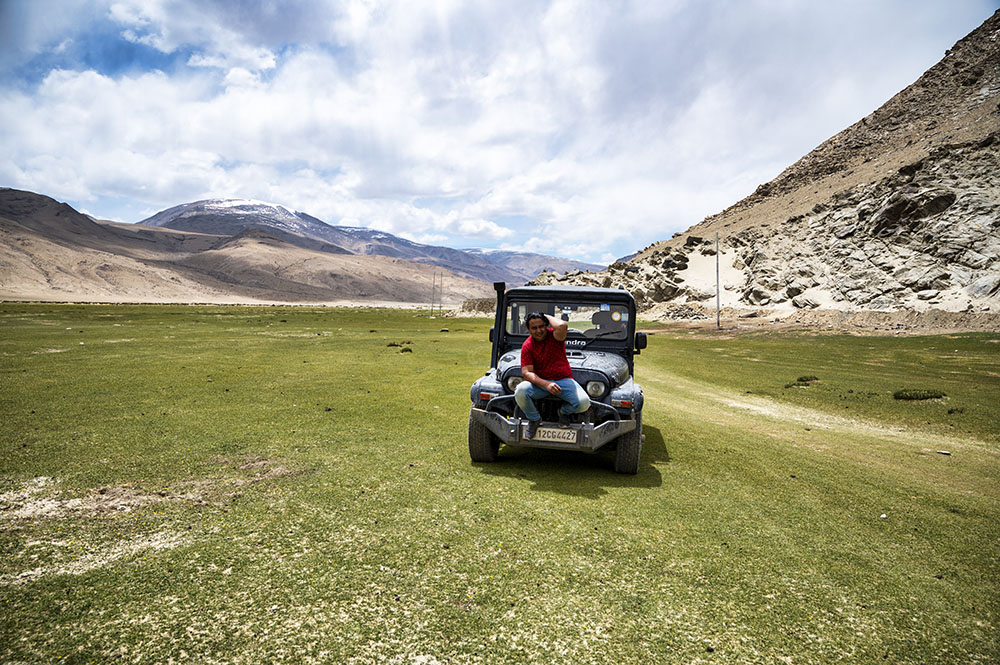 There was a local function going on here on the day we arrived. Unfortunately, though, it had finished by the time we arrived and the locals were just packing up.
Polokongka La / Pologongka La
The moment you cross Puga village, you start climbing up a high-altitude pass known as Polokongka La, also called Pologongka La.
Not a lot of people know about it though and people just pass through the region without realizing that they crossed a high-altitude pass.
The elevation of Pologongka La is 15,965 ft but its climb is very gradual. You gain altitude slowly due to which you do not realize that you are actually crossing a high-altitude pass.
But what makes Polokongka La difficult is the extremely bad condition of the road. The first time I was on this road was 13 years ago and then a few times in between. The condition of the road at Polokongka La however has not changed since.
Slowly and avoiding the loose rocks on the road, we started climbing up the pass. There was this other car traveling on this route at the same time that we were and it stalled at several places.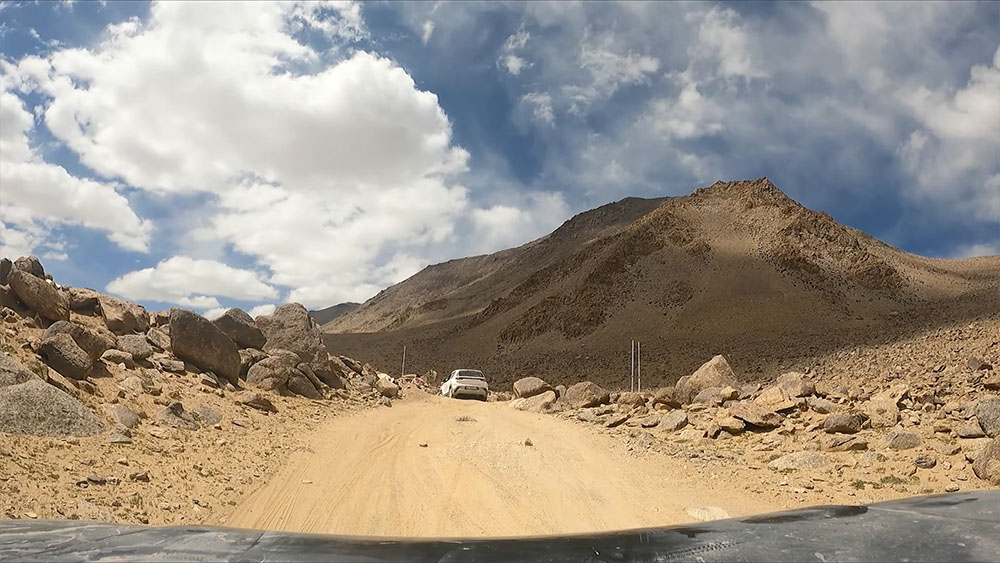 The condition of the road was very bad and huge boulders were lying right in the middle of the road. Everyone was forced to drive uphill very slowly while avoiding the rocks. There were a few bikers as well and even their bikes stalled at a few places.
This trip of ours to Ladakh lasted for 2 months and we crossed 39 high-altitude passes in total. But Polokongka La was the only pass where even my Thar hit a rock underneath.
So what I am trying to say is that this stretch of 10-15 kilometers around Polokongka La Pass is a difficult drive but not because of the incline of the pass but rather the bad condition of the road
Driving on this bad road, we finally made our way to the top of the Polokongka La Pass.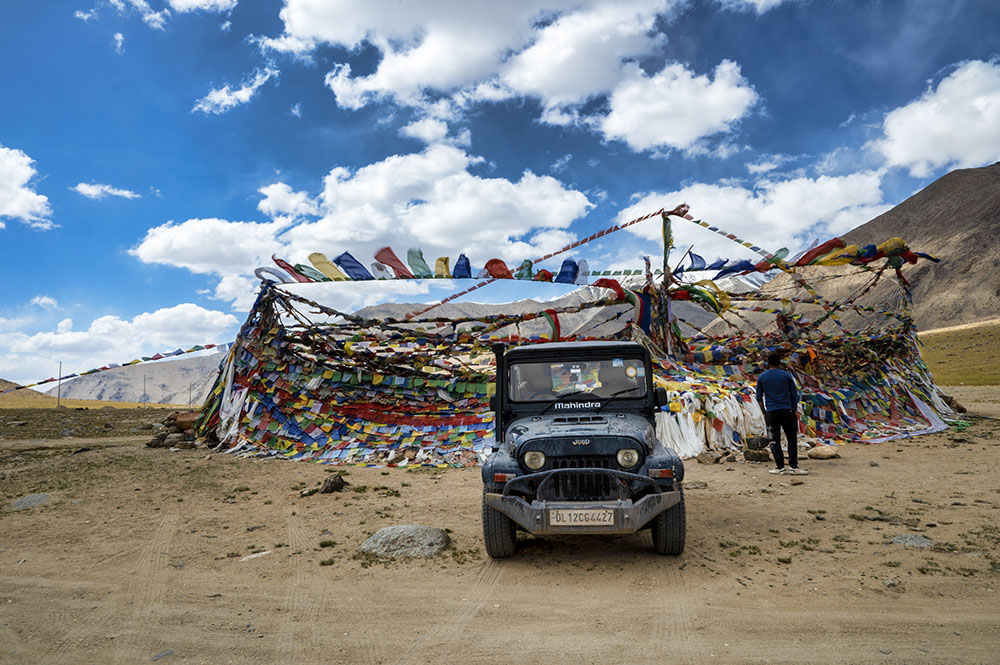 Mission Kiang
From Polokongka La Pass, we drove down to its other side and got our first view of the Startspuk Tso in the distance. Here I noticed two Kiangs standing by the road.
I wanted to get a few pictures of the Kiangs. These two were just standing there and I thought to stop the car and click a picture.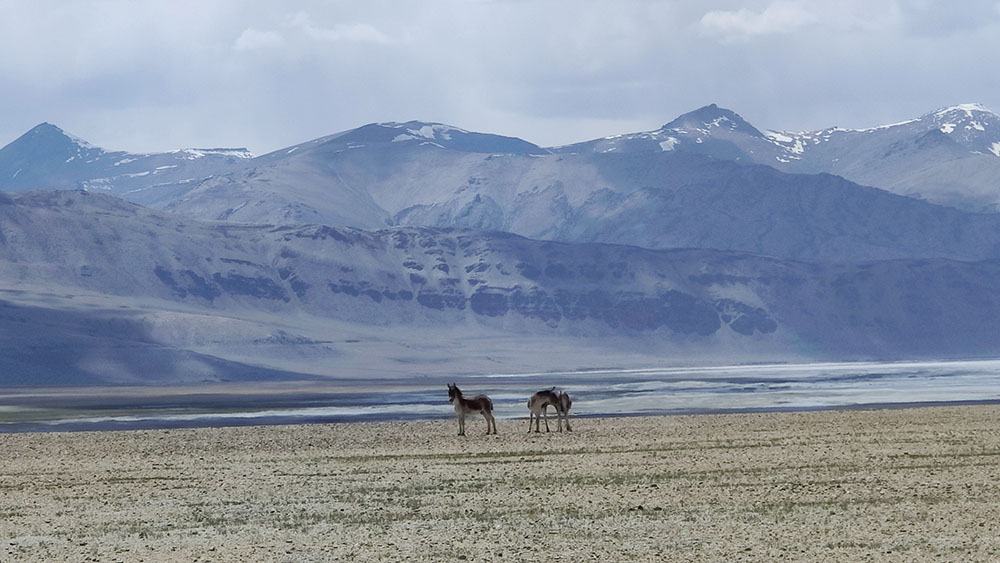 We stopped the car first at a little distance and click the picture above. But I also wanted to get a close-up shot so we drove a little closer to them and then stopped again. But the moment I brought the car to a halt, they noticed us and started running in the other direction.
I kind of expected this. The Kiangs continued running and just when we were thinking about moving on we noticed a third Kiang running from the other direction. It was running down from the other side of the road toward the other two Kiangs.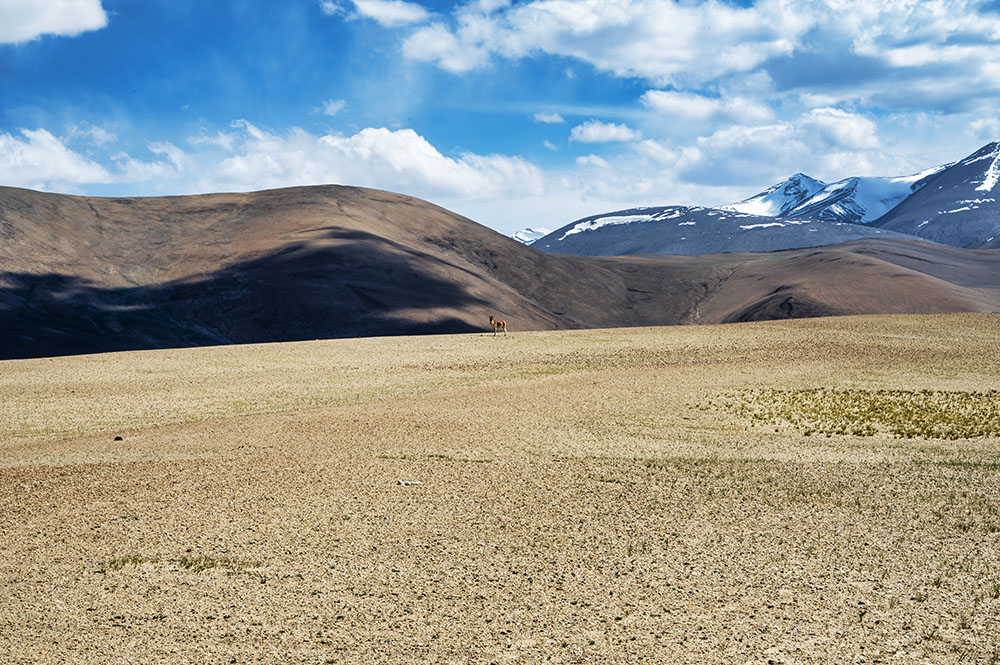 When we looked in that direction, the other two Kiangs were also now standing in one spot. I thought to take another chance to click a close-up shot but I knew that if I brought the car any closer, they would start running again.
So I stepped out of the car to click their picture and started walking toward them. They turned around and looked at me walking in their direction with a camera in my hand and all three of them started running again.
I have no idea why but I also started running after them which was foolish. I mean, they were Kiangs. There was no way I was going to catch up with them.
Anyway, the three of them ran away and I also started walking back to my car disappointed. Mission Kiang failed.
Startspuk Tso
In case you are wondering what a Kiang is, they are wild asses native to the Tibet and Ladakh region.  They are not found elsewhere in the world.
Nonetheless, I was not able to get a photo. All three of them ran away. So we also moved on, driving by the Startspuk Tso Lake.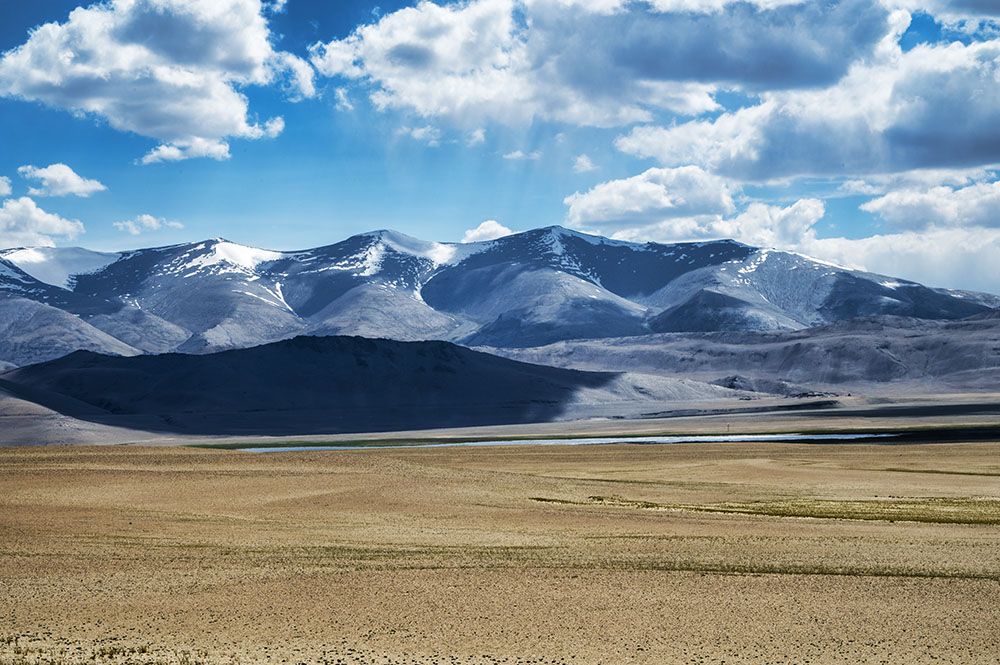 Startspuk Tso is another high-altitude lake located close to Tso Kar. Actually, both Tso Kar and Startspuk Tso are connected to each other by a small water stream.
Because of this Startspuk Tso is often confused with Tso Kar itself which is not correct. Both of these are different lakes. Tso Kar is larger in size and Startspuk Tso is a bit smaller. But one thing that is common is that they are both equally beautiful.
Also Read: Offbeat and Unknown Lakes of Ladakh
Tso Kar Camping Sites
Now what happened was that the last time I was on this road was almost 6-7 years ago. I came back to Ladakh in between but not on this particular route.
Our plan for the day was to reach Tso Kar Lake and camp there for the night. But the image that I had in mind of Tso Kar and the nearby campsites was from 6-7 years ago and that is what I was looking for.
What I did not realize was that the area near the lake and the campsite had changed in the last 6-7 years. We reached this place and this is where all the campsites near Tso Kar are.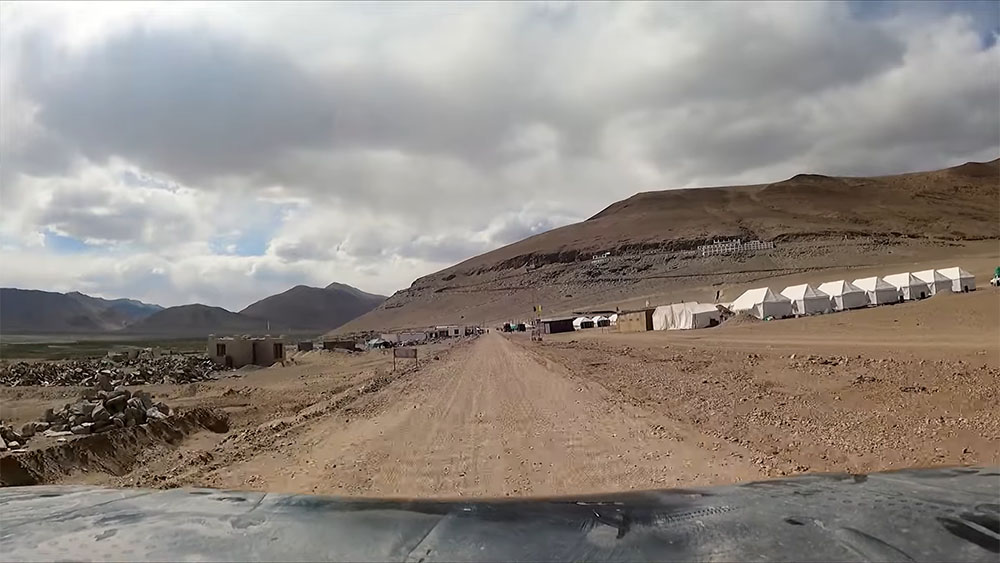 This is where people stay but I thought this was something new and where I wanted to stop is located further ahead. With this thought in mind, we continued moving on.
I did consider stopping for a while to ask around and also to get some tea. But then I thought that we have almost reached Tso Kar so we will only stop at the campsite that we wanted to stay in.
We continued driving on, passing through this area without stopping. Whereas the fact was that this was our destination for the day where we wanted to stay for the night.
There are even rooms available here now and a lot of campsites where you can stay for the night. You will also find Chadar tents here where you can get a bed for the night if you are a budget traveler.
There are a lot of small eateries in this area where you can get something to eat. But we just passed through this area and our entire plan for camping at Tso Kar failed at that moment.
More Plains & Debring
Below are a couple of pictures of the Tso Kar Lake and the vegetation around it.
We continued moving on, looking for the campsite that I wanted to stay in. We did not realize that the camping spot was the same place that we left behind and our plan had now failed.
After Tso Kar, we entered the More Plains. Thankfully, the condition of the road improved tremendously. Pretty soon we were driving on a beautifully smooth road.
After a drive of about we arrived at Debring and that is when I realized what had happened.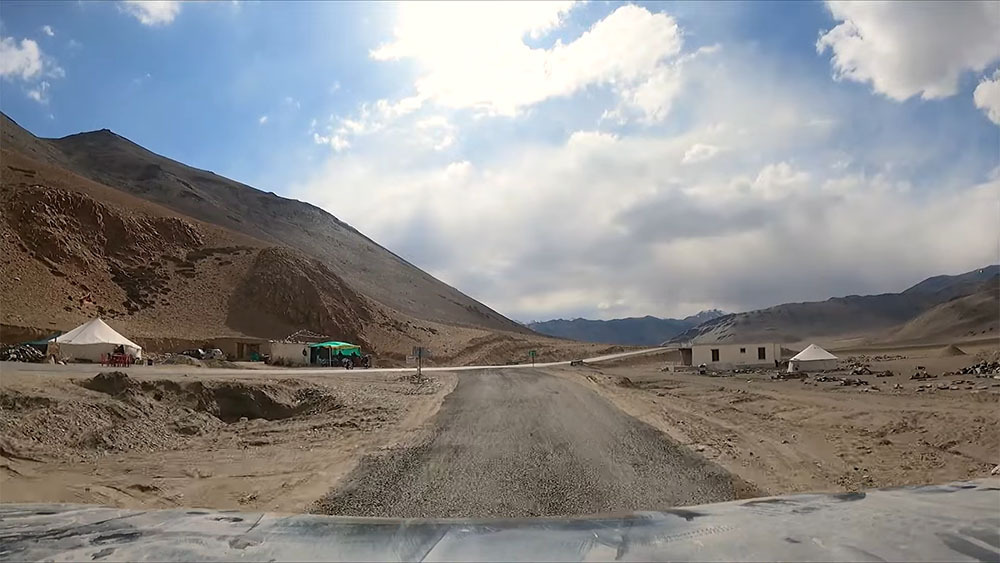 Debring is basically an Army BRO camp located on the Manali Leh highway. There are a lot of Dhabas here where people take a break to get something to eat.
Reaching Debring was no less than a shock to me. For the last 20 kilometers, we were driving looking for a camping spot but all of a sudden, the road merged with the Manali Leh highway and we were standing in Debring.
This is when I realized that we had left all the Tso Kar campsites behind and had now reached the Manali Leh highway. Before moving on with the travelogue, let me now provide some details on Tso Kar.
Tso Kar altitude
Tso Kar is located at an altitude of 4,530 meters (14,860 ft).
How to reach Tso Kar from Leh?
The best way to reach Tso Kar from Leh is via Tanglang La Pass, following the route below.
Leh – Karu – Upshi – Tanglang La – Debring – Tso Kar = 150 kilometers
Following the route above, the travel time will be anywhere between 6 to 7 hours, depending on your speed and breaks.
There is no public transport available for Tso Kar. The only way to travel is either in your own vehicle or in a private taxi. If this did not fit your budget, you can also rent a bike in Leh.
You may get public transport from Leh to Debring though. You can board any bus or shared cab going toward Manali and it can drop you near Debring. But there will be no bus or shared cab for the last 20 kilometers from Debring to Tso Kar Lake.
Tso Moriri to Tso Kar distance
The distance between Tso Moriri and Tso Kar is approximately 78 kilometers by the Polokongka La Pass. If you chose to travel via Chumathang, Upshi, and Tanglang La Pass, this distance will increase to about 270 kilometers.
Tso Kar is Freshwater or Saltwater?
Tso Kar is a saltwater lake. Until a few years ago the lake was an important source of salt, which the Changpa nomads used to export to Tibet.
Tso Kar Ramsar Site
Tso Kar is also recognized as India's 42nd Ramsar site. Currently, the lake basin has no special protection, but there are plans to include it within a national park which may be established in the highlands of south-eastern Ladakh
Tso Kar to Leh
Now coming back to the travelogue, the question was about what to do next. Should we drive back 20 kilometers to Tso Kar? Or should we continue straight to Leh?
We thought about it for a while and we decided that it was best to move on to Leh. The reason behind that was that the campsites at Tso Kar did not appeal to me at all. We discussed it for a while but it was just not scenic enough.  There was hardly anything to do there.
When you stay at a campsite, you expect that the views will be great and you will enjoy your time there. But that was not the case with the campsites at Tso Kar. It was just too dusty and the views were just dull.
So we decided that it was best to return to Leh. We took a short break at Debring, got some tea, and continued driving toward Leh. Our next destination was Tanglang La Pass.
Tanglang La
Also spelled Taglang La, Tanglang La is a mountain pass best known for its high altitude. It is the last pass that you will cross while traveling from Manali to Leh and the first one while traveling from leh to Manali.
The pass is located at a distance of 108 kilometers from Leh City and 320 kilometers from Manali. From Sarchu, you will drive through the More Plains to reach the top of Tanglang La. You will then drive down to reach the village of Upshi and then finally Leh City.
The actual elevation of Tanglang La Pass is 5,328 meters (17,480 ft). The board at the top of the pass claims the altitude to be 5,358 meters (17,582 ft) which is incorrect.
The entire journey from Debring to Tanglang La Top was bliss. The smooth road and the beautiful views just made us forget all about the bumpy drive between Tso Moriri and Tso Kar.
It did not take us long to get to the top of the pass. To our surprise, while we were there, it also started to snow, even though it was June. It was just a very light spell of snow but added to the overall charm of standing at the top of Tanglang La.
Upshi
We spent some time at the top of Tanglang La, clicked a lot of pictures, shot some videos, enjoyed the cold weather, and started driving down to its other side after about 30 minutes.
The journey remained to be a smooth one. The condition of the road was a mix of good and bad. We continued taking plenty of breaks to enjoy the sights and finally made it to Upshi by 6.30 pm.
Here, our plan changed once again. Our trip to Ladakh was going to last for 2 months. For this entire duration, our stay in Leh was booked in the same hotel.
When we reached Upshi, I called the owner of the hotel to let him know that we are on our way back to Leh. Because as per the plan, we were not going to reach Leh today. We were supposed to camp at Tso Kar.
But since that plan got canceled and we were now coming straight to Leh today, I thought to call and let him know. But When I spoke to him, he told me that since he was not expecting us back today, he lent the room to some other guest.
So now even if we reached Leh, we would have to check into some other hotel. The hotel where we left all our luggage was full and there were no rooms available.
Karu
When we were discussing this, I thought it would be better to stay in Karu rather than go back to Leh. The reason behind this was that there are a lot of places between Leh and Karu that I wanted to visit, like Hemis Monastery, Stakna Monastery, and Stok Palace.
So I thought to stay in Karu for the night. The next day, we can return to Leh while covering all these places on the way. So with this thought, we gave up the idea of reaching Leh and we decided to stay in Karu instead.
While we were traveling between Upshi and Karu, we witnessed this sunset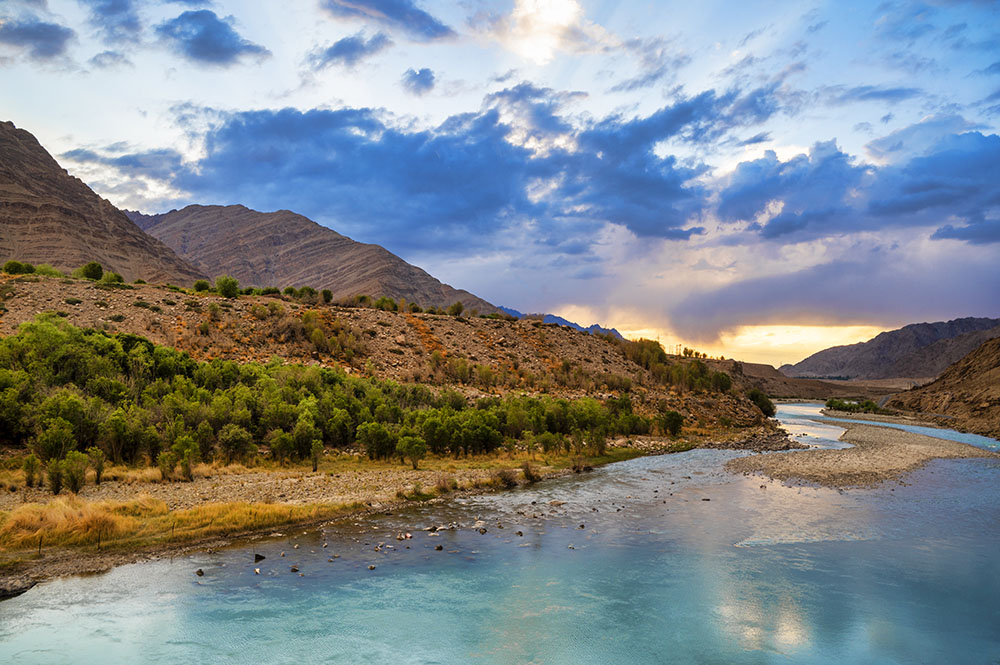 This possibly was the best sunset that I have ever seen in my life. It did not get captured in the photo so well but what we were seeing in front of us was just so beautiful.
We finally reached Karu by 7.30 pm and checked into a small hotel there. The plan for the next day was to visit the monasteries of Hemis, Stakna, and Matho as well as the Stok Palace. Please click on the link above to continue reading the next part of the travelogue.
Tso Kar Lake – Conclusion
I hope the travelogue, pictures, and information above on the Tso Kar Lake were of help. If you have any questions, you can contact me on Instagram and I will be happy to answer. You can also consider subscribing to my YouTube channel and asking a question there.
This error message is only visible to WordPress admins
Error: No feed found.
Please go to the Instagram Feed settings page to create a feed.