Yaye Tso Lake is a high-altitude lake located on the Chushul – Mahe road in Ladakh. It is one of the lesser-known lakes of Ladakh, fed by the melting waters of the surrounding glaciers, at an altitude of 4,820 meters (15,814 ft).
Hor La Pass, also spelled as Horla Pass, is a high-altitude pass in Ladakh. The elevation of the pass is 4,966 meters (16,974 ft) and it is one of the two passes on the road between Chushul and Mahe.
Together, both of these places are located in one of the least-explored regions of Ladakh. Not a lot of people travel on this road but the ones that do will surely be charmed by the scenic beauty they will witness on this route.
I recently traveled to both these places during my recent trip to Ladakh. We were actually on our way to Tso Moriri but decided to take a bifurcation just to go to the Horla Pass and see Yaye Tso. To read the previous parts of the travelogue, you can follow the links below.
Journey So Far:
A return journey from Mahe Bridge to Yaye Tso took us about 4 hours, a bit longer than I expected. But in the end, it was all worth it. You can take a look at the video below of our journey to know what I am talking about.
About Yaye Tso and Horla Pass
Before I move on with the travelogue, let me provide a little more information on both of these places. Take a look at the map below and notice the road between Mahe and Chushul.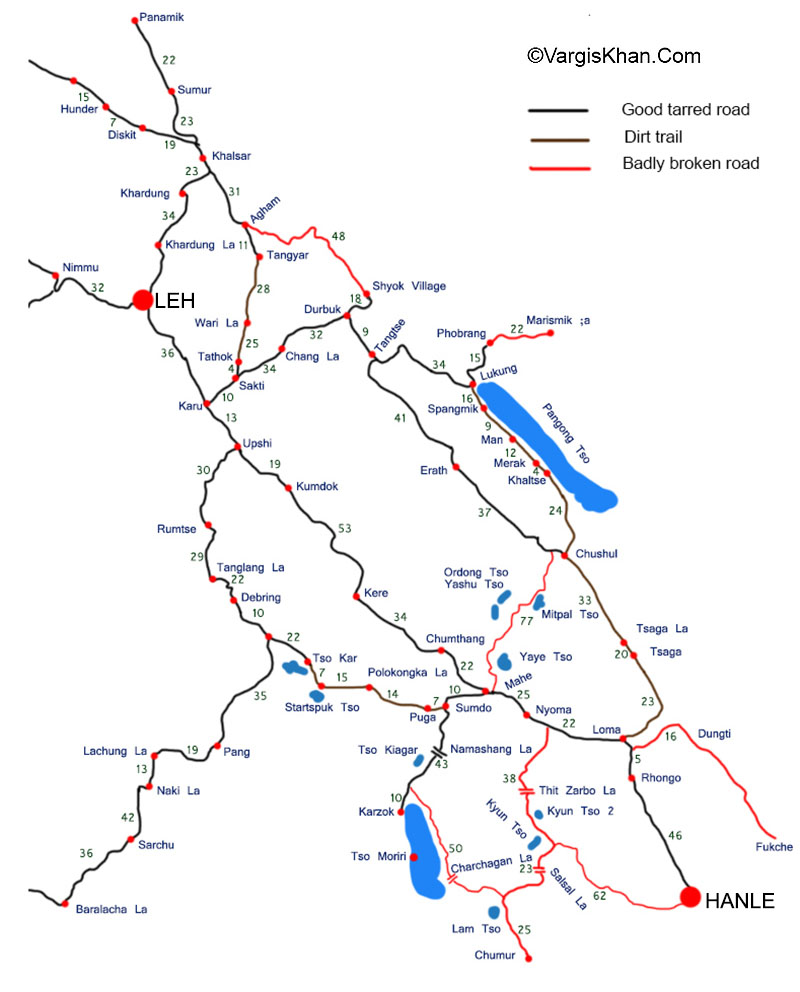 The route across Hor La and Kakasang La is a direct route between Mahe and Chushul. This road was carved out about 8 years ago to reduce the distance and travel time between both the villages.
Before this road came into existence, the only way to travel between Mahe and Chushul was via Loma and Nyoma, a total of about 110 kilometers.
But the Hor La road reduced this distance to only about 62 kilometers, providing quicker and better accessibility between both villages.
There are 2 passes on this route, Hor La at an elevation of 16,194 ft and Kakasang La at an elevation of 17,834 ft. There are also four high-altitude lakes en route – Yaye Tso, Mirpal Tso, Ordong Tso, and Yashu Tso.
Of these 4 lakes, Yaye Tso and Mirpal Tso are visible from the main road itself. The other two lakes however would require you to leave your car and trek a little to reach them.
Also Read: How to Plan a Trip to Leh Ladakh –  A Complete Travel Guide
Leh to Yaye Tso
The last time I traveled on this road was when it was freshly carved and was entirely a dirt road. But in recent years, it has been tarred and the journey now is a smooth drive all the way.
From Leh, we started in the morning at around 6.30 am. Traveling via the Chumathang road, we finally reached the Mahe Bridge at 1 pm.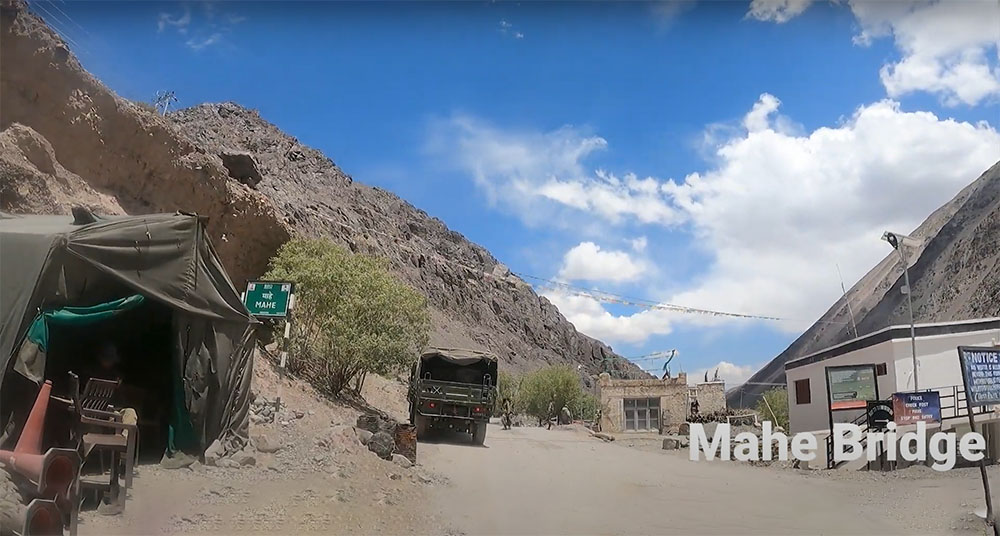 Here, we were supposed to turn right, cross the bridge and go to Karzok where we planned to stay for the night. But before doing that, we decided to first go straight to the Hor La Pass and see the Yaye Tso Lake. The distance between Mahe Bridge and Hor La was only about 20 kilometers.
Since it was just 1 pm, we had plenty of time for a round trip to Hor La. With that thought, we moved on from Mahe Bridge to Mahe Village and turned on the road toward Hor La Pass.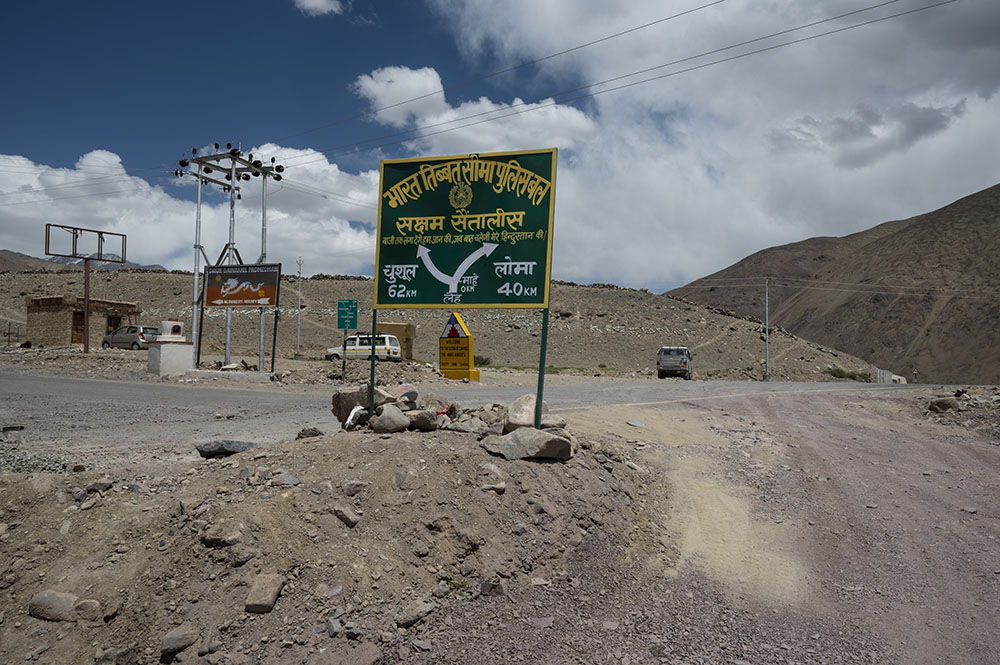 Mahe to Hor La
The road between Mahe Bridge and Mahe Village was really bad, for a total of about 3-4 kilometers. But after that, as soon as we turned on the road to Horla, it turned into an enjoyable drive on a super smooth road.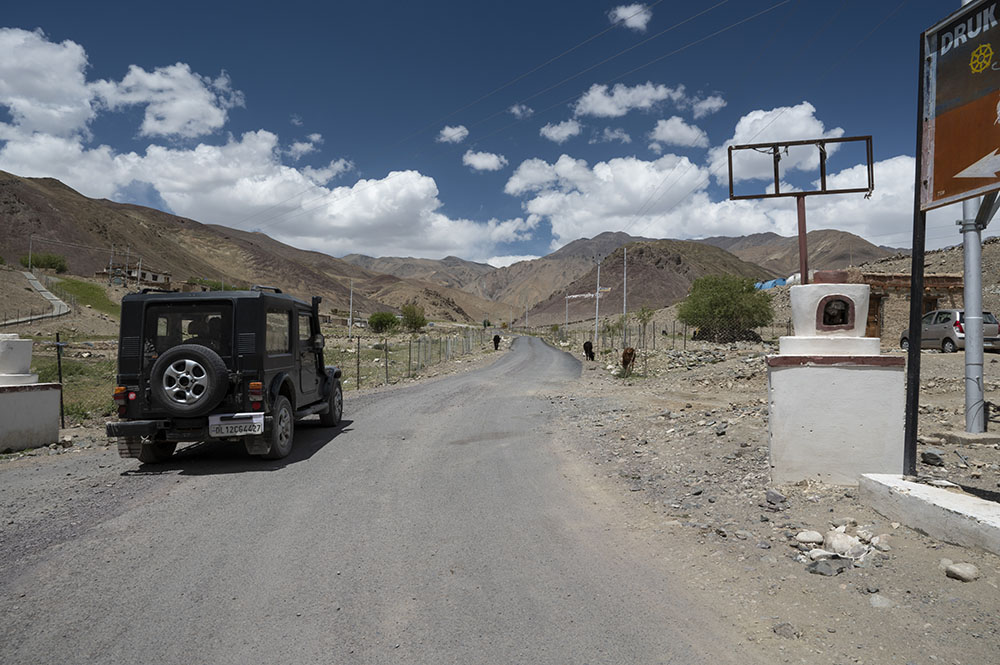 The unique thing about Hor La is that the ascent is not that steep. There are a lot of long loops which ensures that you gain altitude gradually.
In fact, you will not even feel like you are driving up a high-altitude pass. Unlike other passes, where you have a ditch on one side, at Hor La, the entire landscape rises with you. See the picture below to know what I am talking about.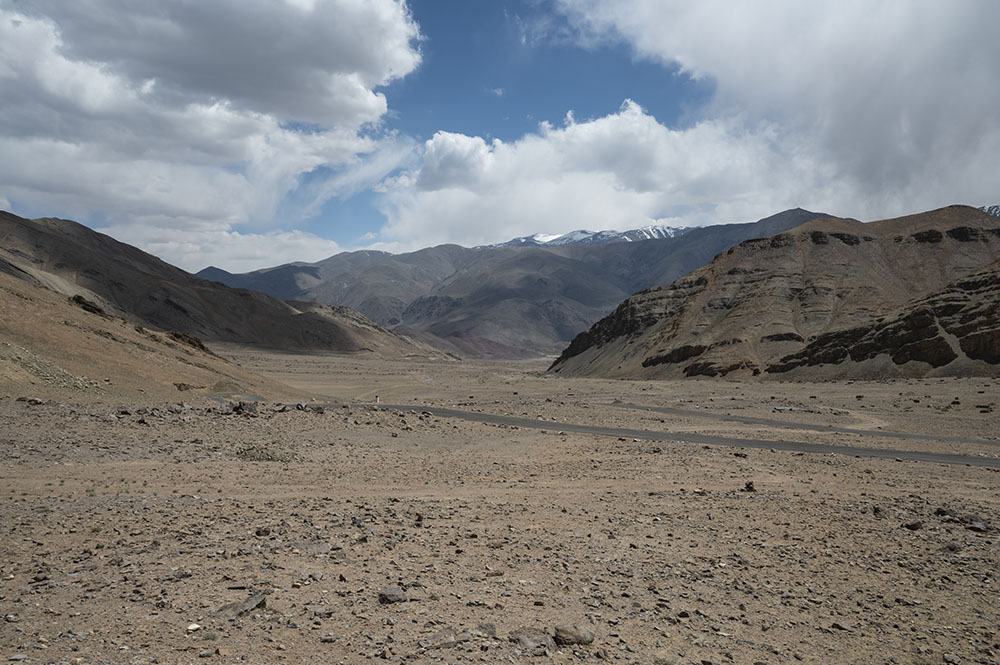 After an enjoyable drive and a few breaks, we reached a point that was marked by a lot of flags. We could also see the Yaye Tso Lake in the distance.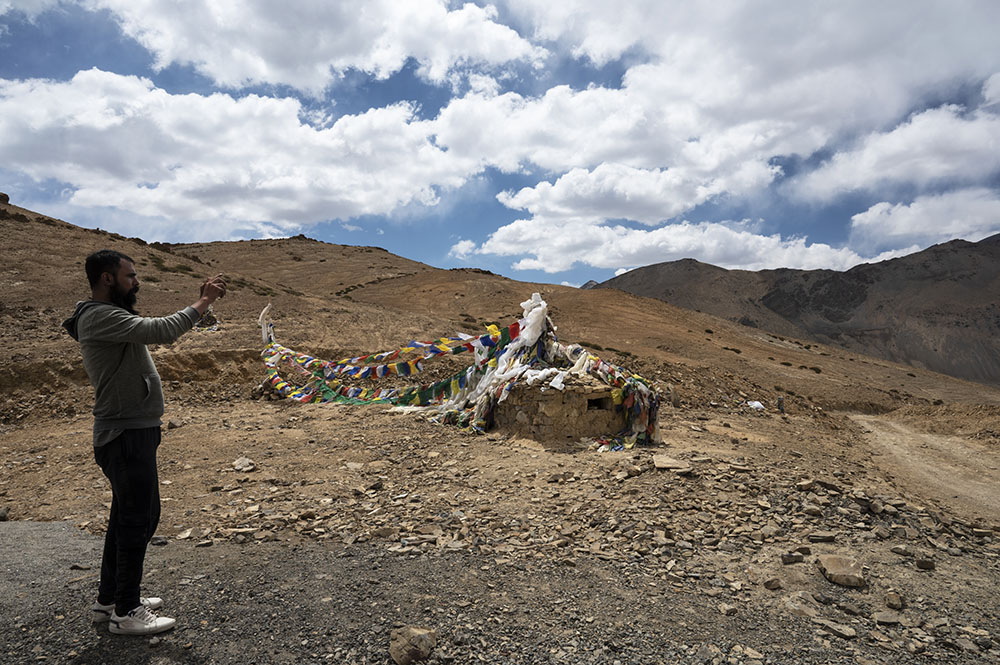 Now this is where I actually got confused. The flags were telling me that I am standing at the top of a pass. The flags are how all the passes in Ladakh are marked. But what was missing was a board that read Hor La.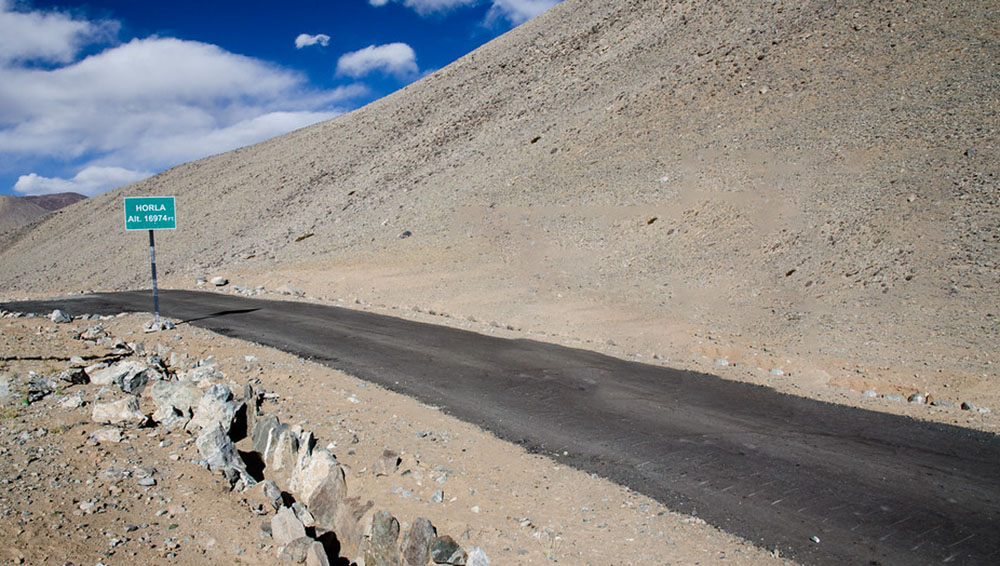 The first time I came on this route, I saw this board. The picture above is from that trip. But this time, the board was nowhere to be found.
On top of it, I could also see that the road continued to climb up even further ahead. This made me think about whether we actually reached the top of the pass or not.
Also Read: How to travel to Ladakh with children or infants
Thato La / Nurpa La
After I came back home though, and went through my own notes from that journey, I realized that we were actually standing on top of a pass that no longer exists. It was known as Thato La or Nurpa La.
Before this entire road from Mahe to Chushul across Hor La was carved out, there still used to be a road from Mahe to Yaye Tso. This road climbed up for about 17 kilometers from Mahe and ended at the top of the mountain from where one could see the lake.
There are a couple of villages up there, near the lake. So I am guessing that this road provided connectivity to those villages. It would end at the top of a mountain right before the lake. This top at that time was known as Thato La.
But after the entire route to Chushul was carved out and the road got extended, it went even further up to Hor La. After that, Thato La ceased to exist and the highest elevation point was then replaced by Hor La. But the flags of Thato La were still there at the old spot.
This is what I found out after I returned from the trip. But at that time, standing at the mountain, I just kept wondering if we were at Hor La or not.
To solve this mystery, we decided to continue driving further up and see where the road would lead. It was all only to find out where the top of Hor La was.
Hor La
We drove for about 7 more kilometers and reached another spot and reached another spot marked by flags. From that point, the road was going downhill and we knew that we had reached the top of the Hor La Pass.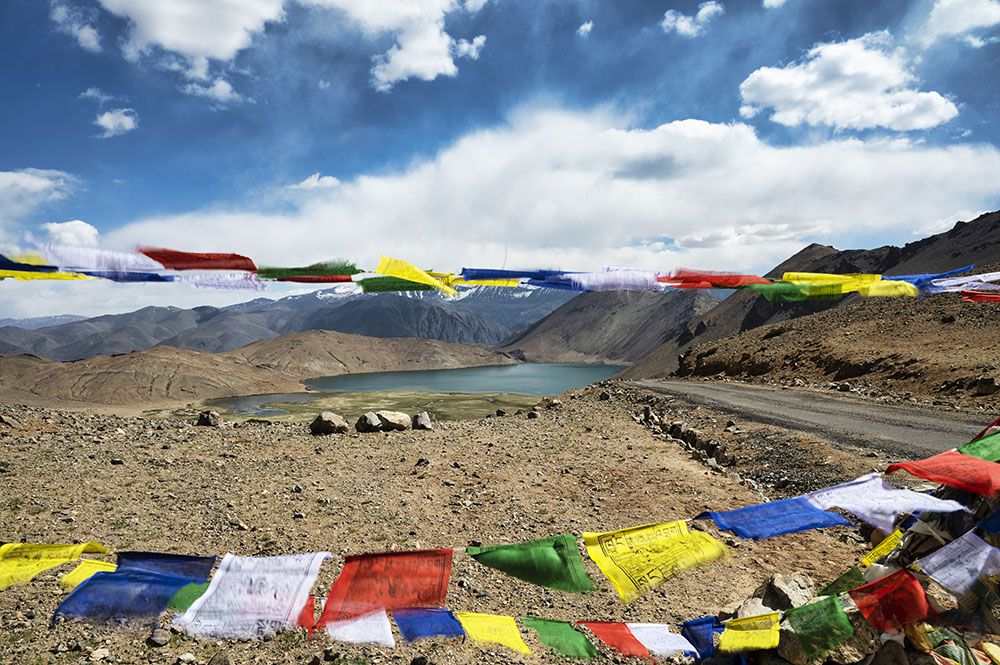 We spent some time at the pass and then started to think about what to do next. It was nearly 3 pm and ideally, we should have started on our way back. But just to explore a little bit more, we continued driving ahead.
In no time, we had to drive down the Hor La Pass, on its other side. As a matter of fact, we went all the way to the spot where the road started climbing up again to Kakasang La.
For a while, I thought to go to Kakasang La Top but we were running short on time. We still had a long way to Karzok on some really bad roads. On top of it, I also wanted to spend some time at Yaye Tso Lake.
So we finally turned our car around and started on our way back. Yes, we started climbing up Hor La Pass again but this time, from its other side. On the same day, we crossed Hor La Pass twice.
The rest of the journey was smooth and eventless. We reached the top of the pass again and turned on the dirt road that went down to the lake.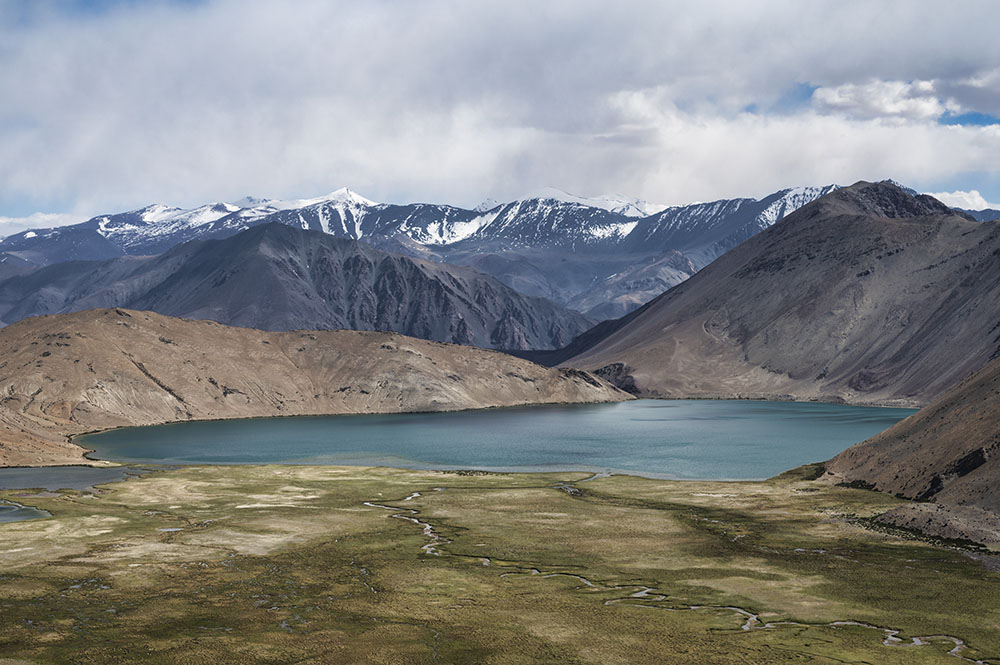 Yaye Tso
See the picture below. We were at the top and literally drove down on the face of the mountain to reach the lake below.
Yaye Tso is really a beauty in itself. There are numerous lakes in Ladakh. Some of them are very large and some are really small. But one thing that is common among them all is that they are a giant in natural beauty. Yaye Tso is a testimony to that fact.
We spent about 30 minutes walking around near the lake, clicking pictures. It was nearly 4.30 pm when we decided that it was finally time to return to our original plan of Tso Moriri otherwise we would not make it to Karzok before dark.
From the lake, we again drove up back to the main road and then down again to Mahe Village and Mahe Bridge.
Namshang La
There is a check post near the bridge where we registered ourselves. Entries were made in a register before we were allowed to cross the bridge and proceed further.
The road in and around Mahe was really bad and it continued to remain that way on the other side of the bridge as well. I was hoping that it will be better for the initial part of the journey at least but I was wrong.
The condition of the road actually deteriorated. After a super bumpy ride of about 12 kilometers, we reached the village of Sumdo.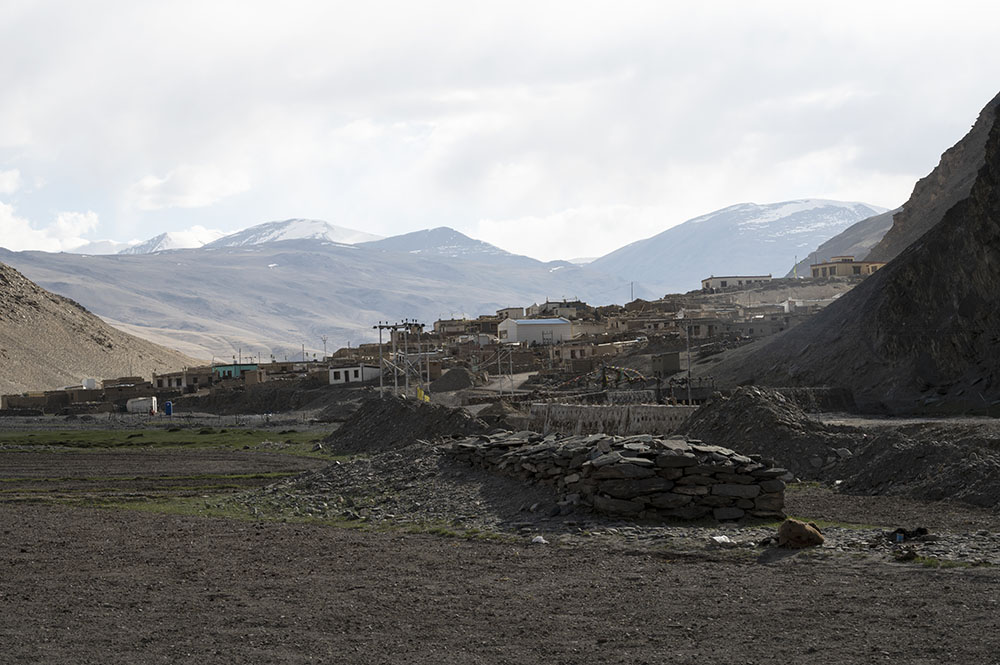 Just before Sumdo, we turned left on the road that goes to Karzok. This is where the ascent of Namshang La Pass starts. At an altitude of 16,270 ft, it is one of the easier passes of Ladakh.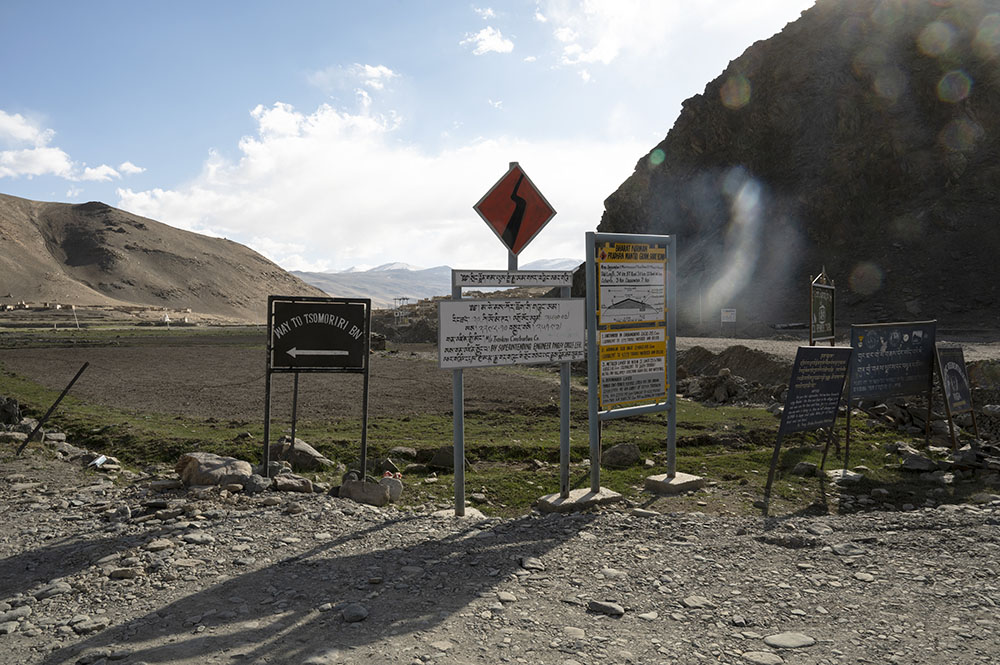 The incline of the pass is not that steep. From Sumdo, the top of the pass is only about 12 kilometers. Had it not been for the bad roads and the flags at the top of the pass, you will not even realize that you actually crossed a high-altitude pass.
There is a small lake on the other side of this pass known as Kiagar Tso due to which, this pass is also known as Kiagar La or Kyagar La.
The condition of the road continued to get worse and by the time we made it to the top of the pass, the clock read 6 pm. Yes, it was so bright in Ladakh even at 6 pm.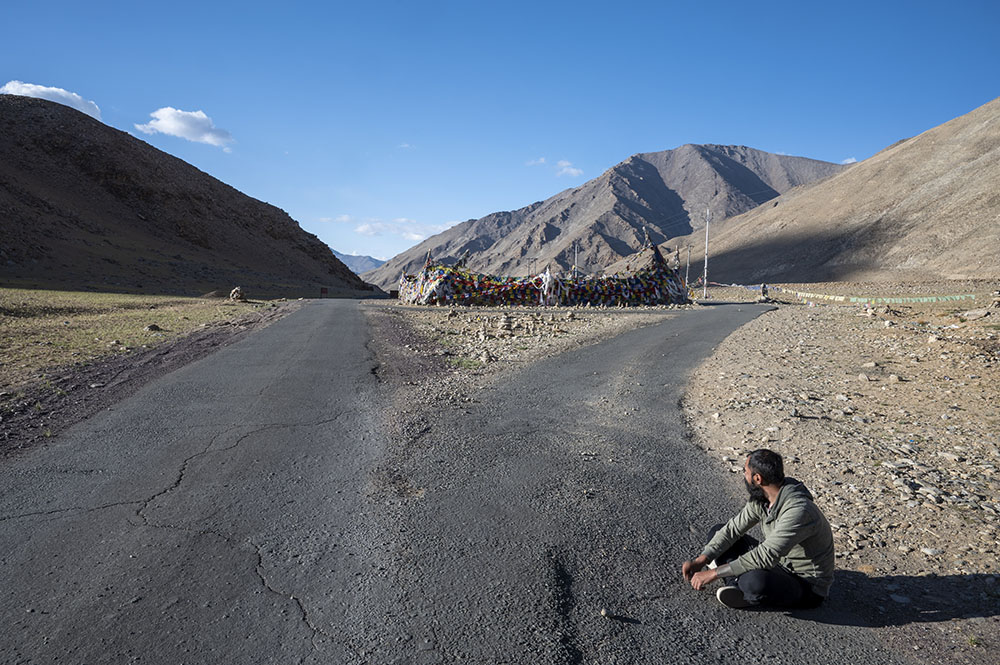 Kiagar Tso
We took another small break at the top of Namshang La and started driving down to its other side. We had hardly gone for about 4 or 5 kilometers before we stopped once more.
Right in front of our eyes was the beautiful Kiagar Tso.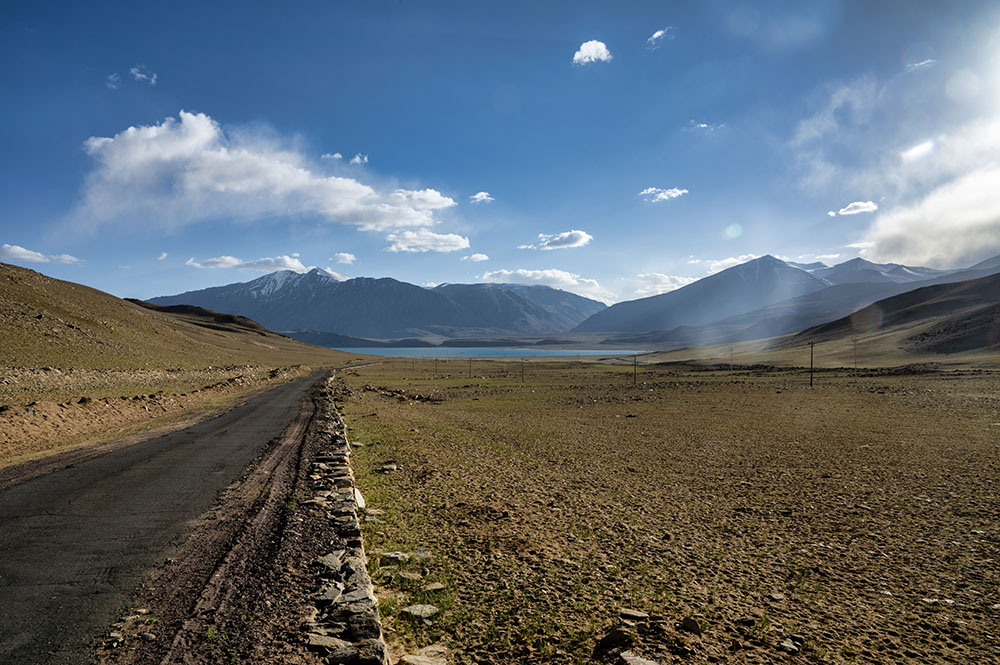 This is one of my favorite lakes in Ladakh. It may be a lot smaller in size than Tso Moriri but sometimes, I actually think that it is more beautiful than Lake Moriri itself.
Like Tso Moriri, Kiagar Tso is also a freshwater lake and supports the wildlife around.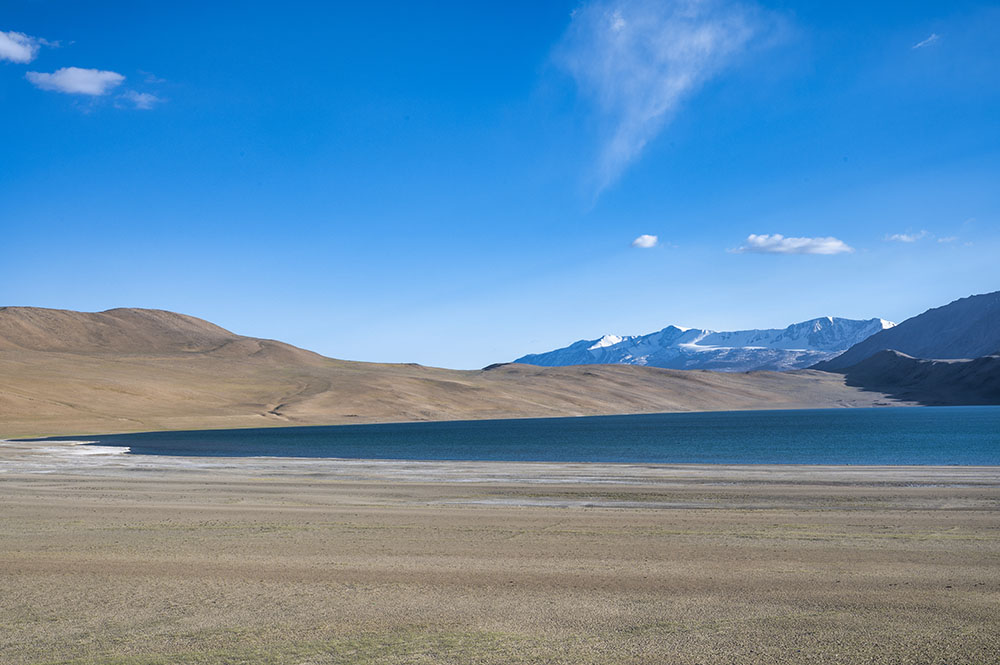 We took a couple of more breaks to click some more pictures of the lake and finally reached the intersection where a road to Chumur bifurcates.
Chumur Road
When I first visited Ladakh, I got confused at this point. See the picture below.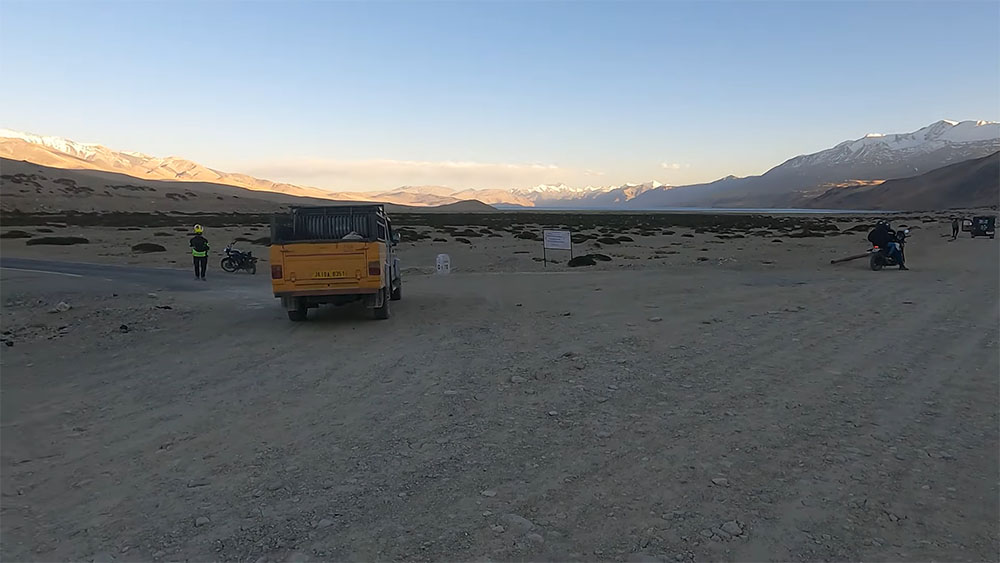 The road to the left is all tarred and smooth. The one going straight is a dirt road. This leads people to believe that the road to Karzok is the one going left which is incorrect. It is actually the one going straight.
The road to the left runs for another 70 kilometers to the Chumur Area which is out of bounds for tourists. It is a restricted place due to all the Chinese incursions that have happened in that area.
When we first reached here during a previous trip, I got confused and turned left. We actually went for about 30 kilometers in the wrong direction before we were sent back by the Army.
So keep that in mind. When you reach this spot, do not turn left and continue going straight. From this point, Karzok Village is about 11 kilometers away.
Also Read: Ladakh Checklist – Things you should carry for Ladakh Trip
Karzok
By now, the sun was setting down. It was over 12 hours since we started from Leh and we were both very tired and wanted the journey to end. But despite all that, the view just kept making us stop at every turn of the road.
We got late on the road due to all the exploring we were doing. But in the end, it just worked in our favor. This way, we were able to witness the sunset at Tso Moriri while driving right next to it.
Finally, at around 7.30 pm, we drove into the Karzok Village and reached our abode for the night, Crane Guest House.
Crane Guest House
Crane Guest House is one of the oldest accommodation options in Karzok Village. Actually, it is not a guest but a homestay rather.
The first time I was in Tso Moriri about 13 years ago, there were only about 3 or 4 homestays available here and Crane Guest House was one of them.
This is the first time I was staying here though. When I entered the room, I must admit that I was a little disappointed at first. The room was small, much smaller than I anticipated.
But then I realized that I was staying in a homestay and not a hotel. This is how the houses of the local villagers would be. So I brushed aside my thought of disappointment and settled in.
We rested for a while and were invited for dinner by the owner a little later. We sat down with them in their kitchen and feasted on some simple yet delicious food.
Having dinner with the family was actually the best part of our homestay. It was a warm and cozy kitchen, the food tasted good and we were served hot Rotis straight off the Tawa. It was awesome.
After dinner, we came back to our rooms and were in no condition to do anything else but sleep. I think we went to sleep by 9 pm. It was like we lost consciousness as soon as we hit the bed and did not regain it until 6.30 the next morning.
The plan for the next day was to travel from Tso Moriri to Tso Kar via Polokongka La Pass and camp there for the night. Please click on the link above to continue reading the next part of the travelogue.
Yaye Tso Lake & Hor La Pass – Conclusion
I hope the travelogue, pictures, and information above on Yaye Tso and Horla Pass were of help. If you have any questions, you can contact me on Instagram and I will be happy to answer. You can also consider subscribing to my YouTube channel and asking a question there.
This error message is only visible to WordPress admins
Error: No feed found.
Please go to the Instagram Feed settings page to create a feed.