Tso Moriri is one of the two gems of Ladakh, the other being Pangong Tso. This lake is a remarkable beauty in itself. Not just the lake in fact but the entire journey from Leh to Tso Moriri takes you through a highly scenic region that is worth viewing.
The deep blue waters of Tso Moriri present a feast for the eyes. Surrounded by green fields and against the majestic grey of surrounding barren hills, it is one place which in my opinion must find a place in the itineraries of every person visiting Ladakh.
I recently visited Tso Moriri on my 2-month-long trip to Leh Ladakh. The post below is a brief narration of our journey from Leh to Tso Moriri and also provides several other necessary tips for visiting this part of Ladakh. To read the previous parts of this travelogue, you can follow the links below.
Journey So Far:
In case you are wondering about Day 18, we actually did not go anywhere on that day, just relaxed at the hotel. On Day 19, we visited Leh Palace and then rested at the hotel on Day 20. On the 21st day of the trip, we finally moved on to Tso Moriri Lake.
Below is a video of our journey on this day that you can also take a look at. It can give you an idea of the route, road conditions, and the difficulties you may face.
Leh to Tso Moriri Routes
There are three different routes that you can take to reach Tso Moriri. The first one is from Leh to Karzok via Chumathang. The second one is from Leh via Tso Kar and More Plains. The third route is via Pangong and Chushul.
Leh – Upshi – Chumathang – Mahe – Sumdo – Karzok (Tso Moriri)
Leh – Upshi – Rumtse – Tanglang La – Debring – Tso Kar – Polo Kongka La – Sumdo – Karzok
Leh – Pangong Tso – Chushul – Mahe – Sumdo – Karzok
Traveling by the first route, you can easily reach Karzok from Leh in 6-7 hours. The second route via Tso Kar will take you about 7-8 hours. The third route via Pangong is the longest and it is best to do it in 3-4 days.
We completed this journey by the first route, via Chumathang which I will talk about later in the article. But before that, let me provide a little information on the other two routes.
Leh to Tso Moriri via Tso Kar
This route is slightly longer than the first one in terms of both distance and travel time due to 3 high-altitude passes in between and bad roads.  The total distance covered will be around 260 kilometers. Travel time will easily be around 8-10 hours.
The first part of this journey will have you drive until Upshi on the Manali Leh highway.  Upon reaching Upshi, continue on the Manali Leh highway towards Rumtse.
The ascent of Tanglang La starts after Rumtse. Once you have crossed the pass, you will arrive at an Army establishment called Debring. This is where More Plains starts.
There are also a few dhabas there and near the Dhabas, you will notice a road going toward your left. Leave the Manali Leh Highway here and turn on this road.
The first lake on this route is Tso Kar which will be approximately 22 km from this diversion. Stop at Tso Kar, have something to eat at the Dhabas near the lake, and click some pictures.
The second lake on this route is Startspuk Tso, a small lake that can easily be missed or confused as Tso Kar itself. The road too will vanish after Tso Kar and you will be traveling on dirt tracks.
On the way, you will also cross Puga hot water springs, also known as Puga Valley. It is another great spot to take a break. The lush-green scenery around Puga is very charming.
A few kilometers after Startspuk Tso is the ascent for Polo Kongka La. The climb is not very steep and you will barely notice it despite the bad roads.
Continue on this road till you reach Sumdo. From Sumdo, take the turn towards Karzok. After this, the last 50-odd kilometers of the journey is mostly on a bad road.
Leh to Tso Moriri via Pangong Tso & Chushul
The next route that can be taken to reach Tso Moriri is the longest and is ideally a 2-3 day journey. This to not really the route to take if you just want to visit Tso Moriri Lake. Rather, this is the route you follow in the form of an overall itinerary covering Pangong Lake and Tso Moriri both.
Following this route, you first arrive at Pangong Lake via Chang La Pass. This can be completed in about 6-7 hours depending on your speed and breaks. For that day, you will spend the night at Pangong Lake itself.
On Day 2, take an early start as the journey is very long. You will first travel along Pangong Lake until Chushul. This is a very scenic drive even though it is on a dirt road.
After Chushul, you will drive until you reach Loma village. From there, turn right and follow the road all the way to Mahe, Sumdo, and Karzok.
I have explained this entire route in detail in Pangong Tso to Moriri Lake Direct Route Guide which you can take a look at. Reposting this here again will end up making this page way too long.
Leh to Tso Moriri via Chumathang
This is the shortest and the most common route to reach Tso Moriri from Leh. The total distance covered while traveling this way would be 220 kilometers. Travel time can be anywhere between 6 – 7 hours depending upon your speed and breaks.
Now coming back to the travelogue, this is the route that we traveled on to reach Tso Moriri. The plan was that we will reach Tso Moriri via the Chumathang route and stay for the night in Karzok.
The next day, we intended to travel to Tso Kar via Polokongka La Pass and camp there for the night. On the third day then, we were to circle back to Leh City via Tanglang La Pass.
But before we reached Tso Moriri, there were a few other places that I wanted to visit. The first one was Key La Pass, the second was Hor La Pass and the third one was Yaye Tso Lake.
Plan for the Day
So this is how the plan was finalized. We will start early from Leh and first go to Key La Pass. The idea was to just reach the top of the pass and come back down the same way to the Manali Leh highway.
From there, we will travel to Mahe Bridge where the road to Tso Moriri bifurcates. But before going to Karzok, we will continue straight all the way to the top of the Hor La Pass.
Yaye Tso Lake is also located near the top of the Hor La Pass, at a distance of about 25 kilometers from Mahe Bridge. So we will be able to visit both the pass and the lake in a couple of hours at the most.
We would then drive back down the same way to Mahe Bridge and be on our way to Tso Moriri. Why this weird plan and so many deviations? Well, that is because we wanted to cover all the routes and as many passes as possible.
These three places were not fitting into the overall itinerary. I wanted to travel on the Hor La, Kakasang La route. But the way the itinerary was, I just did not know how to include this road in my plans.
So we just decided that we will cover half of it from the Mahe side and the other half from the Chushul side while we go to Umling La.
The same applied to Key La Pass as well. It was not fitting into the itinerary so we just decided to go there, see the top of the pass, and come back down.
Crazy plan? I agree but this was really the only way we could have included these places in our trip. Otherwise, we would have missed all three of them.
Leh to Karu
For us to execute this plan successfully, the most important thing was to start early. We were going to take a lot of bifurcations on some very bad roads and I knew it was going to be a long day.
Thankfully though, when the alarms in our cellphones went off at 5 am, we did manage to get out of our beds and started getting ready. But did this help? It actually did not.
We got ready by 5.30 am and asked the hotel kitchen for some tea and breakfast. They took their own sweet time in preparing it. We were also feeling a little lazy so we also just sat and felt no need to rush the cook.
Due to this, by the time we drove out of the hotel, the clock read 6.45 am. We were already behind schedule by almost an hour.
I do not know why but the start of the day was very lethargic that day. Even though we were running late, I was driving at around 30 or 40 kilometers an hour, that is it.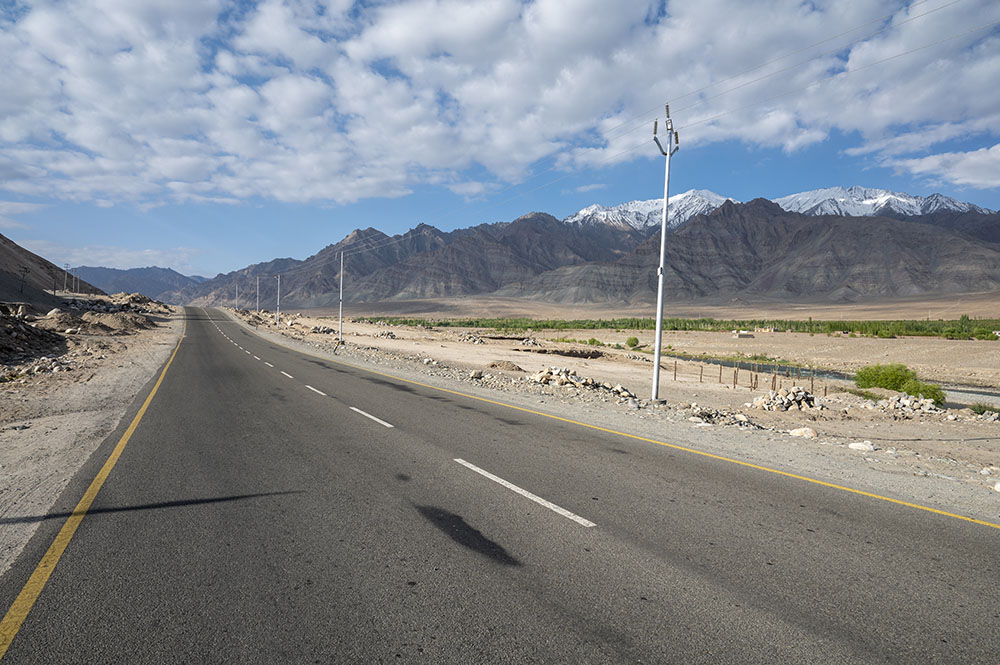 We just did not have the energy to be excited about our plans. I drove leisurely and as a result of this, we could only make it to Karu until 8 am.
This is the Stakna Monastery, sitting on top of that small hill. I really like the location of this small monastery and could not help stopping here to get this shot.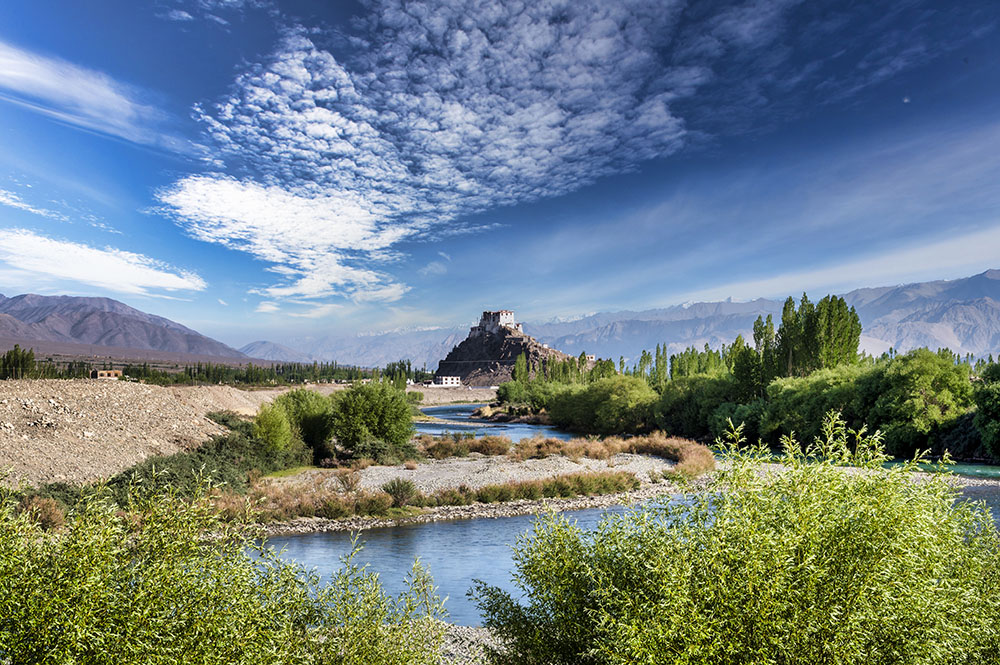 The distance between Leh and Karu is only about 35 kilometers and the condition of the road is super smooth. Since it was early in the morning, there was hardly any traffic on the road. But despite all this, we reached Karu only by 8 am and took another break there to get some more tea.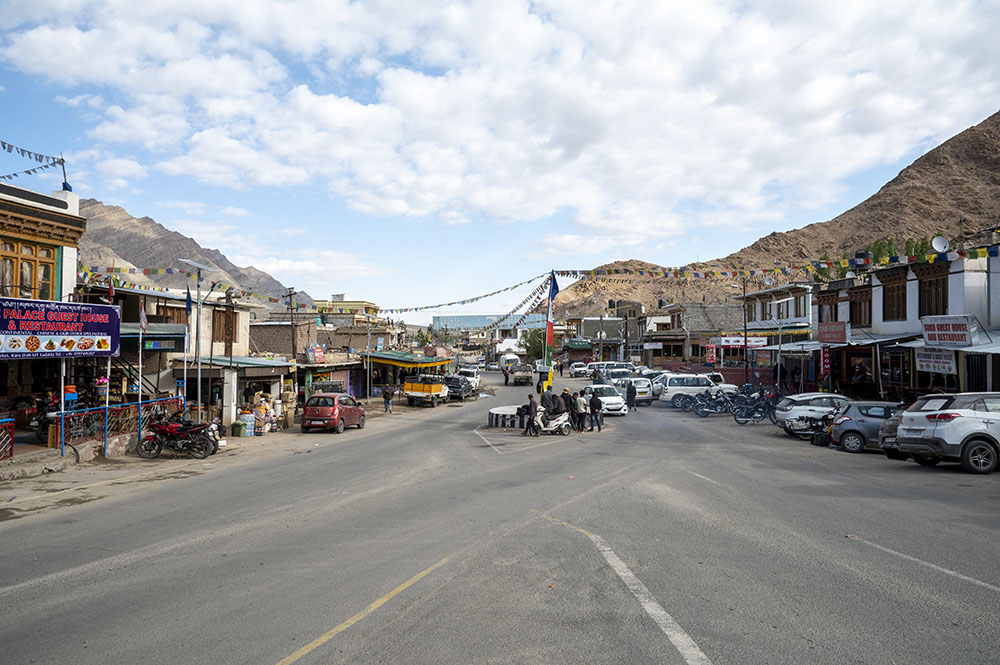 Key La / Kela Pass
By now, it was clear that we will have to remove some places from our plan for the day. From Karu, we were supposed to take the road toward Sakti and Chang La Pass. That is where the Key La Pass is located.
Key La Pass, also spelled as Kela Pass, is a high-altitude pass near Chang La. It is an alternate route that was created by the Army between Sakti and Debring.
Why the alternate route? Because during the tourist season, there is a lot of traffic at Chang La Pass. Almost everyone wants to go and see Pangong Lake and Chang La witnesses a huge number of vehicles traveling across.
This is why another road was created to make it easier for the Army movement. This is entirely a dirt road and has not been tarred yet. Once completed, you can either cross Chang La or Key La to get to Pangong Lake from Leh.
We had a long day ahead and were already running behind schedule. So after a bit of thinking, we decided to skip Kela Pass for today.
We were anyway going to be in Leh for another 4 to 6 weeks. So there was really no need to rush. We could think about our itinerary again and include Key La Pass in our plans later.
Karu to Upshi
With that decided, it was now time to continue our journey and move on to Upshi. We had some tea at Karu and as we were about to leave, a group of boys from Kerala approached us asking for a ride.
They were going to Manali and surprisingly, they were hitchhiking all the way. When I asked them why, they told us that the bus service from Manali to Leh was pre-booked for the next 3 days.
They reached Leh by public transport. But when going back via Manali, they could not get a ticket for the bus. Since they had a flight to catch from Delhi, they had no choice but to hitchhike to Manali and then catch a bus to Delhi from there.
I told them that we could only drop them off till Upshi and they agreed. Now with the group of 4 sitting in the back of my car, we started our journey again.
Karu to Upshi is only about 14 kilometers and we reached there in 15 minutes. We dropped the buys at the Upshi intersection. From there, we turned left to Chumathang and they went right toward Manali.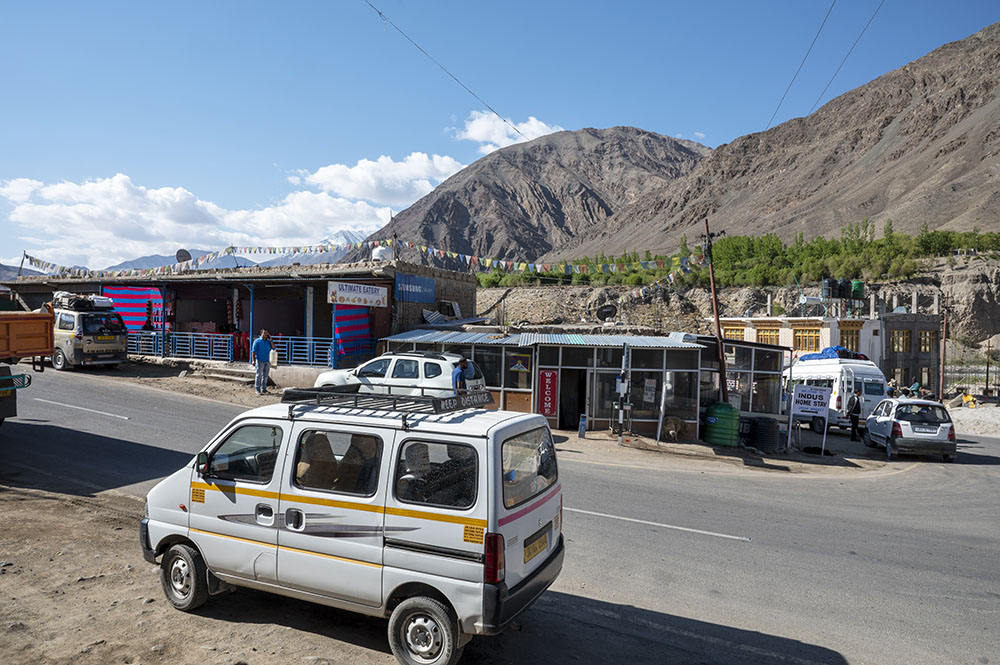 Upshi to Chumathang
The distance between Upshi and Chumathang is 92 kilometers. The journey can easily be completed in 2 to 3 hours, depending on your speed and breaks.
This stretch is possibly the best part of this journey and one of the most scenic routes of Ladakh. The landscape here is just so beautiful that it will force you to take breaks at every turn of the road.
Colors in the mountains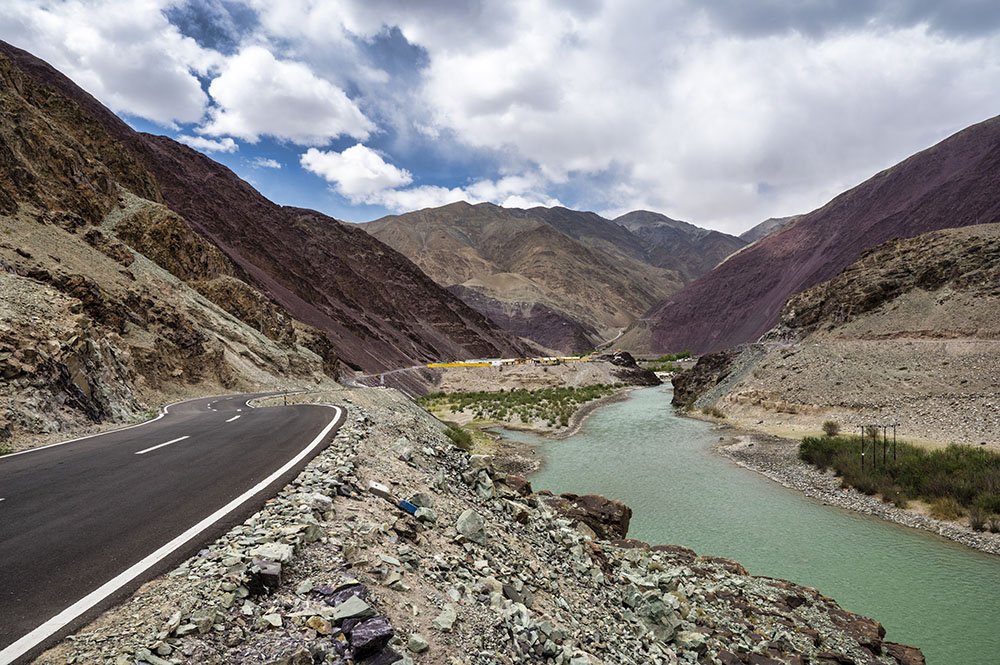 The beautiful Zig-Zag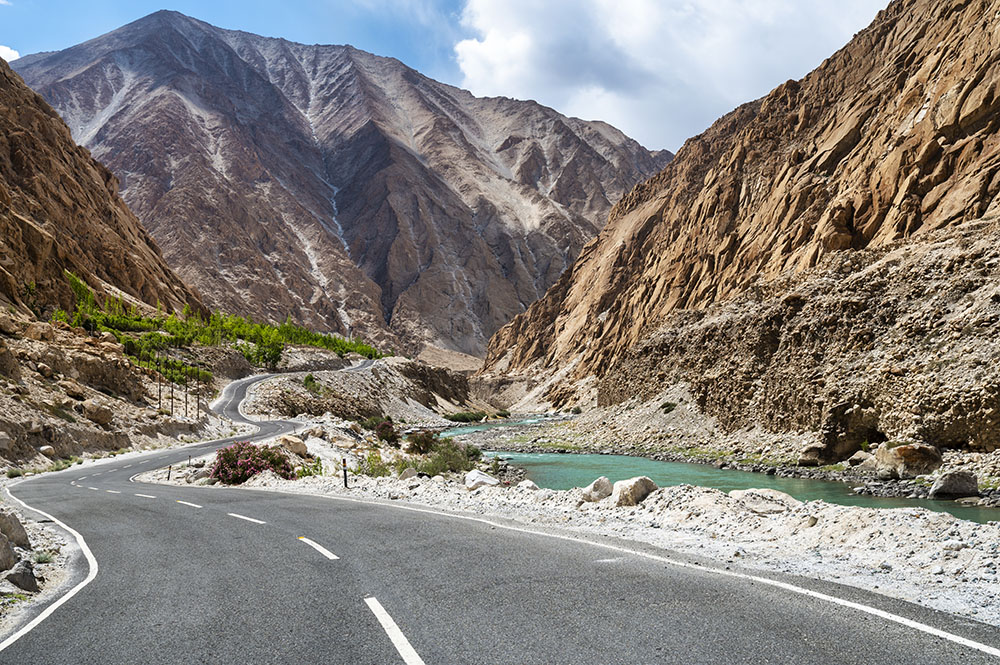 More colors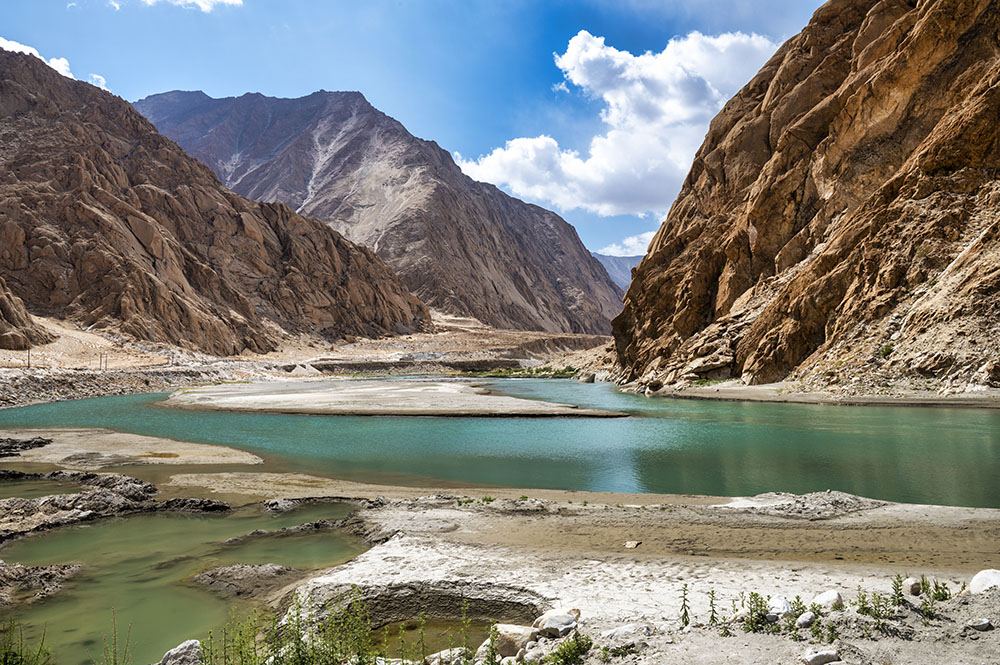 Taking a break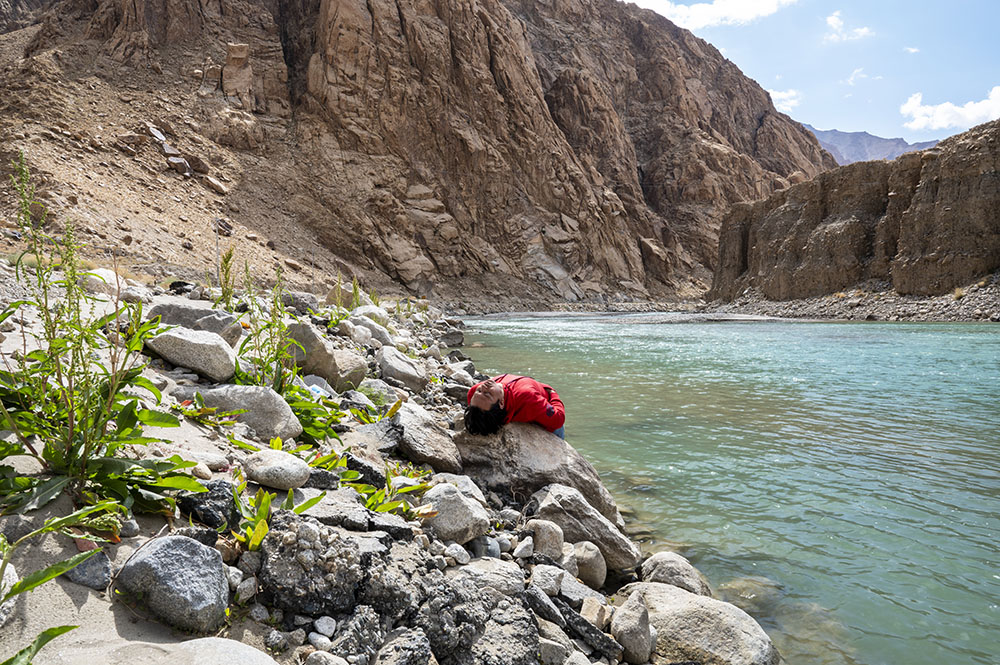 Can't get enough of this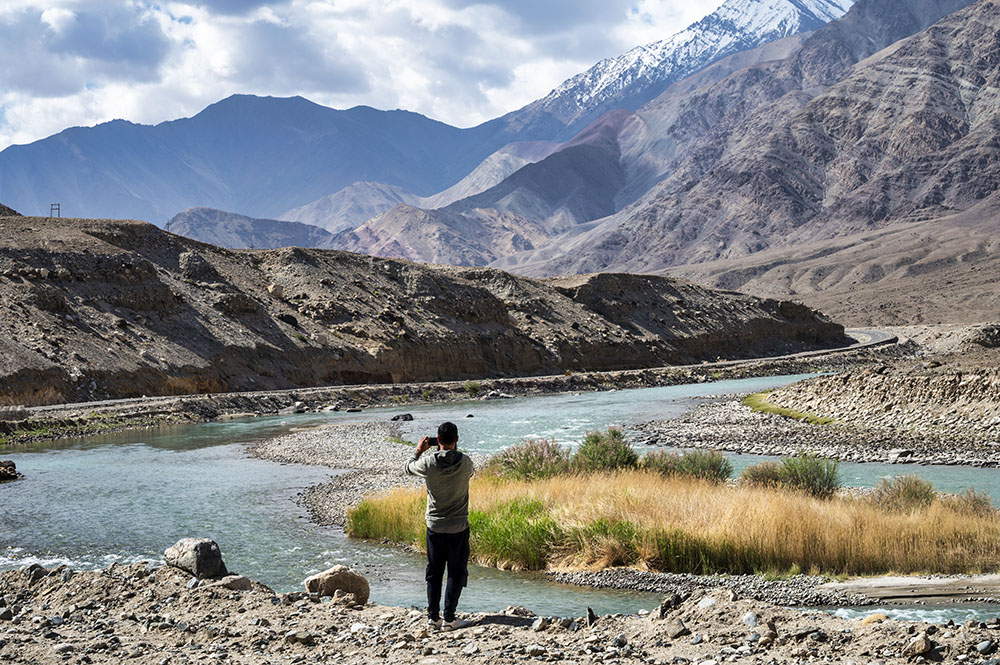 Notice the writing on the stone in the middle of the river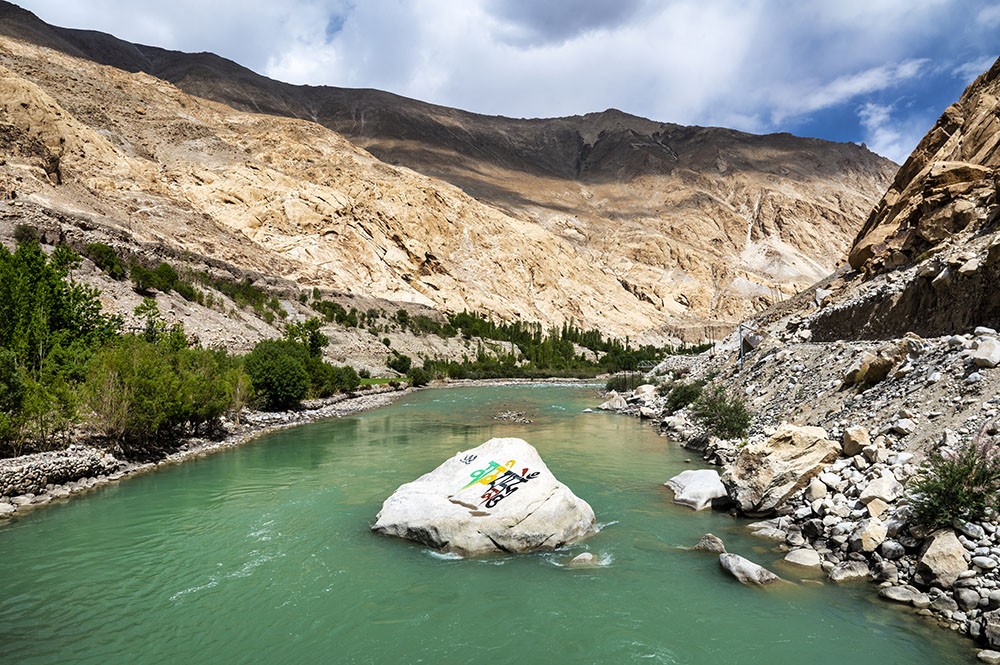 This is what happened to us. No matter how much we tried to rush, we could not help stopping frequently to take pictures and shoot videos.
There is not a lot that happened during this part of the journey. After a leisurely drive of about 2 and a half hours, we arrived at Chumathang by 11 am.
Also Read: Clothes for Leh Ladakh – What to Pack
Chumathang Hot Water Spring
Chumathang is a small village that is best known for its hot water springs. You can check out the video I posted above to see what I am talking about.
There are a couple of guest houses near the spring where you can also stay for a night if you wish to. Right next to the spring are a few bathrooms if someone wants to take a dip in the hot water of the spring.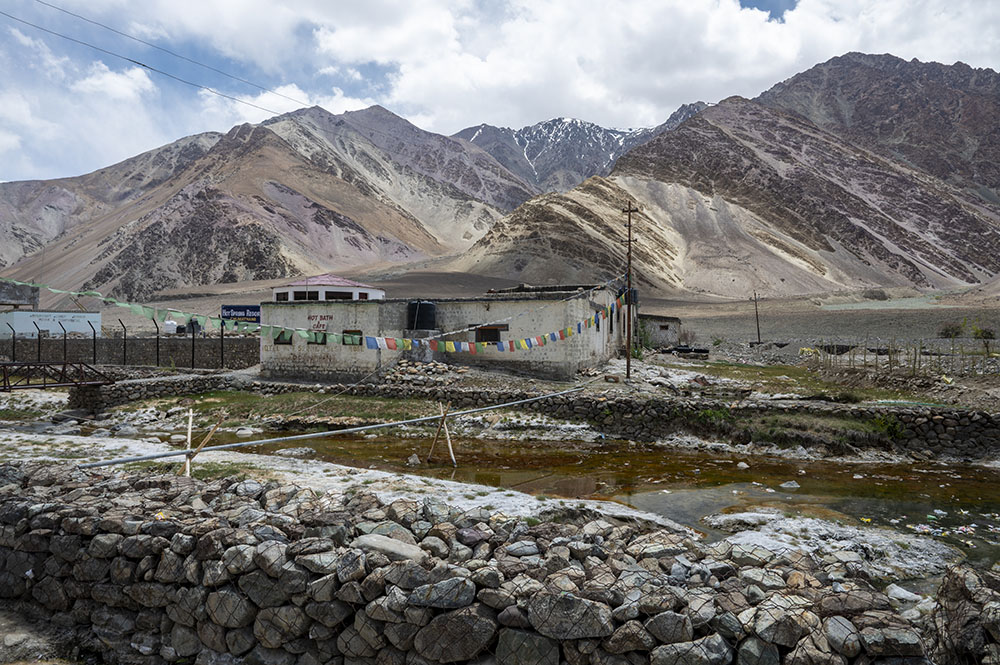 As a matter of fact, the water in the guest houses nearby is also supplied from this spring only. So if you do not want to bathe in the common bathrooms, you can stay in Chumathang for a night and enjoy this experience there.
From what I am told, bathing in these waters is very relaxing and they also have medicinal properties. While I cannot verify these claims, I am sure it would be a fun experience nonetheless.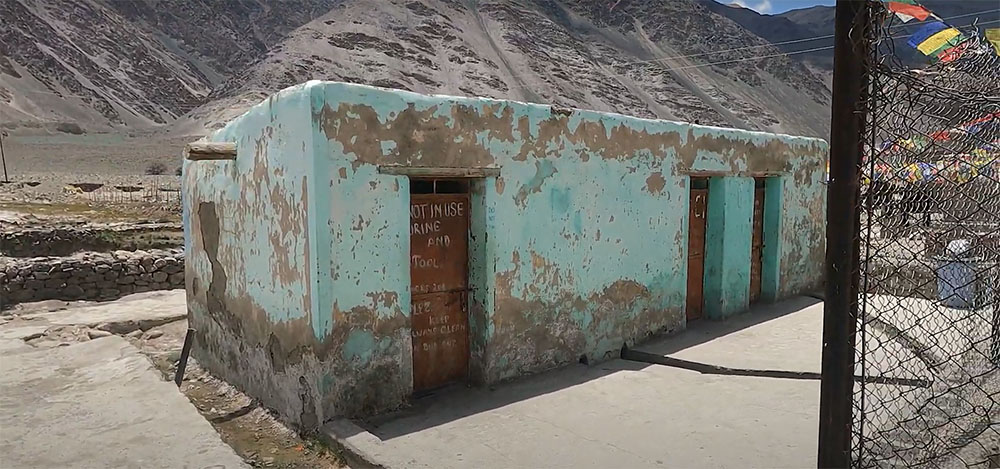 We stopped at a small restaurant and ordered some tea and Maggie for lunch. While we were eating, we also got into an interesting conversation with the owner of the restaurant.
He told us how difficult life in Ladakh is, how the winters there are, about the limited amount of vegetables they get there and how costly everything is, and about life in general.
Chumathang to Mahe Bridge
Because of this discussion that we got into, our break got extended to almost an hour. Finally, it was by 12 noon that we bid goodbye to the restaurant owner and drove out of Chumathang.
The condition of the road was good until now but after Chumathang, it deteriorated rapidly. In fact, the bad condition of the road in and around Chumathang was also a point of discussion with the old restaurant owner we were talking to.
There was construction work going on at several places. But overall, the condition of the road was so bad that our speed dropped to just about 20 kilometers an hour.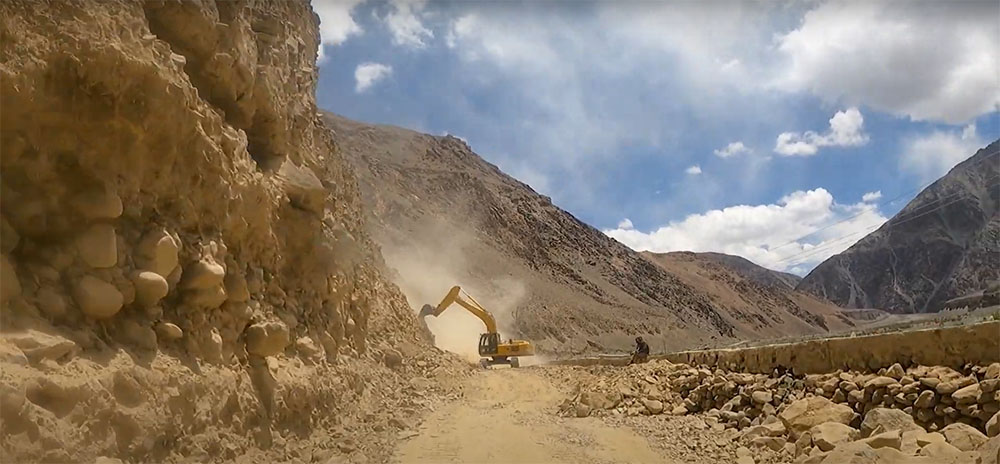 The distance between Chumathang and Mahe is also about 20 kilometers and it took us exactly an hour to cover it. By 1 pm, we arrived at the check post near Mahe Bridge.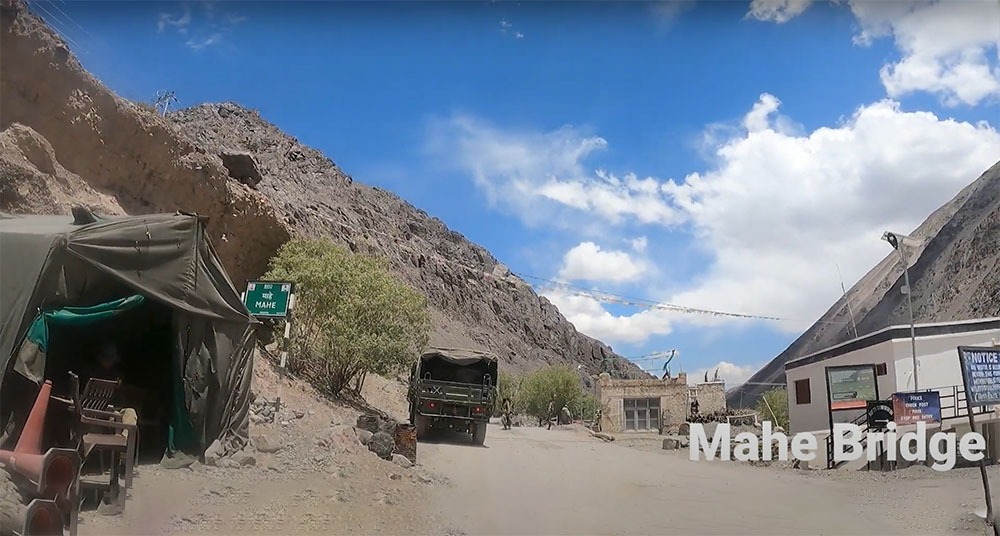 From here, we were supposed to turn right, cross the bridge and drive to Mahe. But before we did that, there were two more places that we needed to cover – Hor La Pass and Yaye Tso Lake.
So rather than turning right, we continued straight towards Mahe Bridge and onto Hor La Pass. The plan was to visit the pass, see the lake, and come back down to Mahe Bridge to continue to Tso Moriri Lake.
Leh to Tso Moriri by Public Transport
The bus service between Leh and Tso Moriri is not really that frequent. A bus from Leh for Karzok leaves only 3 times a month, on the 10th, 20th, and 30th, at 6.30 in the morning. The fare per person is Rs. 370. 
However, if this does not match your itinerary, you can easily get a shared taxi from Leh to Tso Moriri. These start from the Leh bus stand every morning and are the most commonly used mode of transport by tourists.
The fare per person is about Rs. 500 – 600 per person one way (for a drop to the lake). The next day, you can get a shared taxi for Leh from Karzok village.
The bus and the shared taxis travel via the Chumathang route only. There is no public transport available for Tso Moriri on the Chushul – Hanle – Loma – Nyoma route. You will not find any public transport between Tso Moriri and Tso Kar.
Please click on the link above to continue reading the next part of this travelogue. From Mahe Bridge, we visited Hor La Pass, Yaye Tso Lake, and circled back in about 4 hours.
Leh to Tso Moriri – Conclusion
I hope the travelogue, pictures, and information on traveling from Leh to Tso Moriri were of help. If you have any questions, you can contact me on Instagram and I will be happy to answer. You can also consider subscribing to my YouTube channel and asking your question there.
This error message is only visible to WordPress admins
Error: No feed found.
Please go to the Instagram Feed settings page to create a feed.