Pangong Lake vs Tso Moriri is one of the most common questions I get asked by people visiting Ladakh. In my opinion, both of these lakes are a giant in beauty and you should visit both. But if you have to pick one, should you visit Pangong Tso Lake or Tso Moriri? Read on to find out.
To be honest, a comparison in terms of natural beauty is neither fair nor can be done. Pangong Tso is one of the top tourist attractions of our country. Tso Moriri is equally beautiful but it is not as popular as Pangong yet. But due to this, both of these places have their own advantages and disadvantages.
Which one you should visit will depend on several factors that I will talk about in this post. I was recently on a road trip to Ladakh that lasted for two months. I visited both these lakes and spent time on their shores. To read the previous parts of this travelogue, you can follow the links below.
Journey So Far:
Which one did I like the most among the two lakes? There are several aspects to this answer. Let me talk about them one by one. Below is a video of our visit to the Tso Moriri Lake that you can also take a look at.
Pangong Lake Vs Tso Moriri
During our trip, we first went to Tso Moriri and then went to Pangong Lake twice. So the comparison I am providing below is in terms of accessibility, road conditions, tourist crowd, mobile network, accommodation choices, and ease of planning.
Popularity
Ever since the release of the movie 3 Idiots, the popularity of Pangong Tso has only been on the rise. This lake now attracts thousands of visitors each year and the number only increases the next.
Due to this, it mostly always remains crowded in the tourist season. The campsites near the lake are stretched for several kilometers. It feels as if an entire city is now taking shape on the banks of the lake.
This can be a factor that will deter some people from visiting Pangong. In fact, the last time I was there, I met a lot of tourists that kept Pangong out of their itineraries because they wanted to avoid the crowd.
So if solitude is what you seek and you want to spend some time in peace, Tso Moriri will be a much better option than Pangong. I first visited Ladakh almost 15 years ago and I can tell you that this place has not changed much since.
It is just a small village right next to the lake that is rarely crowded. There will only be a handful of tourists around and you will love the tranquility of the place.
Road Conditions
The next thing to consider while deciding on Pangong Lake vs Tso Moriri is the condition of the roads leading to both lakes. Because it receives such a large number of tourists, the road to Pangong Lake is in much better condition than the one leading to Moriri.
The distance between Leh and Pangong is about 150 kilometers. Most of this journey is on a tarred and super smooth road that will suit the majority of the visitors.
On the other hand, Leh to Tso Moriri is about 220 kilometers via Chumathang. Only about half of this road is tarred and smooth and the rest is a mix of average and bad.
In fact, the last 70-odd kilometers are entirely a bumpy ride. The last 15 kilometers have always been a dirt road and have never been tarred.
So if you are traveling with family, and kids, or do not want to drive on bumpy roads, Pangong Lake will be a better choice for you and that is where you should go.
Also Read: Clothes for Ladakh Trip – What to Pack
Accommodation Choices
Karzok is a very small village and there are no big luxurious hotels here. The choice of stay is pretty much limited to a handful of guest houses, campsites, and Homestays. They are all pretty decent though and comfortable and are good enough to stay at for a couple of days.
On the other hand, Pangong Lake is a non-stop series of campsites that range from basic to highly luxurious. You can find guest houses and homestays in Spangmik, Man, and Merak Villages but it is mostly campsites that Pangong is known for.
So do think about that while making the choice. Pangong Lake has a far greater number of accommodation choices than Karzok. But at the same time, finding cemented accommodation will be easier at Tso Moriri than at Pangong.
Mobile Network
Only BSNL works in Karzok. None of the other networks, including Airtel, Vodafone, Jio, and Idea, work here. The connectivity of BSNL is very good but there is no internet available. You will easily be able to make calls and send texts but will not get mobile data.
On the other hand, you will struggle for a mobile network at Pangong Lake. Supposedly, BSNL and Airtel both should work there. But in reality, it is only BSNL that does, and that too in an intermittent manner.
You will be walking and asking around with your mobile in hand, looking for a network bar on the screen. This remains to be the case with all mobile service providers.
Accessibility
It is hard to do a comparison in terms of accessibility. Both of these lakes are easily accessible and have multiple roads leading to them. They are both connected to Leh City and the other villages.
The same can be said for the type of vehicle as well. It does not matter which bike you were on or if you were traveling in a small hatchback car, you can easily reach both lakes in any vehicle.
But the frequency of public transport to Pangong Lake is more frequent. You will not have any trouble finding a bus or a shared cab to Pangong. The same is not the case with Tso Moriri though. The availability of public transport to this place is still scarce.
Also Read: How to Plan a Family Trip to Ladakh
Ease of Planning
Last but not least, let us briefly talk about the ease of including these places in your overall itinerary. Because of the good road conditions, Pangong is a clear winner in this case.
It is well connected to both Leh and Nubra Valley by direct roads. You can just reach Nubra from Leh City and then continue to Pangong Lake.
Tso Moriri on the other hand becomes a little difficult to include in your itinerary if the number of days in hand is a little less.
Since the distance from Leh to Pangong is also shorter than Tso Moriri, a day trip to Pangong Lake is much easier than planning a day trip to Tso Moriri. As a matter of fact, a day trip from Leh to Karzok and back is almost not possible.
Pangong or Tso Moriri
That is pretty much it. These are some of the factors that you should consider and can help you decide which lake should you visit. If I am to conclude on the topic of Pangong Lake vs Tso Moriri:
If this is your first time in Ladakh, you should go to Pangong. Due to its popularity, I think it will satisfy you more to have it in your itinerary than Pangong.
If you have been to Pangong before and this is your second time in Ladakh, you should include Tso Moriri.
If you are traveling by public transport, you should pick Pangong over Moriri.
If you want to avoid the crowd as much as possible, Tso Moriri will be a better choice.
If you do not want to go on bumpy roads, avoid Tso Moriri
Rest everything else is more or less irrelevant. Altitude sickness will be a concern at both places and so will be the cold weather as well.
What to See at Tso Moriri
Now coming back to the travelogue, let me now talk about Day 22 of our trip. We reached Karzok at around 8 pm on Day 21, had dinner, and went to sleep almost immediately. We were so tired that we actually slept by 9 pm and did not wake up until 6.30 in the morning.
I was the first one to get up. It was a Sunday and Day 22 of the trip. I got out of bed and knocked on Lavish's door. After a bit of idling around on the roof of the homestay, we decided to go for a walk in the Karzok Village.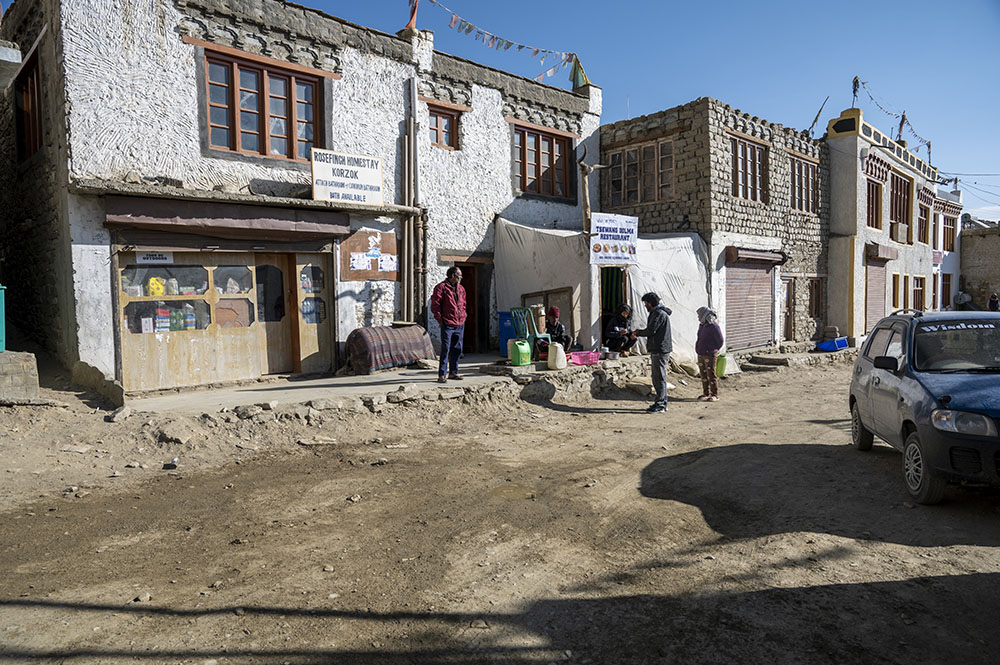 What do you see at Tso Moriri? The answer to this question is actually Tso Moriri itself. It is one of the biggest attractions of Ladakh and this is what you come to see in Karzok Village.
Your sightseeing at Tso Moriri will just be viewing the lake from different angles. There is nothing else to see in the village.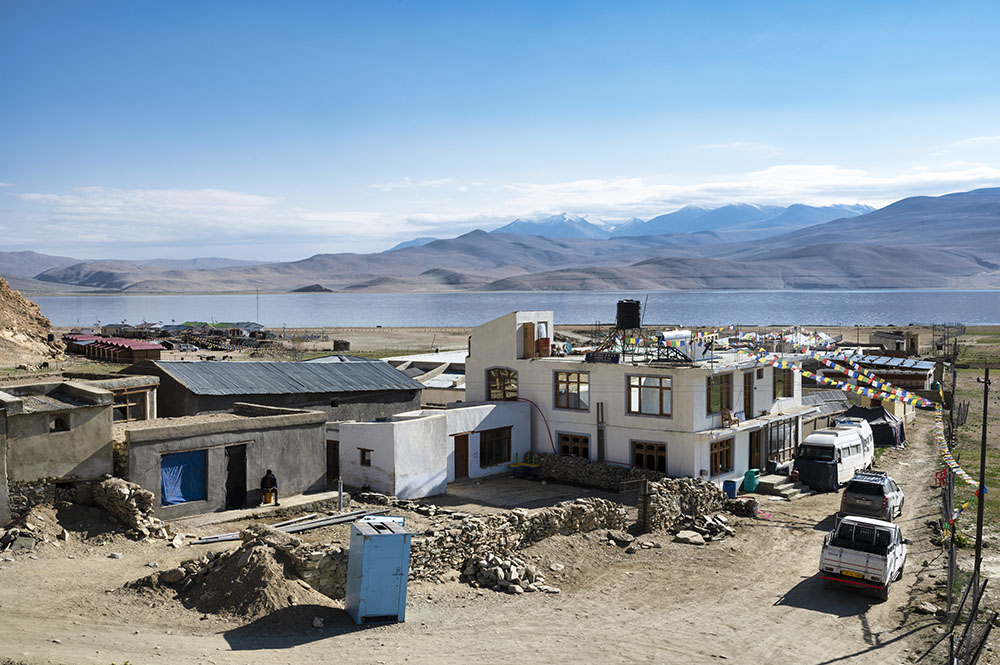 However, on the way from Leh to Tso Moriri, there are several other tourist spots like Chumathang Hot Springs, several passes, and other lakes like Kiagar Tso. Which one are you able to cover will depend on the route you chose to travel.
Crane Homestay
We just walked around the village for almost an hour and had tea at a small restaurant that was just opening. After an hour of a stroll, we came back to our homestay.
We were staying at Crane Guest House in Karzok. It is not really a guest house but rather a homestay. The owner has extended his house by a couple of rooms and lent those out to tourists.
While I was disappointed with the small size of the room, the hospitality of the owner made up for this disappointment. We had dinner with them right in their kitchen which was really delicious.
The same routine was followed for breakfast as well. As soon as we returned to the homestay, the owner immediately came to our rooms asking us to join them for breakfast.
We were not going to stay in Karzok for the day. The plan was to go to Tso Kar today and camp there for the night. So we packed up our luggage, got ready to leave, and then went downstairs to the owner's kitchen to have breakfast.
The breakfast was simple – some bread, jam, butter, and omelets. But the hospitality of the owner really charmed me even this time. He was just so humble and tried his best to ensure that we have a good experience at his house.
After breakfast, we cleared our bill and checked out of the homestay. Before we left for Tso Kar though, there were two places that I still wanted to visit in Karzok. The first was the Karzok Monastery and the second was the Karzok viewpoint.
Also read: How to Plan a Trip to Leh Ladakh
Karzok Monastery
Karzok Monastery is a small monastery that is said to be about 300 years old. I had been to Karzok Village before but never had a chance to visit the monastery, something that I intended to do this time.
We walked to the gates of the monastery but found it locked. After asking a few locals, we were told that the Lama had stepped out for some personal errand.
We waited at the gate for a while deciding what to do. Should we wait for the Lama to come back or should we skip the monastery and continue to the viewpoint?
While we were still deciding that, the person that we asked about the monastery called the Lama on his cell, letting him know that there were two tourists who wanted to see the monastery.
To our surprise, the Lama rushed back and was standing with us just 10 minutes after the phone call. He opened the gates for us and showed us around the monastery.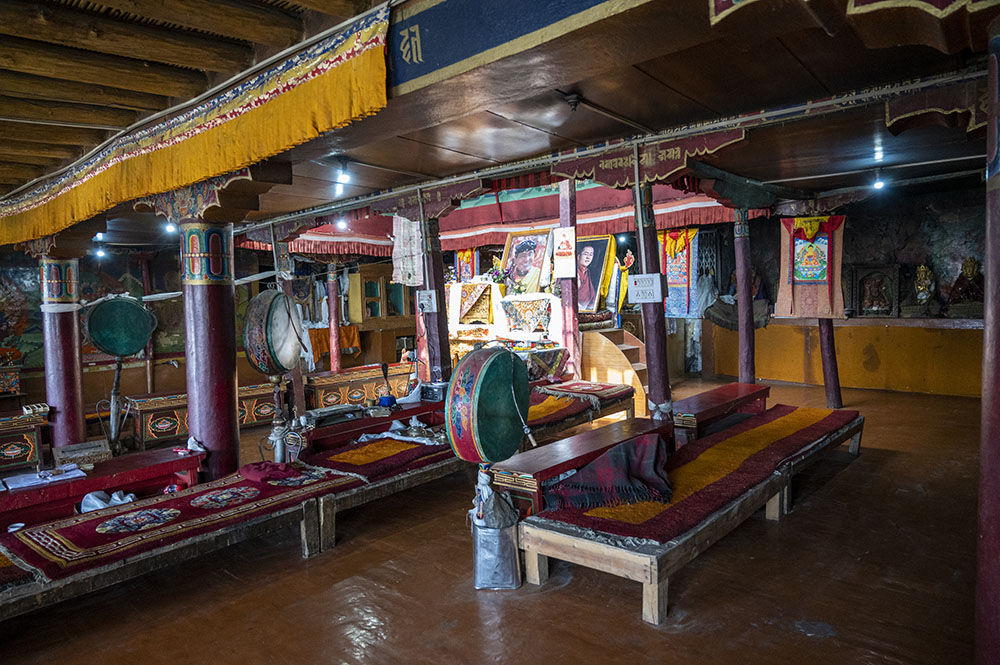 I have seen many other larger monasteries but really liked the peaceful environment of Karzok Monastery. There was absolutely no one around – just Lavish and me sitting in the monastery talking to the Lama.
The monastery, though smaller in size, is really beautiful. Even the structure and the gate to the monastery look grand when you stand in the courtyard and gaze upon it.
Karzok Monastery festival is held in June-July each year in the monastery. The picture below was clicked from one of my previous trips.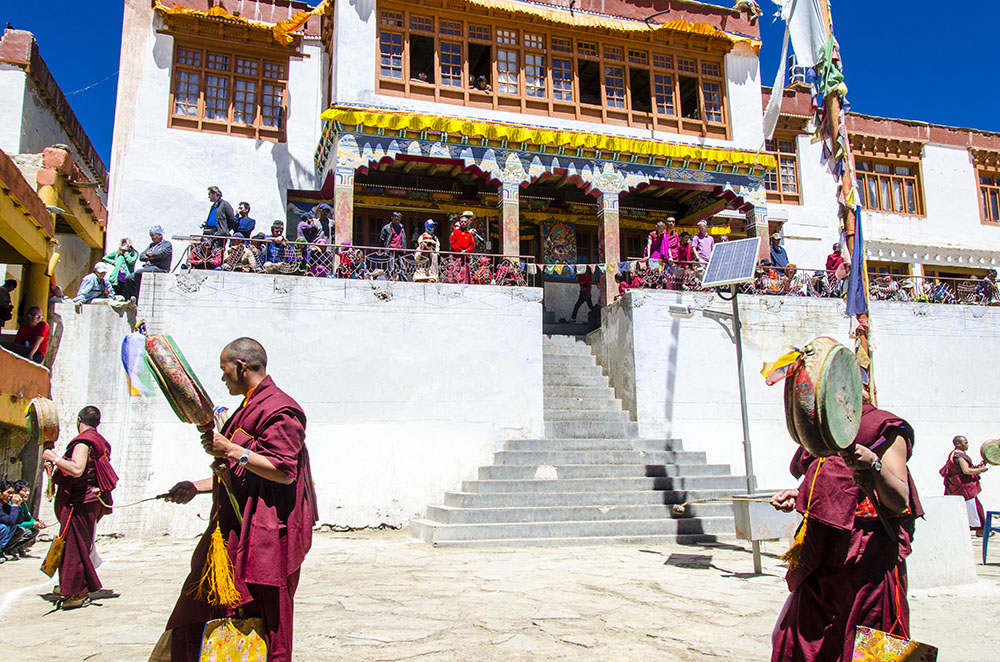 Karzok Viewpoint
After sitting in the monastery for about 30 minutes talking to the Lama, we thanked him, made some donations to the monastery, and stepped out. The next spot on the plans was the Karzok viewpoint.
Karzok Viewpoint, as the name suggests, is a viewpoint that offers a panoramic view of the village and Tso Moriri Lake. It is about 3 kilometers outside the village and you will have to drive on a dirt road to get to it.
It took us about 10 minutes to reach the viewpoint.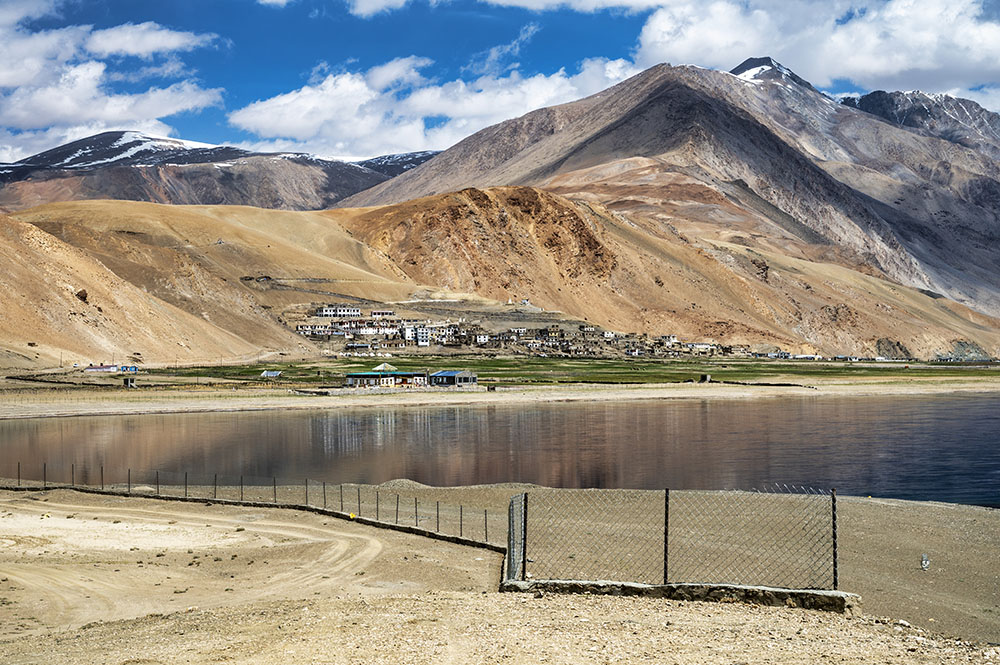 The view from this spot is really the best. You get to see the village in the distance, surrounded by the green fields and the blue waters of the lake.
We clicked tons of pictures from this spot and shot several videos. I think we spent almost an hour at the viewpoint. Even driving my Thar up and down on the dirt roads was really fun. At around 10 in the morning, we decided to move on to our next destination, Tso Kar Lake.
Acute Mountain Sickness
Tso Moriri and its nearby areas are at one of the highest altitudes in Ladakh. It is one of the places where you are most likely to suffer from high altitude sickness. It is best to include Tso Moriri in your itinerary after you have spent a few days in Ladakh; or have visited areas like Nubra Valley first.
Some people try to cover Tso Moriri while going on their way to Leh from Manali. I would strongly advise against attempting so. For more details on acute mountain sickness please take a look at How to Handle Acute Mountain Sickness in Ladakh.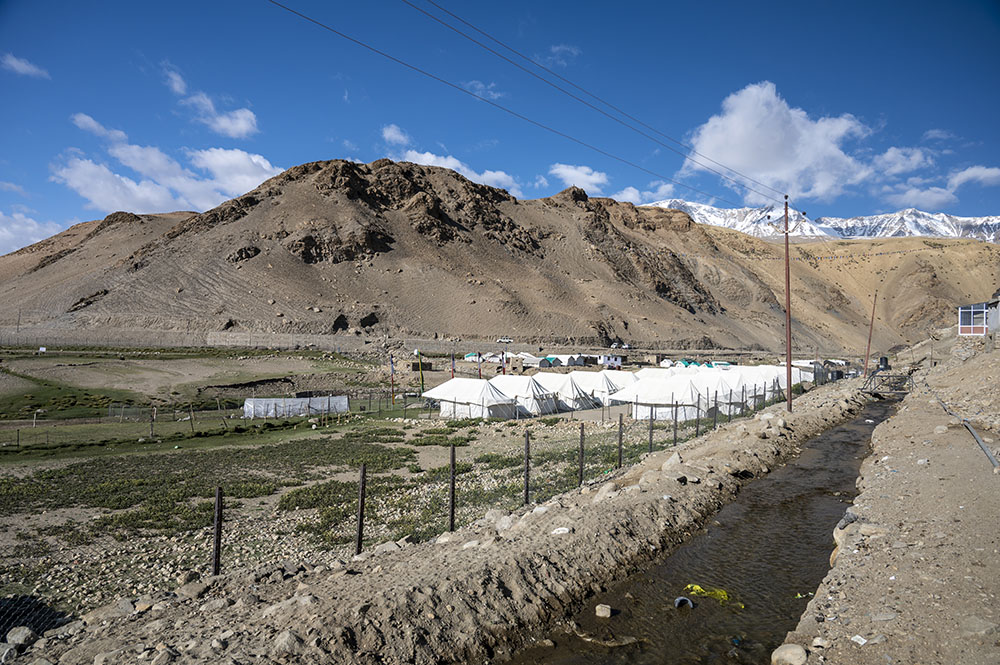 Accommodation at Tso Moriri
A guest house is your best choice of stay for accommodation. To be honest, it is hard to differentiate between a homestay and a guest house here. They are pretty much the same deal and can fall under the same umbrella.
Though not luxurious, they are all very comfortable, neat, and spacious. Prices too will not be that steep and you can easily get a guest house between Rs. 1000 – Rs. 1500. During the peak tourist season, it can even get higher than this these days.
There are several campsites at Karzok that you can choose from. It may not be a great choice if you are on a limited budget though as it is the costliest form of accommodation at Tso Moriri.
That was our visit to Karzok Village and Tso Moriri Lake. Please click on the link above to continue reading the next part of the travelogue, detailing our journey from Tso Moriri to Tso Kar.
Pangong Lake vs Tso Moriri – Conclusion
I hope the travelogue, pictures, and information on Pangong Lake vs Tso Moriri were of help. If you have any questions, you can contact me on Instagram and I will be happy to answer. You can also consider subscribing to my YouTube channel and asking a question there.
This error message is only visible to WordPress admins
Error: No feed found.
Please go to the Instagram Feed settings page to create a feed.