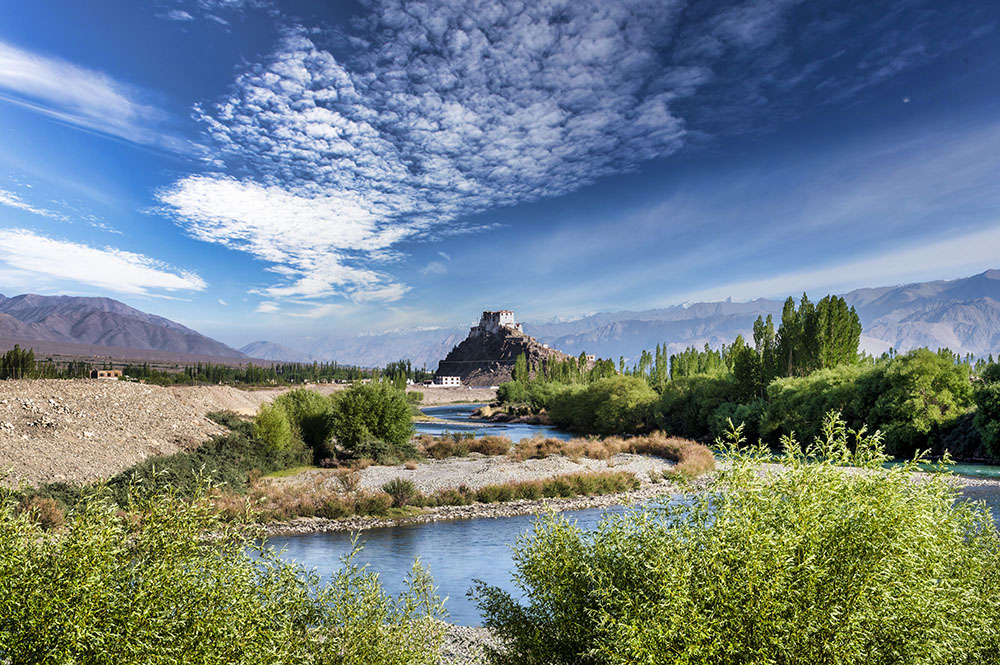 Stakna Monastery is a beautiful monastery located along the Manali Leh Highway and is a must-visit place during your visit to Ladakh. It is easily accessible from the highway and you can even cover it while traveling from Manali to Leh or vice versa.
As compared to the other monasteries in Ladakh, this one is smaller in size and does not receive too many visitors. But due to this, it is never crowded and is a perfect place to spend some time in peace.
The monastery is located on the left bank of the Indus River and provides an excellent panoramic view of the valley around. It is also a great spot to view the sunset and click some great pictures.
We visited Hemis Monastery during my recent two-month-long road trip to Leh Ladakh. The post below provides a brief narration of our visit and several other necessary details about the monastery that can be of help if you are planning to visit there. To read the previous parts of this travelogue, you can follow the links below.
Journey So Far:
Below is a 5-minute long video of our visit to the monastery. You can take a look at it and it can help you decide whether you should include it in your itinerary or not.
Ladakh Monastery Tour
One of the primary attractions of Ladakh is its monasteries. Some of the most ancient and beautiful monasteries in the world are located here and are visited by thousands of people each year, including tourists, scholars, and people interested in Buddhist or Tibetan culture.
The landscape of Ladakh may be a barren brown but the monasteries here are a celebration of colors and life. Some of them date back as far as the 7th century and are known for their teachings, traditions, festivals, and even architecture.
Even in terms of the locations, these monasteries offer a stunning view that is hard to get from anywhere else in Ladakh. So, even if not religiously inclined, people still visit just to get a different taste of culture and enjoy an awesome view.
We were in Ladakh for 2 months during this trip and this was more than enough time to explore the region completely and see all that there was to see. The monasteries of Ladakh were also part of the itinerary and I wanted to cover as many of them as possible.
It was the 23rd day of our trip and we decided to dedicate this day to seeing the monasteries near Leh. The first one that we went to was the Hemis Monastery which I talked about in the previous part of this travelogue.
After spending about an hour at Hemis, we then moved on to the next monastery on our list, Stakna Monastery. The drive from Hemis to Stakna was eventless on a smooth road and we completed it in about 30 minutes with a couple of photography breaks in between.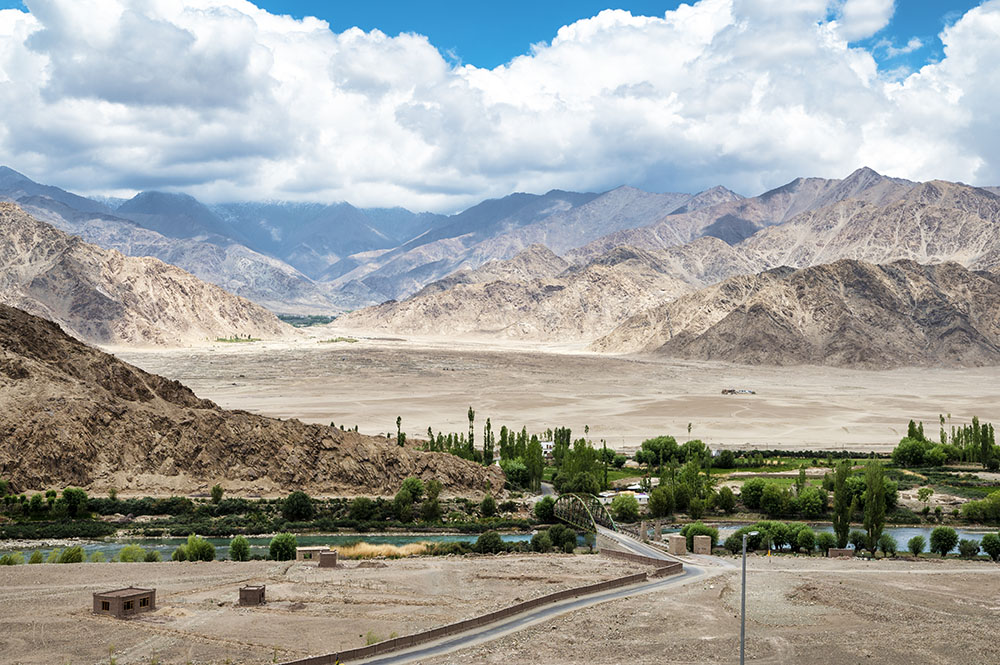 About Stakna Monastery
The word 'Stakna' literally means 'tiger's nose' which is given to this monastery due to its location. It is built on a small hill shaped like a tiger's nose, about 25 kilometers from Leh town on Manali Leh Highway, on the left bank of the Indus River.
How to reach Stakna Monastery
For this part, I am assuming you are already in Leh town or at least know how to reach Leh. I will explain how you can get to Stakna Monastery from Leh or the best way to plan a visit here but in case you were wondering how to get to Ladakh first, then I will recommend reading How to reach Ladakh by Bike, Car, Bus, Train and Flight.
Once you have reached Leh town, visiting Stakna Gompa is fairly easy. The village and the monastery are located about 25 kilometers from Leh towards Karu, on Manali to Leh route.
As you travel from Leh towards Karu, just after Thiksey, you will turn right, cross over the bridge and reach the village of Stakna where this monastery is located.
The condition of the road is good and by your own vehicle, it will not take you more than 30 – 40 minutes to reach the monastery.
In total, a return trip here from Leh will take about 2-3 hours. You can, in fact, bring your vehicle all the way to the monastery. The bridge on the Indus River is a suspension one but is motorable and capable enough for one car to cross at a time.
Also Read: How to Plan a Trip to Leh Ladakh – A Complete Travel Guide
How to reach Stakna by Bus
If you were not traveling by your own vehicle and were depending on public transport, then there are several buses that you can board to reach Stakna Monastery.
There is a direct Bus to Stakna from Leh City at 4.30 pm and arrives at the village by 5.30 pm. For the reverse journey, there is a daily bus from Stakna at 8.45 am that reaches Leh by 9.45 am.
But this is really not the only Bus that you will have to rely upon. Apart from the 4.30 pm Bus, there are 5 other buses to Sakti from Leh and you can board either of them.
The only condition is that you will have to get down on the Manali Leh Highway near the bridge and walk a little to get to the monastery which is less than a kilometer away. For the timings of these buses and several others, please read Bus Service in Leh City – Timetable and Frequency.
Rented Bikes, Scooters & Bicycles

This is among the next best option for sightseeing in Leh town. Even if you were not a confident rider and did not want to go crossing high altitude passes on your own, you can still rent a bike in Leh town.
An automatic scooter will cost about Rs. 800 – 1000 per day and a motorcycle will cost about 1200 – 1500 per day, depending on which one you rent.
I will highly recommend opting for this because it will then give you the flexibility of visiting other monasteries and places as well while traveling to Stakna. For more details, please read How to Rent a Motorcycle in Leh, and What are the Rates?
If you are into bicycling and would like to rent one for a day in Leh, you can do that as well. For more information, please read How to Rent a Bicycle in Leh?
Private Taxis
You can also rent a private taxi either for just Stakna or an entire day sightseeing around Leh City. This also is a great option if within budget. For information on how much it will cost you, please read Taxi Rates in Leh Ladakh.
What to see in Stakna Monastery
One thing that you should know about every monastery is that they are religious places where people pray. So everything in there is going to be related to Buddhist or Tibetan culture, religion, and history.
If that is not something of your interest, then you should best skip visiting any monastery at all. But most of the monasteries also have an ace up their sleeves in the form of the location where they are built.
That is also the best part of Stakna Monastery. From its roof, you will get a panoramic and stunning view of the Stok ranges, the Indus River, the green valley, and the barren peaks.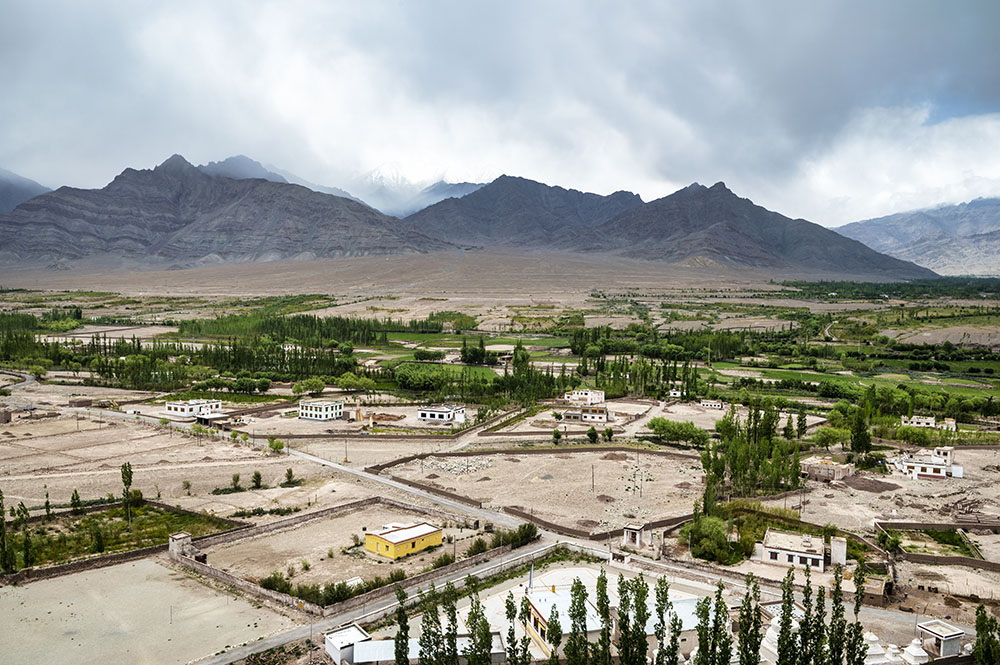 It is also a lesser crowded monastery that not many tourists visit. So if the purpose of your visit was also to spend some time with the lamas and learn, then Stakna Monastery will well serve the purpose.
The inside of the monastery is very colorful with beautifully painted wooden pillars and walls decorated with intricate paintings of many Buddhist gurus like Bodhisattva, Tshong-san-Gompa, and Padma Sambhava.
There are also some incredible paintings of Sakyamuni, Tsephakmad, and Amchi and several artifacts, idols, and bells made of bronze and silver in the main prayer hall.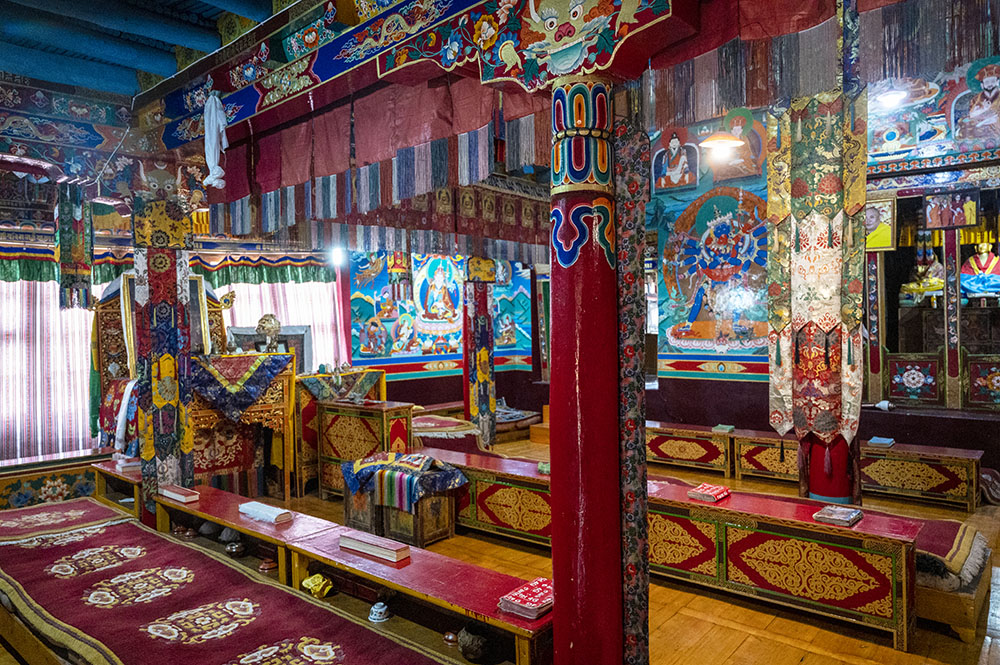 The whole environment of the monastery is very peaceful. You would just love to sit down and spend as much time here as you can.
Nearby Attractions
During our visit to Ladakh, I did not get a chance to be at Stakna at the time of sunset. But what I do know is that once the sun starts to go down and the lights of the monastery are switched on, the view is absolutely gorgeous.
Some other nearby places that you can include with your trip to Stakna are the monasteries of Thiksey, Hemis, Shey, and Druk White Lotus School (Rancho School). Yes, I am talking about the same school from the movie 3 Idiots.
How to Plan a Visit to Stakna Monastery
Now let us talk about the most important question of all. How do you plan your visit here? There are multiple ways to do this.
Drive to the monastery in the evening at the time of sunset and return to Leh for the night.
Plan a monastery tour which is also the most popular way. That way, you can several other monasteries that I mentioned above.
Take a short break here while either traveling from Manali to Leh or Leh to Manali.
Take a short break here while either traveling from Leh to Pangong Tso or from Pangong to Leh.
Where to Stay
There is no option of staying overnight at the monastery which a lot of people plan for. The best thing to do would be to stay in Leh and plan a day visit to Stakna.
Start early from Leh and you can also cover Thiksey, Stakna, and Shey monasteries and Rancho school as well on the same day.  If you would, however, stay somewhere closer, then you can also look for an option in Karu and Upshi.
Also Read: How to Handle Acute Mountain Sickness in Ladakh
Best time to visit Stakna Monastery
The best time to visit the monastery will be the same as the best time to visit Ladakh. The ideal time will be anywhere between May to September.
In these months, the weather is favorable, roads are all open and accommodation is easily available. If you were traveling in the winter months, you will have to board a flight to Leh and then reach Stakna from there.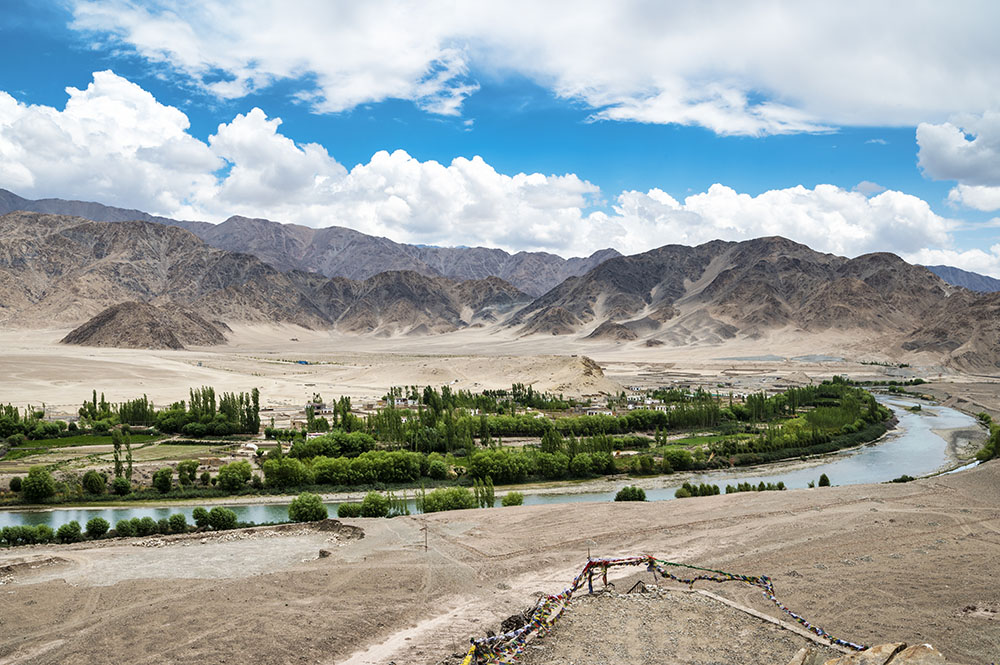 Mobile Connectivity
BSNL, Jio, and Airtel have coverage at Stakna Monastery as long as you have a postpaid phone. Prepaid phones do not work here or anywhere else in Ladakh for that matter.
Stakna Monastery Timings
The monastery is open for visitors from 6 AM to 6 PM every day, including Sundays. It is open even on all public holidays but remains closed from 1 pm to 2 pm during lunch hours.
Stakna Monastery Entry Fee
There is an entry fee of Rs. 30 per person for visiting the monastery.
Permits
No, you do not need to obtain a permit for visiting the monastery. You can just reach there, buy the ticket and enter. Inner Line Permit is in fact not required to visit anywhere in Leh City.
It is only needed when you travel from Leh to other areas of Ladakh like Nubra or Pangong. You can just reach Stakna and visit the monastery without needing to get any permit at all.
We spent about an hour at Stakna Monastery. During our visit, it was only me and my friend there along with the Lama. The overall atmosphere of the monastery was very peaceful. It truly felt like a place of worship unlike the monasteries in Thiksey and Hemis that have now turned into tourist destinations.
We had an interesting discussion with the Lama at the monastery about Buddhism, the life of the Lamas, Ladakh, and a few other topics. After an hour, we then decided to move to the next monastery on our list, Matho Monastery.
While I was very pleased with our visit to Stakna Monastery, the one in Matho added to the experience. It turned out to be another beautiful monastery that is not yet on the tourist map. Please click on the link above to continue reading the next part of the travelogue.
Conclusion
I hope the travelogue, pictures, and information above on the Stakna Monastery were of help. If you have any questions, you can contact me on Instagram and I will be happy to answer. You can also consider subscribing to my YouTube channel and asking a question there.