This post is in continuation with a previous one and a part of my Ladakh bike trip log. We reached Jispa from Delhi on the first 2 days of the trip and Pang on Day 3. The journey from Pang to Leh on Day 4 turned out to be a day of trouble and excitement, details of which are described in the post below. To read the previous parts of the travelogue, please click on the links below.
The Journey So Far:
Nights at Pang were always difficult during my previous visits to Leh. Feeling sick due to AMS, we spent the nights tossing and turning in the bed and I was expecting the same to happen this time as well.
Surprisingly though, we all slept like babies. My friends complained of a slight headache in the morning, but I felt no sign of AMS at all. This was definitely a pleasant surprise and a great relief. Before this, every time I crossed More Plains, I was battling altitude sickness. But this time, I knew I was really going to enjoy the ride ahead.
Day 4: Pang to Leh
I was again the first one to get out of the bed to get some morning captures of the place. Just outside our camp, I found a Scorpio parked with a driver sleeping inside. As we were to learn later, it belonged to a couple who for themselves rented a separate tent but left the driver to sleep in the car, out there in cold.
They did not even have the courtesy to shed 100 bucks to get the poor guy a proper bed in one of the shared accommodations. Weird people huh?
Our host at Pang, a very gentle lady, and an amazing cook.

Pang Altitude
Pang is at an altitude of about 15,400 feet, 4,700 meters. Due to which most of the people traveling on the Manali Leh highway suffer from AMS here.
After a hearty breakfast and a quick photo session with our generous host, we soon started towards our 4th high altitude pass, Tanglang La, and to cross Moore Plains on the way.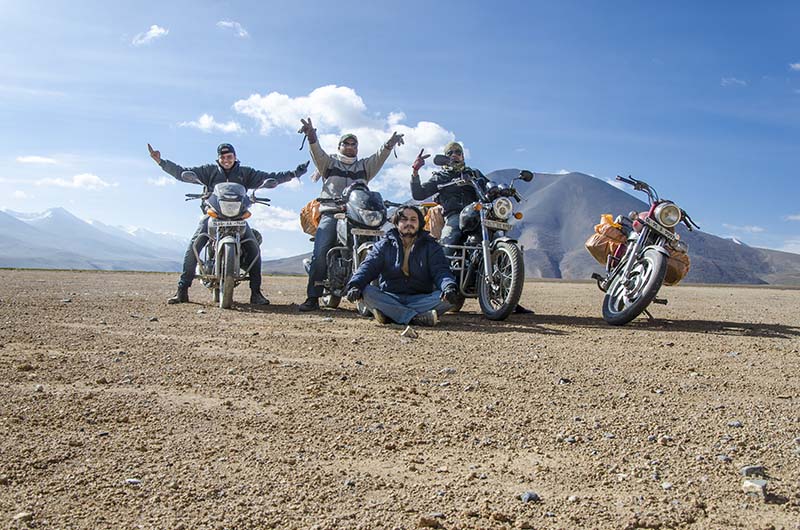 More Plains & Tanglang La Pass
The road from Pang through Moore Plains was a pleasure to ride on. But it turned into a nightmare as we got closer to Tanglang La. Finally, with shaken bodies and aching butts, we were atop Tanglang La, our 5th high altitude pass.
The moment we started on our descent from Tanglang, I felt the rear wheel of my motorcycle bubbling a bit. My first thoughts were of a flat tire again but that was not the case. I ignored it and continued but not for long.
A little later, I realized that it was worsening by the minute, especially around the turns. Fearing the worst, I got off the motorcycle to check but everything seemed OK.
Still, to be on the safer side, I took the wheel out and bolted it in again. This took a good half an hour but yielded no results. The bubbling continued. There was not much that we could do but to keep going at a slower speed which we did till Upshi.
Trying to fix the wheel while descending from Tanglang La but in vain.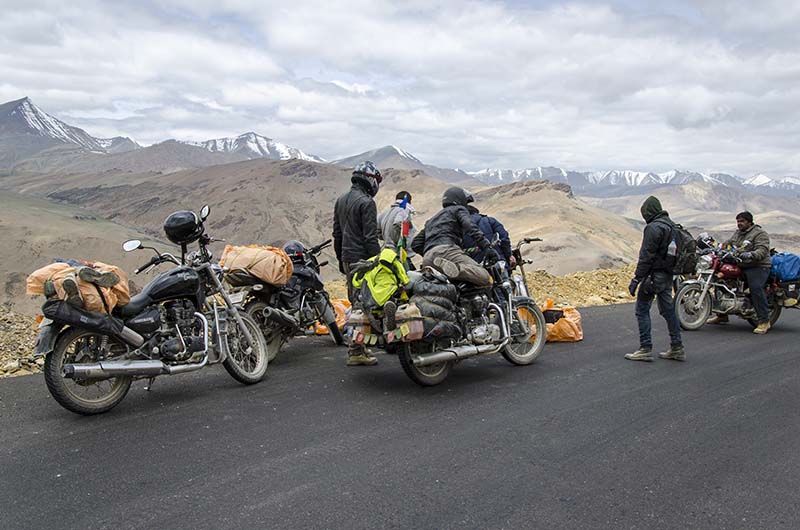 Upshi
I was hoping to find a mechanic at Upshi but the only option available was a puncture repair shop. As expected, the guy had no idea why the wheel was bubbling when everything was intact.
I asked him to take the wheel out and bolt it in again, rearranging everything. I said this from the thought that I may have not arranged the wheel properly the last time I took it out. Maybe when this guy does it all over again, the problem would go away.
The puncture guy on the other hand decided to do a little digging in himself. After taking the wheel out, he went further in to check what was wrong and found the culprit.
The ball bearings were broken causing the wheel to shake. But this is where the real trouble started. Without asking me, the guy literally hammered out the ball bearing.
Since the case was broken, soon we had all the balls lying scattered on the ground and the 'mechanic' looking at the broken case like an idiot. But wait, that wasn't all.
Trouble of the Day
A Buddhist monastery in Bihar was attacked with serial blasts a day ago causing anger in the Buddhist community of Leh. To protest, they decided to call a 2-day bandh across the town. The day when we reached Leh happened to be Day 1 of the Bandh.
This meant that no other shop was open anywhere from Upshi to Leh or elsewhere. There were locals driving around in Jeeps forcing people to close down their shops. Even our 'genius mechanic' was also trying to hurry up so he could pull the shutter down.
So now there we were, standing at a puncture repair shop in Upshi with the rear wheel of my motorcycle out and a broken ball bearing in our hands. Our 6th breakdown of the journey on Day 4.
The Altercation
With no way to get a new ball bearing, I asked the guy to put the broken one back again so that we could at least continue to Leh, still at least 40 km away. But putting the balls back in with the case broken was not going to be an easy task.
With another hour spent, the situation remained the same and I started to lose my nerve.
"This won't fit back in now," Said the repair guy.
"So what now?" I asked.
"I don't know. You will have to take care of it on your own" He replied, still fumbling with the ball bearing.
"Who asked you to take the ball bearings out? I only asked you to remove the wheel and fit it back in to correct the alignment. Why did you hammer it all out?" I finally vent out my anger that had been building from the moment the guy hammered out the bearing.
I guess he was equally frustrated because the moment I said it, he threw the bearing down on the ground.
"You tourists are all alike and always act like this. I told you it won't work then why did you ask me to take it out?" He said.
"I told you to take the wheel out and fit it back in. You were only asked to correct the wheel alignment. I said nothing about the ball bearing" I almost shouted.
"I am not going to do anything now. Do whatever you want" He replied.
I swear I could have slapped the guy right there if it was not for Shoaib. He immediately walked over to us, seeing us screaming at each other, and tried to keep us both calm and reasonable.
This is where all this drama happened.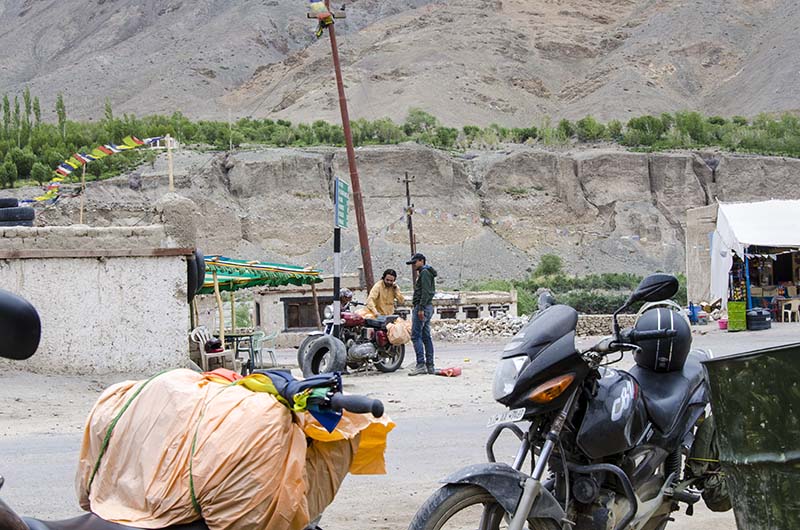 More Trouble
With Shoaib interrupting, we both cooled down a bit. I, realizing that losing my nerve would only worsen the matter, requested the guy to arrange a way out. He suggested that we go to Karu and see if we can find a mechanic there. Much to my surprise, he himself agreed to come with me.
With the mechanic as pillion, holding the rear wheel of my Enfield between us, I started towards Karu on Sunny's CBZ, leaving the other three still at Upshi As expected, every single shop was closed but that was not the only thing that was worrying me.
CBZ started to show signs of stress as well all of a sudden. The engine would suddenly die, especially at an ascent, only to come back to life itself a few seconds later.
Fearing that our day was about to get worse, we kept looking for a mechanic at Karu and finally spotted one. The shop was closed as expected but the mechanic was sitting right outside, chatting with a friend.
The Gluey Way Out
Luck still did not favor us because that mechanic did not have a spare ball bearing. The ones that he could manage did not fit in. After another hour of fumbling around, the only possible solution we came up with was to glue the balls back in the bearing case and put them back in the wheel using a plastic adhesive. Surprised? Trust me, it happened.
Slowly and carefully, we used glue to put the balls back in. After that, with impeccable precision and ever so gently, the bearing was fitted back into the wheel.
With that done, we came back to Upshi and very carefully arranged the wheel back in the motorcycle. I thanked the mechanic at Upshi for his help, apologized for losing my temper, prayed to god to not make this day any more exciting, and started on our way to Leh.
The last 40 km to Leh seemed like a journey in itself. Every minute I feared for something to go wrong in the wheel. Thankfully nothing happened and we comfortably made it to the city, marking an end to a troublesome journey from Pang to Leh.
Leh
We went straight to the hotel that we last stayed in, Shanti Palace. The charges they quoted this time though seemed a bit too steep so we decided to find another hotel.
After another hour of search, we finally found one that was reasonably priced. Little did we know how we were going to regret this decision later.
After checking in and freshening up, I went to meet my contact at Leh to collect our passes to Chushul that he had already arranged. There was still plenty of daylight left so the next destination was Shanti Stupa.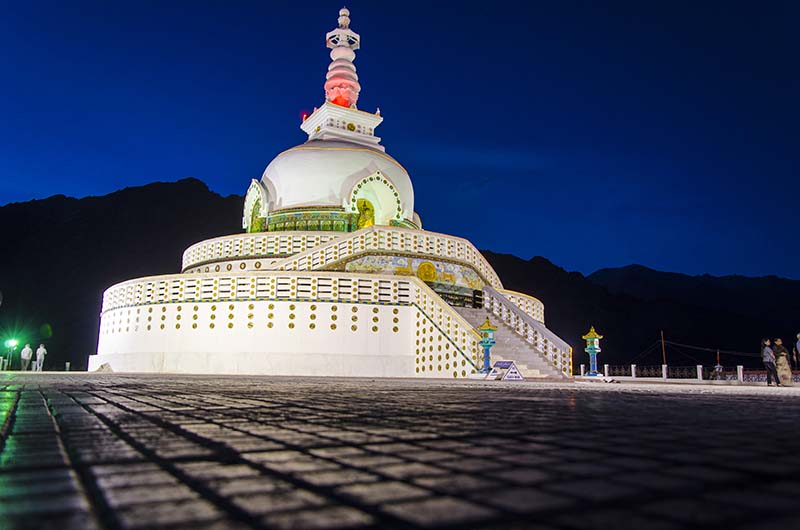 Once back in the hotel, we realized why checking in here was a mistake. Service was so poor that even getting a cup of tea seemed like a task impossible.
They were only interested in servicing the foreigners and the Indian guests seemed invisible to them. We literally had to run after them to get ourselves something to eat or drink. I don't exactly remember the name of the hotel now or else I would definitely have advised everyone to avoid it.
Pang to Leh Distance
The distance between Pang to Leh is approximately 175 kilometers. The road is a mix of good, bad and ugly. The ugly part is mostly around Tanglang La and the rest of the stretch is usually good. Total travel time for the journey can be 5 to 6 hours.
Journey Ahead – Day 5: Leh to Khardung La to Leh
With our minds set on returning to Shanti Palace the next morning, we finally tucked ourselves in the blanket, calling an end to a day of trouble and excitement. Little did we know that we were going to see much more of it the next day. Please click on the link above to continue reading the next part of the travelogue.
Conclusion
I hope the travelogue, pictures, and information on traveling from Pang to Leh were of help. If you have any questions, please feel free to ask in the comments section below or at our Community Forum, and I will be happy to answer.