This travelogue is in continuation with a previous one and a part of my 10 Days Spiti Valley Bike ride. We traveled from Delhi to Narkanda on Day 1 and continued from Narkanda to Sarahan on Day 2. Details of the second day of journey and the town of Sarahan are further in this post. To read the previous part of of the travelogue, please click on the link below.
Journey so Far: Day 1 – Delhi to Narkanda via Shimla
Below is a quick navigation menu of the details covered in the travelogue below.
Narkanda to Hatu Peak
We woke up late the next morning. The destination for this day was going to be Chitkul but I wanted to visit Hatu Peak before leaving Narkanda. It had been more than 3 years since I was last in Narkanda and went to Hatu Peak. So before leaving the town for Chitkul today, I really wanted to make a short visit to Hatu Peak.
Also Read: How to Plan a Trip to Spiti Valley – A Complete Travel Guide
By the time we got ready and started on the ascent to towards the peak; the clock was already showing 9.30 AM. We haven't had breakfast yet but decided to visit Hatu Top first and then have breakfast on our way back. I did realize that it was a bit late for us to be delaying in Narkanda but Hatu was all that was on my mind at that time. Here, the fact that I was not aware of the road and distance ahead also played a part, something that I was to realize later today.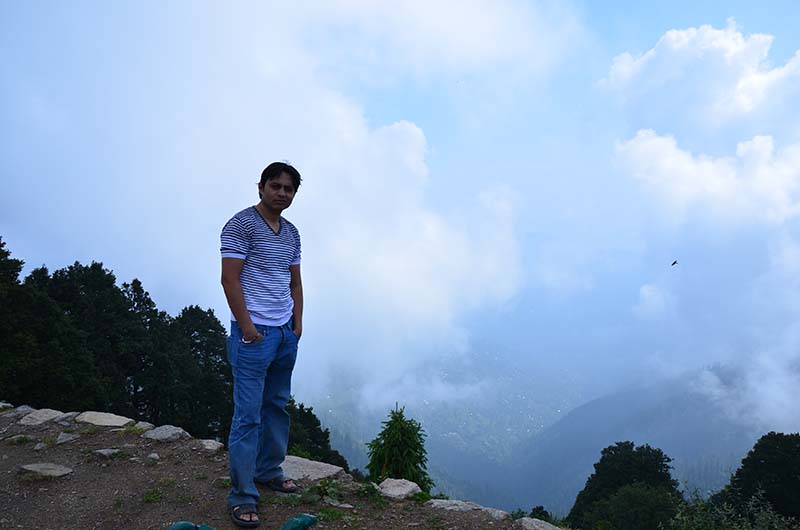 Hatu Peak is about 10 km from Narkanda. The narrow road that is barely wide enough for one car is surrounded by pine and spruce trees. On top of the hill, the ancient Hatu Mata temple is located. The peak offers a spectacular view of the entire Himalayan ranges, snow-clad mountains and in depths are the dense forests, green fields, and apple orchards.
Hatu Peak
In about 15-20 minutes, we were both standing on top of the peak. With Monsoon season on, there were clouds in the sky and we could not see much of the valley but the sight was spectacular still. It also reminded me of the last time when I came to Hatu Peak at dawn to see the sunrise. It was still dark all around and a group of about 15 dogs started to run after me, giving me the scare of my life. Read about it here, Catching a Sunrise at Hatu Peak.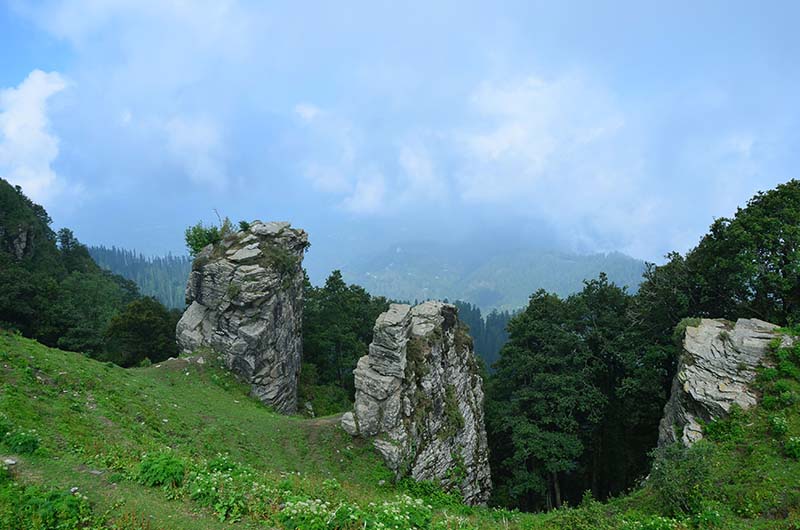 Hatu Mata temple was under renovation. From our hotel owner, I had learned last night that a budget was allotted by the Himachal Government to renovate the famous temple.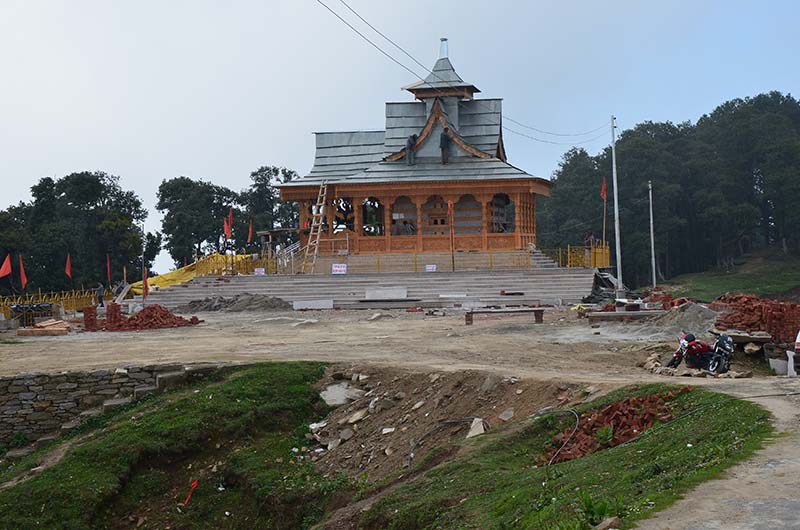 After spending some time on the top, we started descending back to Narkanda.
Back in Narkanda, we had breakfast at the Himalayan restaurant, went back to our hotel, packed our bags and got ready to head towards Chitkul.
Our hotel in Narkanda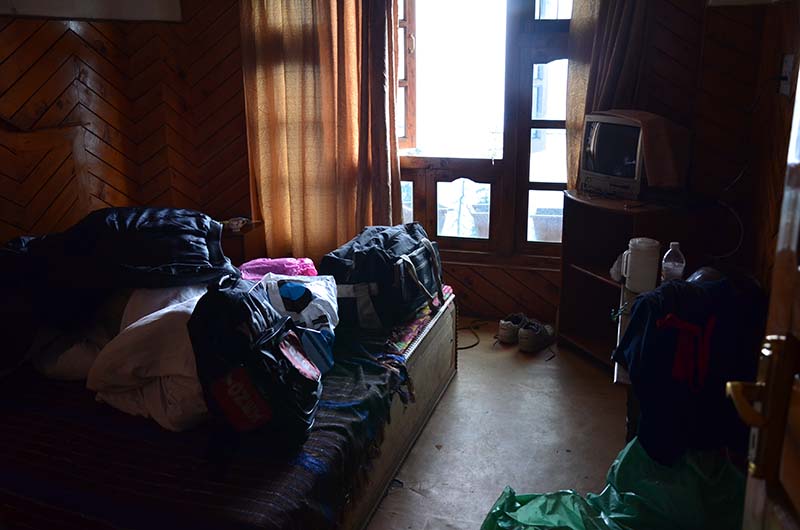 This dog came over with her puppies and started playing with Narender while we were trying to tie bags on the bike.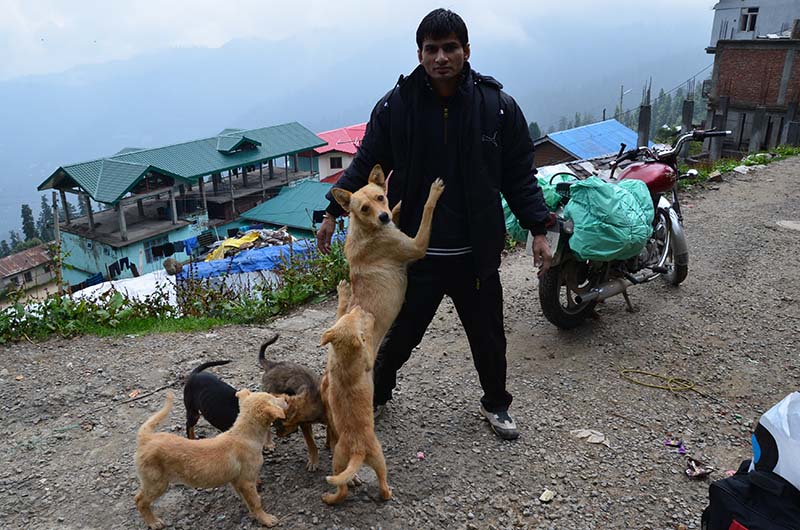 Also Read: Snowfall in Narkanda – A Pleasant Surprise
Narkanda to Jeori
The first thing we did was to get a tankful done at Narkanda gas station and then we started descending towards Rampur. Shimla to Narkanda is all uphill but after Narkanda, it is all downhill. Road conditions will remain to be smooth and the vistas will just keep getting better. After a little while of riding, we reached the Sutlej viewpoint and had our first view of the mighty river.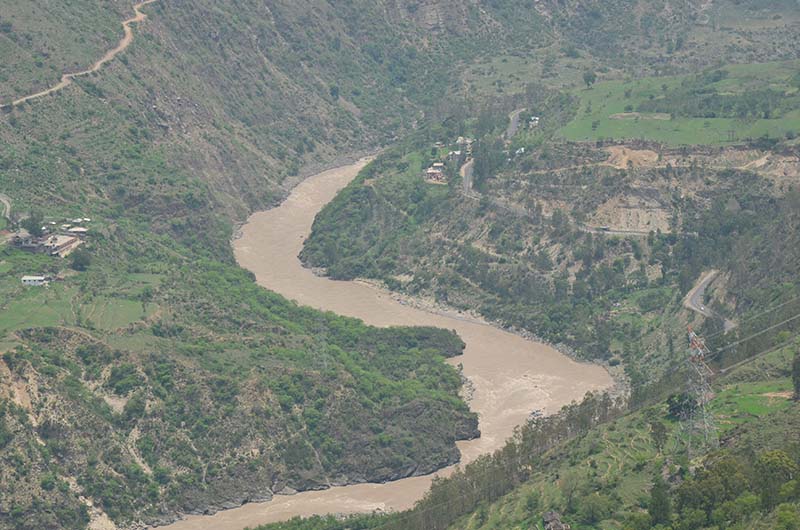 We continued to ride down until the road ran parallel to the river. Sutlej, in fact, accompanied us on our journey for the rest of the day and also for the next 2 days. The landscape kept getting better at every turn we took.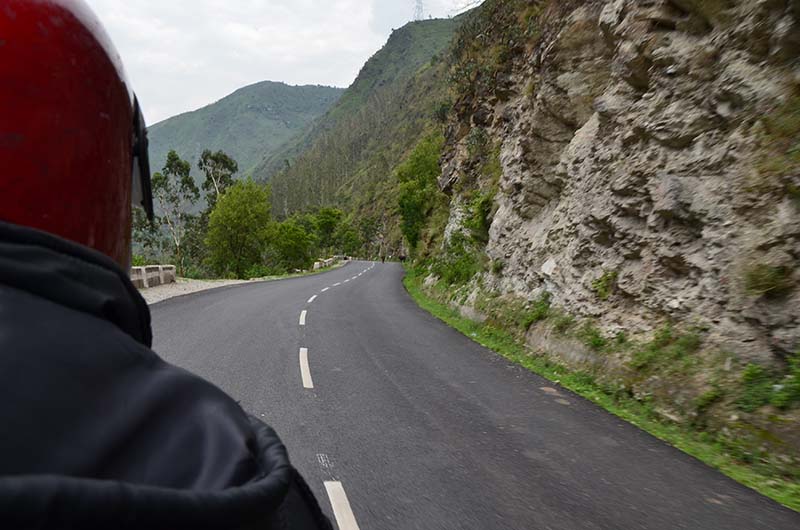 We took a break and while I was clicking some photographs, I noticed 2 foreigners standing at a small distance from us. I remembered seeing them the last night in Narkanda as well and stuck up a conversation. They were both French and upon learning that we were going to be traveling on the same route towards Manali, we decided to ride together. They were not sure where they will be breaking their journey for the day but when I said we were going towards Chitkul, they too decided to go to Chitkul with us.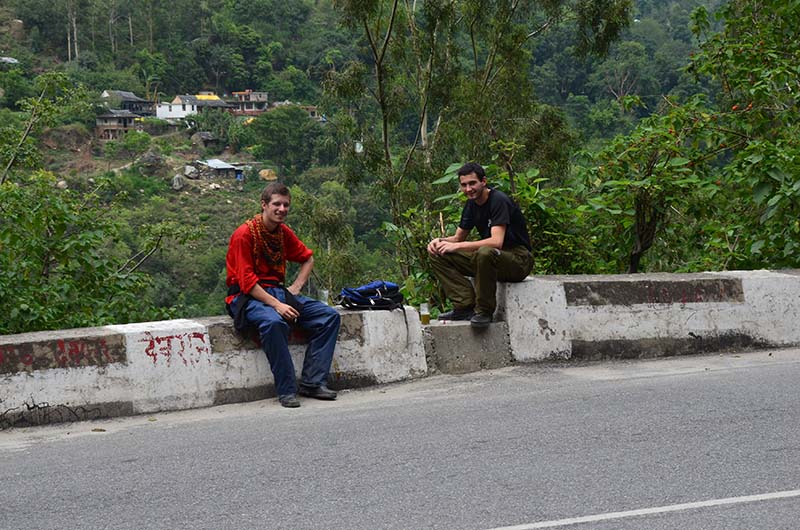 We started our ride again with Sutlej flowing on our left.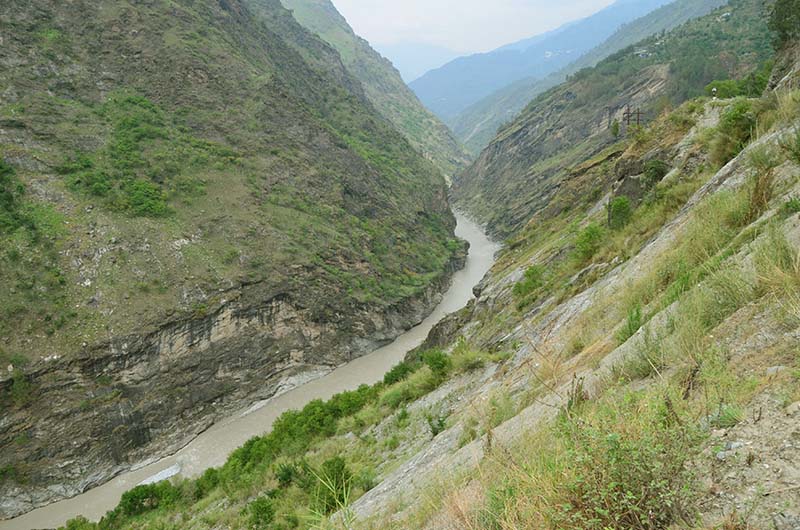 Also Read: How to Plan a Trip to Chitkul
Jeori to Sarahan
Pretty soon we reached Jeori and this is where I got confused and took a wrong turn. I was under the impression that the town of Sarahan is on the way to Chitkul and that we will cross it on the way. But at Jeori, the road towards Pooh went straight ahead whereas the road to Sarahan went to the right, an 18 km ascent.
I knew that to reach Chitkul, you have to leave the main highway and then backtrack to it the next day after visiting Chitkul but I also knew that turn is not until Karchham. Out of confusion, I thought maybe this is another route that one can take; to go to Sarahan and then continue straight towards Chitkul from there. All this because I did not have a map, did not study the route more carefully and did not ask anyone around.
So we took the turn and were soon on our way to Sarahan. The French guys too followed me, not knowing that the guy they were following had no idea where he was going.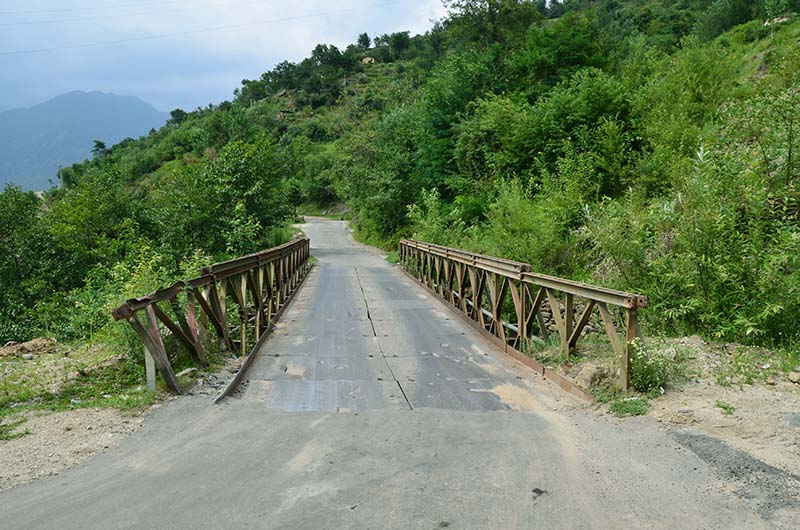 After a while, we noticed that our foreigner friends were not following us anymore. Thinking that maybe they stopped to click some photographs, we continued going towards Sarahan and stopped a few km before, at a restaurant to eat and wait for the French guys to catch up.
Also Read: How to Plan a Trip to Sarahan
End of the Road
After waiting for 15 minutes and with still no sign of the French dudes, with our bellies starving, we decided to start eating. And then we waited for another 30 minutes but the French souls still did not show up. With almost an hour lost, I decided to continue the journey and pretty soon reached Sarahan's top, where the Bhimakali temple is located, and that's where I realized my mistake.
The road ended here.
Upon asking a few locals, I was told that we will have to backtrack to Jeori and continue on the same road that we earlier left to Chitkul. There was no road from Sarahan to Chitkul.
I did not want to stay in Sarahan. My idea was that we will stop for some time in Sarahan, visit the temple and be on our way. Another assumption that I made here was that Sarahan to Chitkul was just about an hour's ride. I looked at my watch. It was already 5 pm which means another 2 hrs of daylight and still a chance to make it to Chitkul before it got dark.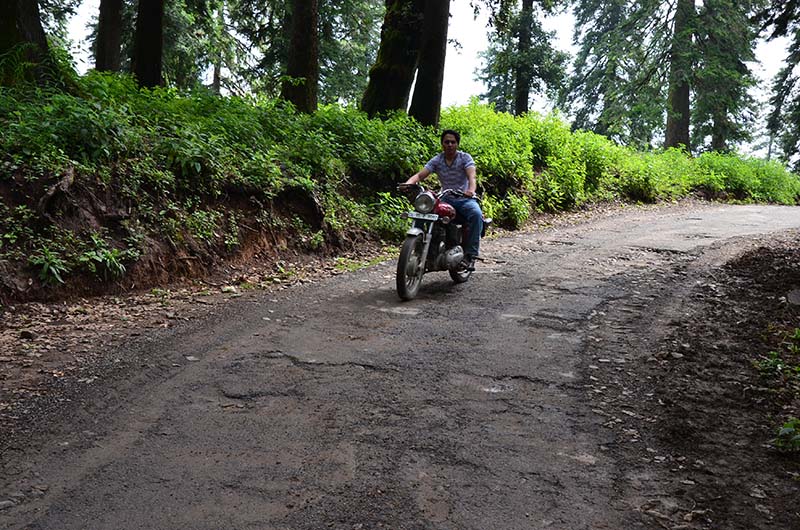 With that thought in mind, we started descending again towards Jeori and after a few km, met the French guys. Upon inquiring about their delay, they told us that the accelerator wire of one of their motorcycle broke and they had to go back to Jeori to get it fixed; and then they started heading back towards Sarahan.
Sarahan
Now I was in a fix, whether to call it a day, stay in Sarahan for the night or keep going towards Chitkul. When I could not get my head to decide, we flipped a coin and the decision made was to spend the night in Sarahan. This turned out to be a wise decision, something that we learned the next day.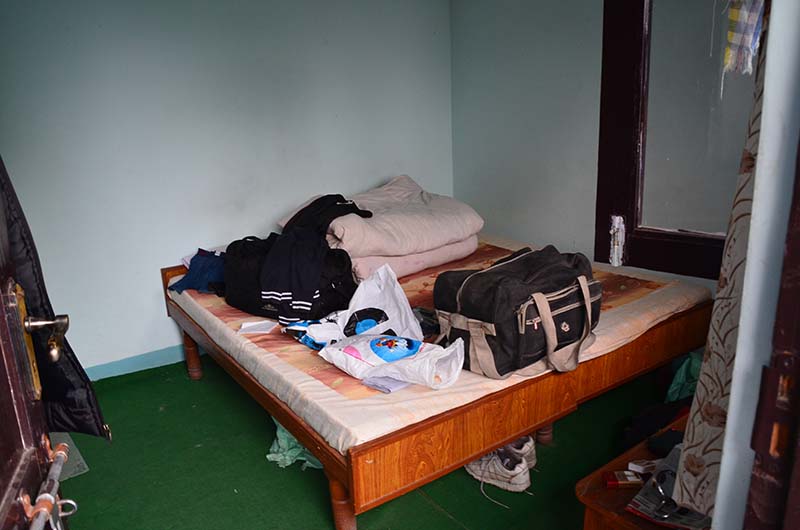 We checked into a hotel, freshen up and visited the temple. There is a bird sanctuary in Sarahan that I wanted to see; but found out that it remains closed from April to July due to birds mating season.
After spending some time roaming around in Sarahan, we came back to our hotel. Our entire journey from Narkanda to Sarahan almost took our entire day, thanks to multiple breaks and the wrong turn. But in a way, I was actually thankful that we took that wrong turn; otherwise I would have continued to Chitkul and missed visiting the beautiful town of Sarahan.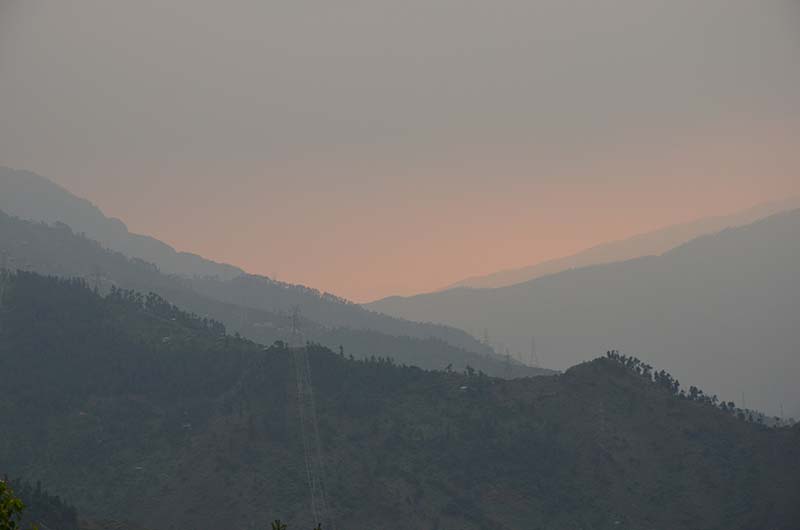 The owner of the hotel was also running a grocery shop at the ground floor of the hotel.  Narender and I decided to play some chess and I went to the shop to see if the owner had a chessboard that I can buy.  Here started one of the most amusing conversations of my life.
Funny Conversation
I asked the owner if he had a chessboard.
"Chess board hai toh par bachcho ne poora kharab kar diya hai"
"Nahi main naya kharidne ke baat kar raha tha" I explained.
"Nahi naya toh nahi hai, ek purana hi rakha hai ghar pe. Main khud bhi chess ka bahut shaukeen hoon"
"Oh really? Aap bhi khelte hain?"
"Haan haan. Mere brother Gay hain varna har raat vo aur main Chess ki ek baazi khelte hain"
"WHAT !!!!!" I was shocked. Why is he telling me this, I thought. What does his brother being a gay has to do with what I am asking.
"Main bhi thoda bahut khel leta hoon" I ignored what he said and continued the conversation.
"Arrey isse badhiya khel nahi hai koi. Mere brother jo gay hain vo hote abhi toh saath mein khelte"
WHY DOES HE KEEP SAYING THAT !!!! I thought.
"Haan haan kyun nahi" I again ignored his comment "Ek baazi aapke saath bhi ho jaati. Aap rakhte nahi dukaan mein chess board vagerah?"
"Ab soch raha ke rakhna shuru karun, chess ludo carom vagerah. Brother gay hue hain Shimla ki taraf toh unko phone karke bolunga ke lete hue aayen"
And that's when I realized what he was saying; brother gaye hain, gaye hue hain, but was pronouncing GAYE as GAY.
I came back to our room, told Narender about the conversation and we both had a good laugh.
After having dinner and a little chat with our French friends, it was time to call it a day and go to sleep.
Journey Ahead
Please read Sarahan to Chitkul – The Mesmerizing Valley of Sangla to continue reading the next part of this travelogue. If you would however like to get some more details on traveling between Narkanda to Sarahan or even Shimla to Sarahan, then please continue reading further.
Narkanda to Sarahan Distance
The distance between Narkanda to Sarahan is about 100 kilometers approximately. The condition of the road is mostly all good. From Narkanda, it is a complete downhill drive on a broad smooth road till almost Rampur. From Rampur, you then drive on a straight road running parallel to Sutlej River till Jeori. After Jeori, the road then climbs up in a very steep manner for 12 kilometers to Sarahan. On this stretch, it is also very narrow and caution is advised while driving.
Narkanda to Sarahan Bus
The best way to travel from Narkanda to Sarahan by public transport would be to not wait for a direct bus because the frequency of that will be very less. It would rather be better to board any bus that is going towards Reckong Peo and get down at Jeori. From Jeori, there are both buses and shared cabs available for Sarahan.
Shimla to Sarahan Distance
The distance between Shimla to Sarahan by road is a total of 161 kilometers via Kufri, Theog, Matiana, and Narkanda. The condition of the road is all good and it will take you about 6 to 7 hours to complete the journey, depending upon your speed and breaks.
Shimla to Sarahan Bus
There is a direct bus from Shimla to Sarahan that leaves from ISBT Shimla to 11.30 am every day. This Bus will drop you right in front of the Bhimakali Temple in Sarahan. If you missed this one then the other way around is to catch any bus going towards Reckong Peo and get down at Jeori. From Jeori, you can then catch a shared cab or another bus for Sarahan.
Shimla to Sarahan Bus Fare
The fare will be around Rs. 150-200 per person for your entire journey from Shimla to Sarahan.
Also Read: Taxi Rates in Shimla
Shimla to Sarahan Road Map
If you were looking to get a map of Shimla to Sarahan road, then I would recommend you to take a look at the link below. This, in fact, is a map of the entire Shimla – Kinnaur – Spiti circuit and not just the Shimla to Sarahan route. This can help you understand the journey from Shimla to Sarahan and then further to Sangla, Chitkul, and Kalpa as well.
Shimla to Sarahan Sightseeing
The entire stretch from Shimla to Sarahan can actually be called a tourist belt. The towns of Mashobra, Kufri, Fagu, Chharabra, Theog, Naldehra near Shimla are all famous tourist spots. Narkanda is another place that has in recent years come up as a major tourist attraction in Himachal. As you move ahead, the natural beauty of Kinnaur will leave you spellbound. Sutlej River and the cliffhanging roads on Narkanda to Sarahan stretch will definitely both please and thrill you at the same time.
Places of Tourist Interest in Sarahan
Listed below are four of the greatest tourist attractions in Sarahan apart from the natural beauty of the place.
Bhimakali Temple
Royal Palace
Bird Sanctuary
Hawa-Ghar
For more details, please read How to Plan a Trip to Sarahan.
Hotels in Sarahan
There are several hotels in Sarahan; both luxury and budget. The temple as well has an arrangement of night stay for visitors but it is a very basic 'Dharamshala' kind of an option.  It is a great choice for budget travelers though. If you would like to stay at a luxury hotel then HPTDC Hotel Shrikhand is a good place to stay if within budget. For other budget hotels, just take a walk through the town and you will easily find one. There are in fact several hotels on the Jeori to Sarahan stretch as well as you start driving up.
Shimla to Sarahan Taxi
A taxi from Shimla to Sarahan is the best option for sightseeing if you were not traveling by your own vehicle. There are several travel agents in Shimla that you can rent a taxi from. Even your hotel in Shimla can easily arrange a cab for you. An ideal way for the trip would be to stay overnight in Sarahan and returning to Shimla the next day. Traveling from Shimla to Sarahan and returning the same day will be too long and hectic a journey with no time at all for sightseeing.
Shimla to Sarahan Taxi Fare
It entirely depends on the kind of taxi you chose but at an average, a drop from Shimla to Sarahan will cost you about Rs. 2500 and a round trip will cost about Rs. 4000.
Shimla to Sarahan Road Condition
The entire stretch from Shimla to Sarahan is a super smooth road. If you did not take many breaks, you can in fact easily complete the journey in 5-6 hours.
Shimla Sarahan Sangla Kalpa Chitkul
If you were planning a trip to Shimla and also wanted to cover places in Kinnaur valley like Sarahan, Sangla, Kalpa or even Manali, then I would recommend you to take a look at Kinnaur Valley Itinerary – How to Plan your Journey. In this article, I have provided information on how you can plan your itinerary covering all these places.
Conclusion
I hope the information above on traveling from Narkanda to Sarahan was of help. Please read Sarahan to Chitkul – The Magnificent Valley of Sangla to continue reading the next part of this travelogue. If you have any questions or need any other details, please feel free to ask in the comments section below; or at our Community Forum; and I will be glad to answer.