This post is in continuation of a previous one and a part of my Sach Pass and Spiti Valley travelogue. I started my journey from Delhi and arrived in Pangi Valley via Sach Pass. After spending a day in Killar, I moved on to Lahaul Valley and then to Spiti. After sightseeing around Kaza for 2 days, I visited Pin Valley and then returned home via Kinnaur Valley, traveling from Nako to Kalpa to Chitkul to Sarahan to Delhi. Please click on the links below to read previous parts of this travelogue.
Journey So Far
My plan for Day 12 was to ride to Kalpa from Nako. The distance between both places is not that great. The total travel time from Nako to Kalpa, even if you take plenty of breaks, is no more than 4 to 5 hours. I have been riding for long hours almost every day for the last 10 days. So a short ride was definitely a much-needed relief.
Day 12 – Nako to Kalpa
It was again an overcast/rainy day. I started towards Kalpa in a mild drizzle. Below is an overview of the journey between both places.
Nako to Kalpa Route
Nako is believed to be a part of Spiti valley because of the resemblance in the terrain and culture of both the places. However, Nako is actually a part of Kinnaur Valley. The area around Pooh, Khab, and Nako is considered as upper Kinnaur whereas the area around Kalpa, Sarahan, and Chitkul is lower Kinnaur.
There is just one road that runs between both places and that is the only route you can take. From Nako, I drove down the hairpin bends known as Kazigs and arrived at Khab. After Khab, the next destination was Pooh. There isn't anything between these two places and even the landscape is not that pretty so I rode at a stretch.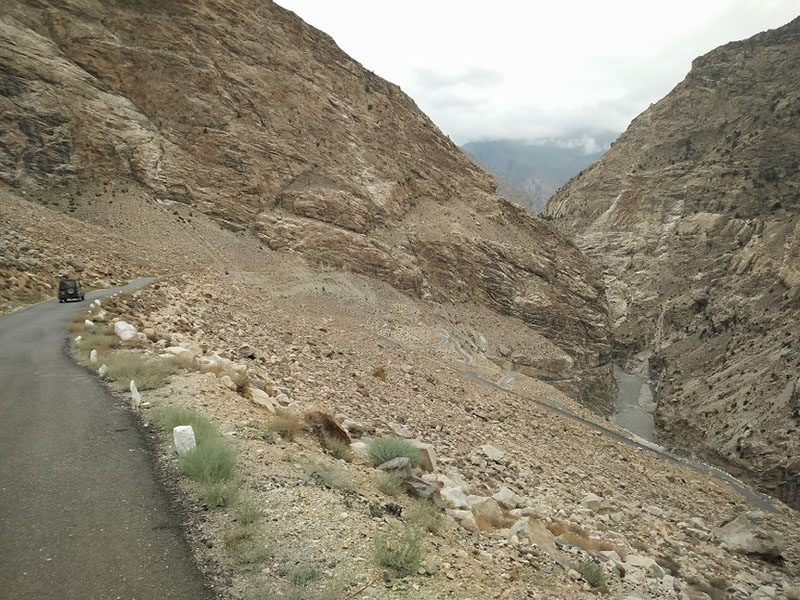 As I moved from Pooh to Kalpa, greenery started to appear. The barren brown landscape now slowly transformed into the lush greens that Kinnaur is so famous for.
Also Read: How to Plan a Trip to Nako
Nako to Kalpa Road Condition
The roads were a mix of good and bad, getting really bad after Pooh and up till Spillo.
Another landslide on the way.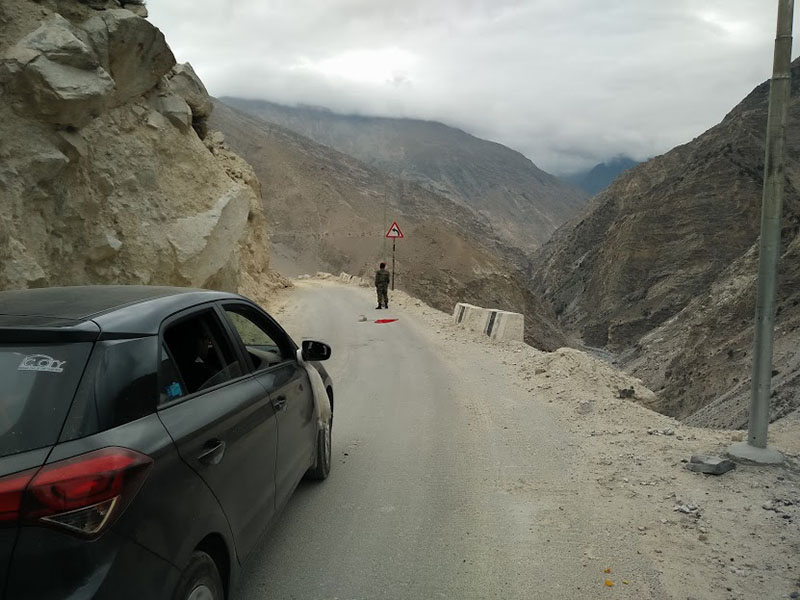 Nako to Kalpa Bus
There is a daily bus that travels from Kaza to Reckong Peo and passes through Nako before noon. This is the bus that you will need to board.
I took the first break at Spello. After this, it started raining really hard.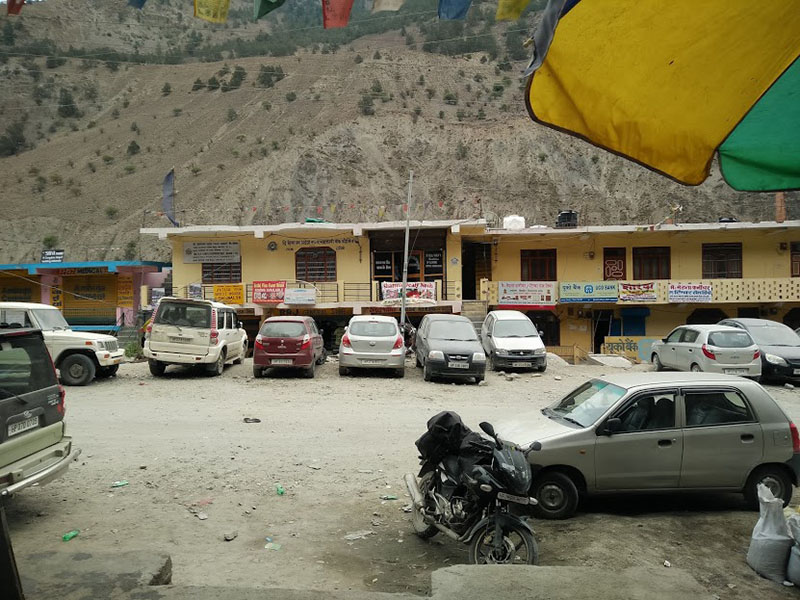 Akpa bridge.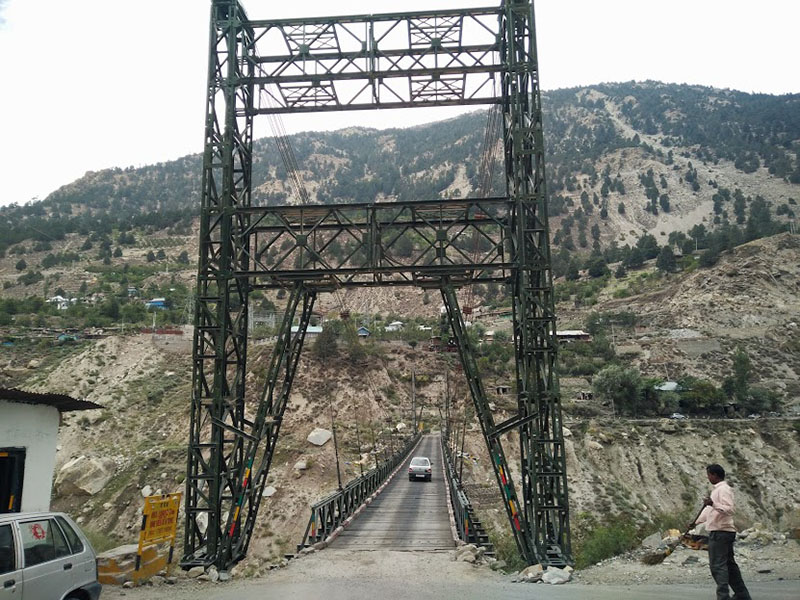 As I approached Kalpa, I begin to search for a fuel station as the fuel level indicator was getting low. I first went to the pump in Powari, but they did not have fuel.
I then went to the pump in Peo and got my fill. Even they were rationing the fuel, saying that because of a landslide, their truck is stuck at Shimla !!
Kalpa, just after the rain stopped.
Day 13 – Kalpa to Chitkul
What do you say when you wake up in the morning and see this view outside your window?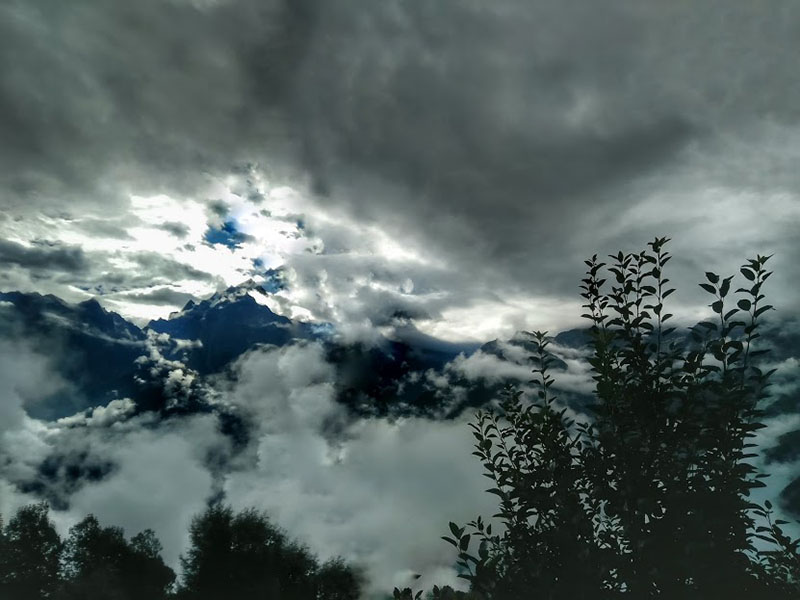 There are times when you feel like freezing the moment. I was sitting in the balcony of my hotel early in the morning and hoping the clouds make way for clear skies. Until I looked at the scene in front.
It was very still, and not windy, unlike last evening. Everything was so quiet, silent. I could almost hear my thoughts. The clouds were still, as were the apple trees. I did not see or hear any traffic, it was as if the world around me was in a freeze-frame. These few moments felt like an eternity, as if time had stopped in its tracks for a while.
Also Read: How to Plan a Trip to Kalpa
Rain-kissed delicious Kinnaur apples. They were not ready then. Harvesting begins in October/November. Don't wait to buy them if they have hit your local market.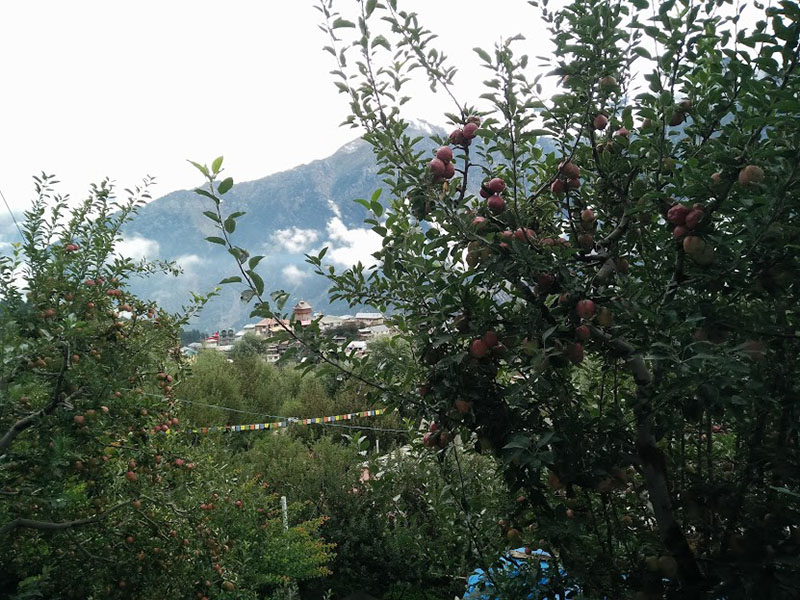 On the way to Roghi village. The reason for going there was to see the famous 'Suicide point'. But then I got to know it's not in the village but well before it. It was just a few kilometers from the turn towards Kalpa.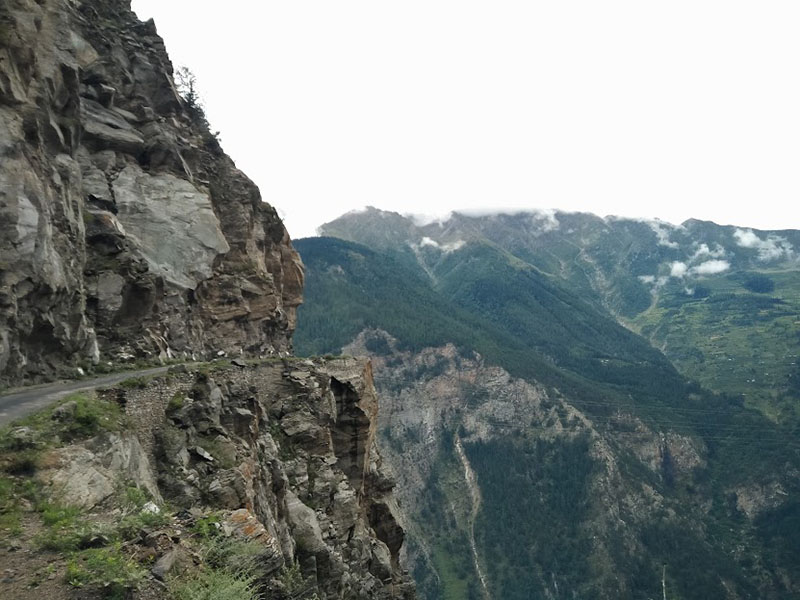 This is a thrilling vertical slope near Roghi village. Why this is called Suicide point, I have no idea, but I could see graffiti on the cliff with names and love signs. The cliff would make an excellent bungee jumping or parasailing point, I think..
Kalpa to Chitkul Distance
The distance between Kalpa and Chitkul Village is only about 62 kilometers and you can easily complete the journey in 3 hours; or 4 hours at most if you took a lot of breaks.
Since I knew that my ride was not going to be that long today, I was in a very relaxed mood. I spent some time at the hotel in the morning, enjoying the stunning outside the window. After that, I rode to Suicide point and Roghi Village before finally started on my way to Chitkul.
In order to get to Chitkul from Kalpa, you will first have to drive down to the main Shimla Kaza highway. The road was narrow but in good condition so it did not take me long to cover this distance.
Once back on the highway, I drove a little towards Shimla until I arrived at Karcham dam. This is where the road bifurcates and one needs to turn left. Sangla valley can be approached after crossing the Karcham dam, on the way to Chitkul. Nestled in the midst of the lower Himalayan range, with Baspa River flowing along amidst stunning vistas, it's a treat for sore eyes.
Also Read: How to Plan a Trip to Chitkul
Kalpa to Chitkul Bus
There is no direct bus between Kalpa and Chitkul but there is a morning bus available from Reckong Peo at 7 AM. You will have to either walk, hitchhike or find a shared cab that can drop you at Reckong Peo in time to catch this bus.
Kalpa to Chitkul Road Conditions
The slush fest starts just after Karcham.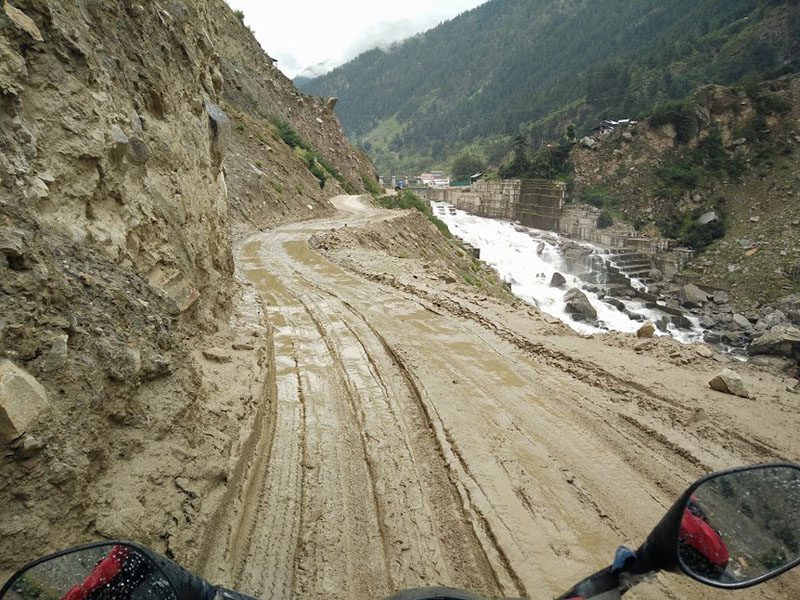 Baspa reservoir just before Sangla.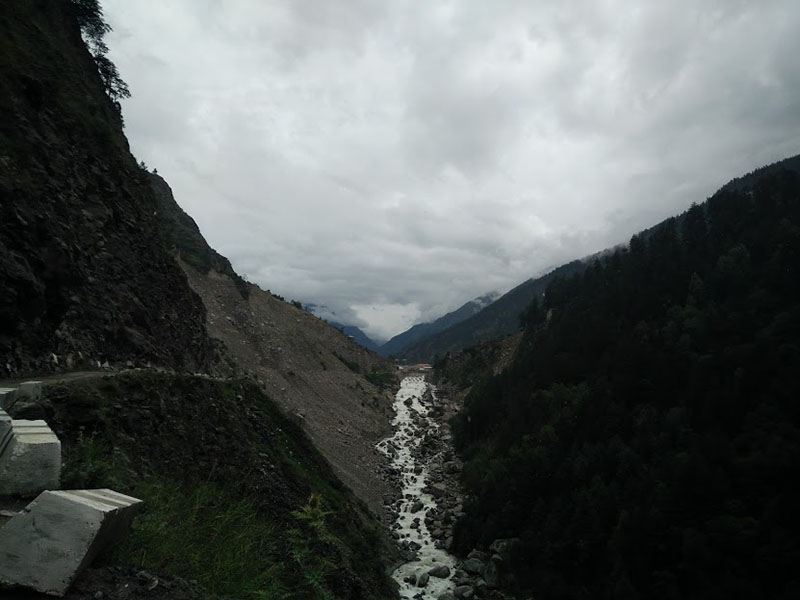 Start of the beautiful Sangla valley.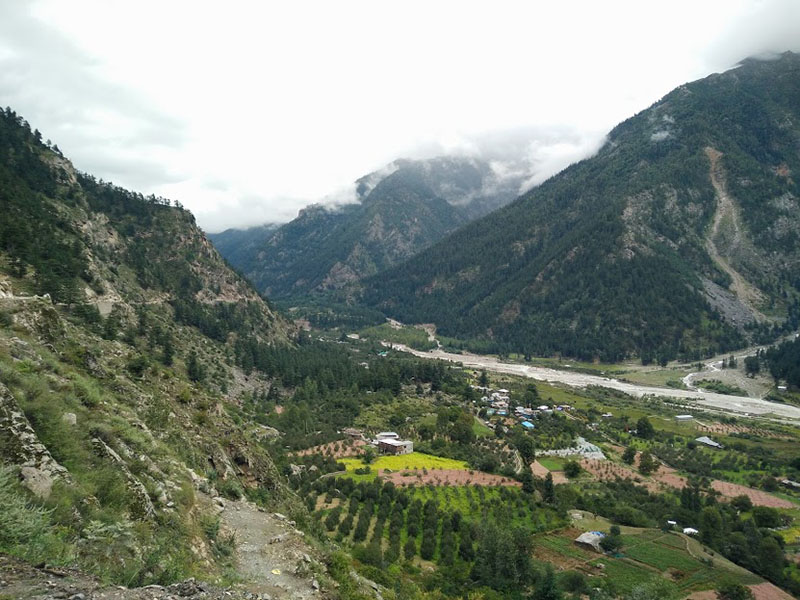 Eye-catching spot just before Rackham.
Rackham valley with buckwheat fields in full bloom.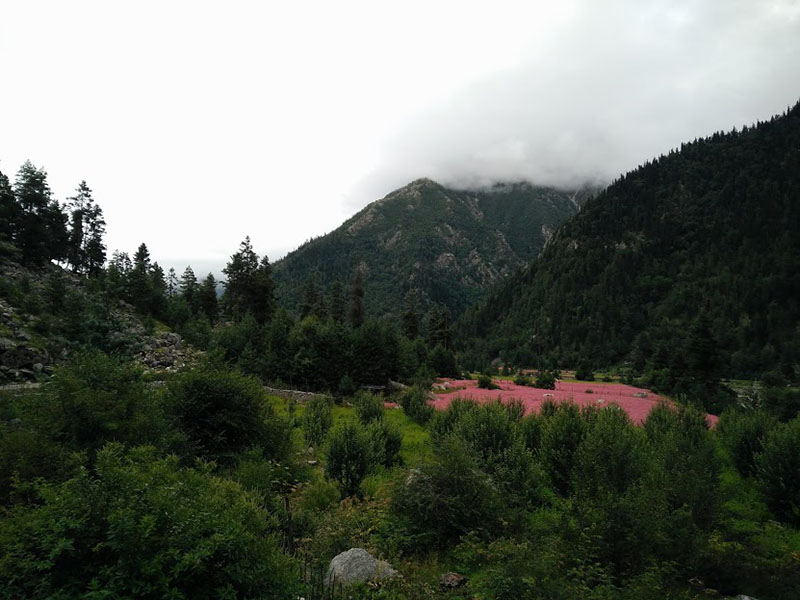 Finally arrived at Chitkul. The heart was full of joy at seeing the board but the joy soon turned into disappointment.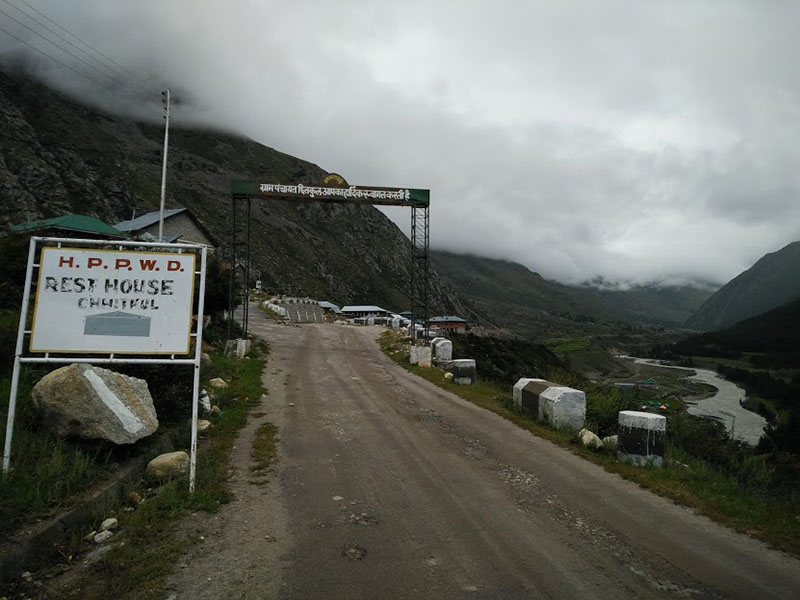 Chitkul
Again, just like Nako, the frantic pace of construction could be seen at Chitkul as well. Here it was more commercial as private parties have taken land on lease from the owners and are constructing hotels. The breathtaking views that we saw the last time around were completely covered up by the construction. I guess next time Chitkul and Nako will not feature in my plans.
Also Read: Bike Trip to Chitkul in Winter – Delhi to Chitkul Bike Trip
An evening stroll on the banks of the Baspa river. Tomorrow, I move to Sarahan, the last pit stop of the trip.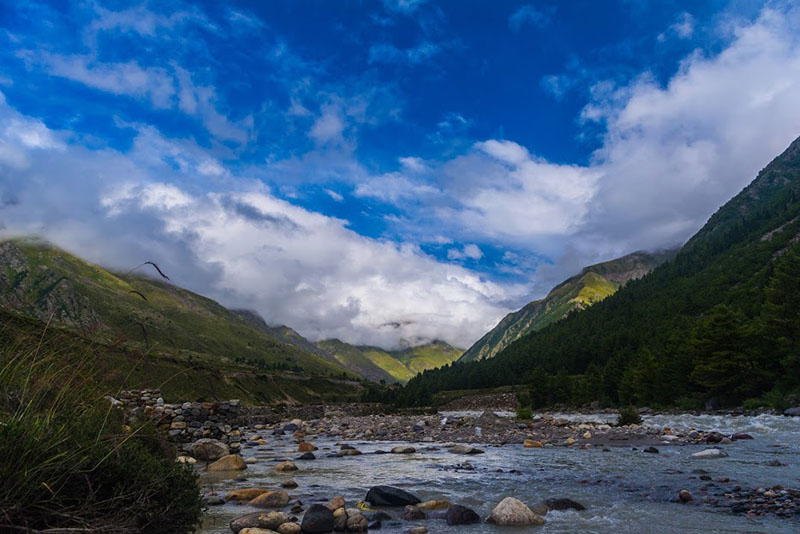 Day – 14 – Chitkul to Sarahan
I woke up to a sunny day! It's strange how a bright sunny day, with a fresh breeze flowing around and the greenery filling up the mountains can lift your spirit and bring a smile upon your face for no reason. I packed my stuff and got out of the under-construction hotel room I had slept in. That made me glad too.
Must take this picture every time!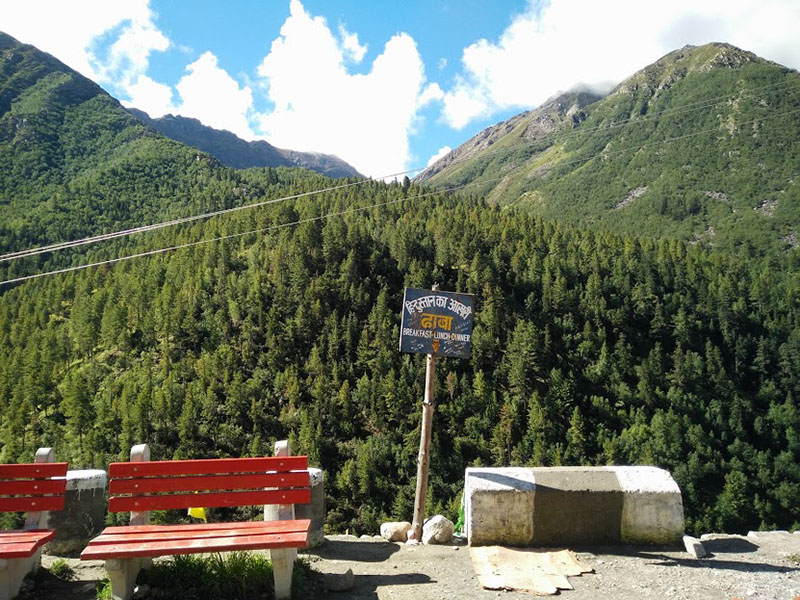 The Chitkul valley was showing it's true colors now. It made me realize how much I had missed yesterday, riding in the rain and clouds.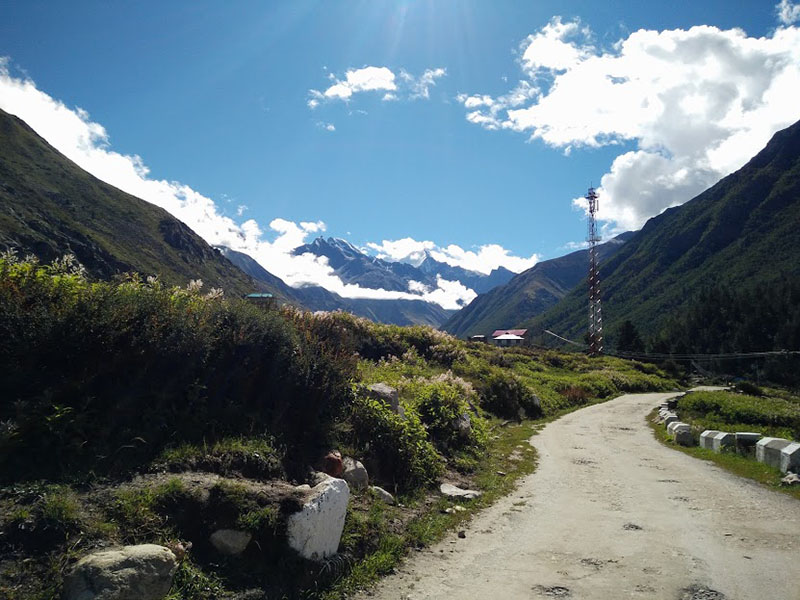 Thanks to the early morning sunshine, the slush had dried out at most places and I was able to maintain a decent speed. I saw a large number of chameleons around the roadside and on the road, all along the way till Sangla. They must have come out to enjoy the sunshine, but a lot of them on the road ended up getting crushed under the wheels of passing vehicles.
Also Read: Hotel Review – HPPWD Rest House Chitkul
I had a fulfilling, late breakfast of a very large Parantha, Dahi, and tea at a dhaba at Sangla. The food last night at the Deblok hotel had left a kind of bitter taste in the mouth. The nice breakfast helped shake it off.
Velvety, emerald green mountains look so enchanting in the rainy season.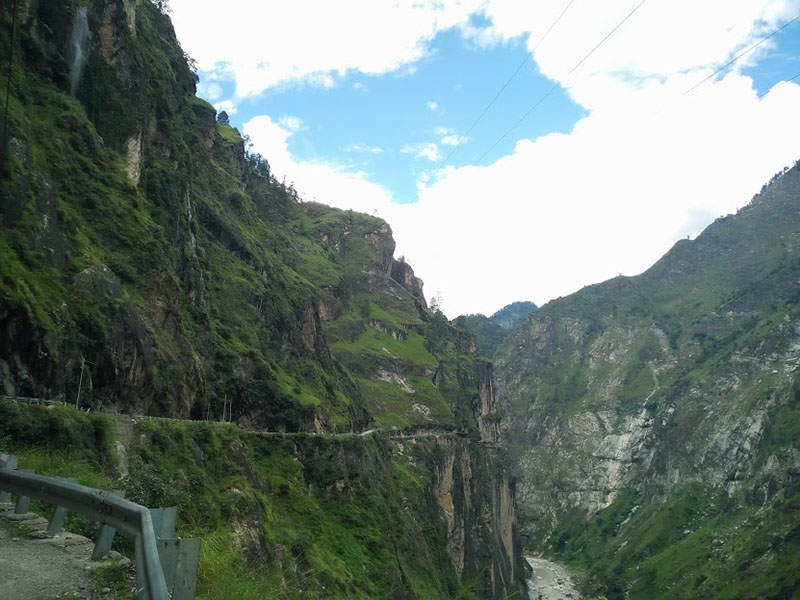 Bhimakali Temple
I reached Sarahan late in the afternoon. It had drizzled all the way, after the euphoria of early morning sunshine at Chitkul. Even after I reached Sarahan, the clouds continued playing hide and seek until it got dark.
On reaching the first place I saw was the temple, but before I could visit the temple, I needed to eat. The was a very decent dhaba just near the bus stop run by a Nepali lady. I ordered a simple veg thali. It was the best food I had had in the last 2 weeks! I was astonished as to how much it tasted like homemade food and not the usual dhaba crap. I gobbled it up in minutes.
Also Read: Sarahan – How to Plan your Trip and Explore?
After bargaining for a room in the adjoining hotel, I called home, rested a bit, and then decided to go on a photography session of the temple and its surroundings. Unfortunately, I could not go inside the main temple as it was closed at that time.
A few pictures of the Bhima Kali temple.
Finished the day with a beautiful sunset.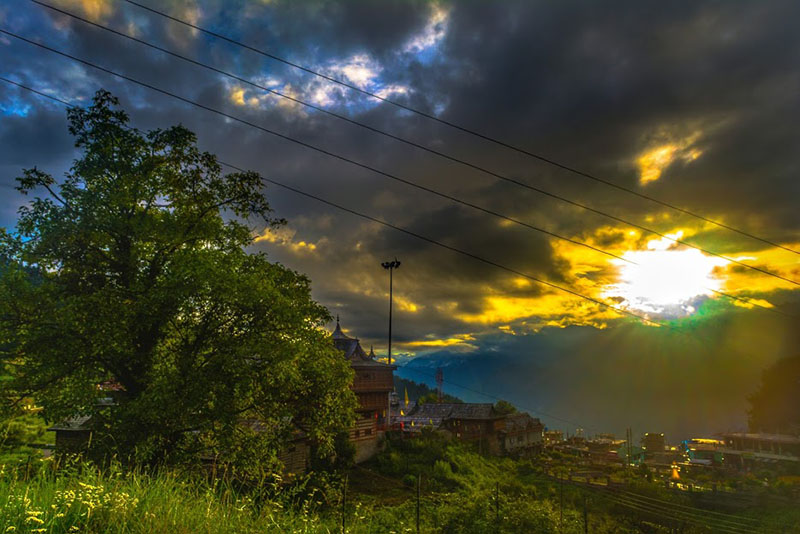 Day 15 – Sarahan to Delhi
I thought to start a little early from Sarahan but could only start by 10 am. Until Kumarsain the route was sunny with occasional, dark clouds over the horizon. As soon as I got close to Narkanda, it became pitch dark and the clouds descended on the road.
I foresaw a very strong likelihood of rain. It was a sign to stop and that I did to take shelter in a chai shop before it would rain cats and dogs, which it did for nearly one and a half hours. I stayed at the chai shop all this time and treated myself to several cups of tea while my Black beauty kept on drenching on the pouring rain! I could do little; there was no shelter on the side of the road.
Finally, after an hour and a half later the rain started to slow down a little but didn't stop. The lady who I think wanted me gone from the shop told me that it had been drizzling/raining since yesterday and there is no chance it will stop completely. Oh well! I took the hint and moved out in the drizzle.
The road ahead was was full of clouds/mist, making it difficult to ride at a pace. Just before the main Narkanda market, it began to rain heavily, so much that I was practically blind. I somehow made it to my usual pit stop at Narkanda for many years now, Negi Himalayan Dhaba. It was jam-packed with the afternoon lunch crowd but somehow I got a table at the deep end.
I ordered hot chocolate to ward off the cold and afterward a regular veg thali. I got out of there when the rain stopped completely, after an hour.
Also Read: How to Plan a Trip to Narkanda
The Trip Ends
From Narkanda, it was a torturous ride to Shimla. Loaded apple trucks, tourist vehicles, and local traffic made the highway resemble hell. It took me a good 3 hours to reach Shimla and I again had to cross the town, which I love and abhor at the same time.
After crossing Shimla, the next pit stop was at Kandaghat and the sun was starting to go down. I planned to reach Chandigarh/Ambala and then decide the next course of action.
Pouring rain close to Narkanda.
The twilight hour at Solan. Had to stop to capture it!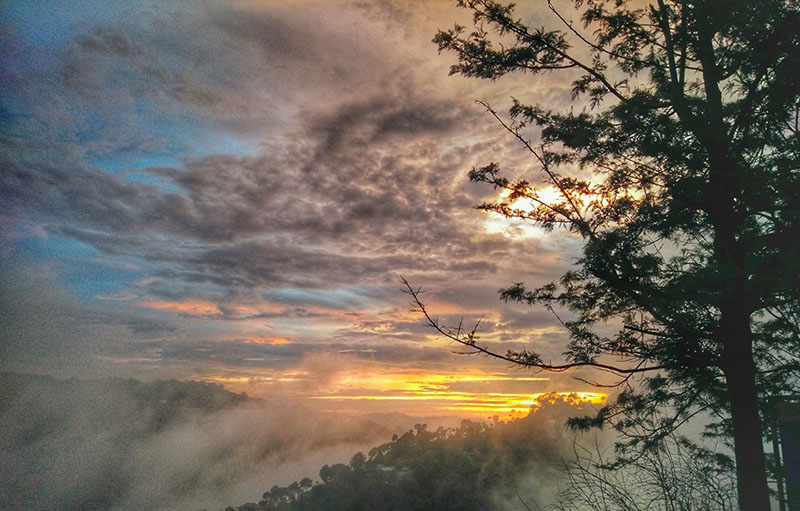 Delhi
After Solan, I stopped at the Giani Dhaba at Dharampur and got myself some dinner. It was 8 pm. I planned to go till the Chandigarh bypass at least, before deciding on anything.
It was 9:30 when I reached the Chandigarh bypass, battling crazy traffic, under construction highway, and high beam headlights! I stopped at a dhaba on the way towards Ambala. To go or to stay was now the dilemma and the big question.
After half an hour of deliberation, I decided I would ride till Delhi without a stop. Off I went and it was one of the most satisfying night rides I ever did. The traffic was super smooth and I was at Mukarba Chowk flyover by 1 am. This was my best Chandigarh – Delhi timing! It took me another 20 minutes to reach home courtesy of the newly built flyovers over the Rohini – Janakpuri stretch and I was in my bed by 2 am.
Thus ended my sojourn. I hope you have enjoyed it! Many thanks for your appreciation and kind words. Until the next Travelogue.
Conclusion
I hope the travelogue and information about traveling from Nako to Kalpa and other parts of Kinnaur valley were of help. If you have any questions or need any other details, please feel free to ask in the comments section below,  or at our Community Forum, and I will be glad to answer.