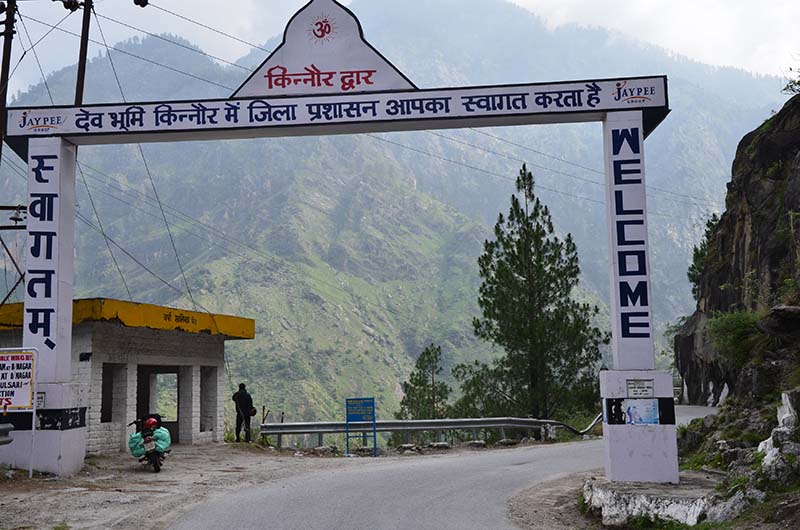 In this post, I will provide a detailed log of my solo road trip to Kinnaur Valley by public transport. How did I travel, sightseeing plans, where did I stay, and how much did it cost me are some of the details that I will cover. In the end, it turned out to be one of the best trips of my life. If you were planning to go on a road trip to Kinnaur but weren't too sure, my recommendation is that you stop thinking and head out immediately.
This was a trip that was on my mind for a long time. For one reason or another, it got planned but then canceled at the last minute. Kinnaur slowly developed both into a passion and a dream for me. A dream that when realized turned into a memory that I will cherish for the rest of my life.
About Kinnaur Valley
From the apple orchids to the steep roads, from Kinner Kailash on one side to the Beas River flowing on the other, Kinnaur district in Himachal, is a gift from nature at every step, every sight. It is a hidden treasure for both kinds of travelers – peace lovers and adventure seekers. Kinnaur region is the mid-point between the higher Himalayas and the lower Shivaliks.
You will find followers of both, Buddhism and Hinduism here, and thus the land is full of monasteries and temples, monks, and pandits. And everywhere you see, you would see snow-clad mountains overlooking you.  A road trip to Kinnaur Valley is one of the best vacations that you can get.
Also Read: How to Plan a Trip to Kinnaur Valley
From Sarahan to Nako, Kinnaur district spreads from lower Himachal Pradesh to India – Tibet border. You do the famous Spiti circuit in the Kinnaur region only. But if you don't have a lot of days at hand, and want to explore an offbeat place with at a shoestring budget, here is your getaway guide.
Road Trip to Kinnaur Valley
I did this trip, solo, in 5 Days/6 Nights by spending less than Rs 6000 and just taking 2 leaves over a long weekend. I have been traveling solo for the last 6 years and have taken more than 10 trips in these years. And so I am acquainted with continuous traveling in the mountains. Please head to the comments section if you need more information on the pit stops that can be taken.
Day 1 –

Delhi to Reckong Peo
I took an overnight bus from Delhi to Shimla from ISBT, Delhi. There are many frequent buses from Delhi to Shimla covering the journey in 8 – 10 hours. The most suitable bus for the onward bus journey is to take an HRTC bus at 9 PM which reaches Shimla by 6 AM the next day. They are the most punctual transporters I have traveled with!
Then I took a direct bus from Shimla to Reckong Peo which leaves at 7.30 AM. The distance of 225 km is covered in 10 hours by a local/ private bus. The ticket costs Rs 420 and the bus halts at every small village and town en route.
If you can't do a back to back journey from Delhi to Kinnaur or have days in hand, you can either halt in Shimla or the neighboring Theog, Narkanda, or Matiyani. Narkanda gives splendid views of the White Mountains and also hosts Hatu Peak, an abode of Bhim Temple. The belt has multiple stay options, from homestays to resorts ranging from Rs 500/ night to Rs 4000/night in a luxury resort.
There are regular buses from Shimla Bus Stand to these places and the ticket is just Rs. 20 per person. You can also hire a taxi from the Shimla bus stand for your onward journey.  Shimla to Narkanda by a bus will take you 3-4 hours, stopping at various stops.
Rampur Bushahr
Or you can also leave for Rampur Bushahr, which is 125 km or 6 hours from Shimla, and halt there for the night. If you are on a road trip but not a frequent driver in the mountains, it is advisable not to cross the Rampur area in the dark as the roads are narrow and require expertise.
Rampur is the biggest town before the Kinnaur region and offers decent options for stay and food. Rampur was the last capital of the Bushahr dynasty that ruled over Shimla and the Kinnaur region. A large Hanuman temple on one side and the gushing Sutlej River on the other side welcome you to Rampur.
It is also famous for the Lavie market, also known as the trade market in the region where there will be abundant options to shop winter clothes, blankets, Kinnauri apples, and apricots. The city also has the famous Padam Palace, which is famous for its blue – Turquoise woodwork and a colorful glass ceiling.
Also Read: How to Plan a Trip to Narkanda
Narkanda – Rampur – Reckong Peo – Kalpa
The road from Rampur to Reckong Peo passes through the small hamlets of Jhakri, Sarahan, Wangtu, Tapri, and Karcham Dam. The 170 km journey from Narkanda to Reckong Peo will easily take 7 hours in an HRTC bus and a fee of Rs 220. It is necessary to get a window seat on the right side of the bus if you don't want to miss the views of The India – Tibet Highway.
A mandatory stop is Karcham Wangtoo Hydroelectric Plant also known as Karcham Dam on Sutlej River. The bridge on the Karcham Dam takes you to Sangla Valley at the India Tibet border. The road is under construction here with tunnels being made to connect Uttarakhand and Himachal Pradesh.
It is advisable to reach Peo by evening so you can find easy connectivity to your stay as the frequency is low for local buses. Reckong Peo welcomes you with the sight of the great mountain Kinner Kailash. If you are reaching the town at the golden hour, you will see the peak shining in the bright golden color. The warmth spread from the mountain will definitely take away all the fatigue of your journey.
From the Reckong Peo market to Kalpa (which is another 10 kilometers from the Peo bus stand), there are ample options to stay. There are hostels and dorms starting at Rs 300 per night to Hotels for Rs 6000 per night. Most of these can be booked online on various portals.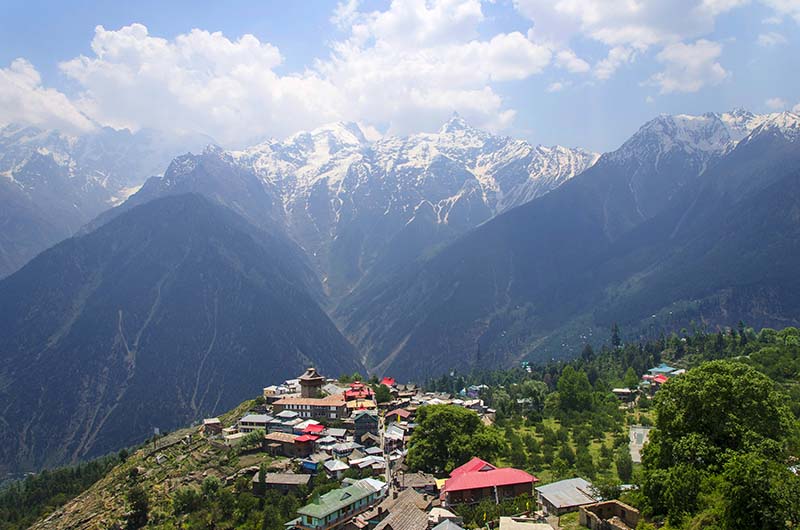 Day 2 – Exploring

Kalpa
By the time I reached, it was dark and cold. Thankfully, a few locals helped me reach my Hostel between Kalpa and Reckong Peo. I had talked to the owner on my way for a bed in their shared dorm. The windows in the hostel just opened to views of Kinner Kailash and watching it I fell asleep. The next day, I wanted to be on the streets of Kalpa and the famous suicide point in Roghi Village.
After breakfast, I started walking towards Kalpa. I got a lift till stairs to Kalpa Market by a groom. He was going to get married that day. He dropped me at a local route from where, after a little hike with a few stairs, I reached the Kalpa Market. I roamed around for a while in the market, around the Monastery and the Nagin Devi Temple.
Kalpa is a small city surrounded by Kinner Kailash at one end and apple orchards at the other. You can get easy rides to the Chinese Market in Kalpa. Here you will find the Hu- Bu- Lan Monastery and the famous Nagin Devi Temple. Both of these are in the market and easily accessible on foot. Try to wake up early and attend the Morning Prayer at the mandir.
The Nagin Devi mandir is closed from November – March.  Even if it is open you cannot enter the main premise of the temple where the goddess is situated. Any tourist who is not a Kinnauri won't be allowed inside most of the temples in the Kinnaur region. But don't skip them for this reason. They are architecture wonders withstanding the cold season for centuries.
For more details on Kalpa Village, please take a look at How to Plan a Trip to Kalpa.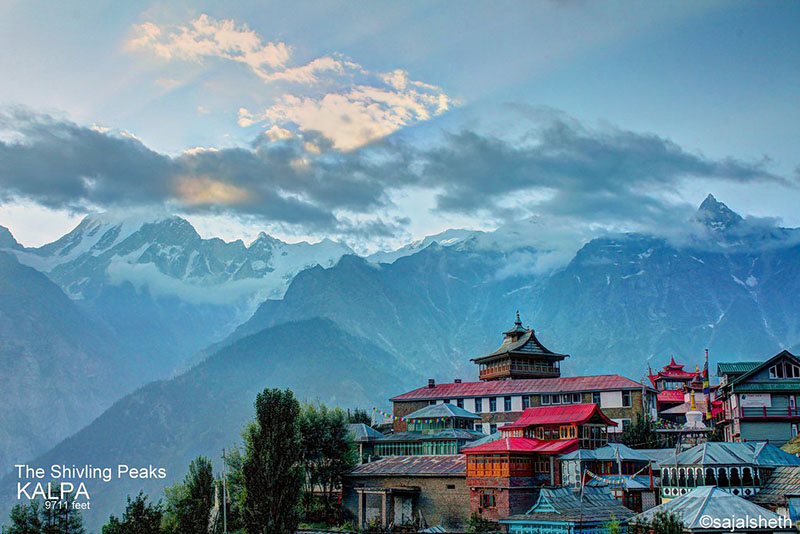 Roghi Village and Suicide Point
I met a co-traveler from Delhi and we hitchhiked our way to Roghi Village to reach the suicide point and sat there for hours talking about our travel stories and also critiquing a few people whose speakers couldn't let us hear the sound of Sutlej River flowing down.
All this area is easily accessible by vehicles, both 2 and 4 wheelers, and thus never quiet. To find our way to a little peace, we walked into the local route of the Roghi village through the Apple Orchids.
Suicide point is at the height of 9711 feet or 2960 meters from sea level and offers breathtaking scenery. It is one of the most deadly cliffs in India. The mountain rocks from one end and a steep valley at the other will give you the adrenaline rush you were looking for on this trip.
The best spot to admire the beauty of this place is a little ahead of the spot, 200 meters where you can sit at one of the rocks and admire the great Himalayas. If you can manage to be on the spot while sunset and moonrise, you will be there to visit the magic.
I spent the rest of the day walking around the Roghi village and walked back till Kalpa. I also got a few lifts down to Reckong Peo to witness the Lavie Market. And who can stop a girl from shopping in a street market where the winter wears start at Rs 200 only. After a few bargains and few buys, I headed back to the hostel to spend the night watching the moon over.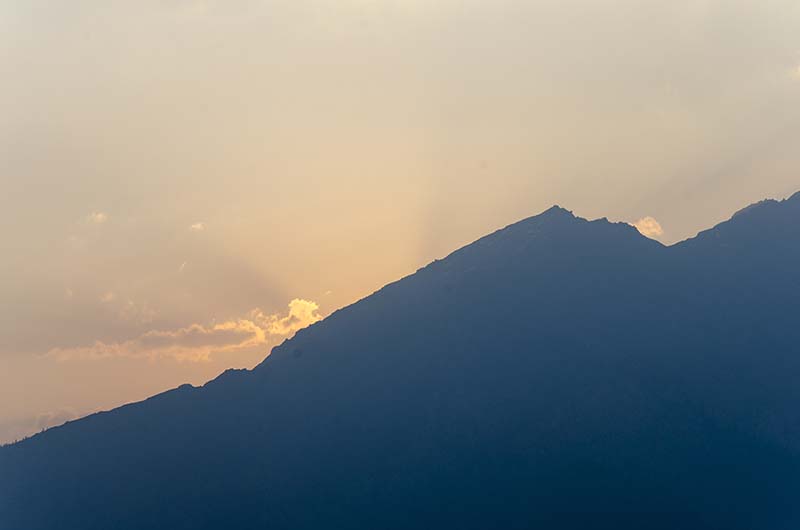 Day 3 –

Kalpa to Chitkul
We got up early morning and bid our goodbyes to Kinner Kailash. Luckily we got lifts to Reckong Peo bus stand. There is one bus that directly runs between Kalpa and Chitkul and leaves the Reckong Peo bus stand at 9.30 in the morning and reaches Chitkul around 1.30 PM via Karchham, Sangla, and Rakcham; covering the 70 kilometers distance in some 4 hours.
But we had different plans; we took a 7.15 AM bus leaving for Shimla and off boarded at Karcham. Karcham dam is the midpoint between Kalpa and Chitkul. Chitkul from here is 40 km and would take you 2 hours by bus.
But here's the catch, there are a very few buses passing from Karcham towards Chitkul/ Sangla. You will have to take the lift as the bus frequency is very low to 1 bus passing in some 2 hours.
We tried our luck with lifts and after 45 minutes of pleading, requesting and freezing in cold winds, we got a lift till Sangla. So if you are traveling alone, better take the direct bus only; unless you know the luck favors you. The last bus to Chitkul passes Karcham at around 6:30 PM.
From Sangla, we hitchhiked a little more and then got a taxi till Chitkul.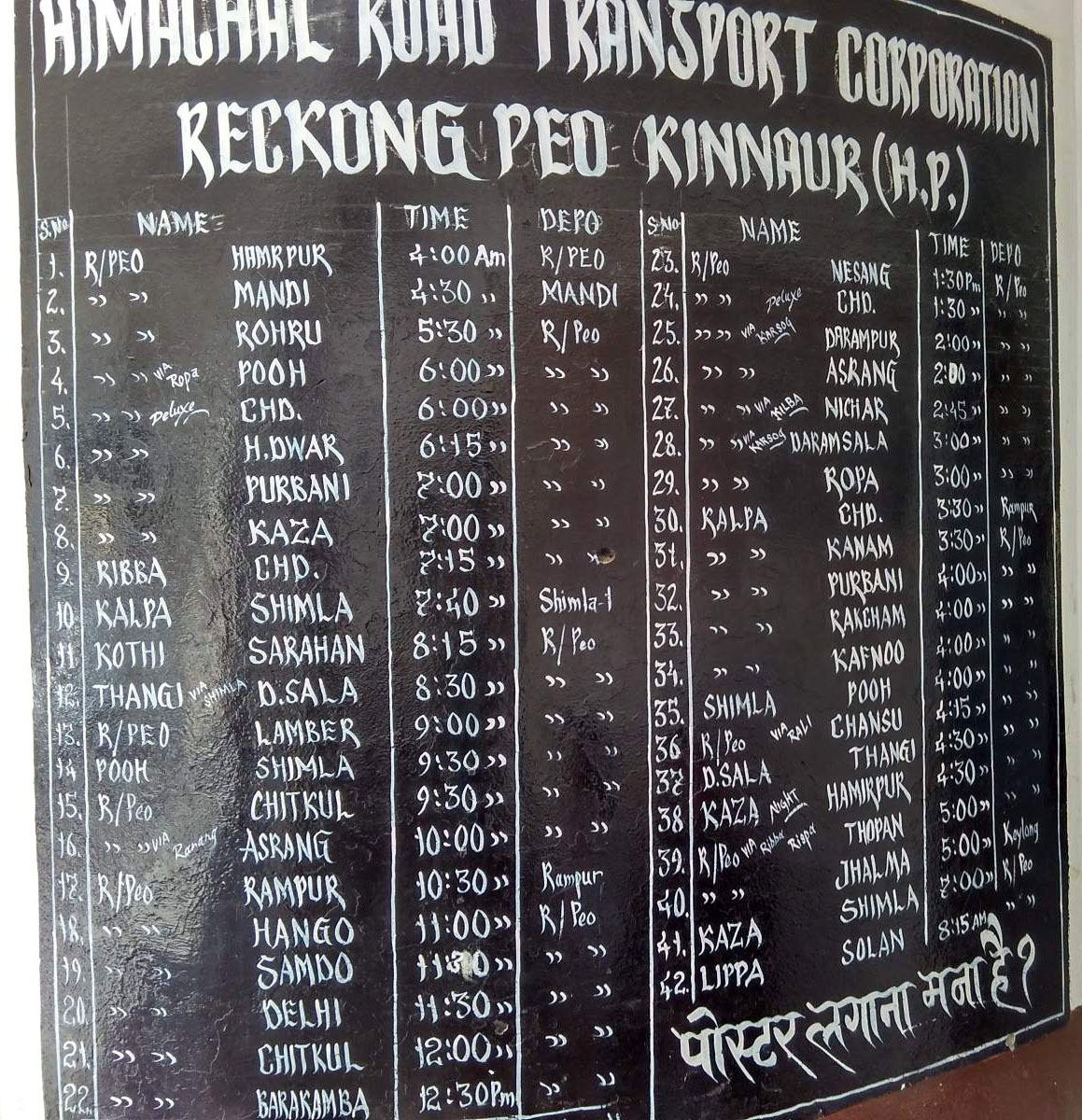 Chitkul – The Last Village on the Border
Chitkul is one of the most beautiful places I have been to and everyone who visits there would agree. It is the last village on the India – Tibet Border; and is inhabited by just a couple hundred people. It is situated on the banks of the Baspa River.
It was almost lunchtime when we reached Chitkul and were surprised to find a good amount of tourists and the kind of noise we did not expect.
We checked in our Zostel and immediately left to explore the village. We ate Rajma – Chawal at the "Hindustan ka Aakhri Dhaba" and hiked down to the Baspa River. It's an easy 10 minutes downhill walk which will take you down to the bridge. Across the bridge is a forest and trail which might lead to Rishikesh in 2 days!
Chitkul has an unexplored Flag Peak trek which is a moderate trek as you ascend up. You can ask locals about this because, at times, it can be closed due to snow.
From the market, at a distance of 3 kilometers, there is India – Tibet border's first check post managed by ITBP. You can choose to walk to it or seek help pf any local if you are not driving here. From the check post, India Tibet border is at a distance of 50 kilometers, but the route is not open for tourists of course.
In the evening, I sat under the stars and talked about our travel stories with the co-residents of Zostel and went to Bobby Bhaiya's for dinner. For more details on Chitkul, please take a look at How to Plan a Trip to Chitkul Village.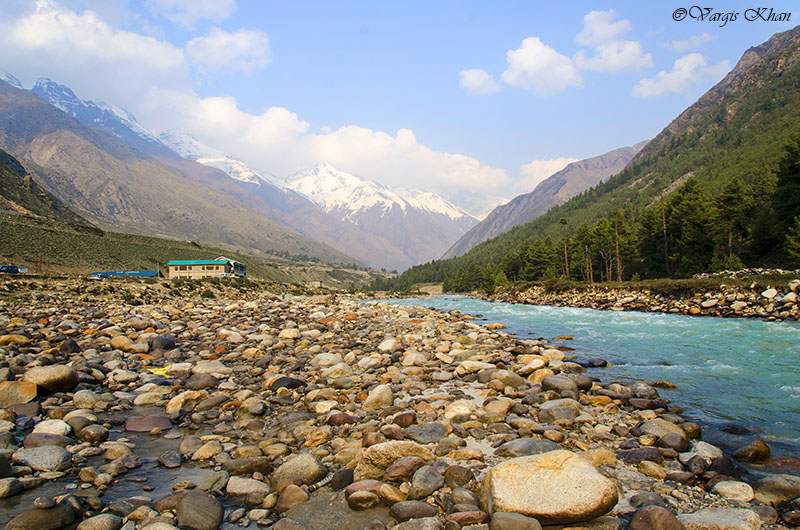 Day 4 – Exploring

Chitkul
Chitkul is a small hamlet and does not offer any adventure activities. And if you are seeking one, you can book one of the riverside camps available online. This place will give you time to spend with yourself and converse with other co-travelers in the village as only the MTNL network is available here and that too in a very bad and broken state.
After a night of laughter and games with the fellow residents of Zostel, I wanted the day to myself. I slept after the sunrise and planned my day to witness to moonrise. I had nothing to do in the entire day; and just roamed around the village, the riverside, and the forest trail with a book in hand.
I met many villagers, understood their way of living, educating; and concurring with all odds. I spent some 4 hours by the riverside reading and writing and just hearing the music by the gushing glacier river.
In the evening I met another solo traveler and we decided to witness the closing ceremony of the Mathi Devi temple. It is a sight to behold. A temple made of wood and stones was to be closed for the winters when the Goddess would rest. Like we expected we are asked to leave the premises before the final offerings began.
Although we sat close to the temple where we could hear all the proceedings on the tempo of the Baspa River. It is one of the best memories I behold of Baspa. I could hear everything and still focus on the bells from the temple.
The Magic of the Moon
I had thought the magic was done, and it was time for me to leave this magical place. But then I witnessed the moon rise. A full glorious moon. It took some 30 minutes to rise in the sky and flood the peaks with its Chandni (Moonlight). It took a while to rise up and lit the sky but till then every inch it moved, the mountains sparkled a little more. At midnight, I sat alone for a while to look at the stars, at the river, and the village shining in the moonlight. And I had no regrets taking the trip as a solo wanderer.
Also Read: How to Plan a Trip to Sarahan
Day 5 –

Chitkul to Delhi
From Chitkul to Delhi is a long journey. And you have to be physically and mentally ready for it. This was the last day of my road trip to Kinnaur and I was also a little sad about it. The first bus leaves for Chandigarh from Chitkul at 6.30 AM and the next till Shimla at 9.30 AM. I was fortunate enough to get lifts for half of the way till Rampur.
Not only it reduced my travel time, but it also gave me a breather to mentally prepare to get back to the office. I took 7 lifts from Chitkul to Rampur. Before Rampur, in Sarahan, a family offered me a trip to the Bhimakali temple. It is one of the 51 Shakti Peeths.
The architecture of the temple represents a perfect combination of Hindu and Buddhist temple style with all the wood carvings. The view from the Bhimakali temple was a perfect closure to my trip. I sat there and had Prasad as my lunch. I took a deep breath and descended down with a teenager's help. He dropped me till Rampur where we had to deliver the parcel I was carrying for one of my lifts.
With all the hitchhike and the travel, I finally boarded the bus for Shimla. To catch my Shimla – Delhi bus, but the sunsets at Theog got me out again. I off boarded the bus again and strolled on the streets of Theog to catch the sunset, and almost missed my bus to Delhi.
This was a trip that made me more confident, more independent than before; a trip where I took the maximum number of lifts and collected the most smiles, a trip that made a bit more of a storyteller.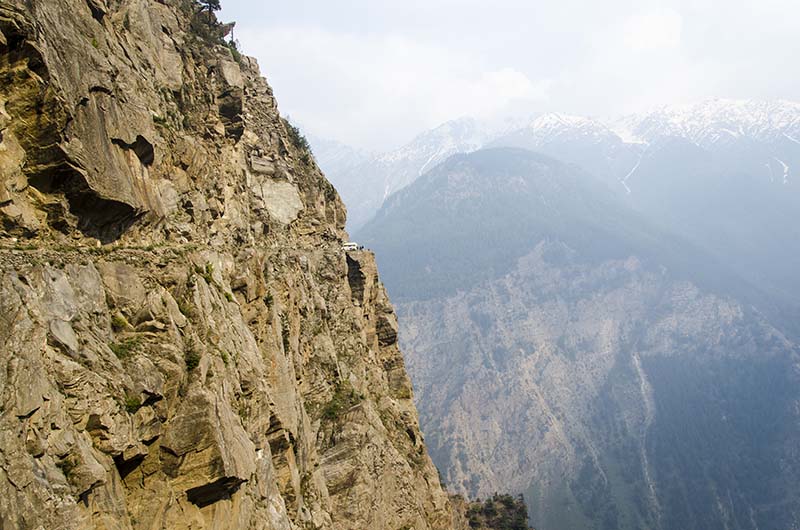 Brownie Points for a Road trip to Kinnaur Valley
Mentioned below are some other tips that can be of help while planning a road trip to Kinnaur.
Mobile Network in Kinnaur Valley
Airtel, Jio, and BSNL/MTNL will work pretty much everywhere, in places like Narkanda, Rampur, Kalpa, Sangla, and Sarahan. In Chitkul however, it is only BSNL/MTNL that will remain connected.
Before Karcham Dam, Vodafone will leave you and will remain dead any further.
Also Read: How to Make a Budget Trip to Kinnaur Valley
Petrol Pumps in Kinnaur Valley
The last petrol Pump towards Roghi/ Kalpa is in Reckong Peo and in Sangla for Chitkul
Food
You would not face any issues with food if you are fine with north Indian food; both vegetarian and non-vegetarian options are available. The region welcomes a lot of tourists from West Bengal. So most likely you will also get Bengali Food along with Tibetian, Himachali dishes.
Safety
Himachal is one of the safest regions in India. Traveling by bus, good research about the region and a 6th sense will always help you here. The people in the Kinnaur region are very helpful and will always go out of their way to help you. In my 6 day trip, I took 22 lifts from strangers apart from 7 bus rides in the HRTC bus.
Suitability
If you are traveling in the summers here, you can take the kids here but not in winter. Most of the places are accessible by a vehicle so old parents can also be taken along.
Best time for a Road Trip to Kinnaur Valley
The best season to visit Himachal is always the summers. At this time, the place will be blooming with flora and fauna. To witness snow in bearable winters, you can choose March/ October – November. With luck, it might even snow for you in these months.
Which side to sit on the Bus?
Choose the left side, opposite to the driver's side in from Sarahan – Karcham – Peo and right side (behind the driver) Karcham – Sangla – Chitkul.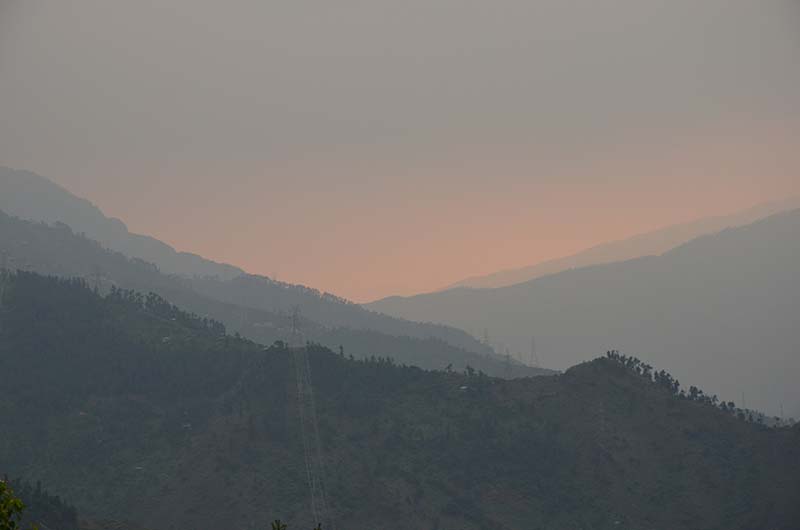 Cost of Road Trip to Kinnaur Valley
Below is a day by day detail of how much this trip cost me overall.
Day – 1: Reaching the mountains
Route: Delhi to Shimla Volvo Bus (10 PM – 6 AM)
Money spent: Rs 930 for the bus (pre-booked online) and Rs 50 for Food on the way
Day – 1: Reaching Kinnaur
Route: Shimla to Reckong Peo bus (7 AM – 5.30 PM)
Money spent: Rs 420 for bus and Rs 50 for Food and chai on the way
Took a lift from Peo bus stand to Hostel costing Rs 500/night.
Day 2: Explore Kalpa and Roghi
Route: Hostel to Kalpa Market (took 1 lift and walked for half an hour)
Money spent: 0
Explored Nagin Devi Madir, Hu- Bu- Lan Monastry
Suicide point, Roghi
Route: Walked from the Kalpa village to Roghi village (Took 3 lifts to suicide point)
Money spent: 0
Sat at suicide point for hours admiring the beauty. Explored the apple orchids of Roghi village. Plucked ate raw apples
Came back for lunch to Kalpa Market: Roti – Rice for lunch
Money Spent: Rs 60
Took back 3 lifts to Reckong Peo Market, explored the famous Lavi Mela, bought a sweater for Rs 300
Took back lifts to the hostel, had dinner there.
Also Read: Kinnaur Valley Itinerary – How to Plan 
Day 3: En Route Sangla, Chitkul
Route: Checked out from the hostel and walked till Reckong Peo Bus stand from the hostel. Ate apples for breakfast. Took bus till Karchham
Money Spent: Rs 1400 ( 2 nights in hostel + 2 Dinner and 1 breakfast)
Karcham to Sangla: Took lift and stopped at Sangla for Breakfast
Money Spent: Rs. 90 (Bus ticket Rs 40, Breakfast Rs 50)
Sangla to Chitkul: Took Shared taxi
Money Spent:  Rs 60
Day 3: Chitkul
Checked in Zostel (pre-booked)
Lunch at Hindustan ka Aakhri dhaba
Money Spent: Rs 60 (1 plate rajma chawal and 1 chai)
Spent the day meandering the village, by the riverside
Dinner at a local restaurant with co-hostellers
Money Spent: Rs 120 ( Roti – Sabji – Daal – Chawal and Gud ki chai)
Spent the entire night laughing and playing Dumb charades in Zostel's common room
Day 4: Last day of leisure
Ate apples and dry fruits for breakfast
Went to India – Tibet Border took a lift from locals and co-hostellers
Spent the entire day by the river, reading, and writing.
Money spent: Rs 60 (1 plate rajma chawal and 1 chai)
Day 4 Evening: With the locals
Attended the last puja of the Chitkul Devi Mandir before it closed for winters
Had dinner with locals and tasted the local wine
Money Spent: 0
Day 5: Good Things come to an end
Checkout Zostel Chitkul
Money spent: Rs 1098 (pre-paid)
Left Chitkul early in the morning, multiple lifts till Rampur
Breakfast in Tapri
Lunch at Rampur
Money Spent: Rs 80
Day 5: Reaching Shimla
Got a bus from Rampur to Shimla
Money spent: Rs 120 ( 100 for the bus, 20 for snacks)
Money Spent: Rs 50 for dinner
Day 6: Smoke filled Delhi
Boarded Shimla – Delhi Volvo (pre-booked) (9 PM – 5.30 AM)
Money Spent: Rs 880
Took back metro from Kashmere Gate to Huda.
Overall Summary of the Road Trip to Kinnaur Valley
Money Spent: Rs 5700 approximately
Lifts took: 23
New Contacts in phone: 10
Cried watching the scene: Lost the count
Memories made: Infinite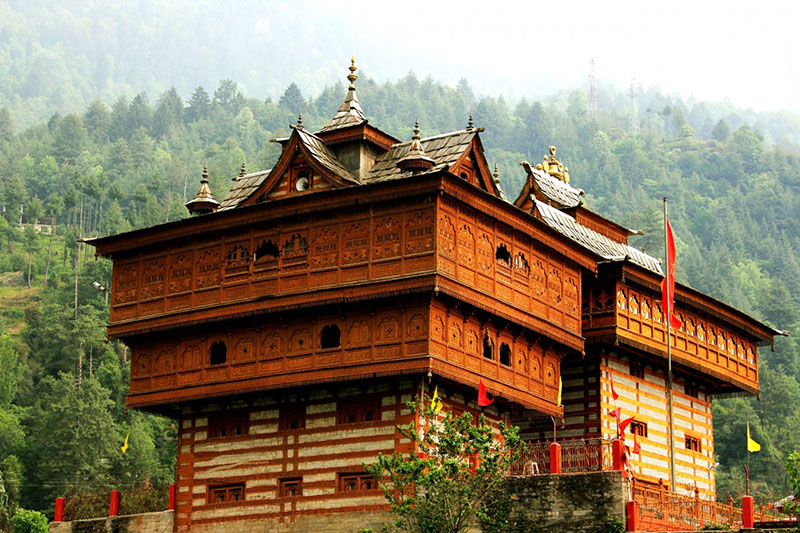 Road Trip to Kinnaur Valley – Conclusion
I hope the travelogue and information above on making a road trip to Kinnaur Valley were of help. If you have any questions or need any other details, please feel free to ask in the comments section below, or at our Community Forum; and I will be glad to answer.