Are you planning a trip to Spiti Valley anytime soon? Were you thinking about also covering Pin Valley National Park during your trip but weren't sure about the details? If the answer to these questions is a Yes then I am sure the details in the article below can be of help to you. This post is a part of a series providing information on various remote and offbeat locations in Spiti Valley. I am continuing this article from my previous one where I talked in great detail about Mud Village, the heart and most known destination in Pin Valley.
Also Read: How to Plan a Trip to Spiti Valley – A Complete Travel Guide
Tourism in Spiti Valley has been on a constant rise in the last few years. You would be surprised to know that until about 2 decades ago, tourists were not even allowed to travel on these roads due to close proximity with Tibet Border. Things, however, have changed greatly in recent times. Now Spiti is a place that caters to a wide range of tourists including motorcyclists, adventure junkies, families and wildlife enthusiasts. It has two wildlife sanctuaries that are home to one of the most elusive and mysterious animals in the world, Snow Leopard. Pin Valley National Park is one of the two wildlife reserves, the other one being Kibber Wildlife Sanctuary not too far away.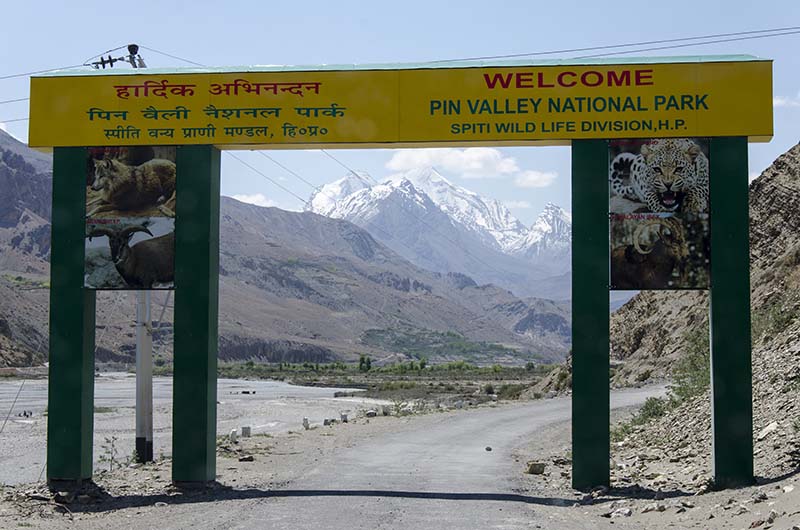 About Pin Valley National Park
Pin Valley National Park was established on 9 January 1987 in Lahaul and Spiti District of Himachal Pradesh and is a part of the Cold Desert Biosphere Reserve. A large portion of the park remains covered with snow for several months in the year providing a natural habitat for a number of endangered animals including the snow leopard and Siberian ibex.
The park marks the border and separates the valleys of Lahaul and Spiti. The culture of the small population of people living here is mainly Tibetan Buddhists. The altitude of the parks ranges from 3,500 meters (11,500 ft) at its lowest point to 6,000 meters (20,000 ft) at its highest point.
Let me also write about what your expectations should be when you think about a visit here and then you can decide whether you want to go or not. Pin Valley National Park is nothing but barren land, a cold desert with snow-capped peaks all around. There are no trees here, vegetation is sparse and absolutely no roads. It is an entire trekking deal. You walk around for kilometers for several days with a backpack hoping to catch a glimpse of wildlife. With some luck, you may witness some wildlife or you may return empty-handed.
That is Pin Valley National Park for you. It is not your usual wildlife sanctuary where there are resorts built inside and 3 wildlife safaris planned every day to show tourists around. No, it is trekking and only trekking. Still interested in visiting? If yes then read on.
Also Read: How to Plan a Trip to Pin Valley
Area of Pin Valley National Park
The park is spread over a total area of about 1150 square kilometers of which the core area is about 675 square kilometers.
Animals in Pin Valley National Park
The star of the show is the 'grey ghost of the Himalayas', the Snow Leopard. The park is home to several snow leopards and its prey, the Ibex. Other than these two, other animals that live here are Tibetan wolf Canis lupus, the Tibetan gazelle, Royle's Pika, Red Fox, Bharal, the Himalayan Brown Bear and Himalayan blue sheep.
Some of the commonly found animals are the snow-hare, mouse-hare, and the Himalayan marmots. In summer, rare birds such as the Himalayan snowcock, chukar partridge, snow partridge, Yellow-billed and Red-billed Choughs, Kestrels and snow finch flourish in the park.
Hill and Snow Pigeons, Blue Rock Pigeon, Common House Sparrows can also be spotted. Some other birds recorded in the park are The Bearded Vulture, Golden Eagle, and Ravens.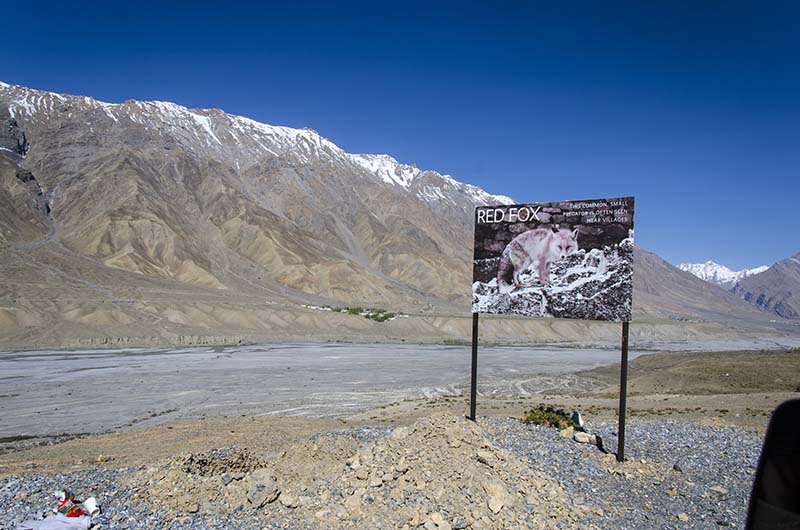 How to Reach Pin Valley National Park
Bhuntar is the nearest airport to Spiti at 245 km of distance but has limited flights. Chandigarh Airport is the nearest international and a major airport at 522 km away.
Chandigarh is also the nearest major rail station. You can easily find several trains traveling and from Chandigarh to almost every major city in the country.
From Shimla
In order to get to the Park though, you will have to first get to Spiti Valley; either by your own vehicle or public transport. There are two ways to do this. The first and the easier way is to take the route to Spiti Valley via Shimla which remains open throughout the year. You start for Spiti from Shimla and then travel through Narkanda, Rampur, Jeori, Pooh, Nako and Tabo to either arrive at Kaza or head straight to Pin Valley.
From Manali
The second way is to take the route to Spiti Valley via Manali which remains open only from Mid May to Mid October. You start from Manali, travel across Rohtang Pass and Kunzum Pass to arrive at Kaza. From Kaza, you will then continue to Attargo Bridge and then to Pin Valley. This too is a journey of at least 2 days if rushed and 3 days if done in a relaxed manner. You will also have to also procure a permit for Rohtang Pass before coming this way.
Bus services too on both these routes are regular. Frequency is a little less but a daily bus is available from both Shimla and Manali for Kaza. For a more detailed version of this information, please read How to reach Spiti Valley by Road, Bus, Train or Flight.
From Kaza
After reaching Kaza, in order to get to Pin Valley, you will start traveling towards Tabo. About 17 kilometers out of Kaza, you will reach a Spot called Attargo Bridge. Turn right, cross this bridge and take the road towards Pin Valley. This is a 34 kilometers long stretch that takes you deep into the heart of Pin Valley and ends at Mud Village. Some of the other villages that it passes through are Gulling, Mikkim and Sagnam.
If you were coming from Tabo, then this bridge would be to your left, like in the picture below.
If you were traveling by public transport, then there is a daily bus from Kaza to Mud Village at 4 PM that you can board. This bus reaches Mud by 6 PM, halts there for the night and then travels back to Kaza at 6 AM the next day. So even for the return journey, you can use the same Bus.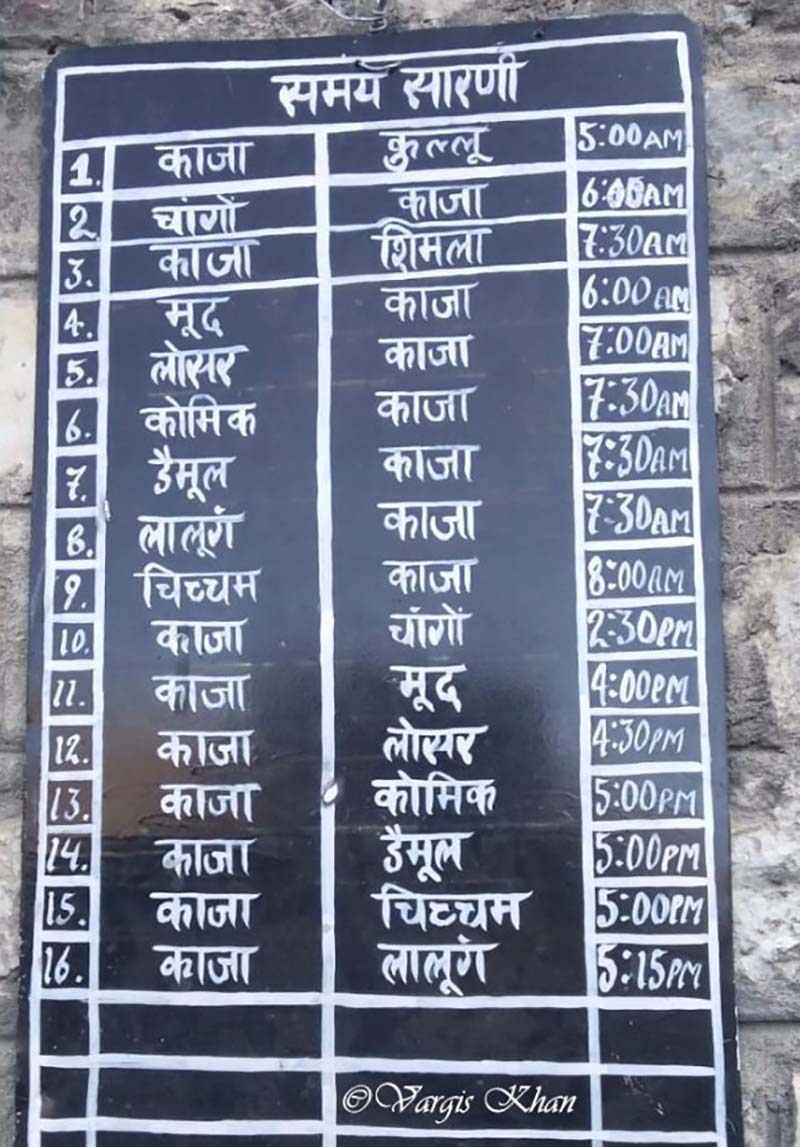 Trek to Pin Valley National Park
Now you have arrived in Pin Valley, the question is of how to get to Pin Valley National Park. The most important thing that you need to know here, and as I also mentioned previously in the article, is that the interiors of the Park are accessible only on foot. You can reach either of the villages in Pin Valley, hire a local guide, prepare and start trekking. Or you can hire a guide in Kaza itself.
The village of Mikkim is the closest you will get to the park by road. You will leave your vehicles at Mikkim, hike for about 10 kilometers and enter the Pin Valley National Park. The same can be done from Gulling, Sagnam or Mud Village as well.
From here on, it entirely depends on how much time you have in hand and what your goal was. If you were hoping to catch a glimpse of a Snow Leopard, then the expedition can last for several days. A short trip for a couple of days is possible as well if you just wanted to trek around and see the landscape.
You must not attempt to trek around on your own because that would be dangerous. You can get lost and considering the wildlife, you may even risk yourself to be the prey. Hire a local guide to show you around. They are experts in navigating the way and spotting wildlife. Many of the guides here are in fact specially trained by the government to track and spot snow Leopards and other wild animals.
Also Read: What Clothes to Pack for Spiti
Pin Parvati Pass Trek
You also have the option of trekking in and out of Pin Valley National Park. Two main trekking routes are available between June and September. One option is the route from Kullu, via the Pin Parvati Pass (5,100 meters). An alternative route is from Kinnaur in the South via the Bhaba valley and Tari Khango Pass (4,866 meters).
Parvati Pass is the mountain range dividing the Spiti Valley and Parvati Valley. So on one side, you have the lush green of Parvati Valley and the cold barren brown of Spiti on the other.
This is a difficult trek that lasts for a total of 11 days. It starts from Barshaini near Manali from where you trek to Kheerganga, then to Tunda Bhuj, Mantalai Lake, cross the summit and reach Mudh Village. Or you can start from Mud as well and do it the other way around.
The maximum altitude you reach during this trek is 17,457 ft. walking a total of about 100 kilometers. The terrain is rugged due to which, it is best recommended to seasoned trekkers. You must have experienced at least 2 high altitude treks before attempting this one. The best time for Pin Parvati trek is from June to September.
Also Read: How to Plan a Trip to Parvati Valley
Bhaba Pass Trek
Bhaba Pass forms the ridge between Kinnaur Valley and Spiti Valley. So this trek means that you cross over from the lush green of Kinnaur to the cold desert of Spiti Valley or vice versa.
The usual way of doing is trek is to start from Kafnu in Kinnaur and end at Mudh Village but you can do it the other way around as well. Ideally, it is a 7 days trek and the maximum altitude you will reach is 16,100 ft walking a total distance of about 50 kilometers. The best time to attempt this trek is between June to September (or early October).
Also Read: How to Plan a Trip to Kinnaur Valley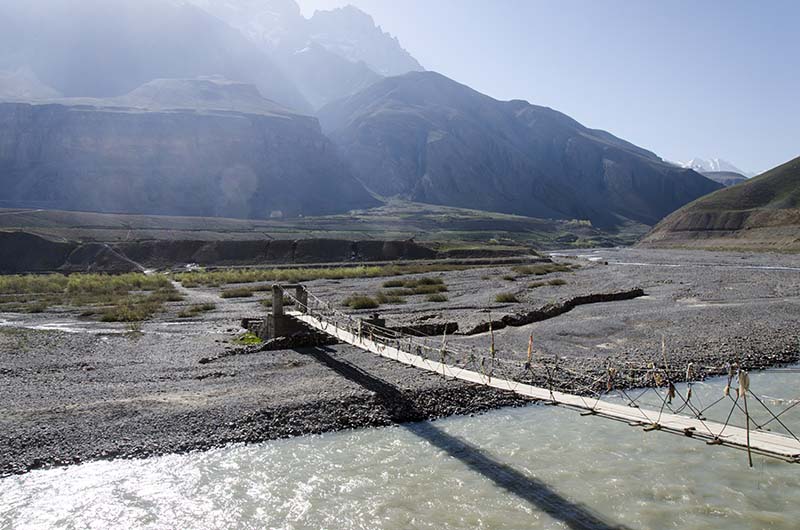 Mobile Network & Data Connectivity
There is no network reception anywhere in Pin Valley or the Park. You will be cut off from the rest of the world for as long as you are here. Even BSNL doesn't work here.
Also Read: Mobile Network in Spiti Valley and Data Connectivity
Hotels in Pin Valley National Park
There are no hotels in the park itself. Your choice of accommodation can either be camping or guest house/homestays in the villages of Mud, Gulling, and Sagnam. There is also a PWD guest house in Sagnam where you can stay.
Inside the park, there are bunkers constructed by the forest department to provide accommodation to trekkers.
Camping in Pin Valley National Park
There are no campsites readily available in the park anywhere. If you want to camp, you will have to make arrangements to bring your own gear along from either Kaza or Mud.
Entry Fee of Pin Valley National Park
There is no entry fee for visiting the park. The only money you will pay will be for the guides and porters. There are no entry tickets required as well.
Pin Valley National Park Timings
Official timings of the park are 6 AM to 6 PM but if you are going to be there for a longer duration, then you will be camping in the sanctuary only.
Also Read: Food to Try in Spiti Valley – What to Eat in Spiti
Best time to visit Pin Valley National Park
June to September is considered to be the best time to visit the Pin Valley National Park. It is easy to reach the park at this time and you can go trekking as well as camping. The weather in these months remains to be pleasant with warm days and moderately cool nights.
However, if the goal of your trip was to spot a Snow Leopard, then you will have to plan a trip in the winter season. At this time, the Ibex come down from the heights in the valley to search for food and Snow Leopards follow them as well, thus making it easier to spot one. You will, however, have to stand the freezing temperatures and harsh winter at this time.
For more information on this topic, please read When is the Best time to Visit Spiti Valley?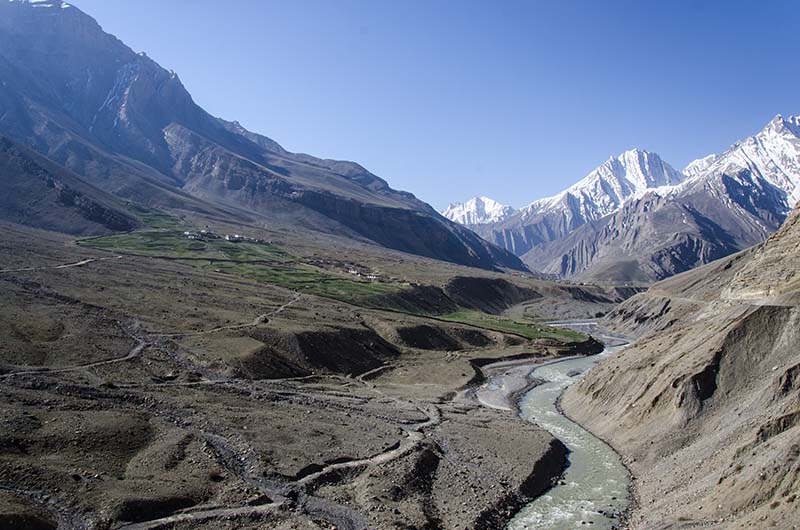 Itinerary
Listed below are a few examples of an itinerary that you can follow for visiting the park. I am listing down three itineraries. The first one is for someone who came by road and spent some time in Pin Valley. The other two are the trek itineraries through the park to Kafnu in Kinnaur and Barshaini.
Pin Valley Itinerary
Delhi to Shimla / Narkanda – Day 1
Shimla / Narkanda to Sarahan – Day 2
Sarahan to Chitkul – Day 3
Chitkul to Kalpa – Day 4
Kalpa to Nako / Tabo – Day 5
Nako / Tabo to Dhankar / Dhankar Lake to Mikkim / Sagnam / Mud Village – Day 6
Sightseeing in and Pin Valley National Park – Day 7, 8 and 9
Mud Village to Kaza – Day 10
Sightseeing in and around Kaza – Day 11
Kaza to Chandratal – Day 12
Chandratal to Manali – Day 13
Manali to Delhi – Day 14
Pin Parvati Pass Trek Itinerary
Delhi to Manali – Day 1
Manali to Barshaini and trek to Kalga – Day 2
Kalga to Kheerganga – Day 3
Kheerganga to Tunda Bhuj – Day 4
Tunda Bhuj to Thakur Kuan – Day 5
Thakur Kuan to Odi Thach – Day 6
Odi Thach to Mantalai Lake – Day 7
Mantali Lake to Summit Camp – Day 8
Summit Camp – Summit to Pin base/ Bedu Thatch – Day 9
Pin Base to Tiya – Day 10
Tiya to Mud Drive – Day 11
Mud Village – Day 12
Mud Village to Kaza – Day 13
Sightseeing in and around Kaza – Day 14
Kaza to Manali – Day 15
Manali to Delhi – Day 16
Pin Bhaba Pass Trek Itinerary
Delhi to Shimla – Day 1
Shimla to Kafnu – Day 2
Kafnu to Mulling – Day 3
Mulling to Kara – Day 4
Kara to Pushtirang – Day 5
Pushtirang to Mangrungse via Bhaba Pass – Day 6
Mangrungse to Mudh/Kaza – Day 7
Kaza to Manali – Day 8
Manali to Delhi – Day 9
Other Tips
Mentioned below are a few other important tips for visiting the park.
Do not attempt the trek unless you are medically fit. Consult a doctor as well before you go.
Spend some time in Pin Valley allowing your body to acclimatize before starting to trek.
Take a local well informed and trained guide with you.
You will have to bring all required camping equipment including high altitude tents, sleeping bags, altimeters, high range binoculars, a camera and ample stocks of packed food.
All of the required camping equipment can also be rented from Shimla, Manali or Kaza.
A pair of good walking/trekking boots are a must.
Be prepared for freezing temperatures and fierce winds.
Pack an effective windcheater, good woolen clothing, and warm sleeping bags. These items are a must for your survival here and can also be rented from Manali or Kaza. Boots also can be rented if you did not want to buy a new pair.
Carry a medical aid kit and your usual medicines for the way.
Carry rain-gear no matter irrespective of the season you are traveling in.
You should bring spare batteries for the camera as there will be no electricity supply.
Carry your own water bottle that you can refill from the water streams along the trek.
Conclusion
I hope the information above on visiting Pin Valley National Park was of help. if you have any questions; or need any other details; please feel free to ask in the comments section below; or at our Community Forum; and I will be glad to answer.