The article below is a detailed account of our family trip to Ladakh. The trip lasted for a total of 11 days. I have covered the details of the journey for the 1st four days in a previous article. The post below talks about the rest of the trip from Day 5 onward. If you wish to read the previous part of the travelogue, please click on the link below.
Journey So Far: Arrival in Leh, Road trip to Kargil and Nubra Valley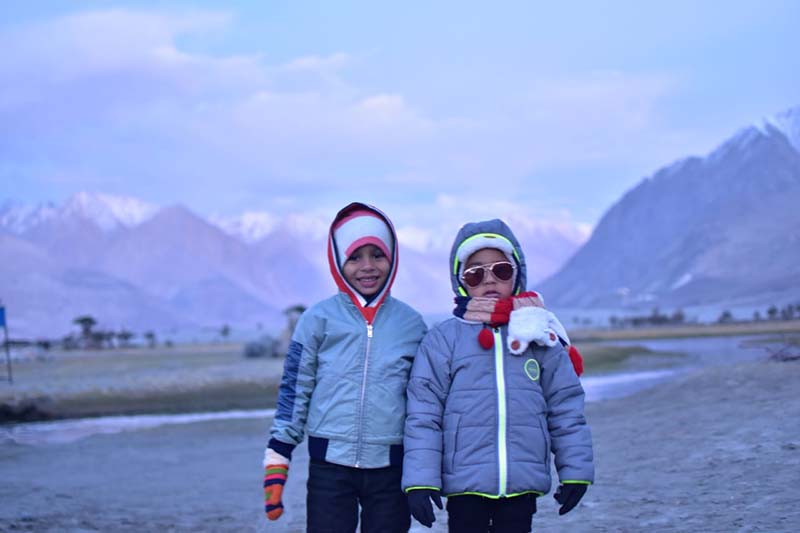 Sightseeing in Nubra Valley – Day 5
We can always make money but not memories. With this thought, let's explore Ladakh like a traveler and not a tourist.
Hunder to Turtuk
We started early after breakfast to visit a beautiful village Turtuk. I will recommend everyone traveling this way to start early as there are many tourist attractions in Turtuk. The road after Hunder towards Turtuk was very beautiful. We saw a lot of greenery on this route which is in great contrast with the barren landscape of the rest of Ladakh.
The roads were smooth but the last 20 kilometers were tricky and rocky. You have to cross the famous hanging bridge to reach the village. Though the village is small, it is an uphill walk on a small twirling path leading to amazing locations.
It was not hard to feel instantly enamored with the picturesque village. The Karakoram mountain range, home to K2, the world's second-tallest peak, hovering over Turtuk's 300 or so stone houses; it is as surreal as a painted backdrop.
Also Read: How to Plan a Trip to Ladakh – A Complete Travel Guide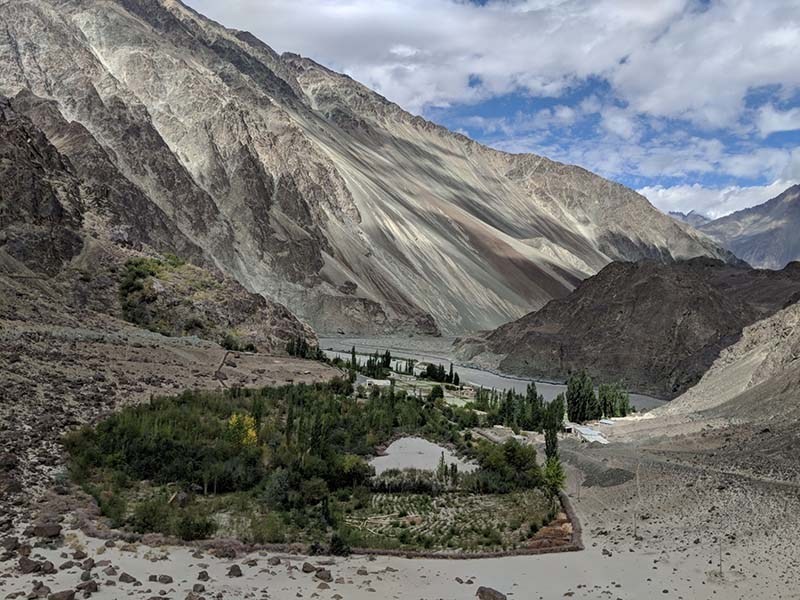 Sightseeing in Turtuk
It's geopolitical allure, began to trickle in and we found ourselves in one of India's last rural idylls. The day was clear with ample sunshine. It was a pleasure to see the rural life here. Women were working in the fields. Even we got the chance to thresh the buckwheat grain.
The local children were very cute and lovable. Do carry some sort of candies or dry items. I distributed dates and figs. They easily get ready for the click.
The local people were very welcoming. One of the village ladies offered us Thupka. People out there are very simple, gentle and laborious. You must respect their privacy and remember to take permission before clicking anyone's picture.
The view from the freezing point was picturesque. There were different types of flora and fauna.
We took permission from a lady to enter her fields. The kids were very excited about seeing how the vegetables are grown, especially my niece, who loved the cabbage (her favorite veggies). The kind lady permitted us to pluck out some fresh cabbage from the field and bring it along with us. It was very crisp and juicy and we cooked it the very next day at our homestay.
Also Read: How to Plan a Trip to Turtuk
Local Food to Try in Turtuk
What we saw was rural life at its best. Though we went in for a day trip, you can stay here for a night if you wish to. For more details, please read How to Plan a Trip to Turtuk.
We also got the chance to gorge on local cuisine. I tried buckwheat pancake with kisir (walnut chutney). It was a bit spicy but very yummy. It is only available here in Turtuk so you must try it while you are here. We also had gurgur tea. The second cuisine was baley and thantuk. It is a type of handmade buckwheat pasta in traditional Balti cuisine at Friends cafe. At the cafe, there is a stone painted with a map of tourist points in Turtuk. This cafe is easily sighted just after crossing the bridge.
When in the season you must also try fresh apricot juice.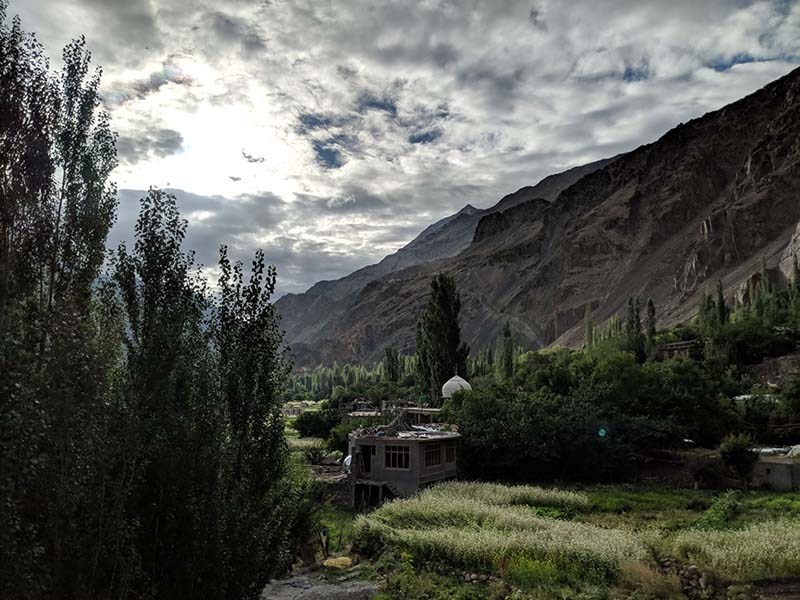 Turtuk to Hunder
Nature cannot be fully described or expressed in words. It can only be experienced. No matter how much I write about it, I doubt that I will ever find the right words to describe the beauty of Turtuk and tell you how simple yet delicious their food was. Balti cuisine is something different from our regular food and the local delicacies must be tried. Only then you will ever truly appreciate it and know why I speak so highly of it.
With heavy heart we bid adieu to the small pristine and picturesque village. Turtuk will be forever in my heart for its beauty and beautiful people.
Our journey towards Hunder was equally beautiful, with the Shyok River accompanying us. We got down at the river downing and got beautiful clicks to cherish.
By the time we reached Hunder sand dunes, it was evening. We stopped there for a while and let the kids enjoy the double hump camel ride.
We had a grand evening at the hotel, celebrating my nephew's birthday. As their chef was on leave, the hotel owners helped us decorate our readymade brownie with whipped cream. It turned out to be amazingly yummy.
Also Read: Sightseeing in Nubra Valley – What to See in Nubra Valley
Hunder to Pangong Tso – Day 6
I woke up early to see the dawn break and the first light of the day. Believe me, whenever you travel to a hill station, try to get up early and go for walk. It is a surreal experience. With the valley unfolding its secrets at every turn, the overall experience was just amazing and one of a kind. If you too want to see various shades of Nature at one place then just pack your stuff and head towards the beautiful Nubra Valley.
Hunder to Pangong Route
The plan today was to travel from Hunder to the famous Pangong Tso. There are three routes that can be taken for this journey. The first is via Leh City which is the longest. The second is via Wari La which is the toughest. The third one is via Shyok which is the shortest. So we decided to go by the shortest route which takes about 6 hours to get you to Pangong Tso from Nubra Valley.
To know more, please read How to Plan a Journey from Nubra Valley to Pangong Tso Lake.
Diskit Monastery
On our way to Pangong, we visited the beautiful Diskit monastery. The road was lined up with green trees where we also found a double-humped camel grazing. It was too cute.
Khalsar to Pangong Lake
After crossing Khalsar, we took the Agham Shyok road which is isolated and far more treacherous at some places; if it can even be called a road at all at those spots for that matter. For a while, it will run right next to the Shyok River and then there will be a tremendous gain in altitude.
For the part where you will be traveling next to the river, you may have to cross the river several times; and I mean driving or riding right through the water and not over a bridge.
Also Read: Taxi Rates in Leh Ladakh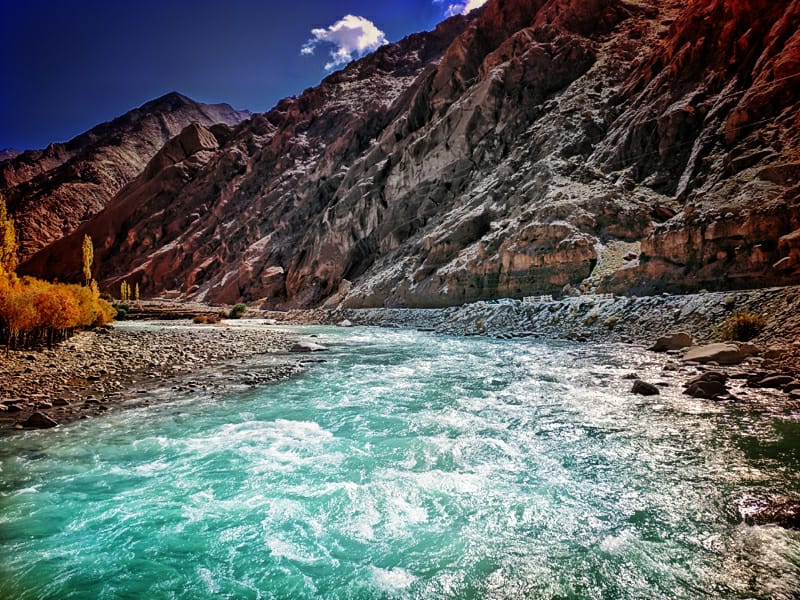 Shyok Road
There is no denying the fact that the road is highly scenic as well and if you have slightest of interest in photography, you would barely be able to keep your hands off your camera. If you are the adventurous type, this is a road that you would remember for the rest of your life.
At a similar water crossing, I literally jumped out of the car and crossed the pebbled water crossing barefoot. It was a lifetime experience. The water was as cold as ice but the fun was unlimited.
Pangong Tso
We crossed Tangste and got the first glimpse of the blue jeweled beauty "Pangong Tso" at Lukung.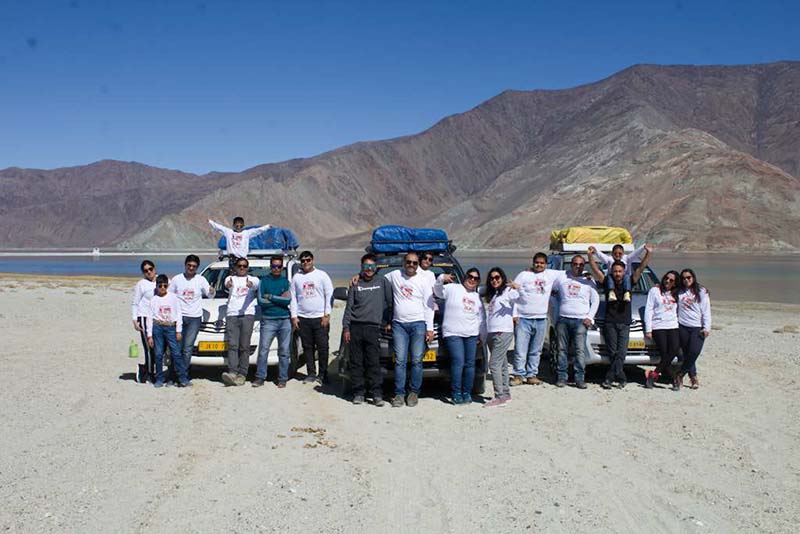 We reached the bank of Pangong Tso at Spangmik village around 3:00 pm. It was cold and the chilly wind blowing added to the woes. But the beauty of the lake took over every odd.
No picture can do justice to the beauty of the lake.
We were over-excited ourselves and clicked several pictures with the famous yellow scooter (known as Kareen Scooter) and bums.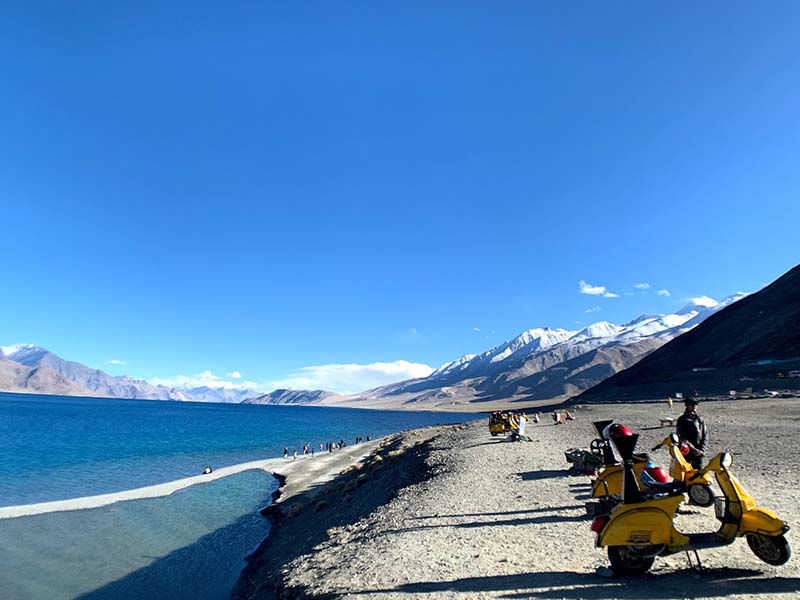 We drove further with the lake by our side and took a break at an isolated bank. This place was a bit sunny.  We saw the stone stupa. It is said that while placing these stones on top of one another, you can make a wish and it will come true.
I made mine. Let's see when will I go back to Ladakh again.
Also Read: How to Plan a Trip to Pangong Tso
Homestay at Pangong Lake
We reached our homestay in Merak by late evening. Our host was a sweet lady, Dolkar. She made sure that we stay warm. She arranged local heating and cooked hot Maggi and served tea.
After freshening up, I went to her kitchen to find our host preparing dinner with all fresh ingredients. She made superb ginger mint tea. It was too good.
It was a pleasure to be with her family. We met Doljar's nephew Naamgyl, a 12-year-old boy who was too smart for his age and very confident. He had answers to almost all our queries. It seemed life has taught him practical lessons and he developed skills at a very young age by meeting people from every sphere of life. I wished all the best to the little sweetheart who entertained us with his dialogues.
Do opt for homestay while traveling to Ladakh or at Pangong. This way, you come close to the local culture and people. I personally love to talk to locals while traveling as it gives insight into their lives. This enriches your memory with experience worth a lifetime.
It was a very cold evening and the temperature was around -3. We crashed early as the power here goes off by 11 pm to save electricity for a bigger purpose the next morning.
Pangong Tso to Hanle – Day 7
It was a little hard for me to leave the bed the next morning. I had a restless night and was feeling dizzy with a bit of a headache. These were some mild symptoms of altitude sickness. Merak is at a higher altitude and the majority of the people suffer from altitude sickness here. Even though we already had spent several days in Ladakh, I still got him by AMS here but very slightly. The freezing temperature at night just adds to the whole effect due to which my night was spent tossing and turning. To know more, please read How to Handle Acute Mountain Sickness in Ladakh.
Morning in Merak
We also witnessed our coldest night so far here. The temperature at night was around -5. We just sat in our bed for half an hour sipping the ginger spearmint tea by Dolkar and started to feel a little better after a while.
It was extremely cold and neither of us dared to take a bath, even though we were provided with buckets of hot water. I just washed my face with cold water because it just felt more refreshing.
Finally I came out of the room in open feeling a little energized and roamed around the compound for a while. I saw how beautiful the morning here was and also how the water had frozen overnight in the pits.
I was feeling better and joined our host in the kitchen in making breakfast of piping hot upma. My advice to you is to carry food of your preference as choices here are limited. We got the toast with ready-to-eat pav bhaji.
After a short while breakfast was ready to be served. The sky was clear and the weather was chirpy. Surrounding sure plays a very important role on your mood. I was feeling fresh and bubbly.
After having breakfast, we got ready for next leg our journey and it was time to say goodbye to our host.
Also Read: What kind of Clothes to Pack for Ladakh
Pangong Lake to Hanle
Now as the sun was shining, the beauty of Pangong was at its best. It changed colors under a clear sky; from violet to ink blue to crystal blue to aqua. The beauty of the landscape in front of our eyes was unparalleled. No words or pictures can describe it truly but the surreal beauty can be felt and treasured in memory.
We stopped near a secluded bank and clicked many photos with our matching travel t-shirts. The time spent on the banks of Pangong was unforgettable.
We started our journey towards Hanle. The road, if it can be called that, was a dirt track but the barren land has its own saga.
Later we found better roads as we crossed Chushul and got closer to Loma. At the Loma check-post, we got our permits checked. You have to take a special permit for Hanle as it's very close to the actual line of control.
We got a chance to interact with a handsome soldier and all the ladies went gaga over him. We were chancing upon him for my sister. Alas, it turned out that he was engaged. Everyone took turns out of the car to check him out. At times, incidents and harmless fun like this adds extra energy to the trip.
Also Read: How to Plan a Trip to Hanle
Hanle
After that, the journey was full of beautiful vistas on both sides of the road. It was extremely beautiful and I had never seen anything like it before. By the time we reached Hanle, it was dark. We checked into our homestay, which was very comfortable given the harsh terrains. There was nothing else that we could do so we just had our dinner and retired for the day.
Hanle to Tso Moriri to Chumathang – Day8
Hanle is truly the hidden gem of Ladakh. It is actually very scenic and feels out of the world. However, in actual reality, the place is extremely harsh and difficult to survive especially in winters. There are only a few accommodations available in the village and the facilities like electricity, medical aid, hot running water, western toilets, etc. are luxury in itself.
But thankfully, our homestay had all the basic facilities. Do carry toilet paper though as hot water is not always available. we visited the ISRO Observatory and the view from there was nice.
Also Read: Pangong to Hanle to Tso Moriri to Leh – The Long Ride
Hanle to Tso Moriri
After consulting a few locals, we decided to take a shortcut to Tso Moriri. I was very excited for Tso Moriri. The entire route from Hanle to Tso Moriri is a remote place. So don't expect any food joints or restaurants here and carry packed food, dry snacks, Thermos of hot water for instant tea, coffee and ready to eat poha. Believe me, it comes very handy.
We were moving ahead on the roads under a crystal clear sky that casted magnificent colors on mountains. It was one of the most beautiful views that I had ever seen. Chushul looked like a ghost town and could not find anyone to ask for directions as there were many tracks going through the village.
It took us another hour to reach Rezang La Memorial, built in the memory of soldiers martyred in 1962 Indo China war. We then continued traveling for two hours. The road from Rezang La seemed like an endless journey traveling on loose gravel & stones. We also saw a beautiful small lake in between. It was calm, beautiful and pristine blue but I am not sure what its name was.
However, we felt a little lost. We met another fellow traveler who had a downloaded Google map (that was the turning point). We turned and took another route. Sometimes views unparalleled are encountered on roads less traveled on. In between, we also saw a few kiangs and other wildlife.
Finally, after a long time, we encountered human life. Two women were picking branches and other necessities for winter. Life is very cruel here in harsh winters and people have to stock up for the next few months to survive.
Leh Chumathang Road
Our driver asked them for directions in the local dialect and the result was heartbreaking. According to the lady, Tso Moriri was only 12 kilometers away from that small lake that we passed hours ago. We were in a dilemma and were in the middle of nowhere.
The confusion was whether we go back the same route or to continue with the new one. It would be 5 hours of a long journey to reach Tso Moriri if we went back. The kids were tired and we also needed a break. Indeed it was a long day since we started at 8:30 in the morning. Everyone decided to head towards Chumathang via Mahe Bridge.
Literally, I was in tears (so near to the lake but too far to reach) but we realized that it was of no use. With heavy heart, we kept driving straight and took the Leh – Chumathang road.
Also Read: Precautions to take while visiting Ladakh with Kids
Homestay at Chumathang
I decided to let the bygones be bygones. At times destination is not as important as the journey is. The view which we encountered on the unpaved road was worth capturing both on the camera and in our minds. We reached Chumathang at around 6 in the evening.
We checked into our booked homestay and went around the hot spring. Soon we were all hungry and had snacks at another cafe opposite our homestay in the form of yummy pakoda and coffee.
This place was warm but there was nothing much to do around here. We had dinner and went to bed early.
Chumathang to Leh – Day 9
We woke up to sunny weather and a clear sky. After breakfast, we headed towards Leh. On the way, we visited the hanging wooden bridge. It was worth clicking. We also interacted with a group of local people. Their dialect and soul both seemed so pure.
There was not much to do. River Indus was flowing in full glory throughout the journey till Leh. There were many army camps on the way. Our first stop of the day was at Upshi for lunch. We got some yummy hot aloo parathas cooked by a Bengali cook who runs the dhaba there.
Thiksey Monastery
After our break, we headed towards the Thiksey monastery. The monastery is situated on a hilltop. It was an uphill climb but the view from the top was beautiful. There was a very tall Maitreya Buddha. It is a sacred place that was very calm and quiet. There were also other temples there.
Also Read: Precautions to take while visiting Ladakh with Elders
3 Idiots School
After Thiksey Monastery, we went to the famous 3 Idiot School (The Druk White Lotus School). The famous 3 Idiots wall is the new one now as the original was damaged in the 2010 flood. But it is still there on the campus. A duplicate wall has been created in an area where tourists can enjoy without disturbing the regular school.
The wall shows a dangling glowing bulb, a flying Himalayan crane, a rainbow behind in n the clouds and the famous bum seat.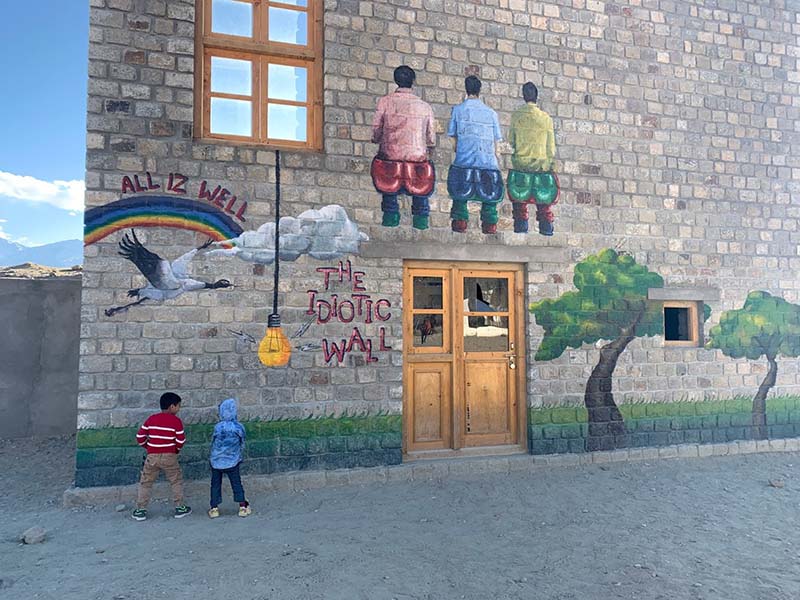 There is also a cafe called Rancho's Cafe.
In the evening we reached Leh market. We had pizzas at U.S. Pizza, bread pakoda at Punjab Sweets and Ice cream at Cups n Cones. The wind was very cold. We could feel the chill in it and the temperature was dropping fast. A cup of hot Cappuccino at Leh cafe did the needful.
We went back to the hotel and ended the day on a happier note.
Sightseeing in Leh City – Day 10
My sister left for the airport as she had the early morning flight to Delhi. The rest of us slept till late, enjoying the last day of our vacation.
Gurdwara Patthar Sahib
After 11 AM, we headed towards Gurdwara Patthar Sahib. It is located on the Leh Srinagar Highway. This place is managed by the Indian Army. We went in with our heads covered with scarves. In a Gurudwara, it is sacred and respectful to cover your head.
We paid respect and said our prayers at the Gurudwara and saw the massive rock from the era of Sikh Guru Nanak Dev Ji. This place has an interesting story that you can read about at Gurudwara Patthar Sahib Travel Guide.
We had Prasada and enjoyed the langar food (community kitchen food). This is a zero wastage zone. Take only what you can eat. Here, after eating, one has to pick up and clean one's utensils. It is very necessary to instill the habit and attitude of self-dependency.
Also Read: What to see in Leh Ladakh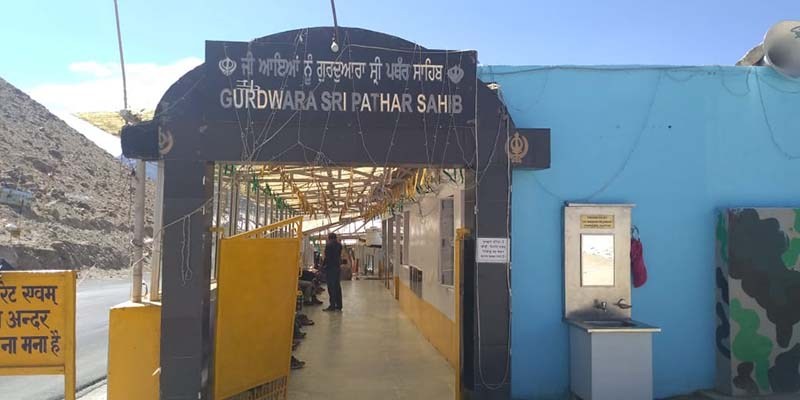 Rafting in Ladakh
We went to chilling for rafting but the water was shallow so didn't opt for it. But instead did all sorts of crazy stuff that you do when you are with your family. We posed in funny ways, clicked some hilarious pictures and went completely rock n roll.
On the way back, we did ATV biking near magnetic hills.
At night, we watched the light and sound show. It was very interesting and emotional. It had details regarding the Kargil war.
This was our last stop of the trip.
Leh to Delhi – Day 11
These were our last few moments in Ladakh. We got ready to catch the flight back home. Our companions for the last few days dropped us at the airport.
But what is it about partings, that is so sadly romantic. As you walk inside an airport, wheeling your trolly, turning back and looking at the mountains and people, you want to run and cancel your ticket and just stay for one more day with them.
As you are finally leaving and sitting on your seat, you replay certain moments a dozen times in your head. Sometimes the heart surges and then subsides. At the time of takeoff, I was in tears. My husband pacified me.
The signature is to just wear those sunglasses and walk off.
You get a strange feeling when you are about to leave a place. You feel like you are going to miss the place like you will miss the people you love.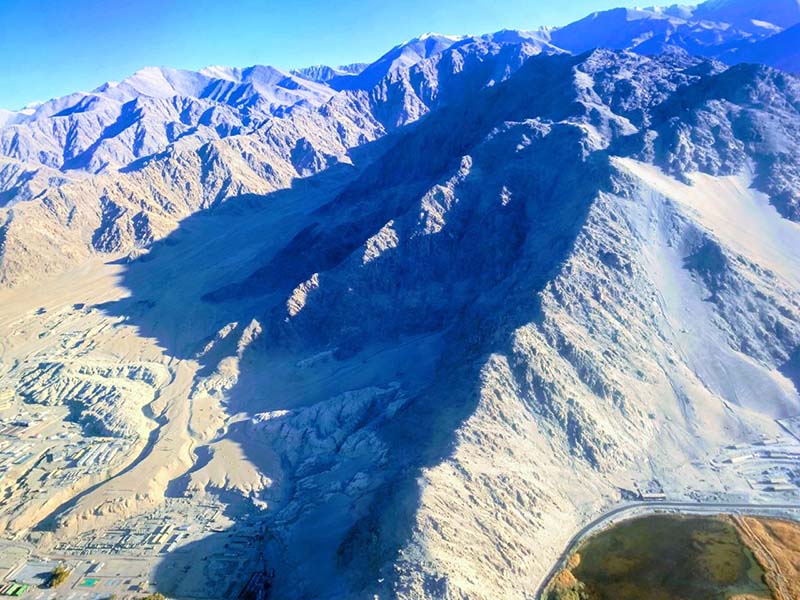 Chilling under the sun, relaxing under the stars, sipping on a Leh berry juice, trying local dishes, riding on unknown routes, getting down on water streams, crashing in the warm bed after a tiring day of sightseeing, learning the language of the locals, enjoying their hospitality.
Hang on, I am not writing you a holiday poem. I am just telling you about the things that I did on my holiday. Take some tips and plan your next vacation to The Land of Lamas, Ladakh. Make the most of your vacation. Bon voyage.
Tips for a Family Trip to Ladakh
Below is some information about the hotels we stayed at and some other tips that can be of help.
Hotel in Kargil
In Kargil, we stayed at Rangyul Resort. You can contact them at 9419613292. Their check-in was very fast. By the time we reached their property it was late in the evening we were tired and hungry. We requested soup and they served us in 30 minutes. Dinner consisted of a small but appetizing menu. Breakfast was also the same.
In such cold weather, their hospitality made us feel warm. Rooms were cozy with electric blankets and a few were with heater. 24×7 hot running water was provided and washrooms were clean.
Don't expect city type facilities and you will not be disappointed. Mr. Haznain is a great guy with a smile and intentions to make the guest comfortable.
Special mention to the staff who were always dispensable in such cold weather. Last but not least was Mr. Sonu to entertain us with Kishore Kumar's song during dinner. Overall, it was a nice experience.
Hotel in Leh
In Leh, we stayed at Hotel Kaal. You can contact them at 9999227196. It was a nice place to stay. The rooms were clean and spacious. Service was great and their staff was always just a call away. Hot running water was provided. Centralized heating in room and bathroom was available. Overall, it was a warm n cozy place to stay. Though food needs a bit of improvement.
Hotel in Nubra Valley (Hunder)
In Nubra Valley, we stayed at Stone Hedge. Their number is 9797347647. It was an awesome property with a nice ambiance and great food. The staff was superb and a special mention to Mr. Sujat, Ms. Chandol, and Ms. Niljala. They helped us in a medical emergency as well. The rooms were great with nice amenities. The food was very yummy consisting of a variety including both local n continental. The buffet menu was great. The breakfast spread was also good. They helped us with preparing a cake for my son's birthday.
It was a nice place to look forward to. One can also go for La Carte which is a bit more reasonable in terms of tariffs.
Hotel in Merak (Pangong Tso Lake)

In Merak, we stayed at Peaceful homestay. You can contact the owner at 7051111988. The experience of staying with a local is worth mentioning. Dolkar and her family took care of all of us as their own. The food was always piping hot and freshly prepared. Do keep in mind that these places are remotely located. So be realistic with your expectations.
It is a very basic place. Hot water was available on call. The power goes off by 11:00 pm. Do carry ready to eat stuff if you are not comfortable with basic food items like chapati, dal, Subzi, rice. Breakfast is limited to bread toast, tea, and coffee.
Hotel in Hanle
In Hanle, we stayed at Padma homestay. They can be contacted at 9469224302. As I said, these are very basic places where you can have hot food and a warm bed.
Hotel in Chumathang
Our accommodation at Chumathang was at Hot Spring Resort. Their number is 9469252120. The owner Zothpa and his wife are very friendly.
There is another option where we had snacks. They are just opposite to this property but better in terms of food. I can't remember the name but their number is 9419176911.
Food Joints worth Mentioning
Khaltse: Samyas Restaurant (Pure Veg)
Leh: Neha snacks and Punjabi Rasoi, Lamayuru, Cafe@leh, US pizza, and Food truck for coffee.
Turtuk: Balti kitchen for local delicacies and Friends Cafe. Variety of food to suit tastebud.
Transportation
Nazir Hussain: 9906988895
Altaf Hussain: 9906118642
Medicines
Took Diamox 250 once a day for the first two days.
After breakfast before hitting the steep roads took Vomistop.
Homeopathic medicine Coca 30 for kids (even adults can also take). It helps control altitude sickness.
Other Tips
Do carry sunscreen with higher SPF, sunglasses and hats or caps
Do carry dry snacks, hot water thermos, ready to eat Poha and Upma. You can make it in the car also. We also carried lots of ready to cook soup. It was a relief in cold weather. At homestays, we gave them the ready packs to cook for us.
Keep yourselves hydrated. Drink ORS and green tea.
Do carry toilet roll and Pee Safe as it's not easy to get clean toilets.
Do carry clothes that can be worn in layers as the weather is very unpredictable.
Eat a lot of fresh fruits and light food. Don't overeat, especially before long drives.
Family Trip to Ladakh – Conclusion
I hope you found my travelogue above readable and be of help in planning your family trip to Ladakh. If you have any questions; or need any other details; please feel free to ask in the comments section below; or at our Community Forum; and I will be glad to answer.