It does not really matter what type of tourist you were or what kind of trip you were looking forward to because when you visit Ladakh, you can rest assured that you will not be disappointed. In many ways, this small part of our country is like an endless list of tourist activities clubbed together. You could be a motorcycle enthusiast on your first long bike ride or an adventure junkie; or you could simply be a family person visiting with your elders and children. Whatever type of traveler you were, Ladakh will take good care of you. There is a little bit for everyone to come and enjoy here. If you were wondering about what to do in Ladakh during your upcoming trip then below is a grand list of 101 things to do in Leh Ladakh that you can take your pick from.
101 Things to do in Leh Ladakh
How many from the list below are you able to complete will entirely depend on the time you have in and. But if you are able to run down the list in its entirety, you will truly know why Ladakh is so desired as a tourist destination in today's date.
1. Witness the wonder that Pangong Is
Take a walk along the banks of the famous Pangong Lake. Ever since the release of the movie 3 Idiots, Pangong has become the very symbol of Ladakh. Enjoy its deep blue beauty against the brown backdrop of the surrounding mountains. If you went for a walk early in the morning, you will also get to see several birds like Brahmi ducks; along with an undisturbed reflection of the mountains in the water. Please read How to visit Pangong Lake for a complete travel guide on visiting this beautiful lake. This will probably be the first entry in the list of famous things to do in Leh Ladakh.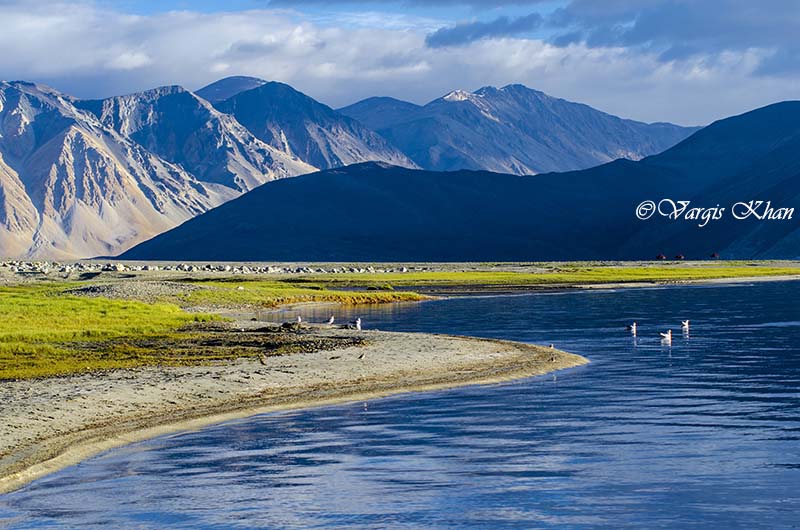 2. See the Green and Blue of Tso Moriri
Tso Moriri is a freshwater lake, unlike its elder sibling Pangong Tso. Due to this, there is plenty of greenery around this lake which is a rare sight at Pangong. This is what makes the scenery here so different. Please read How to visit Tso Moriri from Leh for a complete travel guide on Tso Moriri Lake.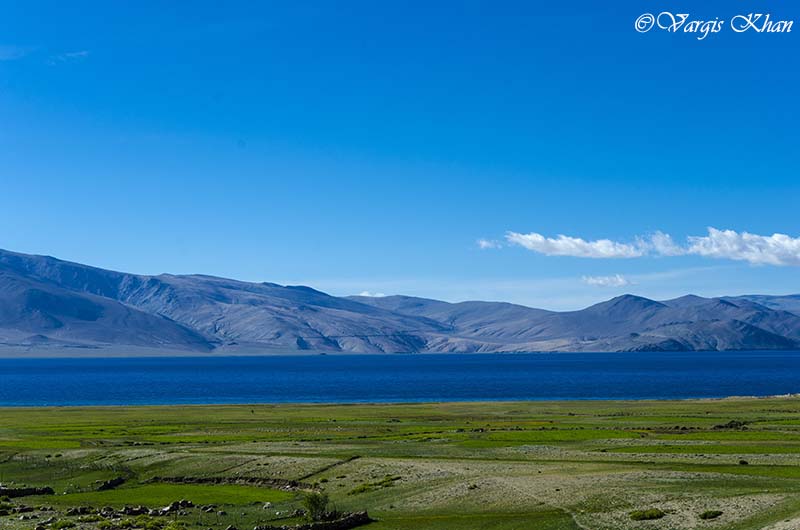 3. See a Magnificent Sky Every Night
When was the last time that you looked up and were greeted by sky like below? Probably never, right. Visit Ladakh and see a magical sight like this every night. If you have even slightest of interest in night photography or capturing star trails, you are in for a treat. This will definitely get counted among the best things to do in Ladakh.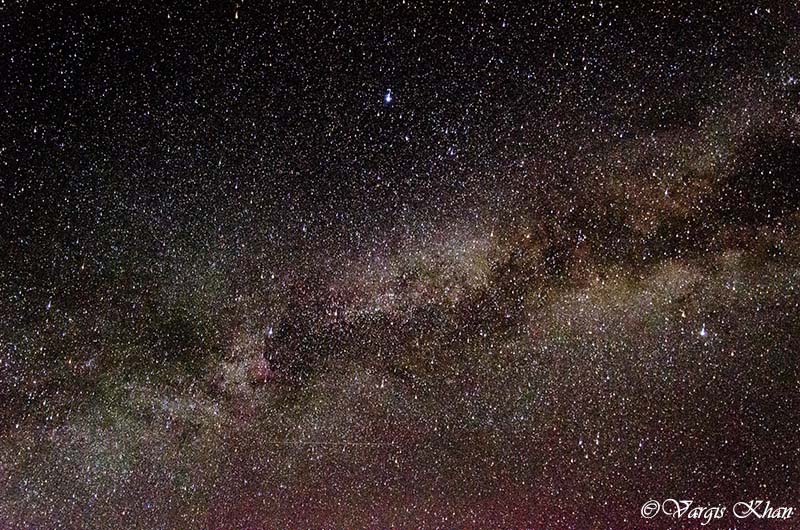 4. Click your Picture at the top of Khardung La
Not too long ago, one of the biggest attractions of a Ladakh trip was to ride to the highest motorable road of the world; and that title was held by the majestic Khardung La. It may not still be called the same but riding to the top of Khardung La and getting your picture clicked there is still a thing of importance in Ladakh. So much that you may even have to get in line for it. You may also want to read Leh to Khardung La Travel Guide for more details on this beautiful pass.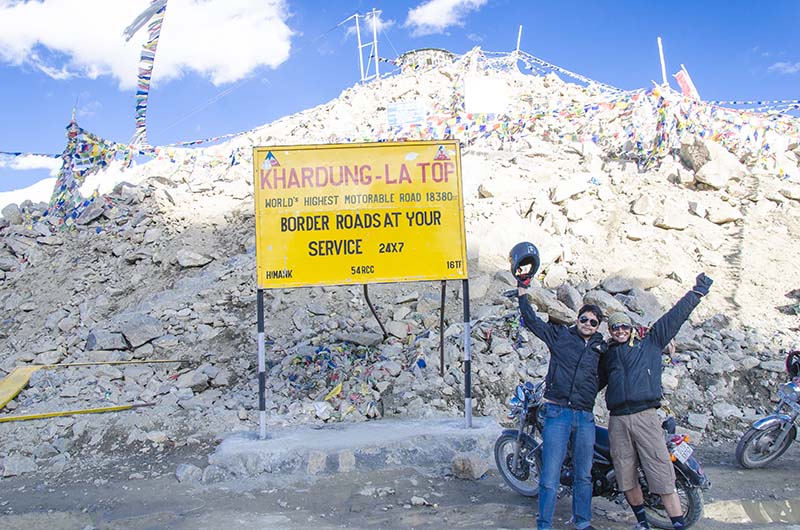 5. Ride into Nowhere
Do you remember the last time you took off your helmet and had this to ride into? Never happened? Be prepared, it will happen a lot to you in Ladakh at several places and several times. This is what you will call as offbeat things to do in Ladakh.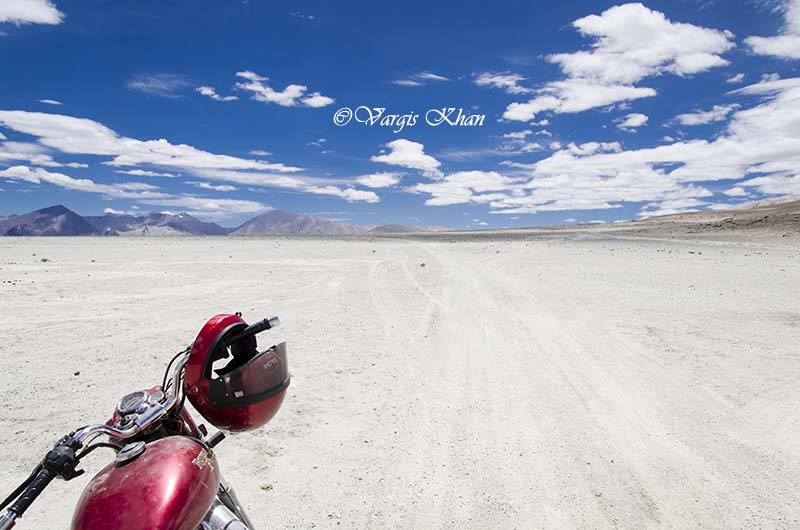 6. Pay respect at Gurudwara Pathar Sahib
Gurudwara Pathar Sahib was built in 1517 in the memory of Guru Nanak Dev. It is located on the Srinagar – Leh highway at a distance of 23 kilometers away from Leh. At an altitude of over 12,000 ft, it is among the highest Gurudwaras in the world. You can visit here either traveling between Srinagar and Leh or make a short trip on any of the evenings in Leh. For more details on Gurudwara Pathar Sahib, please read How to Plan a Visit to Gurudwara Pathar Sahib.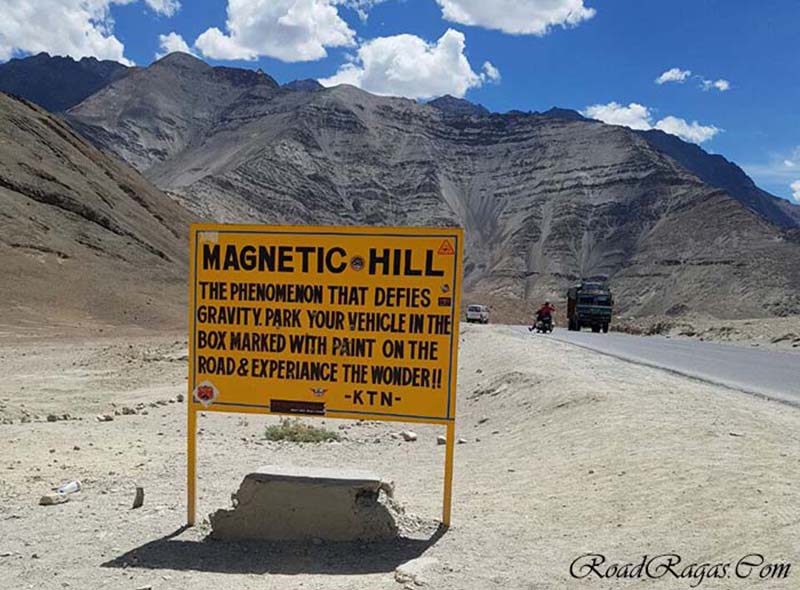 7. Visit the Leh Palace
When you are in Leh, you must visit the Leh Palace. It is nine floors high and is situated at a hilltop overlooking the town of Leh. There are two reasons why you must spend some time at the Palace. First is that it provides an excellent view of the entire Leh town from one of its roofs. Second is that it holds a rich collection of jewelry, ornaments, ceremonial dresses, crowns and thangkas which are more than 450 years old.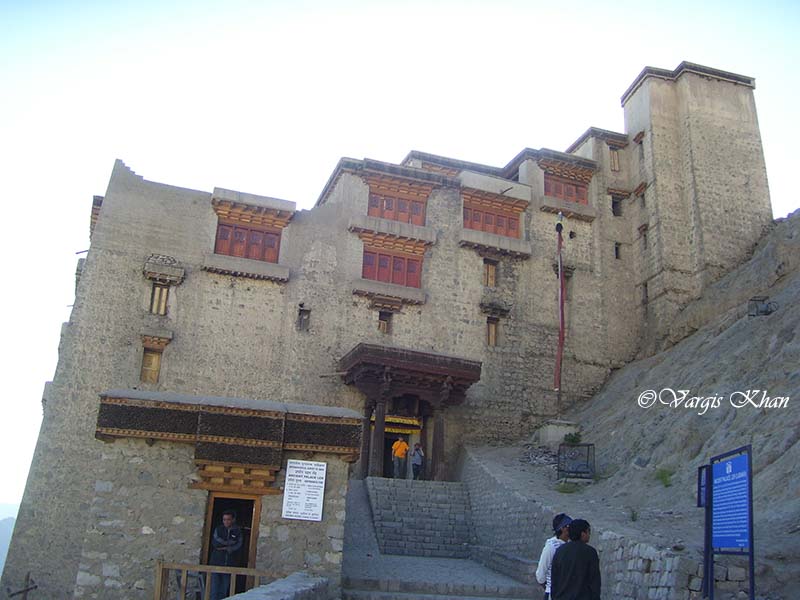 8. See the sunset from Shanti Stupa
It is a Buddhist white-domed stupa located on a hilltop quite close to the Leh Palace. There is a motorable road that goes all the way to the monument but if you wanted to, you can also climb a couple hundred stairs to get here. It was built in 1991 by Japanese Buddhist Bhikshu, Gyomyo Nakamura and has become a tourist attraction not only due to its religious significance but also due to its location which provides panoramic views of the surrounding landscape. You must spend an evening getting an excellent view of the sunset in Leh town.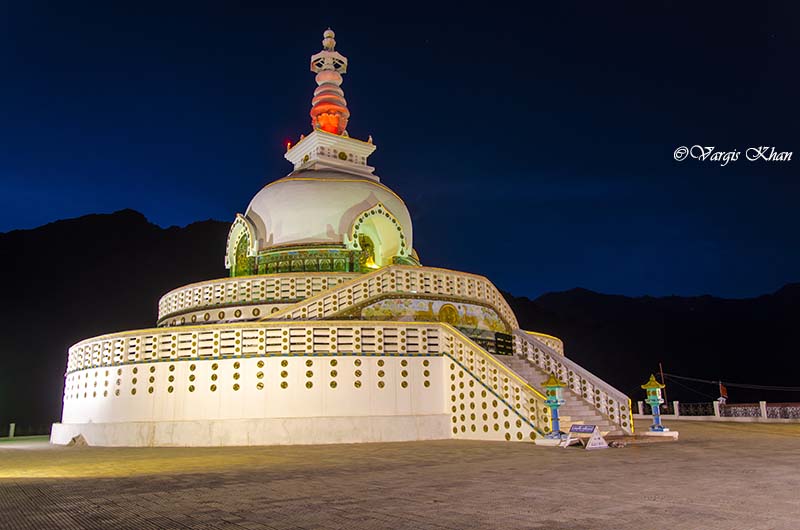 9. Experience the Magnetic Hill
What is Magnetic Hill? It is a spot on the Srinagar – Leh highway where the road seems to be going uphill but if you turned off the engine and let your vehicle stand in neutral, it will slowly start moving and can go up to a speed of 20 kilometers per hour on its own. Mysterious? I agree. Is it real? Yes the vehicle does move on its own but you should read How does the magnetic hill work for an explanation on how.
10. Visit Hall of Fame
Hall of fame is a museum constructed and maintained by the Indian Army, honoring the Indian soldiers who lost their lives during Indo-Pak wars and also commemorating the Army's role in cloudburst relief in 2010.
11. Go to Sangam Point
A little further from Magnetic Hill and slightly before the small village of Nimmu, you can see the confluence of Indus and Zanskar rivers, also known as Sangam Point. The two rivers merging into each other to form one, one with muddy waters and the other one with crystal clear waters, is quite a sight. It is a good spot for photography as well.
12. Be Humbled by the mighty Chang La
It may still not be famed as the second-highest motorable road in the world but the glory and beauty of Chang La still remain the same. If you were visiting here towards early or late in the season, you may even catch a snowfall at the top of the pass. You can visit the pass while traveling from Leh to Pangong Lake.
13. Take a dip in Panamik Hot Water Springs
One of the best places to visit in Nubra Valley is its hot water spring located in the sleepy town of Panamik. Villagers have a bath-like facility created around the spring where you can even take a dip in the naturally warm and refreshing waters.
14. Drive to Turtuk & Thang
If you are in the Nubra valley then you must visit the small village of Turtuk. And if you went to Turtuk, you must also drive until Thang, the point where the road literally ends and from where the border is only 2.2 kilometers away.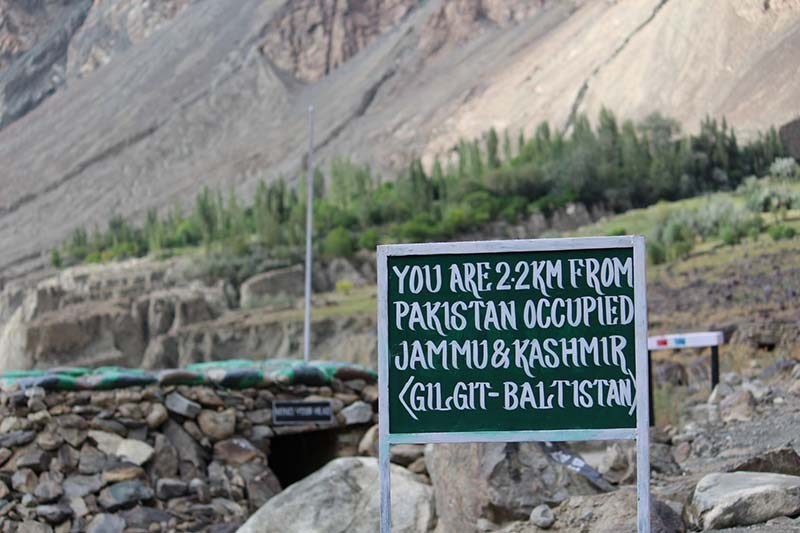 15. Ride a Two Hump Camel / Camel Safari
Also known as a two-humped camel, it is a very rare animal with their population estimated only two million all over the world. In India, a Bactrian camel can only be seen in Nubra valley. These are found at Hunder and a camel safari in the sand dunes is one of the most popular tourist activities in Nubra valley.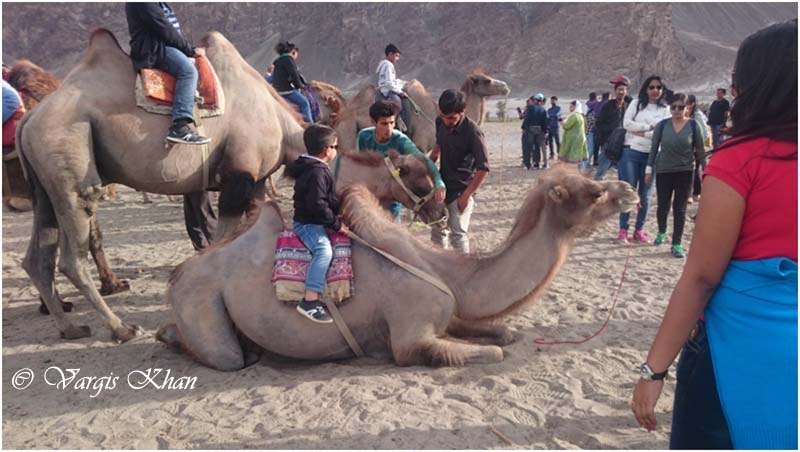 16. See the Sand Dunes in Hunder
Presenting an amazing site of white sands, the sand dunes between Hunder and Diskit villages are Nubra Valley's primary attractions and Ladakh's best camping site. Camel Safari and riding a Quad bike in these sand dunes is a fun thing to do in Nubra Valley.
17. Feel the cold winds of Drang Drung Glacier
Drang Drung Glacier is the largest glacier in Ladakh outside Karakoram Range, second only to Siachen Glacier. At the top of the Pensi La pass, you will be greeted with this stunning view of the massive glacier that you won't forget for the rest of your life.
18. See the Majestic Shafat Glacier
Shafat is a 14 kilometers long glacier in Suru valley which gives rise to the peaks of Nun and Kun and also provides a base to climb these two mountains. Water from this glacier forms a stream known as "Shafat Nala" which adds to the flow of Suru river.
19. Walk to Parkachik Glacier
Located at a little distance from the village of Parkachik, it is a majestic mass of ice moving slowly down the slopes of Nun and Kun peaks. You can walk up to the glacier via a suspension footbridge over the Suru river.
20. See the Black & White of Nun & Kun
The two beautiful and mysterious mountains of Nun and Kun are one of the biggest attractions of Suru valley (Kargil to Padum). Nun is forever covered in snow, a white peak, whereas its next-door neighbour, Kun remains forever black. These two mountains are right next to each other, a perfectly beautiful combination of black & white that never changes.
21. Do the Chadar Trek
If you are a bit on the adventurous side then there is no other way than Chadar trek to take your passion to the extreme. What is Chadar Trek? It is an expedition like no other and ill have you walking over a frozen Zanskar River for a few days. The only time you can have a taste of this adventure is in January or February.
22. Go Rafting
If white water rafting is your thing and you have already done it in places like Rishikesh and Manali, then Ladakh should be next on your list. Get your fill of adventure on the turbulent waters of Indus and Zanskar. This will be the top entry in adventurous things to do in Ladakh.
23. Conquer Umling La
What better way to add fun to your Ladakh trip than to ride to the highest motorable pass in the world? No, I am not talking about Khardung La. This crown now belongs to Umling La Pass, at a height of 19,300 feet. If you are able to get the permits for this route and reach the pass, you will be among a handful few who have done that. For more information, please read How to plan a Trip to Umling La.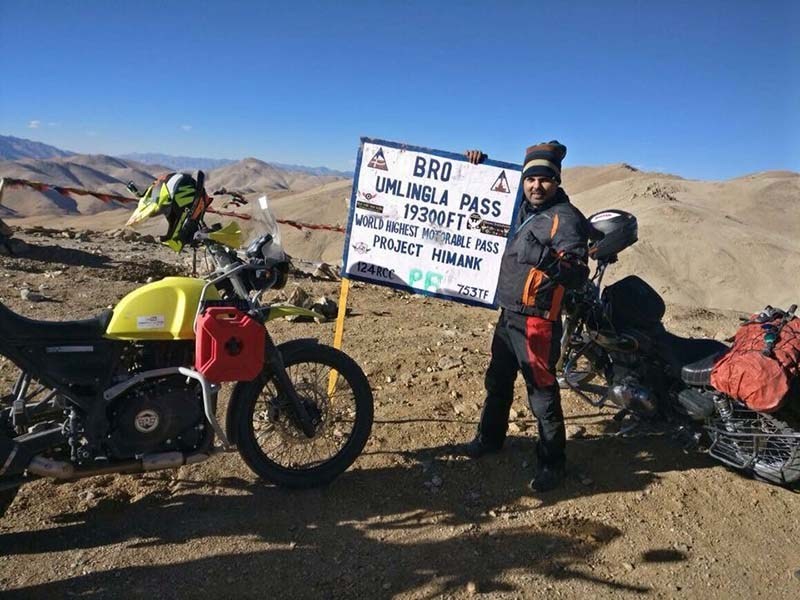 24. Trek to Phugtal Monastery
Phugtal Monastery is a 2 days trek from Padum and one of a kind experience. You not only get to see a beautiful monastery but also walk through the entire beautiful Zanskar Valley. You can also stay here for a night in the monastery, live with the monks and get a first-hand experience of their lives. For more information, please read How to reach Phuktal Monastery from Leh & Padum.
25. See the Frozen Lakes
If you were visiting in the months of January and February, you will find all the lakes in Ladakh completely frozen, so much that even a car can be driven on it. The blue of Pangong and Moriri turns completely white at this time and presents a beautiful sight.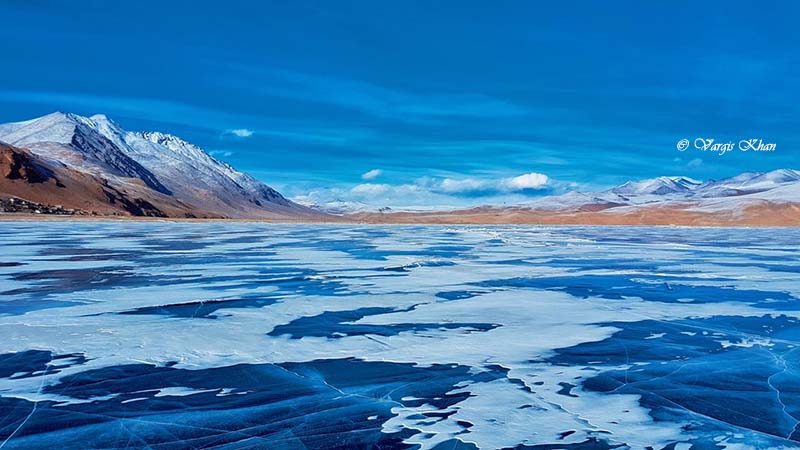 26. Conquer the mighty Rohtang La
At an altitude of 13051 ft, Rohtang La is truly a giant and once one of the most feared passes of India. That is how it got its name of Rohtang which literally means 'a pile of corpses'. This proves how many people must have died while attempting in the old days. Even now, Rohtang means a perfect blend of sightseeing and adventure; and crossing the pass even today is an accomplishment in itself. Also Read How to get Permit for Rohtang La.
27. Camp in Jispa
Jispa is really a tiny town and most people just pass through it but it is one of the best camping spots on the entire Manali Leh route. You cannot miss to spend an evening in this scenic village, either staying at a campsite or camping on your own.
28. Try Boating in Deepak Tal
Deepak Tal is a small lake between Darcha and Baralacha La. It is a very scenic spot and you must spend some time here. There are a couple of Dhabas near the Lake and they have also made arrangements for some boating here. Deepak Tal is also a great spot to camp on Manali Leh route.
29. Cross Baralacha La
It is one of the most notorious passes of India, if not the highest. It is this pass that keeps Manali Leh highway closed until early June. The snowfall at Baralacha La can sometimes go as high as 50 ft or even more. Driving across this mighty pass in indeed an experience in itself.
30. Admire Suraj Taal
This is the second lake on Manali Leh route and it is even smaller than Deepak Tal. But it has a trick up its sleeve. This lake remains frozen for most of the year. Even in the months of July and August, there is a great chance that you will find this lake partially frozen. See the picture below. This is Suraj Tal lake in the month of July, all buried under ice.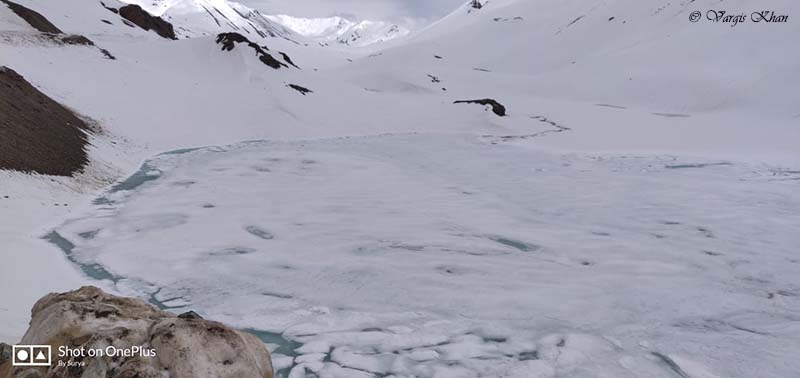 31. See the Haunted Shaheed Sainik Bhawan
I am not sure what this building was once upon a time but now it is just a deserted and damaged structure standing in ruins. The interesting factor about this building is that it is thought to be haunted. You do not believe me? Well, read this ghost story and know what the fuss is all about, The Haunting Story and The Ghost of Baralacha La.
32. The Ghost of Gata Loops
Next in our haunting list is the Ghost of Gata Loops. What is Gata Loops?  It is a series of 21 hairpin bends, driving on which, you arrive at the high altitude pass of Nakeela. But wait, that is not all that makes Gata Loops interesting. There is a whole haunting story related to this stretch of road. To know more about it, please read The Hauntings of Gata Loops.
33. Relax at Nakee La
Driving up the Gata Loops, you will finally be standing at the top of the Nakee La Pass, the third high altitude pass on the road between Manali and Leh. This pass stands tall at an altitude of 4,739 m (15,547 ft) and provides stunning vistas of the valley around.
34. Lachulung La
As you drive further from Nakee La, you will drive down a little and then immediately drive up to the 4th pass on Manali Leh Highway, the Lachulung La Pass at an altitude of 5,059 meters or 16,600 ft.
35. More Plains
The plains of More or Moore really looks like a sight out of this world. It is a plateau that stretches for 40 kilometers on the Manali to Leh road between Sarchu and Leh.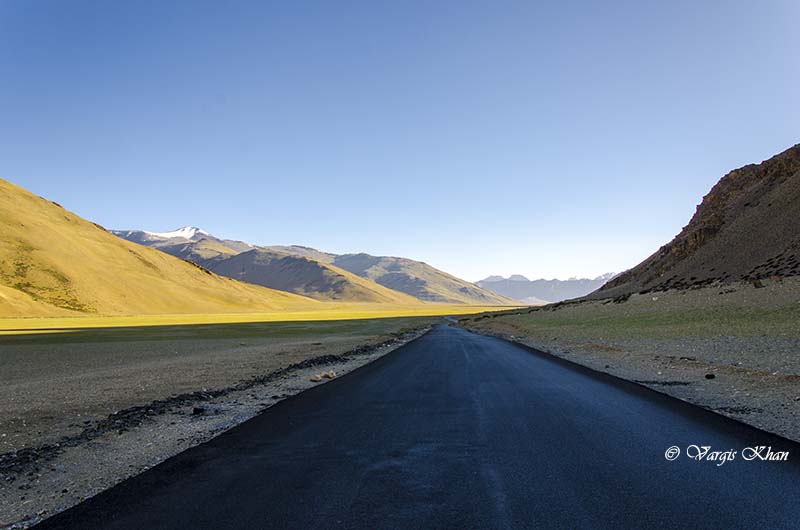 36. Tso Kar
Tso Kar is a lake that I call as the most ignored one. Thousands of tourists travel from Manali to Leh by road and the majority of them just ignore it. I would, however, urge you to take a small turn near Debring and pay this gem of a lake a short visit. There are a few dhabas next to the lake where you can even get something to eat.
37. Tanglang La
This will be the last pass before you finally make it to Leh after a 2 or 3 days journey covering almost 500 kilometers. Standing tall at a height of   5,328 meters (17,480 ft), it was once considered as the second highest motorable road in the world.
38. Conquer Zoji La
Zoji La is among the most dreaded passes of the entire Kashmir and Ladakh region. It is this mighty pass that keeps the road from Srinagar to Leh closed throughout the entire winter season and even when it is open, getting across Zoji La can still have your heart jumping to your mouth at several places.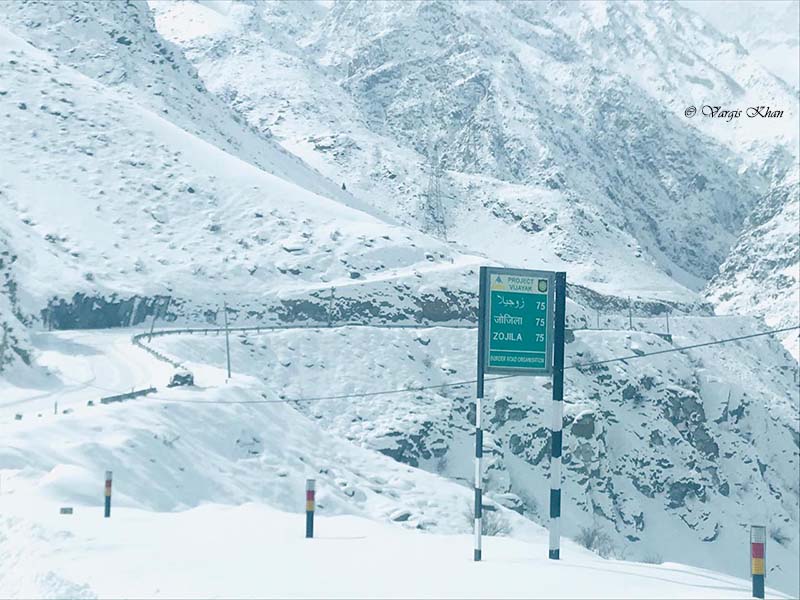 39. Enjoy Namika La
Namika La is what I call as one of the humble passes of Leh Ladakh. It is located between Kargil and Leh at a height of 3,700 m or 12,139 ft. But unlike Zoji La that can leave you sweating while trying to cross, a journey across Namika La is more pleasurable and enjoyable.
40. Stand at the Highest Point on Srinagar Leh Highway
The pass of Fotu La is where you reach the highest point on the road between Srinagar and Leh. This pass is not really that well known but in my opinion, gives you the first true taste of Ladakh that is yet to come if you were approaching from Srinagar side. It is located at an elevation of 4,108 metres (13,478 ft), surpassing the famed Zoji La.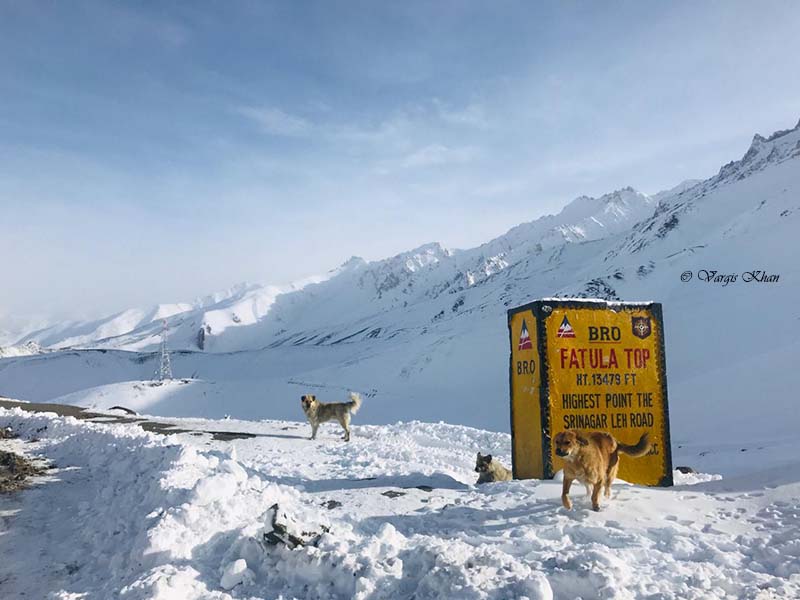 41. See the Moon Landscape
That is correct. If you did not know, there is a spot near Lamayuru where the entire landscape resembles that of the moon. This famous spot on Srinagar Leh Highway is known as Lunar Landscape and you just cannot afford to miss it.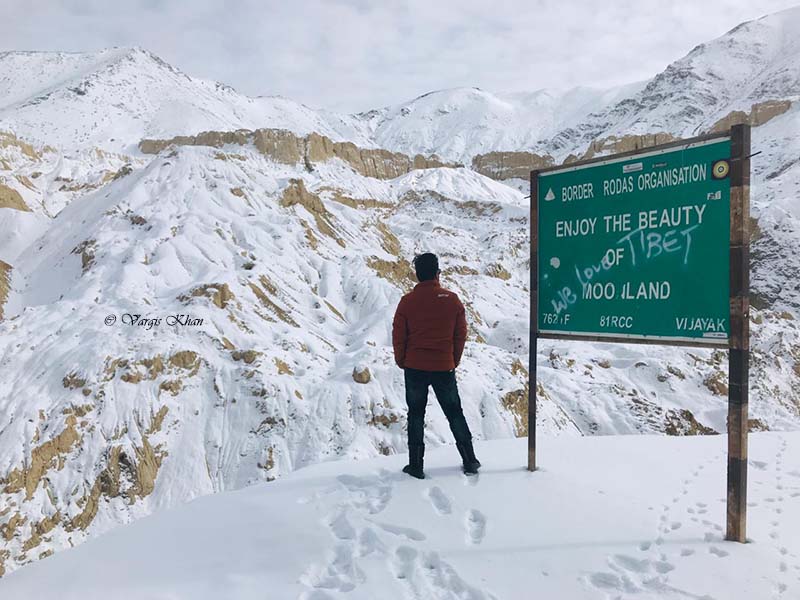 42. See the Tiger Hill
Tiger Hill is a mountain near Drass. It is one of the highest peaks in the area but is mostly unknown among the tourists. It came to highlight during the battle of 1999 between India and Pakistan. Its recapture was one of the most important objectives for Indian forces during the Kargil War. You can clearly see the mountain while in Drass.
43. Drive up the Hangro Loops
Hangro Loops is a series of 18 hairpin bends/loops after Lamayuru. Driving up on these bends is quite an experience. These are much similar to the Gata Loops of Manali Leh Highway.
44. Pay Respect at Kargil War Memorial
Your journey to Ladakh is incomplete unless you stop and pay respect at the Kargil War Memorial. It is located near the town of Dras and is dedicated to our soldiers who laid their lives in service of the nation during the 1999 war of Kargil.
45. Enjoy Good Food
When you are visiting Ladakh, you are in for a treat. The kinds of food items you can try here are amazing. From Kashmiri to continental to Tibetan, it is like the whole world on a plate for you. Read Food Items you can enjoy in Ladakh for a more detailed version of this information.
46. Trek to Thajiwas Glacier
One of the biggest attractions of Sonamarg is the glacier of Thajiwas. The only catch is that for this, you will have to stay for a day in Sonamarg. It takes a few hours to trek the 7 kilometers from Sonamarg to Thajiwas but the journey is worth every minute.
47. Walk the meadows of Sonamarg
A journey through the scenic town of Sonamarg and you will know why Kashmir is known as heaven on earth. The name of this place literally means 'The Golden Meadow' and it truly is a paradise in itself. Spend a day here and walk around enjoying the scenic beauty of Sonamarg.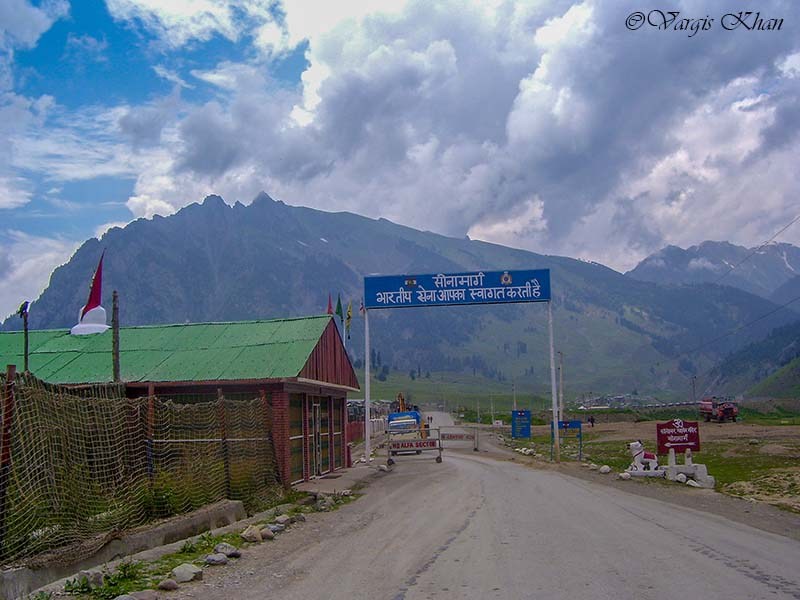 48. See the Second Coldest Inhabited Place in the world
Whether Dras is the second coldest inhabited place in the world or not is disputed. But one thing is for certain, it is one of the most beautiful towns of not just Kashmir but the entire country. The Kargil War Memorial located here is a must visit for every traveler.
49. See the famed town of Kargil
After the war of 1999, the town of Kargil needs to introduction. But it doesn't serve just as a war memorial anymore. It also is a beautiful destination that is often termed as the Gateway to Ladakh.
50. Trek to Namgyal Tsemo Monastery and Tsemo Castle / Fort
Tsemo Castle is located about 15 minutes further uphill on a steep path from Leh Palace. It was built in the 15th Century and is now visible from pretty much everywhere in Leh town. The word Tsemo means victory and right beneath the fort is the Namgyal Tsemo Castle which is known for a 8 meters tall gold-faced Maitreya Buddha. You also get an amazing birds-eye view of the entire Leh from this fort.
51. Trek to General Zorawar Fort
A little further ahead of Namgyal Tsemo Monastery is the fort of legendary General Zorawar Singh, known as the conqueror of Ladakh. To reach this place, you can either drive all the way to the entrance of the fort or trek from the Leh city bazaar which will take you about 30-40 minutes.
52. Pay respect at Datun Sahib
Datun Sahib is a Meswak tree located right behind the Jama Masjid in Leh Market. It is believed that Guru Nanak himself planted this tree in during his visit to Ladakh in the year 1516. As per the legend, there was no greenery or trees in Ladakh at that time and Guru Nanak blessed the city by planting this Meswak Tree.
53. Pray at Jama Masjid
The Jama Masjid of Leh was first built in 1666-67 and has been rebuilt several times since then. It is the biggest mosque in all of Ladakh. It is located in the town itself and getting here is not difficult at all.
54. Visit Shey Palace and Monastery
Visiting Shey Monastery and Palace is very easy. You can pay a visit here while traveling to and from Manali or Pangong Tso. Built in 1655, Shey Palace was the summer capital of Ladakh in ancient times. It was built in 1655 and the monastery is best known for a giant statue of Shakyamuni Buddha.
55. Attend the Sindhu Festival
If you want to attend the Sindhu Festival, you will have to visit sometime in the month of June. However, for the other times, visiting Sindhu Ghat will still be a great pleasure. The riverbank is located in Shey Village, about 13 kilometers from Leh and each year, the three day Sindhu Festival is celebrated here and is one of the most attended events of Ladakh.
56. Shop in Leh Main Market
Your Leh trip is incomplete unless you have walked through the amazing market of Leh and have done some shopping. For a list of items that you can buy here, please read Shopping in Ladakh – What to Buy.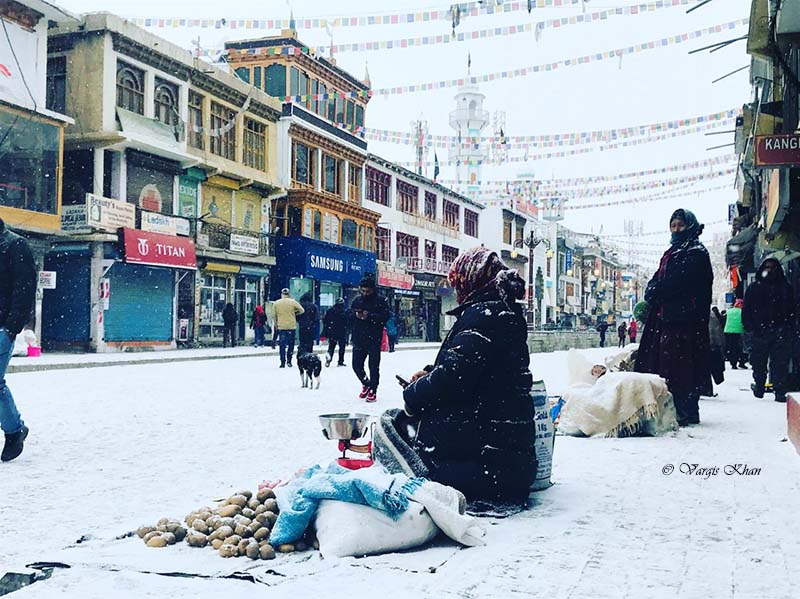 57. Walk along the Mani Wall
Just near Nimmu village, you can see half a kilometer long Mani Wall, considered to be the longest in the world. To decode it for you, it is a wall built by stones known as "Mani stone"; a stone plate, rock or pebble, inscribed with Buddhist prayers.
58. See the Fort of Rangdum
5 Kilometers from Rangdum, located on a small but steep hill, is the Rangdum Gompa which was actually used as a fortress by Dogra armies of General Zorawar Singh.
59. Visit Zangla Fort / Palace
In ancient times, Zanskar was under two different kings, one ruling Padum and other ruling Zangla. The ancient Zangla fort or palace was the residence of the king of Zangla.
60. Drive along the Zanskar River
The Zanskar river is formed after Lungnak river merges into Doda river near gzhung khor, (Zanskar's central valley). Zanskar river finally merges into Indus river near Nimmu. It remains your constant companion as you travel through the Zanskar valley.
61. See the Greens Suru River & Valley
For most of your journey through Suru valley, you will be traveling on the banks of Suru river. This river, originating from Panzella glacier which lies at Pensi La pass near the Drang Drung Glacier, is a major tributary of Indus river and is also the sole reason behind the lush green of Suru valley. The Suru River has extensive possibilities for rafting which is practiced during the summer.
62. Spot Wildlife
The wildlife of Ladakh is as unique as the place itself. From snow leopards to Kiangs to Marmots to Brahminy Ducks, there is plenty to see in Ladakh and click pictures of. For more details, please read A Detailed Overview of Wildlife in Ladakh. In this post, I have covered different kinds of wildlife in Ladakh and where.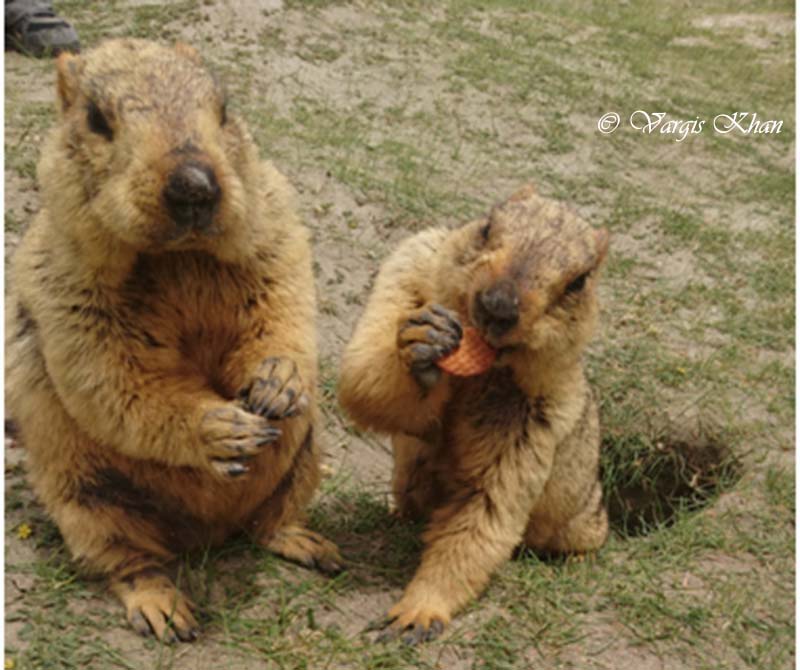 Visit some lesser known, Challenging and Tough Passes
Everyone visits Khardung La and Chang La but if you needed more of a challenge and wanted to cross some passes that not many people go to, then below is the list.
63. Marsimik La
At an altitude of 5,582 meters (18,314 ft), Marsimik La once was a dream of every rider. Those were the times when it was considered as the highest motorable pass in the world. Now, other passes at a higher altitude have come to notice but the adventure of riding to Marsimik La still remains a charm. The road to this pass leads from Pangong Tso via Phobrang.
64. Wari La
Located at an altitude of 17,400 ft, Wari La may not be the highest motorable road in Ladakh or elsewhere but it is definitely among the most challenging ones. The climb to this pass is so tough that even a 4×4 vehicle can start to struggle.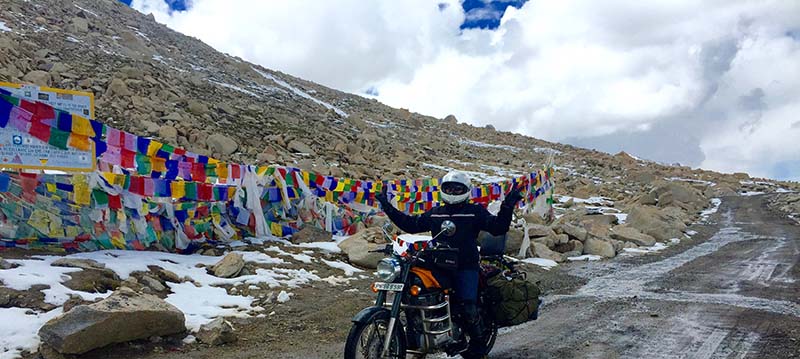 65. Polo Kongka La
This one is a relatively easy pass on the direct route between Tso Moriri and Tso Kar, near Sumdo. In fact, if it wasn't for the prayer flags that mark the top of the pass, you wouldn't even know that you crossed one.
66. Namashang La
Namashang La falls on the way to Tso Moriri lake after crossing Sumdo and then just before Kiagar Tso Lake.  This one can also be termed as an easy pass. You will drive uphill to the pass from Sumdo and then it is a straight run to Tso Moriri from there.
67. Tsaga La
This pass is located on the direct route between Pangong Tso and Tso Moriri, shortly after Chushul. Another name of this pass is Chagga La and it is located at an altitude of 4,635 meters (15,207 ft.).
68. Rezang La
The top of this pass is It is 2.75 kilometers long and 1.8 kilometers wide, with an average height of 16,000 feet. So yes, this will make Rezang La probably the easiest pass ever. But during the India China war, this pass is that became the most critical one for the Indian Army. We may have lost the war but Rezang La is where we fought back. Read The Battle and The Heroes of Rezang La for more details on it. You will come across a war memorial on the way which marks the top of this pass.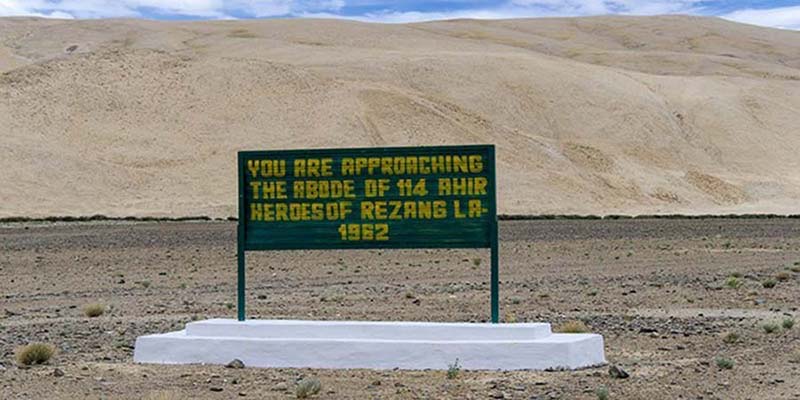 69. Umba La
I know, the name of this pass sounds like some Caribbean dance. At an elevation of 4,496meters (14,750ft), it doesn't even sound like much of a difficulty to cross. But the steep climb and bad road can surely make it one hell of a challenge to reach the top of this pass. Across Umba La is the direct road that you can take to reach Zanskar Valley from Dras without having to go to Kargil first.
70. Shingo La
The road across this pass is not yet operational but once it is, it will cross the Padum town in Zanskar with Darcha in Lahaul valley. Shingo La is located at an altitude of 5,091 meters (16,703 ft)
71. Kaksang La
Also called Kakasang La, this pass is located on the direct route between Chushul and Mahe. Traveling from Pangong Tso to Tso Moriri, you can either take the conventional Chushul – Tsaga – Loma – Nyoma – Mahe route or you can just straight from Chushul to Mahe via Kaksang La. Please note though that this pass is tough to climb and due to the bad road, may need a 4×4 vehicle, capable enough to handle the challenge. It lies at an altitude of 5.436meters (17,834ft).
72. Horla
I swear if this pass was in the western world, it would either have been a subject of jokes or they would have changed its name. But jokes apart, this pass too is one of the very challenging ones and is on the same road that Kaksang La is. Climbing from Chushul, you will first cross Kaksang La and then Hor La at an altitude of 4.908 meters (16,102ft)
73. Salsal La
Now let us take a look at some passes that have rarely been ventured upon by people. Salsal La is on the route from Karzok to Chumur (or Hanle to Karzok) and is located way close to the border. This entire area around Chumur has been subject to too many Chinese incursions due to which tourist movement is no longer allowed here. Salsa La is located at an altitude of  17,200 ft. approximately.
74. Charchagan La
Charchagan La is another pass located in the Chumur region on the roads between Karzok, Hanle, and Chumur. Tourists are no longer permitted in this region.
75. Photi La
Photi La is located a little ahead of Hanle at an altitude of 5,524 meters 18,124 ft. Earlier, a lot of people traveled to this pass but after the whole issue regarding Umling La came into light, getting to Photi La too became a bit of a challenge.
76. Parkachik La
The only way to reach this pass is an easy trek from Panikhar. If you are staying overnight at Panikhar, you can walk up to the pass and return by evening. Another way is to start from Panikhar, cross the pass and descend down to Parkachik on the other side.
77. Umasi La
Accessible only by a tough trek, this 5,342 meters high pass connects Zanskar to Lahaul valley. There is no road across this pass yet and getting atop this pass is a tough, several days long, trekking expedition.
78. Visit the Unknown Lakes of Ladakh
After some of the unknown and lesser-visited passes of Ladakh, let us take a look at some lakes that you would not have heard about but are located in Ladakh. And I am not really talking about Pangong Tso and Tso Moriri but some other smaller lakes that are equally beautiful and deserve a visit.
79. Startsapuk Tso
The first entry in the list is the beautiful Startsapuk Tso. It is a smaller lake located very close to Tso Kar. In fact, if you did not know the name and the fact that it was a different water body, you may even think of it as Tso Kar itself. The lake offers beautiful and you may even notice some Kiangs near it.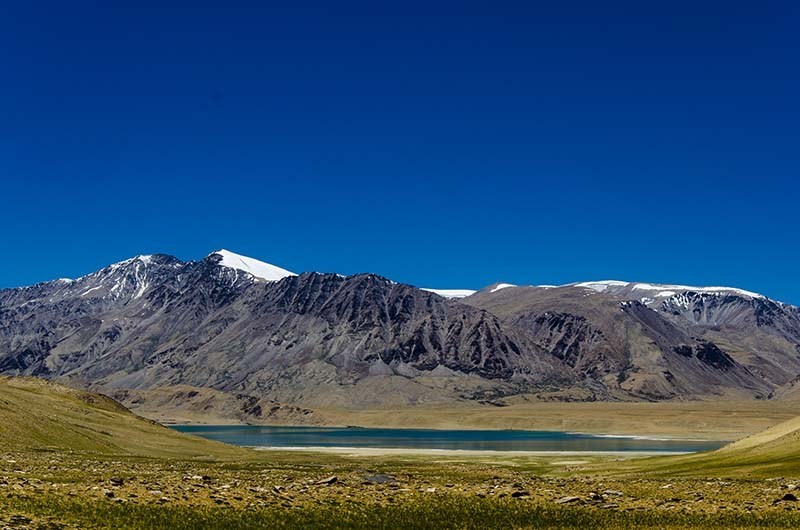 80. Yaye Tso
Yaye Tso is a volcanic lake located near the Hor La Pass at an altitude of 4,988 meters. The lake is named after Yaye Village that is located nearby. The road actually goes all the way to the lake but I would advise against bringing your vehicle down. There is also quicksand around this lake so please walk carefully.
81. Mirpal Tso
Another lake located on this route is Mirpal Tso, near Kaksang La Pass. If you were driving from Chushul side, you will first come across Mirpal Tso and then Yaye Tso.
82. Spanggur Tso
A common belief is that Pangong Tso is the only lake that is shared by India and China. What if I told you there was another one that crosses over the border of the two countries and is equally stunning? This lake is called Spanggur Tso or Maindung Co or Mandong Cuo. It is at an elevation of 4,305 meters and has an area of 61.6 square kilometers.
83. Kiagar Tso
Kiagar Tso is located a little before Tso Moriri and a few kilometers after Namashang La. People traveling on this route are more excited about seeing Tso Moriri and ignore this small lake. But keep an eye out for this one. It will fall on your left and is stunning in beauty.
84. Ta Tso and the Lang Tso lakes
The twin lakes of Ta Tso and Lang Tso are located on the top of Pensi La Pass as you travel from Kargil to Padum Just leave your vehicle at the top of the pass and walk a little to the lake. It is a perfect spot to click some stunning pictures.
85. Yarab Tso
This is a small lake located in Nubra Valley and is considered to be sacred. The lake can be approached only by a small trek from near Panamik and Sumur. The walk is however just a short one of 20 to 30 minutes only.
86. Chagar Tso
Most people traveling to Pangong Tso are so excited by the blue marvel that everything else gets ignored. This is literally the case with Chagar Tso. This small gem of a lake falls to your right as you travel towards Pangong after Chang La. Almost nobody stops here which makes a perfect spot to spend some time in peace and click pictures.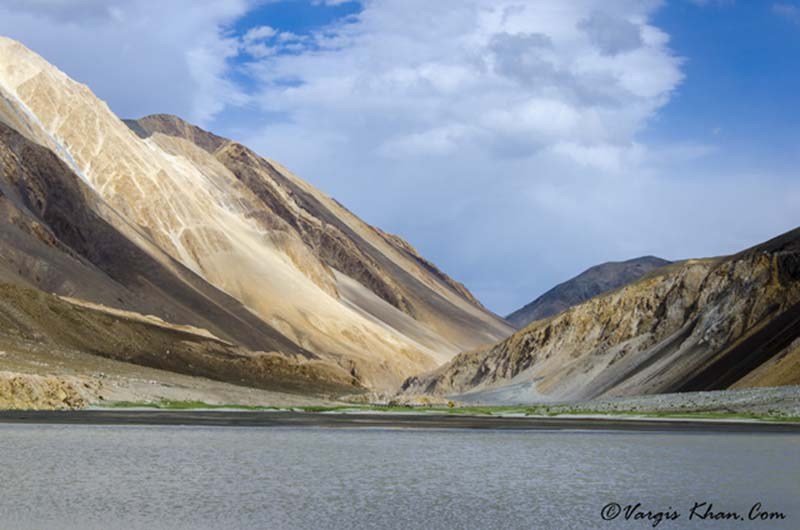 87. Tso Ltak
This is another lake located on the way from Chang La to Pangong Tso. You will find beautiful ducks floating in it and that is what makes this lake perfect for clicking some amazing shots.
88. Ryul Lake and Chilling Tso
These lakes are located in an extremely restricted zone quite close to the border. To get here, you will have to take the road towards Chumur from either Karzok or Nyoma. Permits for this area are not easily issued and not many people have been in this direction. These lakes are located just before you start climbing up Salsal La at an altitude of 5,242 meters (17,200 Feet). Both of these lakes are located right next to each other on both sides of the road. As a matter of fact, both Ryul and Chilling lakes are called as twin lakes and sometimes referred to as Kyun Tso 1 and Kyun Tso 2.
89. Take a Monastery Tour
Ladakh is home to numerous ancient monasteries and all of them are beautiful, unique and enlightening. Taking a monastery tour in Ladakh comes highly recommended. Listed below are some of the best known monasteries in Ladakh that you can consider including in your trip.
90. Karsha Monastery
Karsha is the largest and the most important monastery in Zanskar. It is directly under the control of the younger brother of the Dalai Lama. There are ancient rock carvings at the site and the several wall paintings from 958-1055 AD.
91. Matho Monastery
The village of Matho where this monastery is located is one of the most scenic spots of Ladakh. The village lies at the mouth of a deep gorge running out of the Zanskar Range and across the Indus, at a distance of 26 kilometers from Leh. The monastery of Matho is directly opposite Thikse Monastery and quite close to Stakna Monastery.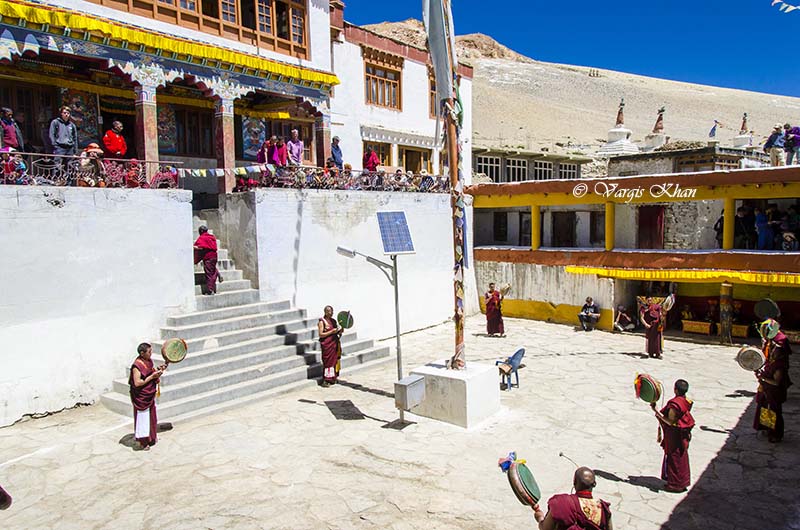 91. Stok Palace and Monastery
The village of Stok is located about 16 kilometers from Leh town on Manali Leh route. The monastery of Stok is noted for three things. The first is a 71 feet (22 meters) high seated Gautama Buddha statue. The second is a large library and third for a ritual dance-mask festival is held here annually. About 2 kilometers from the Monastery is the Stok Palace which once used to be the summer home of the kings of Ladakh.
92. Sankar Monastery
Sankar Monastery is located within Leh, a little above the town near the road towards Khardung La. This monastery, however, can only be visited during the morning and evening hours. The place is well lit, so an evening visit is worthwhile.
93. Lamayuru Monastery
This monastery is situated at a height of 3,510 meters and about 115 km from Leh on Leh Kargil Highway.  You can either visit the monastery while traveling between Leh and Srinagar or you can make a day trip to Lamayuru. Another place that is worthy of note here is the famous moon landscape near Lamayuru.
94. Mulbekh Monastery / Maitreya Buddha
This monastery is famous for a grand 9 meters high statue of Buddha, known as Mulbekh Maitreya, and is a must-see place to visit. Please note that taking pictures of the statue is not allowed.
95. Alchi Monastery
Alchi Monastery is one of the oldest monasteries of Ladakh and is very beautifully located on the banks of the Indus River. It houses three major shrines that date back to the 12th century and are considered to be of great significance. The monastery also has several wall paintings and wooden artifacts that reflect both Buddhist and Hindu Ideals.
96. Shey Monastery
This monastery is located within the premises of Shey Palace and was also built in 1655, in Shey Village, 15 kilometers from Leh on Manali Leh highway. It is noted for a giant copper with a gilded gold statue of a seated Shakyamuni Buddha. While visiting the monastery, you can also see the ancient Shey Palace which used to be the summer retreat of kings of Ladakh.
97. Diskit Monastery
The monastery of Diskit is a greatly renowned one. You must visit here for three things. First is the awesome view of the valley that you can get from the roof of the monastery. Second is the grand 32 meters high statue of the Maitreya Buddha. And third is the statue of a Deity holding a mummified human forearm and head [believed to be of a Mongol Warrior] in its hand.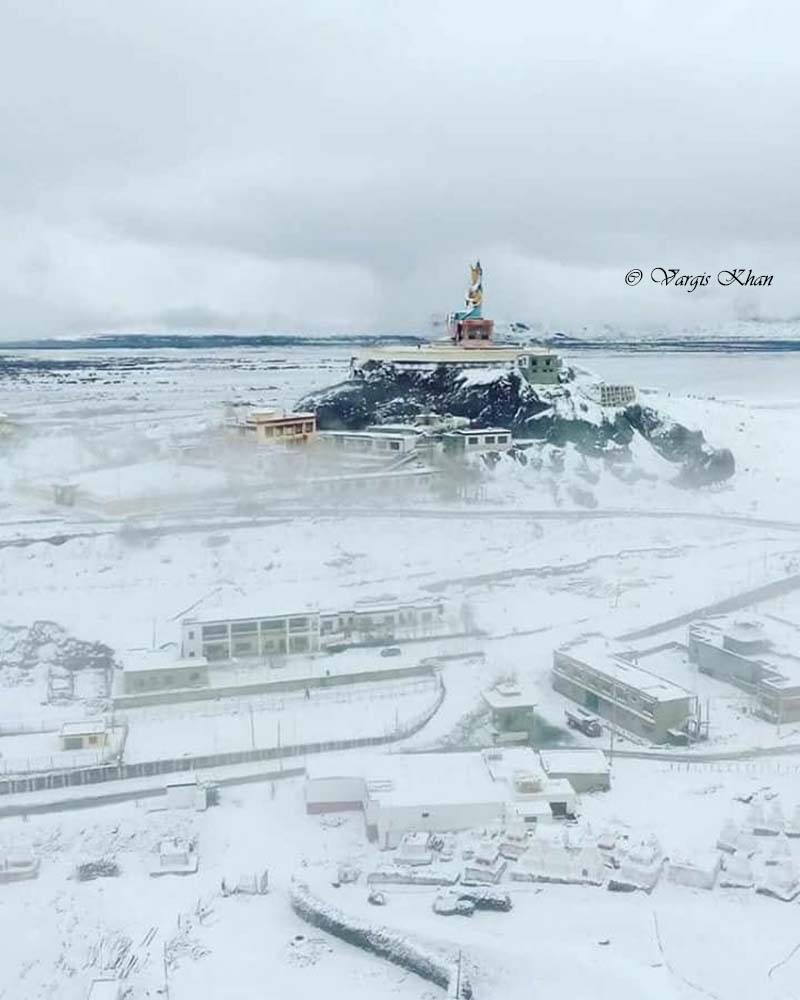 98. Spituk Monastery
Also known as Spituk Gompa or Pethup Gompa, this Monastery is located around 8 kilometers from the town of Leh on Srinagar Leh Highway. It is noted for a giant statue of Kali that only gets unveiled during the annual Spitok festival. It was built in the early 11th century and sits at an elevation of 3,307 meters.
99. Hemis Monastery
The Hemis Monastery is considered as the richest monastery in India and holds some very rare and exquisite antique collections like the copper statue of Buddha, gold and silver stupas and some exotic Thangkas. To know more, please read How to Plan a visit to Hemis Monastery.
100. Thiksey Monastery
This monastery is located on top of a hill in Thiksey village, approximately 19 kilometers from Leh town, at an altitude of 3,600 meters (11,800 ft). It is noted for many items of Buddhist art such as stupas, statues, thangkas, wall paintings, swords, and a 15 meters (49 ft) high statue of Maitreya.
101. Basgo Monastery and Basgo Palace
The Basgo Monastery and the ruins of Basgo Palace are located about 43 kilometers from Leh on Srinagar Leh Highway, in the village of Basgo, towards Lamayuru. The complex consists of the ruins of the castle and a monastery; and is noted for its Buddha statues and old Murals. This monastery was established in 1680 for the Namgyal rulers and is situated on top of the hill towering over the ruins of the ancient town.
Conclusion
These were just the top 101 things to do in Leh Ladakh but the list can continue for another 100 entries and I will still not be able to cover them all. How many of these items are you able to cover entirely depends on the time you have in hand. I hope the information above was of help, If you have any questions, or need any other details, please feel free to ask in the comments section below, or at our Community Forum, and I will be glad to answer.