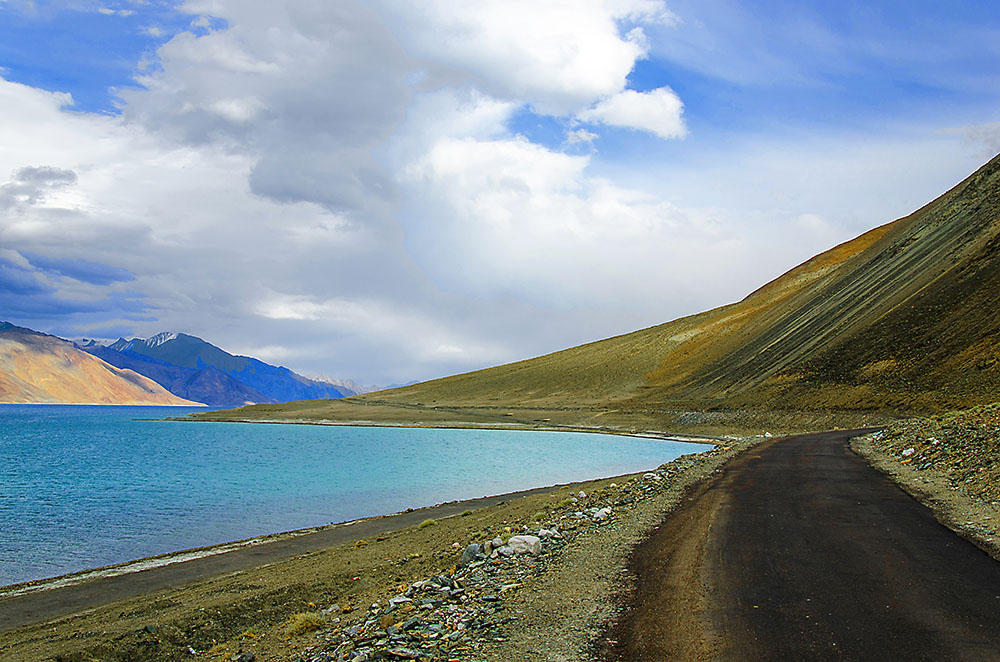 Traveling to Ladakh with parents, other members of your family or even children is no longer as difficult as it was once thought to be. It is now one of the most sought-after tourist destinations in our country. Now, it is not just adventure enthusiasts or biker's that visit here. In the peak tourist season, the entire place is filled with families having a fun time here.
Over the years, Ladakh also has developed in a similar manner. The overall tourism setup of the place is slowly changing from an adventure destination to entire all kinds of tourists and travelers. With that being said, there are still a lot of things that you will have to keep in mind before you decide to bring your family, kids, or parents for a trip here.
Even though the article I am writing below is from the point of someone who is bringing their parents for the trip, it will also apply for elders traveling on their own.  For other details on visiting Ladakh, you can also take a look at How to Plan a Trip to Ladakh – Complete Travel Guide.
How to Plan a Trip to Ladakh with Parents
First of all, and I may sound a little naïve while saying this, but there are of course elderly people in Ladakh as well. It is a city where people of all age groups exist. It is not just young and only healthy people that are able to survive there.
Why am I saying this? Just to imply that Ladakh is not really a 'dangerous for elders' place. It is high in altitude but as long as you are in good health with no ailments, you are free to travel to Ladakh as you would to any other place. Some general precautions that are applicable to everyone will apply to elders as well.
The fact however cannot be denied that old age has its own set of challenges (and I mean no offense by it). So these precautions will apply even more so to senior citizens.
There are of course older people living in Ladakh. But the thing with them is that they were born and lived all their lives here. But for a tourist, it is an entirely new environment that our bodies are not accustomed to and hence the precautions.
Before I go any further in the article, please note that I am not a Doctor, do not have any medical background, and have never really traveled to Ladakh with my parents or an elder. The information I am sharing below is completely based on my own travel experiences of Ladakh; research done on the web and feedback shared by other travelers.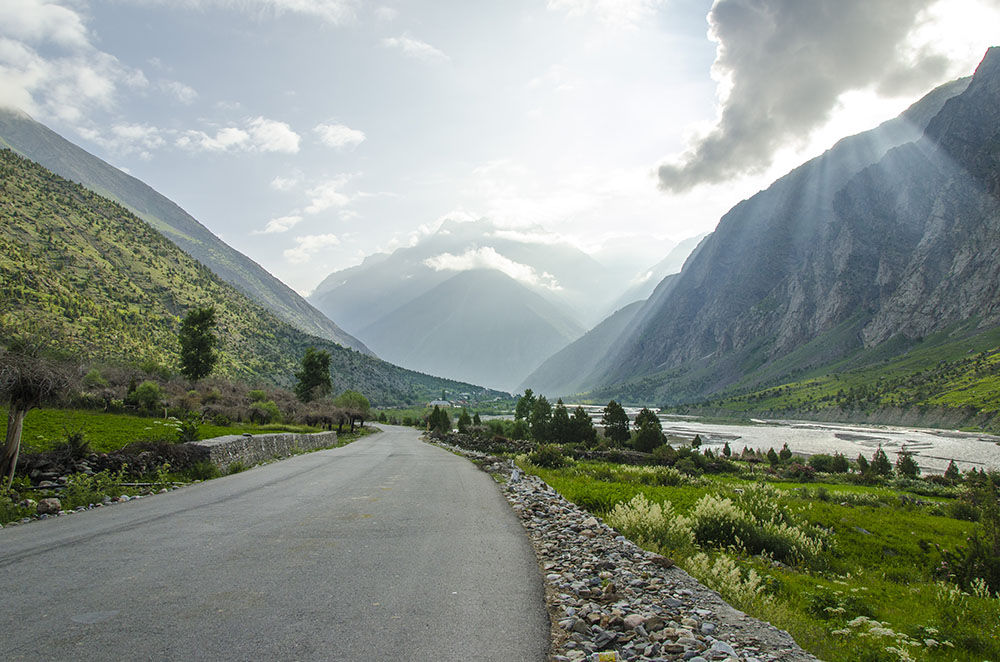 Consult a Doctor
This is the most important part of all. Do not ask anyone or look over the web for an answer. Before going to Ladakh, you must consult a doctor and get a professional opinion.
In the past, people have asked me If it was OK to bring their parents to Ladakh; and then they list down the medical issues their parents have. As a matter of fact, I have received similar queries from some senior citizens themselves.
This is not right. These are serious questions which if not answered seriously can have some serious implications. You must get a medical check-up done and have a doctor advise you after looking at your medical history.
Also Read: Important Tips for Driving in Ladakh
Altitude Sickness
While you are preparing your itinerary, plan your trip in a way to ensure that the gain in altitude is gradual. You should be breaking the journey at places that are relatively at lower heights.
For example, do not take the Manali route to reach Leh. Rather, take the Srinagar Leh highway to get to Ladakh and return via Manali.
Once you get to Leh, keep at least one complete day of rest or maybe more depending on the situation. These days can also be utilized for arranging permits.
For local sightseeing, you should first go to Nubra Valley and then to Pangong and Moriri. Nubra is actually at an even lower altitude than Leh city; so visiting there first will allow more time for altitude acclimatization.
If your elders complain of any of the symptoms of altitude sickness while visiting Pangong or Moriri, it will be wise to cancel your stay there and return to Leh.
This also means that you will have to plan your day in a way that you leave from Leh as early as possible. You will have to reach the lakes well in time and have enough daylight left to last a return trip in case you had to rush back to Leh the same day.
For more details on Acute Mountain Sickness, to know what its symptoms are and how you can deal with it better, please read How to Handle Acute Mountain Sickness in Ladakh.
Diamox
Diamox is widely popular as a medicine against altitude sickness. Please do not blindly consume it without consulting a doctor first. Why? Because Diamox is essentially a blood thinner. That is how it works against altitude sickness.
It is also a sulphonamide drug. So people who are allergic to sulfa drugs should not take Diamox. There could be other side effects as well depending on the health and any other medicines your parents may be taking. Please talk to a doctor first and use Diamox only if they prescribe.
Apart from Pangong Lake and Tso Moriri in Ladakh, Pang and Sarchu are two more places that I would recommend avoiding staying at. The majority of the people going to Ladakh for the first time suffer from AMS at both these places. Hanle Village and Changthang Valley too also among the highest altitudes here and should be avoided.
If you are reaching Leh by Air, then your Day 1 and Day 2 should be complete rest. Do not plan any trips on these days and allow time for your bodies to acclimatize. Your gain in altitude in case of a flight is huge and that too in a matter of few hours. So there is really no way that you can escape AMS in this case.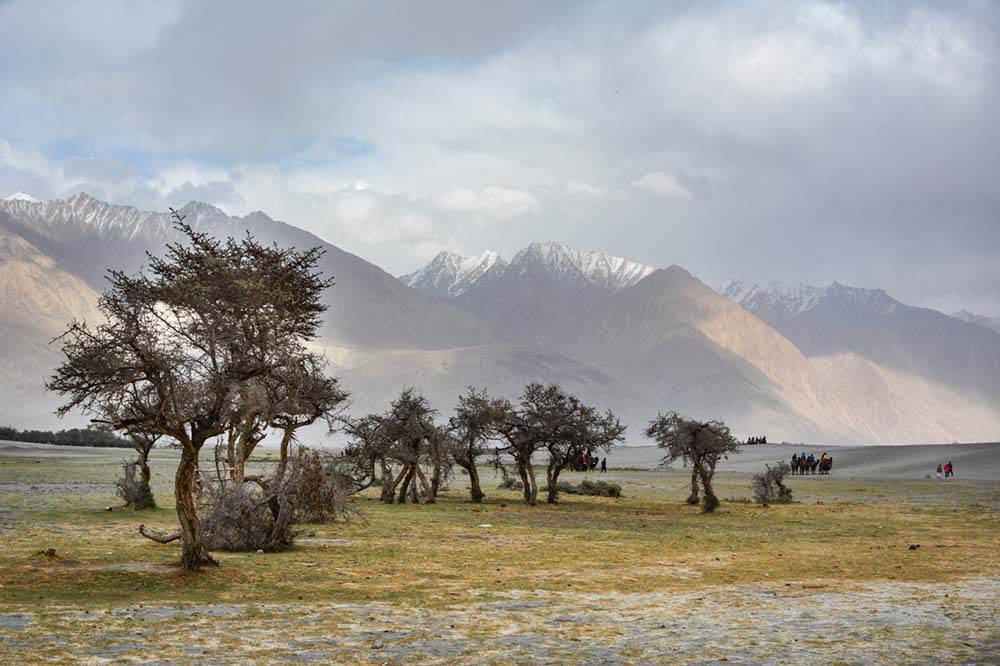 Clothing
Your clothing must be carried in layers. What it necessarily means is that do not carry all heavy woolens. Bring clothes that can be worn on top of each other in layers.
The temperature fluctuates highly in Ladakh between Day and Night, Sunlight and Shade, and high altitude vs lower areas. So you may have to keep adjusting your clothes accordingly.
A heavy windproof and warm jacket is a must. Make sure you are carrying something to cover your head and neck with as well. Woolen gloves and socks will be of great help. For more details on this, please take a look at Clothes for Ladakh Trip – What to Pack.
Do Not go too Remote
Areas that are too remote must be avoided at all costs. When I say too remote, I am really talking about villages that are far away from Leh.
Just keep a general itinerary that takes you to Diskit in Nubra Valley and brings you back to Leh the next day. Then go to Pangong and return to Leh. Do not venture towards routes like Wari La, Changthang Valley, Hanle, Turtuk, etc.
Why am I saying this? Because all these places are a bit far from Leh (about 18 hours of the road trip at least, depending on the route). If there was a medical emergency, you may not be able to get back to Leh in time.
Do not Rush
Take the trip at an easy pace and do not rush through the journey. Give a minimum of 2 days to both Srinagar Leh and Manali Leh highway. If possible, complete the journey in 3 days.
Keep at least one day of rest after arriving at Leh and if required, more. Long hours of traveling will just put unnecessary physical stress which in turn may trigger the symptoms of AMS.
Accommodation
One of the primary attractions of a Ladakh trip is to camp near the lakes, under a sky brightly lit with countless stars. While this may sound like an amazing thing to do, the fact is that most of these camps are really not that comfortable.
They have warm and proper bedding but in my experience, it is still more comfortable to stay at a hotel than in a tent. The surroundings and the ground is also not really mostly even and easy to walk on.
For senior citizens, I will really recommend that you stick to staying inside hotel rooms. If you really do want to stay at a camp then keep it limited to campsites at Pangong only. There, you have the option of choosing from a long line of luxury camps. Chadar tents are a big no and you should avoid staying at these.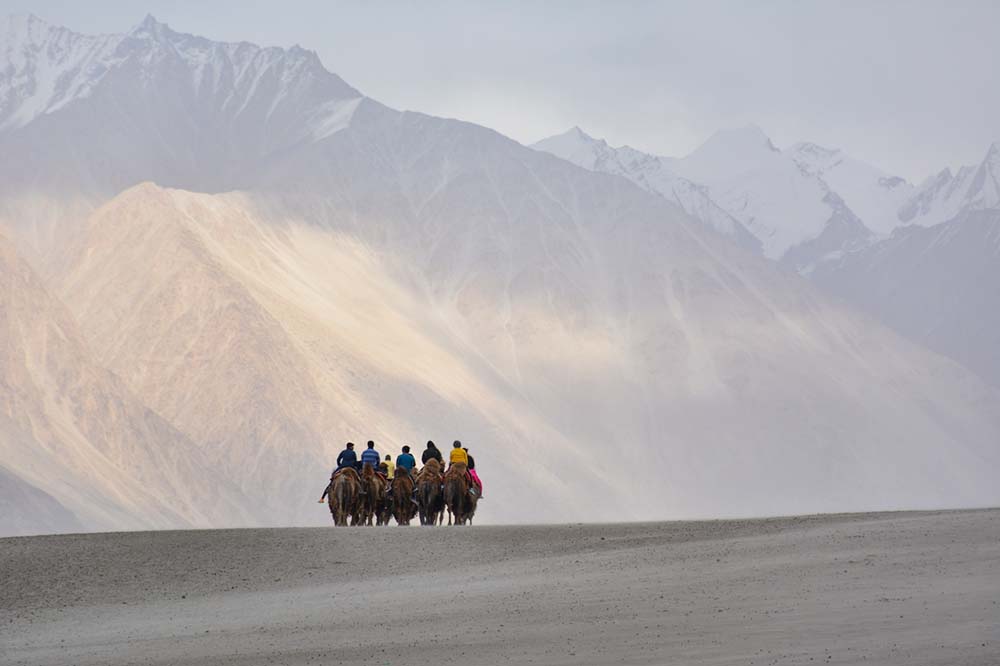 Ailments
I am not a doctor and have no knowledge in this field but if you are suffering from a respiratory disease then think twice before making this trip. Carrying an Oxygen cylinder is a must for you.
If you are suffering from coronary heart disease, I must strongly urge you to not make this trip. Or if you have an ailment that can suddenly turn serious, please do not go to Ladakh. It is just not worth the risk.
A doctor however will be a better judge so please consult one.
Medicines
Once you have consulted your doctor and have their OK to travel to Ladakh, please ensure that you are carrying all of your prescribed medicines. Some other basic medicines for headache, vomiting, upset stomach, etc will be of huge help while staying at places like Pangong.
The sun is really harsh up here so please make sure that you carrying a good sunblock lotion; the highest SPF you could find. Cold creams, lip balms, sunglasses are some of the other essential items.
Keep Yourself Hydrated
Please make sure that you keep yourself hydrated throughout the day. Consume plenty of water or other liquids like Juice. Avoid eating too many chips.
Medical Emergency
In case of any medical emergency, please reach the Leh Memorial hospital; also known as Sonam Norbu Memorial Hospital. They are a good hospital and well equipped as well. If however, you needed medical aid while traveling or anywhere else than Leh, then please head towards the nearest Army Medical Camp or a post that you could find.
Other Items to Carry for Ladakh Trip
Please take a look at this article, Ladakh Checklist – Things to Carry for Ladakh Trip for a list of some other essential items that you should carry to Ladakh. It is not just for senior citizens but for everyone.
Example Itinerary
I have a laid out an example of an itinerary that is a bit easier and highly recommended when going to Ladakh with family. Please read An Ideal Srinagar to Ladakh Itinerary for more details. Planning your journey like this can be beneficial if you are traveling to Ladakh with parents.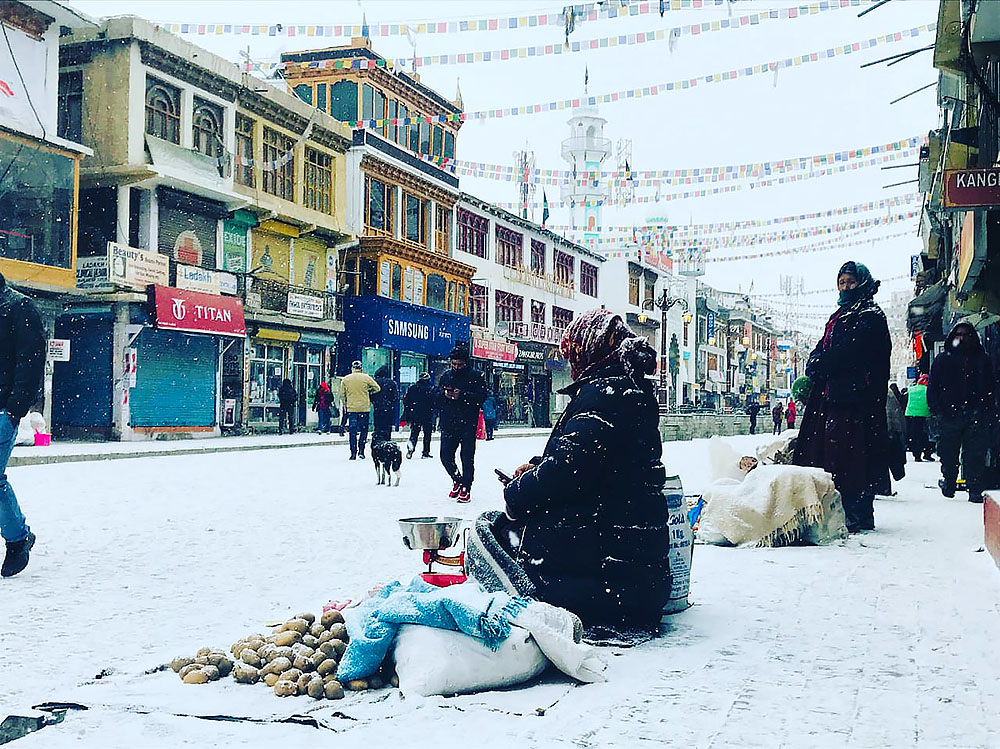 Ladakh with Parents – Conclusion
I hope the information above on traveling to Ladakh with parents or for elders / senior citizens was of help. If you have any questions, please feel free to ask in the comments section below or at our Community Forum, and I will be happy to answer.