A trip to Ladakh is no less than a dream and it almost took me 8 years to fulfill mine. Although I traveled to Nepal, Bhutan, South India, Tawang, and Gujarat in between but the desire for a Ladakh trip was unbeatable. Finally, after a long wait and a lot of planning, I recently visited Leh Ladakh with family and I would like to share my experience here in this post.
If you were thinking of whether or not you can go to Ladakh with family, then hopefully the information below can help you decide.
Life is a beautiful journey in itself and traveling to different places is a stoppage to recharge and regenerate the energy to live life. Always believe in yourself and travel to places that make your soul enchanted. Ladakh, the land of lamas, for me the place to fall in love forever; my dream destination.
In its serene demeanor, it impresses with its beauty studded with lakes, snow-capped mountains, green patches of land, color-changing poplar trees, bright blue skies, and unimaginable terrains. Nubra valley, the lakes- Tso Kar, Tso Moriri, and Pangong of the Ladakh region are the most beautiful parts of Ladakh.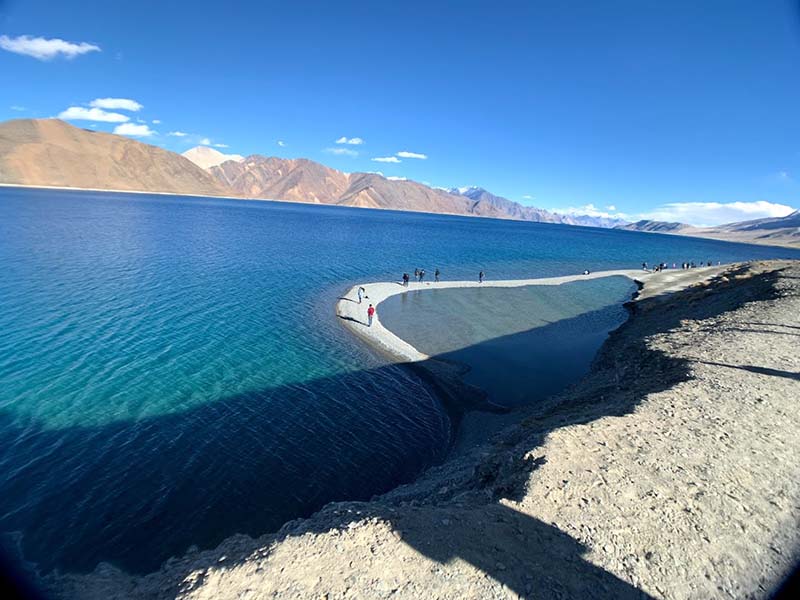 Trip to Leh Ladakh with Family
Ladakh is a once-in-a-lifetime destination, a part of the to-do list. Ladakh is a paradise on earth.
Since 2011, I have wanted to travel to Ladakh but the plan never materialized. But this year finally things fell in place and I boarded the flight with my family. We were a bunch of 15 crazy people, waiting to get Leh'd.
It's always a pleasure to travel with family. A loving husband, crazy kids, fighting siblings, and last but not the least, our first friends in life, great cousins.
Here let's start our journey to JANNAT – The Paradise on earth – Ladakh.
Also Read: How to Plan a Trip to Ladakh – A Complete Travel Guide
Delhi to Kargil – Day 1
We boarded an early morning flight from Delhi Airport to Leh. It was a 1hr 30 minutes of travel time and by far the most fascinating flight I have ever been on; Delhi to Leh, the capital of the Ladakh region. What was so special about this hour and a half flight? It was definitely the view: mountains, mountains, and more mountains.
The excitement and the eagerness of getting to Leh were fighting with the exhaustion felt after our too-short a night. However, when my eyes saw the mountains I totally forgot about any sort of tiredness. I instantly was mesmerized! I just couldn't keep my eyes off the view.
For the first time, I realized that clouds play a scene. When they move we can see where we are flying over. The scene playing in front of our eyes was like a limited edition jaw-dropping event.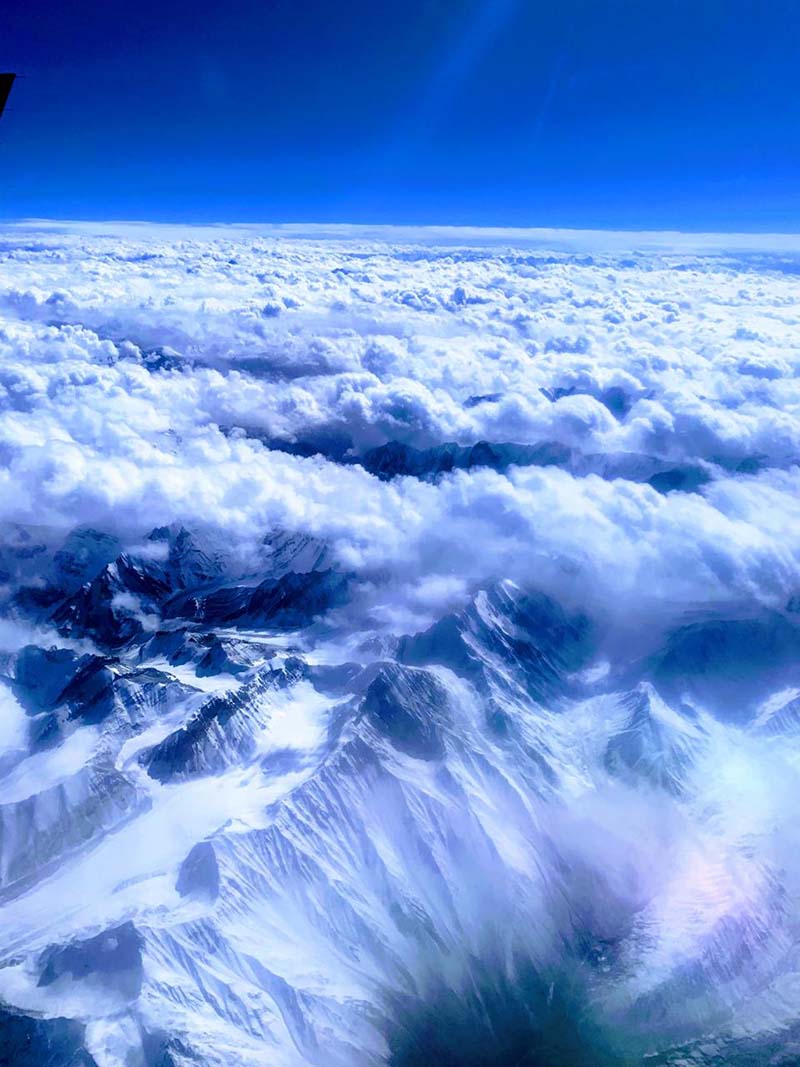 The City of Leh
Then we had a smooth landing at Kushok Bakula Rimpochee Airport in Leh, the capital of Ladakh.
We were surrounded by mountains. I didn't know which way to look first. I inhaled the freshest air I've ever felt. After months of drooling in front of pictures of Ladakh, I was feeling it, breathing it, letting myself get captured by it. My legs were giving away being bewildered. My heart was beating with excitement. FINALLY!!!! My dream came true.
I felt like shouting but my breath was heavy. It was cold outside but I felt the warmness of the place, something I had never felt before.
After collecting the luggage first thing on my mind was to find our pre-booked cab. As soon as we stepped out, we found a guy with a placard and a cheerful smile. Let me tell you one thing. The person on the wheel can make the journey unforgettable or forgettable. We were lucky that our companions for the next few days were extremely cool and patient.
Also Read: Taxi Rates in Leh Ladakh
Now the real chaos began. We were a total of 15 people and there were 3 SUVs that we hired. Now all sorts of permutations and combinations started about who will sit with whom. After the luggage was loaded in the cars, we started our road trip.  To be honest, I and my sister were inseparable and my hubby was indispensable.
We were tired but yet felt the freshness like never before. Our first stop was the confluence of Indus and Zanskar Rivers, the Sangam Point.
Sangam Point Leh
The confluence of the Indus and Zanskar rivers feels like straight out of the canvas painted by God. It is truly among the most capturing works of Nature; a spot where the picturesque Sangam of these opulent rivers can be witnessed by travelers. It is 35 kilometers from Leh near village Nimmu. There is a photo point where we took turns to get clicked.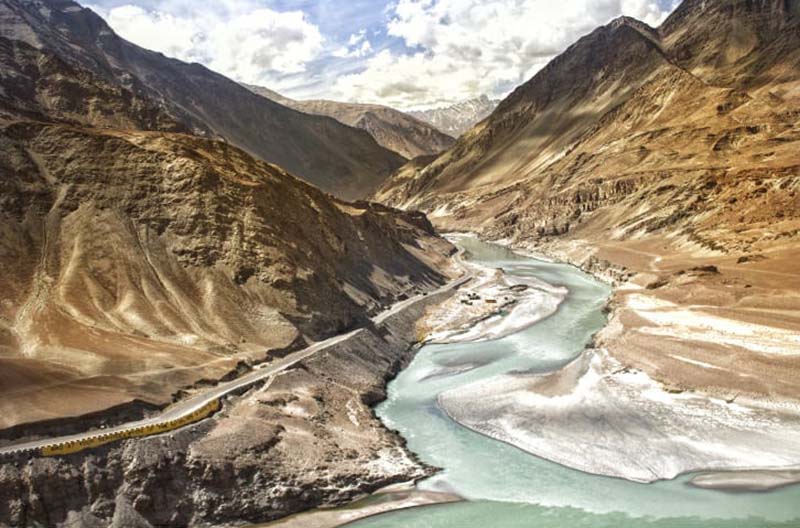 Soon our stomachs started growling and hunger pangs took over as we had skipped the breakfast to catch the flight. We took our stop to fuel our tanks (oops, stomach) at Nimmu.
There are many roadside eateries here that sell both local and popular delicacies. We opted for a fully vegetarian eatery, which served Chola Bhatura and Samosa with tea and coffee.
Nearby, there is also a toilet facility available at Rs.10 per person. It is rare to find toilets like that, that too clean.
One thing I would like to add here is that we had taken our first dosage of diamox125 mg a night before flying in and the second dose in the morning before landing. We took ORS and drank plenty of water. For more details, please read How to Avoid Mountain Sickness in Ladakh.
Moonland Lamayuru
The beauty of the scenery unfolding before us was mesmerizing. The mountains were majestic in different colors and were a feast for the eyes. I was truly overwhelmed with the sights.
On our way to Kargil, we saw mountains having craters just like on the moon. This is called moonland and is located in the town of Lamayuru, between Leh and Kargil. It was evening and the temperature was dropping. At Saraks, another small village a little before Kargil, we had piping hot Maggie n coffee.
Here we encountered the first traditional Ladakhi toilet, thanks to the lady who opened her personal space for us. Do carry toilet rolls and wipes, it is a must in this terrain.
Also Read: What kind of Clothes to Pack for Ladakh
Kargil
By the time we reached Kargil, it was almost sunset. Our bodies were tired but our souls were fresh still. Our shelter for the night was a small beautiful property with wooden huts and a small garden. The owner was a wonderful person. Mr. Haznain and his staff took care of our needs and made sure our stay was comfortable.
We were served hot tomato soup. The dinner was good but the topping was the live singing by Mr. Sonu. No, not Sonu Nigam but a local singer who belted out one after other oldies of Kishore Kumar. People burned the dance floor with their crazy moves.
This was the end of our first day in Ladakh.
I still feel Goosebumps when I remember my first foot in my moonland, my dreamland. I hope everyone has a memorable part in their journey. This was the beginning of falling for Ladakh forever.
Kargil to Leh – Day 2
We got up early and the weather was cool and pleasant. The sky was clear and sunflowers in the garden were brimming with a lively smile.
Believe me – travel brings power and love back to life.
Our breakfast consisted of toast and aloo paratha. We also had Diamox and gave Cocca 30 (homeopathic medicine for altitude sickness) to kids.
My advice to anyone traveling to Ladakh would be that you do not overeat. Eat about 3/4th of your appetite which is very beneficial in avoiding motion sickness. Excess eating or an empty stomach both cause trouble in the journey. If you still feel uncomfortable then take an ONDEM 4 mg tablet.
Also Read: Precautions to take while visiting Ladakh with Kids
Kargil War Memorial
We headed towards Drass. Our first stop of the day was the War Memorial.
Built by the Indian Army, Kargil War Memorial is located in Drass, in the foothills of Tololing Hill. It's a homage to the martyrs of Operation Vijay. It refreshes the memory of the Kargil war.
Several troops on the route come to pay homage. We were lucky enough to hear the briefing of the war by a soldier. Visiting Drass Memorial is a gesture of respect for the immortal souls of Indian army men. It's beautifully made with pink sandstone.
Next, we drove till evening and skipped lunch as there was not much in between. We just had some dry snacks and fruits. We were also carrying some khakhra, muri (puffed rice), and nimki. Being vegetarians, we did face a bit of a problem finding vegetarian-only restaurants.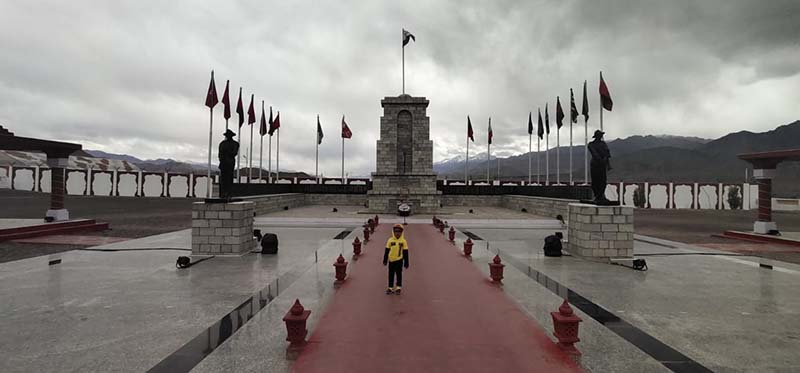 Mulbekh Maitreya Buddha Statue
Mulbekh was our second halt. The monastery here is situated at an elevation of 3,304 meters and is indeed a remarkable piece of workmanship. It hosts a carved nine meters tall statue of Maitreya Buddha. It is said to be overlooking the old trade route and the present-day highway.
The statue is also called Chamba and is believed to have been built around the 8th century AD. It is nestled between the hills and the place is very calm. Do remember to remove your shoes before entering any place of religious importance to show respect.
We crossed Namika La and Fotu La; two high-altitude mountain passes on our way to Lamayuru which is at a lower altitude.
Again finding a toilet was a big achievement. A local tea stall owner on a highway after Namika La had a toilet to let use at Rs. 10 per person. Ladies, if possible, do carry peesafe.
Lamayuru Monastery
We reached Lamayuru Monastery in the evening. It is the oldest monetary in the Ladakh region. It is well maintained and is very clean. We took a halt at Khalsi village and had dinner at a pure vegetarian restaurant, Samyas. Food was freshly prepared, hot, and tasty. We filled our tummies to the fullest.
It was dark and the journey was enjoyable with my favorite bunch of people. Last but not least, our mascot on wheels (later we will come to it), was the best to drive us through the rocky terrains.
It was dark by the time we reached Leh. We could not see much as it was already dark so we just checked into our hotel and called it a day.
Also Read: Precautions to take while visiting Ladakh with Elders
Sightseeing in Leh – Day 3
Thousands of tired, nerve-shaken, over-civilized people are beginning to find out that going to the mountains is going home. That wildness is a necessity" John Muir
I opened my eyes to a treat of sun basked mountain tops, distant snowcapped hills, and irresistible beauty from the window of my room.
After breakfast, we lazed around for a while and got ready for local sightseeing in Leh town. We took Diamox only in the morning on this day. It was killing my appetite, causing nausea but still needed it to adjust to the altitude.
Leh Hall of Fame
The first stop was the Hall Of Fame. It is a war memorial for Indo-Pak war martyrs. It stands as a reminder of the great sacrifices made by our soldiers to ensure the safety and security of our country.
Also Read: What to see in Leh Ladakh
Zorawar Fort
Then we went to Zorawar Fort. This fort was home to the "Conqueror of Ladakh", late Zorawar Singh Kahluria who consistently struggled against the Chinese Rulers. Its impressive structure is made from a local type of clay, sun-dried bricks, stones, and wooden frames around the edge.
Surrounded by a heap of rocky mountains, the attractions in Leh-Ladakh are at no end.
Shanti Stupa Leh
Shanti Stupa was our next stop. It is a white-domed stupa on a hilltop. The stupa has become a tourist attraction not only due to its religious significance but also due to its location. Panoramic views of the surrounding landscape are worth capturing. The crisp air heals the soul.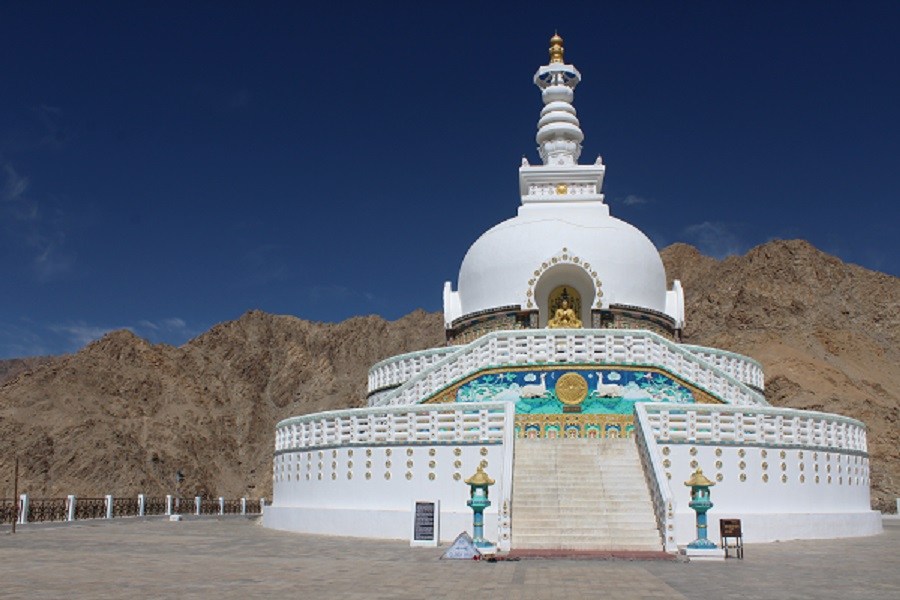 Leh Palace
Leh Palace is one of the oldest places in Leh. One has to start from the market and hike for about 15 minutes to get here. We really enjoyed the walk up to the Palace.
It has great views of the old and new Leh town. Although there are some nice photo exhibits, the Palace does need more sprucing up. There are many empty rooms to explore, it's like a maze walking around the rooms and finding more rooms. The rooftop view is worth the find.
Well, we are people who are not fascinated by the monuments but by the hills.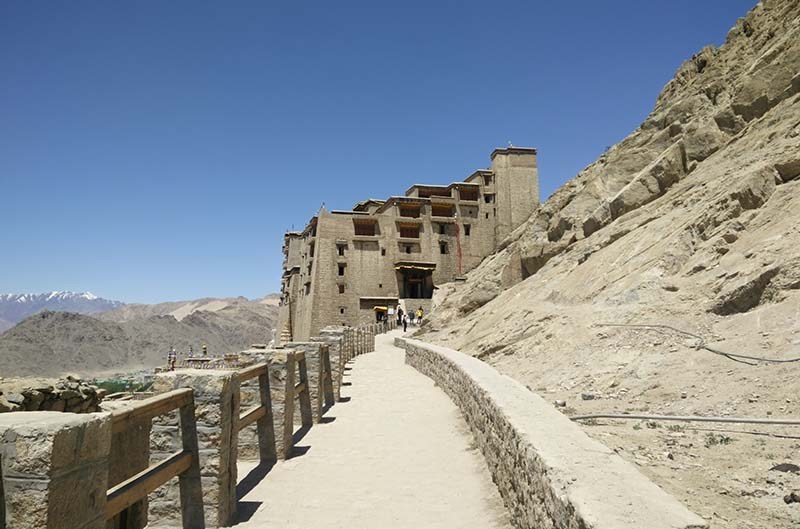 Lamayuru Restaurant
Soon it was time for late lunch at Lamayuru Restaurant on Fort Road. It is a small homely restaurant with an honest host who ensured to clean the utensils before cooking vegetarian food. The food was delicious and the kids savored it.
Also Read: Foods to try in Leh Ladakh
Leh Market
We visited the Leh main market, did some colorful shopping of woolen caps and bandana, ate some fresh apricots, and enjoyed ice cream at an ice-cream shop in the main market, both cups, and cones.
By then most of us were tired and the temperature was also dipping so it was time to call it a day. But I wanted more of the view so I continued traveling through lanes and by-lanes.
Finally, my search for the day ended at a food truck where we had a hot Cappuccino with French fries. The view was panoramic, clouds were floating and the landscape was changing colors. Altogether, it was a visual treat for the eyes.
Finally, we returned to our hotel and were completely drowned in the feeling of getting Leh'd.
Leh to Nubra Valley – Day 4
We tried to start as early as we could because our plan was to travel to Nubra Valley with as much sightseeing in between as possible.
One thing that I noticed here was that most of the days you can start early if you hit the sack early or latest by 11 pm.  Believe me, you will surely feel that the nights here are longer. I was not able to sleep for more than 3-4 hours but still felt perfectly fine in the morning and didn't face any problem at all.
Our cars were ready but we were steady. It took almost half an hour to pack ourselves in cars.
Also Read: What to See in Nubra Valley
Leh to Khardung La
Soon we were leaving the city and climbing up the road towards Khardung La, once famous as the world's highest motorable road. The weather was not clear and we were praying to every god for Snowfall.
Mountain trails were crooked, winding, lonesome, and dangerous but leading to the most amazing view. As the altitude was increasing we kept on sipping water and green tea.  I would like to add here that you should try to carry your Thermos filled with hot water for tea and ready to eat poha and upma. Believe me, it comes in very handy.
Also Read: Shopping in Leh Ladakh
At South pullu, towards Khardung La, we stopped to get our permits checked at an army post. weather there was cold and chilly. After a few kilometers, the terrain was snow-covered. Our prayers were answered and we felt the fresh shower of cotton balls. Yep, it was snowing.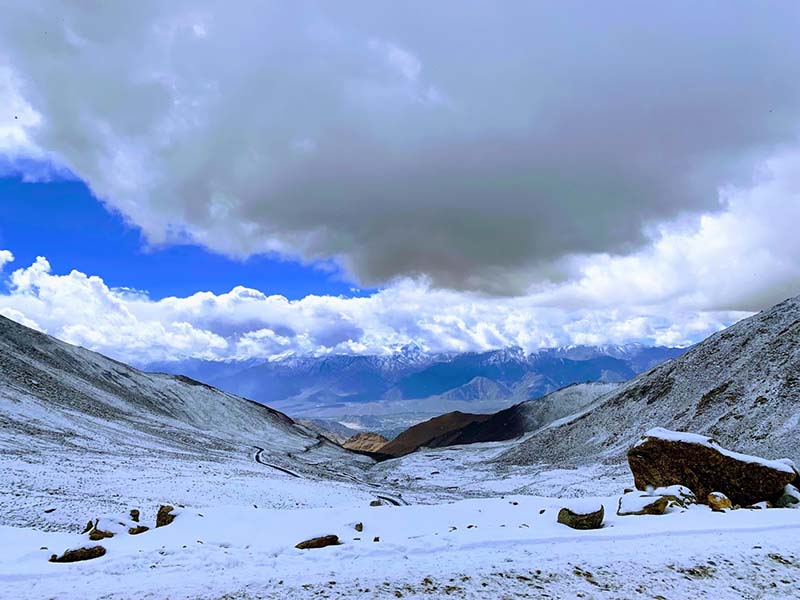 Snowfall at Khardung La
All of us went mad. The drivers took out the snow chains and started putting them on the wheels. We took out our sound drum and danced like a crazy bunch. I know thoda filmy hai but so what, we super duper excited.
It was the fourth time that I was witnessing a Snowfall but still, the excitement was the same. I can remember my first snowfall but this was nothing less and I never got tired of it. Something was magical about it. We threw snowballs on each other and the feeling was like a fantasy come true.
Also Read: Snowfall at Khardung La
We crossed the hairpin bends and bumpy roads to reach Khardung La, around 40 kilometers from Leh. It was freezing cold at the top of the pass with the cold wind adding to our misery. The wind was even penetrating through the four layers of woolen clothes.
We finally reached a snow-covered Khardung La top and the feeling was awesome. We queued in front of a toilet with a bottle of water and peesafe. Though it was not in a good condition was still useable. We clicked a few pictures and savored the special kawa served at the Indian army canteen.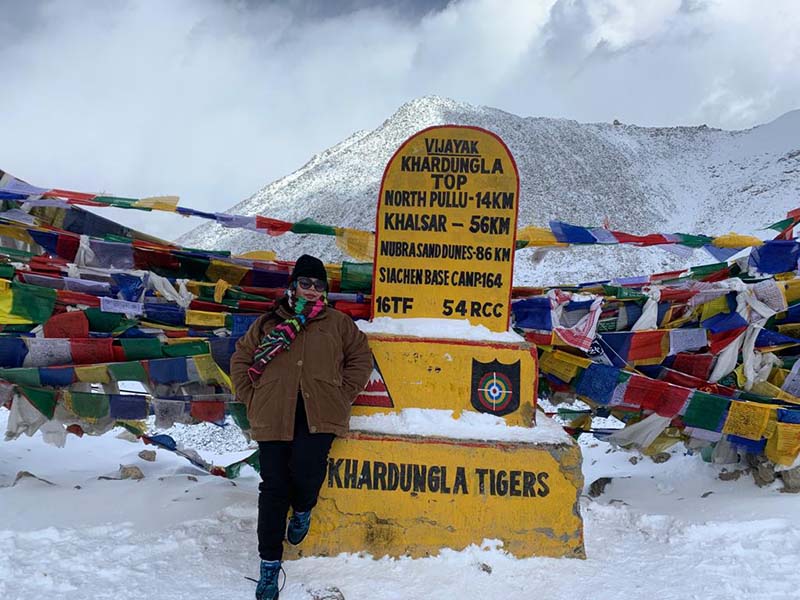 Khardung La to Khalsar
Do not stay for more than 15 minutes here and don't exert. This doesn't mean one has to panic but at such high altitudes, precautions are better. There are army folks ready to tackle any sort of emergencies.
We bid our goodbye to Khardung La top and moved towards Khalsar. The drive from here on was all downhill. We reached Khalsar in a short while and had lunch there. But green tea, dates, and figs were my staples.
There was an ATV truck Near Khalsar village (near Siachen warriors) where we enjoyed biking on the sand dunes. It is a roller coaster ride but do remember to wear your sunglasses. We did all sorts of crazy stuff like sitting on the roads, clicking pictures, and chanting hymns. You can only be this crazy and carefree when you are with your favorite bunch of people which I fortunately was.
Also Read: How to Plan a Trip to Nubra Valley
Khalsar to Hunder
We went to Hunder and saw the double-humped Bactrian camel. But it was very cold for the ride and we headed straight to our hotel. At the sight of the hotel, my heart just went 'ooh la la la'. At the check-in desk Ms.Niljala, Ms.Chandol, and Mr.Sujat made sure we were comfortable in our rooms.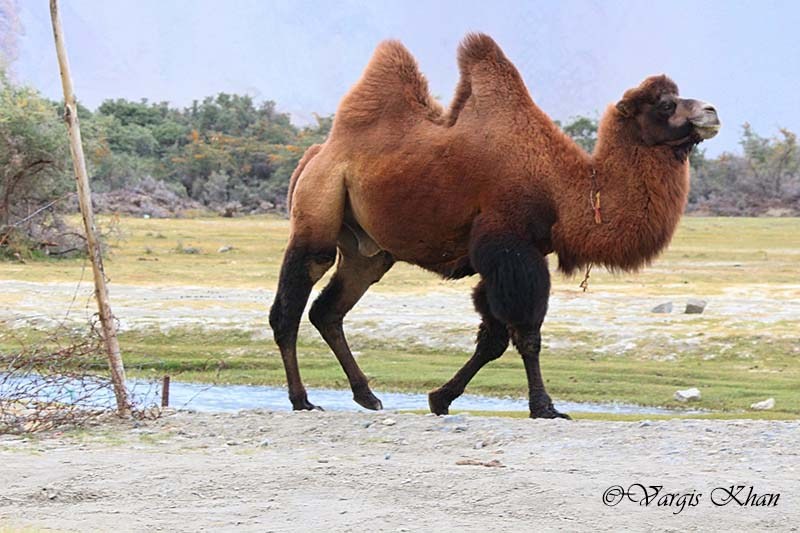 The rooms were super spacious and the suite which the kiddos shared was awesome. The comfort was excellent. Coming to the food, the spread was no less than at a 5-star buffet. All the items were yummy and delicious.
It was a long tiring and fun-filled day. But in the end, it turned out to be a 'fully paisa vasool' trip to Nubra Valley.
Please click on the link above to continue reading the next part of this travelogue. I will wrap up my day with a thought of some great person who said,
'As high as a mountain soars, so deep a silence runs within you. And this need not be for discerning, not even for conscious thinking. Let your mind float as free and as light as the clouds. Let it write new definitions for sophistication and the grandness of life in silence. Gasping and panting and bruises and exhaustion to reach the zenith of a mountain are all too sweet, because what follows is a smile of satisfaction that lingers on'.
Leh Ladakh with Family – Conclusion
I hope my travelogue and the information above on visiting Leh Ladakh with family was of help. If you have any questions, please feel free to ask in the comments section below or at our Community Forum, and I will be happy to answer.