Continuing from the previous article where I talked about how to book an HPPWD Rest House; in this article I will talk about how you can book an HP Forest Rest house. The thing with these rest houses is that nothing can really beat them in terms of location, scenic beauty and solitude. Almost all of these guest houses are located at a spot that is slightly away from the regular town; a bit in solitude and peace; and definitely at a location that offers the best view around. So if you are someone like me would rather stay in peace and silence; rather than right in middle of another town; or are looking forward to a few days with nature and away from the regular rushing lives that we live; then spending some time at a HP Forest rest house would be an ideal solution.
Also read: How to Book an HPPWD Rest House?
The purpose of these rest houses in fact is actually to accommodate the visiting officials. That however happens only once in a while and for most of the times, these rest houses are usually vacant. So yes, if you are visiting a particular place in Himachal and there is a forest rest house there which is vacant then you can definitely stay there. How you can book your stay there to avoid any last minute hassle is what I will discuss in this article.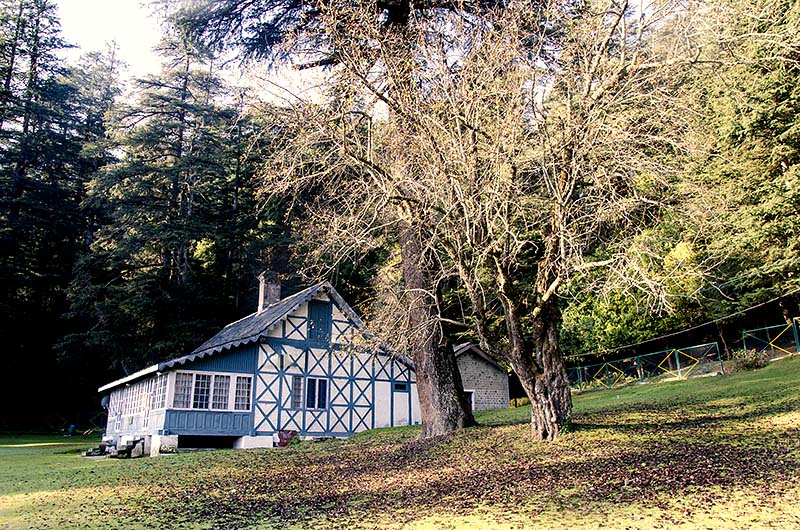 The first thing to remember here however would be that while these rest houses are a great way to explore interior Himachal; these are very basic rooms and can not substitute for luxurious hotels. They will however definitely offer excellent views and vistas. So if like your hotel rooms to be more on luxurious side, then you may want to skip the idea of FRH altogether.
Another thing to note would be is that an FRH is primarily meant for government officials on duty only; and are not bound to be allotted to the tourists on mandatory basis. So let us assume that you had a confirmed reservation at a particular FRH but at the last minute, a government official on duty arrived. In that case, you reservation will be cancelled. Even if you had already checked in, you will still be asked to vacate the room so that the official can be accommodated.
Last but not the least, food here is solely on the wish of the caretaker; whether or not he wishes to cook for you. You can pay him a little extra for this and if he agrees, you will have to get him the raw materials so he can cook for you. If the caretaker is not willing to cook, you will have to find another place to eat at; and if the area is a bit remote and there is no other place to eat at, you will have to survive on chips and biscuits.
If the FRH you are headed to is at a remote location then please make sure that you are carrying enough food supplies. Carry some raw material as well so that the caretaker can book for you. There could be no phone connectivity as well so please find out in advance. Last but note the least, if you are a couple, traveling with your spouse or any other ladies, then please check out how remote the area really is.  I am not saying that these places are unsafe but it can definitely make some people uncomfortable. Just adding it as a point here because it is definitely something to consider beforehand.
With that being said, considering that you only pay about Rs. 350 to Rs. 650 depending on the place, I will still say that these rest houses are still a great deal as compared to a regular hotel.
How to Book an HP Forest Rest House?
So now coming back to the original question of how to book one of these rest houses. There are two ways of course, one is the online way and other one being the offline way; and I will talk about both of these here.
HP Forest Rest House Online Booking
In order to promote tourism in interior parts of Himachal; and at off-beat locations; Himachal Government has included these Forest Rest Houses as part of their Eco-Tourism initiative. Booking a stay here is now available online which in my opinion is the easiest way. In order to do this,
1: Visit the official booking page at Himachalecotourism.Org. Just click on this link and it will open the page.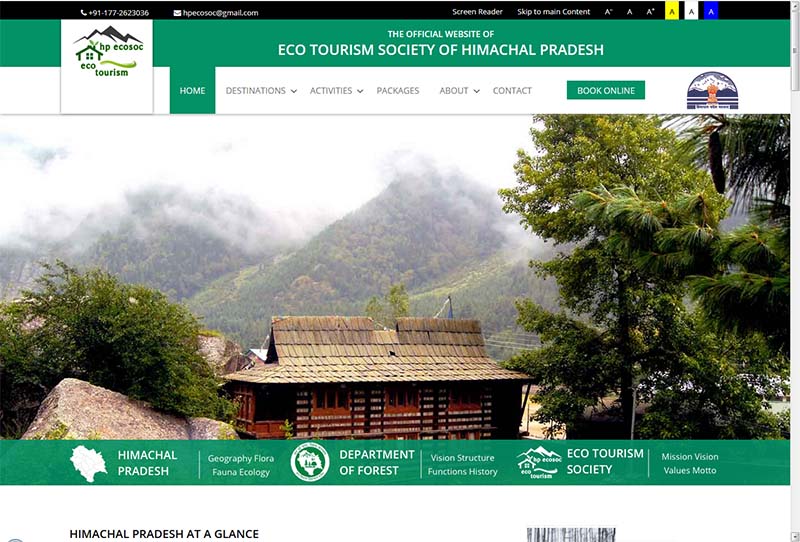 2: Now the second option is to find if there is a forest rest house available at your desired destination. In order to do that, hover your mouse over the "Destinations"; and it will populate a list of all available places.
3: Click on any of the places and it will take you to another page. That page will list down all available rest houses in that area.
4: Select the FRH you wish to book.
5: Select your dates of travel, number of rooms and guests and click on "Check Availability"
6: If it shows rooms available, then click on "Book"
7: At the next page, fill out your details, make payment and your booking will be confirmed.
HP Forest Rest House Booking
While the online portal is definitely a great and easier way to book your stay; problem here is that not all the rest houses are available online. There are hundreds of FRH throughout Himachal; but only a few are on the online portal. If the ones that you were looking for isn't there, then you will have to contact DFO (Divisional Forest Officer) for booking your stay. Below is how you can do so.
1: First step again would be to find out if there is indeed a forest rest house available at your destination. You can download a list of all the Forest Rest Houses from HERE.
2: If the place you are going to is listed here then look for the details to contact at the right side of the list.
3: Call the DFO at the number listed.
4: You may have to send a request via email.
5: Follow up a couple days later in case you did not get a response to confirm your booking.
Conclusion
I hope the information above on booking an HP Forest rest house was of help. If you have any other questions, or need any further details; please feel free to ask in the comments section below; or at our Community Forum; and I will be glad to answer.