Monsoon season is at its full swing and there are news of heavy rains all across the Himalayan region. One of the most common queries that I have been receiving in last few days is whether or not it is safe to be traveling to Himalayas in Monsoon; and if yes, then what are some of things to remember to make the journey a smooth one. If you too have a trip planned to somewhere up in the hills in next few days; then mentioned below  are a few tips on how you can keep it hassle free and have a pleasant time.
First of all, should you travel to the hilly areas in rainy season? To be honest, this is really a personal choice and there is no right or wrong answer to it. For example, for me the best time to visit the hills is when it is raining all around. After all, this is the time when you actually get to witness all those stunning vistas that you are going there for. This is the time when the peaks of Himalayas truly come to life. The carpets of lush green covered with snow white clouds, flowers of all colors in deep verdant valleys; there is really no other time you will get to see all this except for rainy season.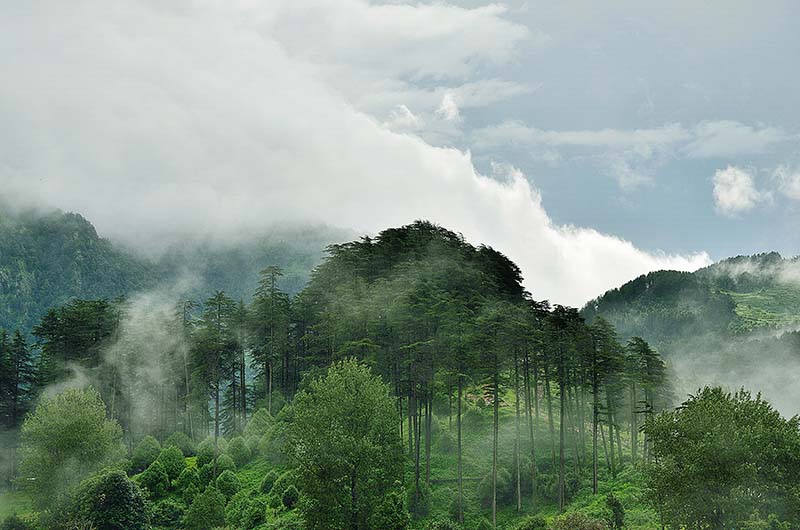 Himalayas in Monsoon : Top Tips for a Safe Trip
But then this is also the time when rains wreak havoc all over Himalayas; and for some people, that is reason enough to cancel their trips. In the end, it is all up to you to decide whether or not to go; but if you do go, then below is what you should take care of before you leave home.
Do you really want to go? Really?
The first step would be to ask yourself if you are really willing to go and why? Sitting in your balcony and having Chaai – Samsa while enjoying some light showers outside sounds awesome. But out there when you are on the road in hills and it just pours down on you; that may not be so awesome after all. Are you really someone who enjoys the rain? Would you love to take a long walk in the rain and get drenched? Or are you someone who often is heard saying, "I hate it when it rains" ? Are you really going on the trip because you want to enjoy a Himalayan monsoon; or are you going just because your friends were insisting?
Be Aware of the Weather Ahead
This will be the most important step of all. I know I said traveling to Himalayas in monsoon is fun; but not when the news channels are talking about massive landslides or flood alerts. Like for example what happened at Kedarnath; or in Ladakh in 2010; or the floods of Kashmir in 2014. There is really no point in heading to a destination where you may run a risk of getting stuck or unnecessary trouble. Keep a tab on the news and weather reports. If it is just regular rains then by all means, carry on with your plans. If however you are getting news of extreme weather at your destination, then better either cancel your plan or change destination.
Go with the Flow
There is no denying that mother nature cannot be predicted to the last detail. You may be on your way and the weather ahead may change suddenly. Or you may be at your destination and got stuck there because of bad weather. When I say go with the flow, what I necessarily mean is that do not tie yourself down to a set time line, destination or route. Keep an alternate route or destination in your mind. Do not be hell bent on making it to a set place. Do not go head to head with mother nature, you will definitely lose. If you see that the weather is getting bad, change your plans and narrow down on the best possible alternate choice.
Like for example, a couple of years ago, I set out for Gangotri on motorcycles with a few friends in the month of August. The weather was fine in Delhi but by the time we reached Haridwar, it was raining cats and dogs. And then it just did not stop. It rained all day and the water just kept hammering down on our helmets. In the end, I knew that going to Gangotri right now was not the best decision. So when we reached Chamba, we changed our destination and headed towards Kanatal, Dhanaulti and Mussorie; and gave up the idea of Gangotri altogether. We still had our 4 days trip, still had fun, only the destination changed.
Respect the Nature
As I mentioned above, do not go head to head with mother nature, you will lose for sure. You cannot afford to take nature for granted or lightly. Every year, even the locals who live up there die in hundreds due to bad weather. This is not the time to be adventurous or to be the daredevil. Drive slow and carefully. If it is raining too heavy then best stop and wait for the weather to pass. Listen to the locals and pay heed to what they tell you.
If you are being told to not go any further then halt or return. For someone who is out trekking, have a local guide with you and a good one. If there are nallahs en route then do not take the flow of the water for granted, if there is a river on the way then do not even think about jumping in it.
Safety First
In the end, your safety is in your own hands. Remember, you are out there to have some fun; to see some amazing vistas. Do not take unnecessary risks. If you see a red flag going up, then listen to what your gut and the locals tell you. If you hear something like, "Aage mausam aur sadak theek nahi hai. Jaana risky rahega" then it is time for you to stop and return. Do not try to rush through the journey anywhere. Take your time, and plenty of breaks in between. Mountains can be a tricky affair in rainy season, with slippery roads and possible landslides. Do not indulge yourself in unnecessary chit chat. Keep your eyes fixed on the road and never lose focus.
It is the not the time to go offbeat
I love offbeat destinations, away from the crowd, in peace and solitude. For me, a vacation means away from everything that I do in my regular life; deep in the lap of mother nature somewhere; lost up in the hills. While all this sounds very poetic, monsoon is not the time to do so. A trip in rainy season means that you keep the offbeat destinations for another trip at another time. For now, stick to major roads or highways and destinations where people continue to travel. Head to a place where you are never too far away; will not run the risk of getting stranded and can avail help if needed.
Waterproof Everything
And I really mean everything, irrespective of whether you are traveling by car or motorcycle. Keep waterproof poly-bags handy because you just do not know when you may need them. If you are going on a bike trip then do a double layer of protection. Get some of those large plastic bags that they give you when you go shopping for some clothes at a showroom. Then go to a nearby hardware store and get that black polythene that you often see on the roofs. Now first keep all your belongings in polythene bags and then put them in your bag. Afterwards, wrap your bag in the black polythene before you rope or mount it on the motorcycle.
Be Careful with Electronics
You will have to be extremely careful with all your electronic items like cell phone camera etc. Keep them in waterproof plastic bags and do not take the risk of taking them out while it is still raining. Remember it is not just the water but also the moisture that can cause trouble. If either of your items got drenched in the water, then do not switch those on. Instead, take the battery out immediately and let it dry for a few days after coming home.
Keep Buffer Days
It is very important to have at least 2 buffer days in your itinerary. Do not bound yourself to strict timelines. Keep your travel plan flexible by a day or two so that in case you did not make it home as planned, there is no risk of any major loss; or unnecessary hassle. Once it starts to rain in Himalayas, any road (and I really mean "any") can get blocked anytime. Even the road to major towns like Shimla and Manali sometimes get blocked due to landslides.
Pack Smart
No, an umbrella won't do. It will either fly away, or you will just keep struggling to keep it in our hands and at one place. In the end, rather than protecting yourself from the rain, you will focus on saving your umbrella. If you are going on a bike trip then an umbrella is totally useless. Your packing will have to be a little smarter than this. Below is  a list of some items I will suggest.
Carry a raincoat or a waterproof jacket with a hoodie.
Along with the jacket, you will also need to pack waterproof lowers.
When it comes to clothes, pack the ones that are easy to dry, polyester for example.
Good trekking shoes that can get a good grip on wet surfaces. Leave your expensive boots at home. If possible, also pack a pair of floaters or sandals
Carry a mosquito repellent
A Small torch
Polythene pouches, maybe the ones that come with a zip lock. You can keep your wallet, phone etc in these.
Carry some basic medicines for fever, upset stomach, cold etc.
Bottled Water
If you are thinking, "Yeah right, I never do that. Water is not something I worry about"; then you are like me. My thoughts are always and exactly the same, except for when I am traveling in monsoon season. It is the time when diseases and insects tend to be rampant so water from just about anywhere is best avoided. For traveling to Himalayas in monsoon, better opt for packed water bottles like Bisleri for a few days.
A Deck of Cards / Ludo / Chess
On a lighter note, power-cuts can happen up in the hills as well. Pack a deck of cards or some other board game. It won't take much space but if you were stuck in your hotel because it was raining outside; and the power was gone so no TV as well; then there is nothing better than a few friends, a deck of cards, some "garam chaai" and some "pahadi hawa".
I hope the information above on traveling to Himalayas in Monsoon was of help. If you have any further questions; or need any other help; then please feel free to ask in the comments section below; or at our Community Forum; and I will be glad to answer. If there is another tip that comes to your mind and I did not put it here in the article, then please do comment and mention.