Most of the hill stations in our country get majority of their tourists during summers; when people rush up the hills at every chance they get to avoid the scorching heat of the plains. However there are some popular destinations that remain favorite throughout the year. One such tourist spot is the scenic hill town of Manali. It is one place where no matter what month it is, the flow of tourists remains the same. People visit here in summer for pleasant weather and the lush green valleys in monsoon. Come December and tourists start to flock here yet again to enjoy all the snow and related activities in Manali in winters.
There are plenty of things to do in Manali and the list doesn't fall short even during peak winter. You can spend several days here and still not be done with it. The mountains all around covered under a thick sheet of snow become a feast for the eyes. This once a small hamlet is now usually among the preferred choices when one talks about a family vacation. Even for a quick weekend getaway with friends, Manali is a great place to go to. If you have are planning to visit Manali in winters; then mentioned below is a list of few activities that you can indulge yourself in and make the best out of your trip.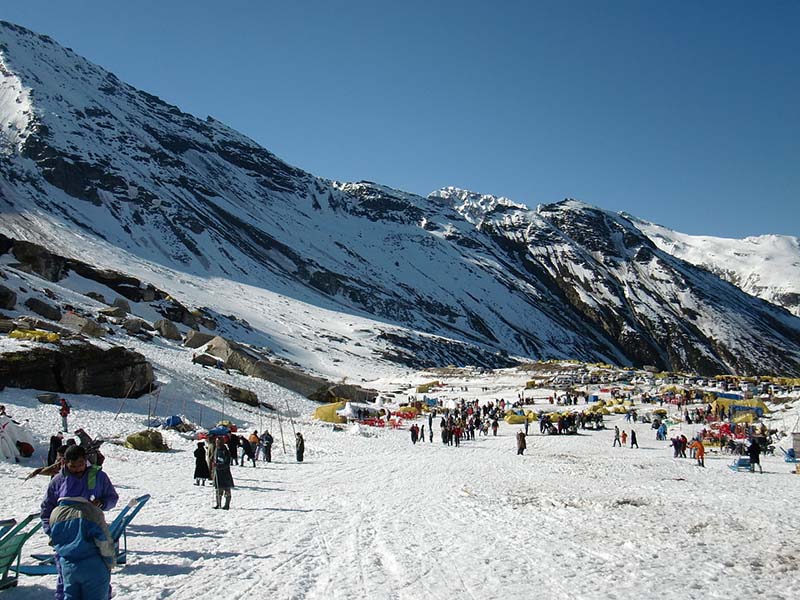 Image: Wiki
One of the biggest advantage with Manali is that it remains accessible throughout the year. The road leading here is quite smooth and never gets too bad which makes it a perfect place to bring your family for fun. Another added benefit is of great accommodation choices. No matter what your budget is, you will easily find a place to stay in Manali. Last but not the least is the connectivity by public transport. From almost every major nearyby city, there is either a government or private luxury bus that plies towards Manali. So if you cannot travel by your own vehicle, you can complete the journey while relaxing in a bus.
Also read: How to Plan a Trip to Rohtang Pass
What to do in Manali In Winters
Winters in Manali are a great time to have fun while enjoying the cold weather and snow covered mountains. In this reason, I will suggest 7 top reason why you should visit Manali in winters and what can you exactly do there.
Snow, Snow and Snow
There is really no greater reason than this. Almost everyone who heads towards Manali in December, January or February is looking forward to finding snow here and if lucky, even catch a live snowfall. Even if you could not find snow in the main city, you can always take a drive towards Rohtang Pass; go as far as you can and you will definitely find tons of snow. If visiting in the month of January, then your chances of witnessing a live snowfall are too great.
Rohtang Pass remains closed during winter; after November but you can definitely go until Gulaba which is about 20 kilometers from Manali. The last tourist point there is called snow point which is an awesome place to spend some quality time with your family and kids.It is like going for a picnic with your family but not in a park; rather in snow.
Also read: Snowfall near Delhi – Top Places to Visit
Manali Winter Carnival
Manali Winter carnival takes places either in January or February; dates change every year. The event started as a skiing competition but over the years; numerous other activities like folk dances, street plays, band competition and other adventure sports have been added. They also set up a local bazaar of hand made beautiful souvenirs that you can buy. Visiting Manali in winter and attending this festival will give you a true flavor of Himachal and satiate your taste buds at the Himachali Food Festival. The vast gamut of attractions at the winter carnival truly provides something for everyone and you are bound to have loads and loads of fun.
Less Number of Tourists
Some popular tourists places like Shimla, Mussorie and Manali have started to get way too crowded these days in tourist season. Coming here in peak tourist season means that you just moved from one city to another; because it just doesn't feel like you came to a hill station. On the other hand, the number of tourists traveling to Manali in winters is way too less. So if Manali had been on your mind for a while but you just did not travel this way because of all the crowd; then you must travel to Manali in winter season. There will not be many people around and with all the snow, you will definitely find that solitude that you came looking here for.
Budget Trip to Manali

In the peak tourist season, when the entire town is filled with people; finding a place to stay within budget can sometimes become a challenge. Hotels will not lower their rates because they know that if you walked out, there will definitely be another tourist coming within minutes. This however is not the case if you went to Manali in winters. Hotels and guest houses here offer heavy discounts from November till March. Even government run HPTDC hotels lower their price by up to 40%. Private hotels too usually keep the prices down by 30-35% in winters.
Also read: How to Plan a Trip to Prashar Lake
Same applies for local taxi drivers as well. With not many travelers they too will agree to drive and show you around for a lesser than regular price. So if you wanted to bring your family or friends to Manali and stay at a really nice luxury resort; drive them around the hills; but were hesitant because of high prices; then visiting Manali in winters is the perfect choice for you.
The Valley White
Witnessing the majestic Himalayas while they hide under a thick white sheet of snow is a sight to behold; one that everyone must witness at least once. Waking up in the morning and opening your window to feel that cool breeze is an experience to cherish. This is what Manali offers you in winters. So if you can afford a couple of days added with the weekend, then take your car out; or board a bus and head to Manali in winters.
This is actually one added benefit of Manali. You do not need to have an entire week to enjoy a trip here. Even just 3-4 days will do. Board an overnight bus from your home town, reach Manali by morning and enjoy a couple of days. For return journey too, board an evening bus from Manali which will bring you to your home by early morning while you slept through the journey.
Also read: How to Plan your Trip to Chandratal Lake
Snow Sports & Activities in Manali
Skiing, riding on snow scooters, snow sleds, snow zorbing, tubing, are a few great and fun snow activities that you can indulge in while visiting Manali in winters. The great amount of snow that the area receives makes it perfect for almost every snow activity. If you have kids then they will have the time of their lives; a perfect place and time to visit with family.
Conclusion
I hope the information above on visiting Manali in winters was of help. If you have any other questions; or would like to clarify any doubts about your upcoming trip; please feel free to ask in the comments section below; or at our Community Forum; and I will be glad to answer.