This article is in continuation with a previous one and part of my Mcleodganj Travelogue. We visited Mcleodganj for a total of 4 days in July 1st week. We were a large group of 11 people but none of us had been to Mcleodganj before and did not have much idea about the place. For me, it was actually the very first trip that I ever had been on. We traveled from Delhi to Mcleodganj on Day 1, spent day 2 sightseeing in Mcleodganj, went on the famous Triund trek on Day 3 and returned home from Mcleodganj to Delhi on Day 4. Details of the third day of the journey are as mentioned further in this article. To read the previous part of the travelogue, please click on the link below.
Journey So Far: Mcleodganj to Triund Trek – A Day of Adventure & Fun
I think the last day of any trip is always the worst one;  it is at least for me. While the first day is full of excitement and energy, the last day is just a gloomy one when you just wait for the long drive to get over and reach home just as soon as you can. It is the last day when you actually start to feel tired and exhausted for some mysterious reason. It is a day when the fun ends and you get back to your usual busy routine. I am not saying that it is the same for everyone but it always is this way for me. This day of the return journey from Mcleodganj to Delhi was no different.
Mcleodganj to Delhi
Mcleodganj to Delhi is almost 500 kilometers in total and can easily take about 12 hours to complete; and we all knew it very well from our journey on Day 1. So one thing was for sure, that we would have to start early in order to make it back home in time. And this is what we agreed upon as well the night before, that we would get up early and be on our way by 7 AM at most.
But when you are with a large group, hurrying up and being on time is not really an option, especially when half of your group is girls. None of us got up and got ready in time and by the time we checked out of the hotel, it was almost 10 AM.
Now we were traveling in two cars, one was a Scorpio and the other one a Swift. The hotel that we were staying at was a little downhill and there was a very steep climb from the hotel to the main road. We did not consider this climb when we checked in here on Day 1 and brought our cars down. But on this day, it became a huge task to drive the cars back to the main road. While we managed the Scorpio back up after a few attempts, Swift refused to climb even in the first gear. We kept trying for like half an hour with no success. Finally, it was a local driver who was passing by and came to the rescue. He backed the swift a little and god knows how he did it but he managed to get the car back on the road in the very first attempt. I guess being a local does give some expertise.
St. John in the Wilderness Church

Another one hour was wasted in the car drama and by the time we drove out of Mcleodganj, it was well past 11 AM. But Mcleodganj was still not done with us. There was one more place that we were yet to visit and quite by accident actually. This place was the St. John in the Wilderness church.
Also Read: How to Plan a Trip to Mcleodganj –  A Complete Travel Guide
For a brief history, St. John in the Wilderness is a Church dedicated to John the Baptist. It was built in 1852 on the outskirts of Mcleodganj and is the final resting place of Lord Elgin, who served as Governor General & Viceroy of India in 1861 during the British Raj. He died in Dharamshala on 20 November 1863 and was buried at the spot where the church now stands. Set amidst deodar forest, and built in neo-Gothic architecture, the church is known for its Belgian stained-glass windows donated by Lady Elgin (Mary Louisa Lambton), wife of Lord Elgin.
The Church and the Chaat-Wala
As we were driving out of Mcleodganj and towards Dharamshala, one of the girls in the group noticed a 'chaat waala' and suggested to have 'Gol Gappe'. We had breakfast at the hotel in the morning but it was almost noon now and all of us were starting to get hungry. So when she cried out 'Chaat and Gol Gappe', all of us readily agreed.
What then followed was madness really. The Chaat Wala was standing right in front of the gate of an old Church. To us, it was just a church and had no idea about its history. I found out about it later after I returned from the trip that it was the St. John in the Wilderness Church. So while the 'chaat wala' prepared our large order, we decided to pay a visit to the church.
We returned from our trip to the church and the chaat wala was ready with our order. We all started to eat like hungry wolves and I also decided to try my hand at 'Chaat Making'. On top of it, while we were eating, it started to rain and that is why my T-Shirt is soaking wet in this picture.
Also Read: Places to visit in Mcleodganj and Things to Do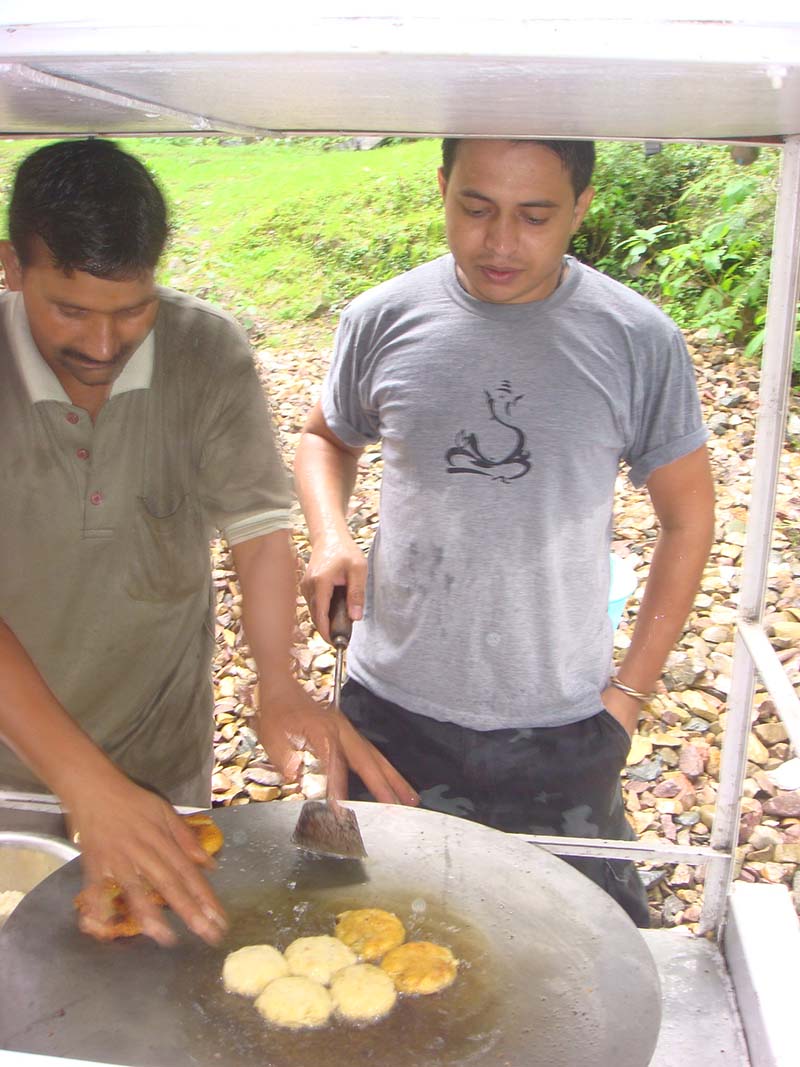 Why did I call it madness? Because by the time we finished eating chaat and gol gappe, it was well over 1 hour in time, over Rs. 2000 in bill and the chaat wala too decided to go home because all his stock was finished.
Now this time, with our bellies full, we left left Mcleodganj behind but we were still not done with the area.
Also Read: When is the Best time to visit Mcleodganj
Monastery in Dharamshala
Our next stop was at a monastery in Dharamshala. I am not really sure which one it was but we ended up spending another couple of hours there.
Mcleodganj to Delhi
We came out of the monastery and left for Delhi from Dharamshala at around 3 PM finally. Not much to write about after this. It was a long, very long and monotonous drive. It took us almost 13 hours to get to Delhi and when I finally entered home, it was showing close to 5 AM the next morning.
If you are planning a trip to Mcleodganj in near future, then below is some information above the place and a trip there that can be of help.
Also Read: Triund Trek – How to Plan your Adventure
Mcleodganj to Delhi Bus
For your return journey, you can board a bus directly from Mcleodganj Bus stand. You can, in fact, even buy your tickets a day or two in advance from the HRTC ticket counter, near McLlo Restaurant on the central square.  Most of the Buses arrive and start from Dharamsala Bus stand only. There are however a few selective buses that reach Mcleodganj and begin their return journey from there. If your timings or destination did not match with either of these then you would have to travel back to Dharamshala Bus Stand and find a bus there.
Mcleodganj to Delhi Bus
Several buses throughout the day
Fare: Rs. 500 to Rs. 100 per person
Travel Time: 12 to 14 Hours
Mcleodganj to Delhi Bus HRTC
This will be the cheapest form of travel between Delhi and Mcleodganj. Fare would be around Rs. 400  – 500 per person. Another benefit of this Bus would be that you can find one right from Mcleodganj itself. On the cons side, an HRTC Bus would be slightly uncomfortable for a long journey as Mcleodganj to Delhi.
Mcleodganj to Delhi Volvo
This would definitely be way more convenient than an HRTC Bus. However, these are mostly privately owned and operated Buses and you would have to first reach Dharamshala. Finding one from Mcleodganj itself can be slightly challenging, though not impossible. Expect the fare to be around Rs. 1000 per person (or slightly more).
Mcleodganj to Delhi Train
Pathankot is the nearest major railways station located about 100 kilometers from Mcleodganj. So if you want to catch a train for Delhi, you will first have to catch a bus from Mcleodganj for Pathankot and then board a train from Pathankot.
Mcleodganj to Pathankot Bus
Fare: Rs. 138 per person
Travel Time: 4 to 5 hours
Departure: 10am, 11am, 1.20am, 2.30pm, 4pm
Mcleodganj to Delhi Flight
Gaggal Airport, also known as Dharamshala- Kangra Airport or Kangra Airport, is the nearest airport to Mcleodganj located about 20 kilometers away. There are several flights operated by Air India and SpiceJet Airlines between Delhi and Kangra. But please note that the due to the location of the airport, the weather is a very big reason here for flight cancellations; especially during winter and monsoon.
Mcleodganj to Delhi Cab
Direct private taxis are available that you can book through any travel agent in Mcleodganj. This however will be a costly affair and depending on the type of cab you chose, a drop from Mcleodganj to Delhi can cost you anywhere between Rs. 5,000 to Rs. 10,000.
Also Read: How to Plan a Trip to Mcleodganj –  A Complete Travel Guide
Mcleodganj to Delhi Route
If you were driving on your own like we did, then the route of the journey will be as mentioned below.
Mcleodganj – Dharamshala – Kangra – Amb – Una – Anandpur Sahib – Rupnagar – Chandigarh – Karnal – Panipat – Delhi
There can, of course, be several alternate routes but this will be the best and the fastest way to travel. Total journey will be of about 480 to 500 kilometers. Travel time will be anywhere between 10 to 12 hours. Road condition for the entire journey will be a mix of good and average.
Mcleodganj from Delhi Itinerary
An itinerary for this trip can be laid down in multiple ways depending on how you were traveling; and the time you have in hand. On the minimum side, however, 5 days would be an ideal time for a trip to Mcleodganj from Delhi. Keeping that in mind, I will suggest an example of an itinerary.
Delhi to Mcleodganj & Night stay at Mcleodganj – Day 1
Mcleodganj Sightseeing. Visit Namgyal Monastery, Adishakti Temple Naddi, St. John In The Wilderness – Day 2
Visit Bhagsu Waterfall and come down from Mcleodganj to Dharamshala – Day 3
Dharamshala Sightseeing – Day 4
Dharamshala to Delhi – Day 5
If you also wanted to cover Triund, then you can plan like this.
Delhi to Mcleodganj – Day 1
Bhagsu Waterfall, Bhagsu Nag Temple & Shiva Cafe. See the market in the evening – Day 2
Triund Trek. Camp for the night – Day 3
Trek down to Mcleodganj and drive to Dharamshala. Stay for the night in Dharamshala – Day 4
Dharamshala to Delhi – Day 5
Delhi to Mcleodganj Trip Cost
This will depend on your mode of travel and time in hand but on the minimum side, a 4 – 5 days trip to Mcleodganj will cost you about Rs. 5000 – 6000.
Conclusion
I hope the travelogue and information above on traveling from Mcleodganj to Delhi was of help. If you have any questions; or need any other details; please feel free to ask in the comments section below; or at our Community Forum; and I will be glad to answer.