A few years ago, some images went viral among travel and adventure enthusiasts; of a new highest motorable road in the world. It was, once completed, speculated to cross over Umling La at 19,300 feet, thus making it the new highest motorable road in the world; and Umling La as the new highest motorable pass. The road connects the villages of Chisumle and Demchok in southern Ladakh; running a total length of 21 – 24 kilometers.
Also read: How to Plan a Trip to Leh Ladakh – A Complete Travel Guide
This immediately became a craze and almost everyone wanted to conquer this world's highest motorable pass. The road was still under construction in 2017 but a lot of people still managed to get there from Hanle. If you too are thinking about traveling to Umling La; then in this article, I will provide information on how you can plan a trip to Ladakh while including Umling La in your itinerary; or in short, how to reach Umling La Pass from Leh.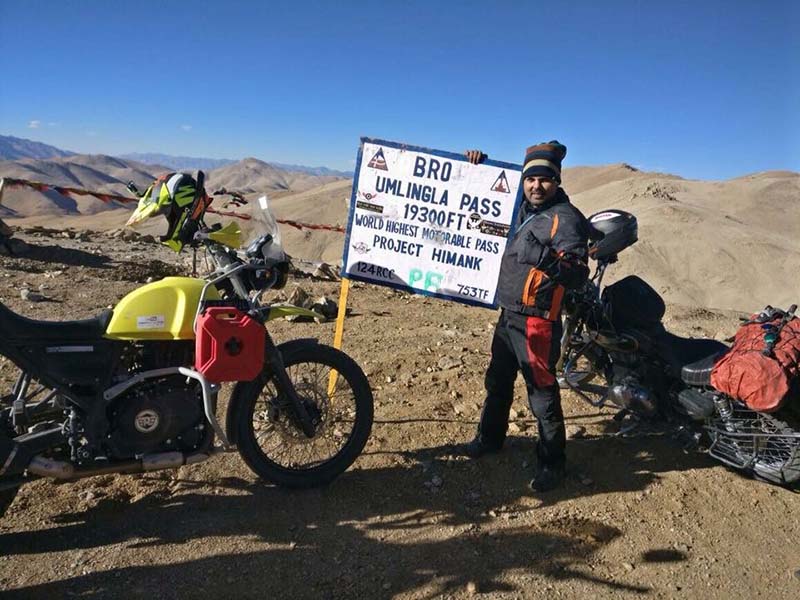 This new road has become a sensation among people traveling to Ladakh; both the ones who have already been there once and people going there for the first time. In all my years of blogging, I do not believe I have received so many queries from people asking about Hanle as I did ever since Umling La became known.
It will not even be wrong to say that this one pas has made the entire Changthang Valley and Hanle a popular tourist destination. Everyone now wants to go this way and conquer the highest motorable road in the world; as was once the case with Khardung La.
Also read: A Detailed & Comprehensive Road Map of Ladakh
Umling La Pass in 2021
Before we go into any further details, let me first mention that the pass is still off the limits for tourists, like it has been since 2018. No tourists were allowed in 2019 and 2020 was anyway a total shutdown due to COVID. In 2021 as well, it is highly unlikely that the authorities will allow any tourists to attempt the pass, especially due to the ongoing border tension with China.
Umling La
For a brief history, Khardung La for a long time wore the crown of being called the highest motorable road in the world. This claim however always remained disputed as other passes at an even higher altitude came into light. Whether or not these other passes were motorable was a big question though.
Later on, even the actual altitude of Khardung La came into dispute. The signs at the summit claimed it to be at a height of 18,379 feet; however, the actual highest elevation of the road was at 17,582 ft. It is believed that the original mule track across the pass was at the claimed height of 18,379 feet but the metaled road never rises above 17,582 feet.
There were several other competing claims for this title after Khardung La lost the battle. Semo La in Tibet has an asphalted road at a height of 18,258 feet which is used by trucks and buses regularly. All the other claimants were all gravel roads but were in use by Army trucks, and thus motorable. Marsimik La at a height of 18,314 feet for a long time remained to be a prime competitor.
Later, Mana Pass in Uttarakhand came to the front with its highest elevation of 18,192 but the road before the actual pass rising to even a higher altitude of 18,406 feet.
Also read: A List of All Must Visit Places in Leh Ladakh
Now as it would seem, the time of Mana La too is over; as the new road across Umling La Pass will rise to an astounding height of 19,300 feet; exceeding all other passes by a huge margin.
Where is Umling La Pass
Umling La Pass is located at a distance of 108 kilometers from Hanle; in the direction of the village of Demchok; in Changthang Valley of Ladakh region. Depending on the route you take; the total distance between the city of Leh and Umling La Pass is about 350 to 400 kilometers. From Hanle, it will take you about 4-5 hours to reach Umling La top; depending upon your speed and breaks. From Leh, it is a minimum of 2 days of a journey. I have suggested an itinerary further in the article.
Umling La Map
Below is a detailed route map of Umling La Pass. It actually covers the entire region between Leh and Umling La so you can easily figure out which road to take until there and what your itinerary can be.
Due to the large region that the map covers, I am putting a thumbnail here on the article page. Please click on the link below to view a full-size copy of the map.
Also read: When is the Best time to go to Ladakh?
In case the map below gets resized when you download, or is coming out a bit blurred; or you would like to download it in its original resolution, you can do so from the Google Drive link I have provided below.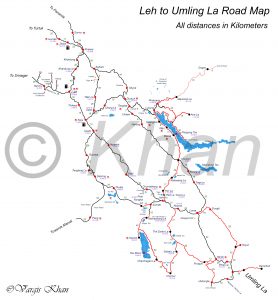 Leh to Umlingla Pass Road Map Original Resolution – Download From here
How to reach Umling La Pass
There are several routes that you can take to travel from Leh to Umlingla Pass; as you can I am sure already figure out from the map above. It will majorly depend on three factors. The first one is how many days you have in hand. The second is how you are traveling and the third is your itinerary. In all of the cases, however, in order to reach Umling La, you will have to reach the village of Hanle.
From Hanle, there are two routes that you can take to reach Umling La top. One goes via Photi La, running a total length of about 108 kilometers; while the other one goes via Ukdungle running a total length of about 104 kilometers. I will cover both these routes in detail further in the article.
How to reach Hanle
The first stop to plan a trip a Umling La is the small hamlet of Hanle. There are three ways to approach here. One is via Pangong Tso; the second is via Chumathang and the third one being via Tso Moriri. Some time ago I wrote an article on how to plan a trip to Hanle where I have covered all these routes in detail. The link to that article is provided below.
Also read: How to reach Hanle
I would request you to please take a look at the article above to understand the routes in detail. Adding that information here as well will result in this page getting way too lengthy. However, for a brief overview, these are the most common routes you can take to get to Hanle from Leh.
Routes for Reaching Hanle from Leh
Chumathang Route:  Leh – Karu – Upshi – Chumathang – Mahe – Nyoma – Loma – Hanle
Pangong Tso Route 1: Leh – Karu – Sakti – Chang La – Durbok – Tangtse – Spangmik – Man – Merak – Chushul – Tsaga – Loma – Hanle
Pangong Tso Route 2: Leh – Karu – Sakti – Chang La – Durbok – Tangtse – Erath – Chushul – Tsaga – Loma – Hanle
Tso Moriri Route 1: Leh – Tso Moriri / Karzok – Sumdo – Mahe – Nyoma – Loma – Hanle
Tso Moriri Route 2: Leh – Tso Moriri / Karzok – Charchagan La – Salsal La – Hanle
Of the 5 routes above, the one via Chumathang is the only the by which you can reach Hanle on the same day. Traveling by this road; the total distance traveled will be about 255 kilometers in about 10 to 12 hours; depending upon your speed and the breaks you take.
Rest all the other 4 routes are 2 days journey; with a night stay at either Pangong Tso or Moriri. For getting Tso Moriri, you can either reach there via Chumathang or can also take the route via Tso Kar. If you need further details on this, please feel free to ask in the comments section below.
Also read: Mobile Network and Data Connectivity in Leh Ladakh
Hanle to Umlingla Pass
Once you are at Hanle, there are two different roads that you can take for your journey to Umling La. The first route is via Photi La as explained below.
Hanle – Photi La – Photile – Umling La
This of the two is actually the tougher one that will take you across Photi La first before you finally make it to Umling La.
Hanle to Photi La
I will recommend an early start from Hanle village as the route will be tough at several stretches and you will also be crossing rivers/water streams before you finally get to Umling La. From Hanle, take the road towards Photi La top which is about 35 kilometers from Hanle. The board there would read 28 kilometers which are not true. If you keep on the road and do not take any shortcuts, the entire stretch till the top is about 35 kilometers. This entire section of the road is a dirt trail with loose gravel with last 5 kilometers a very steep climb.
Photi La to Photile
From Photi La top, the road will again start climbing down. Traveling about 22 kilometers, you will reach Photile which is really nothing but an Army camp (BRO). Stop here for a moment and if required, get yourself registered.
While you are on the descent, you will come across a spot where the road will bifurcate in two. The stretch towards your left will take you to Koyul which is a restricted area still. So make sure that at this spot, you turn to your right to reach Photile BRO camp. The dirt trail continues downhill as well and road conditions will remain bad. It will be dirt, mud, stones, and loose gravel all around.
Also read: How to Handle Acute Mountain Sickness in Ladakh
Photile to Umling La
This is where it gets tricky and the real fun starts. After Photile, you will be playing hide and seek with the Indus river and will also be crossing several water streams. The road condition however will get a little better.
At Photile, the river will be to your left. After traveling a few kilometers, you will cross the river for the first time post which, it will shift to your right. Continue for another 7 kilometers and then you will come across another bridge to cross.  After this bridge, the river will again be on your left.
Continue for another few 5 kilometers and you will come across another bridge that you will have to cross. Make sure you cross it and get to the other side because across the bridge is the road to Umling La. If you do not cross over and take the road straight ahead, it will take you to Ukdungle.
I know I used the word "bridge" but in reality, there is no bridge. They are all under construction and it will actually be the river you will cross. Pictures below should explain better. This is what you will cross on the way.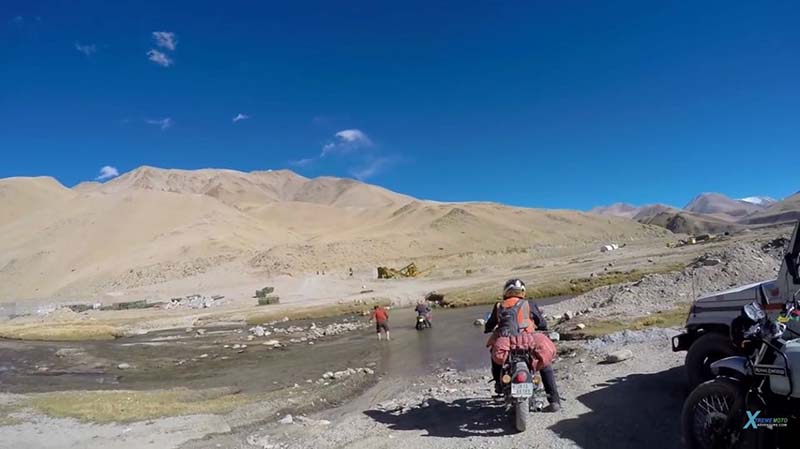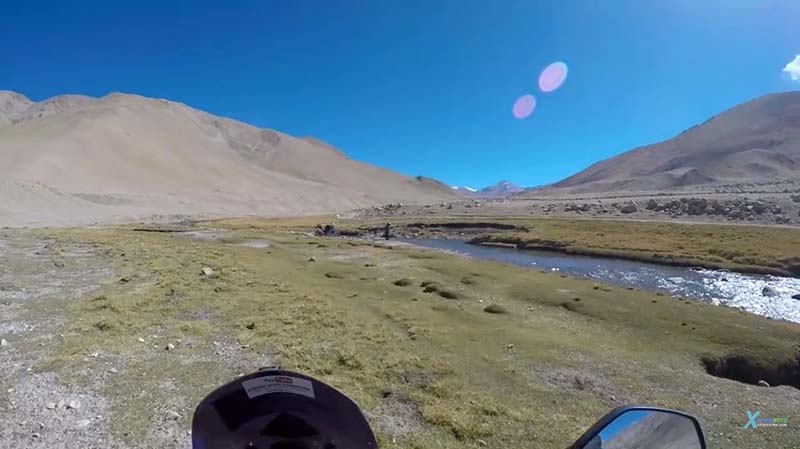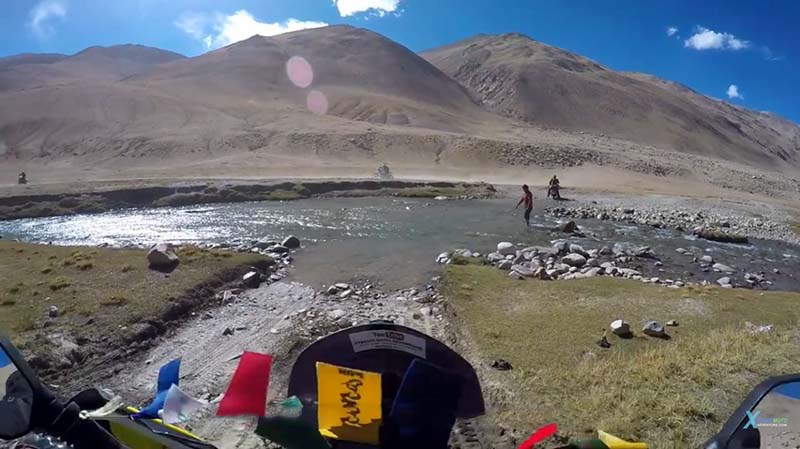 After you cross the bridge, turn right and from here it is a straight run to Umling La Pass. The pass is about 38 kilometers after this bridge of which, 24 kilometers is a good road and the rest is under construction. You must remember here to turn right and not go left.
Also read: How to Plan a Journey from Manali to Leh
Hanle to Umling La via Ukdungle
This is the second road you can take to reach Umlingla from Hanle. The route will be as below.
Hanle – Ukdungle – Nerbole / Nurbu La – Umling La
This is actually the easier of both the routes. The road from Hanle till Ukdungle is a freshly laid tarmac of 35 kilometers. After Ukdungle, the road remains to be Ok and you continue another 18 kilometers till Nerbole, also known as Nurbu La or Nerbo La.
After Nurbu La, the condition deteriorates for another 13 kilometers till the bridge which I mentioned right above, the last one that you cross to go towards Umling La. This time, however, since you are coming from the other direction; this bridge will be on your right and will become the first one to cross. You will get over this bridge, take right and continue to the pass.
Umling La Pass Road Condition
To be quite honest, Umling La is not really that steep of a climb, and neither the road is too steep or narrow. I guess this entire region is at a quite high altitude, and the final climb to the pass after you cross the bridge over is spread over 38 kilometers making it a lot easier. The entire valley around and the roads are quite wide and it never gets dangerously narrow most of the time.
The road via Photi La till Photile however is horrible. It is all loose mud, stones, and gravel making it a bit tough. If it rained in this region, I seriously think you will need a 4×4 vehicle to jump the pass over. Even bikers will face difficulty crossing it at this time. Apart from the pictures of the water crossing, a couple more are posted below.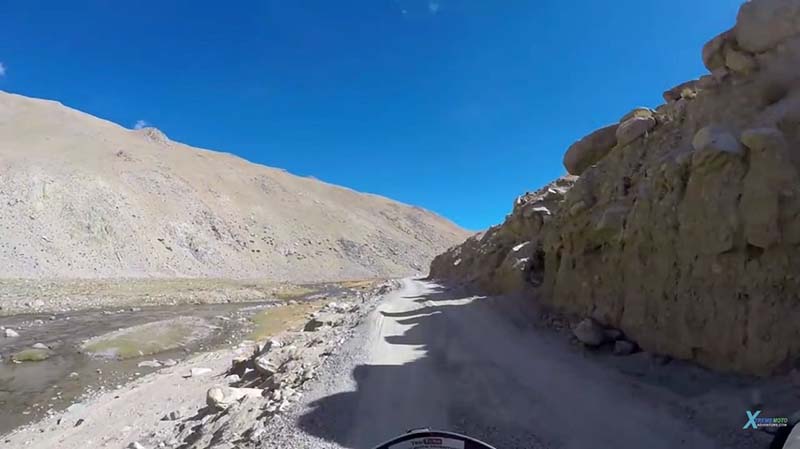 From Ukdungle however, the road is quite good except for the 13 kilometers stretch between Nerbo La and bridge crossing. The picture below is of the road between Hanle and Ukdungle.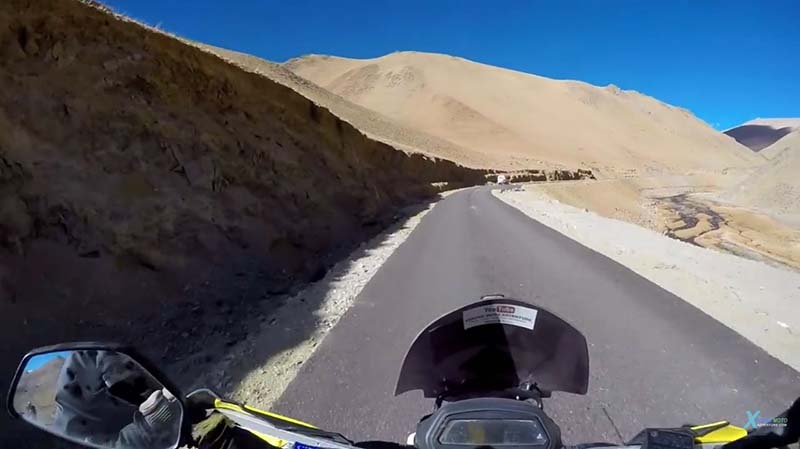 The real fun however is between Photile when you cross over the bridges. These bridges are all under construction and you will actually be crossing the river at several places as shown in the pics above.
Umlingla Pass Location
Umling La is located dangerously close to the India China border due to which access to this area is severely restricted. Indus river flows quite close to the pass and the road leading to it, and the entire region is extremely remote. Once you leave the village of Hanle, you will not come across anyone except for gentlemen of the BRO division of the Indian Army.
Also read: How to Plan a Journey from Srinagar to Leh
Permits for Umling La
There are really no specific permits needed to visit the pass apart from the regular Inner Line Permit. Do remember to mention on the permit though that you intend to visit the Hanle, Photi La, Umling La, and Ukdungle route or you may get stopped.
This year, a lot of people will be traveling this way so the situation related to permits may change; but as of last year, the regular Inner line permit worked fine for Umling La as well. As a matter of fact, in 2017 there was no check post as well anywhere in between; just the regular BRO camps but they did not ask anyone to produce the permit.
Itinerary for Umling La
This will highly depend on what your current plan is but if you want to include Umling La in your trip, then below is how you can plan it. I will suggest an itinerary from Leh to Leh. This of course cannot be applicable for everyone but should at least give you an idea of how to go to Umling La.
Leh to Diskit (Nubra Valley) – Day 1
Diskit to Pangong Tso via Shyok road – Day 2
Pangong Tso to Hanle – Day 3
Hanle to Umling La to Hanle – Day 4
Hanle to Karzok (Tso Moriri) – Day 5
Karzok to Leh – Day 6
If you follow the above itinerary, you will have to seriously think about fuel arrangements because once you leave Leh, there is no other petrol pump en route.
For visiting Umlingla Top on Day 4, you can reach there via Photi La route and return via Ukdungle; or do the journey the other way around. Go to Umling La via Ukdungle and take the route across Photi for the journey back to Hanle.
Accommodation / Restaurants / Dhabas near Umling La
None is the word that I will use here. Once you leave Hanle, there is absolutely nothing but miles and miles of barren Ladakh. There is no Dhaba anywhere, no restaurant, and definitely, no place to stay. You must make it a day trip and return to Hanle before it got dark. At Hanle however, there is a guest house by the name of Padma Homestay which is run by a gentleman Mr. Sonam Dorjay. Their homepage is http://padmahomestay.in/.
Since this is the only place to stay at Hanle, it is very important that you make advance booking which you can at their site from the link above. If for some reason you were unable to make reservations, then you can stay at a house of any of the locals as a paying guest.
Before you start from Hanle towards Umling La, make sure that you are carrying something to eat and water to drink as you will not find any other place where you can hope to get food elsewhere on this route.
Basic Amenities near Umling La
There is no petrol pump anywhere, no ATM, no bank, and no hospital. The nearest medical aid you can get is either at Hanle or Rhongo village but that too will be just basic. In case of an emergency, the army camps should be able to help. It will be wise to carry some basic medicines or a medical aid kit of your own. If you have any medical condition that may turn serious, do not go towards Hanle at all.
Also read: Top 10 Reasons why you should NEVER visit Ladakh
Best time to visit Umling La
The only time you can visit Umling La is between late May till September, or maybe early October. In all other months, the entire route will be covered under snow and not accessible. The best of these will be September or early October.
If you went there towards June, you will find melting snow creating mud, slush, and water streams which will become a problem considering the bad roads. After Monsoon arrives in July and August, the situation will become even worse. September hence will be perfect for going this way.
With that said, however, not everyone can travel in September. If you are going in other months, just make sure your vehicles are well prepared for the bad road ahead and go very carefully.
Best Vehicle for Umling La
In terms of motorcycles, a Royal Enfield will be a preferred choice but others can serve the purpose as well, provided that they are well maintained.
For a car, however, you must travel in an SUV only. It doesn't necessarily have to be a 4×4 but high ground clearance is a must. The climb of Umling La is not that steep really so if you are able to cross Photi La, then the only hurdle on the way will be broken roads and water crossings. Another choice can be to take the easier Ukdungle route. If you have a 4×4, then take either of the routes.
Umling La Pass Height / Altitude
The mighty Umling La is located at a staggering height of 19,000 Feet or 5,883 Meters.
Umling La Pass Temperature / Weather
The entire region is extremely windy and cold. The wind will continue to blow on your face all day long and you must prepare accordingly. Take a heavy windproof jacket and apply some cold cream or lip balm to protect your face from the wind. Good quality gloves and waterproof shoes of course are a must if you were riding a motorcycle.
Conclusion



I think that pretty much covers all the information you will need to visit Umling La. If you have any further questions; or need any further details; please feel free to ask in the comments section below, or at our Community Forum; and I will be glad to help in any way I can.