This post is in continuation with Day 2 of my travelogue of one of my Ladakh rides. We reached Jispa on Day 2 and traveled from Jispa to Pang on Day 3. Please click on the link to read the previous parts of this travelogue.
Journey so Far: Day 2 – Manali to Jispa
I quite like the location of Jispa and to be quite honest; find this particular town to be most scenic one on the entire Manali Leh route. Keylong usually becomes the preferred choice of stay due to its wider range of accommodation options; but to me, Jispa is far better in terms of scenic beauty. While Keylong remains to be a bit crowded; Jispa is just a handful of houses with fewer people. There are a few camp sites and a couple of hotels here; and I would highly recommend that you break the journey at Jispa rather than Keylong.
I was again the 1st one to get out of the bed to find that there was still no electricity in the town. The black out from last night continued the next morning as well. Our next stop were the Chadar tents at Pang and there too, electricity is not guaranteed. The only thing that got me a bit worried was not being able to charge my DSLR. I switched it on and the battery was showing at about 75%, enough juice to last next 2 days.
After waking up our hosts and asking for a cup of tea, I grabbed my camera; and took a stroll around the river flowing right next to our camping site.
Last morning in Manali, I went around looking for a puncture repair shop and this morning was no different. Our luggage, including the puncture repair kit was still  on the motorcycles; as we did not remove it the night before to avoid the hassle of roping it again the next morning. Also, I was sure that neither of us would be in the mood of fixing a flat Tyre early morning. After inquiring of the camping site owner, I went around for a walk in Jispa; looking for that puncture repair shop that I was told usually opens early in the morning.
After walking around leisurely for almost half an hour clicking photos; I finally spotted the repair shop but contrary to what I was told, It was still closed. I asked a few locals but no one could tell me when it would open. So the only option left was to walk back to the camping site; check out of there and get the puncture repaired while on our way to Pang.
Camping in Jispa, the huts we stayed at.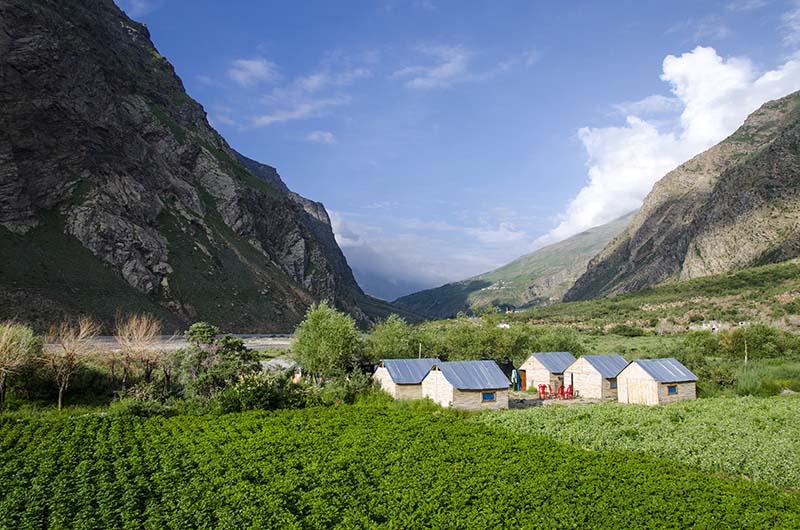 Met this beautiful child. She was so eager to pose for a few photographs.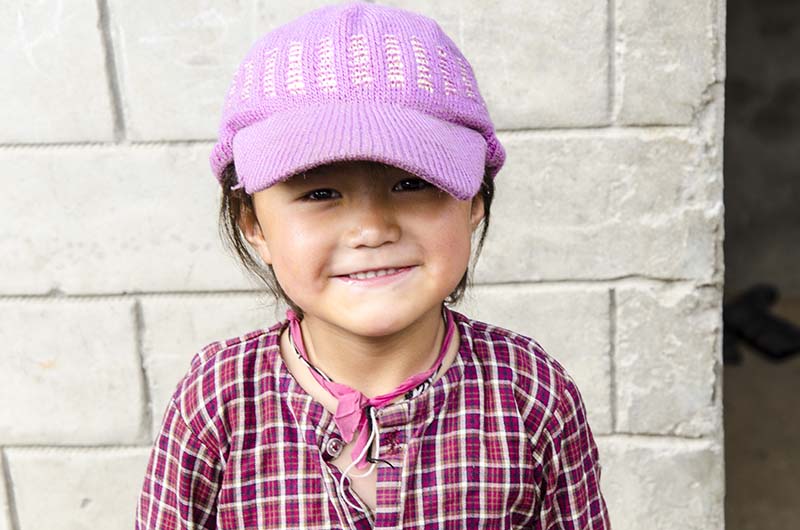 On my way back, I noticed the sound of generator in Hotel Jispa. I looked at the meter on my camera and it was still at 75% battery. Still I walked into the hotel restaurant, ordered a cup of tea and plugged in the camera to nearby socket to get it charged.
I spoke to the guy at the restaurant and after taking his consent, left my camera's battery still plugged into the socket. I walked back to the camping site and got the Trio out of their beds. After a quick breakfast, we checked out of the camp site; grabbed my camera's battery from Hotel Jispa; and were soon standing at the puncture repair shop.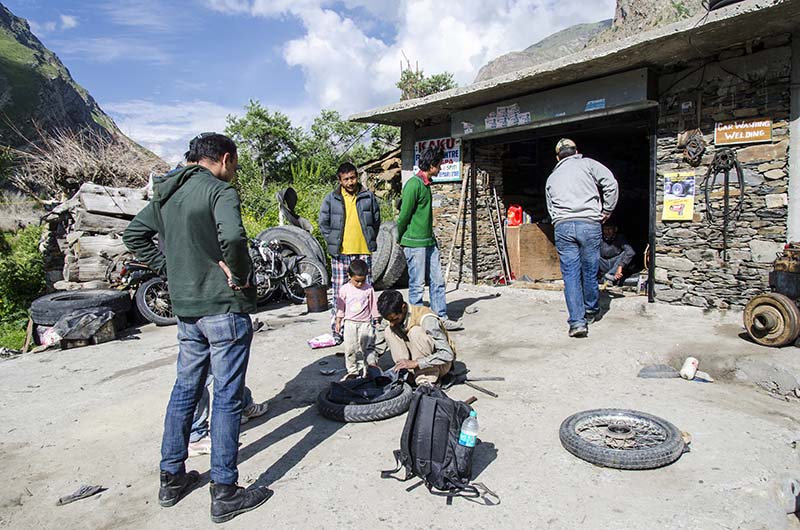 So far in 2 days of journey, we already had 5 flat tires and I wondered if there were more to come. With such happy thoughts, we finally started our Day 3 towards Pang.
Jispa to Pang
It wasn't long before we reached our 1st lake for this trip, the mesmerizing Deepak Taal, and broke the journey for a quick photo session.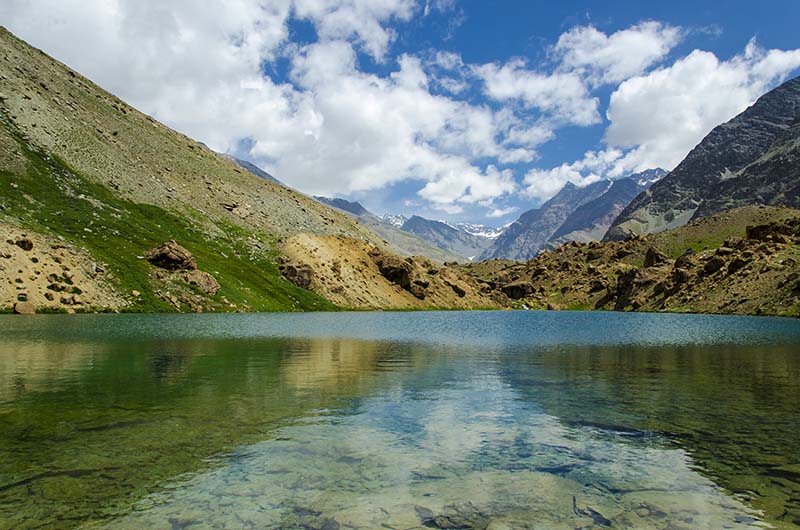 Deepak Taal is a very small lake and you can walk around it in full circle in 15-20 minutes but this doesn't make it any lesser in beauty. There is some open space right on the banks of the lake and if you are carrying your own camping gear, it is a perfect place to pitch your tent. There are a few dhabas right next to the lake and before you go camping, I would urge that you talk to the dhaba owners and take their consent. Actually the dhabas are another reason which makes this lake a good camping spot. You will not have to worry about food and washroom facility; just pay a little to the dhaba owners and you can use their washrooms.
Baralacha La
Soon we were standing atop Baralacha La, our 2nd high altitude pass. I was expecting to find it covered with snow like we did the last time but was disappointed. Snow was only limited to the top of distant peaks and a little on side of the road.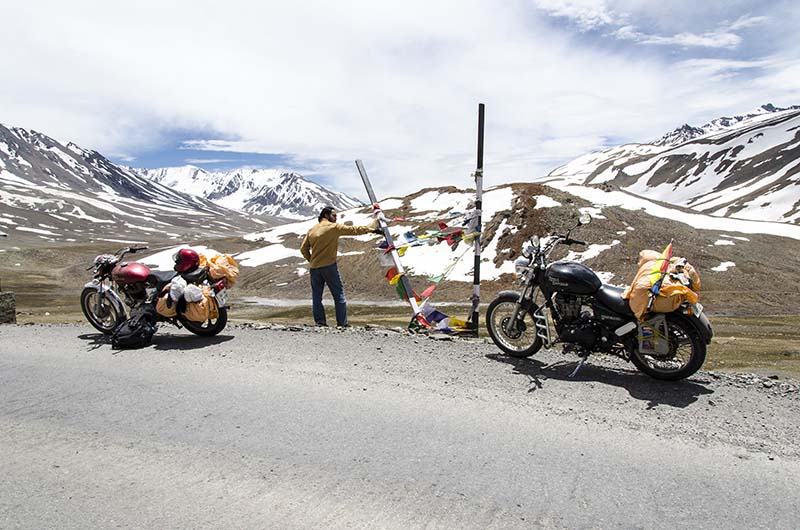 Our 2nd lake, Sooraj Taal was completely frozen under a sheet of white during our last trip but this time it was all green.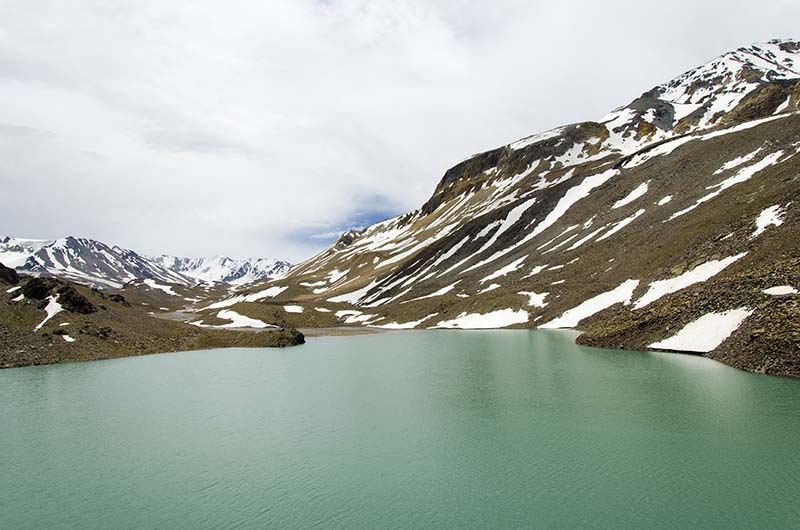 There is an interesting tale related to Baralacha La, Suraj Tal and Chandratal. Read The Legend of Chandratal for an amazing love story written in the stars.
We crossed Baralacha La and next stop was at Chamba Dhaba, just after the mighty pass. Road so far in the journey was 50% bad, 25% OK and 25% good but as we moved towards Sarchu, conditions deteriorated, limiting our speed to merely 15-20 kms / hour. The only relief was in the fact that roads were a mix of the good, the bad, and the ugly and the ugly part didn't continue for long.
Came across this unknown lake, our 3rd for the trip.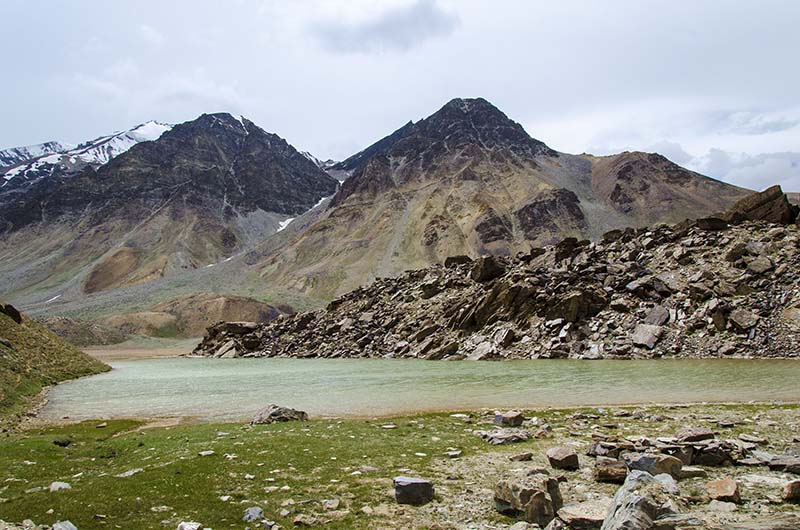 The Pigeon Episode
Just before Sarchu, we came across a section of road that was in pretty good condition straight ahead, inviting us to speed up a little which we all did. The moment we accelerated our motorcycles to around 70-80, out of nowhere came a pigeon flying so low that it was hit by Shoaib's motorcycle and died instantly. We all stopped and after removing the poor bird off road, decided to take it as a sign that this journey is not meant for speeding up. From there on, we strictly limited our speed to around 40-50 kilometers per hour.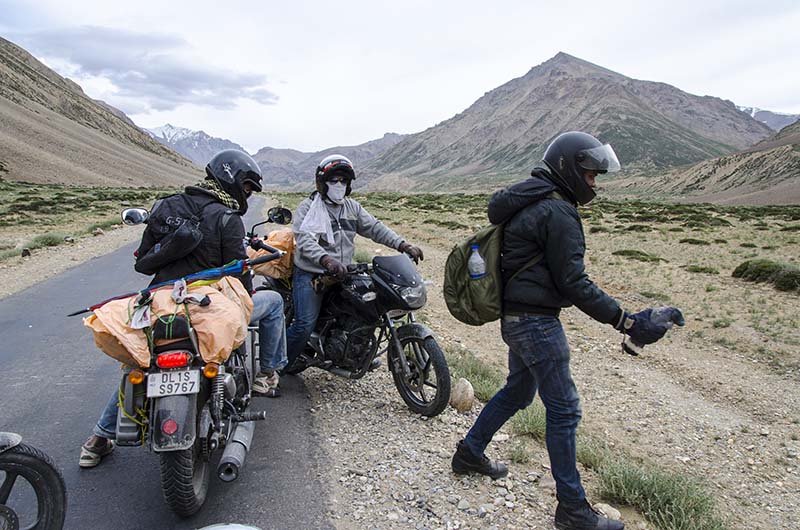 Gata Loops
We were soon on Gata Loops, ascending our way to our 3rd high altitude pass of the journey. There is an interesting story related to these loops; read The Ghost of Gata Loops for an interesting haunting story.
The small temple that the ghost story is related to.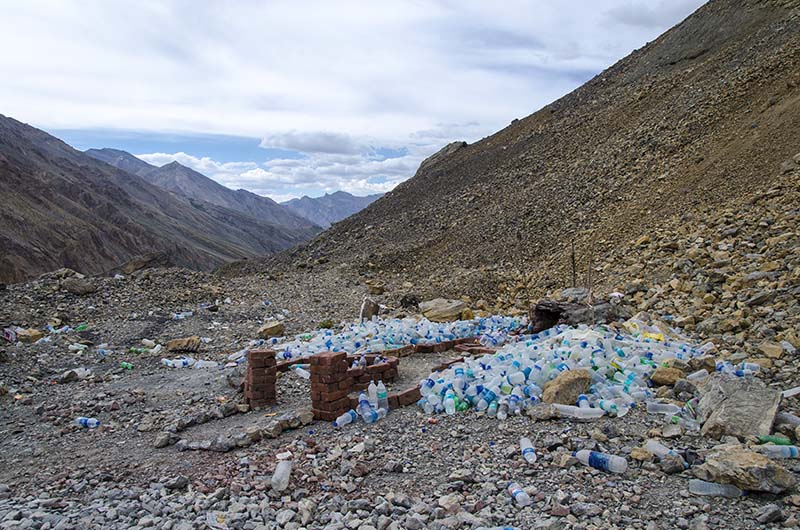 Finally at our 3rd high altitude pass, Nakeela.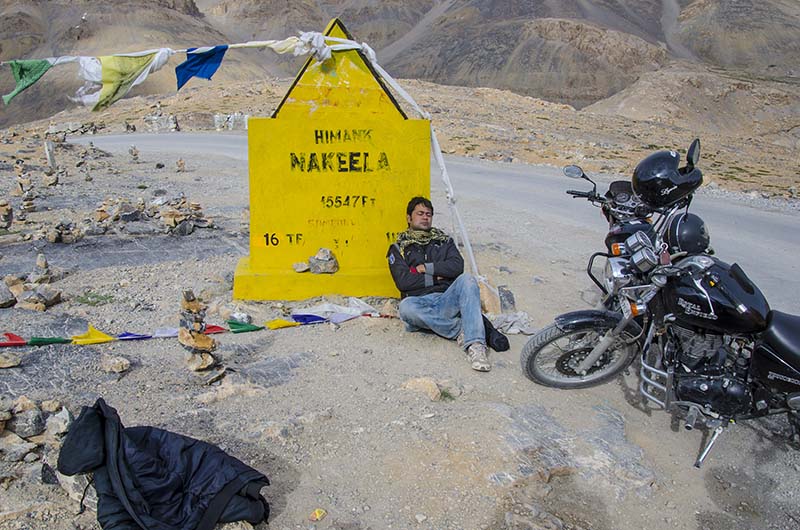 Not long after Nakeela came Lachulungla, our 4th high altitude pass.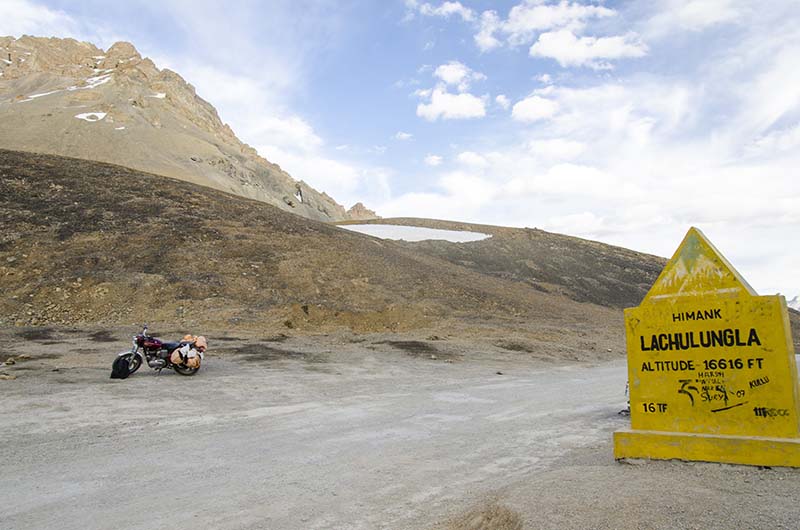 By now the sun had already started settling down. The Trio was already way ahead of me but I still could not resist the frequent breaks to click the virgin beauty of this region.
Pang
It was almost dark by the time I reached Pang. Others were already there and had already checked into a tenting accommodation.
And thus ended our 3rd day of the journey. So far we have had 5 breakdowns, all if the form of flat tires, crossed 4 high altitude passes and came across 3 high altitude lakes.
At Pang, just like Jispa, we again thought of leaving our luggage tied on the motorcycles; but then decided against it and moved it inside the tent. After a few cups of tea and a delicious dinner; we were all crawled in our respective blankets, dozing off in a matter of few minutes.
Jispa to Pang Distance
Total distance between Jispa and Pang is approximately 165 kilometers. This journey will approximately take you about 6-8 hours depending upon your speed and breaks.
Jispa to Sarchu Distance
Distance between Jispa and Sarchu is approximately 86 kilometers which will take you about 3-4 hours to cover depending upon your breaks and speed.
Jispa to Leh Distance
Total distance between Jispa and Leh is about 335 kilometers. This journey may very well take you at least 10-11 hours with breaks limited to minimum.
Jispa to Leh in One Day
Some people try to make it to Leh from Jispa in one day. This can be easily done but please ensure that you start as early as you can from Jispa; possibly by 5-6 AM, so that you can make it to Leh before dark. The HRTC bus that does this journey in a day from Keylong starts at 4-5 AM so you can imagine how long this journey will be.
Journey Ahead: Day 4 – Pang to Leh
Planning a trip to Ladakh? Got questions or need any help? Feel free to ask in the comments section below; or at our Community Forum; and I will be glad to answer.