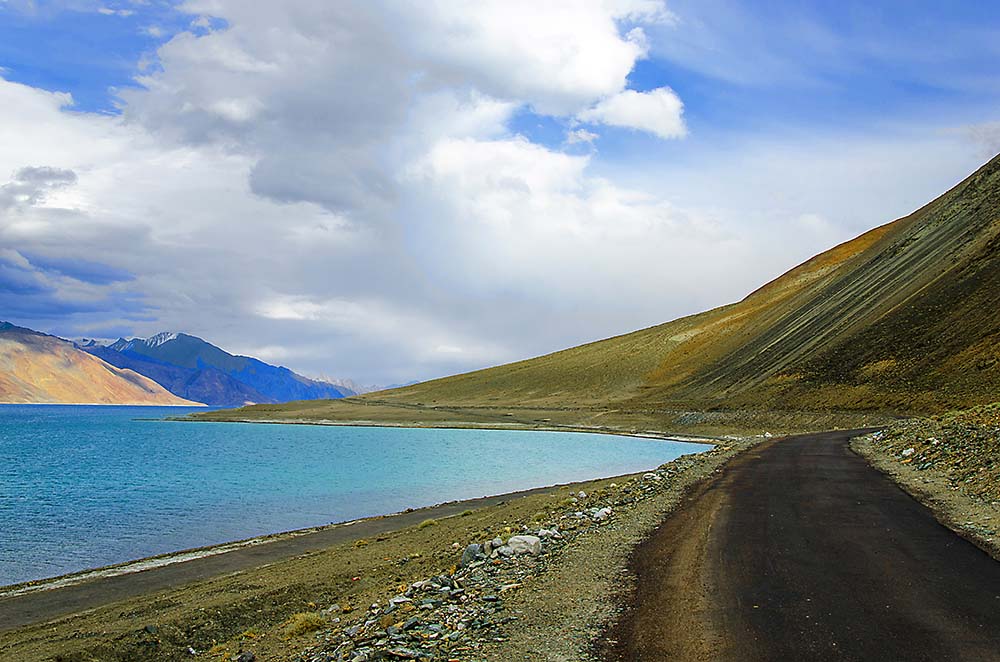 While the best way to travel here from Leh is by your own vehicle, there is regular public transport connectivity as well which you can use in case you reached Ladakh by some other mode of transport. In this article, I will provide details on Leh to Pangong Tso bus service including frequency, fare, and timings.
Up until about a decade ago, only a few people were aware of the name "Pangong". Then came the release of the movie "3 Idiots" post which this beautiful lake probably became the hottest tourist attraction in our country. Thousands of people visit Ladakh each year and the one place they all know to visit is Pangong Tso. For more details, please take a look at How to Plan a Trip to Pangong Tso from Leh.
Leh to Pangong Tso Bus Service
Traveling by public transport to a place like Ladakh becomes a little hectic when you have limited time and want to cover as much as you can. If you are traveling by your own motorcycle or car, then you have the liberty to plan as per your own convenience and schedule.
However, by public transport, you get bound by the timings and schedule of bus services. The only way to make this easier is to plan your entire itinerary as per the bus schedule; to ensure that on any day when you want to travel to a particular place, there is a bus available.
If a trip to Pangong is on your Ladakh itinerary, then mentioned below are the days when you can travel there by Bus and draft your travel plan accordingly.
Also read: Leh to Nubra Valley Bus Schedule & Timings
Apart from the bus that goes directly from Leh to Pangong Tso, there are a few other buses as well that you can board to reach the lake. The only difference is that the other buses may drop you at any of the nearby villages from where you will have to reach Pangong either by some other means of commute or walking. Mentioned below are the details.
Leh to Pangong Tso Bus
A direct bus from Leh to Pangong Tso leaves Leh every Saturday and Sunday at 6.00 AM. This bus reaches Pangong by late afternoon, halts there for the night, and returns back to Leh the next day.
This is your best bet for reaching the lake and journey back. The fare per person is Rs. 250 one way. This bus may have the board put up as "Leh to Spangmik" as it ends at the small village of Spangmik near Pangong.
Leh to Chushul Bus (Sunday)
If you missed your 6 AM bus on Sunday then there is another bus on the same day that you can catch. This bus starts at 6.30 AM every Sunday and travels all the way to Chushul via the small villages of Man & Merak, which are located right on the banks of Pangong Tso.
The fare per person is Rs. 356 for Chushul and about Rs. 300 for Man / Merak. You can choose to either get down at Spangmik or Man / Merak.
Leh to Phobrang Bus
If you missed the Leh to Pangong lake bus on Saturday, then there is another one you can catch at 7 AM on the same day. This bus goes to Phobrang, a little ahead of Pangong towards Marismik La, every Saturday.
Until Spangmik, it pretty much follows the same route that Leh to Pangong bus does. The fare per person for this one is Rs. 263. Using this bus as well, you can get off at Spangmik.
Leh to Chushul Bus (Wednesday)
If you cannot travel on either Saturday or Sunday, you can plan your visit on Wednesday as well. There is a bus that goes to Chushul every Wednesday from Leh at 6.30 AM. The fare per person for Chushul is Rs. 345. For Pangong, it will be less, around Rs. 250.
This bus takes the same route until Spangmik like all the above-mentioned buses. From there, it reaches Chushul via Chilam, Harong, and Erath.
Leh to Tangste Bus
If traveling on Wednesday too is not an option then your last choice is to plan it on Thursday. A bus from Leh to Tangtse runs every Wednesday, Thursday, and Sunday, starting from Leh at 6.30 AM. The fare per person is Rs. 164.
The only problem with this bus is that it only goes until Tangtse which is about 45 kilometers from Pangong Tso. After reaching Tangtse, you will have to find another mode of travel for the last run of the journey. In peak tourist season, you can hitchhike as well.
All these buses are operated by JKSRTC. There is no bus on Monday, Tuesday and Friday and if you want to travel on either of these, you will have to catch a shared cab.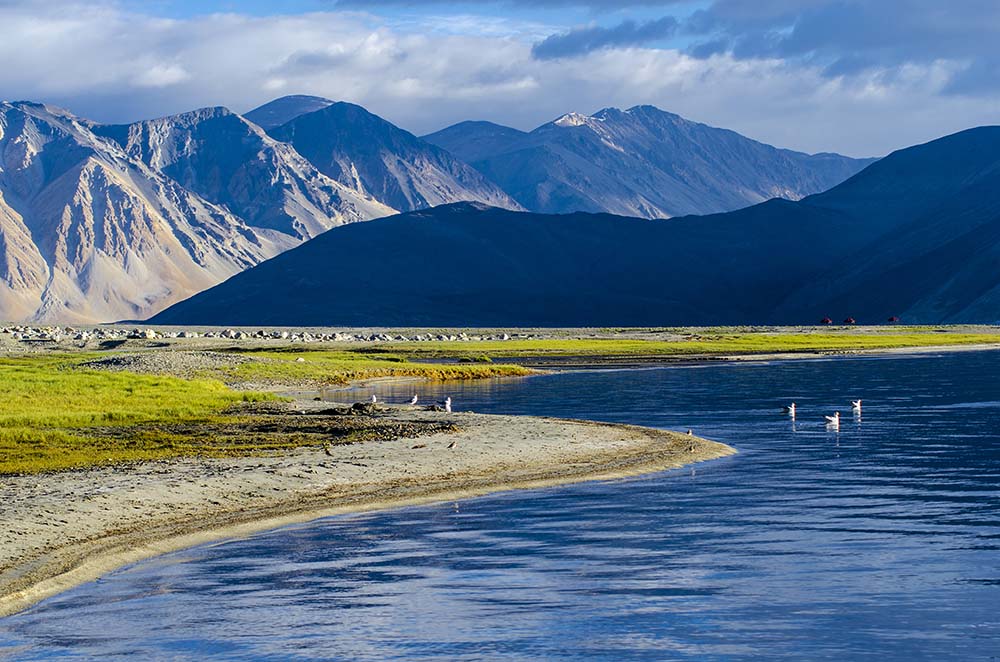 Leh to Pangong Lake Bus Fare
Your one-way fare for traveling by JKSRTC bus is about Rs. 250 per person. For a return journey to Leh, the trip would cost you around Rs. 500.
If you are on a budget trip, then you can stay at any of the chadar tents available for as less as Rs. 200 – Rs. 300 per bed. A round trip to Pangong from Leh would cost you about Rs. 1000 (500 for bus fare, 300 for accommodation, 200 for food).
Leh to Pangong Tso Bus Booking
All of the above-mentioned buses are local government-run ordinary buses. There is no advance ticket or booking available. You will have to reach the Leh bus stand, buy a ticket from the counter and board the bus. If however, you would like to book in advance, you can buy the ticket from the counter a day before (Updte 2020).
Leh to Pangong Tso Bus Online Booking
There is no online booking available either for JKSRTC or private mini-buses.
Other Tips
Mentioned below are a few other tips which can be helpful while planning your journey from Leh to Pangong Lake by Bus.
All these buses are just ordinary roadways buses, not even semi deluxe. Locals here use these buses to travel around and you should keep your expectations in terms of comfort to zero.
If you want to travel by luxury or deluxe bus, there are a few tour operators who provide that service in form of minibusses. Contact any of the tour operators in Leh and you can get the details.
All these buses travel past Chang La. So if you just want to visit the pass, you can board any of them.
If you intend on doing some photography, then you will have to carefully pick your seat, or else you will just be clicking pictures of a mountain wall. After Leh, the valley is mostly on the left side until Pangong; so pick a seat along with the door of the bus.
All of the above-mentioned buses halt at Chang La top for a brief period of time, about 10-15 mins.
Leh to Pangong Tso Distance
Distance between Leh and Pangong Tso is around 150 kilometers via Karu, Sakti, Chang La, and Tangtse.
Leh to Pangong lake travel time
A journey from Leh to Pangong lake by bus would take you around 6-7 hours.
Pangong Tso Accommodation
The majority of the accommodation choices at the lake come in the form of campsites. On the cost-effective side, your choice of stay is Chadar tents. There is only one cemented hotel here which is highly overpriced and booked months in advance. For further details read Accommodation at Pangong Tso: Hotel, Chadar Tents & Camp Sites
Pangong Lake Mobile Network
No mobile network works at Pangong Tso except for BSNL. Your phone will go out of service around Karu after you leave Leh. For more details, please take a look at Mobile Network in Ladakh and Data Connectivity.
Pangong Tso Altitude
The altitude of Pangong Tso is about 4,350 m (14,270 ft).
Pangong Tso Weather
Days are moderately warm and the sun can be quite harsh. Nights however are extremely cold and you will need a heavy jacket if you want to step out of your tent after the sun goes down.
Conclusion
I hope the above-mentioned information on Leh to Pangong Tso Bus service was helpful. If you have any questions, please feel free to ask in the comments section below and I will be happy to answer. You can also follow me on Instagram and chat with me live there or subscribe to my YouTube channel and ask a question there.