The post below is a brief write-up of my trip to Spiti Valley from Mumbai with a group of 12 people, most of whom have never seen the Himalayas in their life. I thank the Almighty for making this hectic trip successful, and most important, nothing going out of schedule!
For 12 odd kids, most in their twenties (including me), most who don't know T of Trekking, planning the following hectic schedule in the monsoon season was a tough task for me and I was at my fingers' end right up to boarding the return train.
There is not much to write about the first couple of days of our trip so I will keep that part short. On Day 0, we boarded the Golden temple mail from Mumbai central at sharp 9.30 pm. There was nothing to photograph or to write about this part of the journey.
Also read: How to Plan a Trip to Spiti Valley – A Complete Travel Guide
Most of our day 1 was spent on the train. We did a changeover at Delhi to Kalka mail. There is nothing much to show for the train journey. The loco pilot of our train was being honored for his last day of service.
Day 2: Kalka to Shimla by Toy Train
Our trip to Spiti Valley from Mumbai officially started on this day actually. All of us had a great time on the toy train. Since Kalka mail arrived 1 hr late, even this train departed 1 hr late.
The tunnel in the picture above is the Barog tunnel. We reached Shimla at 12 noon, and the two Sumos- "Pahaadon ki Rani" as the drivers called it were ready for our pickup for the journey for the next 8 days.
They dropped us at the HPTDC lift. our hotel was hotel City view- tucked in a corner behind the Christ Church- finding it made us roam half of the mall road and entire ridge.
Some photographs in Shimla city taken that day.
Day 3: Shimla to Sarahan to Sangla
We traveled approximately 260 km on this day from Shimla to Sangla with a brief detour to Sarahan on the way. Our hotel in Shimla was just fine. Rooms were a bit crampy, DBRs were in 4-digits. But the food was awesome.
Our cabs arrived at 8 am and we left immediately. Dhalli tunnel had a traffic jam and we were stuck there for about 15 mins. The road from Dhalli to Kufri was in tatters. A new, wide road with a less steep gradient is being built.
Kufri to Narkanda road was quite good but not at par with a national highway. Still much better! Many HPSRTC and private bus operators (mostly Shimla-R.peo) had slowed down the traffic movement on the NH 22 hence our progress was also a little slow at some spots.
The road from Kufri- Narkanda- Rampur started getting boring. It was time for me to go asleep and the boys to start vomiting (as expected).
Rampur came around 1 pm, and then the diversion to Sarahan.
Sarahan temple
The great half-tunnels of the famous Hindustan-Tibet road
Onwards, NH22 starts becoming bad and muddy. several dams appear over the mightly Satluj which flows on the left side. Then we cross the Wongtong bridge to move to the right, and again the Karcham bridge to take a right turn towards Sangla.
Also Read: How to Plan a Trip to Sangla
The dam work seems to be complete, but the roads are still undone. They are widened to a great extent, the surfacing remains. Maybe the authority will wait for the monsoons to end.
Karchham – Chitkul road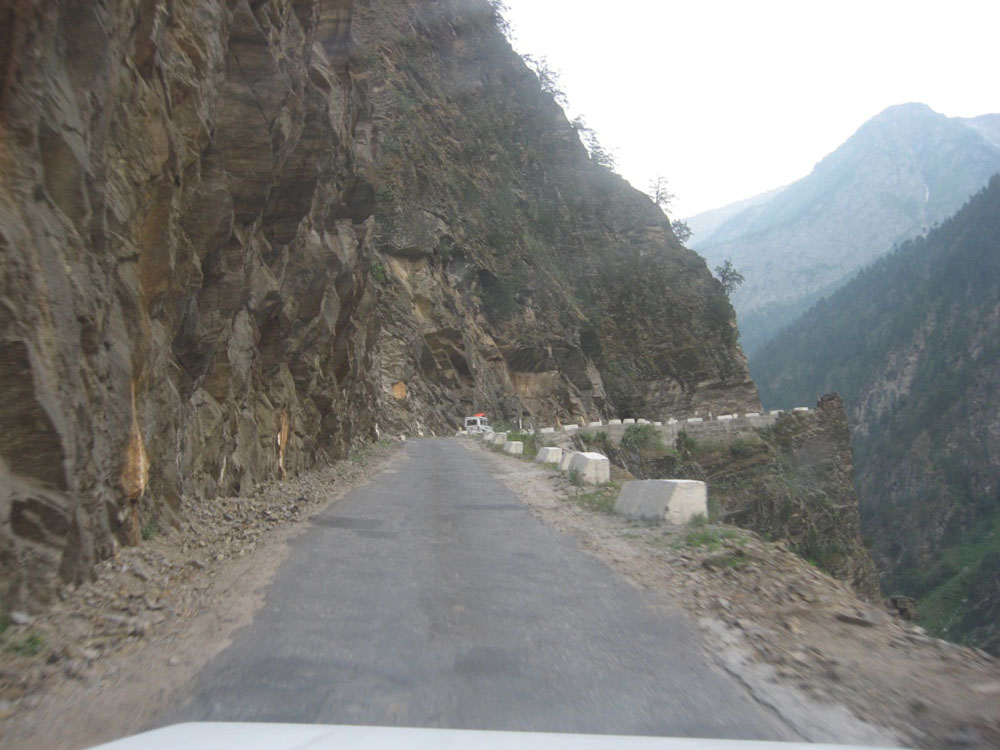 Sangla
At Sangla, we had booked the Prakash guesthouse. Rooms were superb, food also, and Mr. Mohan Prakash, as well as his father (Mr. Omprakash), were the most polite and hospitable people ever found!
Mr. Omprakash owns a huge farm, which we saw the next day. It was 7.45 pm by the time we reached the guesthouse. Still, we left for the Nag Devta mandir in the town.
Also Read: How to Plan a Trip to Chitkul
We reached through the narrow lanes at the mandir to find it closed. Returning disappointed, we enjoyed a delicious dinner at the hotel.
Day 4: Sangla to Chitkul to Kalpa
We left the hotel at around 8 am to see Mr. OmPrakash's farm. It was an abode of apples (delicious and golden variety), peas, asparagus, gooseberries, many cultivated flower plants, and the likes.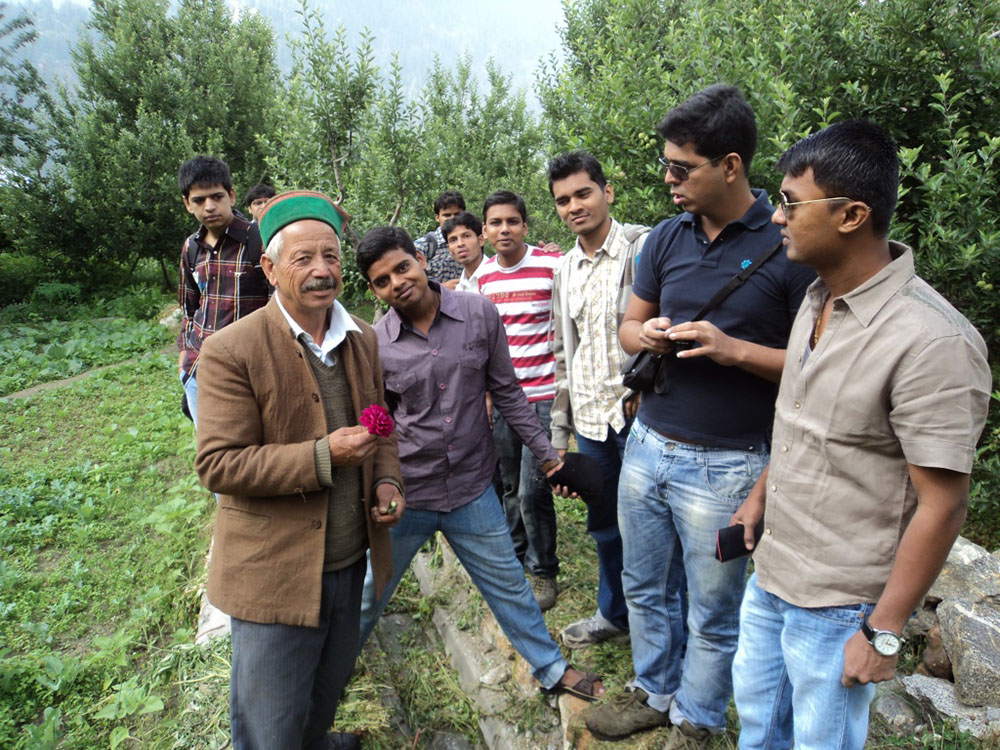 Kamru Fort
We bid adieu to this warm fellow as well as the hotel manager (his own son). leaving the baggage at the hotel, we left for Chitkul and reached there by 11 am. Fantastic scenery on the way!
Two of our members sat on the top of our Sumo after permission from the driver. At Chitkul we had Maggi and bread-butter at Panchali resort (which was as good as lunch) and whiled away at the Baspa river.
Also Read: Shopping in Spiti Valley – What to Buy in Spiti Valley
It was 1 pm by the time we left Chitkul (and reached Sangla by 2.15 pm). Loaded our luggage and went for the Kamru fort. The upward climb with neat stairs takes some 20 mins. One can see the back portion of Kailash Parbat from here.

Kalpa
We were back on NH22 by 4 pm and Powari by 5 pm. Karcham-Powari road was fully under construction. Blasting was being carried out at several places and vehicles were made to wait for 10-15 mins.
Also Read: Mobile Network in Spiti Valley and Data Connectivity
It was 5.30 by the time we reached Reckong Peo, and I called the hotel Manager Mr. Shamal Debnath. After reaching Kalpa's hotel Aucktong by 7 pm, tucked in pine and apple trees at the higher end of Kalpa village, we managed to see clouds only over Kinnaur Kailash. What bad luck!
All that we could get of Kinnaur Kailash sunset at Kalpa.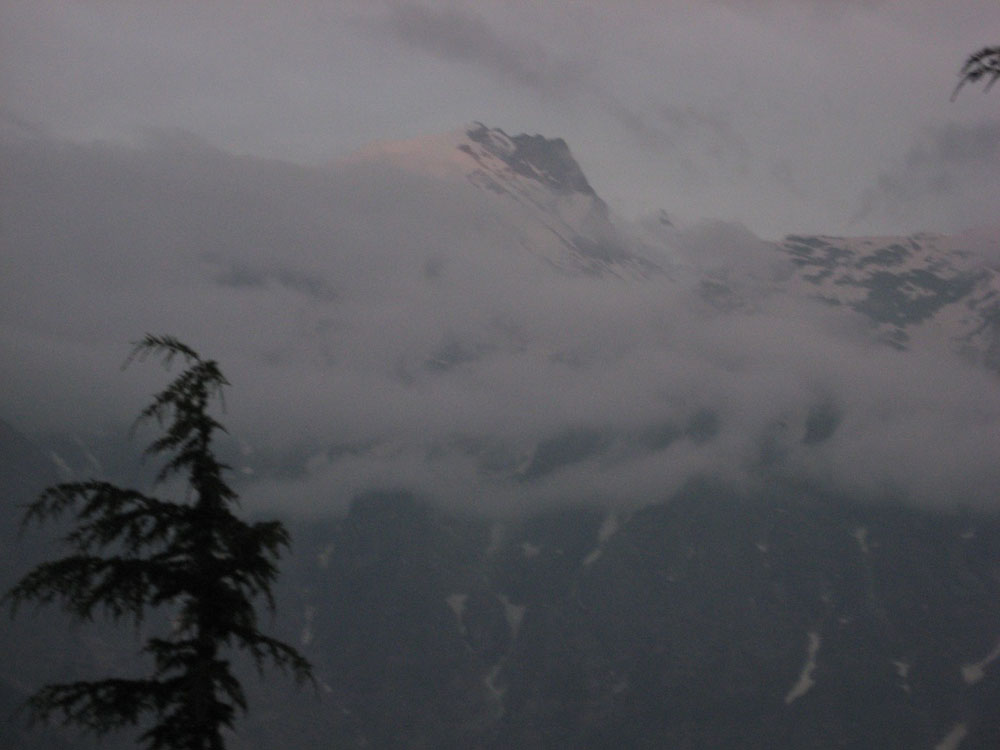 Day 5: Kalpa – Nako – Tabo
We woke up early to roam in the pastures of Kalpa. we roamed for about 2 hrs and then it was time to say goodbye to Shyamal Debnath- the person who had made most of our bookings for this tour. We left Kalpa by 9 am.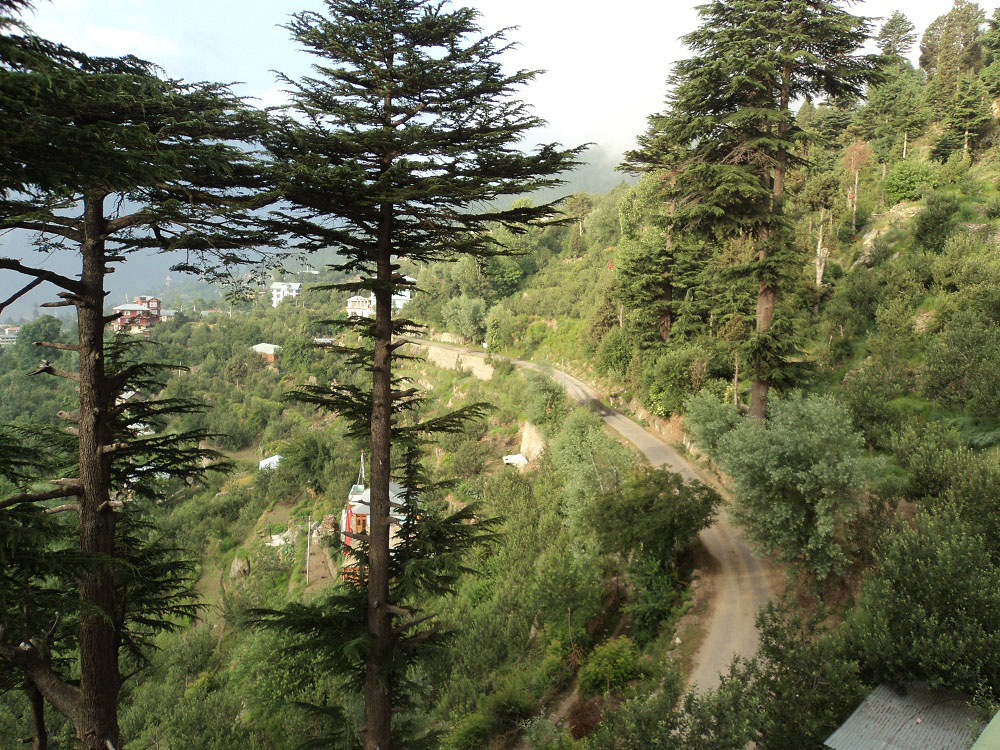 This was an unexpectedly bumpy ride. However, from Chango onwards the road is smooth. Drivers were a bit speedy today and around 100 kms were covered in 3 hrs.
We reached Nako lake by 2 pm. Some time was wasted in roadside halts. The second driver tried taking a shortcut directly from Kalpa avoiding Reckong Peo but wasted everybody's half-hour.
Also Read: How to Plan a Trip to Kalpa
Kazigs appeared soon, and the surfacing of Kazigs was super smooth. Soon the diversion to nako came and we spent time up to 3 pm in and around Nako.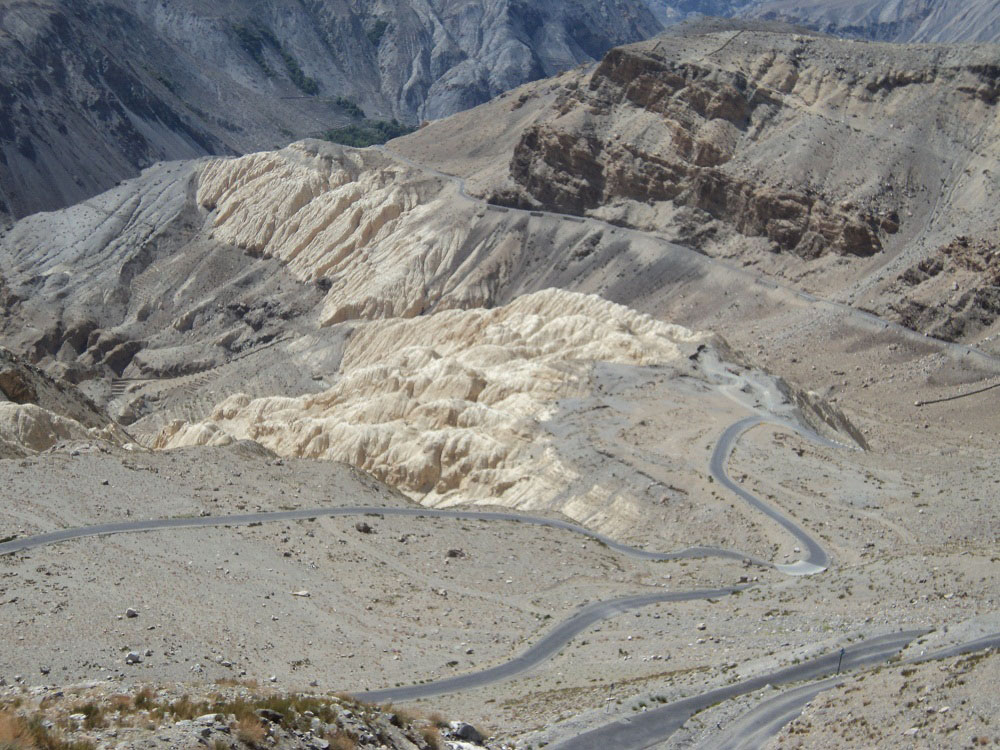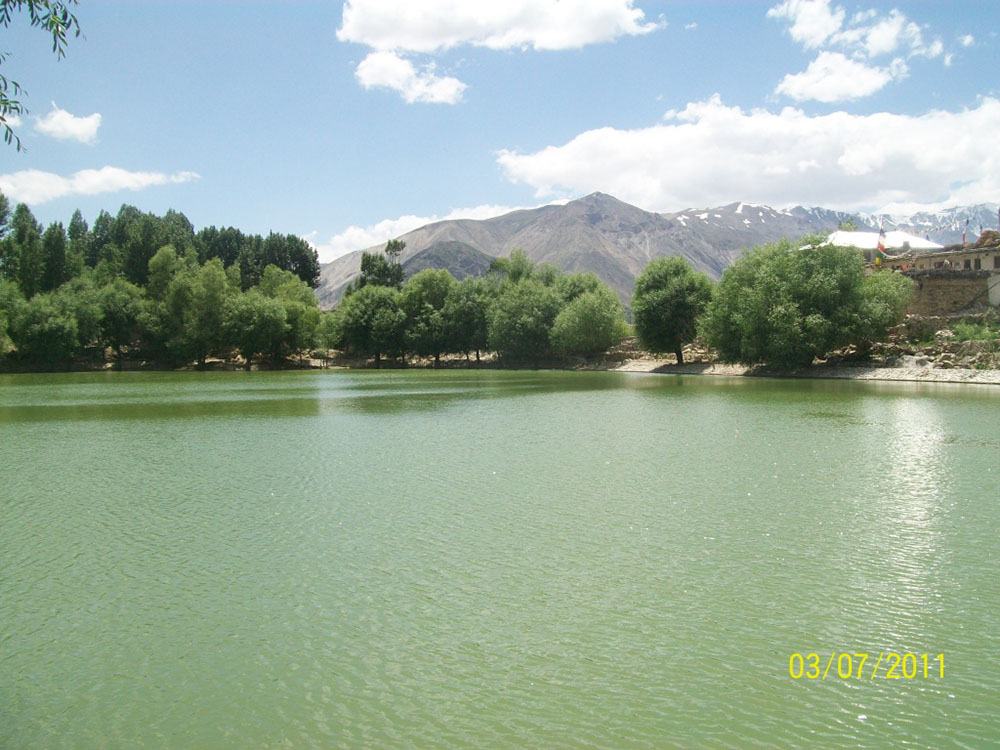 The famous malling Nallah is now reduced to a simple stream due to the bypass road.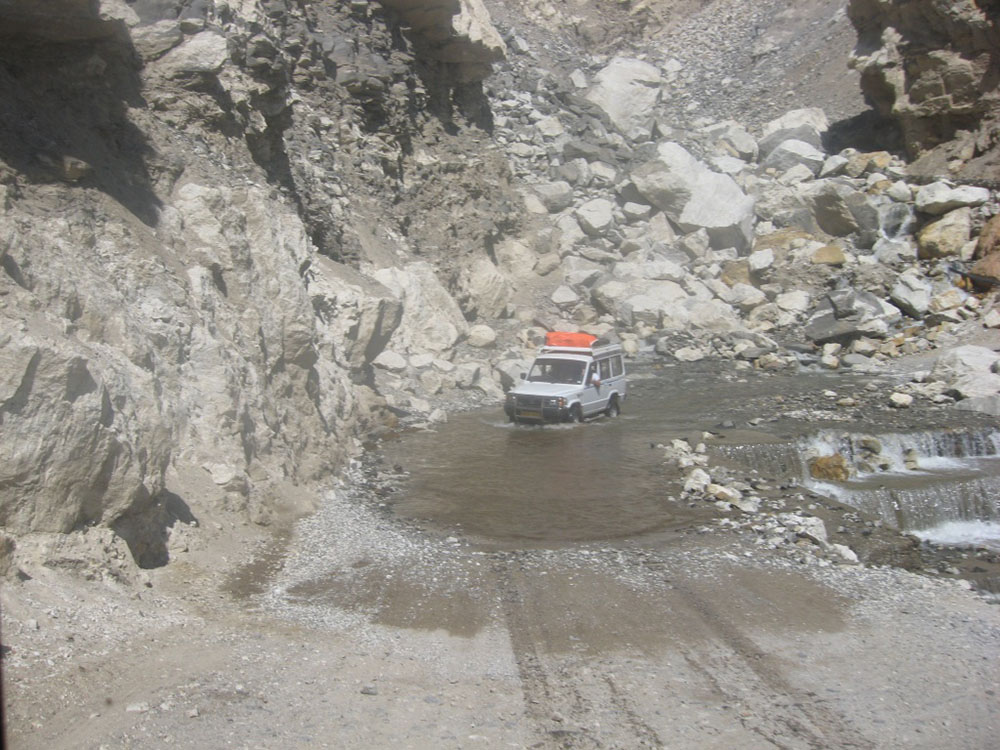 Tabo
The old monastery was closed and Lamaji told to come the next day morning for the prayer. This day we rested at hotel Tashi Khangsar GH's second hotel (at the main market road of Tabo).
Tashi Khangsar has 2 hotels- one near the helipad and the other near the monastery's Millenium GH). The hotel is not good. Better to stay at the monastery GH, but it was full. The contact no is 223315 (which I didn't have and this created problem).
Also Read: How to get an Inner Line Permit for Spiti Valley
We had a great meal of Thukpa, Momo, Sizzler, Thunduk, Pizza, Chicken Masala, Tandoori, and what not at a hotel owned by a Muzaffarnagar guy behind monastery's Millenium GH. Tabo was not as cold as I had expected it to be.
Day 6: Tabo – Dhankar – Kaza
We decided to visit something out of the way and thus came the sudden decision of trekking to the Tabo caves- a 15 min way as told by a lama. But it took well over half an hour for the climb, half-hour at the summit, and half-hour for descending.
Tabo Caves
Soon it was time for us to leave- 9.30 am. We went to the old monastery as a formality, since the more exciting part was already done as a great start for the day!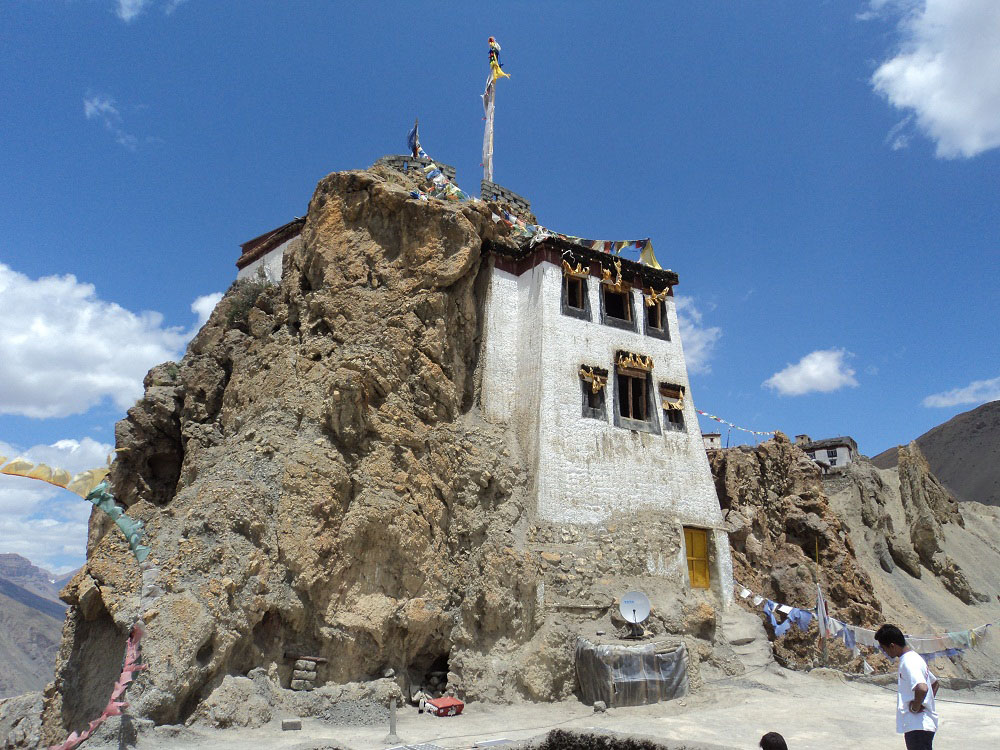 Martian landscapes at Dhankar monastery
Kaza
We reached hotel Tashi Delek at Kaza. Pretty good hotel for money (700/DBR) the manager is an ex-army man. It is situated bang inside the main Bazar of Kaza, opposite SBI. Had a talk with that person about the next day's plans.
However, the person was charging 2k/person for a 1-night stay which was too high. Finally, we roamed the Bazar to find an office of "Spiti holiday adventures" and that person provided us same tents without food for 25% of the cost.
However, those tents were at the parking lots of Chandratal. Abuzz with the commotion of the tents, AMS symptoms of few, giving driver cash for diesel (SBI ATM was closed) and making the guys ready for Chandratal, making all the deals with the tents ate up 2 hrs at Kaza.
We left Kaza for Kye monastery at around 5.30 pm and returned by 7 pm to the hotel. Had a great dinner here too and the bill was 2100 Rs.
Day 7: Kaza – Losar – Chandratal
I will attach the images rather than write a huge narration.
Kaza – losar = 50 km, 2 hrs.
Losar – Kunzum Top + 19 km, 1 hr.
We reached Kunzum top at 12.45 pm. Kunzum to Chandratal lake was a narrow path. Since the road was still closed, we had to walk 10 km which took us about 6 hrs for a return trip.
Chandratal lake to camps was another 2 more hrs.
We reached camp by 8 pm. Shivered, ate Maggi (3huge packets) (tent person charged 200 Rs. for cooking it), and dozed off.
Day 8: Chandratal – Batal – Rohtang – Manali
The day before, one of us suffered AMS initial symptoms. Even I and some others experienced a minor headache. The return road (Jeepable) was much better than Day 7's path. The tent person said the road would be open by 15 July.
We started from our camp at 7.30 am and reached Batal at 11 am. The distance covered was merely13 km.
The drivers waited overnight at the Chachaji's dhaba at Batal. We had a short break here (for snacks, but my hunger had died after walking). I just drank two cold drinks.
We left Batal by 11.30. The road is totally a dirt track right from Losar to Gramphoo. From Chota Dhara to Gramphoo, there is tarring done as per the wish of HPPWD (looks similar to shitting of wild animals).
Rohtang arrived at some 2 pm. I gave the kids 2 hrs, but they returned within 20 mins. We left the place where lakhs of Indians celebrate their honeymoon within 20 mins since we had seen much better places earlier.
From Rohtang to Manali- Road in and near Rohtang pass is a butter-smooth road. But Rohtang onwards it is the most horrible road ever seen on planet earth. Slippery, slushy, muddy, looked like the mud tracks thru swamps of the northeast.
Around 6 pm we were in Manali (after waiting for heavy snacks somewhere after Marhi). We visited Vashisht Kund and all the tiredness of Chandratal lake was gone after bathing in the hot waters here. Reached the hotel (Mohan palace on Aleo road) by 8 pm and most of us (not me) went shopping and dinner at the mall.
Day 9: Manali – Kullu – Parwanoo
Our travel on this day went like this.
9 am – Left Hotel
10 am – Left Manali after customary Hidimba mandir
12 noon – River rafting in Kullu
1 pm – Shopping in Kullu
3 pm – Lunch at Aut
10 pm – Reached Parwanoo after just one-halt in the middle of (Shimla-Bilaspur road)
The entire stretch was soo hell boring and the NH too had no limits of winding down the hills as if coming down from 30-40 kms above the sea level.
Day 10, 11, 12: Chandigarh Sightseeing & Return to Mumbai

This was the last day of our trip to Spiti Valley from Mumbai. From here on, it was just going to be a return journey. Well, this was a buffer day which we utilized by going to CITCO tourism on sector 17. I loved the bus.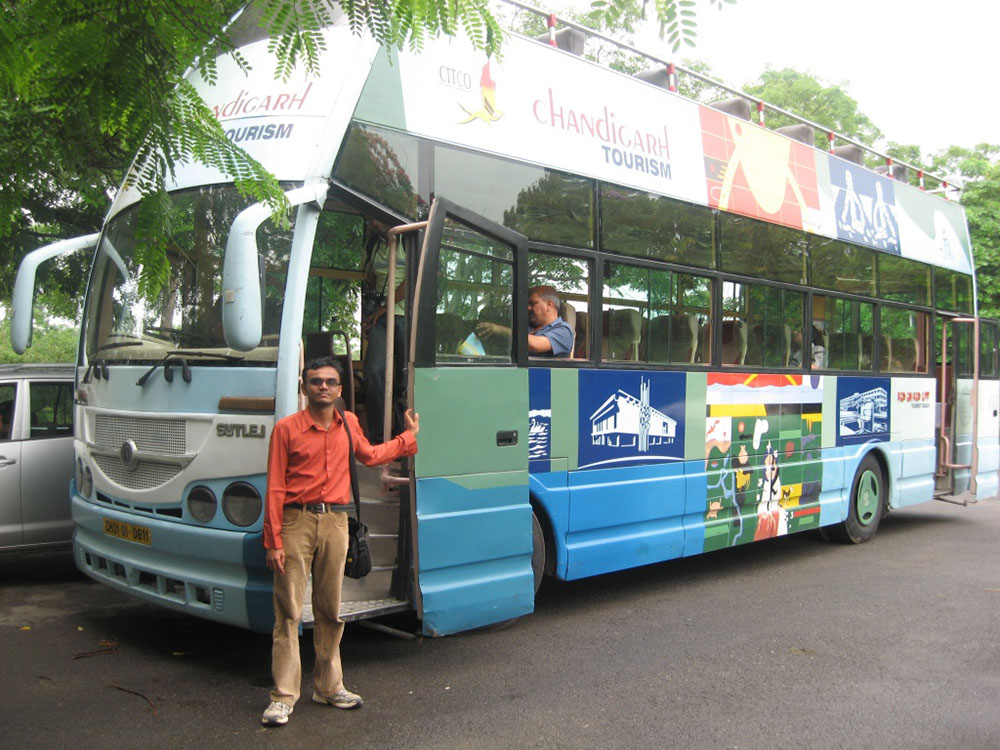 We returned back to Parwanoo. The main problem of Parwanoo as all of you know is Parwanoo= HP and Kalka= Haryana. HP vehicles drop you at Parwanoo and not Chandigarh or Kalka.
Also, one gets very few vehicles from Parwanoo to Kalka, and walking sometimes is the only option. From 6 seaters to milk-vans, finally, we reached Kalka railway station by 9.30 pm and caught some Barmer express to Ambala at 9.45 pm.
It reached Ambala at 11 pm. 3 hrs were spent in the filth of Ambala and our train (golden temple mail) came 15 mins late at platform no 1 and then started another long, boring journey. Day 11 was spent mostly sleeping. The train reached Mumbai bang on time at 5 am.
Thus ended our great trip to Spiti Valley from Mumbai.
Trip to Spiti Valley from Mumbai – Conclusion
I hope the travelogue, pictures, and information above on planning a trip to Spiti Valley from Mumbai were of help. If you have any questions, please feel free to ask in the comments section below and I will be happy to answer. You can also follow me on Instagram and chat with me live there or subscribe to my YouTube channel and ask a question there.