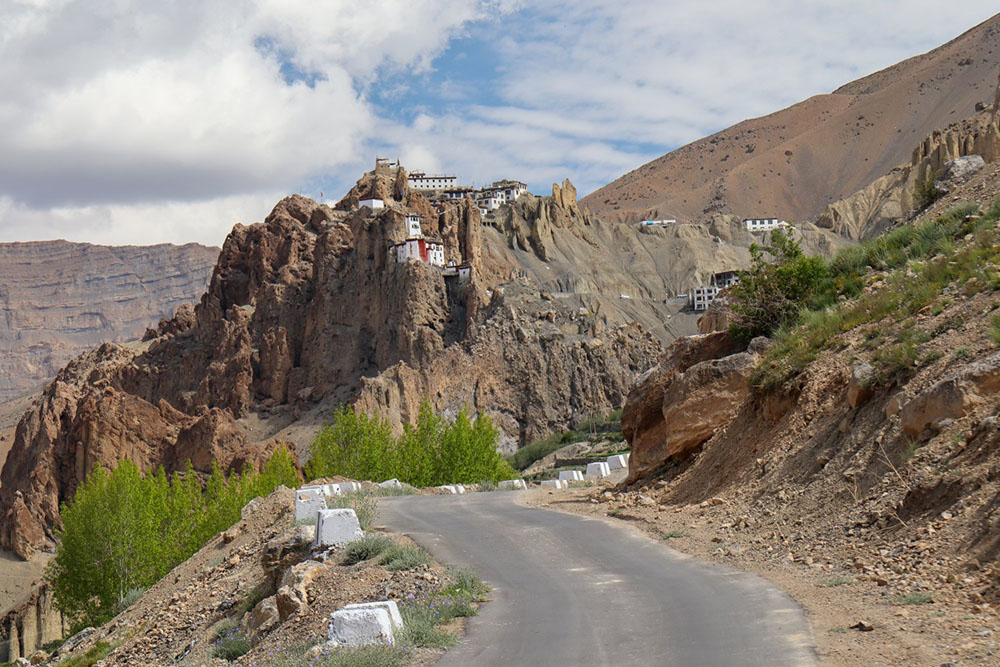 As the last installment in my series of articles on the monasteries of Spiti Valley, in this post, I will provide a detailed travel guide on Dhankar Monastery. Previously, I talked about visiting Key Monastery and Tabo Monastery, the two other renowned monasteries of Spiti. Together, these monasteries are among the must-visit places of Spiti, both in terms of natural beauty, spiritual learning, architecture, and history.
The village of Dhankar sits quietly at an altitude of 3,894 meters in Spiti Valley. It does not fall on the main Spiti Circuit and in order to get here, you will have to leave the highway and drive uphill for about 12 kilometers. Due to this, a lot of people tend to skip Dhankar altogether and continue towards Kaza.
But there are three things that make Dhankar worth a visit. The first is a stunning view of the entire valley and the Spiti River that you get from the village. The second is the Dhankar Lake which is a couple of kilometers trek away from the main village but is amazingly scenic and peaceful. The third are the monasteries of Dhankar of which the old one is truly a wonder. Read on to find out more.
For a complete travel guide on visiting Spiti, Please read How to Plan a Trip to Spiti Valley.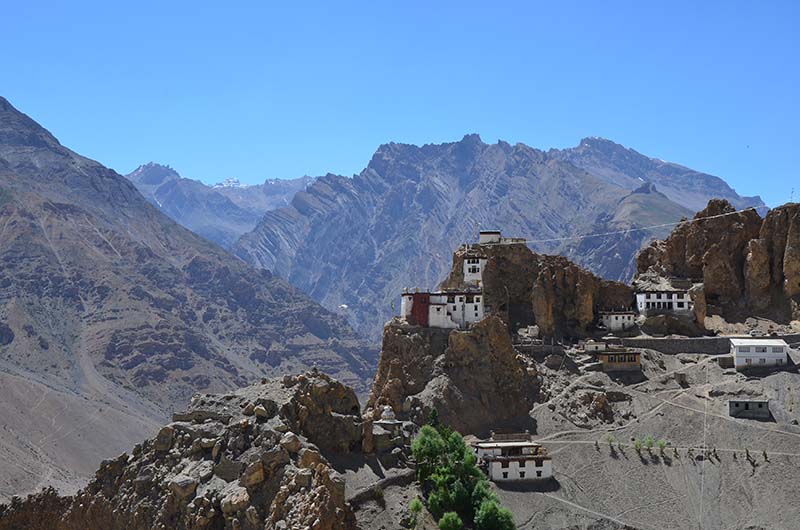 Where is Dhankar Monastery
Dhankar Monastery, also known as Dhankar Gompa (also spelled as Dankhar, Drangkhar, Dhangkar, Brang-mkhar or Grang-mkhar Gompa) is a monastery located in the small village of Dhankar; at an altitude of 3,894 meters (12,774 feet), between the towns of Kaza and Tabo. It is 390 kilometers from Shimla, 235 kilometers from Manali, and 34 kilometers from Kaza.
Old Dhankar Monastery
The word 'Dhang' or 'Dang' means cliff, and 'Kar' or 'Khar' means fort. So the literal meaning of the name Dhankar means 'fort on a cliff'. This is how the old monastery in Dhankar was built, like a fort on a narrow mountain and overlooking the confluence and Pin Rivers.
It is also not the only one to have been built that way. The largest monastery of Spiti, Key Monastery, is also built in the same pattern. A third one is the Tangyud Monastery in the village of Komic.
The village of Dhankar was the traditional capital of the early rulers of Spiti Valley, the Nonos. The old Dhankar Monastery is said to have been established in the 1100s by a Lama named Lha-'od due to which, it is also known as Lhaope Gompa. But the monks at Dhankar claim that it is, in fact, older than that. As per them, the monastery is from a time even earlier than Songtsen Gampo, the 33rd Tibetan king and founder of the Tibetan Empire who lived between 569–649 AD.
Tabo Monastery is believed to be the oldest continuously operating monastery in India. But if the assertion of the monks at Dhankar is valid, then it will become probably the oldest monastery in the entire world that is still functional.
New Dhankar Monastery
The old Dhankar Monastery is built on a Spur which is a lateral ridge or the very edge of land descending from a narrow mountain. Given the fact that it is literally hanging by the cliff for almost a thousand years now, the passing of time made it highly vulnerable due to soil erosion caused by the wind, rain and the melting snow. The 1975 earthquake of Spiti Valley that totaled the Tabo Monastery nearly destroyed the one at Dhankar as well.
The old monastery and the narrow small ridge that it is built on is in the advanced stage of deterioration, so much that it is included in the list of the 100 most endangered sites in the world by the World Monuments Fund. There is also a non-profit group by the name of 'Dhankar Initiative' that has taken up the task of conserving the old monastery.
Nonetheless, due to the deteriorating state of the old monastery, it was still not deemed safe for the monks to be living there. Hence, a new monastery was built in the village in 2009 where the living quarters of the monks now are. The daily prayers and assemblies are now held in the new monastery.
Also Read: Shopping in Spiti Valley – What to Buy in Spiti Valley
Highlights of the Monastery
The first thing to see in Dhankar Monastery is the way it has been built. Setting up the monastery on the very edge of a mountain spur and building it in a way that it will stand for a thousand years really makes you marvel at the architectural excellence of those times. The purpose of building it this way, like a fort, was to repel the attacks on the monasteries in those days from the neighboring kings of Ladakh and Himachal.
It is said that in times of an attack, the lamas would throw boulders from above on the invaders to weaken their attack. There is also a belief that the old monastery once served as a prison but I highly doubt that.
The second thing you will notice is the amazing view of the valley that you get from the village. The setting of not only the monastery but the entire village, in fact, is quite spectacular.
The monastery is built out of mud, stone, and timber due to which, it is also referred to as the Mud Monastery. It comprises several small rooms and prayer halls connected by small narrow steps. The rooms are all nearly dark except for the little light they get through the small windows in the walls.
Dhankar's Dukhang (main assembly hall) has a life-size silver statue of Vajradhara, the Diamond being, placed on a glass altar and decorated with scarves and flowers. Another major attraction of the monastery is the statue of Vairochana (Dhayan Buddha), consisting of 4 figures seated back to back. It also houses a collection of various centuries-old thangkas.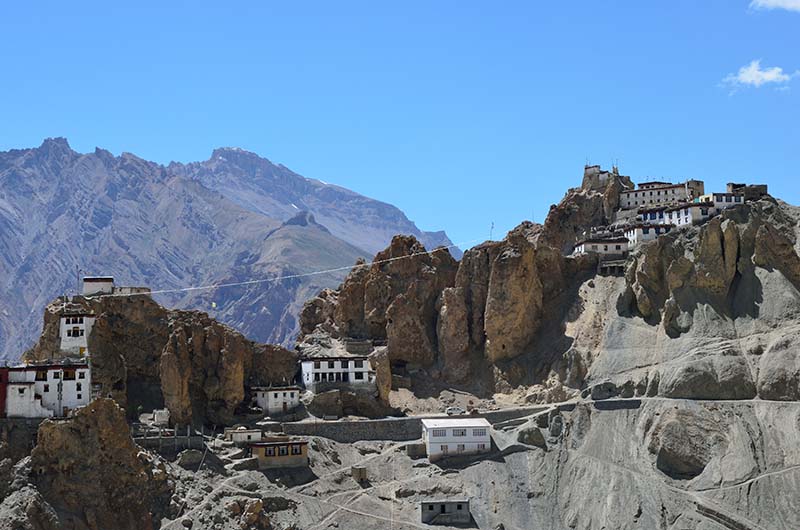 Dhankar Monastery Museum
There is a small museum outside the monastery. It contains several texts, murals, monuments, scriptures related to Tibetan Buddhism, monastery artifacts, and historical photos.
Dhankar Fort
Also known as Dhankar Palace, or Dhankar Fort Palace, it is a structure located near the monastery whose days of glory have long passed and it now stands in ruins. I read somewhere that when it was originally built, the entire village and the monastery were part of this fort and that is how Dhankar got its name. The fort once served as a hideout and shelter for the people of Spiti during times of war.
I cannot really comment on the history part but if you had some time in hand, do pay a visit to the fort as well. If nothing then just to enjoy the view. There is a narrow path near the monastery that leads to the fort. Ask any of the locals and they will be happy to point you in the right direction.
Annual Festival
The annual festival is held in the monastery in the month of July each year, dedicated to peace, happiness, and prosperity for all. It is marked by masked dances by the Lamas, known as Cham Dance.
Dhankar Lake
Also known as Dhankar Tso, it is the prime attraction and the jewel of Dhankar village. It is a glacial lake, fed by the melting water from the nearby glaciers, and is located about 90 minutes of walk away from the village. The trek, though a bit steep, can easily be completed by complete beginners as well. The view from the lake is simply amazing.
The path to the lake starts near the new monastery. Going to the lake and coming back will take you about 3-4 hours depending upon your speed, breaks, and how much time you spend at the lake. For more details, please read How to Trek to Dhankar Lake from Dhankar Village.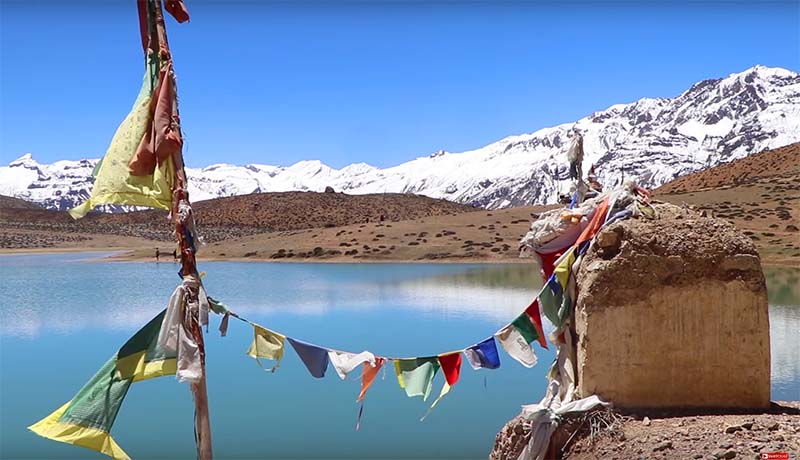 How to reach Dhankar Monastery
In order to get to Dhankar Monastery, you will first have to reach Dhankar Village. Depending on your time of travel, this can be done in two ways. You can either start your journey from Shimla and travel to Dhankar via Narkanda, Rampur, Pooh, Nako, and Tabo. Or you can start from Manali and reach Dhankar via Rohtang Pass, Kunzum Pass, and Kaza. For more details on this topic, please read How to reach Spiti Valley
By Road
The road from Shimla remains open for all 12 months except for peak winters when heavy snowfall may block it temporarily for a few days. If you were coming from Delhi, it will take you at least 2 days to get to Tabo with night halt at Narkanda or Rampur on Day 1.
The second route is via Manali but that takes you across the passes of Rohtang and Kunzum. In the winter season, both these passes receive about 50 ft of snow due to which the road gets blocked. You can travel by this road only from late May to early October.
An ideal way to complete the journey is to travel via Spiti as a circuit. You should start from Shimla, cover Kinnaur Valley, arrive at Tabo, visit Spiti Valley, and exit via Manali.
Tabo to Dhankar Monastery
If you were coming from the Shimla side, you will first arrive at Tabo. Take a break here, get something to eat, visit the Tabo Monastery and start driving towards Kaza. About 23 kilometers later, you will arrive at a spot where a road branches off to your right and climbs up steeply. This is the road that goes to Dhankar Village and Monastery and the one you will need to turn on. It is a steep drive of about 9 kilometers that will end near the new Dhankar Monastery. There is also a board marking the road so it will be hard to miss.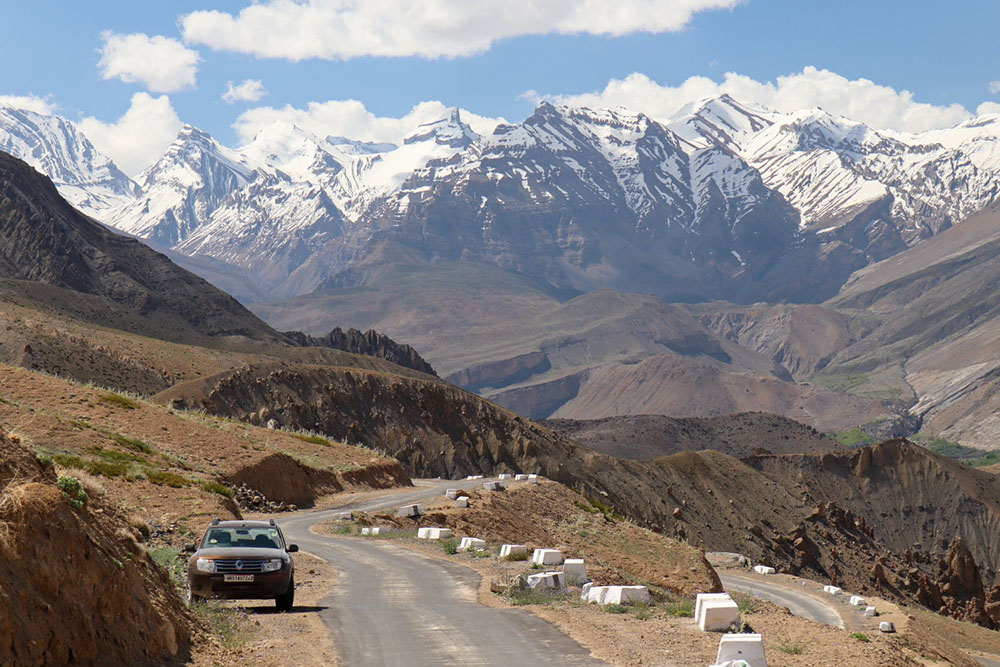 Kaza to Dhankar Monastery
If you were coming from Kaza, then also you will need to reach the same spot; just from the opposite direction. From Kaza, you will drive for about 25 kilometers to reach the bifurcation spot; and then drive 9 kilometers to reach Dhankar.
By Bus
There is a daily Bus from Shimla and Reckong Peo that can drop you at Dhankar. The catch however is that both these buses can only drop you near the bifurcation point on the highway. They do not go all the way to Dhankar. Once you get down near the highway, you can look for a shared cab going to the monastery or just hitchhike. In peak season, it will not be hard to find someone to give you a ride.
The bus from Shimla starts at 6.30 PM and reaches Kaza the next morning at 6 AM passing the Dhankar bifurcation point at about 5.30 AM. Another Bus starts from Reckong Peo at 6 in the morning and reaches the spot by afternoon.
The Bus from Manali starts at 6 AM and reaches Kaza by evening. From Kaza then, you will have to look for an alternate mode of travel to cover the last 35 kilometers to Dhankar.  For more details, please read Spiti Valley Bus Schedule.
By Air
Shimla is the nearest airport for someone coming from Shimla. If you were traveling via Manali then Bhuntar Airport in Kullu will be the closest one.
Both these airports, however, have limited flights. A better way would be to fly into Chandigarh instead and then travel to Tabo from there either by Bus or taxi.
By Train
The nearest railroad is in Shimla but it is a narrow-gauge track, connected by the famous Shimla – Kalka Toy train. After Shimla, Chandigarh is the next nearest railroad.
For anyone traveling by air or train, Chandigarh will be the best bet. You can easily get a bus from here for Spiti Valley or you can rent a taxi from right outside the airport or railway station. Buses too are easily available from Chandigarh for Shimla and Reckong Peo.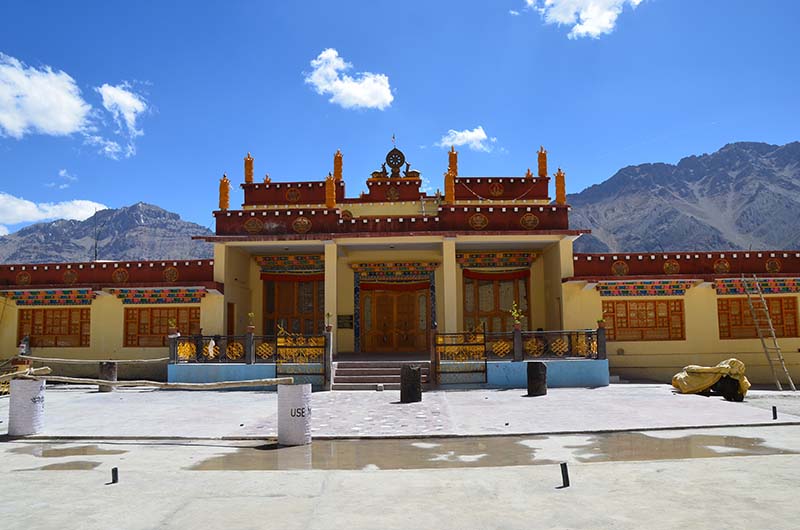 Best time to visit Dhankar Monastery
The best time to visit the Monastery is from late May to September, which is also the best time to visit Spiti Valley. Both the roads to the valley remain open in these months and you can reach Dhankar either via Shimla or Manali.
The weather too remains pleasant with warm days and moderately cold nights. Since it is the peak tourist season, you will also not have any problem finding a place to stay. Along with Tabo, you can also include all other tourist attractions in Spiti Valley in your itinerary if traveling during this period.
Weather
Not just Tabo but the weather of the entire Spiti Valley is very cold and unpredictable. Summers here are short and last only from May to August. During this time, the average temperatures range from −5 °C at night to 20 °C in the day.
Winters in Spiti valley are very long and harsh. The average temperature remains around −15 °C in the day to −30 °C at the night.  Spiti is in a rain shadow area so it does not rain here and even if it does, it is almost next to none.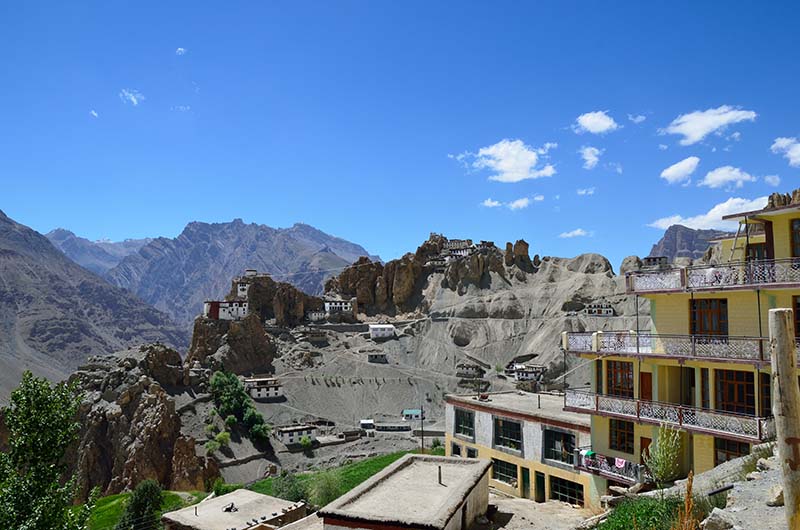 Where to Stay



The monastery at Dhankar does not allow night stay and they have no provisions for it. I am adding this information first because it is one of the most common questions I get asked about Dhankar. If you want to stay at a monastery, then you should try your luck at either Tabo Monastery or Key Monastery. Or you can try talking to the lamas and see if they will let you stay in their quarters. I will however advise against it.
There are a few homestays in Dhankar that will be a better accommodation choice. Listed below are the names and their contact details.
Dhankar Home Stay: Contact Anil at 9999731115 or 9313080096
Eay-ma-ho Home Stay: 8988007090
Rabsal Home Stay (at village top): 9418411224 (Gianchho)
Tenzin Home Stay: 9418719839
Tashi Home Stay: 89884 81696
Yangzor Home Stay: 9418518317
Manirang Family Guest House: 09418556208
Dhankar Monastery Guest House: 09418646578
The average cost of accommodation here will come out to be around Rs. 500 including meals. There are no hotels in Dhankar.
Also Read: How to Prepare your Bike for Spiti Valley
Where to Eat
There are no restaurants or eateries in the village. You will have to eat at your homestay only. Food provided will be very basic (Roti, Sabzi, Rice, Daal) but delicious enough. You also need to understand that you will be staying in the house of a villager at a very nominal cost; so please keep your expectations accordingly.
Mobile Network and Data Connectivity
BSNL has the widest coverage in Spiti Valley but even that does not work in Dhankar. I was carrying  BSNL and JIO Sims and they both remained out of network completely. However, in case of an emergency, there is a landline phone available in the new monastery.
Timings of Dhankar Monastery
The Monastery remains open from 6 AM to 6 PM every day including Sundays and other public holidays.
Entry Fee
There is no entry fee applicable, however, donations are welcome.
Permit Needed for Dhankar Monastery
Indians do not need a permit for traveling to Spiti Valley. Foreign nationals, however, will need to procure a permit that can be obtained from Shimla, Manali, or even Kaza. For more details, please read How to Obtain an Inner Line Permit for Spiti Valley.
Conclusion
I hope the information above on visiting Dhankar Monastery was of help. If you have any questions or need any other details, please feel free to ask in the comments section below, or at our Community Forum, and I will be glad to answer.