This post is in continuation with a previous one; and a part of my Kashmir Travelogue. Details below are of our 6th day of the trip when we traveled from Srinagar to Dawar, in the beautiful Valley of Gurez. Our Day 7 too was spent in Gurez Valley visiting some of the local villages there. On Day 8, our initial plan was to go to Sonamarg but then we just decided to come back to Srinagar only. Details of this journey are described in the post below. In order to read previous parts of this travelogue, please click on the link below.
Journey So Far: Sightseeing in Srinagar – Hazratbal to Nishat Bagh
Gurez is a valley located in the high Himalayas, about 123 kilometers from Srinagar City. At about 8,000 feet (2,400 meters) above sea level, the valley is surrounded by snow-capped mountains. It has diverse fauna and wildlife including the Himalayan brown bear and the snow leopard. The Kishanganga River flows through the valley. Dawar is the central township in the area. The population of the area is estimated to be about 30,000, and is scattered among fifteen villages. Due to heavy snowfall in winter, (approx. 6-7 ft) the valley remains cut off for six months of the year. (Source Wiki)
Tourist movement in Gurez was not allowed until a few years ago; and that is what probably makes it among the least visited areas in all of Kashmir; and that is where we were planning to go today. My entire morning was spent in visiting Dal Lake, Nigeen Lake, Hazratbal and Nishat Bagh. I was in fact in Nishat Bagh wen Lavish called me from the hotel asking about when we were planning to start for the day.
Also Read: How to Plan a Trip to Gurez Valley?
Srinagar to Gurez Valley
I reached back the hotel and in next one hour, we were all packed up. Plan as per the original itinerary was to reach Gurez valley today, then arrive at Sonamarg tomorrow and then return to Srinagar the day after. After a bit of thought and discussion, we decided to carry just as little stuff as we would need to survive the next two days in Gurez and Sonamarg; and leave the rest at the hotel in Srinagar only. I had borrowed a couple of small bags from Faisal for this purpose. So we all packed up a couple of clothes and stepped out of the hotel at around 10 AM.
First stop was Zeenat Hotel in front of Shalimar Bagh to get a cup of tea and something to eat.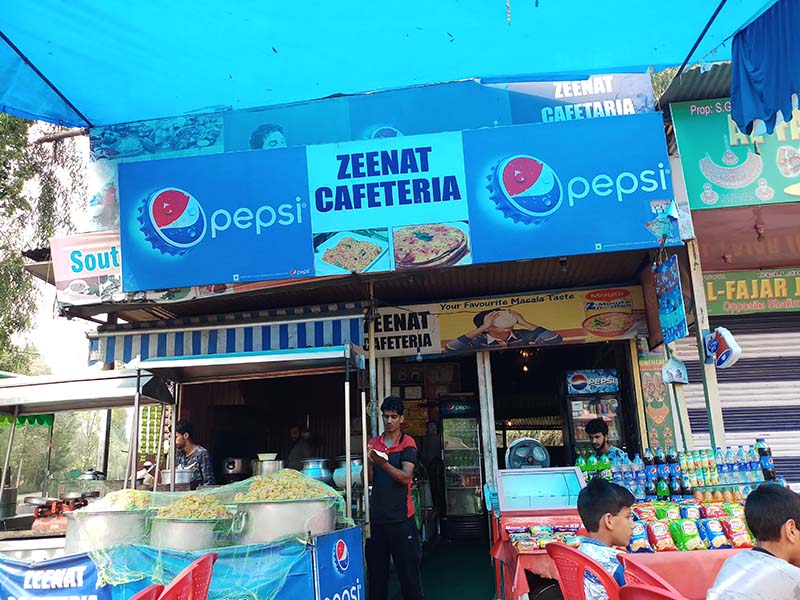 Our breakfast here was followed by an amusing and somewhat funny incident. An elderly gentleman was sitting on the table right next to us and was noticing us with bit on an interest. Now this was not something unusual because throughout our journey, people have been indeed noticing us because of the entire biker get up. So we did not really take much notice of it until the old man asked us where we were from and started to talk us about our trip plan.
The Funny Old Man
We told him that we were heading to Gurez valley now and he then started telling us about the times he was in Gurez. By his clothes and entire get up, he seemed like an educated man from a good family; so even we did not mind talking to him for a while.
During all this, Lavish had his cigarette packed in his hand which the old man noticed and then the conversation turned into a lecture. A lecture that continued for next 15 minutes and covered almost all the aspects of how a cigarette kills; and how being the young men of the society, we should stay away from such evil. And below is how the lecture ended.
"Kaun si cigarette hai ye vaise?" Asked the old man.
"Dunhill" Replied Lavish
"Ek do na mujhe bhi, ye wali kabhi pi nahi hai maine" Said the old man.
Lavish took a cigarette out and handed it to the old guy which the guy happily lit and pulled a long drag. All along while we looked on in complete disbelief and with just one thought in our heads.
"Abe tune khud cigarette pini thi toh hamein kyun lecture de raha tha be?"
Also Read: What to See in Gurez Valley?
Srinagar to Wular Lake
Anyways, the old guy borrowed one more cigarette after he finished his first one. We then started on our way to Gurez Valley. Route of the journey was going to be as below.
Srinagar – Bandipora – Razdan Pass – Dawar
Total distance is about 140 kilometers but I knew it was going to take us at least 6 hours because of bad roads. First stop of the journey was going to be the famous Wular Lake.
Wular Lake (also spelt Wullar) is one of the largest fresh water lakes in Asia. It is sited in Bandipora district and its size varies seasonally from 12 to 100 square miles (30 to 260 square kilometers). The lake is one of the 26 Indian wetlands designated as a Ramsar site and is an important fish habitat. It also sustains a rich population of birds. (Source Wiki)
We finally reached Wular Lake in about an hour and a half and this was my second disappointment of the day after Nigeen Lake. Considering that it is one of the largest freshwater lakes in Asia; I was expecting something totally grand. All that we found however was water covered with so much green that it actually looked like land covered with grass. Had it not been for the boats, we would not even have realized that it was actually a lake.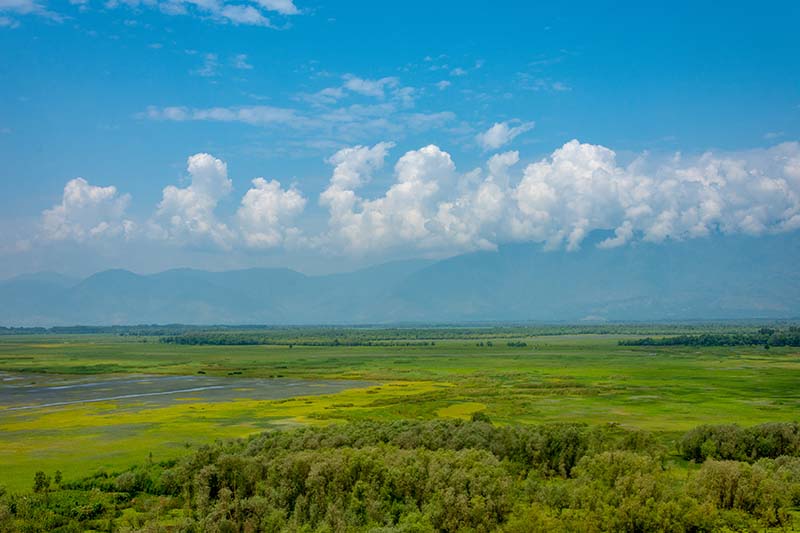 Razdan Pass
Our next destination was Razdan Pass; the only high altitude pass between Srinagar and Gurez; sitting at a height of 3.557m (11,672ft) above the sea level. It is also known as Tragbal Pass or Rajdhan pass. The road over the pass, called Bandipora-Gurez highway, connects multiple remote villages, including those near the Line of Control (LoC) with Bandipora and Srinagar. It receives very heavy snowfall during the winter months and road remains closed 6 months in a year. It was also once an integral part of the Silk route between Kashmir and Central Asia.
From what I had been told so far, or even read over the web, the pass is quite a beautiful sight; and even the drive was a scenic one; which actually turned out to be quite true.
Some vistas en route.
Notice the Tricolor?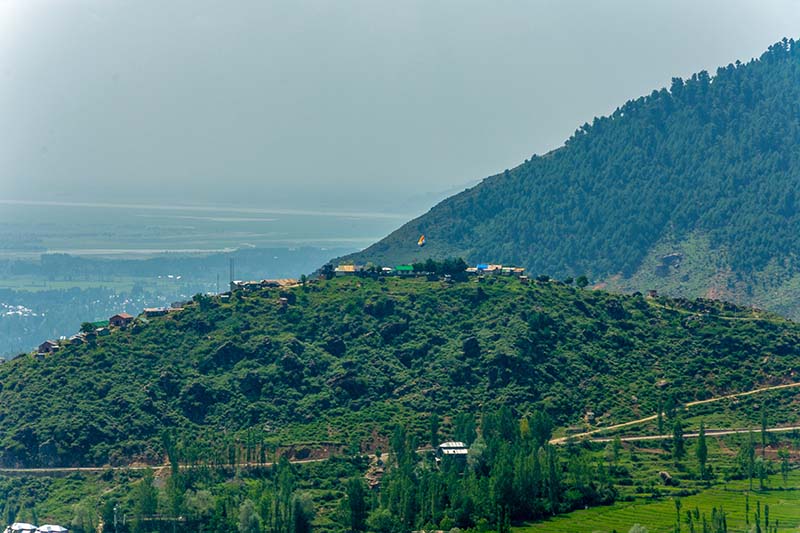 We continued on our way and pretty soon were climbing up the Razdan Pass. I was told by almost everyone that I spoke to that the road to Gurez valley remains in terrible condition and it is badly broken. So far however, we traveled on a greatly smooth road which started to deteriorate a little as we climbed up Razdan.
Smooth Road first which started to turn bad as we got closer to the pass.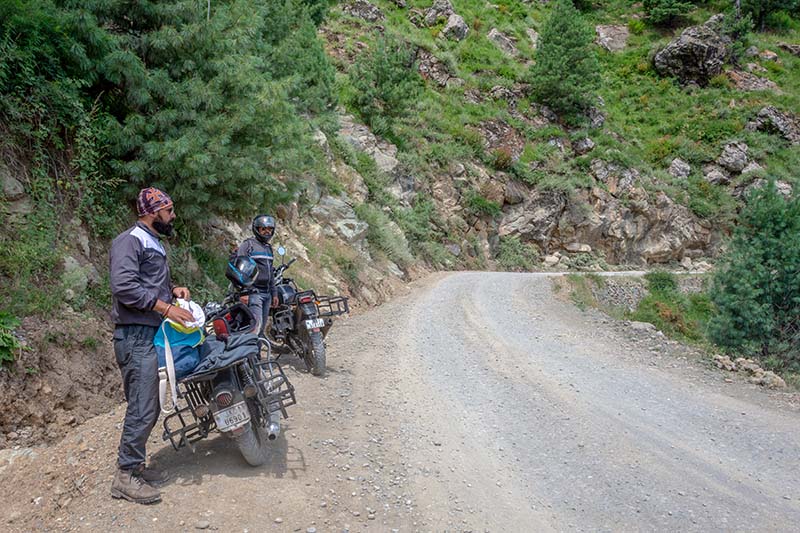 And then it got really bad.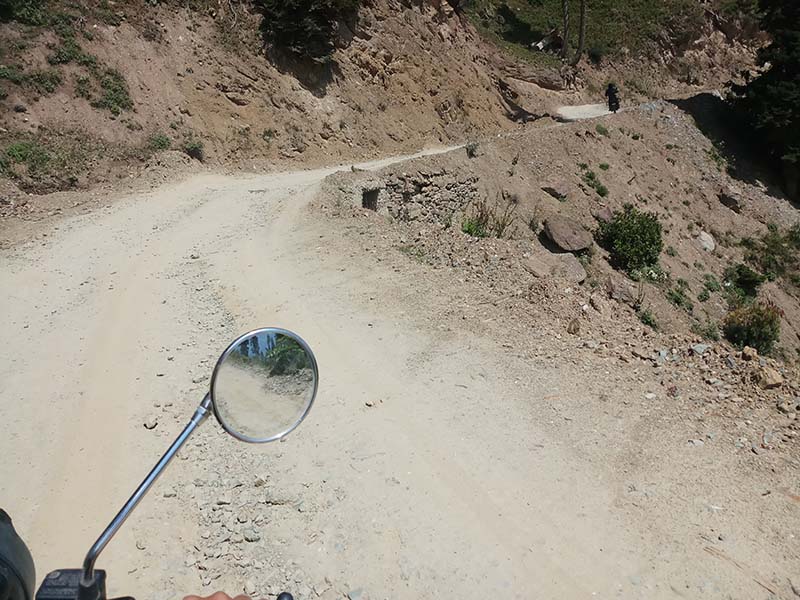 We stopped at this hotel to get something to eat. The clock by now was showing slightly past 12 noon.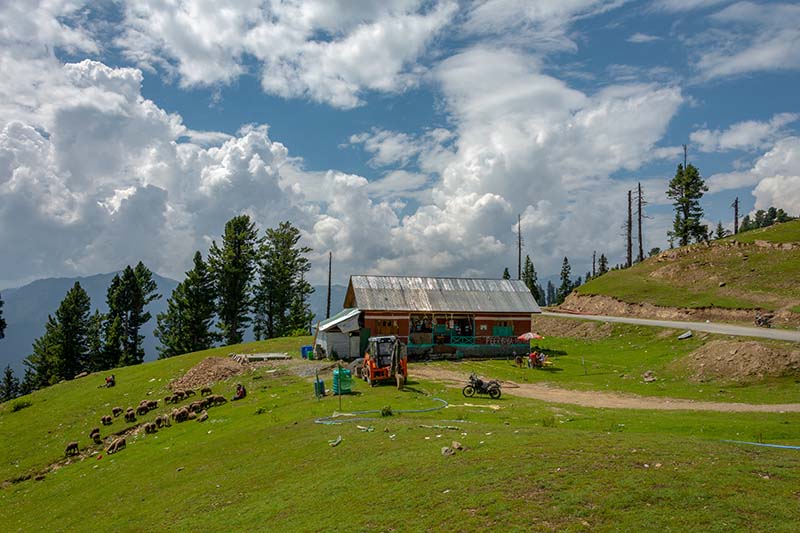 My friends making some new friends.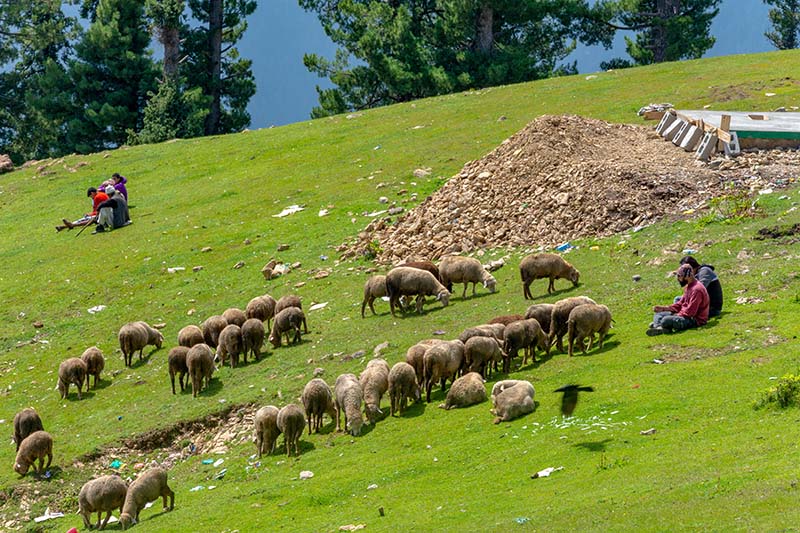 With our bellies full, we were back on the road which surprisingly turned good and smooth again. The drive was very scenic though. Just before the top of the pass, we registered ourselves at the first check post along the route; and a little while later, were standing at the summit.
Razdan Pass to Dawar
Just as we started to climb down the pass came the second check post. Story here however was completely different. At the first check post, they registered us using our DL but at the second one, we were asked to produce our Aadhar card. Of the three of us, only Shoaib was carrying his Aadhar card. Lavish and I had left it back at the hotel in Srinagar with all our luggage; and were only carrying our DLs. The soldiers however refused to accept the DL and to let us go any further. We were asked to turn around and go back.
Also Read: When is the Best time to Visit Gurez?
Now this was a bit of a situation. It would turn into a great disappointment if we had to return to Srinagar from here. All that we could however do was to request. Thankfully, it didn't take much and the soldiers agreed to let us pass; but only after they confirmed with their CO over the radio that it was OK to let us go.
Vistas continued to get better.
Road condition got really bad after Razdan Pass; and we realized why everyone was warning us about it. It really turned into a dirt trail with so many potholes that our backs and butts started to hurt. Check posts continued to arrive after regular intervals and we finally arrived at Dawar at around 5 PM. I think we registered at about 8 check posts before we finally made it to Dawar.
Dawar, Gurez Valley
Dawar is the largest town in Gurez valley and the only place where you can stay for the night. There is a J&K tourism bungalow here and a few other small hotels. The tourism Bungalow was closed when we reached there so our only option of stay was at Hotel Kaka Palace; at Rs. 2,500 per day for a very average room. I have posted a detailed review of this hotel at Hotel Kaka Palace in Gurez Valley Review.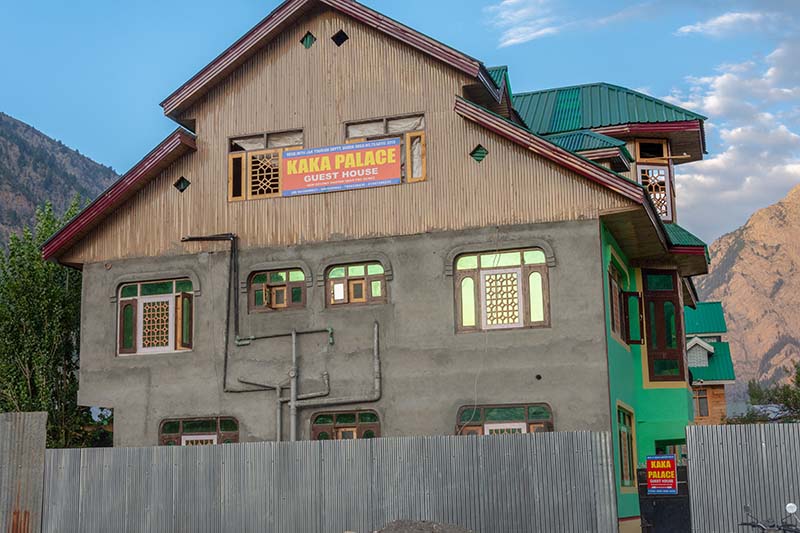 After we checked in, It was time to enjoy a late evening walk in the sleepy town of Dawar; on the banks of Kishenganga river and under the shadow of Habba Khatoon Peak. There in fact is an interesting tale of love related to Gurez and this mountain here. To know more, please read The Love, Life and Legend of Habba Khatoon.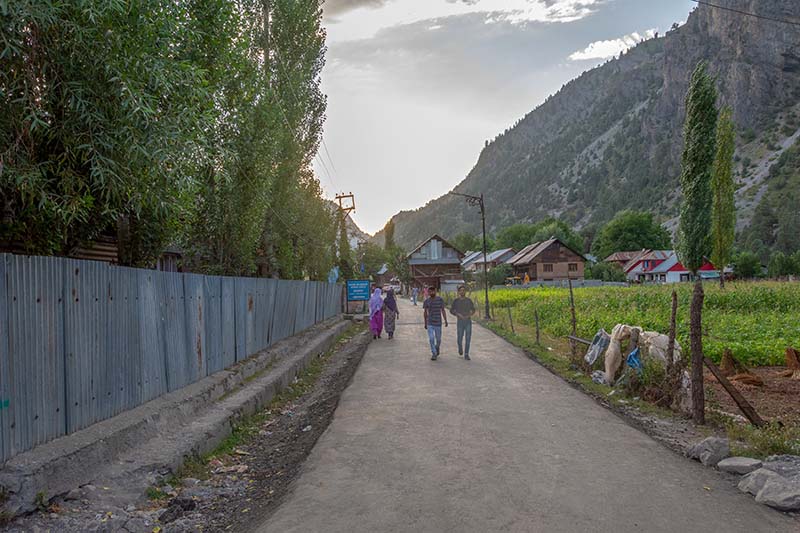 This is the Habba Khatoon Peak.
Change in Itinerary
As per our original plan, we were to stay in Gurez just for the night today and be on our way to Sonamarg tomorrow. When we reached here though and were checking into the hotel, I started to think about staying here for a day more to explore the valley. My logic was that all of us had been to Sonamarg before and will sure be there again in future on any of the Ladakh rides. Gurez however an entirely different deal. I didn't know if I was ever going to be here again so I wanted to see all that there was to see while we were still here.  Shoaib however was not very keen on the idea and wanted to go to Sonamarg. So I too gave up on the thought and we remained with our original plan.
There was another group of guys that was staying at the same hotel with us. They actually had arrived the day before and have been driving around in Gurez the entire day today. We got talking to them at the dinner table and they highly recommended another day of stay in the valley. They showed us some pictures and they were all stunning. In their words, the actual beauty of Gurez is once you drive beyond Dawar.
Lavish, to summarize it all, asked a simple question.
"Is it worth staying here for a day more?"
"Yes, Absolutely" was the immediate answer.
Another Day in Gurez
And hence our plan changed again. We decided to stay back and explore Gurez. Shoaib initially was dead set against this idea but now he too kind of gave a silent consent. We were told by the other group, and also the owner of the hotel, that Chakwali is the last village till where civilians were allowed. The road actually ends at Chakwali from where, it is Pakistan on the left and a trail to Drass on the right. We would also need to obtain a permit in the morning from the police station in Dawar as we were told. It would be a drive of 65 kilometers approximately from Dawar to Chakwali on an extremely bad and broken road so we were advised to start early.
With all the necessary information gathered, it was time to call it a day and go to sleep. There was in fact nothing else to do for the evening. We had a TV in the room but it wasn't working. Actually, we checked it in the evening when we arrived at the hotel. The cable was needing a recharge which the owner promised us that he will get it done immediately. It however never happened despite multiple requests. Finally we realized that he was just stalling and had no intention of spending money on getting the TV to work.  So we just gave up and went to sleep.
Journey Ahead: Exploring Gurez – A Ride Along the LOC
Conclusion
I was really excited about the next day and the fact that we would be riding right next to LOC; and that we would actually get to see POK. The only annoying part of the day was the hotel and its owner. I have posted a detailed review about the hotel that you can read at Hotel Kaka Palace Guest House, Gurez.
Please read Exploring Gurez – A Ride along the LOC to continue reading the next part of this travelogue. I hope the information above on traveling from Srinagar to Gurez Valley was of help. If you have any questions, or need my help in planning your trip to Kashmir; please feel free to ask in the comments section below; or at our Community Forum; and I will be glad to answer.