After visiting Strawberry Valley and Maharaja Palace in Gulmarg, we were back at our hotel by 9 am. Our driver Gulzar was already waiting for us. We packed our bags, checked out of the hotel, and were ready to start our journey from Gulmarg to Doodhpathri by 10 am.
The plan was to drive to Doodhpathri, spend a couple of hours there, and return to Srinagar by evening. This was my first trip to Doodhpathri and really had no idea about what to expect there. But by the pictures that I had seen of the place so far, it definitely looked beautiful and I was excited to be there finally.
Journey So Far
From Gulmarg, we drove all the way back to Tangmarg and Magam. From there, we took the turn toward Doodhpathri.
Road conditions were mostly good and the only thing that slowed us down was the narrow roads and the traffic in between. The journey took us about two and a half hours and we arrived at Doodhpathri at around 1 pm.
If you have any questions, you can contact me on Instagram. For all other details on Kashmir like mobile connectivity, public transport, taxi services, and several other tips, please take a look at How to Plan a Trip to Kashmir – A Complete Travel Guide.
About Doodhpathri
For a brief introduction, Doodhpathri is a tourist destination and hill station in Kashmir. It is situated at an elevation of 8,957 feet and is located about 45 – 50 kilometers from Srinagar.
The name Doodhpathri means valley of Milk. The water which is at present flowing through the meadows has a milky appearance from the distance and remains very cold throughout the year.
The lush green grasses over the vast meadows and silver shining streams running over the large stones further increase its beauty. Doodhpathri is a sloping grassy landscape with a diversity of multicolored flowers up to Chang. The famous Tosamaidan lies in the west of Doodhpathri.
Other than the meadow and the natural beauty, there is not much in Doodhpathri. But if you wanted to stay here for the night, you can do so at the JK tourism huts that were recently built. These are available for rent at Rs. 2000 per day.
For more detail, please take a look at How to Plan a Trip to Doodhpathri.
Gulmarg to Doodhpathri
The common thing between Doodhpathri and Gulmarg is that it is only the last 10 or 12 kilometers that is actually a steep climb. The rest of the journey is pretty much on a flat straight road and you will hardly realize that you are actually traveling in the hills.
We traveled through the crowded towns of Magam and Khan Sahib and crossed several other small villages on the way. It was really a good experience to see the local life in Kashmir.
The scary part of the experience was the way our driver was driving the car. It was really a wonder that we did not end up hitting anyone on the way.
The complete drive from Gulmarg to Doodhpathri will easily take about 3 hours. But because our driver was thinking of himself as an F1 driver, we were able to save about 30 to 40 minutes on the journey.
The road condition between Gulmarg to Doodhpathri is mostly all good. The only average part of the road is between Magam and Khan Sahib. More than the condition of the road, however, it is driving through these small villages on narrow roads that limits the speed.
Also Read: How to Plan a Trip to Doodhpathri
Doodhpathri
There really is nothing to see in Doodhpathri except for the natural beauty of the place. It is just the lush green meadows that people visit here for.
Just a huge ground-like place covered under a carpet of lush green. In winter, the entire place gets buried under a thick sheet of snow and I am sure would look even more stunning.
Surprisingly, like Gulmarg, out here as well we were the only tourists from outside of Kashmir. Rest all the people were the locals out on a picnic with their families. We even saw a couple of schools here for picnics.
There is a small river about 2 kilometers ahead of Doodhpathri, named Shaliganga. That became our first destination. We straight away reached there.
It was a good place to just sit, relax and click pictures. The only annoying part was all the local kids trying to sell us a ride on their ponies.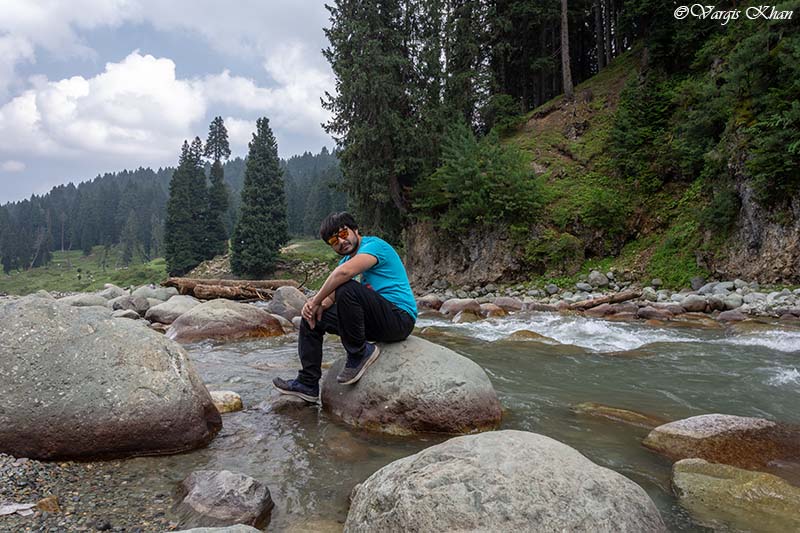 Sightseeing in Doodhpathri
After spending some time at the river, we drove back to the meadow.
There was this guy selling Kashmiri Chaai which we thought to try. We had no idea what to expect or how different  Kashmir tea was from regular tea. As it turned out, it is made by replacing sugar with salt.
Yes, it was salty tea with some other ingredients apart from tea leaves. Don't know what it was but I totally hated it. They keep the tea in this beautiful kettle though.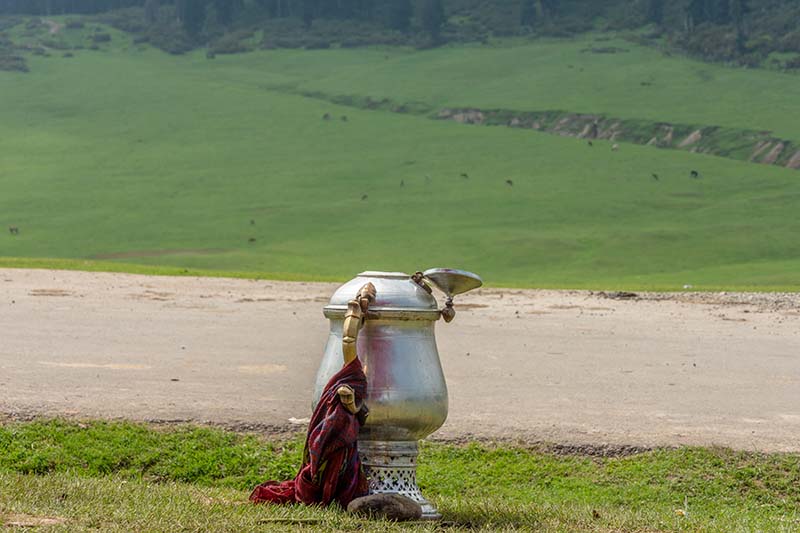 After spending some time at Doodhpathri, we started on our way back to Srinagar. It was a distance of just about 45 kilometers but took us well over 2 hours due to single-lane roads and crowded towns in between.
Hotel Grand Valley Inn, Srinagar
By 5 PM, we reached our hotel, Grand Valley Inn. Like most of the things for this trip, our stay at this hotel too was arranged by Faisal and I absolutely loved our time here.
It is owned by a gentleman who will treat you like more of a personal guest than a customer staying at the hotel. The location of the hotel is quite great. Nishat Bagh and Dal Lake are merely 5 minutes and you can easily walk to Shalimar Bagh in 2 minutes from here.
It is located in a very peaceful area away from the busy Srinagar streets and I will highly recommend it to anyone visiting Srinagar. I have posted a detailed review of this hotel at Hotel Grand Valley Inn Review – A Great Place to Stay in Srinagar.
We were visiting Kashmir in the same week as Eid. Due to this, most of the shops, businesses, and even hotels were closed. August is anyway offseason with not many tourists around. So a lot of hotels granted leave to their staff for the Eid celebration and closed business for a week.
The same thing happened at Grand Valley Inn as well. We arrived there just a day before Eid and there was absolutely no one in the entire hotel. No staff, no one to cook, no other guests, and no one at even the reception.
We had the entire hotel just to ourselves. I was worried about food but then the owner showed me the market in front of Shalimar Bagh where we could go and eat which worked well for us.
Shalimar Bagh
After checking in, we freshened up and decided to visit the nearby Shalimar Bagh.
I had heard a lot about Shalimar Bagh and all the Mughal gardens in general actually. Before walking in, I was really expecting something grand but did not find anything too great about it. It is just like any other park and not even that well maintained actually.
We remained in the park well after dark until they closed the gate and then had dinner at the market right in front of it.
Distance Chart for the Day
Gulmarg to Doodhpathri – About 70 Kilometers, a total journey of 3 hours approximately.
Doodhpathri to Srinagar – About 50 kilometers, a total journey of about 2 hours.
Change in the Itinerary
We returned to our hotel and it was time to call it a day. As per our initial plan, we were to head toward Pahalgam the next day. But this is where our itinerary started to change for a second time.
Throughout the entire day, I wondered if it would be wise to go to Pahalgam because of two reasons. First was that it was the time of Amarnath Yatra so Pahalgam was definitely going to be crowded.
The second and bigger reason was that Pahalgam is not a place where you can just go and come back. To explore it fully, you need to spend at least 2 to 3 days in Pahalgam itself which we were not intending to do.
So we would just reach Pahalgam, see the town, spend the night, and return the next day and this did not sound like a good idea.
Hence came the second change in our itinerary. We all agree to give up Pahalgam for a later time when we could stay there for a couple of days at least.
Now as per the new itinerary, we were to go to Aharbal the next day. If we liked the place and found a hotel there, we may stay for the night or else make it a day trip and return to Srinagar by evening. Please click on the link above to continue reading the next part of the travelogue.
Gulmarg to Doodhpathri – Conclusion
I hope the travelogue, pictures, and information on traveling from Gulmarg to Doodhpathri were of help. If you have any questions, you can contact me on Instagram and I will be happy to answer. You can also consider subscribing to my YouTube channel and asking a question there.