Continuing from the previous article where I talked about how you can plan a trip to Gurez Valley; in this post I am going to provide a detailed description of all tourist attractions in Gurez Valley. One thing that you need to remember while visiting here is that Gurez is an extremely sensitive area. It is one of the hidden gems of Kashmir and for a very good reason. While traveling through Gurez valley, you will be running extremely close to the border; so close that you can actually see Pakistan occupied hills. This was the reason why tourists were really not allowed to travel here at all until recently. When you go from Srinagar to Gurez, in a distance of about 100 kilometers, you will register yourself at about 15 different check posts, one after another. Much higher than what you will actually get even in Ladakh.
Also Read: How to Plan a Trip to Gurez Valley?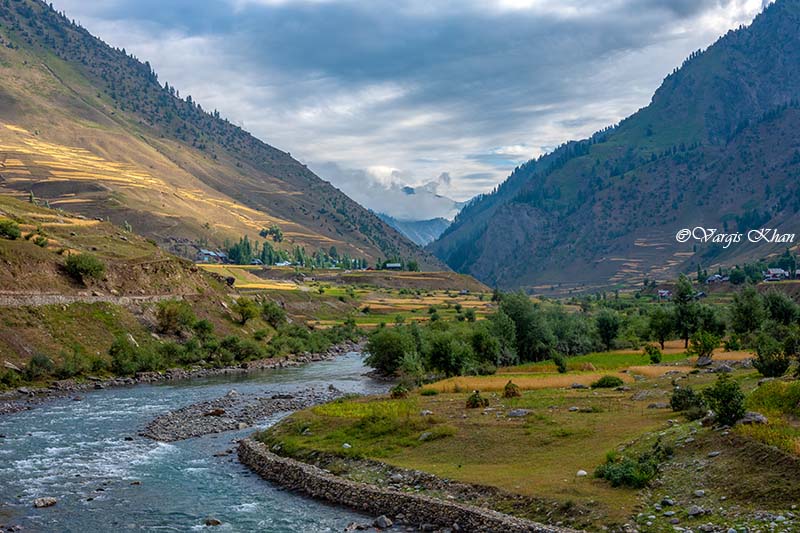 That is how sensitive it is. Why am I telling you this? The point I am making here is that there aren't many places that you are actually allowed to explore here. Places that you can visit in Gurez valley are actually limited to just a few that I will name in this article.
Tourist Attractions in Gurez Valley
So what do you visit Gurez Valley for? If you were hoping for some great markets where you can shop; an endless list of places you can explore; fancy restaurants where you can taste 15 different kinds of foods; or a smooth journey through amazingly scenic landscapes then you must give up the idea of visiting Gurez. The landscapes beyond any doubt are highly scenic but the journey will not be smooth. Roads here are custom built to test your stomach, your butt and your vehicle's suspension. And I truly mean it because we did end up breaking the suspension of one of the motorcycles in Gurez valley. There are no markets here, nothing to buy and no greatly famous places. But that is exactly what you visit here for.
Also Read: The Life and Legend of Habba Khatoon
Scenic Beauty
This exists in Gurez valley in plenty and all around. It is the natural beauty that not many have witnessed, that not many have seen. Being so close to the border, it is actually what you may as well call a forbidden beauty. Vistas will leave you spellbound at every turn. Snow capped peaks standing proud, a river flowing through, a gush of cold winds, dense forests, a few wooden houses in the middle of nowhere; and a few distant cries of a woman calling out to her kids; that is Gurez valley for you. A place that seems like straight out of a painting. It is hard to describe in words but the scenic beauty of this place is actually a bit different than what you will find in other hill stations. Visit here and you will know what I mean and will agree with it.
The Thrill
This of course will be the next in the list. Traveling so close to the border is a thrill in itself. Even the soldiers here will be surprised to know that you found this place worth visiting. Traveling to a spot where you can clearly see the other side of the border is something you will talk about for months to come. If you recently bought a new 4×4 and want to go off-roading somewhere, than Gurez will definitely please you. Once you cross Razdan Pass, the entire journey feels like a non-stop series of potholes; that is how bad the road can get. When you go to Gurez, you know that you are visiting a truly offbeat destination where not many people have went. You know that you are witnessing views that not many people have seen.
Also Read: Hotel Review – Kaka Palace, Gurez Valley
Wular Lake
Wular Lake is not in Gurez actually but on the way. It is one of the largest fresh water lakes in Asia and you will come across it just before Bandipore. Take a look at the image below. Yes, it is actually a lake. Under all that grass and vegetation, it is wall water.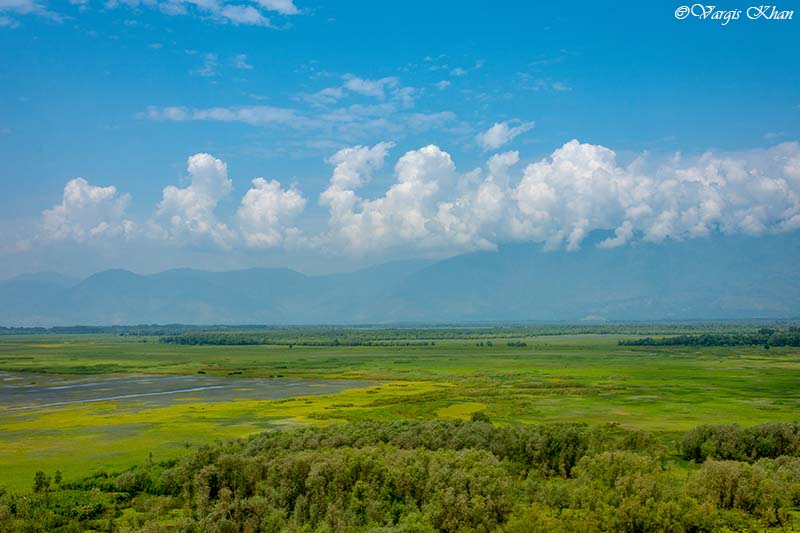 Razdan Pass
This is the first and the only high altitude pass in your journey between Srinagar and Gurez. At a height of 3,300 meters, it provides some of the most breathtaking views of the mountains and the gorges. The climb to the pass is not really that steep but the road will get bad on both the Srinagar and Gurez side. You must stop here for a minute to enjoy the views and get some amazing photographs.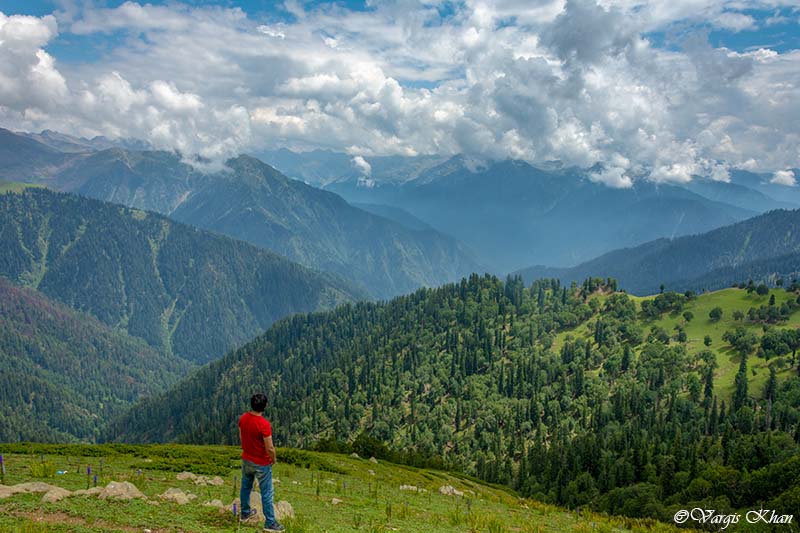 Peer Baba Shrine
This shrine is actually a little before the top of the pass. It sits beautifully overlooking the valley in front and is maintained by Indian Army. The entire location and the set up of Dargah makes it worth a short stop. The saint buried here is believed to have arrived from Lahore in 1933 and was buried at Razdan pass.
Also Read: Is it Safe to Visit Kashmir?
Kishen Ganga River
As you climb down Razdan Pass and enter Gurez Valley, you will be greeted with restless, noisy and beautiful Kishen Ganga River. It passes through Gurez before finally merging into Jhelum River near Muzaffarabad in Pakistan Occupied Kashmir. In Pakistan, it is known as Neelum River and forms the beautiful Neelum Valley.
Rafting can be done in Kishen Ganga river but arrangements for that will have to be made from Srinagar itself. Trout fishing is a frequent sport among locals and you can try your hand at it too if fishing interests you. Another activity that you can indulge yourself in is camping near the river. There are several camping spots where you can pitch your tent. I would however highly recommend that you do so in Dawar only and not elsewhere. You may also want to seek permission from Army and J&K police before camping in Gurez.
Habba Khatoon Peak
This is probably the biggest tourist attraction in Gurez Valley. Habba Khatoon in real life was a poetess whose husband, the king of Kashmir, was captured and imprisoned by Akbar during his conquest of Kashmir. Now the name stands for a mountain that overlooks Dawar, the central township of Gurez. A film starring Dimple Kapadia was also planned on the life of Habba Khatoon but it was never finalized. I have provided more details on the poetess and her life in a different article, The Life and Legend of Habba Khatoon. It is said that she still she still wanders around here at the mountain in search of her husband.
Spooky? Maybe, but the mountain definitely looks gorgeous with Kishen Ganga River flowing its shadow. There is a small stream of water as well that emerges from the mountain and is called "Habba Khatoon ka Chashma". Just ask any of the locals around and they can point you in the direction of this small waterfall. You will have to cross the river after Dawar and go to the left side after registering yourself at the Army check post in order to reach this spot.
Harmukh
I am just posting this name here as a clarification because it confused me before going to Gurez. Harmukh is a mountain peak considered sacred but it is not in Gurez Valley. It is in Ganderbal district and is climbed up from Arin Bandipore. Do not go looking for this in Gurez like I did after reading false information on the web. If you want to know more about the Harmukh peak then please take a look at the Wiki article HERE. The only place you can get glimpse of Harmukh peak is from Razdan top if you knew what your were looking for and where to look.
Places in Gurez Valley
Last but not the least, let me also post some information on towns / villages in Gurez Valley. Once you climb down from Razdan Pass, there will be nothing but mountains on all sides, a Kishen Ganga river, army check posts and huts of the shepherds. The villages here are just a group of about 15-20 hours and it is hard to remember their names so don't bother. Just keep traveling until you reach Dawar, about 40 kilometers from Razdan Top.
Also Read: How to Plan a Journey on Mughal Road?
Dawar
It is the central township and heart of Gurez Valley. You will actually be surprised because there is everything here and I literally mean everything; right from a mobile recharge shop, to an ATM, hospital, small hotels, restaurants, petrol pump, mechanics and other shops for daily commodities. I was actually shocked so find a place so well populated and accommodated out here in the middle of nowhere. Dawar is actually a group of small villages but in short, it is just a big town; and I don't even know why they call themselves different villages because it is all just one place; one big town.
The river in the image below is Kishen Ganga, the peak in the center is Habba Khatoon and the houses on the right is the beautiful town of Dawar.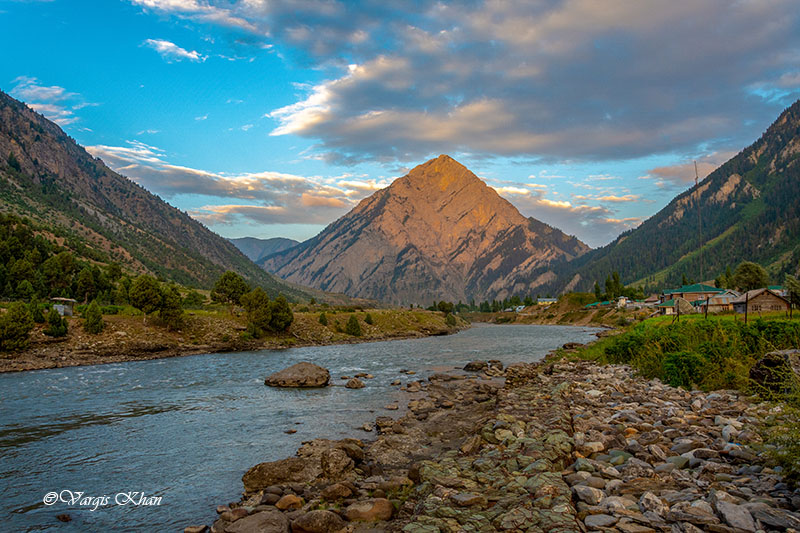 Tulail
A little after Dawar, as you drive further deep in Gurez valley, is the small village of Barnoi. Will you be able to tell which one it is or notice it? No you won't. You will just drive by because it will just be another group of about 20-25 houses. After Barnoi however, Dawar ends and the area ahead falls under Tulail district / Tehseel. It is known as both Tulail and Tilail.
After Dawar, you can drive approximately 60 kilometers through Tulail district till the village of Chakwali, the last village on Indian side of the border. This is where the road ends and this is where you can see the mountains controlled by Pakistan. So yes, once you are at Chakwali, you are standing right next to the border with a clear view of Pakistan. Between Dawar and Chakwali, there are several small and beautiful villages like Shaikhpora, Puarana Tilail, Badugam, Hasangam, Baduab, Miru, Angaikot, Gujran etc.
Tulail is however not a township like Dawar and there is no place here to stay. It is just a region that you go through and one after another, will keep coming across these tiny villages. As a tourist, you will have to and must stay in Dawar only.
What to See in Gurez Valley?
And that is pretty much it. That is all that you see there, all the tourist places in Gurez Valley. I hope the information above was of help. If you have any other questions; or need any further details; please feel free to ask in the comments section below; or at our Community Forum; and I will be glad to answer.