Peer ki Gali, also spelled as Pir Ki Gali, is a high-altitude pass at an elevation of 3,485m (11,433 ft) on Mughal Road in Kashmir. It is the highest point of Mughal Road and the journey from Srinagar to Peer ki Gali will take you through some of the best views that the valley has to offer.
With Bafliaz on one side at a distance of 55 kilometers and Shopian on the other at about 45 kilometers, this pass is almost the midpoint of Mughal Road. At the top of the pass is the shrine of Sheikh Ahmed Karim, a saint that the pass is named after.
Journey So Far
Traveling from either Bafliaz or Shopian, you climb up all the way to Peer ki Gali. Here you stop for a minute, pay respect at the Shrine, pass through the smile-like formation between the two mountains, and drive down to the other side.
After Aharbal waterfall, this pass was now our next destination. To read the previous parts of the travelogue, you can follow the links above.
Srinagar to Peer ki Gali
I have been planning to travel on the Mughal road for quite a while now but had not been able to do so yet. So this was my chance to see what has been described by many as one of the most scenic routes in all of Kashmir.
We spent a couple of hours at Aharbal waterfall. In that little time, I clicked over 300 pictures of the waterfall from different angles, such a beauty it was.
When we have had our fill, we started on our way back 15 kilometers to Shopian. It took us about 40 minutes to get back to the intersection just before the Shopian town. From there, we took the turn towards Peer ki Gali on Mughal Road.
We had spent a little too much time at Aharbal and by the time we reached back to Shopian, it was already 2 PM. So reaching Bafliaz and then coming back to Srinagar before it got dark was not really an option.
Now the best we could do was to reach Peer ki Gali which is the highest point on Mughal road and return from there. Though I was a little disappointed that I will not be able to cover the entire Mughal road but would at least cover half of it and see its most scenic spot.
To know more about Mughal Road, you can take a look at How to Plan a Trip to Mughal Road. I was able to travel on this entire route during my next trip to Kashmir.
Shopian to Peer ki Gali
We started riding and had barely gone 5 kilometers when it started to rain cats and dogs. Neither of us was carrying any rain gear and had to take shelter under the ledge of a closed shop nearby.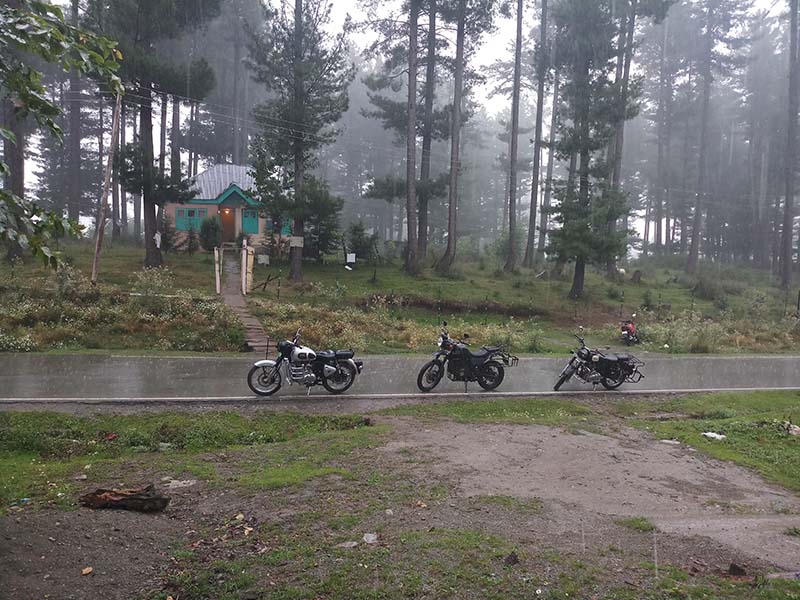 While we were standing there waiting for the rain to stop, a village boy joined us there, and below is how the conversation proceeded. He really looked like a shepherd's child, wearing torn dirty clothes and barely 11 to 12 years old. I am sure that he must not have seen the inside of a school ever.
"Kahan ja rahe ho?" He asked us
"Peer ki gali tak" I replied
"Kyun?"
"Aise hi, ghoomne" I said
"Achha" He looked amused, "Aur yahan bearish mein phas gaye"
"Haan" I smiled and said
"Forecast dekh kar nahi nikle the?" He asked
For a second, I thought I did not hear him right.
"Kya" I asked to confirm
"Weather forecast dekh kar nahi nikle the?" He said the same thing, "Aaj ka barish ka forecast hai. Kal ka bhi bearish ka hi hai forecast"
"Accha" That is all I could said.
"Weather forecast dekh kar nikla karo. Internet pe hota hai, mobile se hi pata chal jaata hai. Weather forecast dekh liya karo subah kahin nikalne se pehle. Phir aise baarish mein pareshan nahi hoge" He continued.
All three of us with a surprised and shocked expression on our faces. Here we were, being lectured by a poor uneducated 11 year old about internet and weather forecast.
Mughal Road
Finally, the rain stopped after what was half an hour but seemed like an eternity. We started our ride again but stopped shortly again for some tea and food.
We started again after a couple of cups of tea and some bread omelet.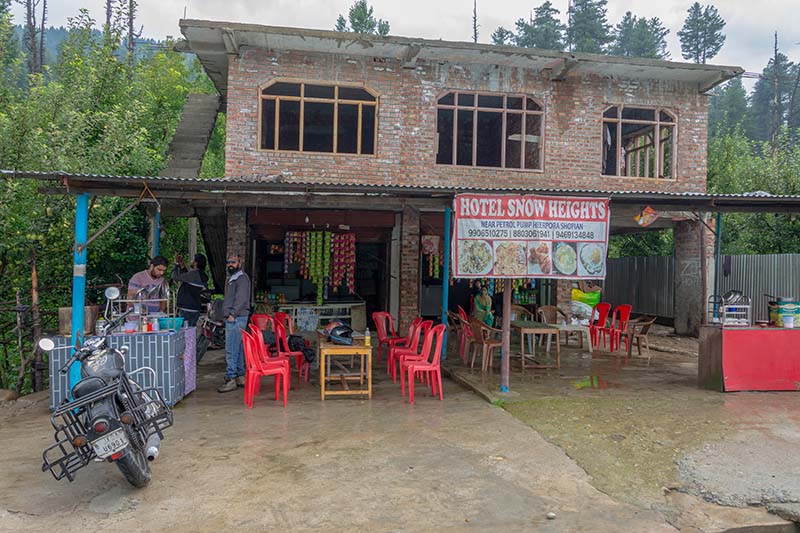 Met this beautiful child at this tea shop.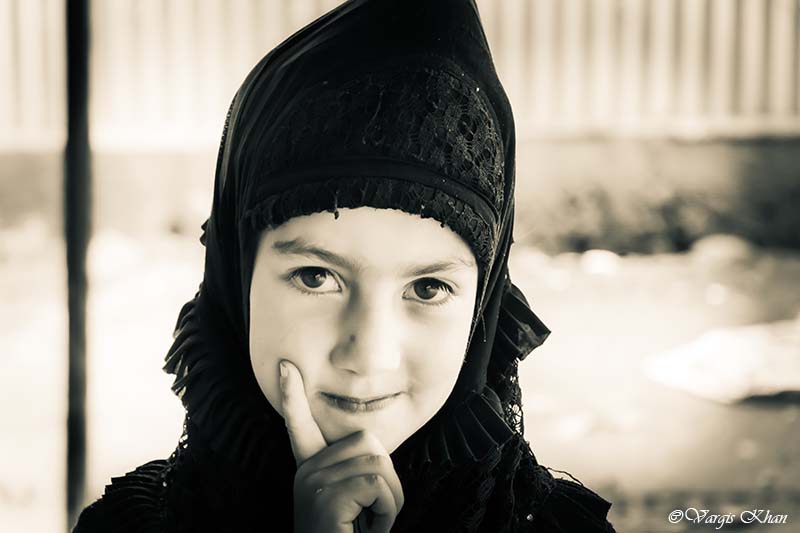 And finally, we made it at top of Peer ki Gali and saw the famous smiling curve between the two hills. The curve between the mountains is actually called the "Gali".
Peer ki Gali
Peer ki Gali reminded me much of Rohtang Pass because the vistas looked similar. But it was definitely far more beautiful than the overcrowded Rohtang.
If you are visiting Srinagar, then I highly recommend that you return to Jammu via Mughal Road or at least make it a day's trip till Peer ki Gali. You will really like it.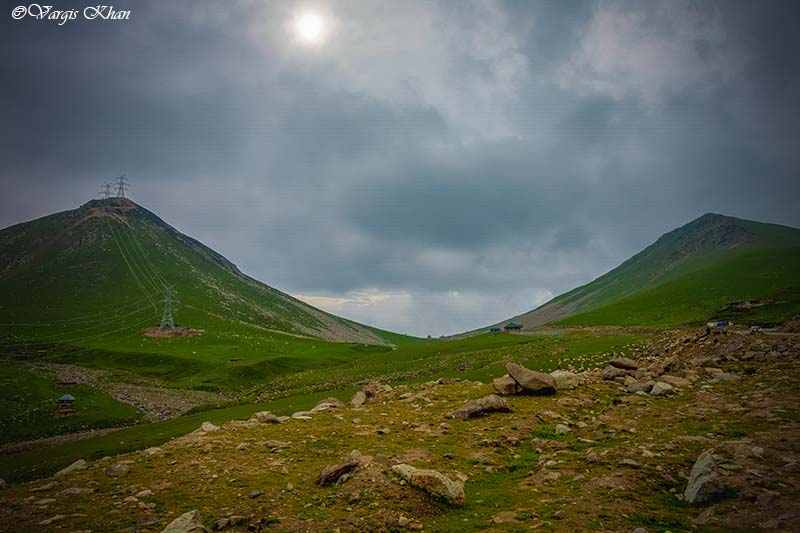 We visited the shrine.
Right in front of the mazaar, there was this guy offering free Kashmiri tea, more like what you will call 'Prasad'. The tea was salty of course with no sugar at all.
The interesting part however was that they were putting in a powder-like thing in the tea. He didn't really tell me what it was but I think it could have been sattu.
When I asked him, he told me that the tea and the powder help you keep warm and clean the body from the inside. I am not sure about the cleaning part but one cup of this tea and we indeed started to feel warm even though it was very cold up there.
Met this old man at the mazaar, a local shepherd.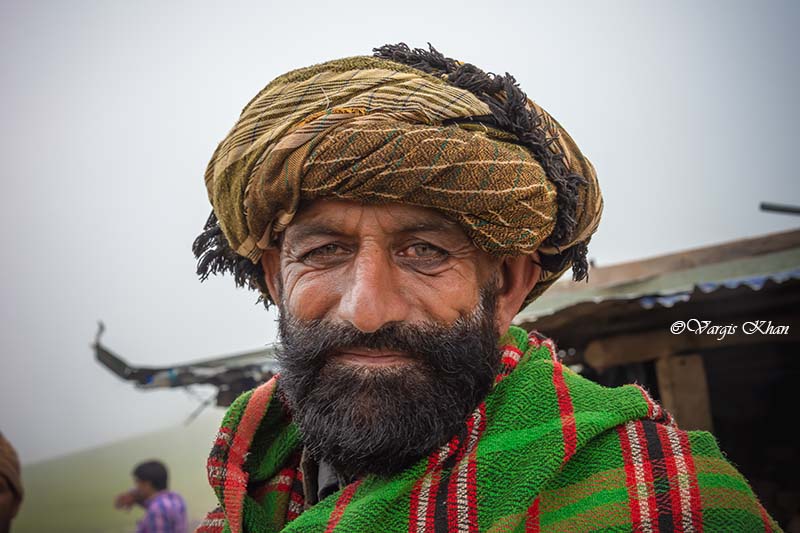 Peer ki Gali to Srinagar
We started on our way back after clicking plenty of pictures and after that, it was pretty much a straight ride ahead.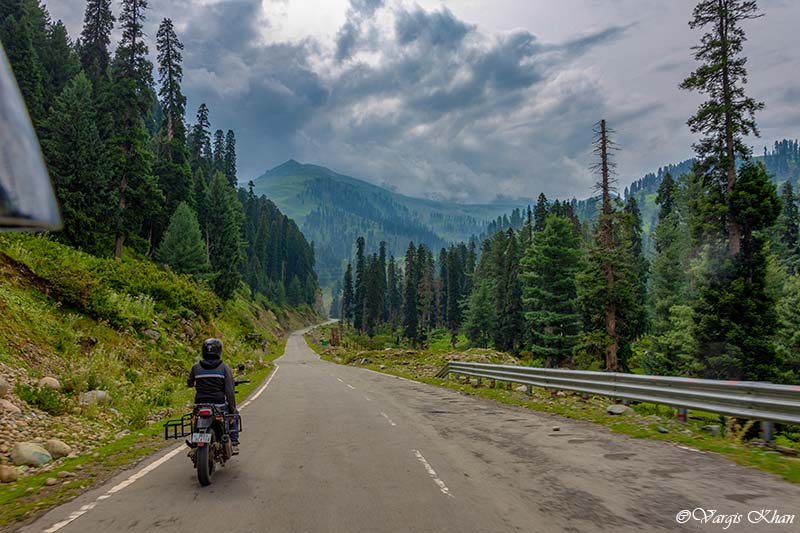 We took one butt break at Shopian and then straight at Dal Lake where we witnessed some amazing views of the sunset. While we were on our way back, Faisal sent me a text saying all our bags had already been sent back to Hotel Grand Valley Inn, the same one that we stayed at yesterday.
Tomorrow was going to be Eid and I knew that he would be busy with all the preparations. So without bothering him to meet, we went straight to Dal Lake and then to our hotel.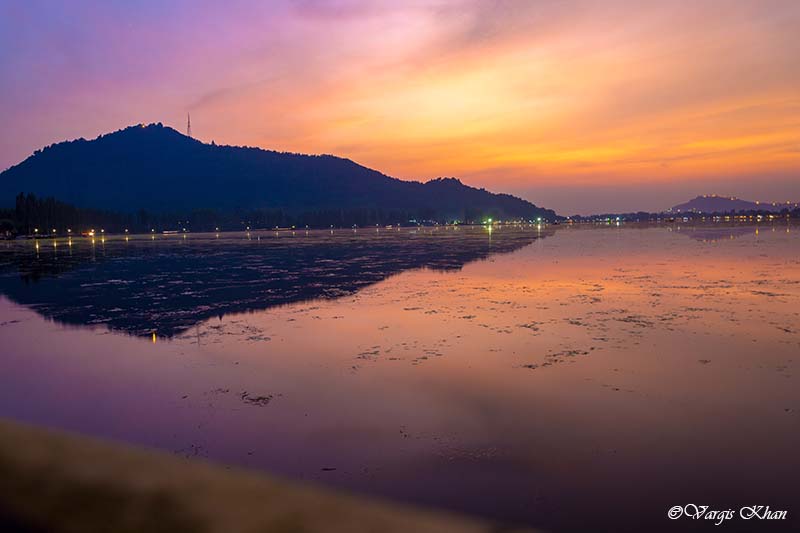 Not much happened after that. We returned to our hotel and then went out for dinner at the market in front of Shalimar Bagh. I wasn't sure where to offer my Eid prayers the next day so I asked Faisal.
He advised me against visiting the Eidgah and suggested a local mosque nearby rather. We found out about a mosque near our hotel where the prayers were to happen early in the morning.
It was actually the owner of our hotel who suggested it. He advised us to be ready by 7 AM and said that he will come to pick us up to go to the mosque together.
End of Day 4
With that done, we retired to our room and it was time to watch some south Indian movies dubbed in Hindi. I don't watch much TV but was really surprised by the number of dubbed south Indian movies they play these days.
Throughout the trip, no matter which channel we switched to, it was always a south Indian movie going on. I have nothing against South Indian movies but, to be honest, it sounds really ridiculous when they dub it in Hindi.
They really do a terrible job at dubbing these. Nothing ever is in sync and rather than entertaining, these movies end up annoying.
Below is a distance chart for our journey today.
Srinagar to Aharbal Distance: 70 Kilometers, 3 hours of journey
Aharbal to Peer ki Gali Distance: 50 Kilometers; 2 hours of journey
Srinagar to Shopian Distance: 55 Kilometers, 2 hours of journey
Srinagar to Peer ki Gali Distance: 100 Kilometers; 4 to 5 hours of journey
Shopian to Peer ki Gali Distance: 40 Kilometers; 1 and a half-hour of Journey
How to reach Peer ki Gali from Srinagar
A private taxi from Srinagar to Peer ki Gali will cost about Rs. 2500 for a return journey. This is possibly the best mode of travel if you were not traveling by your own vehicle.
The frequency of public transport on this route is very little. You will definitely not find a direct bus or shared cab from Srinagar to Peer ki Gali and will have to break your journey into different parts.
From Srinagar, you will first have to find a shared cab for Shopian. Finding a shared cab will be much easier than finding a bus as they travel more often.
Once you get to Shopian, you may have to wait for a while before you are able to board a shared cab going toward Rajouri. It will cross Peer ki Gali on the way and can definitely drop you there.
The return journey as well will be tricky. You will have to wait at the top of the pass before you are able to find a shared cab for Shopian.
Our plan for the next day was to visit another beautiful part of the Kashmir Valley called Yusmarg. Please click on the link above to continue reading the next part of the travelogue.
Srinagar to Peer ki Gali – Conclusion
Aharbal proved to be as beautiful as I imagined it. Mughal Road and Peer ki Gali were not in our original travel plan. But I was glad that we made this last-minute addition. Every second we spent on the Mughal road was totally worth it.
I hope the travelogue, pictures, and information on traveling from Srinagar to Peer ki Gali were of help. If you have any questions, you can contact me on Instagram and I will be happy to answer. You can also consider subscribing to my YouTube channel and asking a question there.