This was our third day in Gulmarg. Most of the tourist attractions were already covered. Only the final lapse of our Gulmarg sightseeing was now still pending. There were two more places that we were yet to check off our list – Maharaja Palace and Strawberry Valley.
The plan for today was to head back to Srinagar and collect motorcycles from Faisal for the next few days of the trip. Before that, however, we were also to visit the famous meadows of Doodhpathri.
So from Gulmarg, idea was to drive back all the way to Magam and then take the road from there to Doodhpathri via Khan Sahib. After spending some time at Doodhpathri, we would then drive back to Srinagar by evening.
Journey So Far
But before that, Maharaja Palace and the strawberry valley were on the agenda for a morning walk. To read the previous parts of the travelogue, you can follow the link above.
If you have any questions, you can contact me on Instagram. For all other details on Kashmir like mobile connectivity, public transport, taxi services, and several other tips, please take a look at How to Plan a Trip to Kashmir – A Complete Travel Guide.
Strawberry Valley, Gulmarg
Strawberry Valley is considered among the top tourist attractions and must-visit places in Gulmarg. From what I had read on the internet before our trip, it was a little farther than Gulmarg and a beautiful place.
But I wasn't sure which direction it was in. Whenever we asked any of the locals about the strawberry valley, they just pointed in the direction of a hill and said, "It is just behind this hill. Shall I take you there?" And of course, the "take you there" part wasn't for free.
Finally, it was Sohail who pointed us in the right direction. He also offered to accompany us there without trying to skim some money off us.
All the guides in Gulmarg had really high words for Strawberry valley. One of them even said that "You won't even feel like coming back from there".
Everyone was painting a picture of a heavenly place. So yes, our hopes were already way too high. The reality however turned out to be a lot different. As the saying goes, "Khoda Pahad, Nikli Chuhiya".
You can also take a look at the video below to see how beautiful Gulmarg looks in the winter season. It was shot during one of my later trips to Kashmir in January.
Gulmarg Sightseeing – Day 3
Lavish and I were the first to get up again followed by Shoaib a little later. Our plan was to meet Sohail, the owner of Malik Hotel and then he was to escort us to Strawberry valley. We arrived at his hotel just as he was opening up and the first task of the day was to get a few cups of tea down our throats.
As we were sipping down our tea, I sensed that Sohail was a little apprehensive about coming along with us. I asked him a few times but he did not really give a clear answer.
The reason for his apprehension too however became clear in the form of a pony owner. I guess he was his friend as well because I have been seeing him sitting at the hotel for the last 3 days.
Even the day before when we were talking to Sohail about Strawberry valley, this pony owner forced his way in between the conversation and offered to take us there on his ponies. I very humbly denied it the day before and turned down his offer.
The same process followed this morning as well. The pony owner showed up again. Due to this, I think Sohail wasn't comfortable with coming along.
Because it would then mean that he did not let his friend, the pony guy, make some money and offered us the services for free. I too did not force him much and after asking for directions, we started to walk toward Strawberry valley on our own.
Also Read: How to Plan a Trip to Kashmir – A Complete Travel Guide
The Disappointment
The pony owner followed us for a while on the pretext of showing us the way. I again had to tell him that neither of us was interested in a pony ride and that we would rather walk on our own. It was only after this that he changed the way and let us go while making faces.
These guides and pony owners are really the most annoying thing about Gulmarg. I mean who would want to sit on a pony when you have such a perfect setting like Gulmarg for a morning walk?
Anyway, after walking for about 4 kilometers for almost an hour, we finally arrived at a huge disappointment called Strawberry Valley. Let me post a few pictures of it.
Yes, this is it. As it turned out, Strawberry valley is nothing but a small area in Gulmarg itself where they have a small Strawberry plantation.
The plantation actually remains only when it's strawberry season. For the rest of the time, it is just a piece of land. And when I say plantation, I mean just a small field of strawberries on the slope of a hill, nothing much.
So if you were short on time and you wanted to miss a few tourist places in Gulmarg, then Strawberry valley should be on top of that list. There is nothing out here really except for a camping site called Gulmarg Meadows.
I am sure it would look pretty in the Strawberry season but for the rest of the time, it is absolutely nothing. This place should be last in your plan for Gulmarg sightseeing.
Gulmarg Meadows
This is probably the only campsite here in Gulmarg. I too called here before coming to Gulmarg asking about their prices and location.
To be honest, after seeing the campsite, I was kind of glad that I did not stay here. The location is good, nothing wrong with that. The campsite, a series of about 10 to 12 luxury tents, sits in a very peaceful area with a water stream flowing nearby. There are however three problems with it.
First is that it is in fact outside of Gulmarg. You will have to walk to the other side of Gulmarg to get to it. Either walk or hire a pony owner to get you there.
Why? Because the pony guys will not allow any outside taxi to travel inside Gulmarg. Any tourists wanting to move around should hire them only. The Gondola station is about 6 kilometers from this campsite and the main Gulmarg chowk is at least 4.
The second is that they do not serve non-vegetarian food which was a huge problem for me. The third reason is that their prices are a bit steep. I was asked Rs. 5,000 for a tent for two.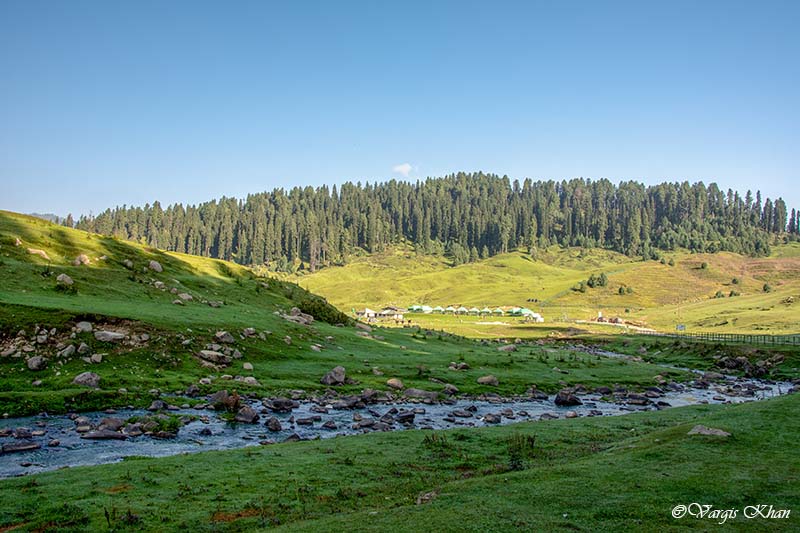 So when we arrived in Strawberry valley, I was actually thankful that I chose not to stay here. I am sure we would have gotten bored. Even the nearest tea shop is at least 2 kilometers away from the camps.
Maharaja Palace, Gulmarg
After Strawberry valley, our next destination was Maharaja Palace and for that, we would have to walk all 4 kilometers back to Gulmarg town which we did.
For a brief introduction, Maharaja Palace was once the royal palace of King Ranbir Singh of Kashmir. It must have been grand once upon a time but now what remains is merely a building beaten by time; with remnants of a glorious time on display inside.
There is an entry fee of Rs. 30 per person. There really isn't much else to write about Maharaja Palace so I will just post a few pictures.
After visiting Maharaja Palace, we came back to the hotel to find that our driver Gulzar was already waiting for us there. We packed up and loaded our bags in the cab and it was time to say goodbye to the beautiful town of Gulmarg with a resolution to return here next year in winter.
Our next destination now was Doodhpathri. From Gulmarg, we drove all the way back to Magam, crossing Tangmarg on the way. From Magam then, we took an internal road towards Doodhpathri via Khan Sahib. Please click on the link above to continue reading the next part of this travelogue.
Gulmarg Sightseeing – Conclusion
I hope the travelogue, pictures, and information above on Gulmarg sightseeing were of help. If you have any questions, you can contact me on Instagram and I will be happy to answer. You can also consider subscribing to my YouTube channel and asking a question there.