Let me begin the story of our journey from Srinagar to Aharbal by sharing an image. Take a look at the picture below. If you thought that this is a shot from either of the Lord of the Rings trilogy then you will be wrong. It is actually a picture of the Aharbal waterfall clicked towards October end.
I agree that there is some editing involved in the overall image. But the fact is that even without any editing, this waterfall is one of the most scenic spots in all of Kashmir.
Located about 75 kilometers from Srinagar, the place is quite peaceful and suitable for an expedition, trekking, photography fishing, etc. It may not be that well known to the tourist population, but is a hot favorite among the locals and is often known as the Niagara Falls of Kashmir.
Journey So Far
Our plan for the day was to travel from Srinagar to Aharbal via the apple town of Shopian. After spending some time at the waterfall, we were to then make a quick journey on Mughal road till Peer ki Gali. To read the previous parts of the travelogue, please click on the link above.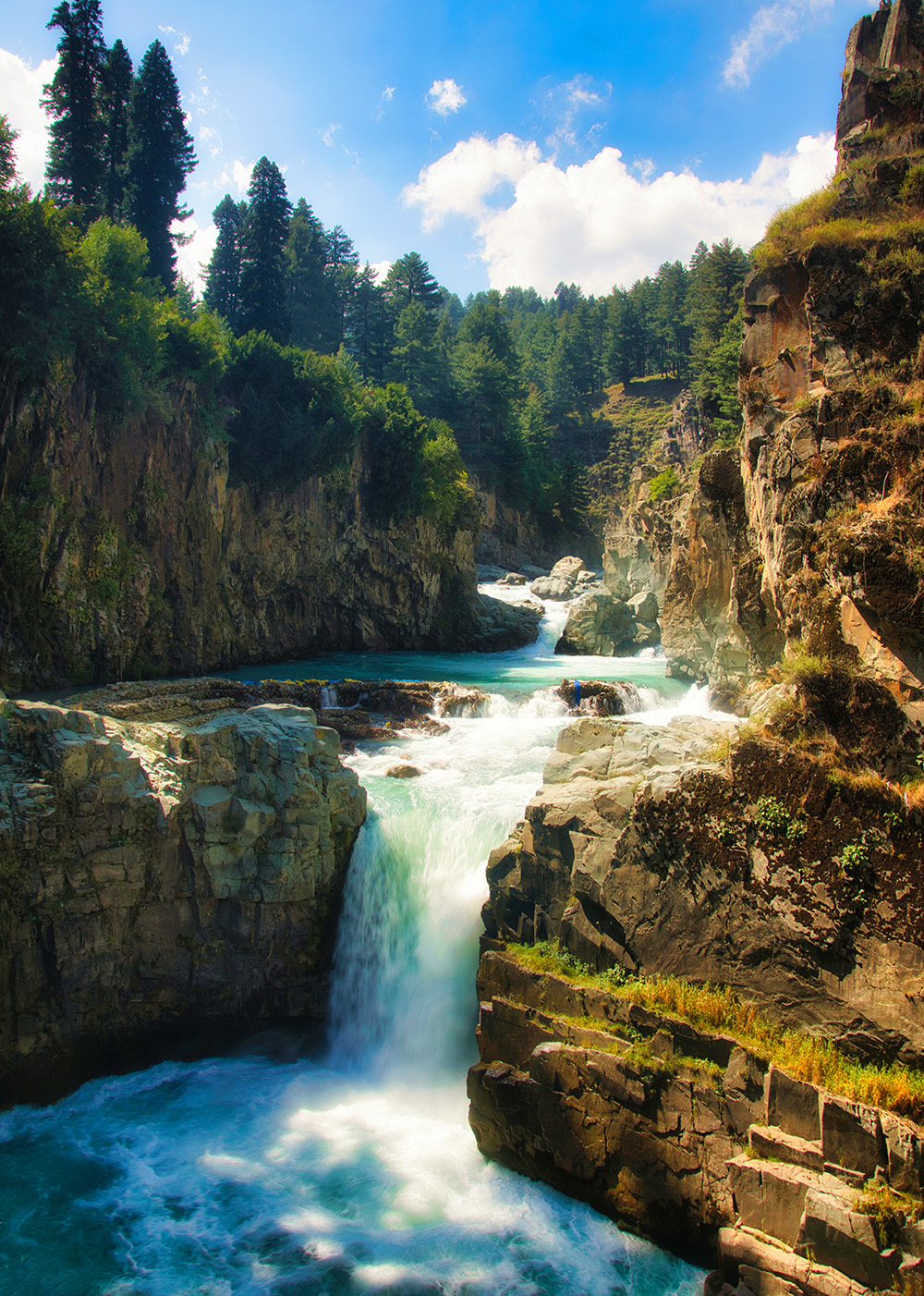 About Aharbal Waterfall
Aharbal waterfall is named after the small village of Aharbal, located at a distance of about 70 kilometers from Srinagar, on the banks of the Veshaw River, also known as the Veshu River.
The waterfall is formed at a spot where the river flows through a narrow gorge of granite boulders and falls at 2 different spots. The first fall is a smaller one and results in the water forming a small pool-like area.
Immediately after, the water again then falls for a second time and from a greater height before it flows down the valley.
Due to a couple of unfortunate accidents, the entire area has now been fenced. You can view the waterfall from a safe distance but cannot go all the way to the water.
Overall, it is a very scenic spot that is quite popular among the locals. The authorities have also built a small park around the waterfall and you will find a lot of families out for a picnic here, especially on weekends.
To know more details, please take a look at How to Plan a Trip to Aharbal Waterfall.
Srinagar to Aharbal Waterfall
The best way to travel to Aharbal from Srinagar is either by your self-owned vehicle or by private taxi. The frequency of public transport on this route is almost non-existent.
By Car or Bike
There are two routes that you can take to complete the journey if you were traveling by your own car, a bike, or a privately rented taxi.
Route 1: Srinagar – Nowgam – Pulwama – Shopian – Aharbal Waterfall

Route 2: Srinagar – Pampore – Kakapora – Shopian – Aharbal Waterfall

In terms of distance and travel time, both of these routes are almost the same. The difference between the two is the first part of the journey, Srinagar to Shopian. After Shopian, it is only the one road that goes all the way to Aharbal.
Following the first route, you mostly stay on the internal roads as you travel through the villages of Nowgam and Pulwama before arriving in Shopian. All these are single-lane roads that see a lot of heavy traffic.
During the late hours of the day, or if there was a lot of traffic, the travel time on this route can sometimes increase significantly.
Following the second route, you actually follow the Jammu Srinagar highway until Pampore. This route is significantly broader, in a much better condition, and helps you avoid the traffic at least until Pampore. From there, you turn left towards Kakapora and continue the journey to Shopian.
Take a look at the video below to see how beautiful Aharbal looks in the winter season.
Shopian to Aharbal
The total distance between Srinagar and Aharbal is about 70 kilometers.  Irrespective of the route you followed, the first 55 kilometers until Shopian is mostly on a flat and straight road.
Once you cross Shopian, you will reach an intersection. The road to your right goes to Peer ki Gali Pass on Mughal road. The one to your left will take you to Shopian. There are several boards there that will help you navigate.
This last 15 kilometers of the journey from Shopian to Aharbal after this turn is a steep climb. You continue to gain height significantly all the way to Aharbal. The road is also a bit narrow but the good part is that it is in good condition for the most part of it.
Srinagar to Aharbal Taxi Fare

If you were not traveling by your own vehicle, the best, easiest, and most convenient way would be to rent a private taxi for the trip.
Depending on the type of cab you chose, your total charge for the day would come out to be between Rs. 2000 to Rs. 2500 per day, including fuel and driver.
For renting a private cab, you can talk to Faisal in Srinagar at 9596410670. He is a great guy and will be able to get you a cab for the lowest possible price.
Srinagar to Aharbal Bus
There is actually no bus service available between Srinagar and Aharbal. From Srinagar, you will first have to find a bus for Shopian from either Parimpora or Batmaloo in Srinagar city.
After you reach Shopian, you will have to look for a shared cab going towards Aharbal. Finding a bus will be extremely difficult and you may even have to wait a couple of hours.
In fact, finding a shared cab also will take a little time with a high chance that you may not even find one at all.
Also Read: How to Plan a Trip to Kashmir – A Complete Travel Guide
Srinagar to Aharbal Shared Cab
Much like the bus, you will not find a shared cab that can drop you all the way to Aharbal from Srinagar. You will first have to board a shared cab for Shopian and then look for another mode of transport from there.
As I mentioned, traveling to Aharbal by public transport will be a tricky business. It will take a lot of your time and you will have to go through a lot of hassle. A better way, hence, is to either book a private cab or rent a bike in Srinagar.
Srinagar to Aharbal Waterfall Day Trip
Now coming back to the travelogue, as per the initial itinerary, we were actually to be heading towards Pahalgam today and visiting Aharbal waterfall on our way back to Srinagar tomorrow.
But that plan had long changed since we decided to keep Pahalgam for a different trip at another time. We wanted to dedicate more time to exploring Pahalgam and the areas around, rather than just reaching there and returning the next day.
Since we were short on time and could not afford to stay in Pahalgam for more than a day, we gave up the idea of going there entirely. For now, as per the new itinerary, we were going to visit Aharbal waterfall today.
An even more important question however was whether or not to stay there for the night. The trip was not really going the way we initially planned it. We extended our stay in Gulmarg by a day, gave up a day in Srinagar, and Pahalgam was removed entirely.
So I was actually still trying to figure out how to travel from here on. Shoaib was not too keen on staying in Srinagar city and wanted to spend a night at Aharbal.
I knew there were J&K tourism cottages at Aharbal. So staying there was indeed an option. But I wasn't sure if it was worth it. After much discussion, we decided to make the final decision at Aharbal itself.
The idea at that moment was to check out of the hotel in Srinagar and bring our bags along. If we liked Aharbal, we will spend the night there. If not, then we will come back to Srinagar by evening.
Renting Bikes in Srinagar

We were renting bikes from Faisal in Srinagar. As per the discussion, he was to come to the hotel we were staying in at 7 AM. After that, we were to go to his office and take the handover of the motorcycles.
Like previous days of the trip, Lavish and I were the first ones to get up in the morning and stepped out for a morning walk; and also to get a cup of tea. We returned after a while, woke Shoaib up, and started to pack our bags.
Faisal arrived at the hotel slightly past 7. He was of great help in planning our trip including the itinerary and our stay in Srinagar.
His house was nearly 30 kilometers from our hotel but being the gem of a person that he was, he drove early to our hotel just to pick us up and hand over the bikes.
If you need motorcycles on rent in Srinagar, I will highly recommend Faisal (9596410670). All his bikes are very well maintained and will not give any trouble.
You will also get some freebies gear that other rental agencies will charge you for. But most of all, it is Faisal himself who will ensure that your trip remains hassle-free.
Grand Valley Inn was the hotel that I stayed at in Srinagar and will definitely recommend it. It is not that large a hotel but the owners are very humble people and will treat you well. The rooms are very well maintained and our stay here was very comfortable.
It is located merely 2 minutes away from Nishat Bagh, Shalimar Bagh, and Dal Lake so in terms of location as well, it is at a great spot. You can contact them at 9906571500 to book your stay.
Change in Plan, Once Again
We checked out of the hotel at 8 am, loaded our bags in Faisal's car, and started to drive towards his office. Our first stop was at a vegetarian Vaishno dhaba for breakfast.
Faisal's office was at Lal Chowk. He had kept the motorcycles ready for us. So all that we needed to do was to bring the engines to life and be on our way. This however is where our itinerary changed yet again.
While we were sitting in Faisal's office and talking to him, I asked if Aharbal was worth spending the night. Faisal immediately said no and I kind of took his word for it.
The plan now changed to just go to Aharbal and return to Srinagar by evening. This was merely an affair of 4 hours at most and we would still have plenty of daylight left though. Faisal then suggested that we should include and cover Mughal road as well as far as Bafliaz.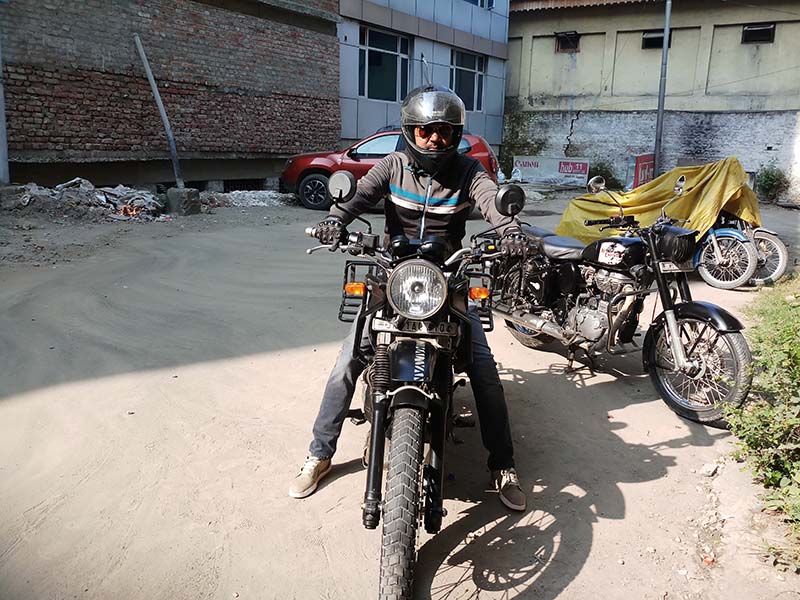 Mughal Road
Mughal Road is the road between Bafliaz, a town in the Poonch district, and to Shopian district in the Kashmir valley.
The road is about 84 km long and passes over the Pir Panjal Mountain range, at an altitude of 3,500 m (11,500 feet) at Peer ki Gali Pass. It provided an alternative road route to Kashmir valley, other than the overcrowded Jammu-Srinagar NH 44 Highway through Jawahar Tunnel.
So to travel from Jammu to Srinagar, you can either travel by the NH44 highway or Mughal Road.
If you went by Mughal road, you will have to reach Rajouri from Jammu, and then cross over to Shopian via Bafliaz and Peer ki Gali Pass. From Shopian then you can just drive straight to Srinagar.
This route was historically used by Mughal emperors to travel and conquer Kashmir during the sixteenth century. Akbar reached Kashmir by this route in 1586. His son, Emperor Jahangir, in fact, died on this road near Rajouri while returning from Kashmir.
To know more, please take a look at How to Plan a Journey on Mughal Road.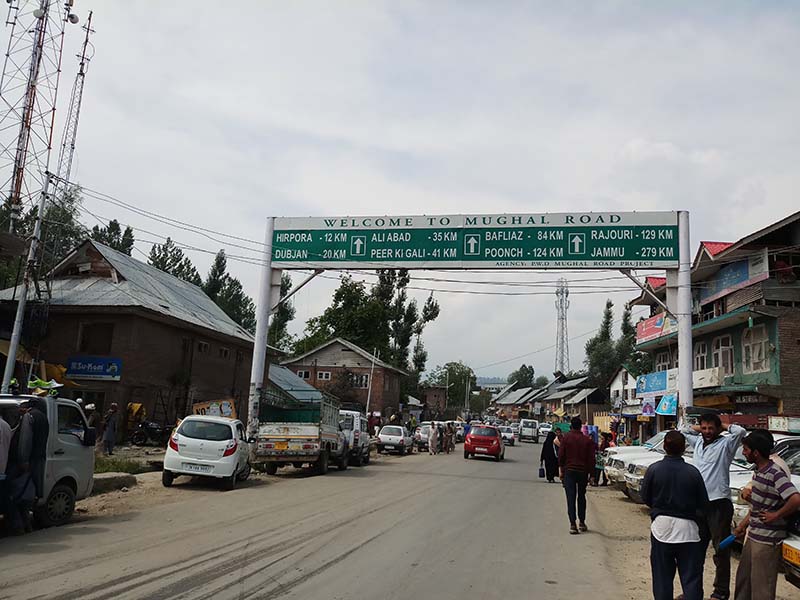 The idea of including Mughal road as well sounded great to me and we immediately added it to the day's itinerary. Now the plan was to first reach Shopian and then go to Aharbal.
From Aharbal then, we would backtrack to Shopian and then reach Bafliaz via Mughal road. After spending some time there, we would then backtrack all the way back to Srinagar via the same route.
Faisal had arranged for a Himalayan and a 350CC. All our bags were still packed and sitting in his car. Since we were anyway going to return to Srinagar by evening, we left our luggage with him only; deciding to collect it again while on our way back.
Srinagar to Aharbal Waterfall Bike Trip
Finally, the ride toward Aharbal started. Shoaib was riding the Himalayan while Lavish and I were on the classic. The condition of the road was quite good and we reached Shopian in no time.
As a matter of fact, the road was quite flat till Shopian. It did not seem like we were going through a hilly region.
Out here, on the single-lane highway and will all the Muslim population around, you will actually feel like you were riding through somewhere in western UP. Everything looks so similar.
I think it took us about 2 hours to reach Shopian. Except for one wrong turn that made us travel through a crowded market in a narrow Gali in the busy town, the journey was quite smooth. From Shopian, we then took the turn towards Aharbal.
After Shopian till Aharbal, the last 15 kilometers is quite a bit of a steep climb. The vistas also improve tremendously.
After a couple of photography breaks, we finally reached Aharbal, a small sleepy town sitting in the middle of nowhere. If it wasn't for the waterfall here, I don't think anyone would have ever paid any attention to it otherwise.
Kashmiri Angrez
It is just a small place with a few shops and houses. While we were crossing Aharbal, I stopped at a tea shop to ask for directions to the waterfall.
"Jharna kis taraf hai?" I asked in Hindi thinking that the tea-stall guy, a poor villager, will definitely not understand English. So I thought to make it easier for him and use the hindi word 'jharna' instead of waterfall.
"Kya?" He in turn replied with a very confused look on his face.
"Jharna" I said again.
"Kya?" He asked again.
"Chashma kis taraf hai?" I thought to use a different Urdu word which means a stream of water.
"Hain?" He still looked confused.
"Jharna, Chashma?" I used both words
"Hain? Kya?" He used both the expressions
"Waterfall?" Lavish who was by now fed up with the meaningless conversation used the English word.
"Achha waterfall. Haan ye saamne hi toh hai" The villager immediately responded.
And I was silent completely. The only thought running through my head while looking at that guy was, "Achha matlab Hindi aur Urdu samajh na aayi tujhe par waterfall samajh aa gaya? Angrez saale"
The Niagara Falls of Kashmir
Nonetheless, we parked our motorcycles in the huge parking area in front of the entrance to the waterfall. Like in other places in Kashmir, there was a guide here as well and he immediately attached himself to us.
He kind of booked himself for us all on his own, without us even asking or agreeing to any of it. For a minute I thought to shrug him off but then let him walk with us.
And just a walk it was indeed. There was nothing that the guide could offer us. There were no tall tales to tell, no confusing roads to navigate through. He just walked with us and clicked a few photographs but we let him still.
"Fine, we will help a poor man a little," We thought.
We had a cup of tea at the market first and then started on our walk towards the waterfall.
And beautiful it was indeed.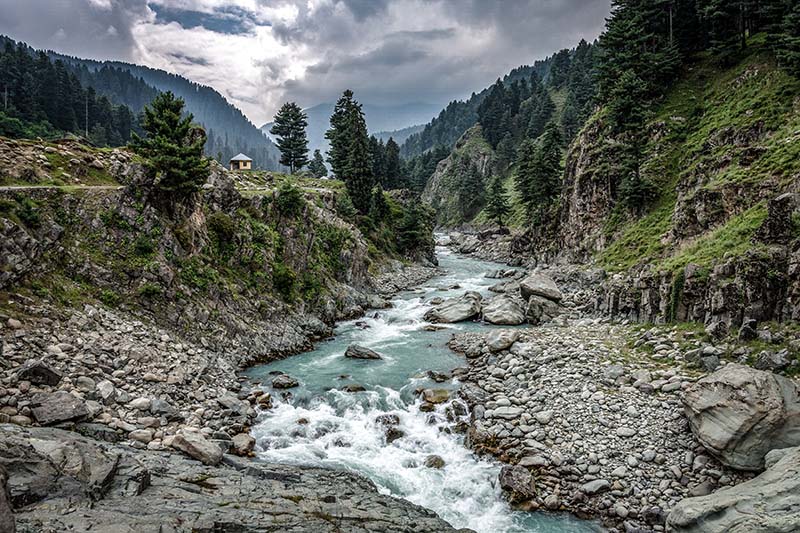 Our guide told us that apart from being beautiful, this waterfall was quite a bit of a suicide spot as well. He told us of a girl who had recently jumped to her death here.
Apparently, she did not score well in her examinations and got scolded by her parents for it. Sounded really sad that someone would think of such a beautiful spot to die.
Where to Stay in Aharbal
There is a small park next to the car parking lot. After spending some time at the waterfall, we returned to that park and started to walk around. That is when I noticed the small JK tourism cottages that tourists can rent.
For a while, I played with the idea of staying there. I asked our guide how much it will cost us and the prices were different for different kinds of cottages. It was affordable but the problem was that there was actually nothing else to do there.
The sun was shining bright on our heads and it was quite a hot day. We all knew that even if we stayed here, it will be difficult to go anywhere. Actually, there was nowhere else to go anyway so we would just sit in our cottages until evening.
There was no TV in the room either. So after a bit of a discussion, we gave up the idea of staying there and finally started on our way back. The next part of the journey was to backtrack 15 kilometers and reach Shopian.
From there, we would then ride 40 kilometers on the Mughal road to Peer ki Gali, its highest point. Please click on the link above to continue reading the next part of the travelogue.
Srinagar to Aharbal Waterfall – Conclusion
I hope the travelogue, pictures, and information on traveling from Srinagar to Aharbal waterfall were of help. If you have any questions, you can contact me on Instagram and I will be happy to answer. You can also consider subscribing to my YouTube channel and asking a question there.