With an exception of the delayed flight, our trip to Kashmir was going smoothly so far. We drove out of the airport and were soon cruising on our way from Srinagar to Gulmarg. Our cab made its way through the busy streets of Srinagar, through its busy life and people, and I could not keep myself from clicking as many pictures as possible.
I think Gulmarg was the place that I was most excited about during our entire trip. It is one of the most-visited destinations in Kashmir and had been on my list of places to visit for a long time. Finally, after months of planning and anticipation, I was going to be there.
Journey So Far
This post is in continuation with a previous one and a part of my Kashmir trip log. We reached Srinagar by flight and then took a cab for our journey from Srinagar to Gulmarg. Please click on the links above to read the previous parts of the travelogue.
If you have any questions, you can contact me on Instagram. For all other details on Kashmir like mobile connectivity, public transport, taxi services, and several other tips, please take a look at How to Plan a Trip to Kashmir – A Complete Travel Guide.
For getting the best hotel rates, and taxi charges, and to organize your trip to Kashmir, you can speak with Kunal @ 9910 402 252. Give him my reference and you will surely get a discounted rate.
How to Reach Gulmarg from Srinagar
Before I continue with the travelogue, let me first provide some detail on how you can reach Gulmarg from Srinagar and how much it will cost you. Traveling by private taxi will definitely be the easiest way around it but you can also board a bus or a shared cab.
You can also take a look at the video below to see how beautiful Gulmarg looks in the winter season. It was shot during one of my later trips to Kashmir in January.
How far is Gulmarg from Srinagar
The distance between Gulmarg and Srinagar is about 55 kilometers, depending on where you started from in Srinagar. From the airport and Dal Lake, it is about 56 kilometers approximately and the journey can easily be completed in 2 hours.
Srinagar to Gulmarg by Road
If you were traveling in your own car or by bike, then the route to reach Gulmarg would be as below.
Srinagar – Magam – Tangmarg – Gulmarg = 55 Kilometers
From Srinagar to Tangmarg, it is mostly a straight drive on a flat road with very little incline. You will not even feel like driving in a hill station actually.
It is after Tangmarg that the actual steep drive starts and you climb up a winding road to Gulmarg. Another good part is that the road is smooth and in good condition for the entire 60 kilometers of the journey.
By Taxi
Cabs are available from the airport itself, in case you did not book one in advance. Just step out of the airport and you will find several taxi drivers around.
My advice would be that you book a cab in advance because the ones you find on the spot will definitely quote you a higher price.
If you wanted to book in advance then talk to Faisal in Srinagar at 9596410670. He is a great guy and will be able to get you a cab for the lowest possible price.
Also Read: How to Plan a Trip to Kashmir – A Complete Travel Guide
Srinagar to Gulmarg Taxi Charges
Depending on the type of cab you chose, the taxi fare from Srinagar to Gulmarg would come out to be between Rs. 2000 to Rs. 2500 including fuel and driver. These cabs mostly are either a Sumo or Bolero but you can also look for a Sedan if that is what you preferred.
Srinagar to Gulmarg Bus
Now let us talk about how you can complete this journey by Bus. There is actually no direct bus available between Srinagar and Gulmarg and you will have to break this journey into either 2 or 3 parts.
Let us assume that you arrived at the airport or were in your hotel somewhere in Srinagar. You will have to first make your way to Lal Chowk. For this, the best way to go about is to either find a shared cab or book a private taxi.
From Lal Chowk, you will then board a bus for Parimpora. Ask around anyone at Lal Chowk and they will point you in the direction of the bus stop.
From Parimpora, you will then board a second bus for Tangmarg. This will take about an hour in total. Get down at Tangmarg, ask anyone to show you the bus stop, and then board a bus from there for Gulmarg.
This entire journey by bus will easily take about 5 to 6 hours. So, plan accordingly.
Srinagar to Gulmarg Bus Fare
In total, a journey from Srinagar to Gulmarg by Bus will cost you about Rs. 200 to Rs. 300.
Srinagar to Gulmarg Shared Taxi
A better option than the bus is actually the shared cabs. These are very easily available in Kashmir and you will have more luck finding a shared cab than a bus.
The route of the journey will be the same as I mentioned for the bus. Find a shared cab first for Lal Chowk, then Parimpora, Tangmarg, and finally for Gulmarg.
By shared cab, the journey will cost you about Rs. 500 in total.
Srinagar to Gulmarg Bus Timings
There is actually no set timing for the buses. They are all privately operated and leave when they have enough passengers. The frequency is also not that great. This is why I mentioned that you should actually look for a shared cab and not a Bus.
Srinagar to Gulmarg by Bike
If you do not want to travel by public transport or a private taxi, the next best option would be to rent a bike from Srinagar and go to Gulmarg. There are plenty of motorcycle rental agencies in the city that you can talk to.
Mostly it is a Royal Enfield that you will get on rent but other smaller bikes can also be available. If you wanted to, you can also actually look for an automatic scooter like Activa.
The route of the journey will be the same that I mentioned above, through Magam and Tangmarg. By Bike, the journey can easily be completed in 90 minutes to 2 hours.
Srinagar to Gulmarg Bike Rent
Renting a bike for Gulmarg from Srinagar will cost you anywhere between Rs. 15000 to Rs. 2500 per day, depending on the type of bike you chose. Royal Enfield 350CC will be around Rs. 1500 whereas Himalayan will cost you between Rs. 2000 to Rs. 2500.
For this also, you can talk to Faisal in Srinagar at 9596410670. He runs his own motorcycle rental agency and is a very reliable fellow.
Srinagar to Gulmarg Day Trip
My recommendation is that you should plan at least one night's stay in Gulmarg to fully enjoy the place. But if you were short on time, a day trip can also be easily planned.
Start from Srinagar by 8 or 9 am and you will reach Gulmarg by 11 am at most. Stop at the main market area, get something to eat, and rest for a while.
For the next 2 or 3 hours, you can just walk around and enjoy the natural beauty of the places. Tourist Places in Gulmarg like Maharani Temple, Golf Course, and St. Mary's Church are within a short distance of each other and can easily be covered in a couple of hours.
Depending on your preference, you can also go for a Gondola ride which is another 2 to 3 hours affair. Once you are ready to go back, start the return journey by 4 or 5 pm and you will arrive back at your hotel in Srinagar by 6 or 7 pm.
How to reach Gulmarg from Srinagar Airport
Last but not least, the best way to go to Gulmarg from the airport is a private taxi. If you were traveling by public transport, you will have to go to Lal Chowk first and then look for a bus or shared cab as I described above.
A private taxi from the airport to Lal Chowk will cost about Rs. 500 – 800. There is no bus or shared cab available from the airport to pretty much anywhere.
Srinagar to Tangmarg
Coming back to our travel story, the third entry in the list of surprises for the day came in the form of the driving skills of the good people of Srinagar.
I am from Delhi and I hate the roads there and the fact that how people drive like idiots. But once I spent some time on the roads of Srinagar city, the people of Delhi started to look well-behaved. That is how crazy it is in Srinagar.
Everyone was driving like a maniac and I was shocked at how they were managing to not hit anyone going at such a speed; driving in such a manner.
Pedestrians were completely ignorant of the oncoming vehicles. They were walking as if they were all deaf and blind, unable to see any vehicle or listen to the horns.
So word of advice, if you are driving to Kashmir then please be very careful and slow down. It doesn't actually apply just in Srinagar city but everywhere in Kashmir.
We traveled through the crowded town of Magam and then the first stop came at Tangmarg where we stopped for much-needed refreshments.
Hotel Pine View – Gulmarg
The following happened a day before the trip. I was looking for a budget hotel in Gulmarg. While Googling for it, the name Hotel Pine View came up.
This hotel was offering the lowest price of all. By the pictures posted, it looked like a decent enough stay. I called the number listed and the guy who answered the phone told me that the hotel was not exactly within Gulmarg. It is about about 10 kilometers downhill from the main town.
At that time I did not understand what he meant but when we stopped at Tangmarg, I immediately noticed Hotel Pine view there.
So if you too came across this name then do not check in here. This hotel comes up in Google as a budget hotel in Gulmarg, but actually is located at Tangmarg which is on the way from Srinagar; about 14 kilometers before Gulmarg.
Also Read: How to Plan a Trip to Gulmarg?
Hotel Affarwat in Gulmarg
The owner of the Pine View hotel however was a very friendly and helpful guy. They have a branch in Gulmarg as well by the name of Pine View Resort; the fare of which is slightly higher at around Rs. 2500.
This however is the off-season price and I am sure it will go up even further during the tourist season.
I asked the guy if he could book my stay here at Pine View Resort. But they were completely booked for the day we were reaching Gulmarg. I asked him if there was any other good hotel he would recommend and he suggested Hotel Affarwat.
I checked google, saw a few pics and it looked decent enough. So I gave my nod and he confirmed my booking in Hotel Affarwat.
I have provided more details and some pictures of this hotel at Hotel Affarwat –  A good place to stay in Gulmarg.
Overall our experience with Hotel Affarwat was satisfactory. It was a good hotel that I will recommend staying at. Budget hotels anyways are a rare breed in Gulmarg so don't go searching for those.
Tangmarg to Gulmarg
Until Tangmarg, the entire journey from Srinagar looks much like driving on plains. It doesn't even feel like you are actually at a hill station.
It is after Tangmarg that the road turns into a steep ascent and climbs up rapidly for the last 14 kilometers to Gulmarg. The vistas change drastically and you get your first taste of why Gulmarg is such a famous tourist spot.
Back at Srinagar and even at Tangmarg, the temperature was a bit hot but the air turned colder as we got closer to Gulmarg. Before we could finally make it there, however, there was one more stop that I wanted to make, the shrine of Baba Reshi.
Baba Reshi, Gulmarg
I have posted detailed information about this shrine in a different post, The Life and Legend of Baba Reshi. But for a brief overview, Baba Reshi is one of the most famous and visited Dargah or Mazar in all of Kashmir.
Not many people know about it though. Even I found out about the place while I was googling for a list of places to visit around Gulmarg.
This shrine falls on the way. A road bifurcates to Baba Reshi Mazaar about 5 kilometers before Gulmarg as you start to drive up from Tangmarg.
It is a very peaceful and serene place sitting amid the dense forest all around. If you are planning to visit Gulmarg, I will highly recommend a short trip to Baba Reshi.
It won't take you more than an hour to visit here and then get back on the road to Gulmarg which was exactly what we did.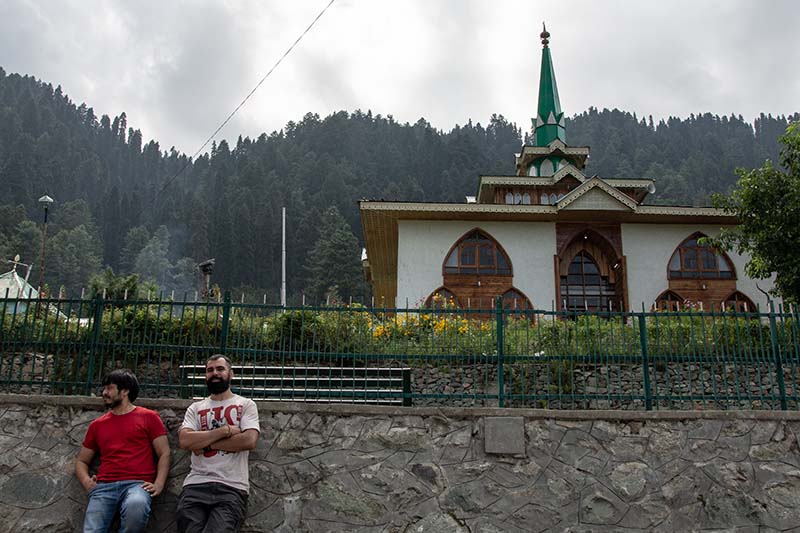 Baba Reshi to Gulmarg
After another short break at a viewpoint en route and we drove straight to Gulmarg,  arriving there a little after 3 PM. I had already booked my stay at Hotel Affarwat so we reached straight there.
Today's distance chart was as below.
Srinagar to Gulmarg – About 60 kilometers, 2 to 3 hours of travel
Srinagar to Tangmarg – About 40 kilometers, 1 hour of travel
Tangmarg to Gulmarg – 14 kilometers, 1 hour of travel
Tangmarg to Baba Reshi – 5 kilometers, 15 minutes of travel
Gulmarg to Baba Reshi – 10 kilometers, about 40 to 45 minutes of travel
Now at this point, our travel plan took a major turn. As per the initial itinerary that I planned, we were to stay at Gulmarg for the night and be on our way to Doodhpathri the next day after visiting some local attractions.
The biggest attraction of Gulmarg however is the Gondola ride which I was not too keen on doing for two reasons.
First was that almost every review that I read about it on the net mentioned that it involves hours of waiting in long queues as it is always overcrowded. And second was that because it is overcrowded, it means spending an entire day in Gulmarg itself.
A Gondola ride did not sound too tempting to me so we had no intentions of getting on it. A couple of other tourist attractions like Apharwat Peak and Alpather Lake too remained out because of the time factor.
Trekking to both these places again requires an entire day as per my initial research.
So our plan was to arrive at Gulmarg, see whatever we can cover in a few hours, and then head towards Doodhpathri. All this however changed the moment we reached Hotel Affarwat.
The Guide in Gulmarg
While I was checking into the hotel and signing up in their register, a guide sitting at the reception approached me. We did not need a guide so I said no.
I was in fact a bit surprised to find a guide here because I thought that was a breed native to places like Agra and the Taj Mahal.
Nonetheless, he did not back down and kept trying to talk me into it, offering his services. I still said no to him but a few things that he said invoked my interest, specifically about a certain 'frozen lake'.
He offered to be our guide for the Gondola ride and then take us on a trek to the frozen lake. I started to inquire more about this frozen lake and found out three new things.
The frozen lake is in fact Alpather Lake. I had my own doubts about whether or not it will actually be frozen in August.
The last point of Phase 2 of the Gondola ride is in fact Apharwat Peak. The Gondola ride is actually all about ferrying tourists from Gulmarg to the top of Apharwat peak.
The trek to Alpather Lake from Phase 2 of the Gondola can easily be done in about 2 hours.
Also Read: How to Trek to Alpather Lake
Change in the Plan
So it meant that if we stayed for a day in Gulmarg and took a Gondola ride, we can cover Apharwat peak and Alpather Lake as well.  It was actually the 'trekking to a frozen lake' part that got all three of us interested.
We discussed among ourselves and decided that since we were at Gulmarg anyway, why rush and not cover all of it? So the plan was then changed and we decided to extend our day at Gulmarg by another day.
A gondola ride too was added to the itinerary. I had a day of stay planned in Srinagar city as per the initial itinerary which I gave up in favor of staying at Gulmarg.
Also Read: When is the Best time to visit Gulmarg?
Now the first thing to do was to let Faisal know about the change since he was to hand us over the bikes the next day. I called him and informed him about the new itinerary.
Second thing was to decide what to do with the driver because if we were staying at Gulmarg, then he was going to just sit there the entire day doing nothing. Faisal suggested that we let him go.
Our driver, Gulzar, could just go home today and then come back to Gulmarg the day after to pick us up again. This would save him an idle day of doing nothing and us the cost of it.
This sounded reasonable and I told Gulzar that he could go today, and then come pick us up a day after as early as he could. He said he would be here by 10 AM and went on his way.
Sightseeing in Gulmarg
We checked into a hotel, freshened up, and then it was time for some local sightseeing. First, we stopped for some tea, and mutton kababs, and then took a full circle around Gulmarg town and Polo ground.
View from our Hotel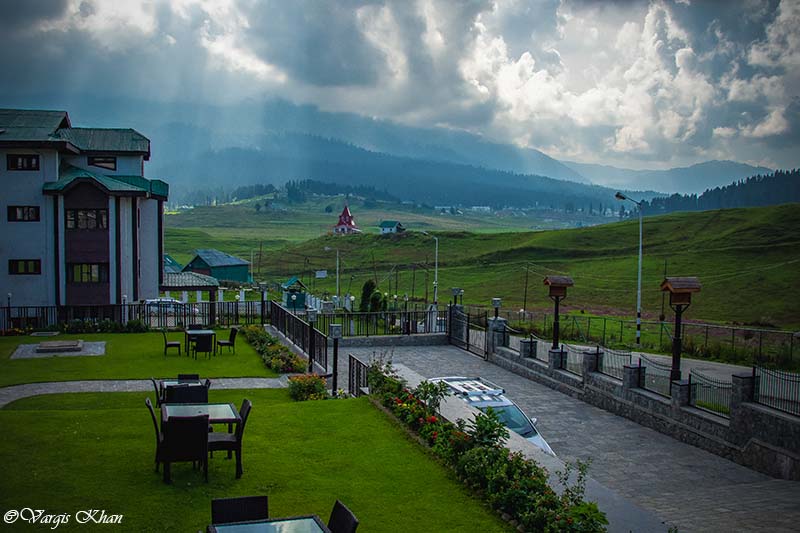 Selfie Time. Sun was shining directly in our faces, forcing my one eye shut. Turned out to be a funny picture.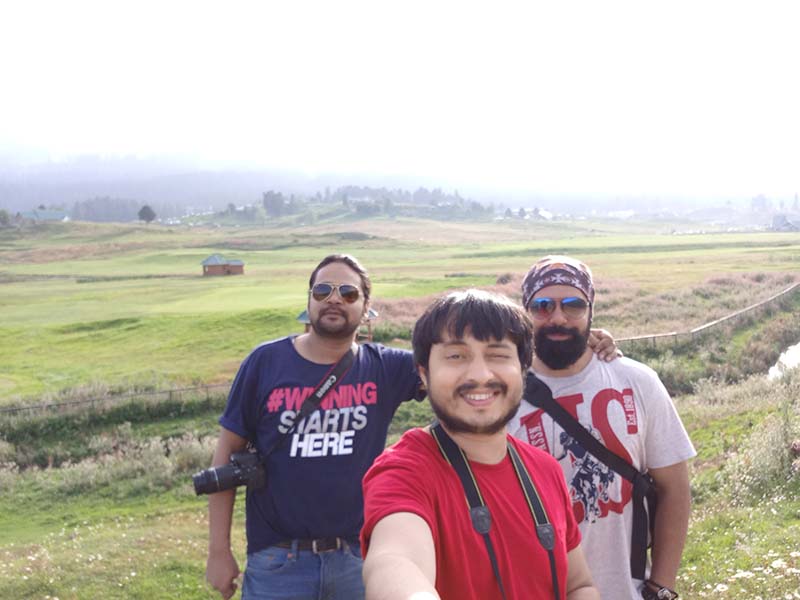 Maharani Temple
Golf Course of Gulmarg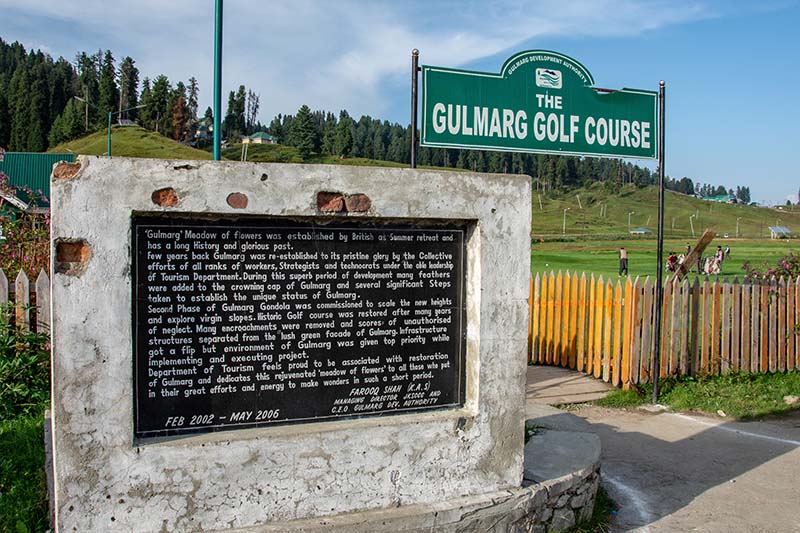 St. Mary's Church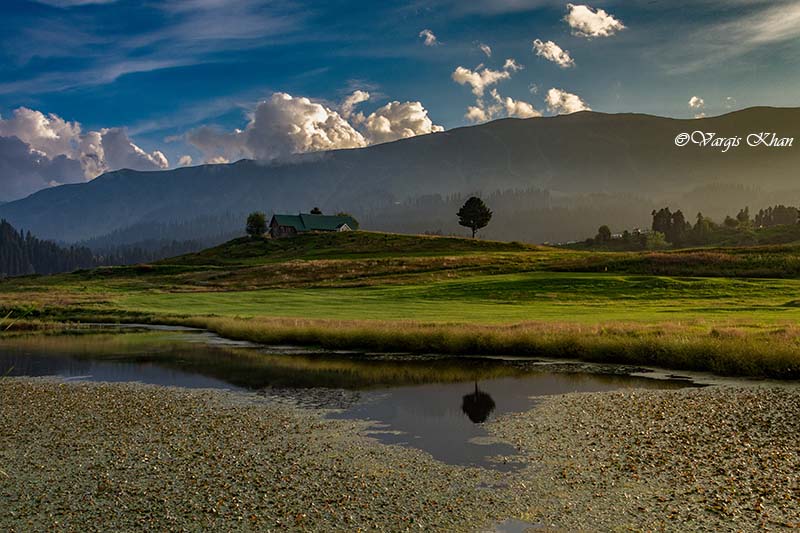 We arrived at our hotel after dark and the fourth surprise of the day awaited us. We were in the mood of having some great Kashmiri non-vegetarian food but were told by the hotel staff that they only serve vegetarian food.
Surprise # 5 was when we were told that most of the hotels in Gulmarg are vegetarian only. We asked where we could go for some non-veg and were routed towards a hotel called Yemberzal, stating that they serve the best non-veg in Gulmarg.
We stepped out of our hotel and started to walk towards the said hotel while asking the locals for directions. It took us about 15 minutes to get there.
Also Read: Tourist Attractions in Gulmarg
Gulmarg is Expensive
This is where the final surprise of the day came into the picture and I realized how expensive Gulmarg actually is. When we sat down to have our dinner and were offered the menus to look at, what we were holding in our hands was a pamphlet asking us to pay Rs. 30 for one Tawa Roti.
The roti also turned out to be a really small one actually, like a phulka when we started to eat. The prices of the non-veg dishes were over the roof. You get charged this kind of money at a five-star hotel restaurant, not at a place like Yemberzal.
Little however we could do. We were already there and hungry so decided to eat anyway. When we were handed the final bill, it consisted of Rs. 700 just for a plate of rice and Rotis. The bill for some Roghan Josh, Rishta, and Gushtaba was separate.
I have never ever paid Rs. 700 only for a few Rotis and Rice at ordinary restaurants. Our dinner for 3 in a very average kind of restaurant went close to Rs. 2000.
As we were to learn the next day that this price is standard in all of Gulmarg. Even the small dhabas have this kind of price on their menus.
After having dinner, we took a small late-night walk in Gulmarg and arrived back at the hotel. By now we were all tired and just wanted to catch some sleep.
The next day, our plan was to catch a Gondola ride and then trek to Alpather Lake. Please click on the link above to continue reading the next part of this travelogue.
Conclusion
I hope the travelogue, pictures, and information above on traveling from Srinagar to Gulmarg were of use. If you have any questions, you can contact me on Instagram and I will be happy to answer. You can also consider subscribing to my YouTube channel and asking a question there.