The drive from Dawar to Chakwali takes you through some of the remotest and least explored regions of Kashmir. Gurez Valley was opened for tourists recently and whatever little tourism it has received so far is mostly limited to the town of Dawar only.
Hardly anyone goes beyond Dawar. But in my opinion, that is where the true beauty of Gurez Valley is. The scenery that you witness on this route is hard to find anywhere else in Kashmir. The only catch is the nightmarish road which really puts your vehicle's suspension and your stomach to a test.
The distance between Dawar and Chakwali is about 65 kilometers of which, only the first 10 kilometers are tarred. The rest is a badly broken dirt road which will keep your speed strictly limited. Due to this, a round trip from Dawar to Chakwali is a day-long affair.
Journey So Far
That is what our plan for the day was, to go for a bike ride from Dawar to Chakwali. We really had no idea about how bad the roads were and what to expect in terms of the scenery. But were we excited for the journey ahead? We sure were.
Dawar to Chakwali Gurez
As per our original plan, we were supposed to be visiting Sonamarg today. We only kept one night in Gurez Valley in the initial itinerary because I wasn't really sure if there was anything to see here in particular.
The information on the web about Gurez was anyways very limited at that time. So our trip here was more on a 'let's get there and see how it goes' basis.
The idea at first was to arrive in Gurez valley, spend one night and then go to Sonamarg the next day. But our entire trip did not really go as planned and even on the last days, further changes were made.
The last change in the plan came in the form of Sonamarg being taken out entirely and our stay in Gurez getting extended by one day.
Before coming to Gurez, I wasn't really sure about where to go, what to see, and how much time will be needed. I later documented all of this information in another one of my articles What to See in Gurez Valley but at the time of our trip, there was really no information anywhere on the web.
So when I planned my itinerary before coming here, I just kept one day in Gurez. I thought that we will just drive here and will be able to cover it all in a day.
That however wasn't quite right. On Day 1, we only reached the town of Dawar but that is where Gurez valley actually starts. There is so much more beyond Dawar.
Planning the Ride
There were a couple of other guys staying in the same hotel who went exploring the valley further and they told us that the actual beauty of Gurez is beyond Dawar.
We were quite intrigued by the way they spoke so highly of the places they went to. So we also decided to explore Gurez valley beyond Dawar.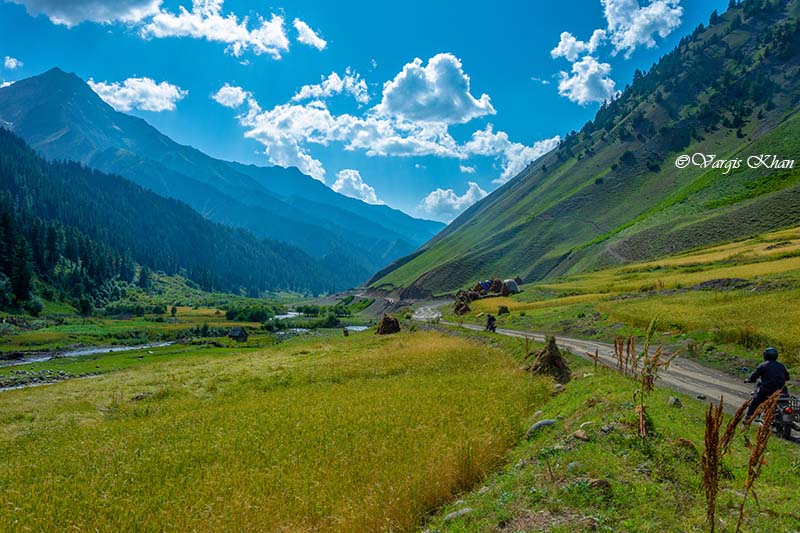 The biggest reason behind extending our stay was to see it all while we were still in Gurez. Who knows how long before we get another chance to come here again.
Somewhere in my heart, I knew that I probably will never visit Gurez again. It was more like a one-time deal so why not add another day and see all that there is to see? I was wrong about it because I did end up visiting Gurez Valley again but at that time, I was quite sure that I never will.
The third reason to some extent was the fact that all of us had been to Sonamarg before. We knew that we will definitely be there again the next time we go to Ladakh.
So the eagerness was a bit more towards seeing an unknown place rather than visiting a seen one again. Hence, a final change was made to the itinerary again. Sonamarg was taken out of the plan, and a day more was added for our stay in Gurez.
Dawar & Tilel Districts

Gurez valley is divided into two districts or Tehsil as you may as well call it. The area till Barnoi all falls under the Dawar district. After Barnoi and till Chakwali, it is all under the Tulel district, also known as Tilel.
The basic amenities like banks, ATMs, schools, hotels, a petrol pump, etc are all in Dawar only. Tulel is just a few very small villages at regular intervals and nothing more. Even these villages are like a group of 15-20 houses.
We got talking to the owner of the hotel and he told us that the road stretches for another 65 kilometers after Dawar. The last village on the Indian side of the border is Chakwali where a civilian can travel.
That is in fact where even the road ends. After Chakwali, it is just Pakistan on the left and a trek route to Drass on the right. However, in order to get there, a permit must be obtained from the J&K police station in Dawar.
The road as we were told gets even worse after Dawar and it will literally put our stomachs to the test. This was in fact true. Below is what we encountered later in the day.
It is not looking so bad in the picture actually. But multiply the condition you see in the image below by 20 times on the worse side and you will get an actual idea of the road.
Permits for Chakwali

[Update: This is an old travelogue. Nowadays, this permission is not required. You just need to carry your Aadhar Card with you and show it at the check posts. That is all]
Like all the other days of the trip, Lavish and I were the first ones to be up that day. We went exploring the small town of Dawar and also in search of a cup of tea.
There were no shops open early in the morning but we did find an Army wet canteen open. After a couple of cups of tea each, we came back to the hotel. Shoaib too was up by then and we started to get ready for our trip ahead.
I sat down for a while with the owner of the hotel to understand the route ahead. I got the names of some of the villages that we can or should visit and noted those on my cellphone for reference.
The first task was to obtain the permit. I was told that it is not really that difficult to obtain. But before that, we again went to the Army wet canteen for some more tea.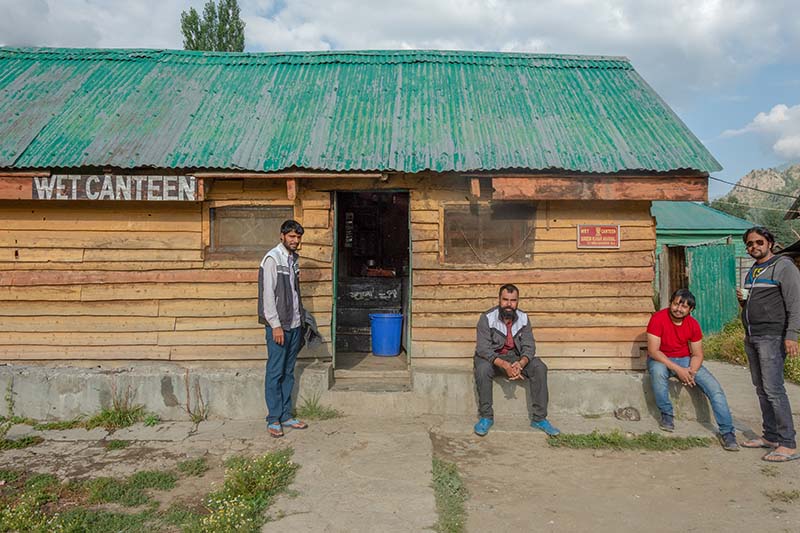 After getting some refreshments, we arrived at the J&K police station. They first denied the permit straight away but after a bit of requesting, we got the handwritten permit.
One thing to remember here is that your Aadhar card is absolutely necessary for this. Without Aadhar, they will deny you the permit entirely. No other ID card like PAN, DL, Voter's ID, etc will work. You need to bring your Aadhar along.
You also need to bring a couple of photocopies of your Aadhar card because those would have to be submitted.
Dawar to Chakwali
We started our ride from Dawar at around 10 AM. The first 10 kilometers of the ride were on a super smooth road and were enjoyable. We in fact started to wonder if what the hotel owner told was wrong.
But he wasn't. The bliss of the good roads turned into a nightmare pretty soon. What we encountered was probably the second-worst stretch of the road that I had ever been on. The Gramphoo Batal road of Spiti still holds first place.
I will post a few pictures of the journey.
The only saving grace of taking this painful ride was the views. It felt as if every turn of the road was a sight to behold. Not even for once did we regret our decision to go to Chakwali. Instead, we were stopping every now and then to click as many pictures as possible.
The owner of the hotel we were staying at gave us the names of a few villages that we should visit. He gave us the directions but it was just so difficult to find anything here.
All the villages looked the same, just a group of 10-15 houses.  There were also no boards to identify one group of houses from another.
To add to it, most of them were on the other side of the Kishanganga river, which was flowing to our right. So if were indeed to go to a village, we would have to find a bridge to cross the river which was hard to come by.
The times when we did notice a bridge, it would have us leave the main road and ride on an even worse one. So in short, we skipped the idea of seeing any of the villages and kept riding on the main road.
Chakwali
Finally, we made it to Chakwali, the last point on the Indian side of the border. In the image below, the mountain in between (horizontal line under the clouds) is in Pakistan-occupied Kashmir.
Standing there, I can tell you that it was an amazing feeling.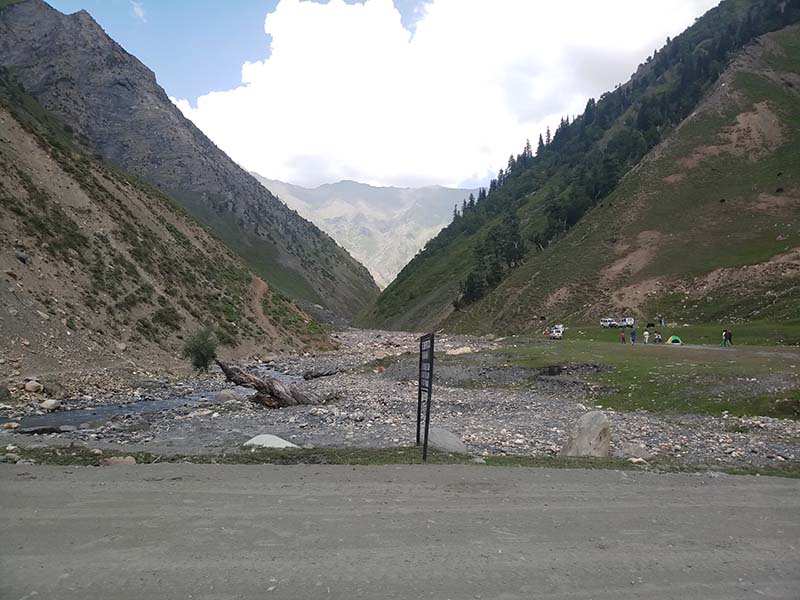 We spent about an hour there. There is a water stream that you can get down to and have fun. We also noticed some local families from one of the nearby villages out there for a picnic.
There were a lot of kids playing cricket and they even invited us to join them which we respectfully said no to.
The point where the road ends is a very scenic spot. It looks like a small meadow with a huge snow-covered mountain in the front. This road then goes further to Kabul ki Gali Pass which is off-limits for tourists.
I was also told by the soldiers posted there that construction work to extend this road was also going on. Once completed, this same road will further continue all the way to Dras.
After a while, it was time to start our journey back to Dawar.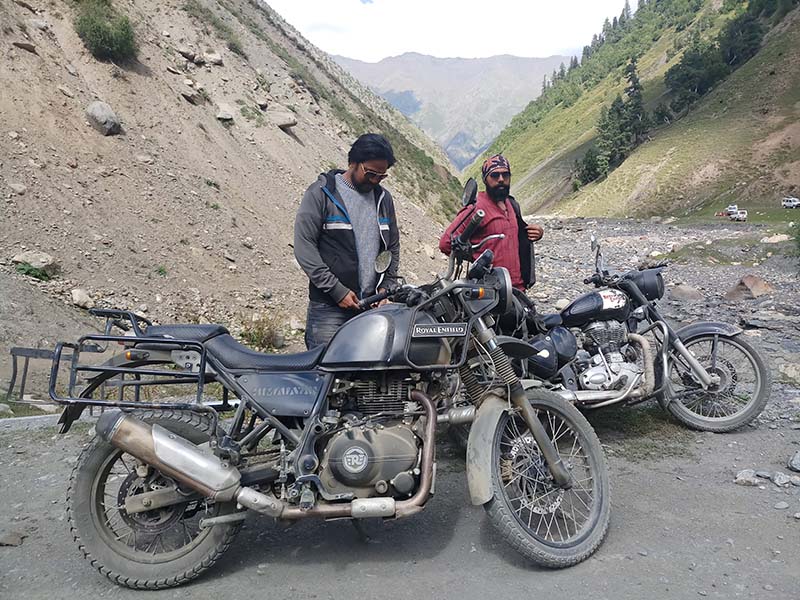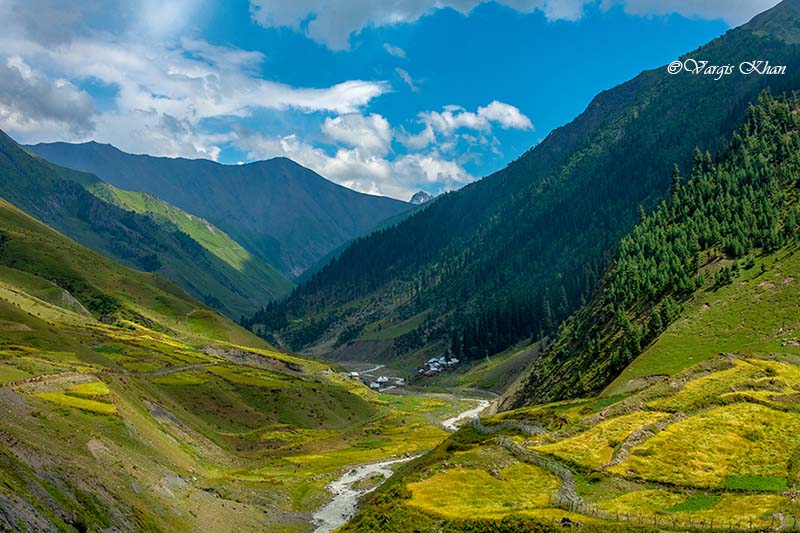 This time, we decided to do what we did not do the first time. A couple of villages looked quite close to the main road and were very scenic. We visited those villages and click a few pictures. The only thing is that I do not know what their names were.
Dawar
We made it back to Dawar by evening and straight away went to the Army wet canteen to get some tea. The sun was starting to set down by then. It had been an eventful day and possibly the best one of our entire trip.
Did we enjoy the ride and like what we saw? Definitely.
I really had great fun on this particular day. It took us 8 hours to cover a total distance of 130 kilometers. Roads were so bad that they actually broke the rear shockers of one of the motorcycles. We were tired and our butts were hurting badly. But in the end, it was all worth it.
Gurez Valley beyond Dawar presents an entirely different set of scenery. It is unlike anything that you will see in places like Gulmarg or Sonamarg. The culture of the people here is also a little different than the traditional Kashmiri one.
Finally, we came back to the hotel and switched on the TV only to find it in need of a recharge.
We looked for the owner of the hotel but he wasn't around. So rather than waiting for him, we ourselves called a friend in Delhi and got a minimum of Rs. 100 recharge done for Dish TV. This was the first, and hopefully, the only time, that we actually recharged the TV of a hotel at our expense.
Unfortunately, dinner in the hotel that night was also delayed. I think it was by 11 pm that we finished eating and retired to our room. Tomorrow, we were to ride back to Srinagar. Please click on the link above to continue reading the next part of the travelogue.
Conclusion
I hope the travelogue, pictures, and information above on traveling from Dawar to Chakwali in Gurez Valley were of help. If you have any questions, you can contact me on Instagram and I will be happy to answer. You can also consider subscribing to my YouTube channel and asking a question there.