This post is in continuation with a previous one, the prologue of my Kashmir travelogue. The details below are of our first day of travel; of a total of 8 days trip to various part of Kashmir valley. On Day 1, we traveled from Delhi to Srinagar and then straight to Gulmarg from Srinagar airport.
Preparations for the Trip
It is funny how slow the time passes when you are waiting for something or someone to arrive. We had this trip planned months in advance; and as we started to get closer, time started to seem to drag itself. First we were counting weeks and then days. There wasn't really much preparation to be done. Courtesy Faisal, all the arrangements happened days in advance and quite seamlessly; and all that we now had to do was to pack our bags and travel from Delhi to Gulmarg.
This made the wait seem even longer. Usually my last few days of the trip get spent in getting everything arranged but in this case, the only task on hand was to make a list of places to see. Faisal pretty much took care of all the rest. He had the driver arranged for our trip, helped with the itinerary and we were going to rent bikes from him only for half of the trip. Without him, I am sure our trip would not have been so seamless.
The only thing that kept me worried for days before the trip was the task of getting a postpaid MTNL connection. I own an Airtel prepaid phone and by law, prepaid mobile phones do not work in the state of J&K. Shoaib had an Idea postpaid connection but I knew that it will not work at several places that were part of our itinerary. So we agreed to get a new MTNL postpaid connection for which Shoaib took the responsibility. We kept discussing this; I continued reminding and he continued postponing. Finally, it was just a day before the trip that he finally visited the MTNL office and got a new SIM.
Change in Plans
The way our tickets were booked, Shoaib and I were to catch and Air India flight at 7:10 AM whereas Lavish's flight was at 6:10 AM; so he was to arrive at Srinagar a full hour ahead of us.  My plan heavily depended on our early arrival at Srinagar; so that we can reach Gulmarg latest by 11 AM and have plenty of time for sightseeing. Luck however decided to have it otherwise. A day before the trip, I got a message from Air India that our flight was delayed by a full 3 and a Half hours. Now we will leave Delhi at 10:40 and arrive at Srinagar by noon. Lavish's flight however remained to be on time. So now, poor fellow would reach Srinagar at 7:40 AM and wait for us there till noon. A full 4 and a half hours of doing nothing .
This really almost botched up my plans. Now this meant that we would land in Srinagar at 12 and arrive at Gulmarg at around 3 PM. By the time we would check into a hotel and freshen up, it would almost be 5 PM and the entire day gone. I on the other hand had an entire list of places prepared that I wanted to see at Gulmarg on Day 1; and the change in timing really made me wonder if I would be able to cover it all. For a while there, I even changed our itineraries and thought of a few other ways to go about it. In the end however, I kind of gave up and stick to the same plan thinking that we can decide and change after our arrival at Gulmarg if required.
Delhi to Srinagar
After the initial niggles and hiccups, finally the D-Day arrived and we got ready to execute the much awaited trip. I boarded an Uber from my place at about 7:30 AM to make sure that I arrive at the airport despite the usual morning traffic. We all work in night shifts so I was actually awake from the day before. I was hopeful that I would be able to get some power naps in the cab and then during the flight. The driver however turned out to be a chatty one and the fellow did not stop talking even for a minute during our entire 40 minutes of ride to airport. He went on and on about how he progressed in life from small jobs to now owning his own taxi and by the time I got to the airport, I was already wearing a headache.
Not much happened after that. I got a call from Lavish that he had landed at Srinagar airport and was waiting for us there. I gave him the phone number of our driver asking him to coordinate the pickup. After all the formalities, finally we took off from Delhi airport at around 11 AM.
The first thing I was surprised with was the number of Malaysian tourists in the flight. The entire plane was full of them. Even the fellow sitting next to me was a Malay.
Some views from the flight
Finally in Srinagar
It was a short flight and we landed at Srinagar as planned. Second thing to surprise me that day was the time spent at Srinagar airport. I was thinking that it would take us at least half an hour to 45 minutes to come out like it does in Delhi. Srinagar airport however turned out to be surprisingly much smaller than I expected. From the time we stepped out of the plane to the time we came out of the airport, it took us no more than 10 to 15 minutes.
At Srinagar Airport.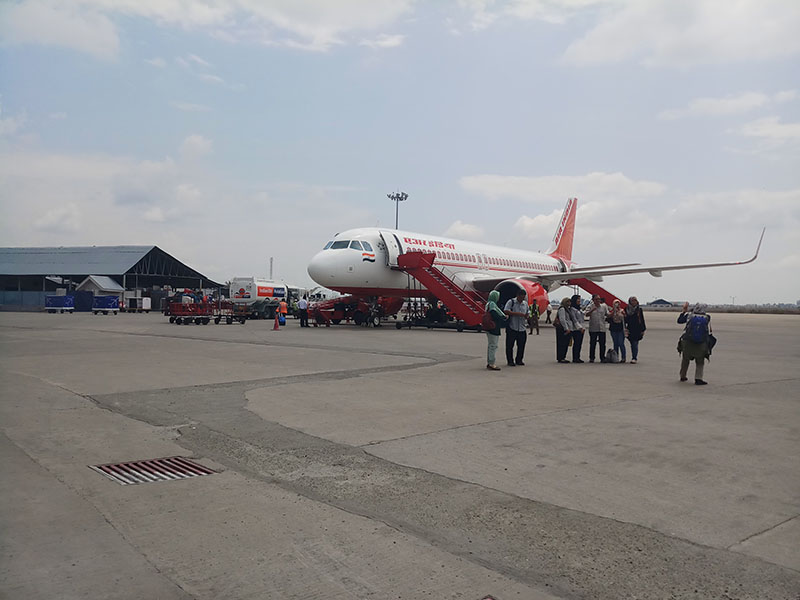 I checked my phone. Airtel Prepaid was gone and MTNL was not yet active. So in short, I was without phone and had to rely on Shoaib's phone completely. One phone call to Lavish who had been there waiting for us for past 4 hours; another to our driver who too had arrived and was waiting with Lavish; and in next half an hour, we were cruising on our way towards Gulmarg.
Journey Ahead – Srinagar to Gulmarg – To the Beautiful Meadow of Flowers
I have continued this travelogue in the next article in this series. Please read Srinagar to Gulmarg – To the Meadow of Flowers to read next part of this travelogue. If you have any questions, please feel free to ask in the comments section below; or at our Community Forum; and I will be glad to answer.