It is funny how slowly time passes when you are waiting for something or someone to arrive. We had our trip from Delhi to Srinagar planned months in advance. As we started to get closer, time really started to seem to drag itself. First, we were counting weeks and then days.
There wasn't really much preparation to be done. Courtesy of a friend, all the arrangements happened days in advance and quite seamlessly. All that we now had to do was to pack our bags and travel from Delhi to Srinagar and then to Gulmarg.
This made the wait seem even longer. Usually, the last few days of the trip get spent getting everything arranged. But in this case, the only task on hand was to make a list of places to see. Faisal, my contact in Srinagar, pretty much took care of all the rest.
He arranged a cab and the driver for our trip, helped with the itinerary, and we were going to rent bikes from him only for half of the trip. Without him, I am sure our trip would not have been so seamless.
If you have any questions, you can contact me on Instagram. For all other details on Kashmir like mobile connectivity, public transport, taxi services, and several other tips, please take a look at How to Plan a Trip to Kashmir – A Complete Travel Guide.
For getting the best hotel rates, and taxi charges, and to organize your trip to Kashmir, you can speak with Kunal @ 9910 402 252. Give him my reference and you will surely get a discounted rate.
BSNL / MTNL Connection
The only thing that kept me worried for days before the trip was the task of getting a postpaid MTNL connection. I own an Airtel prepaid phone and by law, prepaid mobile phones do not work in J&K.
Shoaib had an Idea postpaid connection but I knew that it will not work at several places that were part of our itinerary. So we agreed to get a new MTNL postpaid connection for which Shoaib took responsibility.
We kept discussing this. I continued reminding and he continued postponing. Finally, it was just a day before the trip that he finally visited the MTNL office and got a new SIM.
Also Read: How to Plan a Trip to Kashmir – A Complete Travel Guide
Change in Plans
The way our tickets were booked, Shoaib and I were to catch an Air India flight at 7:10 AM. Lavish's flight was at 6:10 AM. So he was to arrive at Srinagar a full hour ahead of us.
My plan heavily depended on our early arrival at Srinagar, so that we can reach Gulmarg latest by 11 AM. This will leave us with plenty of time for sightseeing. Luck however decided to have it otherwise.
A day before the trip, I got a message from Air India that our flight was delayed by a full 3 and a half hours. Now we will leave Delhi at 10:40 and arrive at Srinagar by noon.
Lavish's flight however remained to be on time. So now, poor fellow would reach Srinagar at 7:40 AM and wait for us there till noon. A full 4 and a half hours of doing nothing.
This really almost botched up my plans. Now, this meant that we would land in Srinagar at 12 and arrive at Gulmarg at around 3 PM. By the time we would check into a hotel and freshen up, it would almost be 5 PM, and the entire day would be gone.
I on the other hand had an entire list of places prepared that I wanted to see at Gulmarg on Day 1. The change in timing really made me wonder if I would be able to cover it all.
For a while there, I even changed our itineraries and thought of a few other ways to go about it. In the end, however, I kind of gave up and stick to the same plan thinking that we can decide and change after our arrival at Gulmarg if required.
Delhi to Srinagar
After the initial niggles and hiccups, finally, D-Day arrived and we got ready to execute the much-awaited trip. I boarded an Uber from my place at about 7:30 AM to make sure that I arrive at the airport on time despite the usual morning traffic.
We all work night shifts so I was actually awake from the day before. I was hopeful that I would be able to get some power naps in the cab and then during the flight.
The driver, however, turned out to be a chatty one and the fellow did not stop talking even for a minute during our entire 40 minutes ride to the airport.
He went on and on about how he progressed in life from small jobs to now owning his own taxi. By the time we arrived at the airport, I was already wearing a headache.
Not much happened after that. Shoaib was already waiting for me at the airport. I got a call from Lavish that he had landed in Srinagar and was waiting for us there.
I gave him the phone number of our driver asking him to coordinate the pickup. After all the formalities, we took off from Delhi airport at around 11 AM.
The first thing I was surprised by was the number of Malaysian tourists on the flight. The entire plane was full of them. Even the fellow sitting next to me was a Malay.
Some views from the flight
Srinagar Airport

It was a short flight and we landed at Srinagar as planned. The second thing to surprise me that day was the time spent at Srinagar airport.
I was thinking that it would take us at least half an hour to 45 minutes to come out as it does in Delhi. Srinagar airport however turned out to be surprisingly much smaller than I expected.
From the time we stepped out of the plane to the time we came out of the airport, it took us no more than 10 to 15 minutes.
At Srinagar Airport.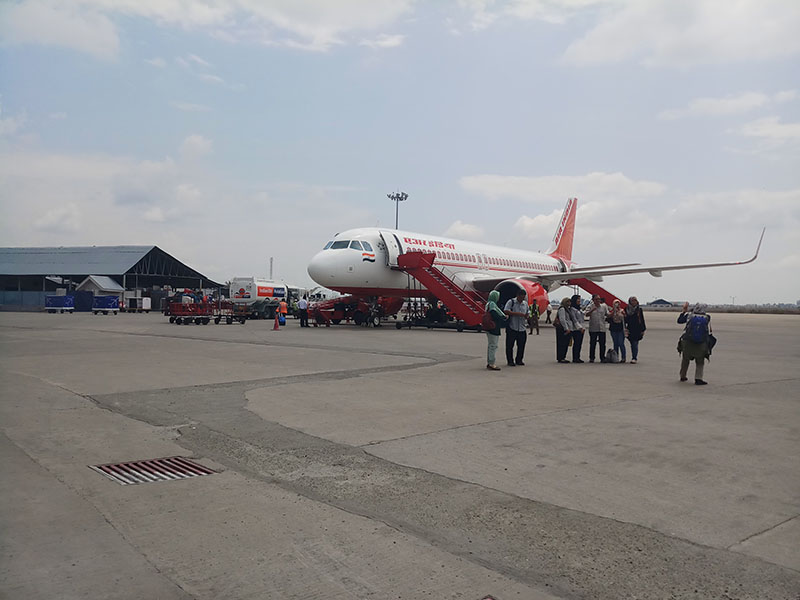 I checked my phone. Airtel Prepaid was gone and MTNL was not yet active. So in short, I was without a phone and had to rely on Shoaib's phone completely.
The first phone call was made to Lavish who had been there waiting for us for the past 4 hours. The second call was to our driver who had arrived and was waiting with Lavish. In the next half an hour, we were cruising on our way toward Gulmarg.
How to reach Srinagar from Delhi
Before we move on to the next part of the travelogue and talk about our journey to Gulmarg, let me also provide a brief overview of the different modes of travel you can choose to travel from Delhi to Srinagar.
By Flight
Reaching Srinagar by flight will be the most time-saving and easiest way of all. Srinagar has its own Airport called as Sheikh-ul-Alam Airport, located about 10 kilometers from the main city.
As of now, only domestic flights fly in and out of Srinagar, with Air India to Jeddah being the only international one. On a domestic level, however, it is well connected to various cities across the country, including Delhi, Goa, Jammu, Mumbai, Bangalore, Chandigarh, etc.
Air India, GoAir, IndiGo, Jet Airways, SpiceJet, and Vistara operate regular flights to Srinagar. The frequency is once or twice a day by each airline.
Delhi to Srinagar by Train
Srinagar has its own railway station but the problem is that it is not yet fully operational and connected. At the time of writing this article, it will still take some time for full connectivity.
Right now, you can reach Udhampur by train. From Udhampur, you will then have to board a bus or taxi for Ramban. After reaching Ramban, you will then board another train from Ramban to Srinagar.
An easier way thus would be to just board a bus or shared taxi directly from Udhampur to Srinagar.
Alternatively, you can first reach Jammu by Train and then travel from Jammu to Srinagar. This will actually be a lot easier and possibly the best option.
Delhi to Srinagar by Road
Let us now take a look at the route you will be following if you went to Srinagar by your own vehicle; either a car or a motorcycle. There are two routes that you can take for this journey.
One is the regular, most commonly used, and well-known Jammu – Srinagar highway. The other is the lesser-known, lesser-traveled, and more scenic route of Mughal Road. I will explain both.
By Jammu-Srinagar Highway

If you traveled by NH44, also known as the Jammu-Srinagar highway, the route will be as mentioned below, assuming that you started your journey from Delhi.
Delhi – Chandigarh – Pathankot – Jammu – Udhampur – Patnitop – Ramban – Anantnag – Pampore – Srinagar
This is the road that takes you across the famous Jawahar Tunnel and towns like Udhampur, Patnitop, and Anantnag. This is a 2 days journey with a night halt at Jammu.
By Mughal Road



Now let us talk about the second road that you can take which also happens to be my favorite. The route changes after you have arrived in Jammu on Day 1.
Jammu – Akhnoor – Naushera – Rajouri – Sunderbani – Bafliaz – Peer ki Gali – Shopian – Pulwama – Srinagar
From Jammu, you will first reach Rajouri via Akhnoor.  After Rajouri, you will continue driving to Bafliaz where you will enter the historic Mughal road.
Right after Bafliaz is the steep but amazingly scenic drive to Peer ki Gali, the high-altitude pass on this route. After Peer ki Gali, you drive to Shopian where the Mughal road ends. From Shopian, it is a straight run to Srinagar.
Delhi to Srinagar by Bus
There is no direct bus between Delhi and Srinagar that runs non-stop. Due to the distance covered, this journey is best broken into two parts.
From Delhi, you should look for a bus to Jammu. For this, you can easily find both private and government-operated buses. Once you reach Jammu, you can either continue the journey ahead by Bus or look for a shared cab which most people do.
Delhi to Srinagar by Bus Fare
Depending on the type of bus, the fare per person can be anywhere between Rs. 1000 to Rs. 3000 per person. If you traveled by a government-operated bus, it will cost you less. If you opt for a private bus or shared cab, the fare will come out to be close to Rs. 2500 – Rs. 3000.
Delhi to Srinagar by Road Itinerary
The best way to complete this journey by road is to plan a 2 days itinerary. Start from Delhi early on Day 1, possibly by 4 am and you will easily reach Jammu by 4 pm. It is at most a 10-12 hours drive, thanks to the good roads.
On Day 2, you can travel to Srinagar either by NH44 or by Mughal Road. By NH44, it will take you about 7-8 hours to complete the journey. By Mughal Road though, it will at least be a 12 hours drive.
Coming back to our travel story again, we got out of the airport, boarded the cab, and were soon driving towards Gulmarg. Please click on the link above to continue reading the next part of the travelogue.
Conclusion
I hope the travelogue and information on traveling from Delhi to Srinagar were of help. If you have any questions, you can contact me on Instagram and I will be happy to answer. You can also consider subscribing to my YouTube channel and asking a question there.