Yusmarg is one of the lesser-known destinations in Kashmir. Of all the tourists the valley receives each year, only a handful will travel from Srinagar to Yusmarg. But the place has a charm of its own and is perfect for someone wanting to visit offbeat Kashmir.
In my opinion, Yusmarg is a place that, if developed, will probably stand equal to other tourist hotspots like Gulmarg and Sonamarg. There have been efforts by the authorities to promote it as a tourist destination but sadly enough, there has been little to no success.
Yusmarg was a last-minute addition to our travel plan. Like other tourists, even I had no idea about this place and it was actually recommended by a friend. Going by his suggestion, we went for a day-long bike ride from Srinagar to Yusmarg and the beauty of the place surprised us all.
Journey So Far
This was the 5th day of our trip and the journey gave us a true taste of offbeat Kashmir. To read the previous parts of the travelogue, you can follow the links above.
If you have any questions, you can contact me on Instagram. For all other details on Kashmir like mobile connectivity, public transport, taxi services, and several other tips, please take a look at How to Plan a Trip to Kashmir – A Complete Travel Guide.
Day 5 – Srinagar to Yusmarg

Shoaib, Lavish, and I planned this trip to Kashmir several months in advance. After a lot of discussions, we decided on the month of August and missed noticing a very important thing.
Just to make sure that the trip happens in August, we actually booked our flights in May itself. This was done to ensure that we do not end up canceling or postponing for some reason. What neither of us thought at that time were the dates of Eid.
So it just happened that the date of Bakra-Eid was in the same week that we were in Srinagar. We did think about postponing the trip later after we realized our mistake but then decided to let the plans be the way they were.
So yes, today was the day of Eid and we were celebrating it in Srinagar; away from our families for which we got scolded a lot by our folks.
We were up till late last night and almost paid the price of it this morning. If it wasn't for Lavish, I am sure both Shoaib and I would have continued to sleep late and miss our morning Eid prayers. Fortunately, Lavish woke up just in time to get us all up and ready.
Not much happened after that. We got ready and visited a mosque nearby for Eid prayers. After that, we visited the house of the owner of the hotel we were staying at. We had some snacks there and returned back to the hotel at around 8.30 AM.
Now it was time to get back to our travel plans for the day, a bike ride from Srinagar to Yusmarg.
About Yusmarg
For a brief introduction, Yusmarg or Yousmarg is a hill station in the western part of Kashmir Valley. It is situated at a distance of about 47 km from Srinagar and 13 km south of Charar-e-Shariff.
It is an alpine valley on the banks of the Doodhganga River. At an altitude of 2,396 meters, it is surrounded by snow-clad mountains and meadows of Pine and Fir.
Yusmarg in Kashmiri means 'The Meadow of Jesus'. It is believed by the locals that Jesus came to Kashmir and stayed at Yusmarg for some time. Some even say that Jesus was actually buried in Yusmarg itself.
While I cannot confirm or comment on this fact, what I can definitely tell you is that it is a beautiful place to visit.
You will think that it is a hill station, but Yusmarg actually is nothing except for a handful of villagers in their huts on a vast green ground. That is all that it is, that's Yusmarg for you. A tiny beautiful village sitting next to a river with lush green all around.
Also Read: How to Plan a Trip to Kashmir – A Complete Travel Guide
How to Get to Yusmarg
The journey from Srinagar to Yusmarg is a fairly simple one. You will first reach the village of Nagam and continue to Charar-e-Shariff from there. The drive until Charar-e-Shariff is mostly flat. You won't even feel like driving through a hilly area.
The road starts to climb up gradually after Charar-e-Shariff. The ascent, however, is a gentle one and never gets too difficult. You will shortly arrive at the entry gate of Yusmarg, buy the ticket and reach the parking spot just before the meadow.
The entire journey will take you about 3 hours to complete. The route you will follow is as mentioned below.
Srinagar – Chadoora – Nagam – Charar-i-Sharief – Yusmarg
Depending on where you started from in Srinagar, the total distance can be anywhere between 50 to 60 kilometers. The travel time however will still be around 3 hours due to narrow single-lane roads and two-way traffic.
By Private Taxi
If you were not traveling by your self-owned vehicle, the next best option to travel from Srinagar to Yusmarg will be a private cab. For a day-long trip, the total taxi fare will be around Rs. 2000 – 2500.
Srinagar to Yusmarg Bus
There is no direct bus available that can take you all the way from Srinagar to Yusmarg. You will have to break your journey into different parts. More than likely, you will actually end up traveling by shared cabs. Read on to find out more.
Shared Cabs
Like buses, there are also no direct shared cabs available. From Srinagar, you will have to find a shared cab first for either Nagam or Charar-e-Shariff. You can find these from either Parimpora or Qamarwai in Srinagar.
Then from Charar-e-Shariff, you will have to look for either a bus or a shared cab for Yusmarg. I have seen buses plying on this route but their frequency is much less than that of the shared cab.
Accommodation in Yusmarg
In an effort to promote tourism, JKTDC built cottages in Yusmarg where you can stay for the night. There are no private hotels here and these cottages are the only form of accommodation available.
You can either negotiate an on-the-spot deal with the caretaker and check in or you can also book your stay online at the JKTDC online portal. My recommendation will be to speak to the caretaker because that way, you will be able to negotiate the price down a bit.
I actually stayed in Yusmarg for a night during my second visit. Unfortunately, since tourism did not increase as expected, these cottages are also very poorly maintained. Take a thorough look at the cottage before you make up your mind and decide to stay.
An even better choice however would be to bring your own camping gear and pitch your tent. There are numerous camping spots in Yusmarg and you can pick either one.
If you were into trekking then there are several trails leading from here but it does need that you stay in Yusmarg for at least 3 days. For more details, please read How to Plan a Trip to Yusmarg.
Srinagar to Yusmarg
Coming back to the travelogue, Yusmarg was, as I mentioned, actually a last-minute addition to our plan because it just made more sense.
Earlier we were planning to visit Pahalgam but that just meant touching Pahalgam and coming back with very less time to spend there. It also meant a long journey on the day of Eid with confusion about where would be offering our Eid prayers.
Last but not the least, it was the time of the Amarnath Yatra and Pahalgam was going to be crowded which all of us really wanted to avoid. So at the last minute, we decided to add Yusmarg to the itinerary and drop Pahalgam.
The decision, as we were to realize later today, indeed provide to be a good one because we totally loved Yusmarg.
It was already almost 9.30 AM by the time we started from our hotel. Fortunately, it was Eid today and all the markets in Srinagar were closed. There was hardly any traffic on the road.
Noticed these beautiful Lotus flowers on Dal.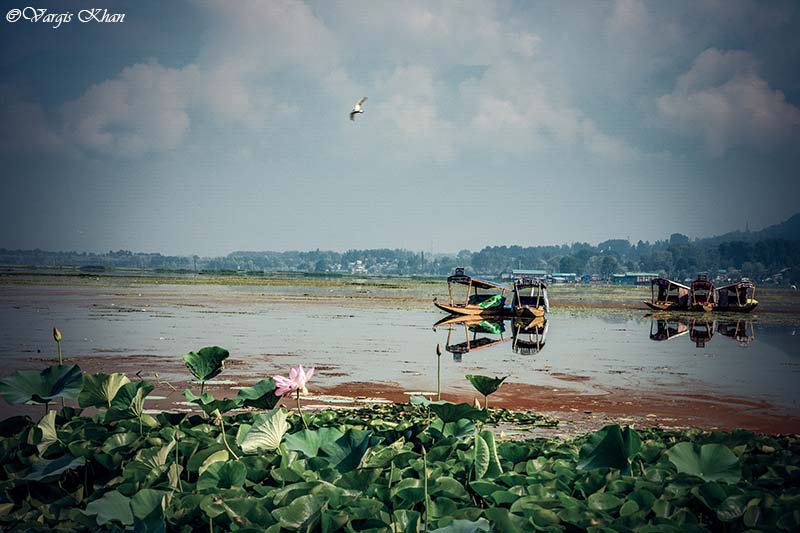 We were soon out of Srinagar and on our way to Yusmarg. Road conditions were good and the journey was smooth. The journey till Charar-e-Shariff was mostly straight.
As a matter of fact, it is only about the last 15 kilometers to Yusmarg when you climb rapidly and gain height. The rest of the road is just a flat straight road. We finally arrived at Yusmarg at almost noon time.
Srinagar to Yusmarg Itinerary
Yusmarg as I mentioned above is known for its natural beauty, camping, and trekking opportunities. A trip here can be done in multiple ways depending on what you seek.
The first option is that you arrive here and stay overnight at the JKTDC cottage. If you want to do that, you can start in the morning from Srinagar and reach Yusmarg by noon. On the way, you can also spend some time at the Charar-e-Shariff shrine.
After you reach Yusmarg, check into the JKTDC resort and take a walk around the meadow. You can also trek down to the Doodhganga river and spend some time there. In the evening, just relax and return to either Srinagar or to your next destination the next day.
The second option is if you want to go on a trek. In that case, you will have to make prior arrangements depending on your trekking plans.
That third option is that you arrive in Yusmarg, walk around in the meadow till the Doodhganga river and return. This will be one day trip from Srinagar to Yusmarg.
Option # 3 was our plan after we reached Yusmarg. The first thing to do was to get something down our bellies as all three of us were quite hungry.  There was a small restaurant/tea stall near the parking area where we ordered some tea and bread omelets.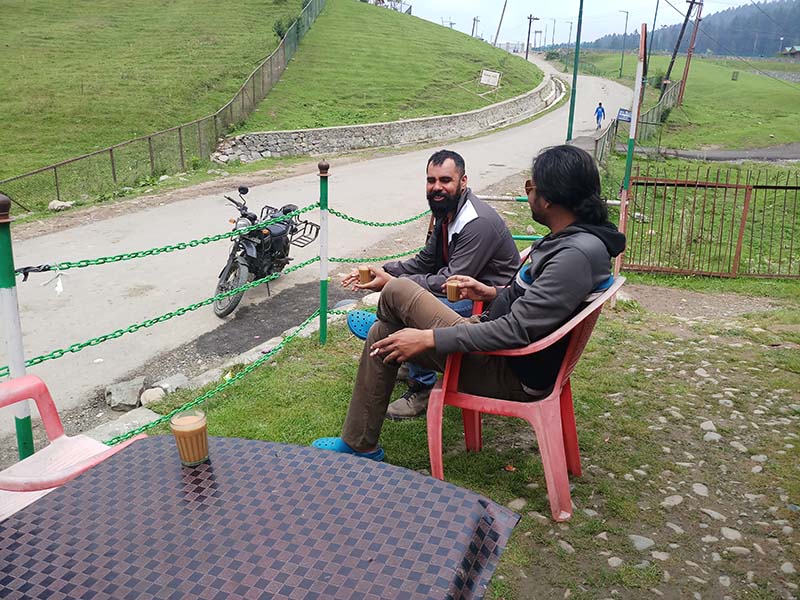 Trekking in Yusmarg
We were the only tourists in Yusmarg at that time. While we were eating, a couple of pony owners/guides approached us offering to give us a pony ride to the Doodhganga river.
We kept saying no over and over again but they just stood there with us, refusing to take no for an answer. It was weird to have someone stand by us like that, staring at our faces while we ate.
In the end, when nothing worked, they started saying that "Aaj bada din hai, kuchh bhala kar do gareeb ka".
They were referring to it being Eid today. Then finally we too gave in, allowing one of them to show us the way.  We did not agree on the pony rides because neither of us was in the mood for that. But we did allow him to show us the way to the river.
We didn't really need him because there is a well-laid path all the way to the Doodhganga river. But we hired him nonetheless, more like a charity on the day of Eid.
Our guide, the old man in the picture below, started to take us through the jungle rather than the regular path. To be honest, I got to give it to him. He did manage to show us some great vistas before we finally arrived at Doodhganga.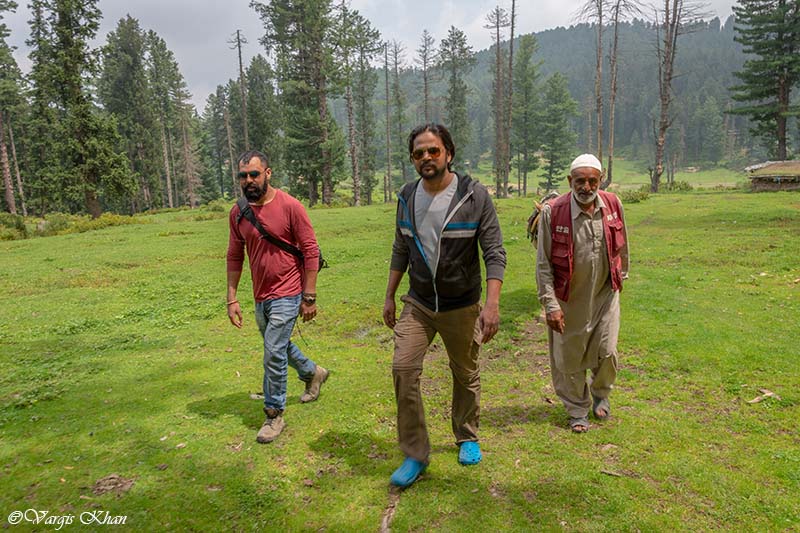 Doodhganga River
The only tourists here from out of Kashmir were us. Rest were all the local boys taking a dip in the river. We wondered and pondered over the idea for a bit and then decided to jump in ourselves.
While we were sitting in the river, it started to rain as well. My DSLR and all our other belongings were immediately tucked under the shade of a huge rock to avoid getting wet.
After enjoying the river for almost an hour, we stepped out of the water, got dressed, and headed back on our way to the parking spot.
By now, all of us were quite hungry again and decided to have a late lunch at the same restaurant that we ate at earlier. Finally, slightly before 3, we started on our way back and a small confusion happened just as we started.
Lavish and I were riding ahead and Shoaib was following after us. Now this beautiful lake is located right next to the road in Yusmarg and I wanted to get a few pictures of it.
So we took a small detour, got off the road, and stopped by the lake; thinking that Shoaib will notice and will stop too. He however did not and continued to ride on.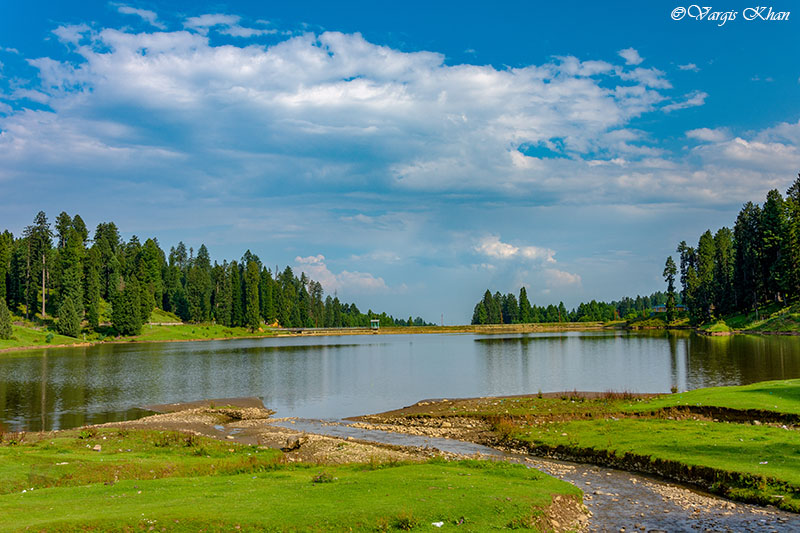 Yusmarg to Charar-e-Shariff
We clicked a few pictures and started on our way again. We were thinking that Shoaib will stop after a while when he won't notice us riding ahead.
He however did the exact opposite. He thought that we were riding at a great speed and rode even harder in order to catch up with us.
So for the first almost 15 kilometers, we were all riding apart trying to catch up with each other. Since there is no phone network at Yusmarg, we could not even call Shoaib to ask him to stop.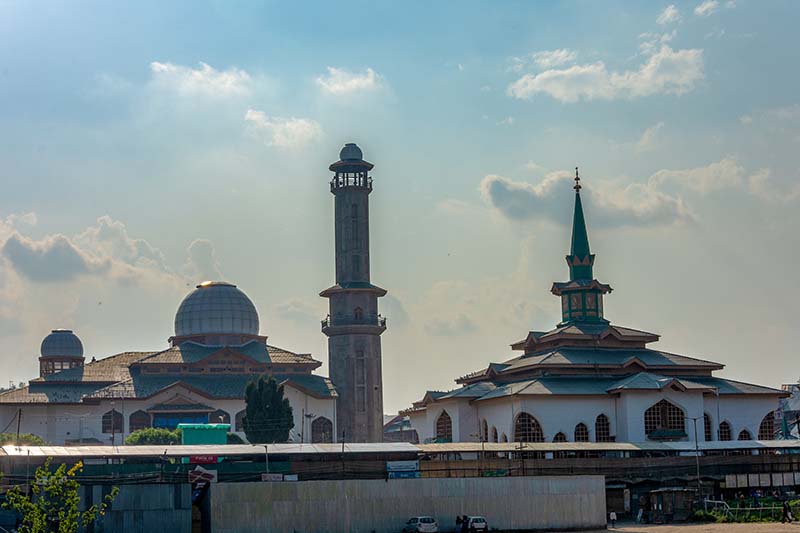 Finally, we got the network back on our cellphones at Charar-e-Shariff. We called Shoaib, asked him to stop, and found him waiting for us a few kilometers after Charar-e-Shariff.
We did not stop at the Charar-e-Shariff shrine while we were going to Yusmarg but decided to do that while on our way back. It was really a peaceful place that I will definitely recommend visiting.
Charar-e-Shariff to Srinagar
We spent about 30 minutes and the shrine and started on our way to Srinagar. The rest of the journey was smooth. At around 5 PM, Faisal called asking about where we were and asked us to come to his house straight.
It was Eid today and were planning to visit him anyway but not in the condition that we were currently in. After a day-long of riding and trekking, I did not feel like being in someone's house all dirty like that.
So we told him that we will come by after a little while and continued to ride back to the hotel. The idea was to reach the hotel, freshen up, change, and then go for dinner.
We reached back at the hotel, took a shower, and got ready to visit Faisal's house. The problem however was that we took a little longer than planned and dark came sooner than expected.
On top of it, Faisal's house was on the other corner of Srinagar, about 30 kilometers away from where we were. By the time we finally started from our hotel, it was already 8 PM. We rode through the entire Srinagar and arrived at Faisal's at around 9 PM.
This was making me a bit nervous. No matter how much we rushed, there was no way that we could have had dinner and been on our way back before 10 at least.
Somehow I was not really very comfortable with the idea of riding through Srinagar at night with all the security and Army around.
A Delicious Kashmiri Dinner
That day, while eating at Faisal's place, I got a firsthand experience of "Kashmiri mehmaan-nawazi" and totally loved it. I love non-vegetarian food and the dishes we were served were mind-blowing and so delicious.
We ate till we could really eat no more. The way we were treated at his place really swept us off our feet – so humble, so courteous. It was really an amazing experience, one of a kind.
With all the sitting and chatting followed by a delicious dinner, we could not leave Faisal's place well until 11 pm. To be very honest, I was so nervous about it at that time.
That night actually was when I for the first time learned how listening about something regularly can have an effect on your mind. You hear so much negative about Kashmir in the media that the very thought of being out in Srinagar at night had me scared.
All my fears however proved to be for nothing. We rode through Srinagar and arrived at our hotel safe and sound. No one stopped us, no one bothered us. We traveled as we do in any other city at night. It just felt so normal and so regular with absolutely nothing sinister about it.
Like last night, yet again we watched some south Indian movies dubbed in Hindi and had a hearty laugh. They just sound so weird and funny and I really hope they would do a better job at dubbing these.
We all slept after a little while, prepared to go to our next destination for the journey, the Gurez valley. Please click on the link above to continue reading the next part of the travelogue.
Srinagar to Yusmarg
Yusmarg turned out to be an amazing experience. It is a place that I will highly recommend visiting in Kashmir. It is what can truly be called offbeat Kashmir.
Our next destination was also going to be an offbeat one, Gurez Valley. We had heard so much about Gurez both before and during the trip that we were all so very excited to go there.
I hope the travelogue, pictures, and information on traveling from Srinagar to Yusmarg were of help. If you have any questions, you can contact me on Instagram and I will be happy to answer. You can also consider subscribing to my YouTube channel and asking a question there.