Gondola ride in Gulmarg is one of the world's highest-operating cable cars. It ferries tourists from Gulmarg town to the top of nearby Apharwat Peak. A joint venture between the J&K government and a French firm Poma, this two-stage rope-way is capable of ferrying about 600 people per hour.
It is divided into two stages, more popularly known as two Phases. It is one of the most popular activities not just among tourists but also the local families from Kashmir. So popular it is that during the peak tourist season, you may have to get in line and wait for hours before you will be able to board a Gondola.
Journey So Far
We had arrived in Gulmarg the day before. Day 2 of our trip was spent sightseeing and enjoying the Gondola ride in Gulmarg.
From Phase 2, we also went trekking to beautiful Alpather Lake that I have detailed in this article further. To read the previous parts of the travelogue, you can click on the links above. If you have any questions, you can contact me on Instagram.
For all other details on Kashmir like mobile connectivity, public transport, taxi services, and several other tips, please take a look at How to Plan a Trip to Kashmir – A Complete Travel Guide.
You can also take a look at the video below to see how beautiful Gulmarg looks in the winter season. It was shot during one of my later trips to Kashmir in January.
Gondola Ride in Gulmarg
Our plan was to go all the way to Phase 2 and then trek to Alpather Lake from there. I initially thought to get a guide because I wasn't completely sure about the trail that went to the Lake. All that we knew was that once we get off the Gondola at Phase 2, we need to trek and climb up to our right.
This did not sound too convincing and I did not want to get lost in the hills in an area so close to the border. Little did I know at that time how easy the trek was. In fact, there is also a motor-able road up there that we could just walk on.
Anyway, I did not have to ask for a guide because they all kept walking toward us one by one, offering to show us the way to the lake for Rs. 1,200. This price then dropped to Rs. 1,000 after I said no, but even then it sounded a bit steep.
In the end, I just gave up the idea of a guide for now. Somewhere though I had this thought in the back of my mind that once we get off the Gondola at Phase 2, I will see if there is anyone that we could hire there.
The guides at the start of the Gondola were asking for a thousand bucks. I was sure that they won't ask so much for the last bit of the journey. I was under the impression that from Phase 2 to the lake, they will just ask for a couple of hundred bucks. So wrong I was.
Gulmarg Gondola Ticket
Finally, the ticket counter opened and we bought our tickets for Phase 2. The important thing to remember here is to bring your ID cards because they asked us for them before handing over the tickets. DL, Voter's ID, PAN, or Aadhar card, anything would do. Below is what the tickets look like.
For Phase 1, the price was Rs. 740 and for Phase 2, the price was Rs. 950 per person. To be honest, I do think that it is a little much for a 10-15 minute ride. Yes, that is how long the ride usually lasts. Just about 10 to 15 minutes for each phase.
Also Read: Hotel Affarwat – A Good Place to Stay in Gulmarg
To my complete surprise, there was absolutely no one else apart from us buying tickets that morning. After reading all the horrible reviews about how crowded the Gondola usually gets and how it takes hours for people to get on board, this definitely came as very pleasant news.
It was just the three of us all alone. A Kashmiri family arrived a little later and bought tickets for Phase 1. But for the most part of it, the entire place looked deserted and the Gondolas moved vacant.
This is the waiting room.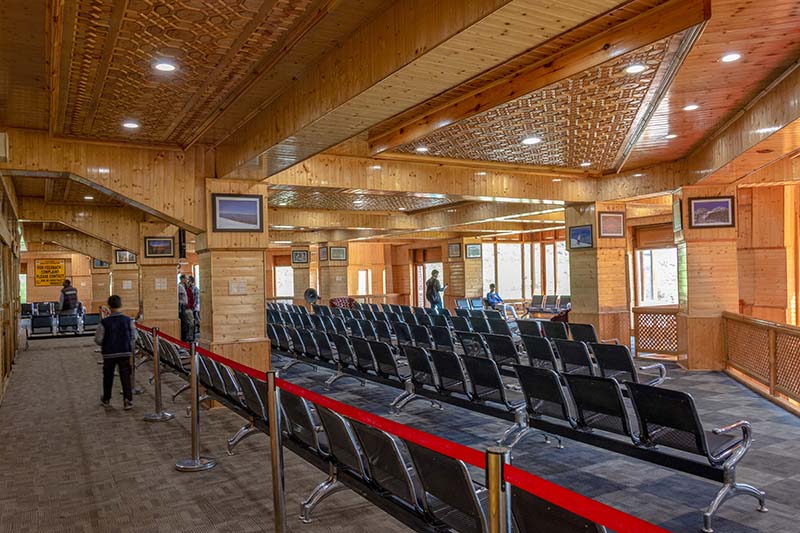 Phase 1 Gondola
Below is a picture of the boarding point for Phase 1. The Gondolas here do not really come to a complete halt but remain in motion at a very slow speed.
Also Read: How to Plan a Gondola Ride in Gulmarg
The door will pop open and you will board it while it continues to move forward. So yes, keep that in mind and remain prepared accordingly.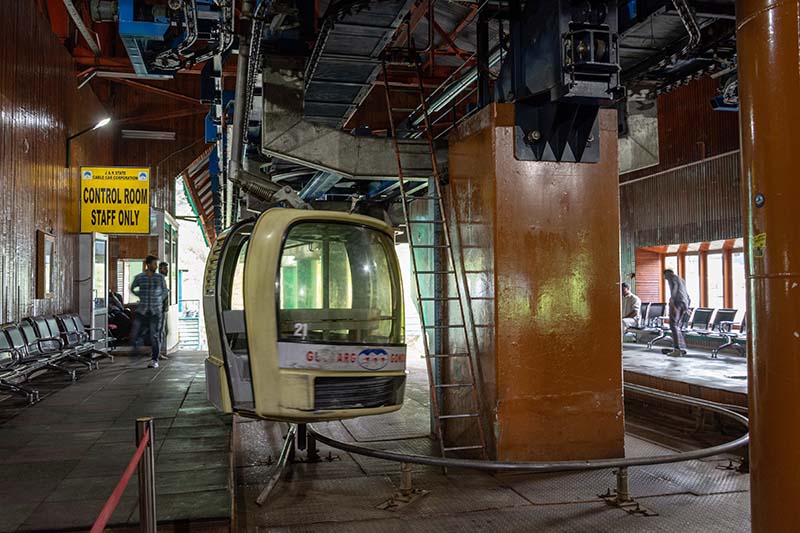 And finally, the ride started. A couple of minutes into the journey and I realized why Gulmarg Gondola is so famous. The views that you get from up here are mesmerizing indeed.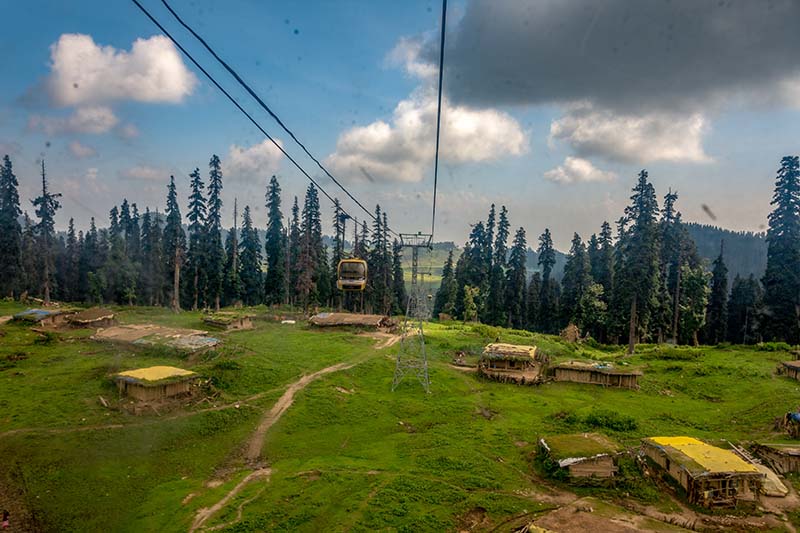 Phase 2 Gondola
About 10 to 12 minutes later, we arrived at Phase 1. We walked straight to the second boarding point and got in a second Gondola for Phase 2.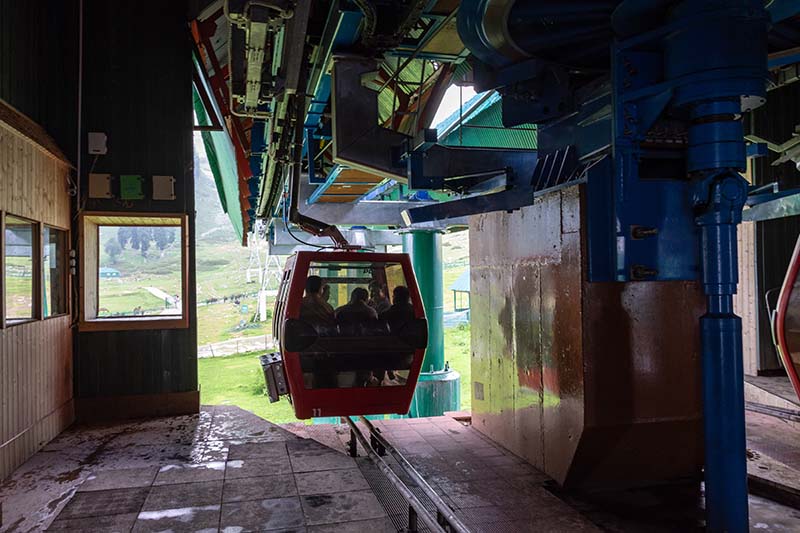 The view from here on got even better. I clicked a lot of pictures that day but most of them did not turn up well because they were all clicked through the dirty glasses of the Gondola lift.
Another thought that kept rushing through my head sitting up there was about the 2017 accident that claimed 7 lives out here.
In case you did not know already, there was an accident at Gulmarg Gondola in 2017 that killed 4 tourists and 3 local guides. A tree uprooted and fell on the cable, swinging the Gondola so violently that the glasses broke and all 7 of its occupants fell out to their deaths.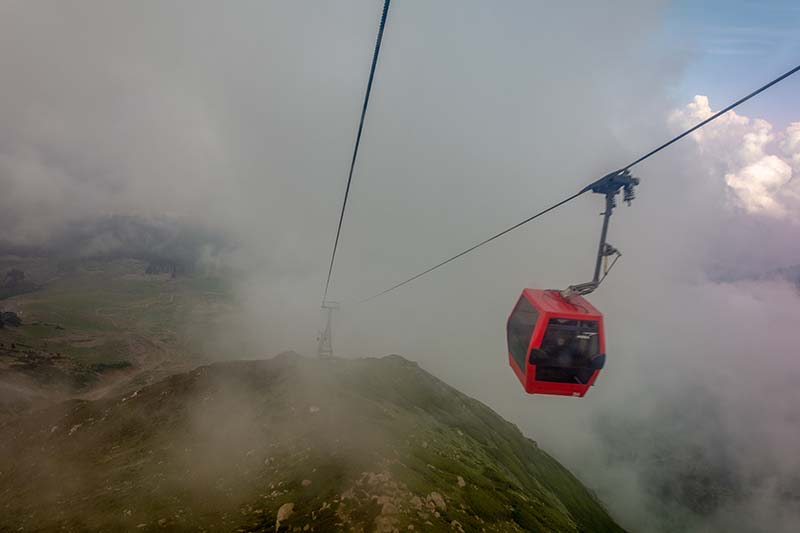 After a ride of another 10 to 12 minutes, we reached the Gondola Phase 2 station at the top of Alpather peak.
An even bigger surprise awaited me here. I had the thought of asking for a guide here thinking that they will just ask a couple of hundred bucks to bring us to the lake. Imagine my surprise when I was asked for Rs. 2,500 for showing the way to Alpather Lake.
Also Read: Hotel Grand Valley –  A Great Hotel in Srinagar
Trek to Alpather Lake
The guides then continued to pitch to us, and to another couple that arrived a little later. They kept using phrases like "Where will you go? You will get lost. The army has dogs there that will attack you. How will you manage all these huge boulders and rocks" etc.
For a minute there, we fell to their tricks and agreed but the price I quoted this time was Rs. 700. The audacity that these people have is that they did not agree to a Rupee less than 2,500.
My advice again is to avoid these guides like a plague. They have nothing to offer and ask for an outrageous amount of money. The only thing that annoys me in Kashmir is these guides and pony owners.
Finally, we gave up the idea of the guide and started to trek on our own. From the knowledge that we have gathered so far, we knew that the lake is somewhere to the right so that is where we went.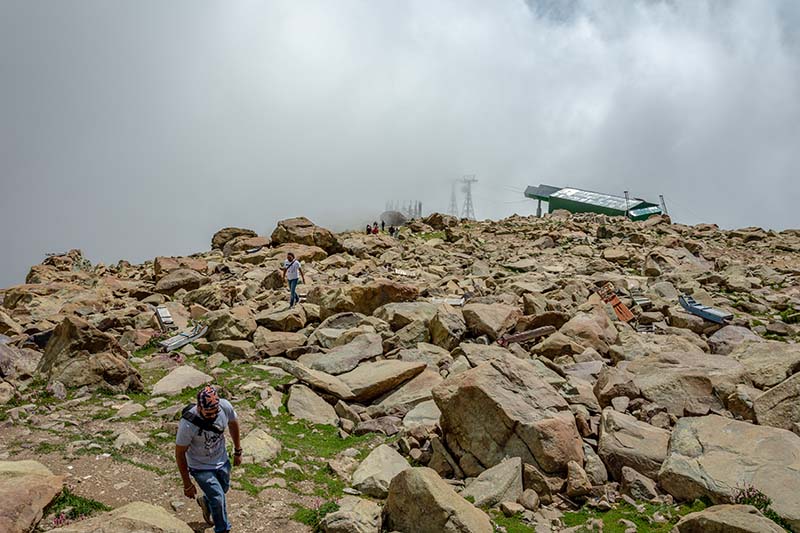 The only problem was that to our right was a steep climb toward the top of Apharwat peak and it was full of huge rocks. So yes, the trek was definitely not going to be an easy one.
The building in the green in the picture above is the Gondola Phase 2 station, and we were climbing the mountain to the right.
There is actually a motorable road that Army uses a little to our right. We could have just followed it to make things easier.
But since we didn't know about it, we started to climb up the mountain over the rocks. Please click on the link above to continue reading the next part of the travelogue.
Gondola Ride in Gulmarg – Conclusion
I hope the travelogue, pictures, and information above on the Gondola ride in Gulmarg were of help. If you have any questions, please feel free to ask in the comments section below. You can also follow me on Instagram and chat with me live or subscribe to my YouTube channel and ask a question there.
This error message is only visible to WordPress admins
Error: No feed found.
Please go to the Instagram Feed settings page to create a feed.