Alpather Lake is a small lake located at the top of Apharwat peak in Gulmarg, near Gondola Phase 2 station. It is commonly referred to as the frozen lake by the locals, due to the fact that it remains completely frozen in the winter months. The post below provides details on how you can complete the Alpather Lake trek and how we managed to do it all on our own.
Located at a height of 4,390 meters, the lake is a major tourist attraction in the small town of Gulmarg. It is surrounded by rocky mountains and lush green meadows that are covered with beautiful wildflowers. It is not just the lake but the entire journey to get there, that is an experience in itself.
Journey So Far
We attempted the Alpather lake trek on Day 2 of our stay in Gulmarg. As it turned out, the short but steep walk to the lake is what we enjoyed the most during our trip. It was this trek that actually made the entire Gondola ride worth it.
If you have any questions, you can contact me on Instagram. For all other details on Kashmir like mobile connectivity, public transport, taxi services, and several other tips, please take a look at How to Plan a Trip to Kashmir – A Complete Travel Guide.
Alpather Lake Trek
Now that we had reached the Gondola Phase 2 station, the trek to Alpather lake started. We at that time had no idea where we were headed.
The only thing we knew was that the lake is somewhere to the right of the Gondola station, approximately 2 to 3 kilometers away. All that we could see around us were huge rocks and a steep climb, nothing else.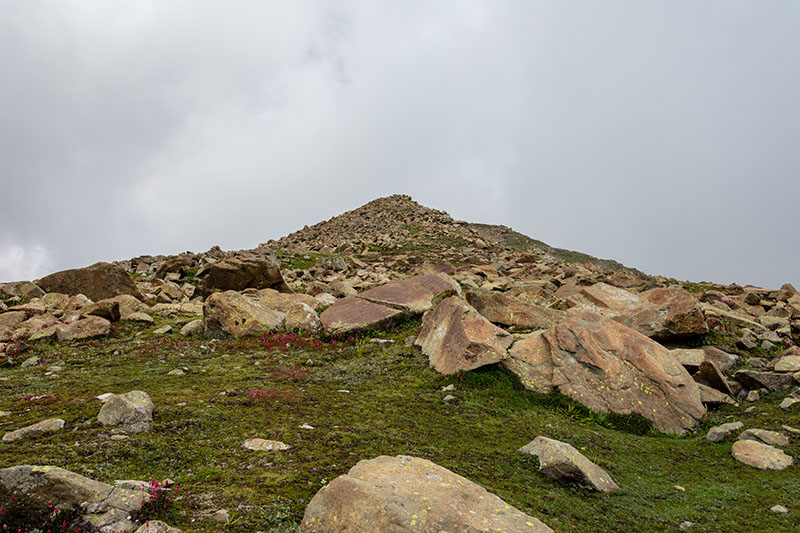 If we were to believe the guides, then there was no way that we were going to make it to the lake on our own. But at the same time, there was also no way in hell that I was going to pay Rs. 2,500 for a guide.
To be honest, I was a bit worried and apprehensive about whether or not we should attempt it on our own.
That is why I even agreed to pay Rs. 700 to a guide but these guys won't budge for any less than Rs. 2500 which was a complete no for me. I am glad that it was so because even that 700 would have been a waste if I paid.
You can also take a look at the video below to see how beautiful Gulmarg looks in the winter season. It was shot during one of my later trips to Kashmir in January.
The Apprehension
Two things bothered me at that time and both because of what the guides told me. The first was that the area is too close to the border. If we got lost up in the hills here, we may be apprehended by the Army and get in trouble.
The second was the fear of dogs which as we were told by the guides are in plenty here, belonging to the Army and the local shepherds. Both were complete lies trying to trick people into hiring them.
Well, the border area statement was true to some extent. But getting lost out here would be quite tough; unless someone really wants to wander where they aren't supposed to.
Anyway, we started on the trek on our own. To our right were numerous rocks and quite a bit of a climb. Unsure of where we needed to go, we just started walking and targeted the top of the mountain in the picture above.
The idea was that once we get to that height, we will be able to spot the lake somewhere nearby. The green building in the picture below is the Gondola station.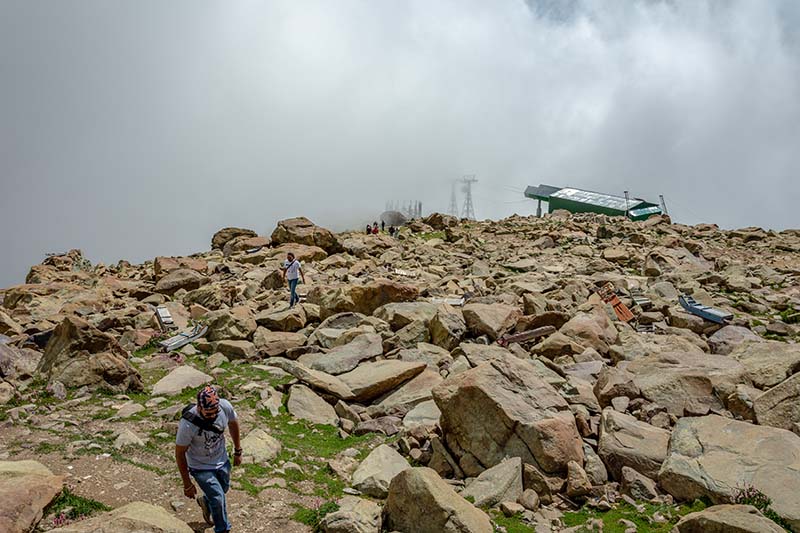 A little later, we noticed this stack of stones which I think is a Buddhist religious thing. We targeted these stones and started to climb in their direction.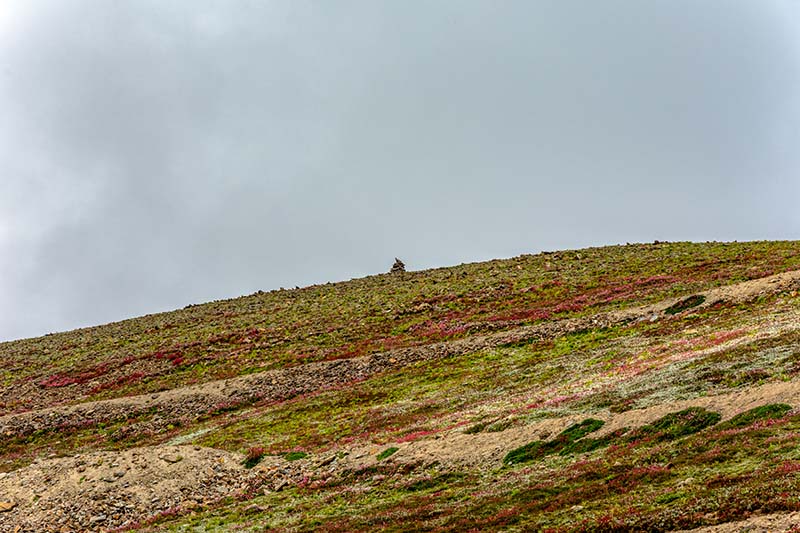 And surprise, surprise. We did not spot the lake but after a little bit of climbing up, what we noticed was actually a motorable road.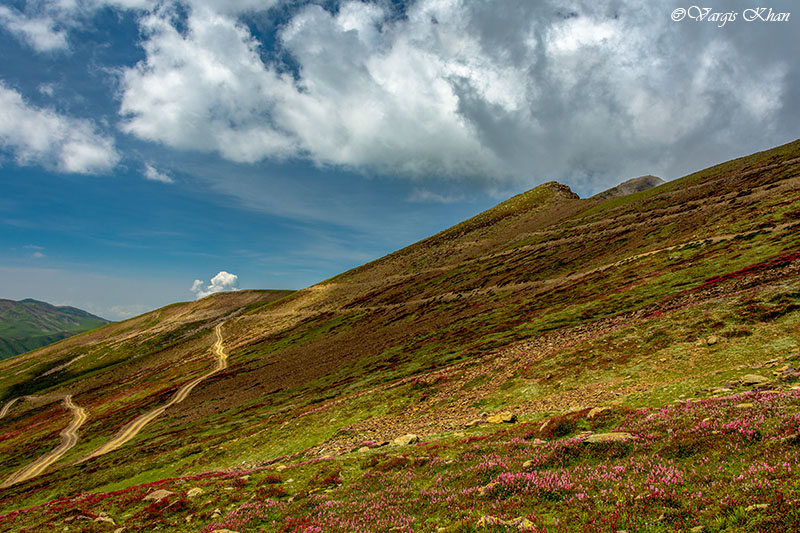 The Road & The Lake
This road is actually from Gulmarg to the last few villages along the LOC. It was built by BRO and is only for Army use. From Gulmarg, this road first takes you to Bota Pathri and then climbs up the Apharwat peak, running right next to Alpather Lake.
Civilian vehicles are not allowed to ply on it and get stopped the moment they leave Gulmarg. The farthest that you can go on this road is Bota Pathri but not beyond that.
The fun fact is that this road runs right next to Alpather Lake and the Army post near Phase 2 Gondola station.
Now, this road became our guide and we started to follow it. At one point, it bifurcated in two and we had to choose whether to go straight or up. We still kept our stash of stones as the target and continued climbing up.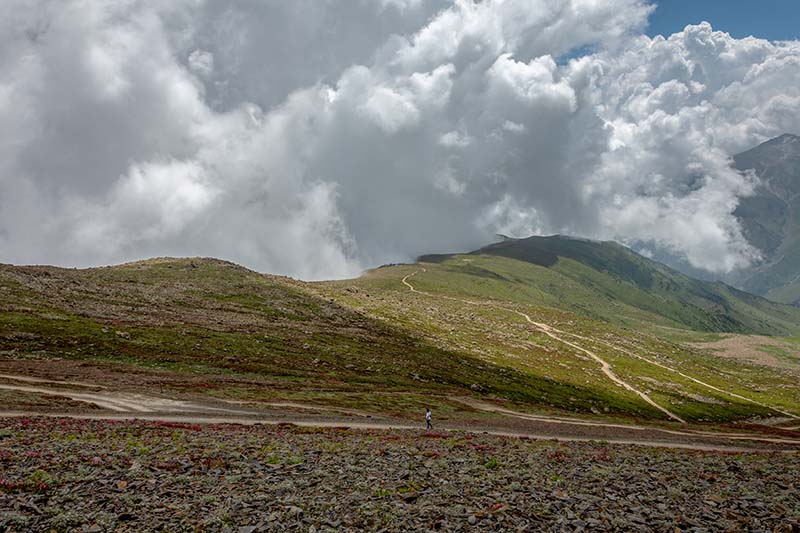 The lake seemed to be somewhere behind this ridge. The way the mountain formation here was, I was very sure that the lake would be somewhere here only.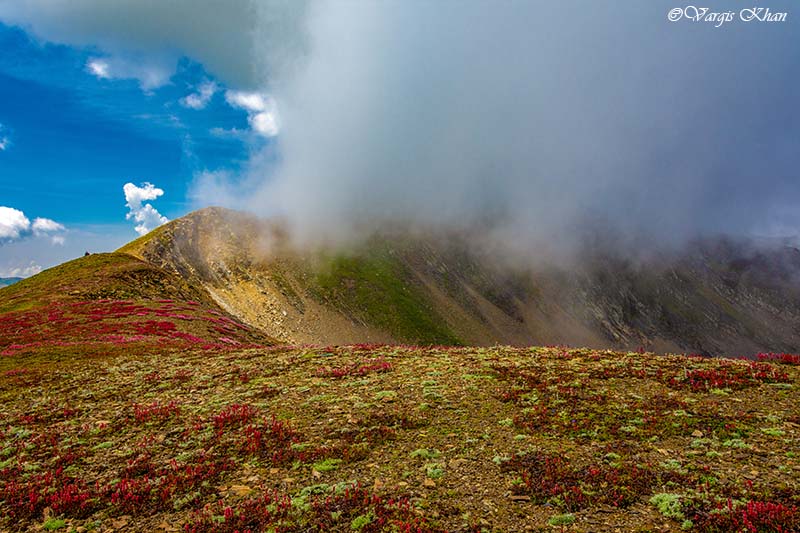 And I was right. We reached the top and got our first view of the lake.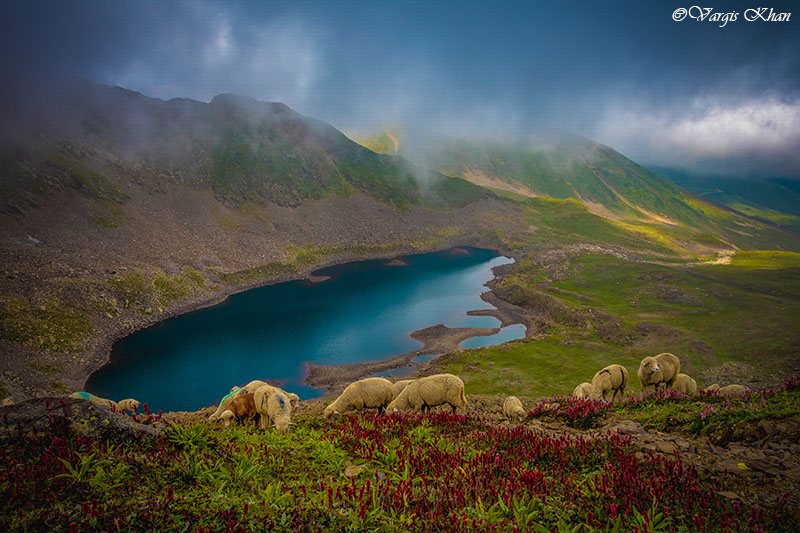 We then started to climb down and were met by a Shepherd and his herd of lambs.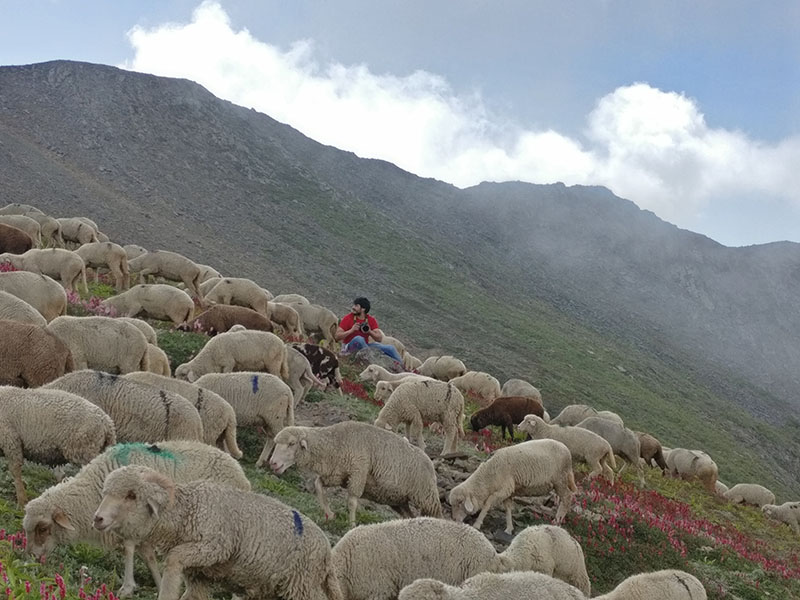 Soon we were standing next to the lake and clicking numerous pictures.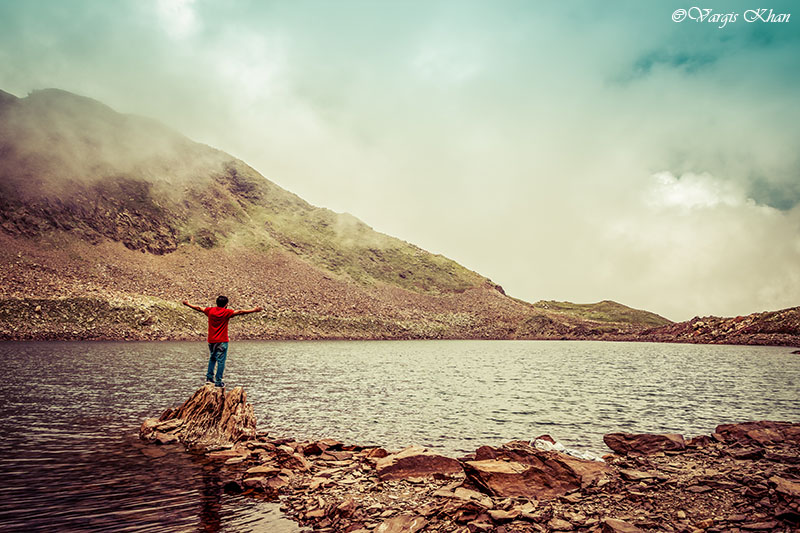 A little while later a few other people arrived, some Kashmiri locals consisting of a couple of women. One of those women was an elderly lady and I was shocked to see that she too managed to climb all the way to the lake here. A little while later, an Army truck too arrived along with some soldiers.
The Truck
It took us well nearly two hours to walk to the lake from the Gondola station. The climb was steep and the distance was close 4 or 5 kilometers by road. All three of us were tired and walking back to the Gondola again seemed like a bit of a task.
We finished clicking as many pictures as we could. We were about to get ready to start walking back when I noticed something really interesting.
The soldiers that arrived in the truck were actually there to take a bath in the lake. Yes, you read that right. They were all taking a dip in the icy cold water of Alpather Lake.
Noticing us taking the pictures, one of them walked over to us and asked if we clicked their pictures too. We said no and showed our cameras. There were no pictures of the soldiers, just the lake.
He went back but this gave me an idea. Rather than walking back to the lake, why not ask the soldiers to drop us back in their truck wherever they could?
The Ride Back
We asked and they agreed,  though they were a bit apprehensive initially. The condition of the road there was extremely bad. It is a very badly broken dirt trail and quite steep. Only a 4×4 vehicle can travel on it.
The soldiers warned us that sitting in that truck on a road like this was going to be too bumpy a journey and we were better off walking back slowly. We were however so tired that walking was the last thing we would have opted for and jumped on the truck anyways.
The soldiers were quite right though. The entire journey took us about 20 to 25 minutes but was so bumpy and uncomfortable that we had to hold on to whatever we could and hang tight to avoid injury.
Even then I ended up bumping my head a couple of times and got hurt in my neck. They dropped us about a kilometer away from the Gondola station and we walked the rest of the distance.
Once back, we caught a Gondola back to Phase 1.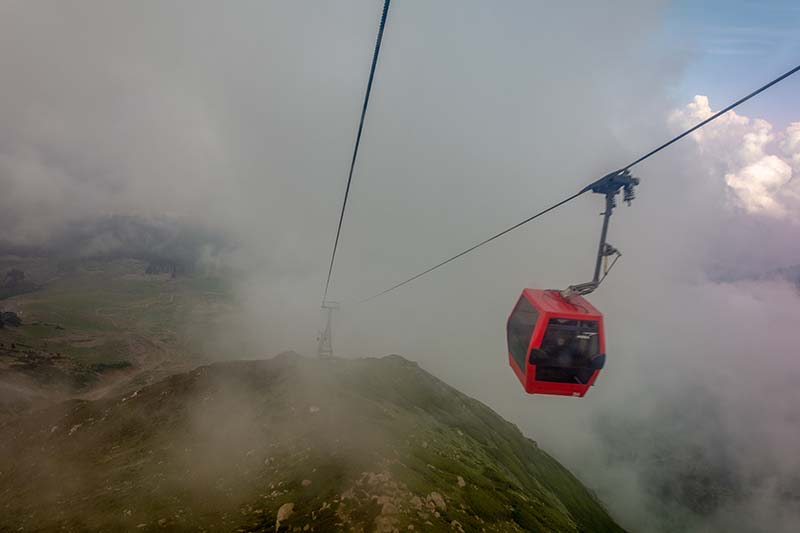 The Waterfall
Shoaib wanted to visit a waterfall at Phase 1 that one of the guides had told him about earlier. So we got out of the Gondola station and trekked another 2 to 3 kilometers, and steep again, to reach the so-called waterfall.
Once there, this is what we found. A complete disappointment. It was just a water stream flowing down the mountain that gets glorified by the guides as a mesmerizing waterfall.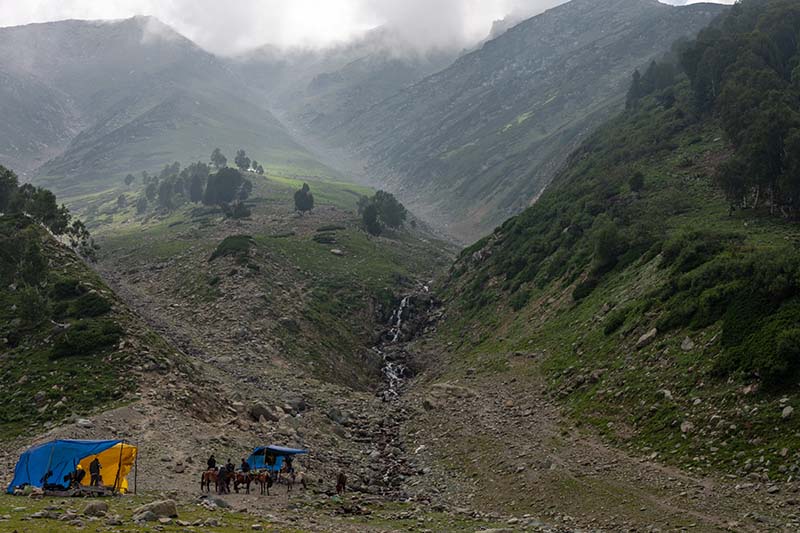 I noticed that guides and pony owners were actually trying to trick tourists to visit this so-called waterfall. They were making it sound like such a heavenly place.
Word of caution, do not fall for it. This is what the waterfall is. We were here in August just after the monsoon had passed. This is all the water it ever gets.
Back in Gulmarg
After visiting the so-called waterfall, we arrived back at the Gondola station and took another lift back to Gulmarg. Shoaib and Lavish decided to go back to the hotel while I thought of another walk through the golf course and some more pictures.
After a while, I too returned to the hotel and it was time to lie down and relax after a day log of walking steep climb.
Sunset in Gulmarg
After an hour or so, it was time for sunset and we came out again to get some sunset photos. Tomorrow we were going back to Srinagar so it was our last evening in Gulmarg.
One thing that I knew for sure however was that I was definitely going to come back here for more; possibly to see a snow-covered Gulmarg next winter.
Quite soon it was dark all around. We had dinner at Malik Hotel itself. A guy called Sohail runs the hotel and is great to talk to. He loves to tell tales from Kashmir if you had some time to chat.
A couple of places that we still had not seen in Gulmarg were Maharaja Palace and Strawberry Valley. I figured that the Maharaja Palace was somewhere near the Maharani Temple itself but wasn't sure which way the Strawberry valley was.
So I asked Sohail about Strawberry valley and he pointed me in its direction. I asked him how far it was and if he would mind tagging along.
He agreed and it was decided that we will arrive at his hotel early in the morning, possibly by 5.30 and then he would walk with us till Strawberry valley. Idea was to be back by 8 AM at most so that we had enough time to pack before our cab for Srinagar arrived at 9 AM.
Once back at the hotel, it was time to watch some TV and call it a day. A day filled with plenty of fun, trekking, a Gondola ride, and some beautiful pictures of Gulmarg, Affarwat peak, and Alpather lake. Please click on the link above to continue reading the next part of the travelogue.
Alpather Lake Trek – Conclusion
I hope the travelogue, pictures, and information above on the Alpather Lake trek were of help. If you have any questions, you can contact me on Instagram and I will be happy to answer. You can also consider subscribing to my YouTube channel and asking a question there.