The plan for this day was to travel to Gurez Valley and spend the next couple of days there. I was quite excited about Gurez since it is considered one of the most beautiful but unexplored regions of Kashmir. But before we started our ride for the day, there was a bit of sightseeing in Srinagar city that I intended to do.
All of us were up till late last night but surprisingly, I was still wide awake early in the morning. Shoaib and Lavish were both fast asleep. Leaving them so, I stepped out of the hotel to get a cup of tea and some early morning shots of Dal Lake.
I really had no set destination in my mind except for Dal Lake. It was one thing on my to-do list that I had not been able to get to so far. I asked a couple of locals the day before about the best sunrise point but unfortunately, no one could give a satisfactory answer.
Journey So Far
So the idea was to reach Dal Lake, ride around it in full circle, and find the best spot to click sunrise pictures. Our hotel was quite close to the lake and I reached there in less than 5 minutes.
Sightseeing in Srinagar
All my hopes of capturing sunrise came down crumbling the moment I parked my bike near Dal lake and looked around. Unfortunately, it was a bit hazy in the morning with a lot of clouds in the sky.
Even after taking a full circle around the lake, I still could not manage to get even a single good shot.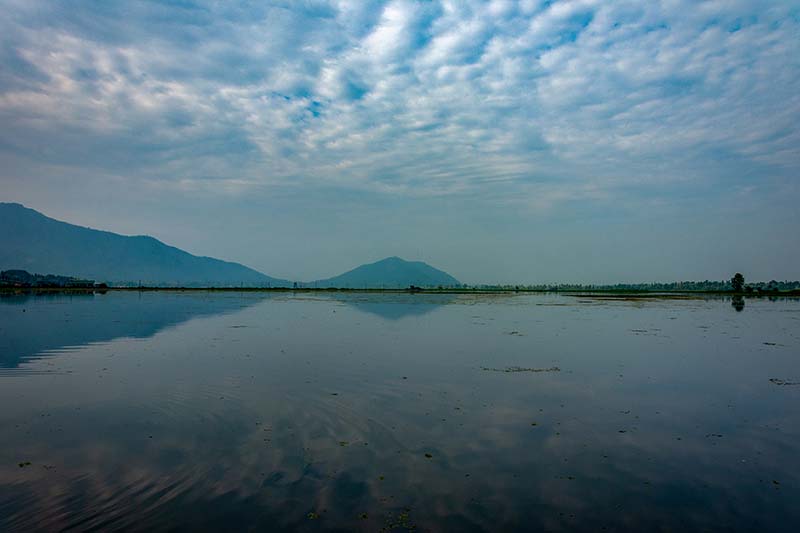 I then decided to go to Nigeen lake. But surprise surprise, it turned out to be in an even worst condition than Dal.
This lake was until some time ago a part of Dal itself and is still considered to be so sometimes. It is connected to Dal Lake by a narrow strait, and also to Khushal Sar and Gil Sar lakes via a channel known as Nallah Amir Khan.
I rode around Nigeen Lake for a while to get some good pictures. Forget about the sunrise, the lake in itself did not seem pretty at all and turned out to be quite a disappointment.
My sunset photography expedition had failed miserably but I still had some time in hand. So I decided to use the morning for sightseeing in Srinagar city.
Nigeen Lake
Nigeen Lake is surrounded by a large number of willow and poplar trees. Hence, it has come to be referred to as a 'nageena' which means 'the jewel in the ring'.
The word "nigeen" is a local variant of the same word. The lake is a major tourist attraction in Srinagar, known for its relatively pristine waters as compared to the Dal lake. Houseboats and Shikaras are a usual sight.
It is also ideal for swimming, being deeper and less crowded than Dal lake. However, as is the problem with other water bodies in the Kashmir Valley, the lake also suffers from encroachments which are deteriorating its water quality and also increasing the risk of floods. (Source Wiki)
What I copy-pasted above is what Wikipedia says about Nigeen lake however it no longer stands true. This lake is really in terrible condition.
Dal Lake is far better maintained but everyone seems to have forgotten about taking care of Nigeen. This was the only decent shot that I could manage to get.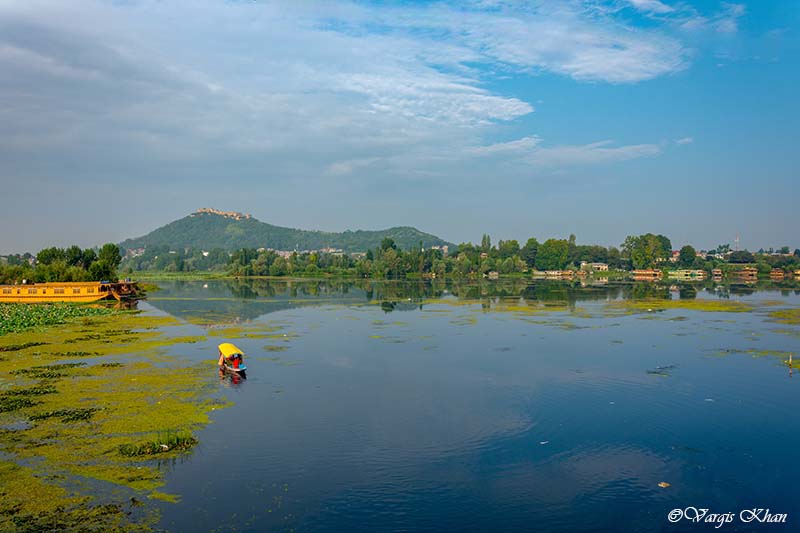 You will be surprised to know that the Nigeen is actually the sight for the expensive kind of houseboats. The budget ones are in Dal and the luxury ones are said to be in Nigeen.
I haven't tried staying at a houseboat in Nigeen so I can't really verify this. But what I can indeed tell you is that Dal is actually a far better sight and a better place to stay.
Hazratbal Shrine
Disappointed with Nigeen, my next destination for the morning became the beautiful Hazratbal Shrine. I was actually not sure of where to go so just started to ride around in Srinagar. Hazratbal is quite close to Nigeen and that is where I ended up eventually.
The Hazratbal Shrine, (literally "Majestic Place"), is a Muslim shrine in Hazratbal, Srinagar. It contains a relic, the Moi-e-Muqqadas, believed by many Muslims of Kashmir to be the hair of the Islamic prophet, Muhammad.
The name of the shrine comes from the Urdu word Hazrat, meaning "respected", and the Kashmiri word 'bal', meaning a place.
Thus it means a place that is given high regard and is respected among the people. The shrine is situated on the left bank of the Dal Lake, Srinagar, and is considered to be Kashmir's holiest Muslim shrine.
I did not really go inside the shrine and just took a few shots from the gate. The entire place, including the gate and the road in front of it, seems to have been invaded and taken over by pigeons.
Trust me when I say this, their numbers in front of the shrine must be in the thousands.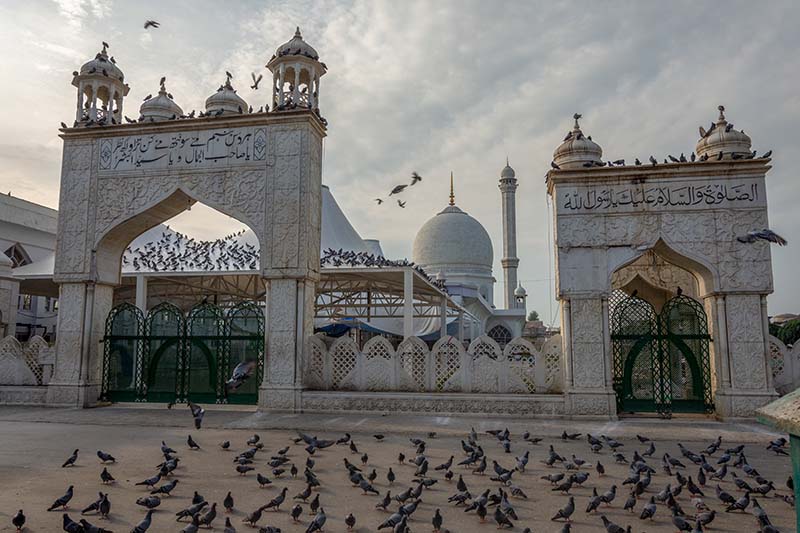 The Pigeons at the Shrine
There is a shop right outside the shrine where you can buy some seeds and feed the birds. For Rs. 30, the woman running the shop will give you a huge packet of some kind of seed. I am not really sure what it was but the pigeons really loved it.
The packet also was actually really big. But the moment you empty it on the road, an entire swarm of pigeons will come down and wipe it clean in a matter of seconds.
You actually won't even get to see the seeds on the road. Because the moment you throw it on the ground, pigeons will be all over it, and in about 10 seconds, it will be all eaten.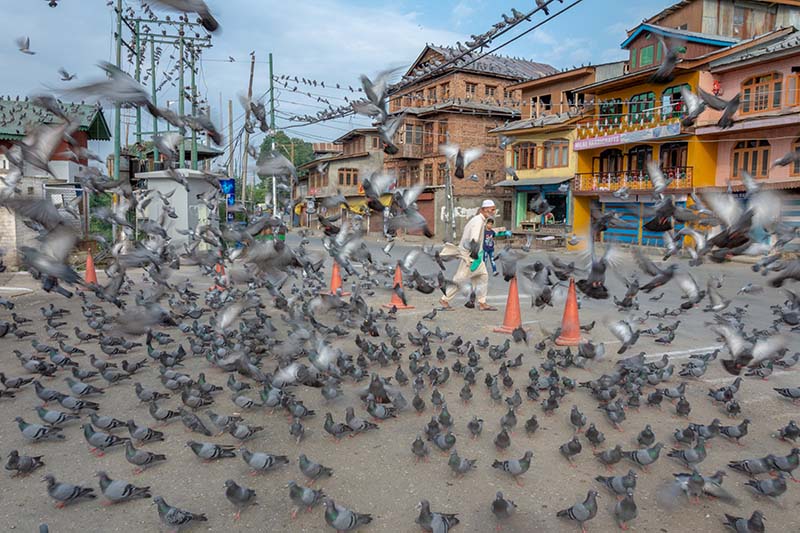 It was kind of fun actually. I bought 3 packets of seeds because I was really enjoying feeding all those birds. It is also a common practice there. People will arrive at the shrine, buy the seed, feed the birds, and be on their way.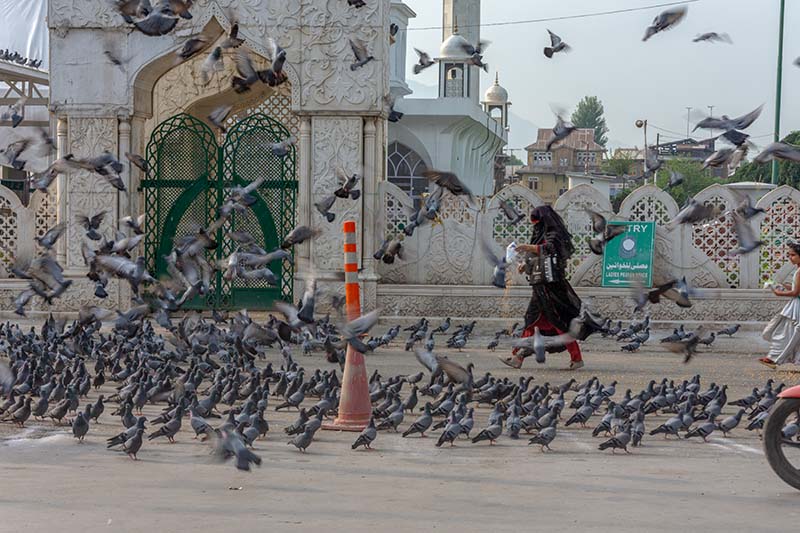 Noticed this kid having a great time playing around, trying to scare the pigeons away.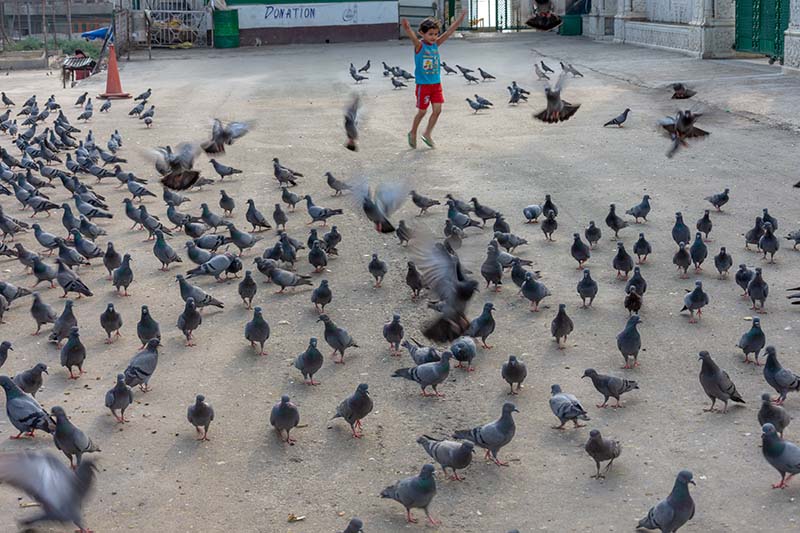 After spending some time at the shrine, I then arrived at the market in front of it to have some breakfast.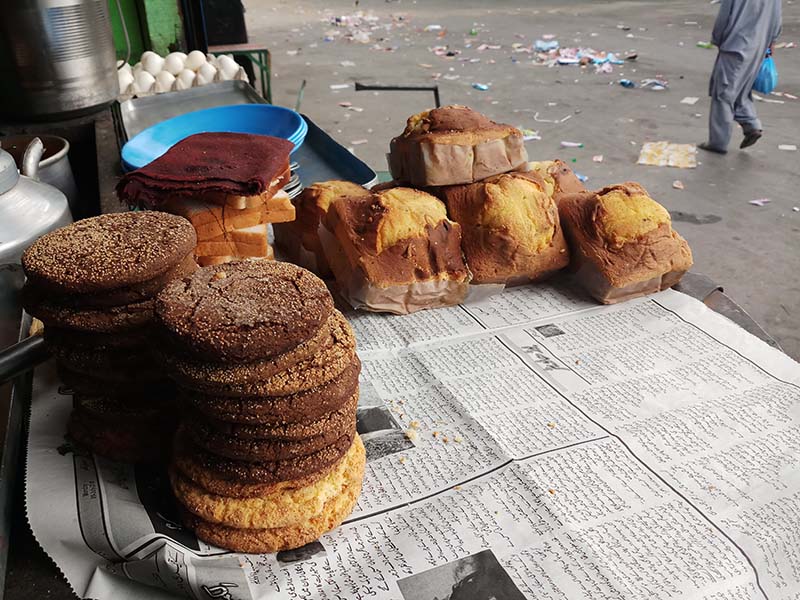 Sun was already up and the clock was showing 8 AM already. It was time to go back and wake the other two so that we can be on our way to the destination for the day, Gurez valley.
I started riding back to the hotel but then decided to extend my sightseeing in Srinagar by another hour. I wanted to cover one more place on the way, the beautiful Nishat Bagh which was just opening up when I arrived there.
You can also check out this video that I shot of the Hazratbal Shrine.
Nishat Bagh
Nishat Bagh is a terraced Mughal garden built on the eastern side of Dal Lake. It is the largest Mughal garden in the Kashmir Valley.
'Nishat Bagh' is Urdu, which means a garden of Joy. It was designed and built in the year 1633 by Asif Khan, the elder brother of Nur Jehan.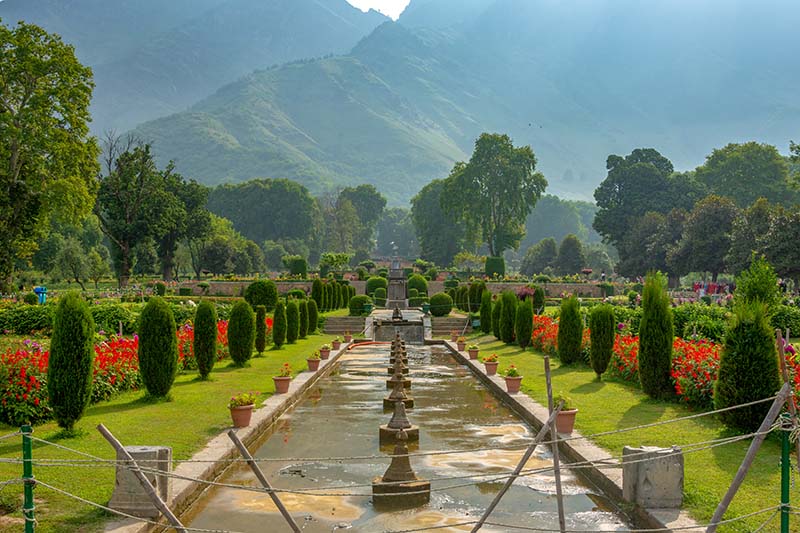 Of all the Mughal gardens in Srinagar, Nishat Bagh I think is the most well-maintained one with still a bit of its past grandeur left.
Another garden that is quite close to this one, Shalimar Bagh, is really in a bad condition and in dire need of some maintenance.
But I think with all the unrest in the valley, violence, and greater issues at hand, maintaining a park is probably the last thing on anyone's mind.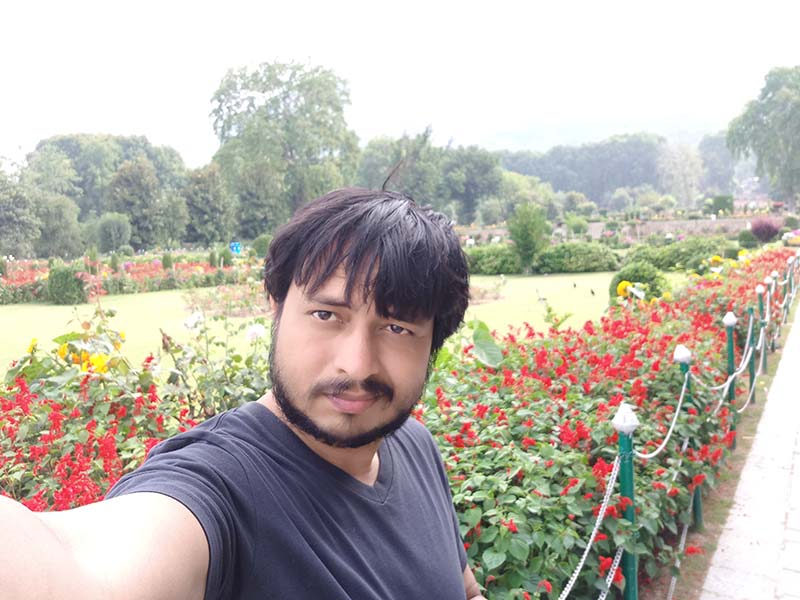 Time for Gurez Valley
I had a really pleasant early morning walk through the garden and managed to get some good pictures as well.
At around 9, Lavish called asking about my whereabouts. It was time for me to head back to the hotel, and get ready for the next part of today's journey. It was time to go explore the virgin beauty of Gurez Valley.
I wanted to get some good pictures of Dal which unfortunately I failed to but in the process; was able to cover three other beautiful places in Srinagar city. Please click on the link above to continue reading the next part of the travelogue.
Sightseeing in Srinagar City – Conclusion
I hope the travelogue so far, pictures, and information on sightseeing in Srinagar were of help. If you have any questions, you can contact me on Instagram and I will be happy to answer. You can also consider subscribing to my YouTube channel and asking a question there.