There were three things I learned in our 2 days of sightseeing in Gulmarg. The first was that the place is a bit on the expensive side. Second that it is infested by guides and pony owners, and the third is that you got to watch where you step. Let me explain.
In terms of it being expensive, there is really no such thing as a budget hotel here. I was in Gulmarg in August which is actually the offseason and even then, I could not find even a single hotel for less than Rs. 2000 or Rs. 2500.
Journey So Far
I am sure that during tourist season, these prices would definitely go as far as Rs. 3500 at least or even higher. The only budget hotel I found was still charging Rs. 1200 for a day and was located 14 kilometers away in Tangmarg.
You eat at a simple Dhaba or restaurant and they will charge you Rs. 20 for a simple Tawa roti. Just about anything you buy in Gulmarg will come at a premium price, irrespective of whether the item is of premium quality or not.
If you have any questions, you can contact me on Instagram. For all other details on Kashmir like mobile connectivity, public transport, taxi services, and several other tips, please take a look at How to Plan a Trip to Kashmir – A Complete Travel Guide.
Guides and Pony Owners in Gulmarg
The second thing was that the guides and pony owners here are a big-time nuisance. You cannot walk 100 meters in Gulmarg without either a guide asking to show you around or a pony owner offering you a ride.
You enter the hotel and there will be guides sitting either at the reception or waiting for you outside. No matter how many times you say no, they will keep pushing and won't give up.
You go to the golf course and they will ask you to pay and play for a while. If you go to Gondola and there will be a guide waiting there asking to show you around.
You start walking in any direction and within minutes, you will have 2 or 3 pony owners asking you to hop on their pony. It is crazy and extremely annoying.
Also Read: How to Plan a Trip to Gulmarg?
I understand that they are poor people trying to make a living and competition is tough. But the problem is that they charge way too much.
There is really nothing in Gulmarg that you need a guide for. You can just walk around and see it all on your own. I wouldn't mind giving 100 bucks to a local guide to help him. I will let him walk with me even if it is just for the sake of clicking a few pictures of mine.
But I am not going to pay Rs. 1000 for that. This also kind of contributes to the fact that there is nothing cheap in Gulmarg.
Watch Your Step
Finally, you really got to watch where you step in Gulmarg, especially while walking through the meadows. Thanks to the pony owners, there is dung everywhere and I literally mean everywhere.
So much so that after I returned, I had to Photoshop the majority of my images to remove all the horse shit from the pictures.
Also Read: Tourist Attractions in Gulmarg
The moment you get down from your car at the market area, the first smell you catch will be of horse dung. That is how bad it actually is.
You don't believe me? Wait till you get there. This smell will stay with you throughout your sightseeing in Gulmarg.
Food in Gulmarg
Another thing worth mentioning here is the food which I am sure you will find surprising. I actually was shocked. First is that food here is expensive which I mentioned above. There was one hotel here that charged us Rs. 30 for a small Tawa roti.
Now Gulmarg is mostly Muslim and keeping that in mind, you would expect non-vegetarian food available everywhere. But surprise surprise. The majority of the hotels and restaurants here are vegetarian only.
I have no idea why that is. So before you check in, do ask the hotel owner if they are serving non-veg or not if that is what you want to eat.
Also Read: How to Plan a Gulmarg Gondola Ride
Gulmarg Itinerary
And that is Gulmarg for you which despite all the four above-mentioned points still seems like a charmingly magical place. It is a year-round tourist magnet that is bound to leave you craving for more. The same thing happened to us.
As per the original itinerary, we were supposed to have been on our way back to Srinagar today. But once we arrived in Gulmarg yesterday, the plan immediately changed.
Now we were going to stay here for an entire day today and use it for sightseeing in Gulmarg. The plan was to enjoy a Gondola ride and trek to Alpather lake, something which was not part of our initial plan.
You can also take a look at the video below to see how beautiful Gulmarg looks in the winter season. It was shot during one of my later trips to Kashmir in January.
Day 2 – Sightseeing in Gulmarg
I was the first one to be up in the morning which usually happens with me almost on every trip. No matter how late I sleep, I am wide awake in the morning always.
Lavish woke next and we decided to step out and get some tea. We tried waking up Shoaib as well but he refused to get up and continued to snore for a little longer.
Our stop was a small shop called Malik hotel at the main Gulmarg chowk.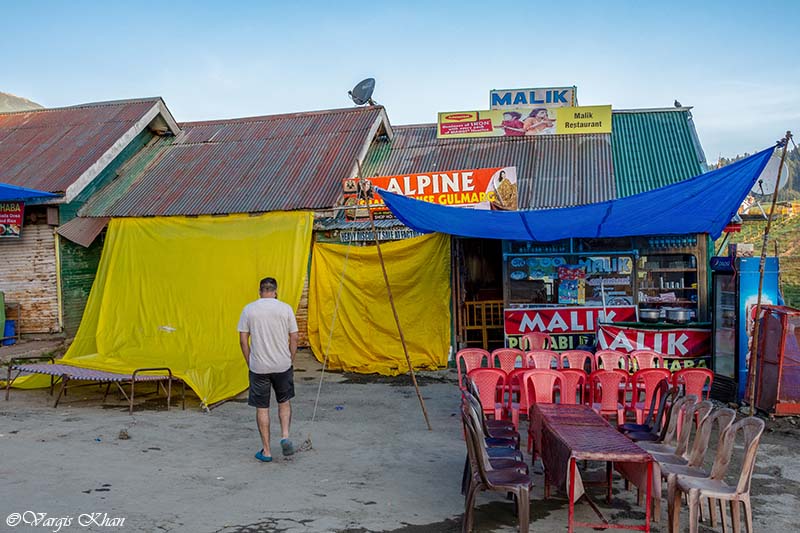 After a couple of cups of tea, we started to walk back to the hotel and met an elderly gentleman on the way. Surprisingly, we were the only tourists in Gulmarg at this time. Or maybe we were the only ones from outside of Kashmir because I did not notice any others.
As a result of this, we were the focus of everyone passing by due to a huge camera hanging around my neck. People either wanted to know where we were from or wanted to be our guide or wanted us to get on their ponies. This is the most annoying part of sightseeing in Gulmarg.
Also Read: When is the Best time to visit Gulmarg?
Where is Alpather Lake?
Nevertheless, the elderly gentleman got talking to us and asked us about where we were from, how we liked the place, and what our plans were.
We told him about the Gondola plan and Alpather Lake and asked for the best way. Now the place where we were standing was right in front of Apharwat peak.
This made it easy for the old man to point us which way to go after getting off the Gondola in order to reach Alpather Lake. I will post the picture that I clicked at that time and the direction the old man gave us.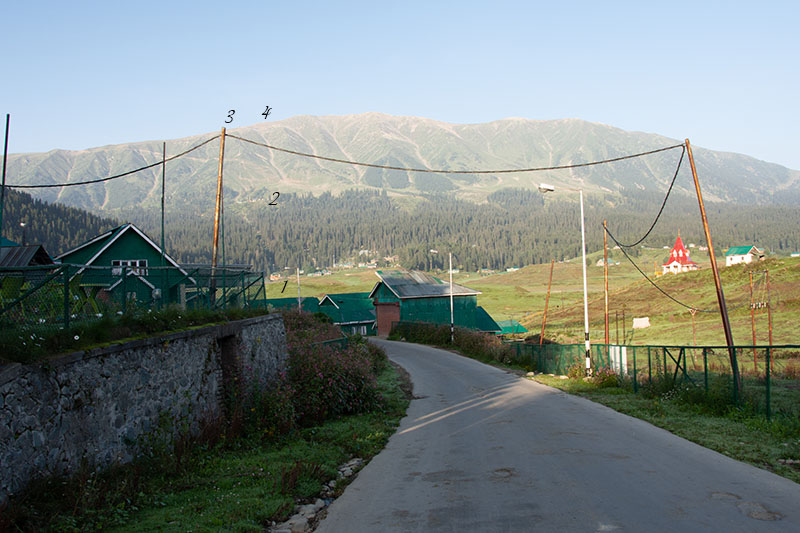 In the image above, the place I have written # 1 is the booking counter. # 2 is the phase 1 site and # 3 is the phase 2 site of Gulmarg Gondola. From there, towards the right, # 4 is where Alpather lake is.
After talking to him, we came back to the hotel, freshened up, and got ready. Shoaib too was up by then. My biggest worry at that time was the horrible tales of endless queues for Gondola that I had read over the web.
I asked a few people if it was going to be too crowded and everyone said that it wasn't. Still, we did not want to take any chances and start our day of sightseeing in Gulmarg as early as possible.
Gondola timings as I was told by the locals were 10 AM. So we wanted to be there well in time to be the first ones to get the tickets and get on the Gondola.
To see it happening, we stepped out of the hotel at around 8 AM. The plan was to first go back to Malik Hotel, get some breakfast, and then start walking towards the Gondola station.
Breakfast Time
Breakfast was delicious, consisting of toast, Aaloo parantha, and Kashmiri roti. Yep, this is the scary-looking Aaloo parantha I ate for breakfast.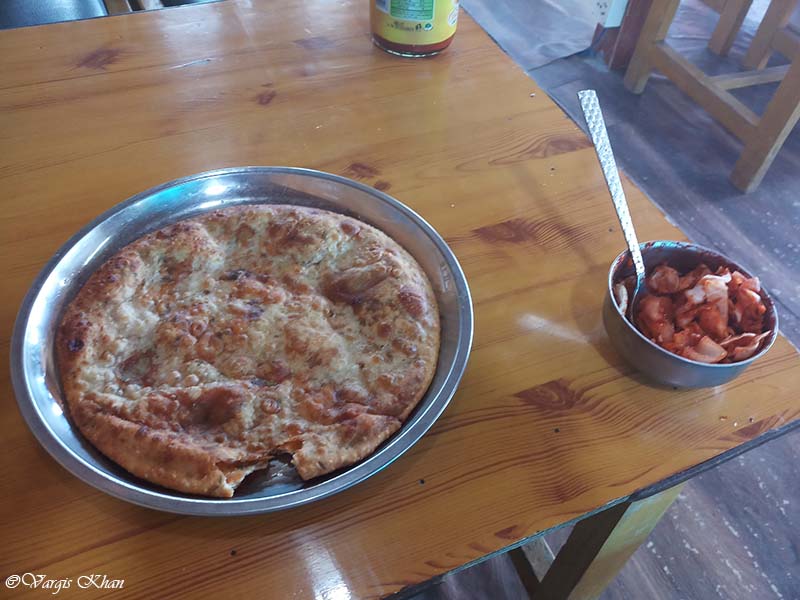 With our bellies full, we started walking towards the Gondola entry point and the booking counter which was about 2 kilometers from where we were.
In this short distance, however, we were asked by at least 10-15 pony owners if we wanted to get on their ponies and have them drop us at the Gondola station.
We just refused and continued walking. Next in line were the hotel and restaurant owners inviting us for breakfast. When we told them that we had already eaten, they had us promise them that we will stop by their shops for lunch on our way back.
To be honest, this is where you actually get to see the brutal reality of Kashmir; a picture of how a common man suffers in the politics of all of it. Due to all the terrorism and unrest, there are no companies here and no job opportunities.
The majority of the youth in local villages is uneducated. They rely heavily on either farming or tourism for their livelihood. And that is why you will see so many guides and pony owners desperate to get a customer.
Also Read: How to Trek to Alpather Lake
Time for Gondola Ride
Nevertheless, we arrived at the Gondola station a little past 9 AM to find it still closed. I was under the impression that the Gondola ride would start at 10 so they will open the booking counter a little in advance.
Turns out, that even the ticket counter opens at 10 AM. The board below read 9 AM in summer and we were there in August, but even then, it opened only at 10.
So now we had an entire hour of sitting and waiting while saying no to numerous guides and hawkers trying to sell all kinds of stuff. I decided to buy this "Govinda" style goggle though, the one that I am wearing in the picture below, for a couple of hundred bucks.
Why did I buy it? Because Lavish and Shoaib both bought their sunglasses in and I didn't. And this was the only one on sale. God, I hate this picture so much. Makes me look like an actor from a B-Grade movie, doesn't it?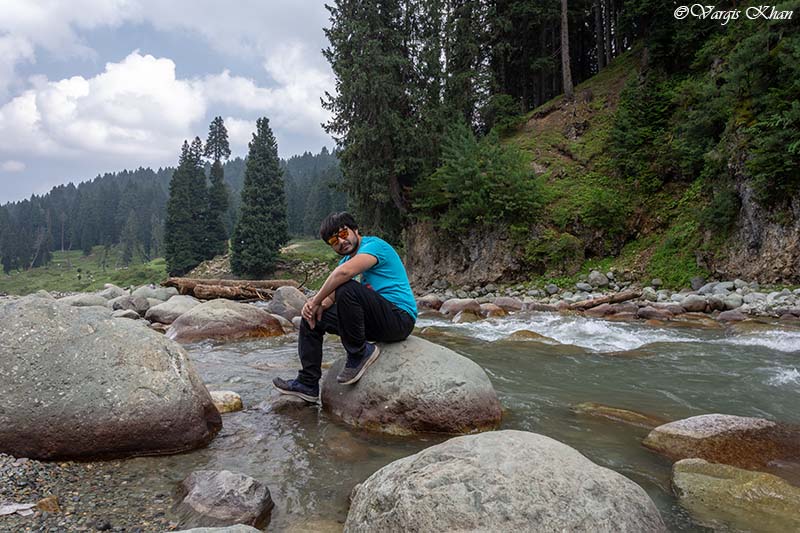 After an hour of waiting, the ticket counter finally opened. The sun was up and the weather was starting to warm up. It actually got so hot by 10 am that it was difficult for us to stand in the sun.
We bought our tickets and soon were sitting inside a Gondola, riding to the first phase of the Gondola station. Please click on the link above to continue reading the next part of the travelogue.
Sightseeing in Gulmarg – Conclusion
I hope the travelogue so far, pictures and information on sightseeing in Gulmarg were of help. If you have any questions, you can contact me on Instagram and I will be happy to answer. You can also consider subscribing to my YouTube channel and asking a question there.