Are you thinking of visiting Pangot near Nainital? If yes, this Pangot Travel Guide will help you in planning your trip in the best possible manner.
A few days ago I wrote an article about traveling to Nainital, covering important details like how to reach there, what to see, things to do and where to stay. While places like Nainital, Mussoorie, Shimla, and Manali are the most famous and highly visited destinations in our country that caters to the majority of the tourists; these may sometime feel like a little crowded for someone who likes to visit offbeat and lesser-visited places.
Fortunately, the states of Uttarakhand and Himachal are marked with numerous such small hamlets that provide a perfect escape from our rushed city lives; and are ideal to spend some time relaxing and enjoying the natural beauty. One such little known and rarely heard of place is the village of Pangot in Uttarakhand.
Do not get me wrong, I have absolutely nothing against visiting places like Nainital. However, the fact cannot be denied that during the peak tourist season, they may not always be able to provide the peaceful vacation that you had in mind. This is where offbeat destinations like Pangot come into the picture. It is not too far away from the main Nainital town but receives only a fraction of the tourist crowd that travels this way.
The drive to here will take you through the forested area of Naina Peak Range via Himalaya Darshan & Echo Zone. This area is famous for Himalaya view of Nanda Devi series and Kilbury, which are birding spots; which makes Pangot a paradise for anyone with interest in wildlife, bird watching, photography; or just stunning views of lush forests and mighty peaks all around.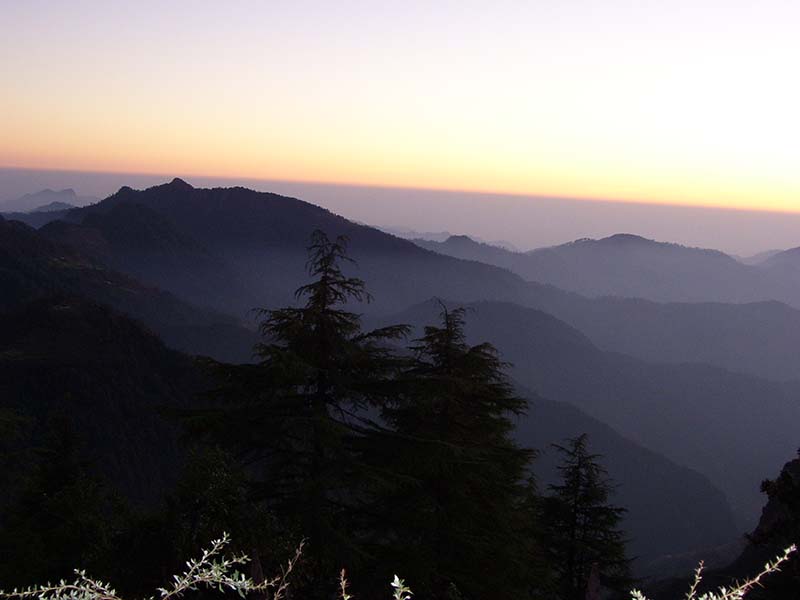 Where is Pangot
Pangot is located 16 kilometers ahead of Nainital in Uttarakhand, at a height of 6,510 feet. It is about 318 kilometers from Delhi via Moradabad.
Why you should visit

If your idea of a trip is to indulge in a lot of sightseeing, do plenty of things, go shopping, spend time partying, eat out and try new food, then Pangot will definitely disappoint you. It has none of that. What it does have in ample is natural beauty, beautiful birds, amazing sunsets, tons of peace, tranquillity and a serene environment. If either of this is what you were looking for from your upcoming trip then, by all means, head straight to Pangot and you will be delighted. If you are someone who likes exploring new places then Pangot will be a very beautiful feather in your hat. It is a very quiet and calm place which makes it an ideal destination for honeymooners too.
How to reach Pangot
Being in close proximity to Nainital, reaching Pangot is not difficult at all. The place is very well connected by a good motorable road and can also be reached by public transport easily. I will explain all the choices one by one and in order to explain the route, will assume Delhi as your starting point.
How to reach Pangot from Delhi
Starting from Delhi, the route of your journey will be as mentioned below.
Delhi – Ghaziabad – Moradabad – Nainital – Pangot
The entire journey will be of 315 kilometers in total, depending on where you started from in Delhi and will take you about 7-8 hours to complete. Road conditions are a mix of good and average. I will recommend starting early to avoid the morning traffic.
Take the super smooth Rampur Bareilly highway till Moradabad / Rampur and then turn towards Nainital from there. After Nainital, the road climbs up steeply for the last 16 kilometers and get a bit narrow as well. Vistas too change drastically and get super scenic during this final leg to Pangot.
Also Read: How to Plan a Trip to Nainital
How to reach Pangot by Bus
There is no direct bus from Delhi to Pangot or from any other major city. Your journey would have to be divided into at least two parts. Nainital will become your first destination which is the nearest bus stop to Pangot. Getting to Nainital is not a problem at all. Being one of the major tourist hubs, there are regular buses to Nainital, both state-run and privately operated.
Once you have arrived, you can look for another bus from Nainital Bus stand to Pangot. My suggestion, however, would be to not wait around for a Bus and look for shared cabs which are more frequent. It is only a journey of 15 kilometers so it won't take long to drop you at Pangot.
Shared & Private Cabs
The shared cabs for Pangot are available from the taxi stand in front of Anda Market (Egg Market) in Nainital. These are usually available between 10 AM to 3 PM and will only start once it is full to its capacity. Fare per person is Rs. 50 for a drop to Pangot. A private cab from Nainital to Pangot will cost about Rs. 400 – 500.
Nearest Railway Station to Pangot
The nearest train station to Pangot is located in Kathgodam, at a distance of about 50 kilometers away. Once you get to Kathgodam, you can either rent a private taxi for Pangot which will cost you about Rs. 1500 – 2000 for a drop. Or you can travel by a shared cab till Nainital for Rs. 100 per person.
From Nainital, you will then have to board another shared cab for Pangot. As far as I know, there is no direct bus from Kathgodam to Pangot. If you want to travel by a Bus, you will have to look one for Nainital first. If not Kathgodam, you can also board a cab for Haldwani which is about 60 kilometers from Pangot.
Also Read: Khirsu – A Complete Travel Guide & Itinerary
Nearest Airport from Pangot
The closest airport to Pangot is in Pantnagar, about 90 kilometers away. From the airport itself, you can easily find a taxi to drop you to either Nainital or Pangot.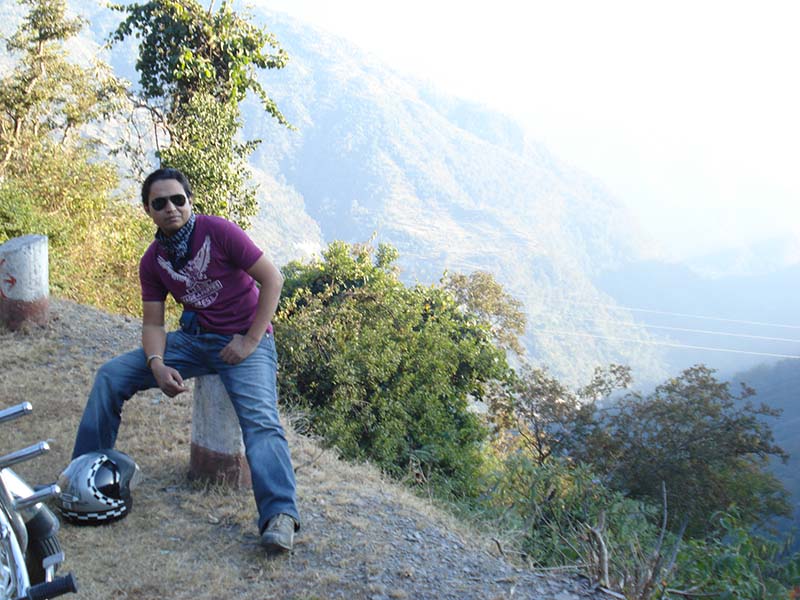 Best way to reach Pangot
Best way to reach Pangot would definitely be by your own vehicle. The entire drive is through a forested area and a very scenic one. If you were by your own car or motorcycle, it will give you the freedom to take as many breaks as you want and whenever you want. If not a private vehicle, the next best option would be to board a luxury bus to Nainital and then travel to Pangot from there by taxi. A private cab from Nainital to Pangot will cost about Rs. 500.
Local Transport
Pangot is just a small place that is best explored on foot. If you, however, want to visit some other nearby areas then you will have to rely on shared cabs.
Road Conditions
Starting from Delhi, roads are mostly smooth all the way till Pangot. From Delhi to either Moradabad or Ramnagar, it is an excellent highway so for a major part of your trip, you will be sailing on smooth roads. Even after Moradabad / Ramnagar, the road continues to remain in good condition and will not become problematic at all. The stretch between Nainital to Pangot is a little narrow and a mix of bad and average.
Also Read: Munsiyari Travel Guide – How to Plan your Trip and Explore
Best Vehicle
There is really no best vehicle required as such for visiting Pangot. I have seen the locals here drive around in small hatchbacks and even scooters. The only condition applicable is that your vehicle should be in good condition and well maintained. As long as this stands true, you can bring any car or motorcycle for visiting Pangot.
Pangot in Winter
All the modes of transport that I explained above will remain applicable for the winter season as well. The road may get blocked occasionally if it snowed too much but it usually gets cleared as soon as possible.
Where to Stay in Pangot
Pangot is really more of a camping site than a hotel stay. There are a whole bunch of cottages, tents, and resorts here. Jungle Lore Birding Lodge is probably the oldest and most famous one. They have a set of five cottages and swiss tents.
You can take a look at their official website for more details. Finding a budget one could be a problem though. You can assume Rs. 1500-2000 per day cost for accommodation here. In peak tourist season, it will cost you even more than this. I will also recommend calling in advance and booking your stay.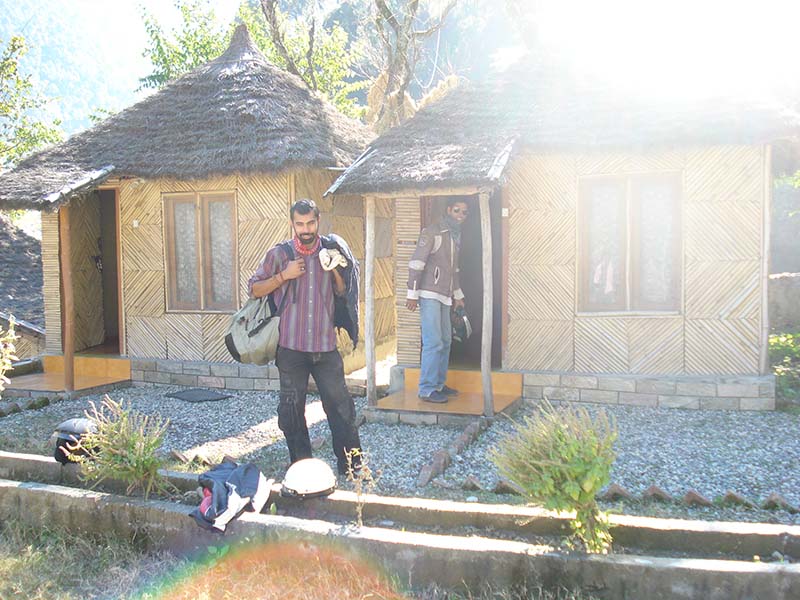 There is a hotel called Janardan Resort where a friend of mine stayed for Rs. 1000 per day. It was very basic though. The Nest Cottages is another good choice but a very expensive one. Nature drops and The Cocoon Camps are two other good campsites. If you could not find a suitable place to stay in Pangot, then the only other choice is Nainital which is full of hotels in all budget ranges. If you were carrying your gear, then there are several spots where you can even pitch your own tent.
Also Read: Chakrata Travel Guide – How to Plan your Trip & Explore?
What & Where to Eat
All of the campsites and resorts have their own dine-in restaurants or room service. Their final prices are actually inclusive of both meals and lodging. They usually serve all kinds of north Indian dishes and a few Chinese food items like noodles, chow mien, and momos, etc. Other than this, there are a few roadside dhabas as well where you can eat. Do not expect to find any great or fancy restaurants though. Like accommodation, even food can be slightly on the costlier side in Pangot.
What to see in Pangot
Pangot is best known for its birds. There have been as many as 580 bird species documented in this region which makes it a must-visit place for anyone with an interest in bird watching, photography or wildlife in general. Out here, you will find several Himalayan species of birds like lammergeier, Himalayan griffon, blue-winged minla, spotted & Slaty-backed forktail, Rufous-bellied Woodpecker, rufous-bellied niltava, khalij pheasant, and variety of thrushes, etc. The surrounding hills and the forest is home to a variety of other wildlife including leopards, yellow-throated Himalayan martens, Himalayan palm civets, ghorals, barking deer and sambhar.
Other than the wildlife, the natural beauty of Pangot is its prime attraction. To be honest, you come to a place like Pangot to just soak in the peace and to relax. Waking up to the sounds of different kinds of birds and a beautiful sunrise is no less than pure bliss. Even if birding is not a passion, the bird calls will entice and draw you into seeking them out. Spend a few days here and you will feel like you have recharged yourself.
Also Read: Dhanaulti – A Complete Travel Guide, Road Map & Itinerary
Places to visit Near Pangot
If, however, you do want some sightseeing as a part of your trip than the town of Nainital is only an hour away. There is a long list of places that you can visit, as mentioned below.
Naini Lake
Snow view
Cheena Peak
Naina Devi Temple
Observatory
Zoo Gardens
St. John's Church
Bhowali
Ghorakhal
Sat Tal
Kilbury
Bhim Tal
Naukuchiya Tal
Mukteshwar
Tiffin Top
Hanuman Garhi
Corbett National Park
If you want to know about these places, I would recommend reading Places to Visit in Nainital & Things to Do. In this article, I have explained in details where these places exactly are and how you can visit them.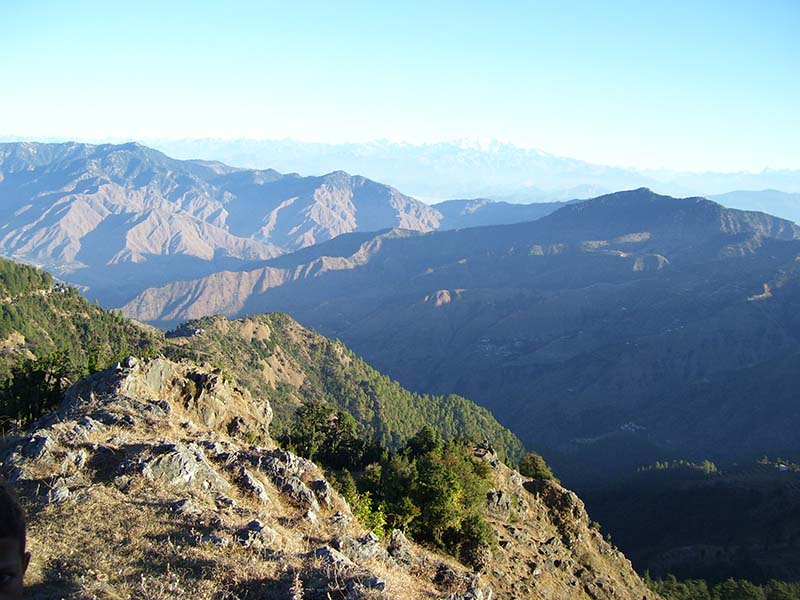 What to do in Pangot
Apart from sightseeing at all of the places I mentioned above and enjoying the natural beauty, listed below are some of the other top things to do in Pangot.
Camping in Pangot
Pangot is a great camping destination and you will really enjoy your time staying in a tent here. The place is marked with several campsites and cottages. There are only a couple of cemented hotels here and rest all are the campsites only. There are several places where you can also pitch your own tent if you were carrying all the necessary gear.
Photography in Pangot
There are three types of photo opportunities you will have at Pangot; landscape, wildlife and night skies. Don't forget to bring a lens with good zoom capabilities if you want to capture a few beautiful birds found here. The pollution-free clear skies of Pangot lit up each night with countless stars and present a great opportunity to click star trails and night skies. Actually, staying at a campsite works in your favor if you want to set up your camera for some long exposure shots at night.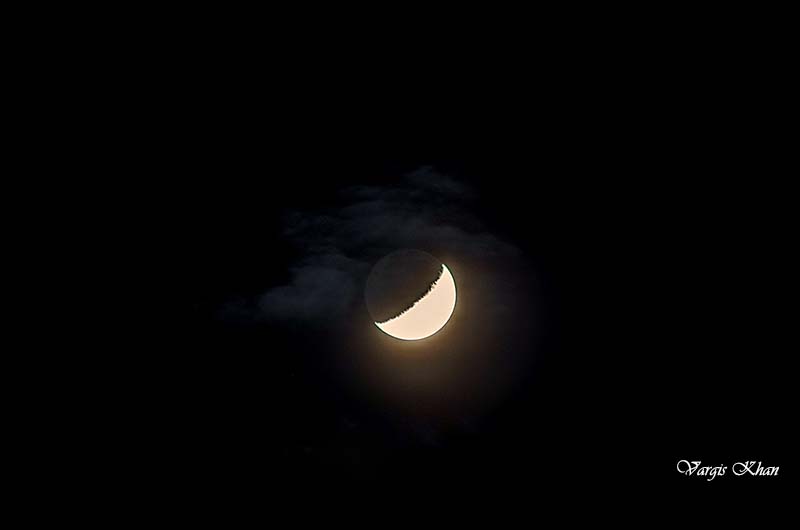 Trekking in Pangot
This will definitely count among the best things to do in Pangot. And I am not only talking about some serious kinds of treks that will have you climbing up and down the hills. Pangot also has some easy walks through rich oak and rhododendron forests.
Just take a stroll through the village and its forests while listening to the birds twittering and flitting through the air. Cheer Pheasant, which is really a rare bird elsewhere can be found here in substantial number and spotting one is definitely a thrill (if you know how to identify).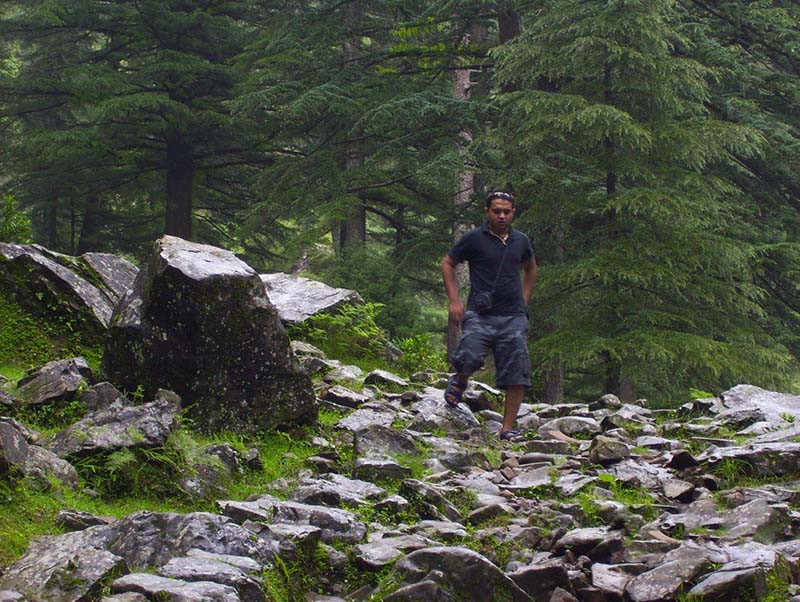 Kilbury Trek
One of the most popular treks here is the one from Pangot to Kilbury forest resthouse. It is an 8 kilometers long walk that takes you through the forest to the forest rest house; across Naina peak (also known as China Peak or Cheena Peak) at an altitude of 8,563 meters.
You start from Pangot and first walk uphill to the mountain. Standing at the top, you get stunning view of the Nainital city and the surrounding snow-clad peaks of Nanda Devi, Trishul, Nanda Ghunti, and several others. You will then walk for another couple of kilometers downhill to reach the forest rest house.
You can do this trek in a single day if you started early and were up for walking 16 kilometers. A lot of people actually do not even go all the way to the rest house. They just walk to the top of the peak and return. You can do the same or break the journey in 2 days; reach the rest house on Day 1 and return on Day 2.
Also Read: Best Honeymoon Destinations in Uttarakhand
Corbett Trek
Another great trek is the one that leads you from Pangot to Corbett National Park. If you have the time, you can venture upon this three-day trek which will have you trek through the snow (depending on the time of the year) forest, cross streams, tiny hill settlements as you descend to the outer limits of Corbett. This is actually an extension of the Naina Peak trek but this time, rather than turning back to Pangot, you continue walking to the famous stronghold of the Royal Bengal Tiger.
Bird Watching in Pangot
I think this one is probably the most obvious one by now but I will still add it to this list of things to do near Pangot. Nainital attracts thousands of tourists each year but only a handful will go towards Pangot. Due to this, numerous birds have made this place their home, thanks to the richness of flora in the region. You can find here both residential as well as migratory birds in Pangot.
Night Safari
Yes, a night safari in Pangot is also a thing. Talk to your campsite owner and he will arrange for it. The main attraction for the safari is seeing a Leopard at night. If you were lucky, you may catch a glimpse otherwise you will see a lot of mountain goats and barking deer.
Weather
Due to its altitude, weather in Pangot mostly remains pleasant throughout the year. The summer season starts towards the end of March and lasts until early July. At this time, temperatures mostly range from 25 °C in Morning/Noon to 12 °C at Night.
It rains here a lot during the monsoon season, sometimes enough to cause landslides. In winters, from November to February, temperatures range from 15 °C in Morning/Noon to 5 °C at Night. Please note though that these are just average numbers and sometimes it can even drop below 0 at nights in winter.
It snows in Pangot in the months of Late-December and January; though the intensity and frequency are not that high. Snowfall starts towards the end of December and lasts until January. A spell of snow can be witnessed sometimes in early February as well but mostly after January, the snow starts to melt and the weather turns calm and pleasant.
Also Read: Mana Village – How to Plan your Trip & Explore
Clothes to Pack
What clothes to pack will also depend on the time of your arrival. For a trip in December, January or February, you should pack warm clothes with a heavy windproof jacket. Ensure that your jacket also has a hood to protect your head and neck. If not, then bringing a muffler and cap would be wise. Also, pack a pair of good quality gloves.
For the rest of the year, just pack your regular cotton clothes with a couple of light woolens and that will suffice. During summers, you will not actually even need a jacket except for evening and mornings maybe.
If visiting in Monsoon, pack clothes that can dry faster, like polyester. If you wanted to go trekking, please bring a pair of suitable pajamas because you do not want to walk up and down in a forest walking tight jeans. Do not also forget to bring a good pair of shoes with a firm grip. If you wanted to go bird watching, it would be better to wear jungle colors such as beige, khaki, and olive green which can act as a camouflage in the woods and help in not scaring the birds away with your presence.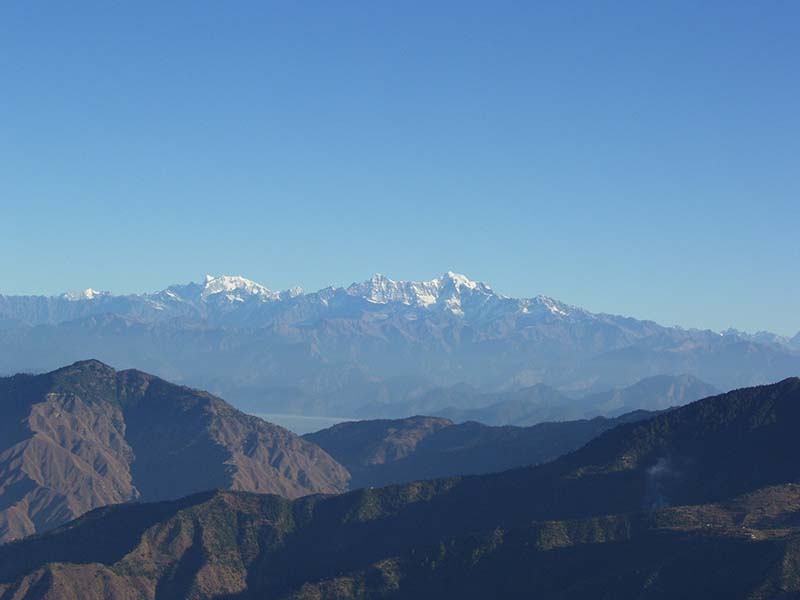 Best time to Visit Pangot
When you should visit Pangot will entirely depend on your reason of visit. But mostly, the winter season is considered to be the best because it is an ideal time for bird watching. A lot of migratory birds arrive in the area during winters. At other times, you will only find the local birds. If you wanted to see snow, then January is when you should plan your visit. Rhododendron blooms in the months of March and April covering the entire valley in a gorgeous pink.
Also Read: Mussoorie – A Complete Travel Guide and Itinerary
If bird watching was not your interest, then for a family trip, March to May will be the best time. If you want to see lush green vistas then plan in July or August. November is generally considered to be a bad time because the scenery in this month is a bit dull and dry. If you do not like the cold weather then avoid the months from November to February.
If you do not want to risk the rain then do not plan in July or August. September is a great month for watching lush landscapes. Autumn arrives in October and is a great time if you want to see the golden touch it brings to the trees and the valleys.
Other Tips
Shopping: Pangot is just a small village. There is really nothing to buy here. If you want to go shopping, then you should try your luck in Nainital. For more details, please read Shopping in Nainital – What to Buy in Nainital.
Medical Assistance: There are no hospitals in Pangot and the nearest medical assistance is available in Nainital. I would strongly recommend carrying some basic and necessary medicines along like for fever, body ache, upset stomach, cold and flu, etc.
Mobile Network in Pangot: There is no phone network at Pangot. I was carrying an Airtel and another MTNL phone and both of them died somewhere in between Nainital and Pangot. MTNL network actually kept coming and going but not consistent or long enough to make a call. Just assume that there will be no phone network here.
Petrol Station / Mechanics: The nearest petrol pump and mechanic is available in Nainital only.
Bank / ATMs: There are no Banks or ATMs here. Closest one is in Nainital.
Also Read: Gangotri – A Complete Travel Guide and Itinerary
Pangot Itinerary
Below is an example of an itinerary that you can follow for a trip to Pangot. The first itinerary is a comprehensive one that involves sightseeing at both Pangot and other nearby areas around Nainital. The second itinerary is just about making a short trip to Pangot.
Day 1: New Delhi to Nainital. Reach Nainital in 6-7 hours and check in to the hotel. Relax for a bit. In the evening, explore the Mall Road.
Day 2: Sightseeing around Nainital. Begin at the Naina Devi Temple and explore the lake and boating. Next, visit the zoo. For lunch, head up to Tiffin Top for a picnic. In the evening, take the ropeway to Snow point for the sunset.
Day 3: Excursion to Bhim Tal and Sat Tal. Alternatively, you can also visit and camp overnight at the Jim Corbett National Park. Shopping at the Bhutia Market, Tibetan Market, and Bara Bazaar
Day 4: Nainital to Pangot. Stay overnight in Pangot in a camp.
Day 5: Sightseeing in Pangot. Trek to Kilbury Rest House.
Day 5: Pangot to Delhi
Itinerary for Pangot Only
If you just want to cover Pangot, then remove Day 2, 3 and 4.
Delhi to Pangot – Day 1
Pangot – Day 2 & 3
Pangot to Delhi – Day 4
Time Needed
If you also want to cover the other areas around Nainital, then at least 5 – 6 days is what I will recommend for this trip. If only Pangot is on your mind, then you can even do this trip in 3 days; which also makes it a great weekend getaway from cities like Delhi.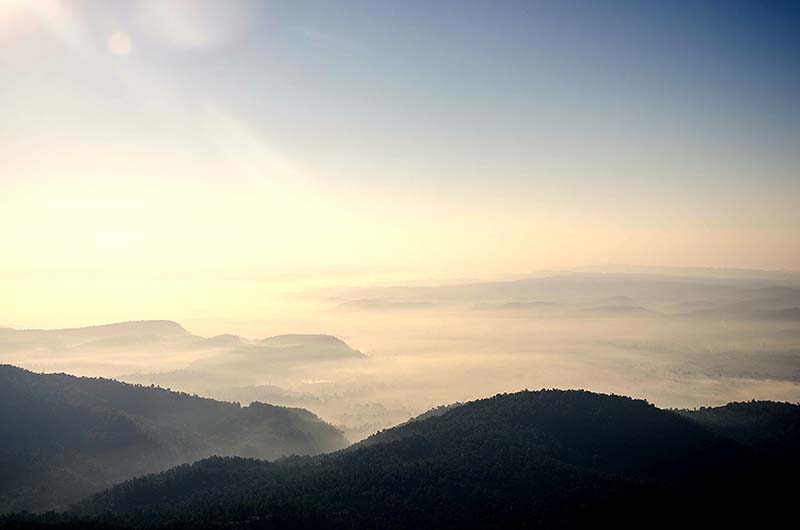 Pangot Overview
To close the article, below is a brief overview of Pangot.
In Google maps, the name is mentioned as Pangoot. Do not get confused. Pangot and Pangoot are the same place.
One of the top destinations for Bird watching
Great sunset views
Perfect for nature and wildlife photography
Amazing place for camping
Located near Nainital in Uttarakhand
Recommended stay is of at least 2 days
Nearest Station at Kathgodam
Nearest Airport at Pantnagar
Do not forget to bring a pair of good binoculars for bird watching.
Conclusion
I hope the information above on visiting Pangot and other nearby areas of Nainital was of help. If you have any questions; or need any other details; please feel free to ask in the comments section below; or at our Community Forum; and I will be glad to answer.