The trip to Mussorie was pending for a long. I was not able to get the leaves due to my busy work schedule. But this time I squeezed some days from my work life to plan a nice trip with my wife. After searching for a suitable location we decided to visit Mussorie for a peaceful week. One thing led to another and in the end, it became a road trip from Delhi to Kinnaur and Mussoorie both.
I usually try to start the trip early in the day to avoid traffic and also to save travel time. Hence, we decided to leave by 5:00 am from Delhi. But as expected, the early morning routine took its own sweet time and we were able to leave only by 6:00 am.
Road Trip from Delhi to Kinnaur
For the route I decided to follow Google maps which took us via Ghaziabad > Meerut > Saharanpur Bypass > Dehradun > Mussorie.
It was a boring ride on flat roads. We took a quick break for breakfast near Meerut. One thing which stood out is the absence of tolls on this route. We found 2 tolls only all the was till Mussorie. The roads were good as well. If I compare this with the Delhi-Chandigarh highway, it is better actually.
I don't know who is the governing authority for the tolls but the Delhi-Chandigarh highway is in a mess these days. The number of tolls has gone up to 4 and the amount to be paid is approximately Rs. 250 which is equal to the distance traveled. A very sad state indeed.
As we entered Dehradun, it was noon and we had a quick lunch at a nearby pizza joint. The mountainous roads start just after Dehradun and we encountered our first jam at a temple on the outskirts of Dehradun. There is some construction going on a tunnel which had caused the hold-up.
Also Read: How to Plan a Trip to Mussoorie
Day 1 – Mussoorie
We reached Mussorie around 3:00 PM. The ride up to the town from Dehradun is very similar to Mcleodganj and Dharampur except that Dehardun is a much bigger town. We had our room booked at Ekant Guest House. The guest house was located a bit down in the valley and the way was cemented and quite steep.
I thought that I will manage to maneuver the car but I got stuck at one sharp bend. I had to hustle a bit for space to turn and finally I was able to come down to the guest house.
The room was really big and clean. We quickly settled in and ordered tea.
We inquired about the dinner and we got the same old reply "Sir jo chahiye wohi bana denge". I was a bit annoyed as I get the same reply everywhere at Govt Guest Houses. This time I asked do you have anything in your kitchen? The caretaker replied that he can bring whatever we feel like from the market but we need to pay. I made the mistake of paying him in advance ( which I regretted later).
Library Chowk
We rested a bit and then decided to walk to Library Chowk. It was a tough walk for me and I took many stops to catch my breath. My cardio seems to be off these days. The walk was pleasant nonetheless.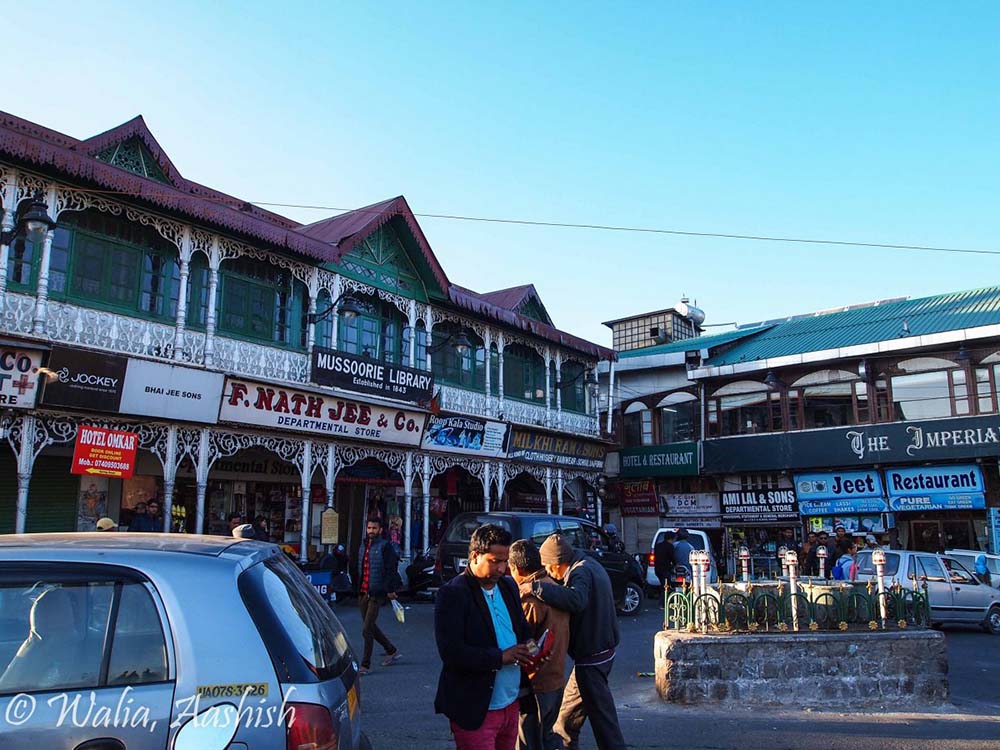 The market was bustling with tourists. We decided to take a leisurely stroll on the bazaar road. It reminded me of my Shimla trip. The market at both these places is almost similar. The shops were not touristy and catered to all the needs of the locals. Some of the antique items in a shop caught my fancy. I bought a single wooded Buddha head for my desk.
It was almost 6:00 pm and we were tired as well. Hence, we decided to end our walk and head back to the room. However, I decided to ask around for any bike rentals for the next day as I didn't want my travel in my car the next day. I found one such shop and booked Access 125 for Rs. 1000 for one day.
The price was high but there was no other alternative. I booked it and rode it back to the guest house planning the next day trip in my head.
Day 2 – Sightseeing in Mussoorie
We woke up a bit early the next day. I wanted to witness the sunrise but the low temperature in the early morning made me lay in my comfy quilt.
We were up and ready by 8:00 AM though. After having a light breakfast, I decided to walk around on the front lawn basking in the morning sun. The scene was breathtaking. The sunlight was slowly filling up the valley below. It was very peaceful and calm.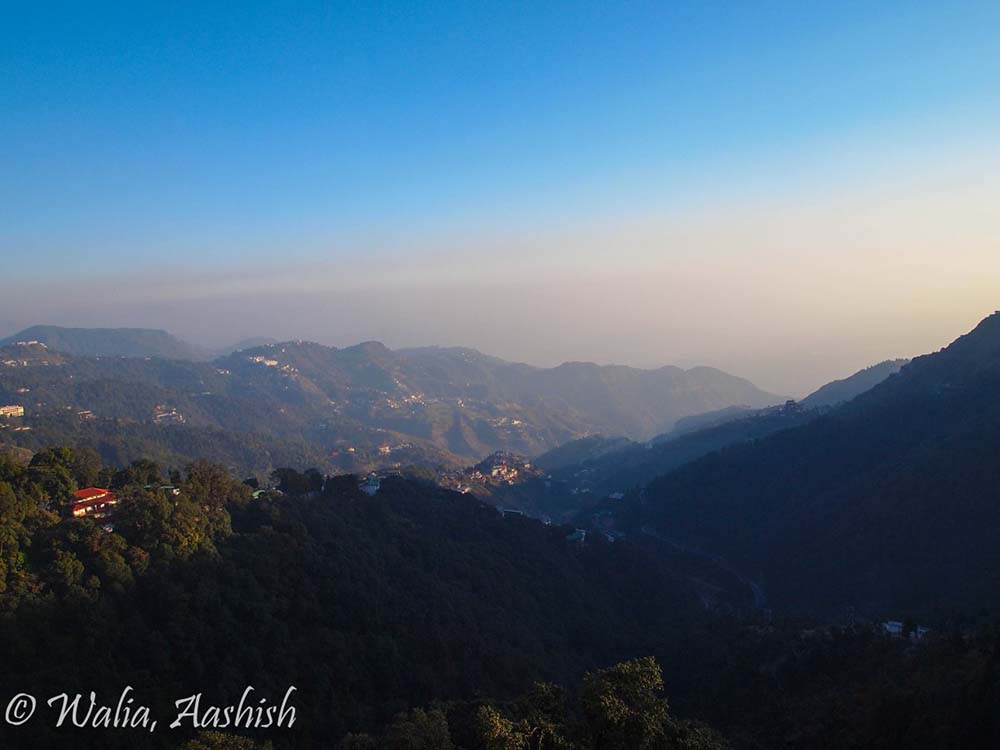 Kempty Falls
The plan was to visit Kempty falls first and then Dhanaulti. The idea of a road trip from Delhi to Kinnaur was yet to form. For now, we only had Kempty Falls and Dhanaulti in mind. The way to Kempty falls was smooth as butter. There was nil traffic. We saw children getting ready to go to school. I was surprised to see small children walking all the way up to their schools on such slopes. It is really beneficial for their health.
As we reached the Kempty falls area, we came to know that the small bridge leading to it was being repaired. Heavy vehicles were not allowed but bikes were allowed to pass. Since I had Access 125, it was fairly easy to pass ( as I had thought ). But it was tricky to cross due to loose gravel and sand.
The small iron bridge was vibrating as I toiled through and the roar of the falls made it even scarier.
Also Read: Sightseeing in Mussoorie – A List of Places to Visit
I quickly crossed without looking at the falls. The market was not yet opened and it was a steep slope to go down at the falls. Since there wasn't any tourist except us, we had a great time there. No pushing around or naked bellies in the water.
The real challenge was to go back. Since it was a steep slope to climb, I had to take frequent breaks to reach the main road. I was ready for a second breakfast. We had some snacks at a nearby cafe and we were on our way back to Mussorie to continue towards Dhanaulti.
Dhanaulti
The ride was smooth and soon we were on the route to Dhanaulti. Now, we decided to use Google Maps for navigation and it showed a shortcut through Landour. Unknowingly, I chose the road and it turned out to be a bad decision as the road was in pretty bad shape.
There was hardly any space for 2 vehicles to pass through and it was a steep downhill slope. Somehow, we reached the main road and continued our journey. The ride was amazing thereafter. The vistas of the green forests and mountains uplifted my mood as well. We enjoyed every bit of it.
Also Read: How to Plan a Trip to Dhanaulti
As we reached near Dhanaulti, various hotels and campsites started to appear. Most of them were closed due to low temperatures. I could see some snow in the bushes etc where sunlight was hard to reach. We decided to have our lunch at one big resort but unfortunately, it was closed.
We had to search for any place which was open. Luckily we were able to spot one and had our lunch in the open area facing the mighty mountain ranges.
The hotel guy pointed out that one of them was Gangotri and a faraway one was the China border. We then decided and head back to Mussorie and this time we took the route via Landour bazaar which was smoother as compared to the one we took in the morning.
Everest Estate
As we reached Picture palace, we found out that to drive through the main bazaar we need to pay Rs. 100 for one way i.e. every time we cross the bazaar we need to pay Rs. 100. I decided to take the longer route to reach Library chowk.
Our next stop for the day was Everest estate. I decided to skip Company bagh as I knew that it was not well maintained. The way to Everest estate was one of the worst I had ever driven upon. I thought that I was moving up to Sach Pass all over again.
The way was so bad that I had to ask my wife to step down and continue on foot. After a few meters, I also decided to step down and parked the scooter, although, we could see people taking cars and bikes all the way to the top.
I was somewhat disappointed by the state of the actual building. It was a small cottage from the British era which was painted in white but was severely defaced by locals. There were a group of boys just loitering around, drinking alcohol, and creating a mess.
I am sure most of them didn't even know about the history of the place. The view from the house was amazing though. It has large, wide, and flat areas in the front. The silence around the place is haunting.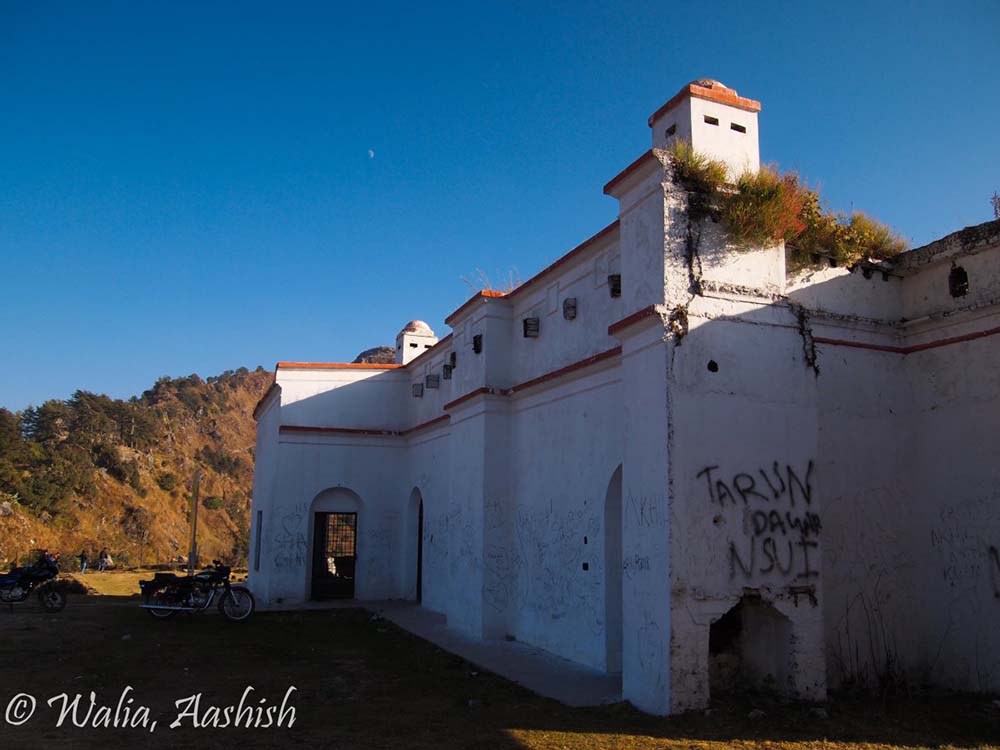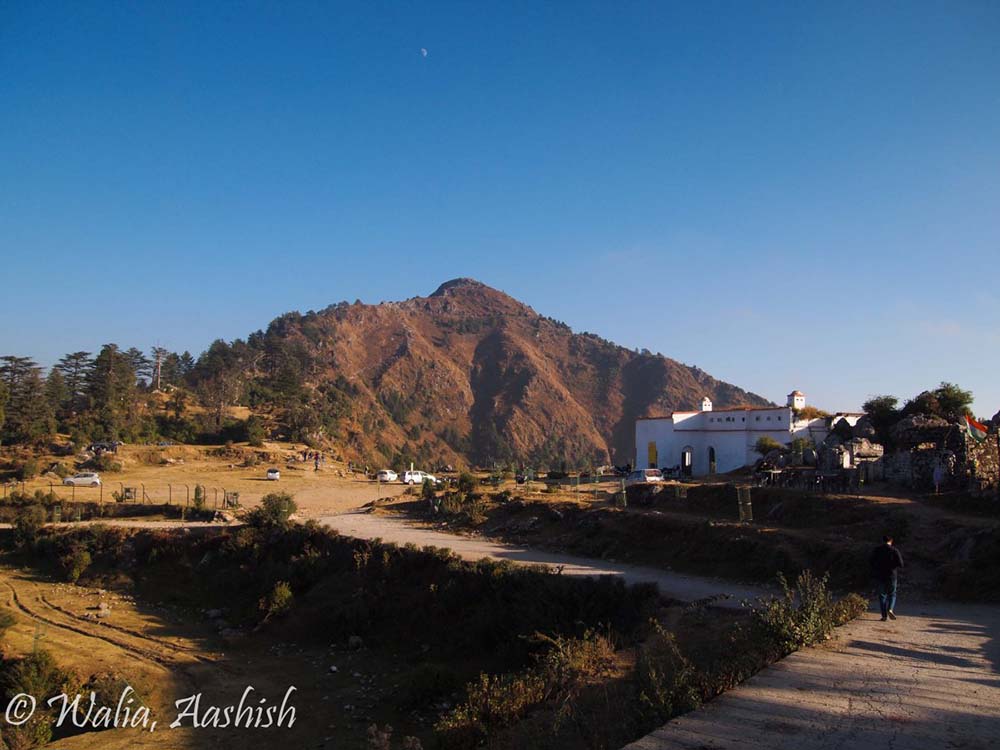 Mussoorie Market
We spent some time there and then decided to head down. The sunshine was fading fast and my wife was getting nervous due to the rowdy behavior of some boys. We moved down to Mussorie and had to endure the downward journey again on the pathetic dirt track.
We headed straight to the bazaar as I had to return the vehicle and pick up my deposit from the shop.
After completing the formalities, we decided to go to a coffee shop nearby which had a nice soothing ambiance. The furniture was all white and the scene from the sitting area was equally beautiful.
I had a delicious pita and hummus dish and my wife chose Chocolate Pancake with maple syrup. A strong coffee enhanced the flavor which we enjoyed thoroughly as the sun set over the valley.
I tried some random shots as well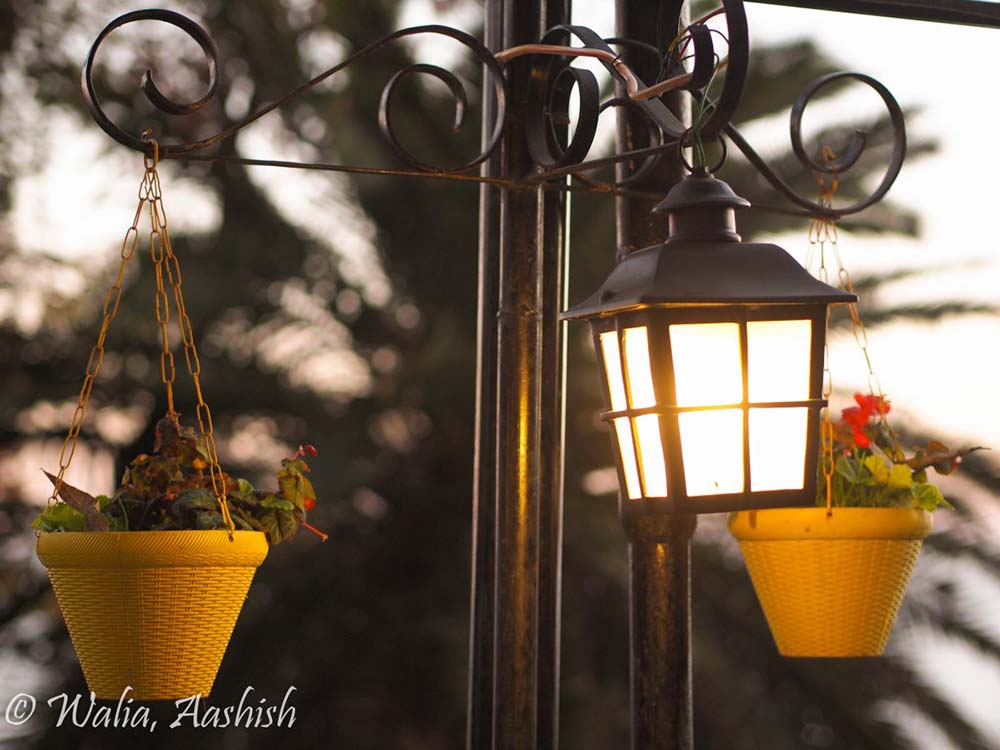 After spending some time in the coffee shop, we decided to just roam around the bazaar lazily. I went to the famous Cambridge book shop which is visited regularly by my favorite author Ruskin Bond. I was disappointed to know that he comes to the shop on Saturdays only. We had reached Mussorie on a Sunday. Nonetheless, I bought a book called "Landour Days".
Lansdowne
We started planning for the next day as we walked back to the guest house. As I checked Google, I realized we had covered almost all the places in 2 days and we still had the entire week left. I decided to move out a bit and visit some other place as well.
My wife suggested Lansdowne but I knew that will be a one day visit only. I suggested a road trip from Delhi to Kinnaur valley but I wasn't sure about the roads and the weather conditions there. My wife said firmly that if there are no hotels open, we will not go. Then I decided to post my query on the BCMT forum and Yogesh replied promptly.
There wasn't much snow and he suggested to drive safely and to avoid black ice on the road. I called up a few resorts there and they told me that everything is closed. I was a bit skeptical about their claims. Hence, I had to drop the idea and decided to give in to my wife's plan. We were supposed to visit Lansdowne tomorrow.
Day 3 – Mussoorie to Shimla
We woke up lazily as we had decided to roam around a bit and then move to Lansdowne. We moved out in the pleasant sunshine and then started a long walk to the main bazaar. Somewhere in the middle of the road, my wife asked me to check if Shimla is feasible today. I checked google map and found that if we start right now, we can reach there by evening.
I was happy inside as I saw a chance to visit Chitkul in Kinnaur valley. This may not be a road trip from Delhi to Kinnaur where I get to explore the valley but it was still better than nothing. I immediately said yes and we came running down to the guest house.
Change in Plan
We packed our stuff super fast and were ready to leave in half an hour. It was around 11:00 am and we were on our way to Shimla. My wife thought that we could visit nearby places like Kufri, Chail, etc. I didn't say a word and played along.
We crossed a bridge on the river Yamuna and the setting was perfect. We climbed down the valley with lots of turns and at one point our ears were buzzing due to the drop in altitude.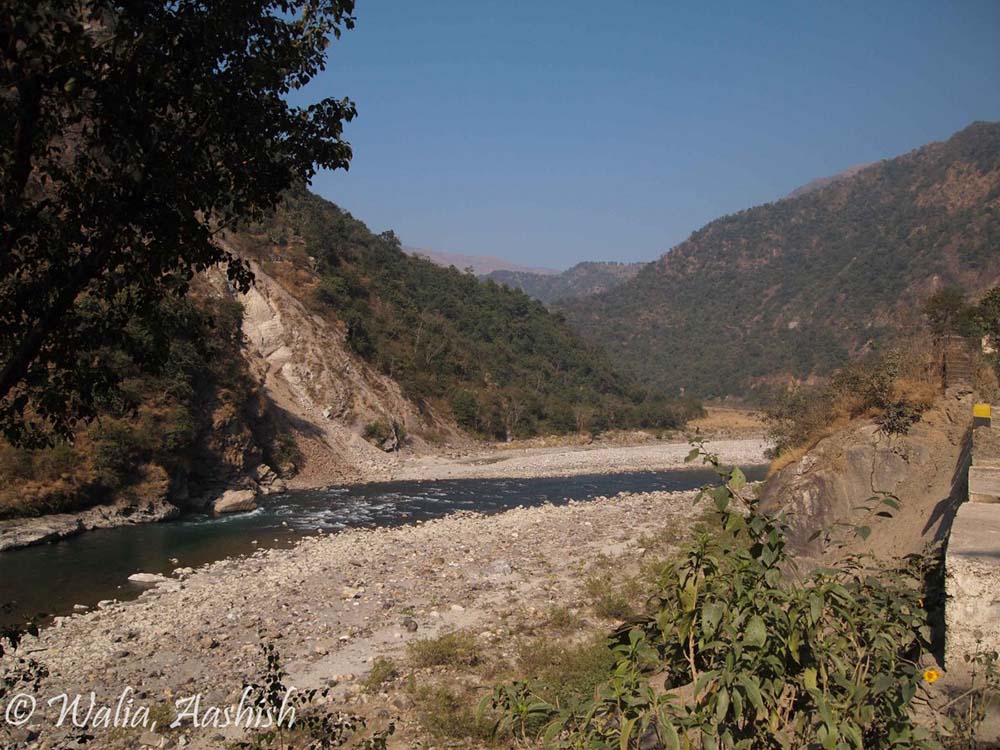 Now, the route I had figured out was from Tiuni but I think we missed some diversion, and google quickly rerouted us through the Paonta Sahib route. I didn't want to go down and then again climb up the mountains but Google maps have this irritating feature to redirect the journey to the most common route even when you have clearly entered the alternate route.
I realized this when the milestones showed the distance to Paonta Sahib but now I didn't want to turn back. Hence, I kept on driving and at around 3:00 pm we crossed Paonta Sahib towards Nahan. We had a quick lunch of Rajma rice at a small dhaba and reached Nahan in no time.
Now at Nahan, there is a diversion that moves towards Chandigarh and I immediately recognized the spot where I had some yummy pakoras around 2-3 years back. We crossed Nahan town and again there is a hairpin bend outside the town which goes to Renuka Ji. I knew it from one of my earlier trips and was happily showing it off to my wife but the surprise was waiting for us.
Shimla
As we moved towards Shimla, the road quality improved drastically to a point where I was driving at around 70 Kmph even on inclines. I must say that HP roads are way better than Uttrakhand roads. It was a pleasant surprise for me. We crossed many small villages and the route was scenic and smooth.
By this time, the light was fading quickly but since I am now quite accustomed to hill driving I was not in a hurry. There was almost nill traffic on the road and car headlights were sufficient to find the way.
We reached Kumarhatti at around 6:00 pm and from this point Shimla highway traffic started. I took the road via Barog on a whim and it turned out to be a good decision as Solan highway is rebuilt almost from scratch and hence lot of bad patches but via Barog it was smooth.
We reached Shimla by 8:00 and I decided to look for hotels by parking the car roadside just before entering Shimla. After checking deals on Goibibo and Makemytrip, I decided to go to the hotels directly. Also, I didn't want to go to the main Shimla as it is crowded and I was not sure of parking. Hence, I went to Circular road and randomly stopped at a hotel.
The rooms were clean and we decided to take one for Rs. 1600. We were hungry and quickly ordered dinner. After dinner I decided to drop the bomb by suggesting if we start early tomorrow, we can go to Chitkul and come back and if it is too late we can stay at Rampur Bushahr for the night. It took me some time to convince her but finally, she agreed as we were so close.
Day 4 – Shimla to Chitkul to Shimla
We left the hotel for a long journey to Kinnaur valley @ 4:30 am. I usually start early if the journey is more than 6 hours. It was still dark and we were the only ones on the road except for a few army trucks. The road was smooth and we covered the distance till Narkanda quickly.
I couldn't notice the beautiful valleys and vistas as it was still dark and the sunlight was still 2 hours away. I could sense the change in the valleys with every bend in the road. Soon, we had reached Narkanda and with that, the valley changed sides. It was almost sunrise and I could see the hues changing somewhere near the mountain peaks.
We were also feeling hungry and decided to stop at the small roadside dhaba for a quick breakfast. I wasn't sure if they would serve the breakfast so early in the morning but it seems the day starts much earlier in the mountains and we didn't find any problem in getting a hot cup of tea and paranthas.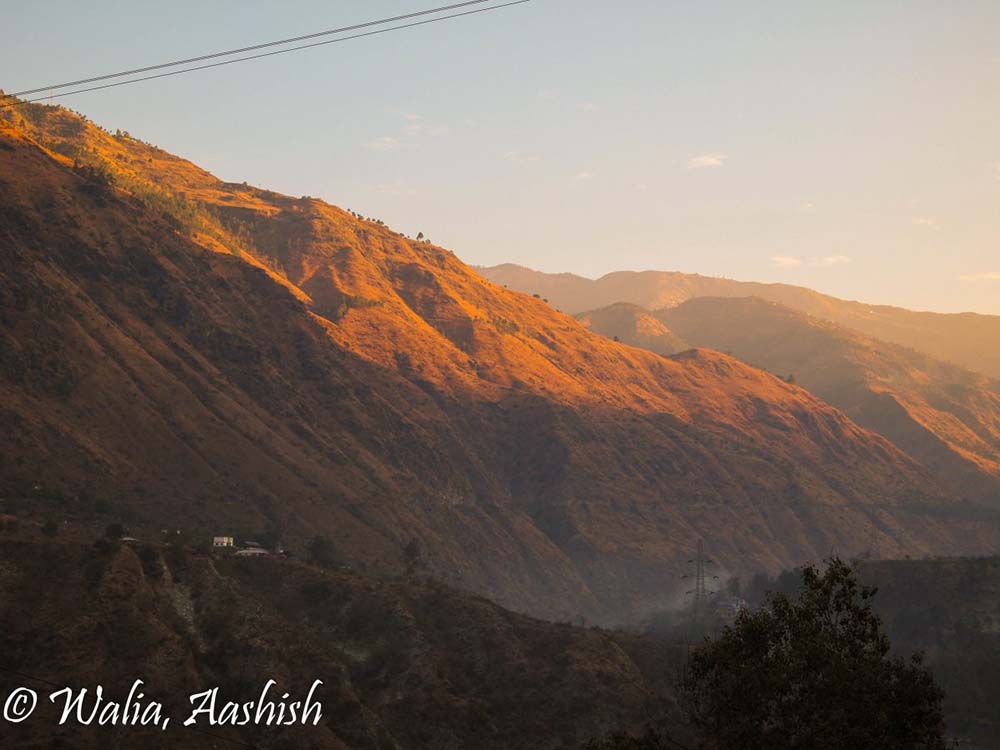 After breakfast, the valley was somewhat clearly visible. I decided to change gears and sped towards Rampur. River Satluj followed us down in the valley as we reached Rampur Bushahar around 8:30 am.
Rampur Bushahr
I had expected a sleepy little town but it was quite big and organized. I felt like I had reached Shimla-II. There were children all around the road waiting for their school bus. It was cold outside and they were cheerful as it can be. We crossed a long road through the town which had lots of shops.
I believe that was a sort of Mall road. As we crossed the town, the landscape had started to change and at one point the road we were on was at level with the river. The road had also got narrower and at times we had to make way for the coming vehicles. There was a gradual incline in the road as well.
I was very curious as to what lie ahead. I was imagining all the pictures which I had seen on the forums about the valley. Suddenly my wife pointed out the first sign of snow. I stopped to see it and saw the most amazing view of my life. Please help me with this if this monolith structure is a shrine. It was so clear and I assumed it was something important.
Kinnaur Gate
We were soon at the famous gate welcoming us to Kinnaur valley. I tried hard to get a bright picture but the sunlit rocks in the background played games with the camera sensor and most of the images ended up darkened.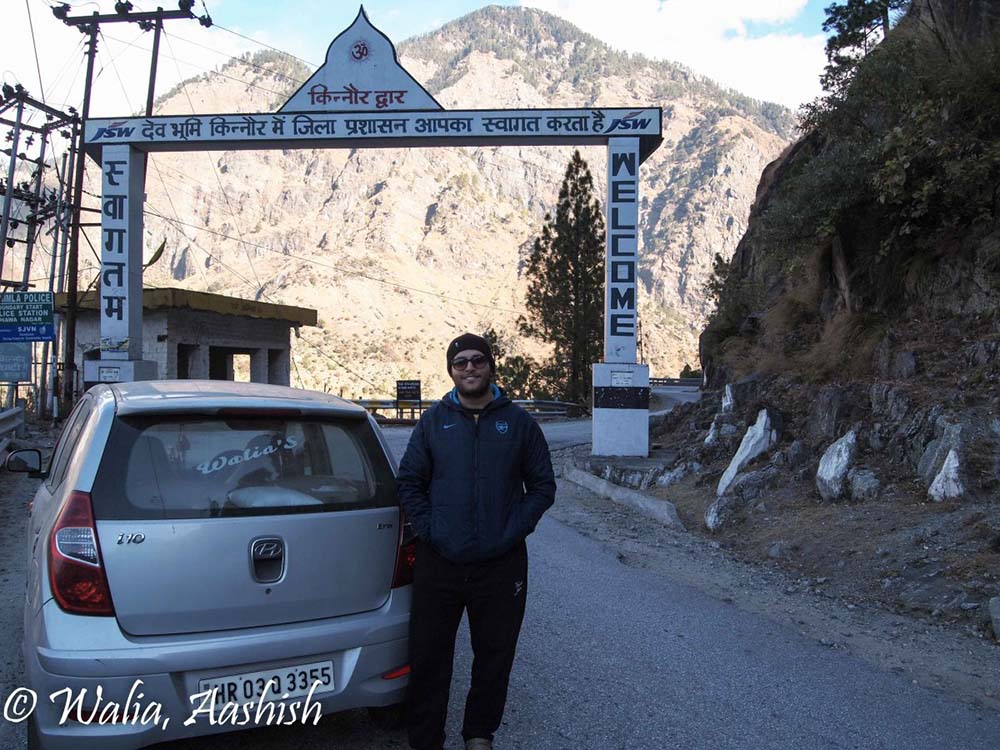 I was so excited to finally reach the valley and driving on the famed roads. As we crossed the rock-cut tunnel, I was jumping with joy and stopped there for a few clicks. It was really magical to drive on that road.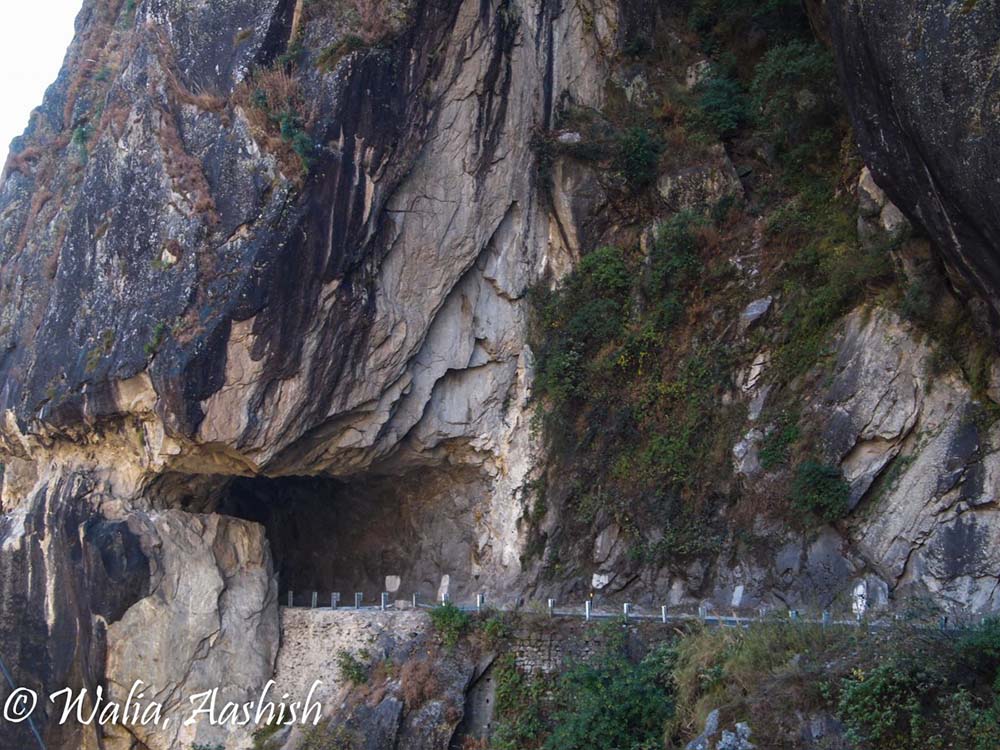 The valley on our side was so steep and deep. I couldn't look all the way down. As we reached Wangtu, the road became smooth and the Sutlej river was once again with us. We could see a lot of army installations as well. Finally, we were at Karcham dam from where we took the diversion to Chitkul.
Sangla Valley
As we turned on the green-colored iron bridge, a bus was also waiting for passengers and it too was headed for Chitkul. Suddenly, my wife had the idea to call one of her friends who has been to Chitkul before. She wanted to know the road status. Her friend told her that there was a fresh snowfall in Chitkul.
I was prepared for a little snow but was worried about the bad sections on the road. The valley was showing its true colors with golden hues of soil with some white patches of snow. It had snowed indeed in the valley. With every turn on the road, the scenic beauty increased manifold. I was teeming with joy.
Also Read: How to Plan a Trip to Sangla
We soon reached Sangla village. I was surprised to see a small town nestled so high in the valley. Till Sangla, I had not seen a single vehicle coming down. I was a bit relieved to see some guest houses which were still open.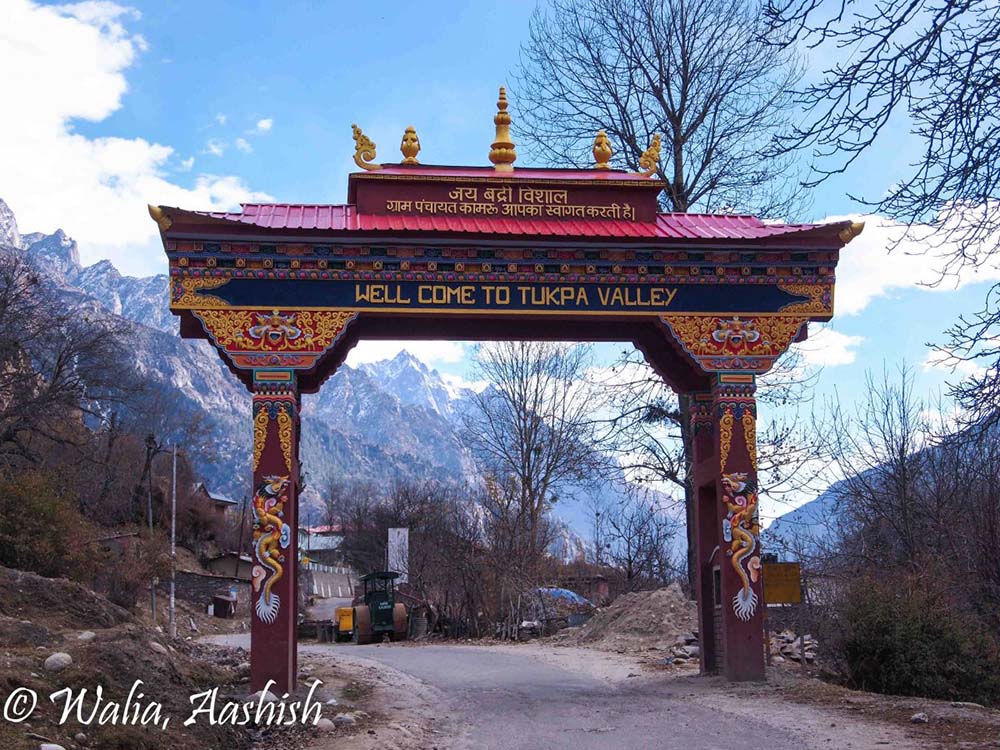 We crossed one bridge after another and finally, we were a single digit away from Chitkul. Snow has started to appear on the road as well. I was driving carefully as there was black ice as well. The fields and barns in the village were covered in a snowy blanket. It was so soothing for the eyes and I was not feeling any fatigue as well.
Chitkul
As we approached Chitkul village, we came across an ITBP check post where we had to register our vehicle. The jawan enquired from where I was coming. I replied that we had started from Shimla. He looked at his watch and said if we could come back in around half an hour, then we can make it back to Shimla as well on the same day.
We decided to stick to the plan and quickly crossed the check post. The way to Chitkul was bumpy but was thrilling. The valley had also opened up to reveal magnificent vistas. It was like a live painting. I was clicking happily. Finally, we reached the famous gate which welcomed us to the last Indian village i.e. Chitkul.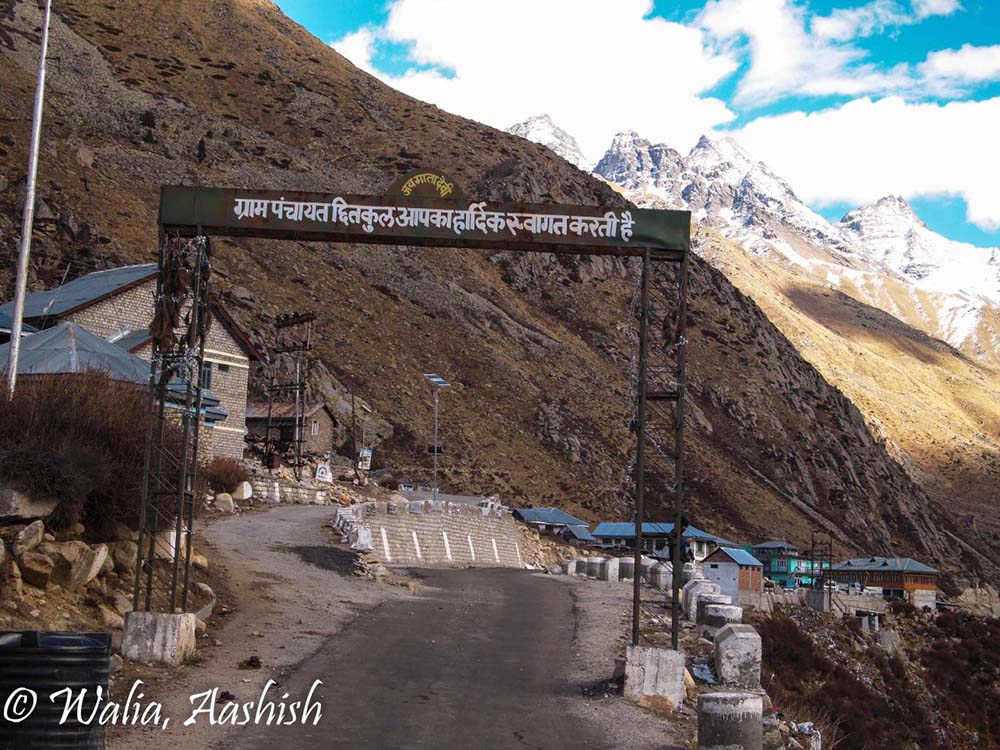 The village looked empty. There was a group of people chatting near a house. I asked them if any shop was open for food etc. Luckily, there was one more family who had just arrived and that guy was the driver. He pointed us to a shop which was open. We quickly went there and asked for tea and Maggie.
Also Read: Places to visit in Chitkul and Things to Do
Meanwhile, I decided to roam around and was surprised to see the frozen plants. The shopkeeper told us that since it snowed in the night, all the pipes are already frozen. They were dependent on the flowing water. I could see some ice on the sides of the water channel as well.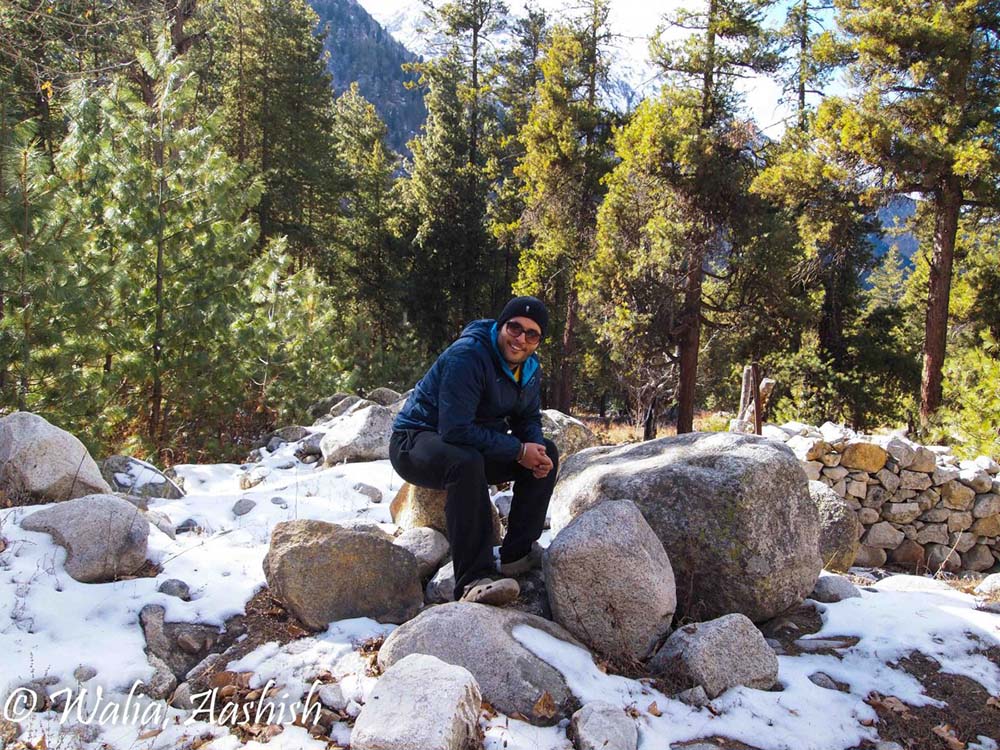 Exploring the Last Village on India Border
I curiously asked if we were close to China. He replied that Tibet lies beyond the mountains we could see in front of his guest house. However, we can not see the border as it is under the control of the Army and we need to have special permission for that but we could drive up to 3 km from Chitkul till the ITBP post.
We decided not to drive any further. I floated the idea of staying in Chitkul which was quickly shot down by my wife. She didn't want to stay there and just wanted to return asap.
After having a lunch of delicious Maggi and tea, we decided to go for a quick stroll. I could see the valley ahead of us but since we had to turn back, I clicked some pictures and we decided to return at around 1:30 pm.
Also Read: A Road Trip to Kinnaur Valley by Bus
Journey Back
We were greeted by the same jawan on our way down. I saluted him and drove happily down the valley. As we reached Sangla, my wife wanted to buy some of the famous Kinauri apples. I wasn't sure if we will be able to find any orchard filled with apples at this time of the year.
However, she decided to press her luck and entered into one such orchard. The owner's house was built at the end of the orchard. She inquired about the apples and the lady obliged. She was happy to chat with her and gave her around 2 kg of apples from her personal stock. Surprisingly, she even refused to take any money and wished us luck for the journey.
I couldn't wait to eat one of the apples. The yellow color of the apples was tempting enough to bite it right away. It tasted very sweet and juicy. I had never eaten any Kinauri apple before and this was the best specimen. What more could I want to end my journey.
The rest of the journey was uneventful except when we stopped at one point to look back at the gate which welcomed us to Kinnaur valley.
We reached Rampur around 5 pm. It was already dark but I decided to move ahead as a lot of vehicles were going towards Narkanda and I decided to follow the lights.
Shimla
One thing which I find quite irritating is the habit of tailing someone in hills and then trying to overtake at an insane speed. I encountered such idiots all along the way to Shimla. We reached Shimla around 9 pm and settled in the same hotel we had stayed at earlier.
The hotel manager was surprised to see us again as we had checked out in the morning only. When I told him that we had been to Kinnaur valley, he couldn't believe it. I was a bit proud of myself and of course my wife as well who joined my insane plan.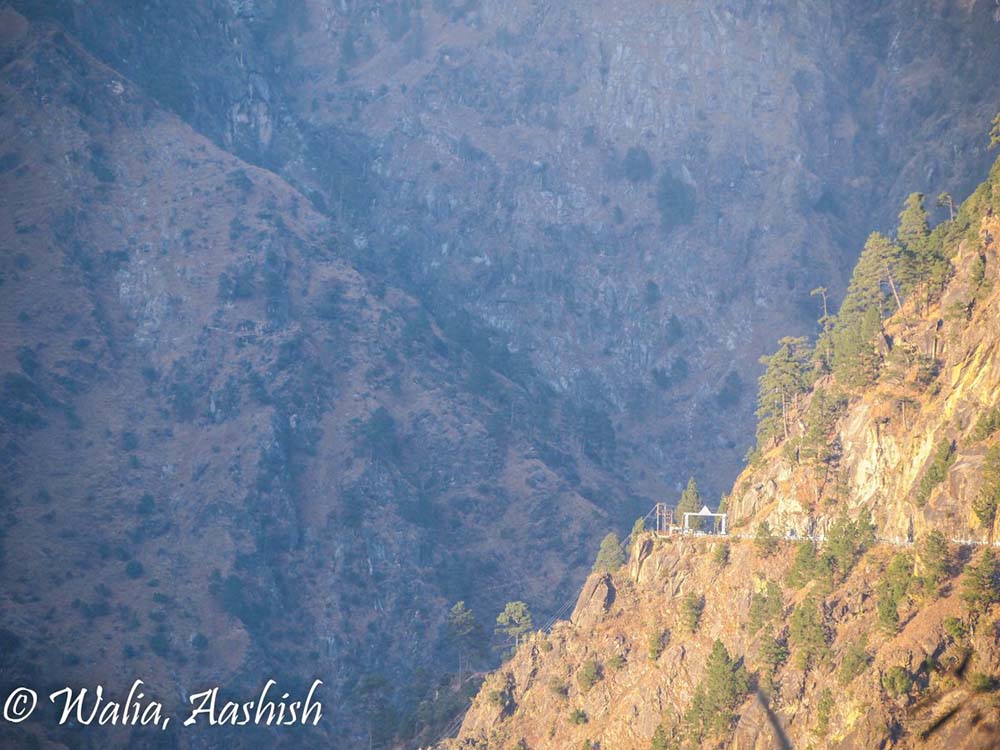 Day 5 – Shimla to Delhi
We checked out a bit late the next day and headed to Panchkula to spend a couple of days at my in-laws to rest and think about all the sweet memories of our trip.
Road Trip from Delhi to Kinnaur – Conclusion
That concludes my road trip from Delhi to Kinnaur and Mussoorie. I hope the travelogue and the pictures were of help. If you have any questions or need any other details, please feel free to ask in the comments section below, or at our Community Forum, and I will be glad to answer.