In the previous post, I talked about how a person can plan a trip to Mussoorie and when would be the best time to do so. Continuing in the same series, in this article, I will provide a list of tourist places in Mussoorie that you can visit; and some fun activities that you can be a part of. Mussoorie and its nearby area of Dehradun, Rishikesh, and Dhanaulti is one of the most visited tourist belt of Uttarakhand. So yes, there are plenty of places that you can visit here and the only that can limit you is the time you have in hand. You can spend days in Mussoorie, weeks even, trying to explore the area and you will still not be done with it.
Also Read: How to Plan a Trip to Mussoorie – A Complete Travel Guide
Mussoorie's pleasant weather, fresh and life-giving breezes, scented mists and gorgeous panoramic views act as a magnet for tourists weary of the heat and dust of the Indian plains. A surprising number of foreign tourists also flock to Mussoorie every year, especially during Christmas, when the town is at the apex of its natural beauty. The pristine, snow blanketed town to match the majestic Himalayan peaks, and this vista against a bright blue sky is one that will stay with you forever.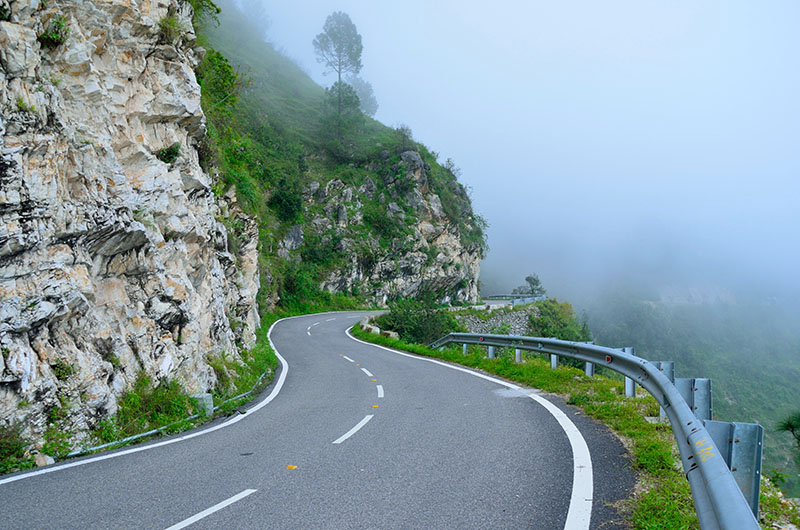 Tourist Places in Mussoorie
I will begin this article by first listing down all tourist attractions in Mussoorie including places to visit and things to do. Later in the article, I will provide a brief summary of all these places including where these are located and how you can plan a visit there.
The Mall
Gun Hill
Benog Wildlife Sanctuary
Dhanaulti
Company Garden
Jwala Devi Temple
Camel's Back Road
Bhatta Falls
George Everest's House
Soham Heritage Centre
Happy Valley
Mossy Falls
Jabarkhet Wildlife Reserve
Shedup Choepelling Temple
Library Bazaar
Mussoorie Lake
K Dev Bhoomi Wax Museum
Lal Tibba
Kempty Falls
Cloud's End
Bhadraj Temple
Lambi Dehar Mines
Mullingar Mansion
Pari Tibba
Savoy Hotel
Things to do in Mussoorie
Hathipaon Trek
Ropeway to Gun Hill
Paragliding
Ziplining
Skywalking
White water rafting
Hiking
Mountain climbing
Roller skating
Winemaking
What to see in and around Mussoorie
Eager to begin exploring? Here are the sublime locations in and around this iconic town. Places that I am detailing below are the same ones as listed above with little more information.
The Mall
Stretching from one end of the town to the other, this is the classic high street of an English village. It houses hotels, restaurants, libraries, shops, a bustling street market, fast food stalls, an ice skating rink, antique vendors, tour operators, and innumerable other oddities. Take your time making your way through here. If you are lucky, you may just meet Mr. Ruskin Bond himself browsing in one of the bookstores!
Also Read: Tourist Places in Lansdowne – Lansdowne Sightseeing
Gun Hill
Rumored to be an extinct volcano, Gun Hill is the second highest point here, after Lal Tibba. Waltz up to Gun Hill for an unhindered, panoramic view of unparalleled Himalayan beauty, stretching to the horizon! Down below, you can view Mussoorie town nestled above the expansive Doon valley. Up here, the scent of the crisp scented breeze is a relief after all the polluted air of the cities.
Benog Wildlife Sanctuary
This is one of the only remaining places in the Garhwal Himalayas where you can encounter critically endangered species like mountain quail, red-billed blue magpies, mountain deer, and leopards, apart from countless other rare birds. It is a must visit for a wildlife lover. A trek through the pines and you will understand immediately that the forest fairly overflows with life! Benog is located about 11 kilometers away from the town.
Dhanaulti
Dhanaulti is a sleepy hamlet that has so far escaped commercialization. This offbeat location, nearly 62 kilometers away from Mussoorie is largely left alone by tourists, even during the rush season. You can peacefully gaze at the mind-blowingly beautiful peaks and valleys from here, all in your own sweet time. Kids can enjoy the rides in Eco Twin Park, which has huge open spaces for them to run about.
Company Garden
Stroll through this garden to many of the rare, gorgeous Himalayan flowers and plants growing in one place! Sit down in the shade of the lush, vibrant greenery and breathe in the uncluttered air. This is one of the best places to take pictures. The tinkling sound of waterfalls is accompanied by the happy cries of children as they play.
Also Read: Tourist Attractions in Chopta that You Can't Miss
Jwala Devi Temple
This temple is dedicated to the fierce mountain goddess Jwala Devi. Bold, courageous and fiery, the goddess is worshipped faithfully by the locals, who believe she can show the way out of any trouble. It is also believed that she grants boons and wishes, provided you catch her in the right mood! Located on the Benog Hills, this temple commands beautiful views of the pure white Yamuna and the vibrant Doon Valley in the distance.
Camel's Back Road
One of the most iconic roads in Uttarakhand, Camel's Back Road lies slap bang in the middle of the town. It stretches for 3 kilometers from Kulri Bazaar to Library Point. It is so named because the rocks which line this road resemble a camel's back. Apart from being a hotspot for food and shopping, this road also offers excellent, unforgettable views of the sunrise and sunset every day.
Bhatta Falls
Named for the nearby Bhatta Village, this waterfall is an extremely photogenic location. Pristine, frothy waters flow gently down the hill and form a clear pool below. The surrounding parts are verdant forests and calm, gentle breezes. Is it any wonder that tourists flock here for picnics and relaxation? You can also take short walks into the woods and come back to chomp on lip-smacking snacks in the little eateries nearby. It is truly a charming place.
George Everest's House
One of the oldest colonial buildings in Mussoorie this house is located on a hill. Although a handsome building in its heyday, today it lies in ruins. The house is empty of any belongings, but the walls and roof remain along with windows, doors and a fireplace. The property simply aches with nostalgia. It attracts a curious mix of nature enthusiast, explorers, adventure seekers, and history buffs. Apart from the old world charm, you can view the thunderous Aglar River on one side and mighty peaks on the other.
Soham Heritage Centre
You can explore and learn about the rich culture of the tribes and peoples who live on the Himalayan Mountains in one place here. Paintings, frescoes, artifacts, murals, art pieces, jewelry, utensils, musical instruments, agricultural implements and craftsmen's tools, and antiques are some of the treasures you can find here. This private enterprise hopes to collect and disseminate information on the rich and diverse history, culture and lifestyle of the tribals before it vanishes entirely. Don't forget to pick up a souvenir item from the gift shop! The Centre also organizes heritage walks to try to fit that into your itinerary.
Also Read: Easy Treks in Uttarakhand : The Top 5
Happy Valley
Happy Valley or "Mini-Tibet" as it is fondly called packs in quite a number of attractions together – unmatched views of an enchanting, flower-filled valley, 360-degree views of magnificent peaks, majestic Tibetan Monasteries, the prestigious IAS Academy, mouth-watering dishes of Tibetan eateries, and souvenir stalls galore. Tourists throng to soak in the lively, vibrant and vivacious atmosphere of this incredible place. Happy Valley also houses the Tibetan Temple, Liberty Point, and Municipal Garden, and stretches from Library Point to Cloud's End. Visit with plenty of time, or you'll be left with regrets!
Mossy Falls
Mossy Falls is a well-kept secret, which is surprising considering how beautiful it is. Named for the mossy rocks which line the falls, it is located about 7 kilometers from town. Hidden away in a hillside cleft and veiled by thick forests means you need to trek a distance before you reach this place. Once there, you can relax and picnic amidst birdsong and the sound of the breeze playfully rustling leaves. You can also trek further into the wilderness from the falls. This is also a perfect location for photography enthusiasts to work uninterrupted.
Jabarkhet Wildlife Reserve
A literal 100-acre wood (Winnie The Pooh, anyone?) Jabarkhet is India's first privately owned wildlife sanctuary, located about 15 kilometers from Mussoorie. It was established to prove that sustainable development can go hand in hand with conservation efforts. Till date, the rich biodiversity of the place has been protected successfully. Conservationists work with locals to harvest forest resources sustainably. Take an ecotourism cum wildlife tour through Jabarkhet to spot the endangered Himalayan Black Bear, Mountain Quail, Panthers, Leopards, Langurs, Martens, Porcupines, and so many other animals, all going about daily life.
Shedup Choepelling Temple
This is the first Tibetan temple built in India and blessed by His Holiness, the Dalai Lama. He stayed here after he escaped from Chinese oppression in Tibet, and later a temple was built to consecrate the location. Today, it houses a gigantic statue of the Buddha, meditation chambers, prayer wheels, countless sculptures, colorful and exquisitely detailed murals from Buddhist myths and legends, tiny glowing clay lamps and of course the ubiquitous prayer flags fluttering in the breeze. It is also an important heritage center and houses innumerable books and manuscripts of Tibetan literature and Buddhism. Perched above the highest hill in Happy Valley, this temple adds the final charming touch.
Library Bazaar
Also known as Gandhi Chowk, Library Bazaar can transport you back to colonial times in a pinch! Its vintage presence is enhanced by the tiny stalls, shops and street vendors who sell practically every knick-knack under the sun! A stroll through this vibrant market will fill you with energy to explore. Look through the wares on display and you may find:
Wall hangings
Brass Statues
Handcrafted woollens
Vases
Mementoes
Carved wooden boxes
Precious stones
Costume jewellery
Pashmina items and much, much more
To take a break, you can gorge on the mouth-watering street food while tapping along to old fashioned music at the colonial Bandstand.
Mussoorie Lake
This lake was artificially created by the government by redirecting the flow of a waterfall. It is located in the lap of nature in the Doon Valley. You can take a paddle boat ride across the crystal clear waters of the lake while enjoying the surreal scenic beauty of the valley.
Also Read: 11 Tips On Making New Friends While Traveling
K Dev Bhoomi Wax Museum
Are you a fan of Madame Tussauds? Or are you simply curious about wax statues? Head to the Wax Museum to view statues of iconic national and international personalities – Jawaharlal Nehru rubs shoulders with Angelina Jolie, while Swami Vivekananda occupies pride of place next to Michael Jackson. There are 26 statues at present, and it is rumored that one of Prime Minister Narendra Modi will be on display next!
Lal Tibba
This is the highest spot in Mussoorie, located about 6 kilometers from town on Depot Hill. Prepare to be thunderstruck by the lavish beauty on display here. There are high powered Japanese telescopes installed here through which some of the most sky high Himalayan Peaks can be observed at close range – Kedarnath, Nilkanth and Banderpunch. In fact, on a clear day, you can also view the Tibet border from here. While it was built as a recovery spot for British Army men, today the spot is maintained by the Indian Army.
Kempty Falls
For many tourists, Kempty Falls is the first taste of Mussoorie's beauty as they drive up from Dehradun. An amalgamation of the words "camp" and "tea" resulted in "Kempty". In the colonial era, visitors would take a break here, amidst captivating scenic beauty. Today, this perennial waterfall is a tourist hotspot. The waters gushing down from a height of 40 feet form a miniature lake at the bottom. You can take the stairs into the depths to frolic, swim and bathe.
Cloud's End
It is the official outer boundary of Mussoorie and extends quite a distance into the Benog Sanctuary. This semi-wild forest is perfect for a quiet walk while viewing the Aglar River Valley.
Bhadraj Temple
This is one of the most ancient temples of Hinduism, which are scattered throughout Uttarakhand. It is dedicated to Lord Balaram, the elder brother of Lord Krishna. Come here to pray and also view the Jaunsar Bawar region and Chakrata mountain range. You can also trek into the wilderness for short distances.
What to see in Mussoorie – Mythology and legends
Mussoorie is a paradise of a place – elegant, charming and beautiful. However, in less than 200 years, this town has amassed quite a few myths and legends, mostly of a sinister and spooky nature. The hillsides, meadows, and valleys that are picturesque during the day can just as easily scare the pants off you at night. Once darkness falls, there are a few places around town you should stay away from. That is of course unless you are confident you can handle a paranormal encounter, and live to tell the tale!
Also Read: 7 Short & Easy Winter Treks in Uttarakhand
Mullingar Mansion
The oldest standing mansion in Mussoorie, this building was built in 1825 a captain of the British Indian Army. Although he eventually returned to his home country, it is said in his heart he continued to call Mussoorie home.
Pari Tibba
Pari Tibba is more mysterious than scary. "Hill of the fairies" as it's locally known is located amidst dense forests on a hill just south of town.
Also Read: 12 Scenic and Offbeat Places in Uttarakhand
Savoy Hotel
One of the must-visit places in Mussoorie due to its glorious history and heritage. Hotel Savoy is, in fact, a landmark in itself, a witness to the history of Mussoorie and one of the last still-standing buildings from a golden era long gone. If within budget, a stay at Savoy Hotel is highly recommended. See its beauty, the architecture, and the fact that it provides all modern amenities while beautifully preserving its heritage.
Even if it did not fit your budget, a day trip to Savoy should still be on your list. Visit the hotel, admire its beauty, take some pictures, and have a cup of tea.
What to do in Mussoorie
Here are some fun things to do in Mussoorie which can make your trip a truly memorable experience:
Hathipaon trek: Walk amidst nature, camp aside the Aglar River and fish!
Ropeway to Gun Hill: View the landscape through a lens of magic on this 400-metre trip
Paragliding: Take a running leap off a cliff and soar above the valleys like a free bird!
Ziplining: Zipline from one peak to another while suspended thousands of feet in mid-air!
Skywalking: Walk on the air for 360 feet, stepping nimbly on a single rope, all in mid-air!
White water rafting: The deep forests, snowy slopes, steep hillsides and rocky terrain all conspire to challenge your rafting prowess. The rapids on the Kali, Alaknanda and Dhauliganga rivers are some of the harshest in India. You can also pick the stretch from Damta to Yamuna bridge or Barkot to Lakhamandal.
Hiking
Trek to areas of unspoiled natural wonders and camp the nights. Here are the most popular treks:
Valley view – Cloud's End
Library Head – Happy Valley
Waverly Convent – Company Bagh
Bhadraj Temple trek
Yamunotri-Saptarshi Kund trek
Har-ki-Dun trek
Nag Tibba trek
Dodital trek
Mountain climbing: Hands down the activity with the most history. Free climb gigantic rocks to discover hidden caves and alpine meadows. This activity requires an immense passion for the great outdoors, courage, the presence of mind, mental toughness and of course physical fitness. Think you can do it?
Roller skating: Twirl over the smooth ice like a gorgeous snow ballerina! Try your skill at Kulri Bazaar rink, Jaypee Resort and Disco Skating rink
Winemaking: Lesser known, but no less fun, attend a workshop to make wine from plums, ginger, pears, apples and grapes. Conclude with a heavenly wine tasting session!
Also Read: Snowfall Near Delhi : Top Places to Visit
Must Visit places in Mussoorie
As you can see from the list above, the list of tourist destinations in Mussoorie is quite a long one. How many you are able to cover entirely depends on the time you have in hand. And I doubt that not many would be able to cover all these places; unless they were planning to spend a few days here. If you were planning a weekend trip to Mussoorie; and wondering what to see in Mussoorie in 2 days; then places like Mall Road, Kempty Falls, Gun Hill and Mussoorie lake will be on top of the list. If you had another day in hand then you can also take a drive towards the highly scenic areas of Dhanaulti and Kanatal.
Conclusion
And that will cover most of the information you need to know in terms of tourist places in Mussoorie. The list, if not complete, is quite a comprehensive one; and will keep you occupied throughout the duraiton of your trip.  If you have any questions; or need any other details; please feel free to ask in the comments section below; or at our Community Forum; and I will be glad to answer.