Panamik hot water spring is a major tourist attraction of Nubra Valley in Ladakh. Located in the village of Panamik and named after it, it is a source of hot boiling water coming out of the ground and flowing down through the village.
Locals have built small bathrooms around the spring where you can take a dip in the refreshing water. The water of this spring is said to be curative, due to the presence of sulfur and other chemicals in it.
The entire setting of this hot water spring and even the village itself is very scenic. It is located next to the Siachen River, in an open valley, at a distance of about 140 kilometers from Leh City.
I recently visited the Panamik Hot Water Spring during my 2-month long road trip to Ladakh. The post below is a brief narration of our visit and also provides several necessary details about Panamik. To read the previous parts of the travelogue, please follow the links above.
Journey So Far:
Where is Panamik Hot Water Spring exactly? How can you get there? Is public transport available? How about accommodation choices, mobile networks, and data connectivity? Read on to get answers to all these questions. You can also take a look at this video that I shot during our visit.
About Panamik Hot Water Spring
You will be surprised to read this but until a few years ago, there were only 2 names that were known as a tourist attraction in Nubra Valley. The first one was Panamik Hot Water Spring and the other one was Hunder Sand Dunes.
I am not kidding. This was before the massive increase in tourism in Ladakh. Back then, when only a handful of bikers used to visit Ladakh, it was just the dunes and the spring in Nubra Valley that people came to visit.
The first time I went to Ladakh and Nubra Valley, these were the two places that I had in my mind. These two were the only places that I was told by the locals and read on the web were worth visiting.
During that visit, we spent one night in Hunder, saw the dunes, and saw the Bactrian camels. The second night was spent in Panamik visiting the hot-water spring and taking a dip in it.
Much has changed in Ladakh now. Almost every place in Nubra Valley has now been added to the list of local attractions. But the hot water spring of Panamik still has its age-old charm. Sitting in its waters is still a relaxing experience that one must observe.
Where is Panamik Hot Water Spring
The hot-water spring is located in the village of Panamik, at a distance of about 20 kilometers from Sumur and 55 kilometers from Diskit. From Leh, the total distance is about 145 kilometers.
Nubra Valley is divided into two parts. One road, on the left of Shyok River, runs through the villages of Diskit, Hunder, and Turtuk, and ends near the LOC in Thang Village.
The second road runs on the other side of the Shyok and Siachen Rivers, through Sumur, Panamik, Sasoma, and Warshi, and ends at Siachen Base Camp. The hot-water spring is located on this side of the valley, just outside the village of Panamik.
How to reach Panamik Hot Water Spring
In order to reach the spring, you will first have to get to Nubra Valley. The easiest way to do so is via Khardung La Pass. Depending on how you were traveling, you can either get here by your own vehicle, or you can also rent a taxi in Leh.
Public transport to Nubra Valley is also available in the form of a daily bus and shared taxis. For more details on this topic, you can take a look at How to reach Nubra Valley from Leh.
Once you are in Nubra Valley, in order to get to the hot water spring, you will first have to reach Sumur. From there, stay on the same road and continue driving toward Panamik Village.
About 20 kilometers later, just at the beginning of the Panamik village, you will notice a dirt road going uphill to your right. See the picture below.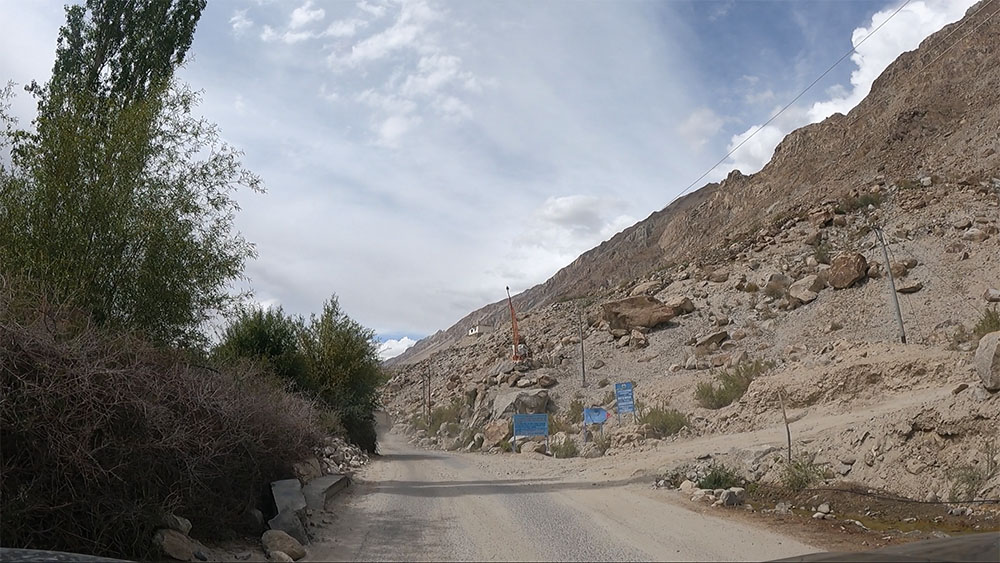 There are a few boards put up by the locals, that can help you find this spot. If you were unable to locate it, just ask any of the locals and they will point you in the right direction.
The road is badly broken and is a steep climb but only for about 200 meters. After that, you will reach this open area with a few buildings.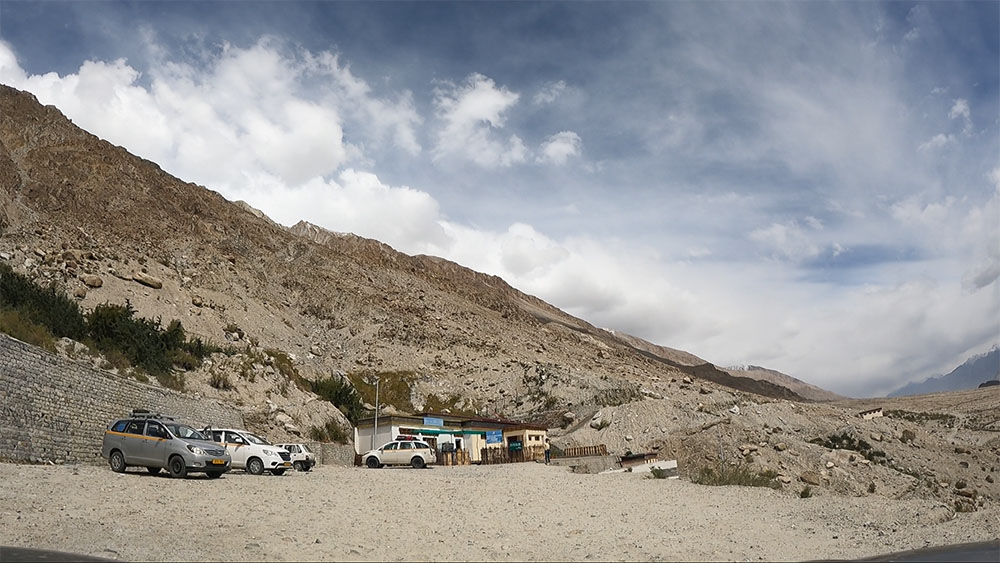 This is the Panamik Hot Water Spring. The buildings that you see in the picture are a small restaurant called Ladakhi Kitchen and a large bathroom hall built by the locals.
Public Transport
There is public transport available in Nubra Valley but its frequency is way too less to depend on it. There is mostly just one daily bus between Diskit and Panamik that you will have to rely on.
Shared cabs are also available but even their frequency is not that great. If you were coming from Leh, you will either have to look for a shared cab or board the daily Leh to Diskit Bus. Another option is to rent a bike in Leh and use that for local sightseeing.
Mobile Network
Airtel and Jio both have good connectivity with 4G data in Panamik. BSNL will remain connected as well but their service is not that great. No other network works in this region. For more details, please take a look at Mobile Network in Ladakh & Data Connectivity.
What to See
Panamik Hot Water Spring in itself is a tourist attraction of Nubra Valley. Taking a dip in its water really relaxes your body and all your tiredness just melts away. It is really an experience worth having.
Other than the spring, you can visit the Yarab Tso Lake which is located between Sumur and Panamik. It will fall on the way, about 6 kilometers before you reach the Panamik Hot Water Spring.
Ensa Gompa and Murgi Waterfall are two other places that are in close proximity to Panamik village. If you continue on the main road, you will eventually reach Siachen Base Camp where this road ends.
On the other side of the valley are the village of Diskit and Hunder which are also worth visiting. For a complete list, please take a look at Places to Visit in Nubra Valley & Things to Do.
Accommodation
Homestays, in my opinion, are the best place to stay in Panamik. There are a lot of them here. In fact, it will be hard to find a hotel or a guest house in Panamik. There aren't many and you will have to look for a homestay instead.
If you do want to stay at a hotel, then you will either have to look for accommodation in Sumur, 20 kilometers away, or you will have to travel to Diskit or Hunder.
Day 32 – Panamik Hot Water Spring
Now let me briefly talk about our visit to Panamik Hot Spring. It was the 32nd day of our trip and our 5th day in Nubra Valley.
On previous days, we went to Turtuk Village, Thang Village, and Siachen Base Camp and explored the Diskit and Hunder Side of Nubra Valley. Now on the 5th and our last day in the valley, we decided to explore some lesser-known and offbeat destinations.
I had four names in mind – Yarab Tso Lake, Panamik Hot Water Spring, Ensa Gompa, and Murgi Waterfall. The first destination we visited was the Yarab Lake that I talked about in the previous part of this travelogue.
After our visit to the lake, we then continued our journey and drove to the Panamik Village. It is located at a short distance of only 6 kilometers from Yarab and we reached there in less than 15 minutes.
I had been to this hot spring before during my previous visits and this was the second time I was going to take a dip in its waters. The memories from my previous visit were still fresh in my mind and I was looking forward to experiencing it once again.
The Steep Drive
The hot-water spring is located on the outer side of Panamik Village. We turned on the dirt road leading to it and reached the parking spot.
The Village of Panamik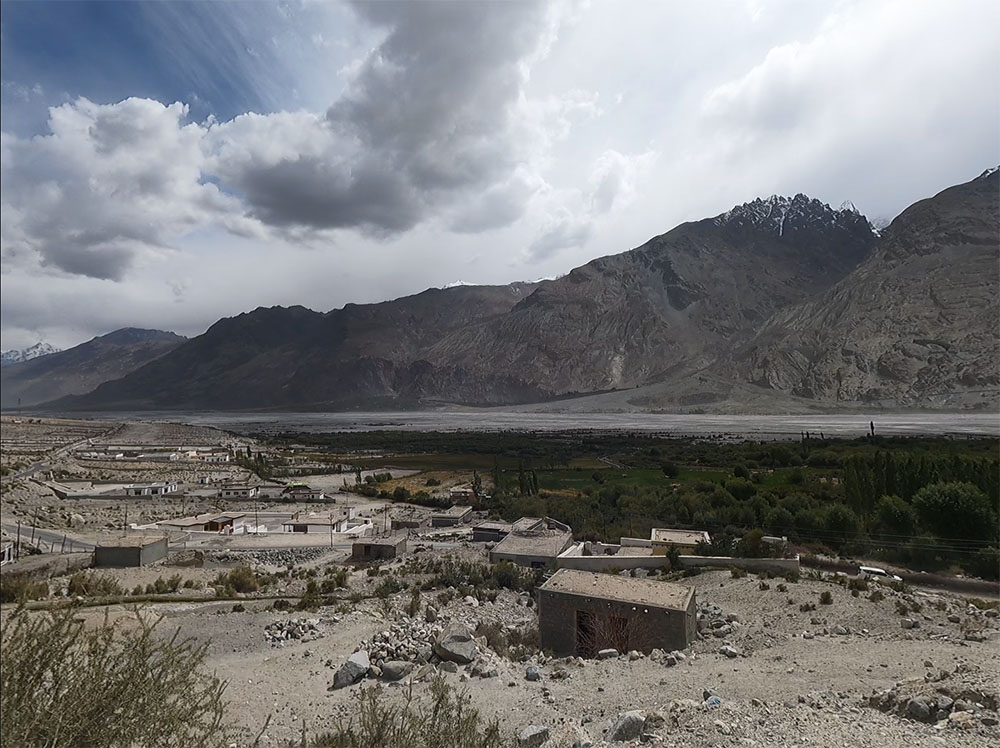 The first time I came here, there was really nothing except for two small bathrooms that the locals used to use. But now, there were new and large constructions around it which was a pleasant surprise.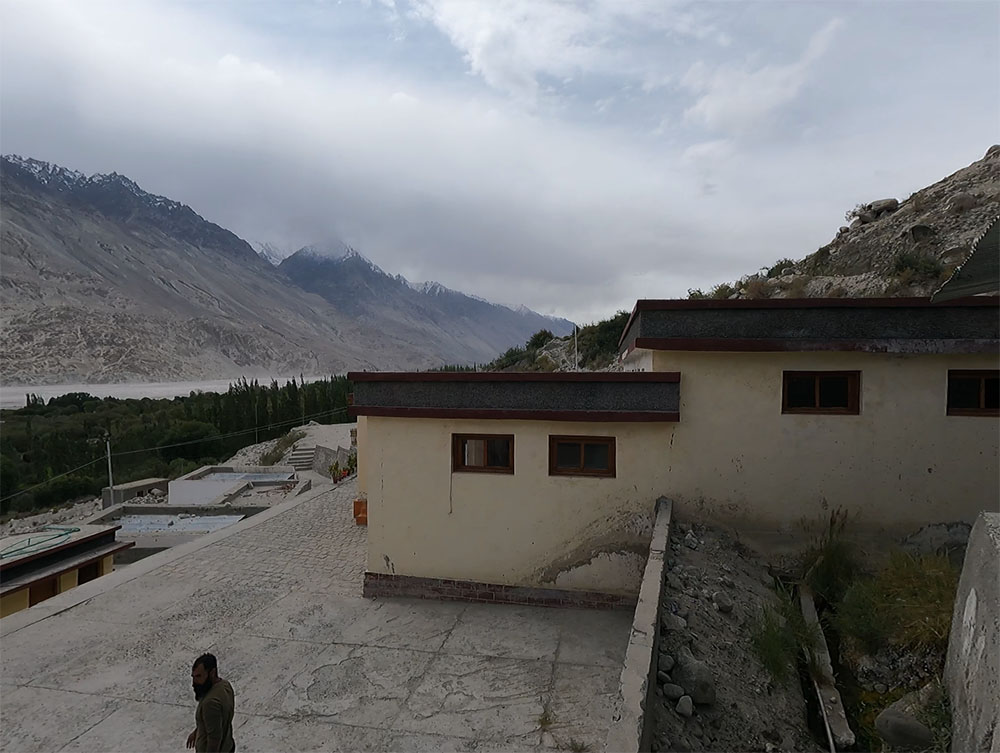 The old bathrooms were still there but now there was a large bathing hall as well. It is divided into two sections – one for men and the other one for women.
I cannot tell you how it is inside the women's section of course but in the men's section, there is a small swimming pool (or pond) in a large hall. Yes, it is a common bathing area, with no private cubicles or bathrooms.
You just step into the water and sit down. At first, the water will feel a little too hot for a bath but you got to give it some time. Just put your feet in first, let your body get used to the temperature, and then slowly go in.
You won't still be able to sit in it for too long though, due to the temperature. You will have to just go in, get out, go in, get out, and keep repeating the same process.
There were other people in there so I of course could not take the camera inside. That is why there are no pictures of the bathing area.
The hot water flowing down to the bathrooms.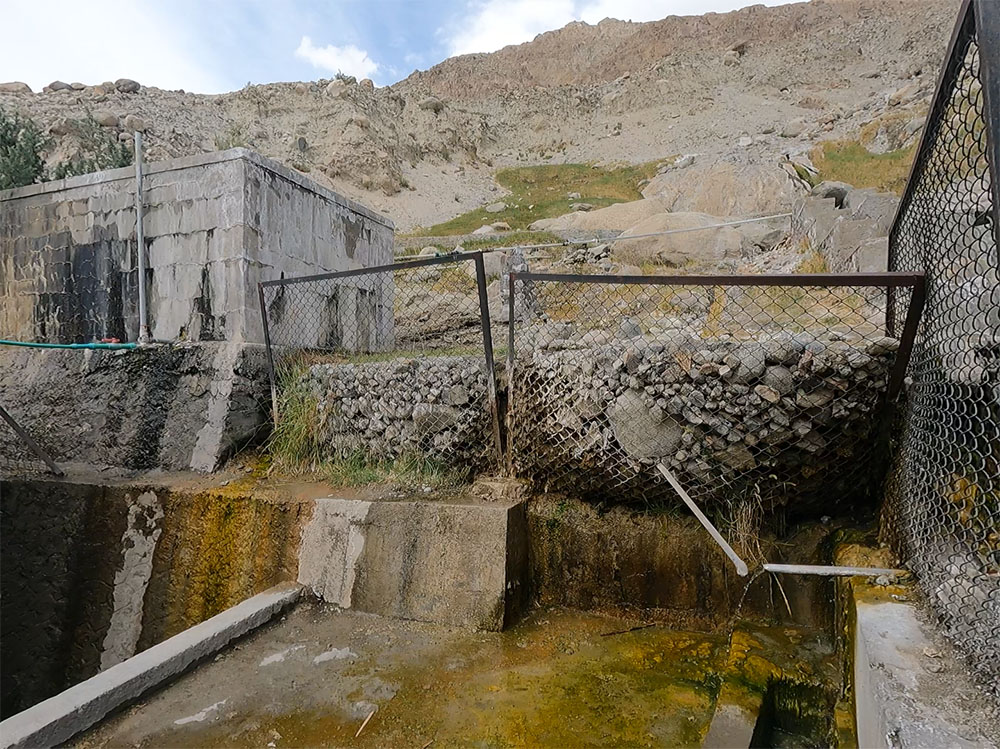 Ladakhi Kitchen
After the bath, we stepped into the small restaurant located near the bathroom. It is known as Ladakhi Kitchen and is run by some local ladies.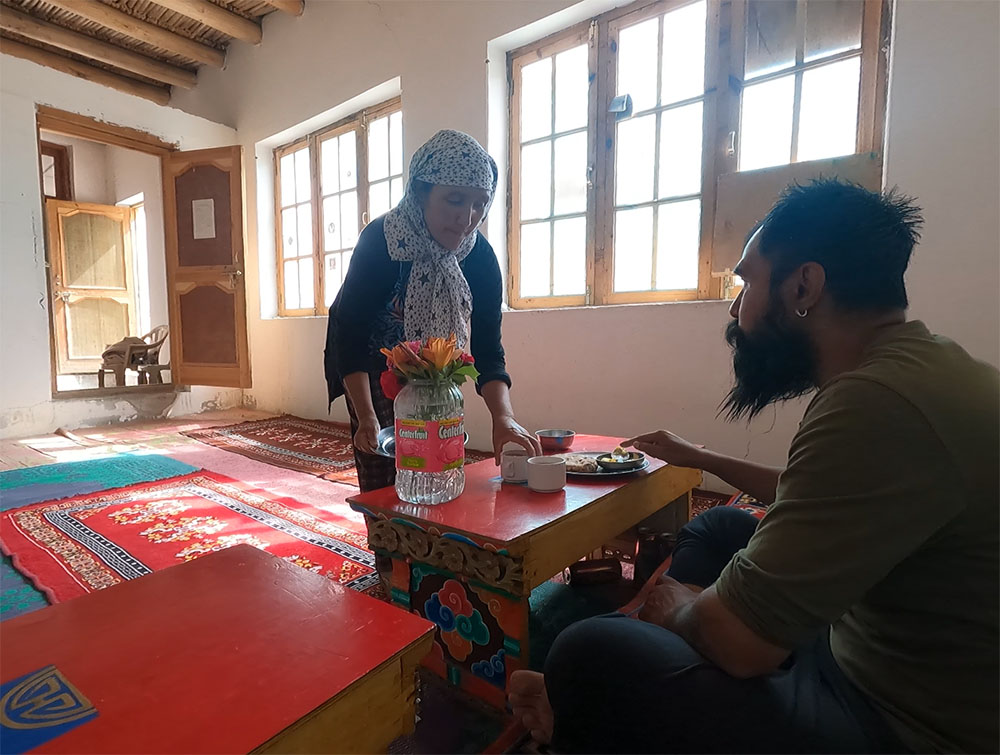 There is nothing fancy here though, just tea, Maggie, snacks, and some bread. We ordered a couple of cups of tea and Khambir –  a local bread that was served with some homemade butter.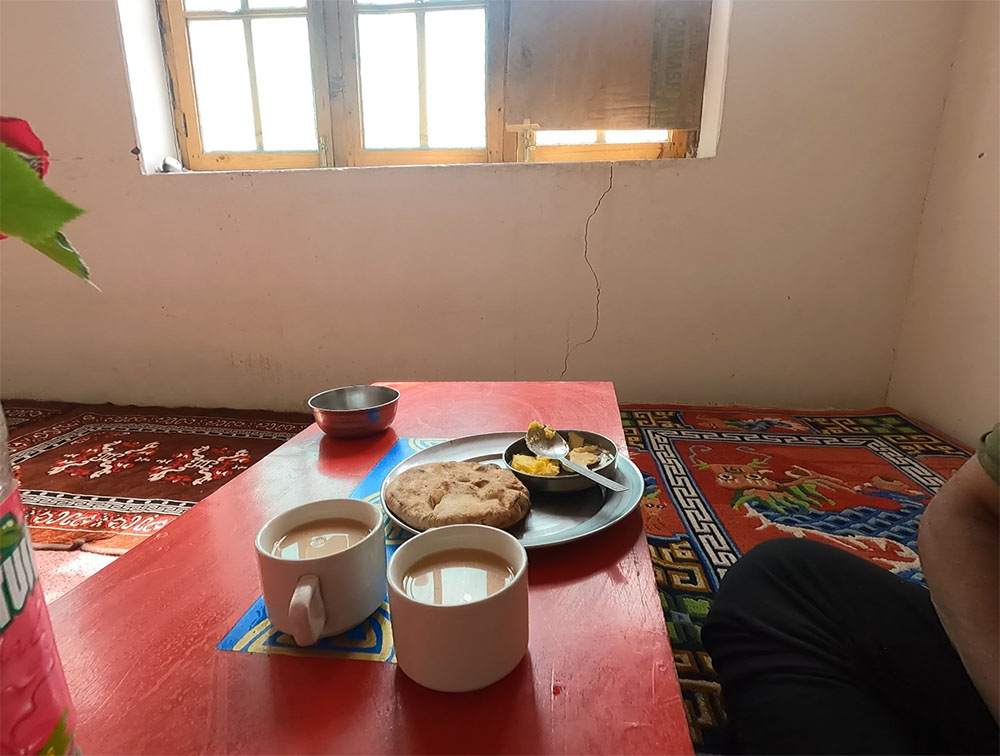 One thing that you should know is that there could be a language problem. The ladies that run the restaurant do not speak Hindi or English and it took some effort to communicate with them. We were having trouble explaining to them what we wanted to eat and there was confusion even while we were paying them.
The second thing to keep in mind is that there is an entry fee to go into the hot water spring area. It doesn't matter whether you take a bath or not but you will still have to pay Rs. 30 per person to go in.
Nonetheless, we took a bath, had some tea and Khambir and now it was time to move on to the next destination, Murgi Waterfall. Please click on the link above to continue reading the next part of the travelogue.
Panamik Hot Water Spring – Conclusion
I hope the travelogue, pictures, and information above on visiting Panamik Hot Water Spring in Nubra Valley were of help. If you have any questions, you can contact me on Instagram and I will happily answer. You can also consider subscribing to my YouTube channel and asking a question there.
This error message is only visible to WordPress admins
Error: No feed found.
Please go to the Instagram Feed settings page to create a feed.