Due to its high altitude and unpredictable weather, snowfall at Khardung La can happen at any time of the year. The chances of snowfall are higher between September and April but it is not limited to this period.
We experienced this change of weather at Khardung La firsthand during our recent road trip to Ladakh. The resulting snowfall made the drive difficult and led to a traffic jam at the pass due. It took us 5 hours to cover a distance of merely 40 kilometers.
It was the 29th day of our trip when we were to cross Khardung La and reach Nubra Valley from Leh. In Nubra, we had a stay planned for 4 days to see everything that there was to see in the valley. To read the previous parts of the travelogue, please follow the links below.
Journey So Far:
It was not my first time in Ladakh or in Nubra Valley either. So I had an idea about the road conditions, the pass, and the overall journey.
What I failed to anticipate though was the massive traffic that builds up on the Khardung La road these days. Below is a video of our journey on this day that you can also take a look at.
Day 28 – Friday –  The Night Before
The weather changed on the evening of Day 28 itself. The sky remained cloudy all day long and by evening, it started to drizzle. It was a very light spell but one look at the sky was enough to get me worried.
The road to Khardung La and the pass itself were both visible from the roof of our hotel. Standing there, I could see in the distance the thick black clouds that were engulfing the peak slowly.
This was not a good sign. I knew that if the clouds persisted and the drizzle continued, there could be snowfall at the pass. This was making me nervous.
Why? Because we were to cross the pass the next day and I had minimal experience of driving in snow. On top of it, we were not carrying snow chains either.
Due to the snowfall at Khardung La, the pass may even get closed for a day or two which would force us to postpone our plans to the next weekend, which I did not want to do.
Even if the pass did not close, fresh snowfall would mean snow on the road and risk of black ice. This would further mean that we will have to start our day a little late and could not risk driving to the pass early in the morning.
Keeping our fingers crossed and hoping that the rain would soon fade away, we went to bed on Friday night. Our hopes and prayers were to no avail though.
Also Read: How to Plan a Trip to Leh Ladakh – A Complete Travel Guide
Day 29 – Saturday – Snowfall at Khardung La
The alarm on my cellphone was set for 6 am. It went off and I got out of bed. The first thing I did was to peak out of the window and my heart sank.
It was still raining and the sky was covered with black clouds. This could mean only one thing. There will be snow at Khardung La. The temperature also dipped drastically and it was hard to believe such a cold morning in the month of June.
I knew that we will not be able to start early. To be honest, considering the cold weather, I did not even want to. So I set up the alarm again for 8 am and went to bed again.
Nothing changed in the next two hours though. I woke up again to an equally black sky like it was at 6 am. It was still drizzling. I walked to the roof of our hotel and saw that the Khardung La Peak had turned white.
There was indeed a snowfall at Khardung La the night before. We now had to make a decision about whether to go to Nubra Valley today or to postpone the plan for the next weekend and chose a different destination today.
After a bit of discussion, we decided to take a chance and start the journey at least. If we found a lot of snow on the road and the drive seemed risky, we would turn back and return to Leh.
Also Read: When is the Best Time to Visit Ladakh
Leh – Khardung La Road
We packed our bags, got ready, and drove out of our hotel at 9 am. The rain showed no sign of stopping and it continued to drizzle. Driving on the wet roads, we made our way out of Leh town.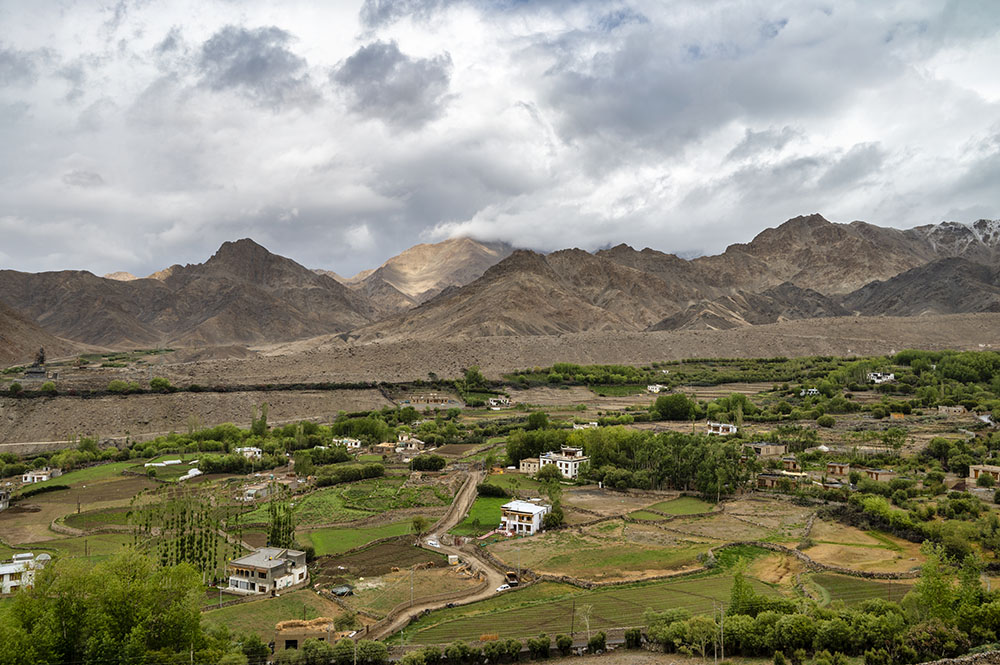 There is now a petrol pump just at the start of the Leh Khardung La road which was our first stop. We got a tankful done and resumed our journey.
A little ahead of the petrol pump was a police check post. The cops posted there waived us to stop and we were asked to show our permits.
I was a little surprised by this because usually, the first check post is at South Pullu, 25 kilometers from Leh. But now there was a check post right where the road to the pass starts climbing.
The procedure to procure the inner line permit is all online now. So there were no signed and stamped papers to submit like before. Our permits were on our phones and we showed them to the cops.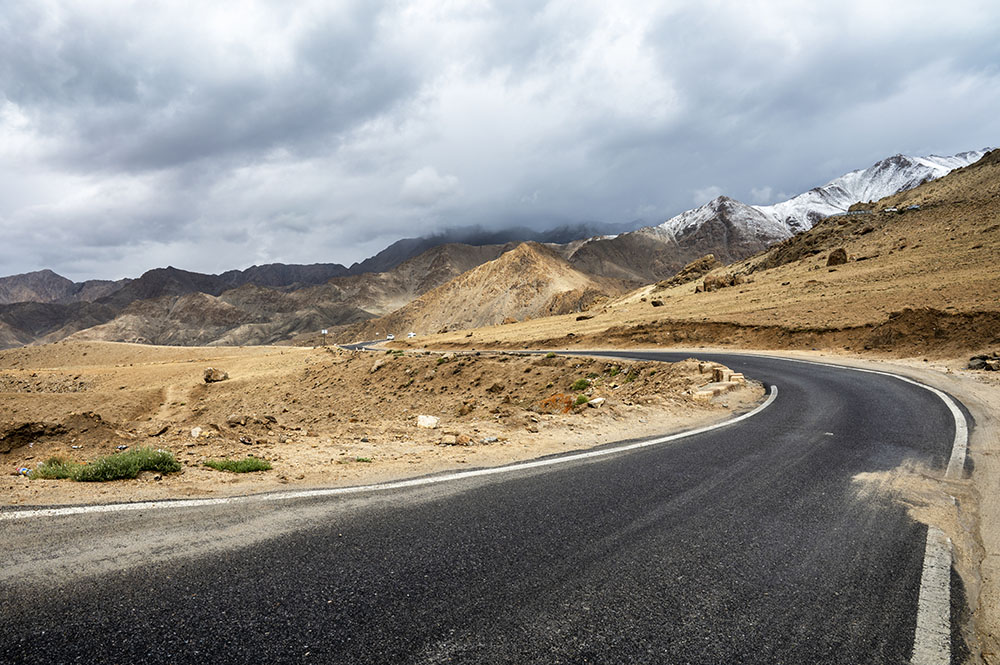 We were allowed to proceed and just as we crossed, the reason for that post made sense. There were a few locals standing there as well checking the number plates of the cars passing by.
Also Read: Where to Stay in Nubra Valley
Non-Local Taxis in Ladakh
So the thing is that non-local taxis are not allowed in Ladakh. If you rented a cab or a bike from cities like Delhi, Chandigarh,  Manali, Srinagar, or any other city for that matter, you can only use that vehicle to reach Leh.
Once you get to Leh, you will have to leave that vehicle parked at your hotel and rent another Leh-registered cab or bike for local sightseeing. Your non-local rented vehicle will not be allowed to go toward places like Nubra Valley, Pangong, Tso Moriri, or anywhere else in Ladakh.
As a matter of fact, you cannot use non-local cabs or bikes even in Leh City. You will just have to leave it parked at the hotel. This is a very serious matter and there have been incidents when the locals in Ladakh attacked the non-local rented vehicles and caused some serious damage.
In a few incidents, after the argument got heated, even some tourists got hurt. So please do not take a risk. If you rented a bike or car outside Ladakh, leave it at your hotel. Do not use it in Ladakh.
But no such restriction is applied if it is your own vehicle registered in your name. You are free to drive it around anywhere in Ladakh. Just make sure the registration is in your own name or to an immediate relative like your father, mother, or siblings.
Road Conditions
Posing with Khardung La Frog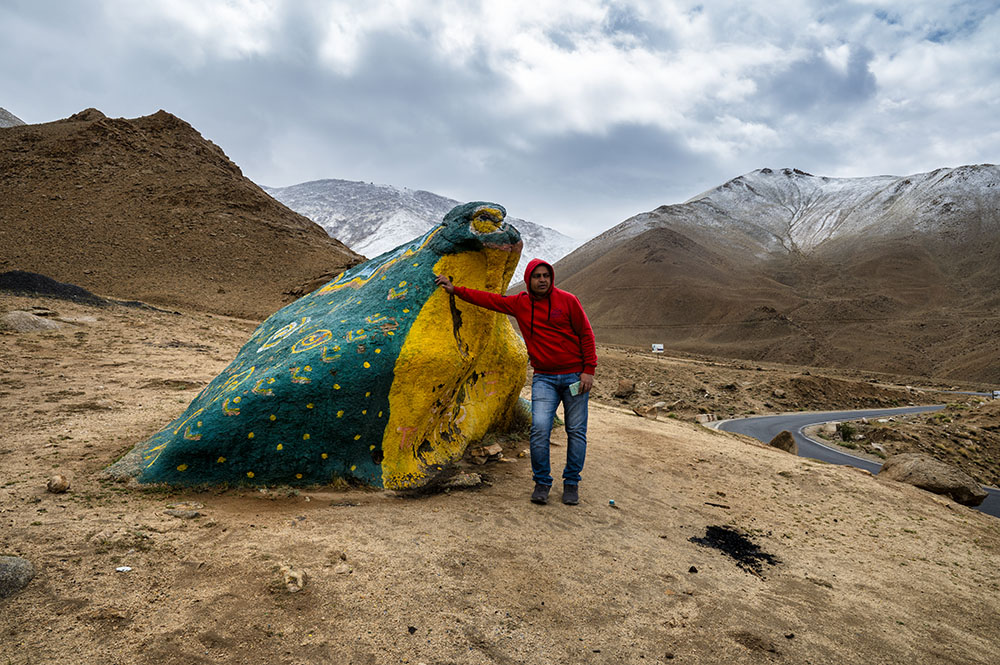 We continued our journey and after a while, I noticed a car that was coming down to Leh. It was parked on the side of the road and its travelers were busy clicking pictures of the valley and Leh town below.
I knew that they must either be coming from Nubra Valley to Leh or would have gone to Khardung La Pass early in the morning and were now returning.
Either way, they would know of the road conditions ahead and could give us an update. So we stopped and I asked them about the road ahead. What they told us got me even more worried.
They started from Leh early but could not make it to the top of the pass. There was snow on the road and due to its slippery conditions, they decided to return and turn their car around.
But what was reassuring now was the fact that the traffic was increasing by the minute. There were a lot of bikes, cars, and tempo travelers heading toward Khardung La and hardly either of those vehicles was coming back down.
So I was sure that whatever snow on the road was, it has cleared now and we should also be able to cross Khardung La and reach Nubra Valley.
Also Read: Places to Visit in Nubra Valley & Things to Do
South Pullu
The traffic that made me happy a little while ago now started to become a problem itself. It was getting dense and due to the long line of vehicles on the road, the journey was getting slower. After about an hour and a half of starting from Leh, we finally reached South Pullu.
South Pullu, also spelled as Pallu, is basically an Army and police check post. Tourists are required to stop here, make entries of their names in a register, and show permits to the cops before they are allowed to proceed further.
We followed the same routine. There were a lot of vehicles parked at South Pullu and it took us nearly 15 minutes just to get cleared to move on.
By now, we had started noticing snow on the road but it was all on the sides. The road was wet but clear. The entire landscape was covered in fresh snow and presented a beautifully white view. The snowfall at Khardung La last night made everything even more beautiful.
As we got closer to Khardung Top, traffic got denser and slower but it was at least moving. After about 5 kilometers from South Pullu, we came to a standstill.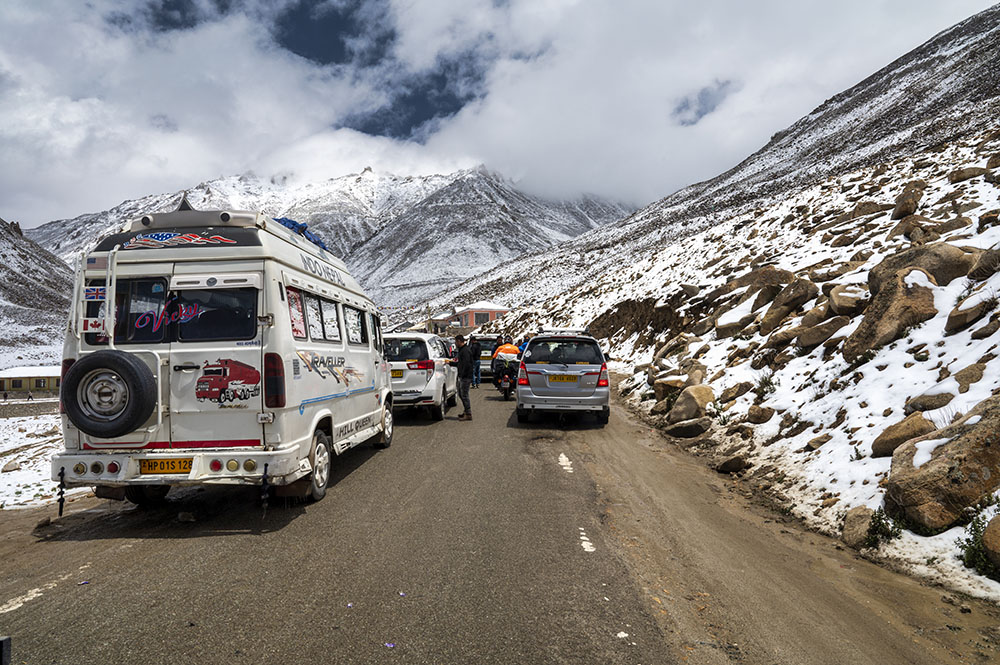 Khardung La Top
What followed after that was a painfully slow drive and a long wait. Our progress dropped down to a crawling pace due to the heavy traffic in front of us.
There is not really much to write about this part of the journey. We moved, waited, moved, waited, moved again, waited a little more – and the same thing kept repeating itself until we made it to the top of Khardung La.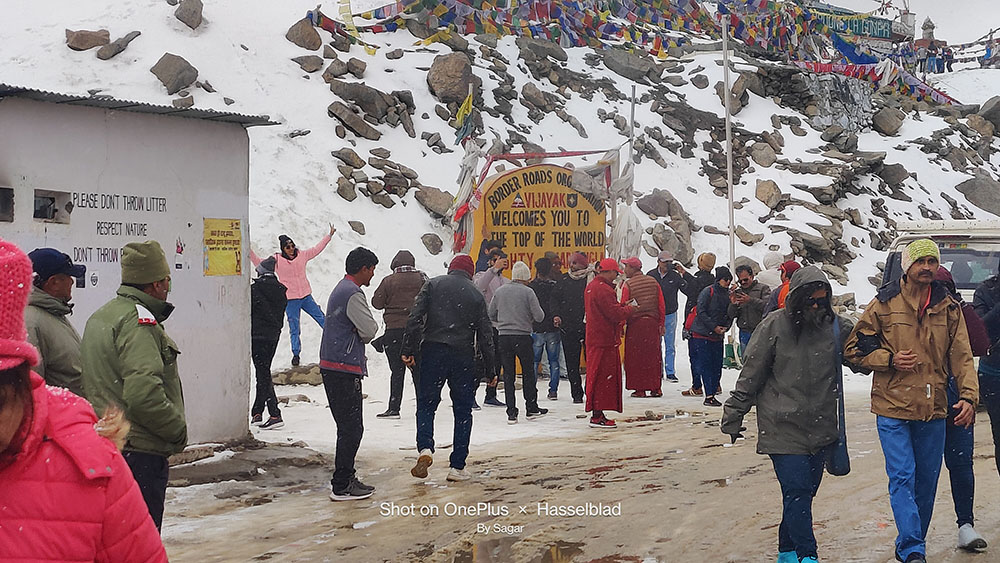 We started our journey from Leh at 9 am and by the time we made it to the top of the pass, the clock read 2 pm. Yes, it took us 5 hours to cover 40 kilometers. Such was the traffic on Leh Khardung La road.
But what was even worse was the crowded situation at the top.
There were so many people and vehicles over there that I could not find a place to even park my car. The plan was to take a break at Khardung La, get something to eat in the restaurant there, and click some pictures.
But this seemed impossible. The place was crawling with people and there was absolutely no way that I could park my car anywhere. We waited for a minute or two, had a look around, and decided that it was best to just move on and not stop there.
North Pullu
While I was driving and navigating my way through the vehicles and people, my friend Lavish got down and clicked a few pictures.
We continued driving and a pleasant surprise awaited us. The moment we got to the other side of the pass, it started to snow which made the drive even more pleasant. We were now witnessing snowfall at Khardung La and enjoyed it to the fullest
Thankfully, the traffic also dispersed. The condition of the road deteriorated a little but it was nothing troublesome. After an enjoyable drive with a few breaks in between, we reached North Pullu at 3 am.
Like South Pullu, North Pullu is also an Army and police check post. Until a few years ago, tourists were required to stop and submit their permits here as well. But now, it is just a stopover point where tourists take a break.
We also took a short break at North Pullu to get some much-required tea and then continued our journey again. The tar from the road vanished and it into a dirt road entirely.
But since the road was not broken, the drive still remained a smooth one and we were able to maintain a decent enough speed.
Also Read: Clothes for Leh Ladakh Trip – What to Pack
Khalsar
We crossed the villages of Khardung and Khalsar on the way and finally reached the point where the road to Nubra Valley bifurcates into two. There is also a petrol pump at this junction.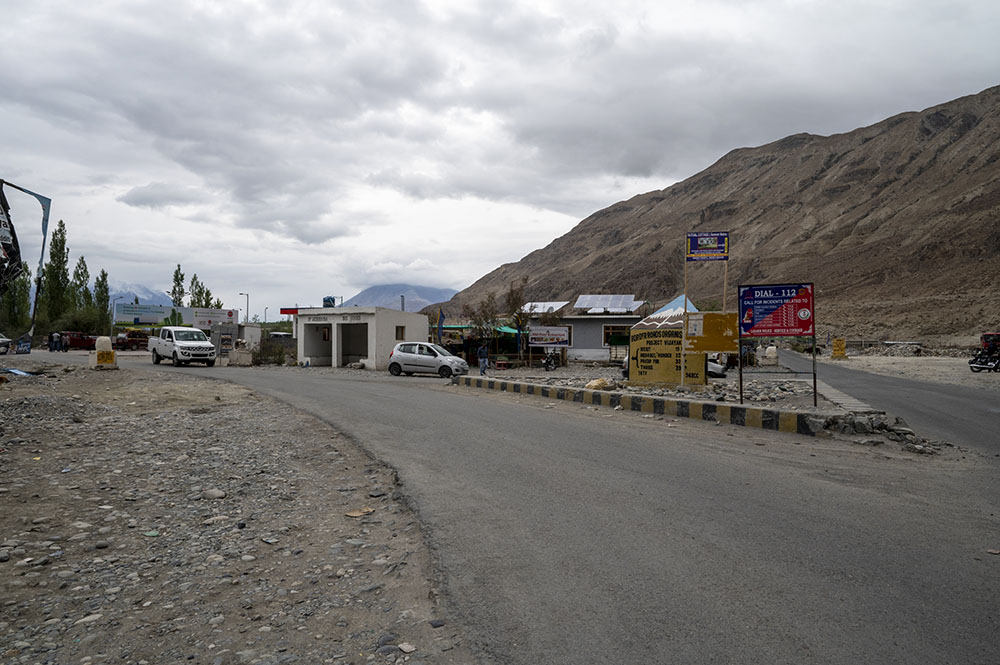 On both sides of the Shyok River, one road leads to Diskit, Hunder, and Turtuk, and ends at Thang, right at the border. The other road, which runs on the other sides of the Shyrok River, leads to Sumur, Panamik, and Warshi, and then ends at the Siachen Base Camp.
Our plan for this day was to go to Hunder and stay there for the night. The next day, were to visit Turtuk and Thang Village.
We first stopped at the petrol station and got a tankful of Diesel. After that, we pretty much drove non-stop. We crossed Diskit on the way and reached our guest house in Hunder by 7.30 pm.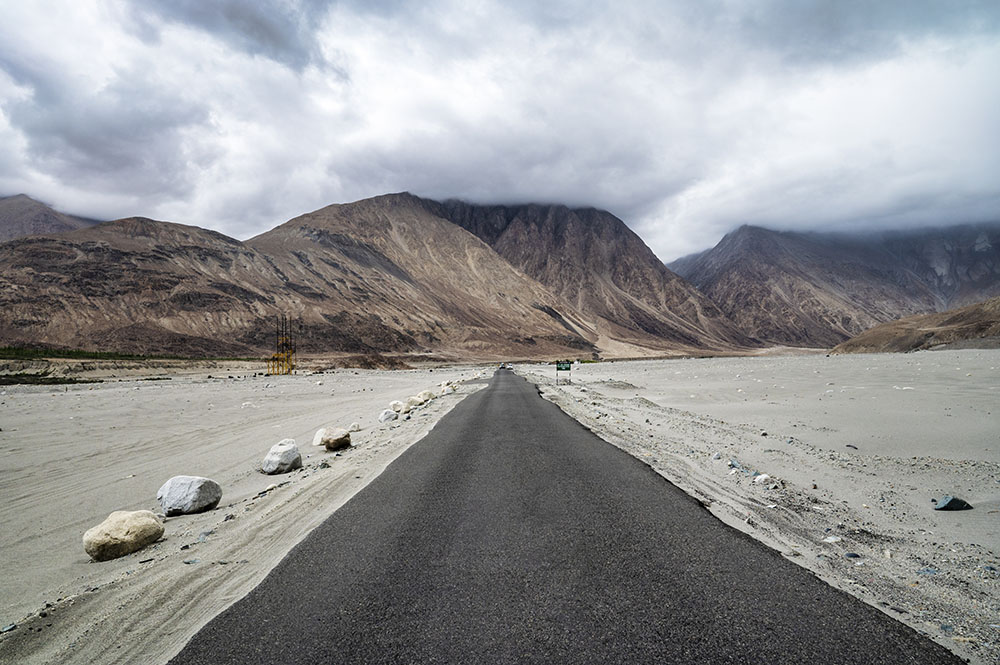 Hunder Sand Dues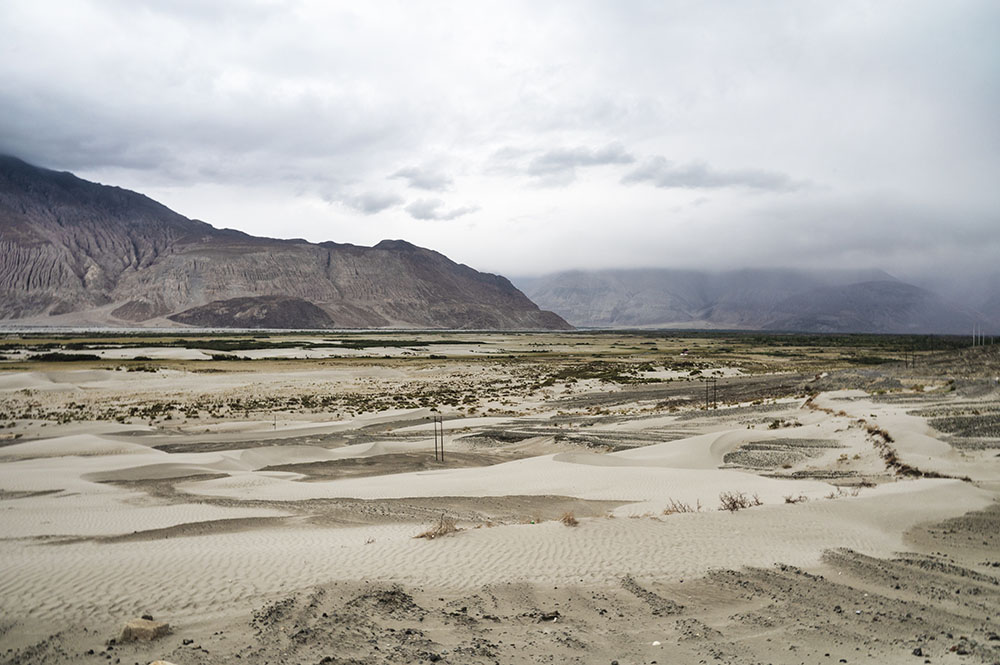 Shacho Guest House – Hunder
Our stay was booked in the Shacho Guest House of Hunder. It was on the outskirts of Hunder which worked well for me. The guest house was decent enough with beautiful and silent surroundings.
The distance between Leh and Hunder is merely 125 kilometers. But all thanks to the traffic at Khardung La, it took us nearly 11 hours to complete this journey.
So word of advice is that if you are traveling during the peak tourist season, in May and June, make sure that you plan your journey accordingly. There will be traffic at Khardung La Pass and it will surely take you some time to complete the journey.
The same is the case if the weather was bad and if there was a snowfall at the top of the pass. When you plan on traveling between Nubra Valley and Leh via Khardung La, estimate a travel time of 7 to 10 hours at least and plan your day accordingly.
We were too tired by the time we reached Hunder. The long wait in the traffic and the slow drive had taken its toll and we were in no condition to do anything else but to sleep.
The dinner was served at the guest house at around 8.30 pm. It was simple food but delicious enough and was included in the overall daily fare that we paid.
With our bellies full, we returned to our room and called it a day. The plan for the next day was to go to Turtuk and Thang Villages. Please click on the link above to continue reading the next part of the travelogue.
Snowfall at Khardung La – Conclusion
I hope the travelogue, pictures, and information above on snowfall at Khardung La were of help. If you have any questions, you can contact me on Instagram and I will be happy to answer. You can also consider subscribing to my YouTube channel and asking a question there.
This error message is only visible to WordPress admins
Error: No feed found.
Please go to the Instagram Feed settings page to create a feed.