Phyang is a village located at a distance of about 20 kilometers from Leh City. It is best known for its scenic location and a monastery that is considered to be one of the earliest monasteries of Ladakh. Also spelled as Fiang,  Phiyang, and Phayang, it is also one of the largest inhabited villages of Ladakh.
Phyang is one of those places that are still not affected by the increase in tourism in Ladakh. Not many people visit here which makes it perfect for someone wanting to spend some time away from the crowd.
The entire setting of the village in a south-facing valley is very charming. There are a couple of basic guesthouses, homestays, and a campsite where tourists can find accommodation for the night.
We visited Phyang Village and Monastery during my recent two-month-long road trip to Leh Ladakh. The post below provides a brief narration of our visit and other details about the village. To read the previous parts of this travelogue, you can follow the links below.
Journey So Far:
Below is a short video of our visit. You can take a look at it and decide whether you should include Phyang Village and Monastery in your itinerary or not.
How to Reach Phyang Village
Phyang Village is located at a distance of about 20 kilometers from Leh. The condition of the road is smooth and the drive should not take more than 20 to 30 minutes at most.
To get here, you will have to start driving on the Srinagar Leh Road towards Kargil. After about 14 kilometers, you will notice a large and colorful stone gate to your right.
There is also a board on the main highway marking this spot as the road to Phyang. Turn right through the gate, drive for another 6 kilometers and you will arrive in the village.
There is no public transport on this route though. You will either need to travel in your own vehicle, or in a private taxi. You can also consider renting a bike in Leh for local sightseeing.
Leh to Phyang Village
This was the 27th day of our trip when we went to Phyang Village. As per the original plan though, we actually wanted to visit the Leh War Memorial on this day, and visiting Phyang was something that just happened.
We started from our hotel a little too late on this day, around 1 pm. The idea was to go to the war memorial, spend a couple of hours there, visit Zorawar Fort after that, and come back to the hotel.
When we reached the War Memorial, we were told that it was closed for lunch and will not open until 2.30 pm. We were not too eager on waiting for that long and decided to pick another place for sightseeing that day.
This is how Phyang came into the picture. We were already at the gates of Leh War Memorial and Phyang was another 14 kilometers from there. So we gave up Leh War Memorial for another and continued driving ahead to Phyang Village.
Also Read: How to Plan a Trip to Leh Ladakh – A Complete Travel Guide
Phyang Village
The road, as I mentioned, was super smooth and it hardly took us 20 minutes to get to the village with a couple of photography breaks in between.
There were two things that I noticed about the village. The first was that it was surrounded by a lot of trees on all sides. There was a lot of greenery around which is hard to find in Ladakh anyway.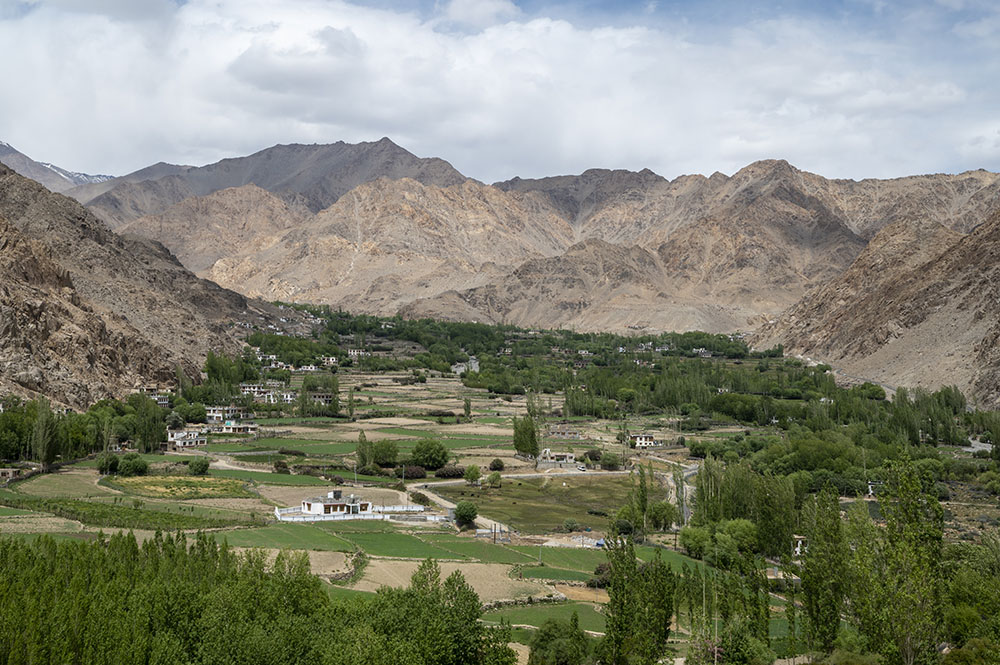 The second was its peaceful setting. There were absolutely no tourists around, just a few locals going on with their daily lives. The only sound that we heard was either our own or of the wind.
We drove around in the village, click a few photographs, shot some videos, and headed toward the prime attraction of Phyang – The Phyang Monastery.
Also Read: Clothes for Ladakh Trip – What to Pack
Phyang Gompa
This monastery sits at the top of a small hill overlooking the village. It is a large structure that is visible from the highway itself actually. So navigating and finding our way to the monastery did not prove to be difficult at all.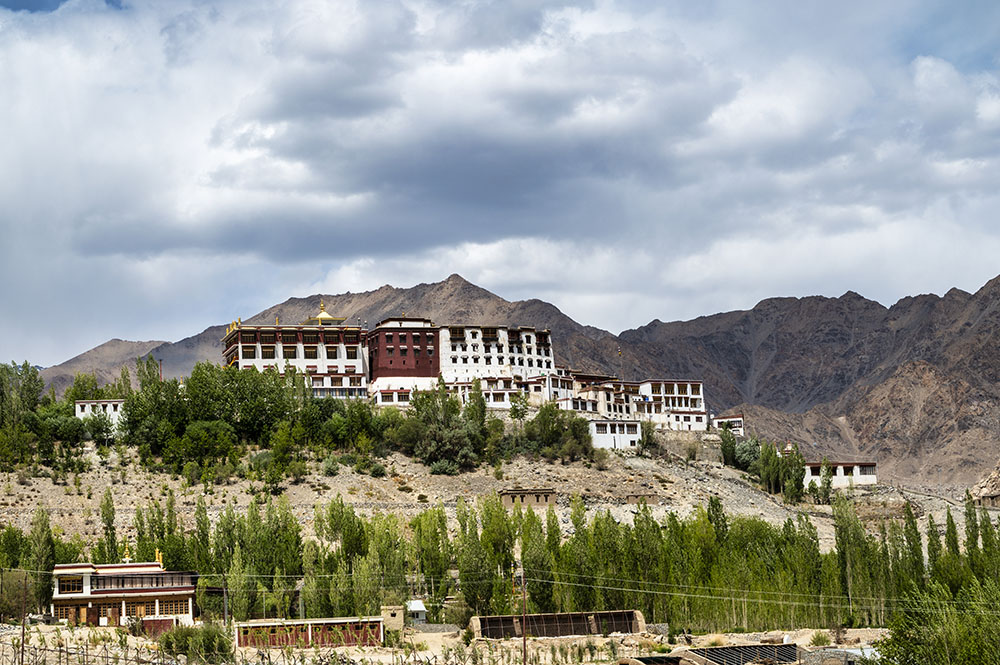 When we arrived at the monastery though, we found it locked. This was happening to us way too often and I knew the reason behind it by now. We reached here at noon and most of the monasteries in Ladakh are closed at this time for lunch.
We walked around for a while, trying to find someone who would let us in the monastery but we saw no one. After about 15-20 minutes, just when we were thinking about leaving, we noticed a Lama and he opened the doors for us.
Exploring the Monastery
The local name of Phyang Monastery is Gangon Tashi Chodzong. The name is derived from Gang Ngonpo which means blue mountain, referring to the hill behind the monastery.
The monastery is divided into two structures. The first one is the old monastery that has paintings and thangkas believed to be over 700 years old.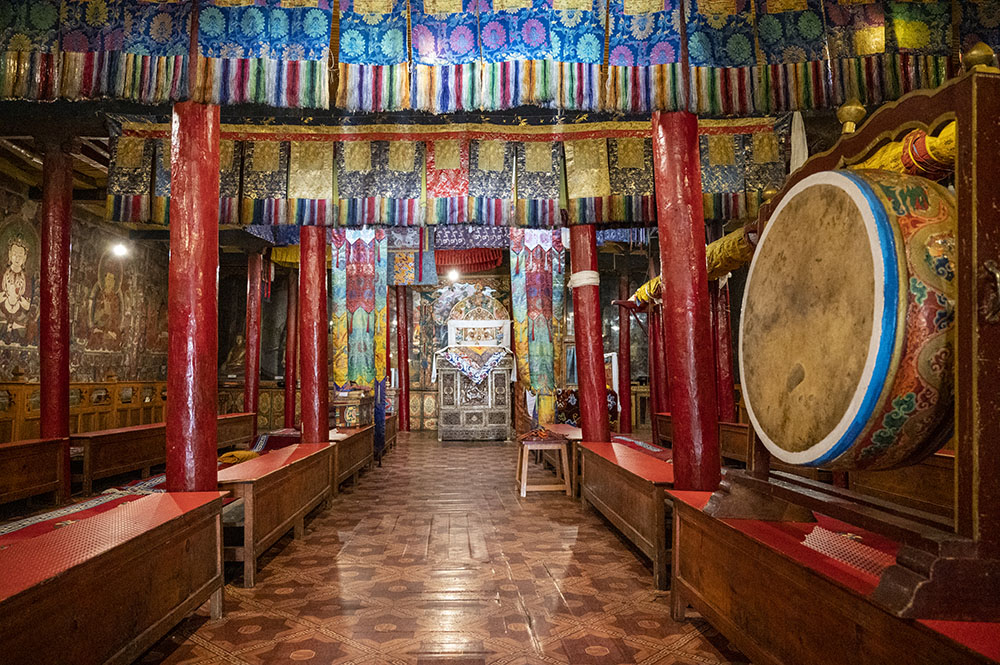 The walls of this monastery are covered in ancient paintings. Talking to the Lama who was showing us around, we found out that these paintings are never recolored or even touched. They are preserved in their existing form because recoloring the paintings would just ruin them.
There are cracks in the walls of the old monastery but even they are not repaired to make sure that the paintings do not get ruined. The prayer hall only has yellow lights because it is believed that it helps preserve the paintings.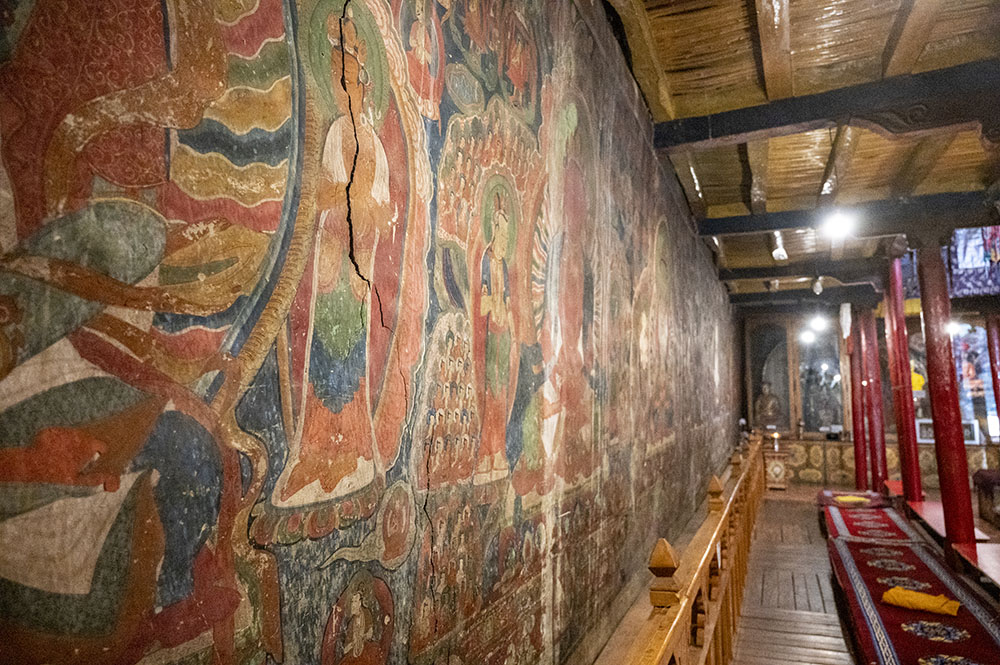 The second structure is the new monastery and it is a beauty in itself. Like the old monastery, even this one is covered in paintings entirely. In the main prayer hall is a grand statue of a sitting Buddha.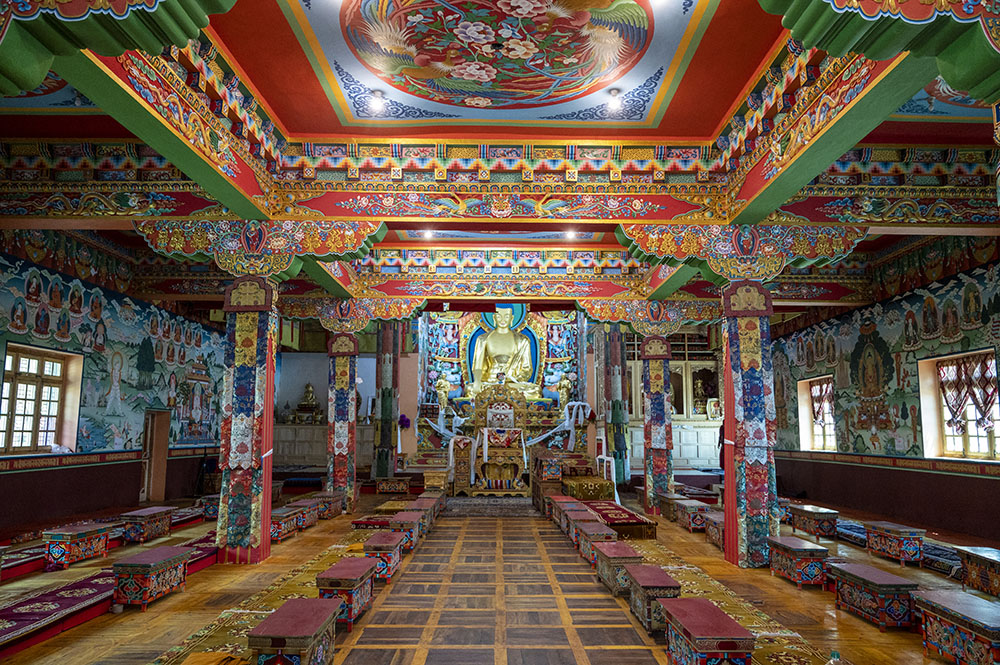 There were two interesting things that I learned about the new Phyang Monastery. The first was that the paintings on the wall depict the complete life of Buddha from his birth to death.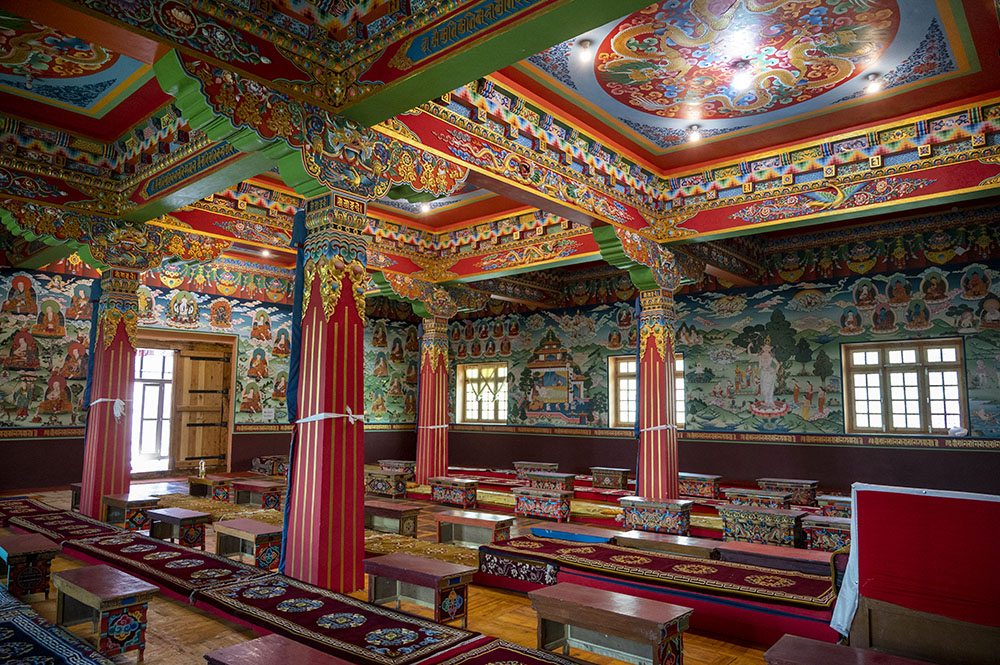 The second interesting thing was that these paintings were made by artists from Bhutan. Even the Buddha statue in the monastery was transported from Bhutan.
Phyang Tsedup Festival
Also known as the festival of Phyang, it is held in Phyang Monastery for two days either in the month of July or August.
The festival commemorates the teachings of Lord Buddha through mask dances and dramas, also known as "Chams". The victory of good over evil is celebrated during the festival and concluded on the second day with the destruction of the storma.
A pilgrimage to Thangka of Skyabje Gombo is also an important part of this festival. Another festival that is celebrated in the monastery is the Gang-Sngon Tsedup in the spring season. It is similar to Phyang Tsedup Festival.
For more details on these festivals and to know the exact dates in the year of your travel, you can take a look at Ladakh Festival Dates.
Also Read: Taxi Rates in Leh Ladakh
What to See in Phyang Village
Other than the village and the monastery, there are a couple of other places that you can see in Phyang.
There is an old dilapidated castle near the cluster of Phyang on a hilltop. Just below this castle, there is a single-room temple, Lobon, with paintings of Ladakh, known as Guru Lhakhang.
The Tokpo River is in the middle of the valley. The source of the river is small glaciers in the upper Spangkul and Lungnak valley northwest of the village at an altitude of about 5,200 m (17,100 ft). The river joins the Indus River near Phey village at a lower altitude of 3,250 m (10,660 ft).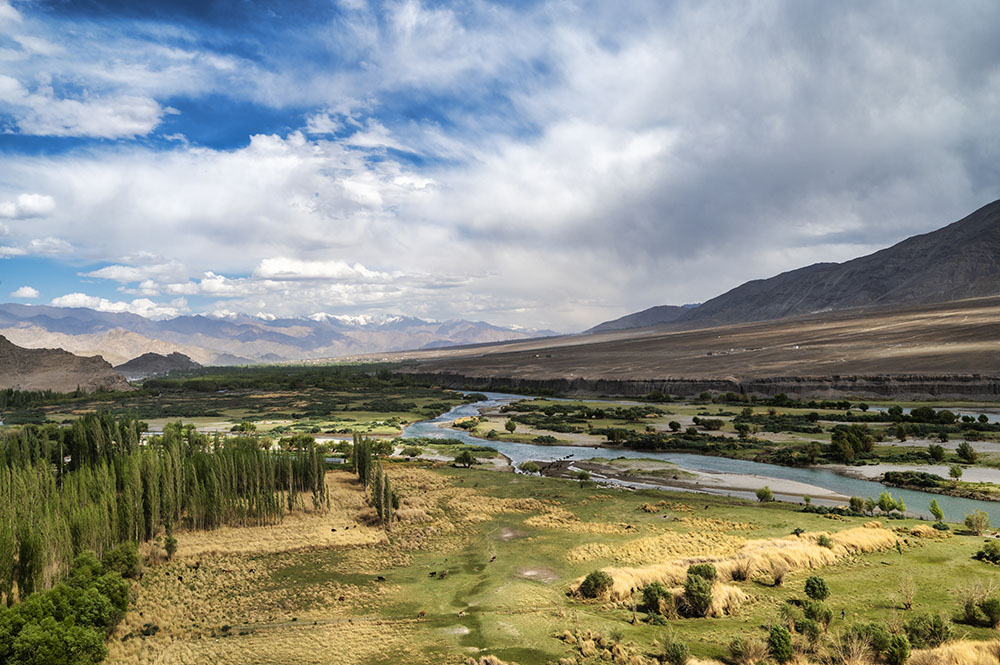 While driving to Phyang, you can also visit the Leh War Memorial on the way. After you have been to the village, you can continue driving further on Leh Kargil Road and cover Sangam Point, Magnetic Hill, and Gurudwara Patthar Sahib as well.
Phyang Homestay
Because Phyang is just a small village, there are no large hotels or guest houses here. But this place is perfect to find a homestay and spend a couple of days with a local family.
Timings
The visiting hours of Phyang Monastery are from 7 AM to 7 PM. The monastery is closed between 1 to 2 pm for the lunch break. You should try to visit before 12 noon or after 4 pm though. Because not a lot of tourists come this way, you may not find anyone to open the monastery for you in the afternoon.
Entry Fee
There is no entry fee for Phyang Monastery. I did not even notice a ticket counter there. We did not pay any money either for the monastery or car parking. If you want to donate some money on your own, you are welcome to do so.
Mobile Connectivity
BSNL, Jio, and Airtel have coverage at Spituk as long as you have a postpaid phone. Prepaid phones do not work here or anywhere else in Ladakh for that matter.
Best time to Visit Phyang Monastery
The best time to visit the monastery will be the same as the best time to visit Ladakh. The ideal time will be anywhere between May to September. In these months, the weather is favorable, roads are all open and accommodation is easily available.
You can try to keep your dates around the Phyang festival. Cham dance is performed at the monastery and people gather in large numbers to witness.
You can check the dates of the festival at this post, Ladakh Festival Dates. If you can plan your itinerary according to the festival dates, it will surely add another experience to your trip.
We spent about 2-3 hours in Phyang Village and came back to the hotel after that. The rest of the day was just spent relaxing and working and we did not visit any other place that day.
The next day, however, we went to the old part of Leh that not many tourists visit. We walked through its narrow streets and saw some historical places like Gurudwara Datun Sahib, Old Jamia Masjid, and Leh market. Please click on the link above to continue reading the next part of the travelogue.
Conclusion
I hope the travelogue, pictures, and information above on Spituk Monastery were of help. If you have any questions, you can contact me on Instagram and I will be happy to answer. You can also consider subscribing to my YouTube channel and asking a question there.