Thang is a small village located in the Nubra Valley of Ladakh. It is one among the numerous other such villages in the valley but what makes it special is its location and history. It is a village that was seized from Pakistan along with three other villages in this area as a result of the Indo-Pakistani War of 1971.
Today, it sits right next to the line of control at a distance of only about 2.5 kilometers. Also called Dhothang and Thanga Chathang,  this village is in the historical Chorbat region of Baltistan, divided between India and Pakistan by the 1972 Line of Control. The area's population is largely Balti Muslims.
We visited Thang Village during my recent two-month-long road trip to Ladakh. It was the 30th day of the trip when we traveled from Hunder to Thang and also covered Turtuk on the same day. To read the previous parts of the travelogue, please follow the links below.
Journey So Far:
Below is a video of our journey from Hunder to Thang Village that you can also take a look at. Standing in Thang, you get a clear view of the Pakistan occupied Kashmir and villages on the other side of the border.
Good Morning Hunder
It was the 30th day of our trip and a cloudy morning in Hunder. Our plan was to start the day early. Hence, despite the cold weather, we somehow managed to drag ourselves out of our blankets by 7 am.
It was drizzling for the last 2 days in Ladakh. As a matter of fact, it even snowed at Khardung La Pass when we crossed it to reach Hunder the day before.
The same weather continued this day as well. The entire Nubra Valley was under a thick cover of black clouds and there was a slight drizzle as well.
I did not mind the weather though. We knew that our journey today was going to be on mostly flat roads. There was no pass to cross today and the mild weather was just making the day even more charming.
We got ready and by 8.30 am, we were driving out of Hunder toward Turtuk and Thang. In Hunder, we were staying at Shacho Guest House. It was a beautiful small guest house located on the outskirts of the town and one that I will definitely recommend to other visitors.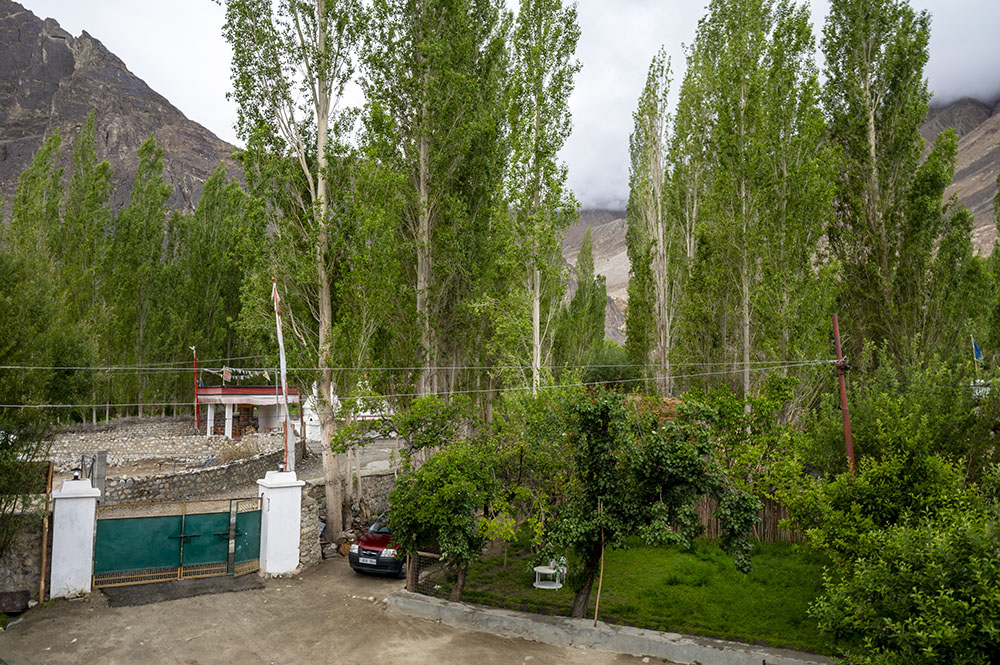 How to reach Thang Village
In order to reach Thang Village from Leh, this is the route one will have to take. The total distance covered will be about 250 kilometers and you will also have to cross Khardung La on the way.
Leh – Khardung La – Khalsar – Diskit – Hunder – Thoise – Skuru – Bogdang – Turtuk – Tyakshi – Thang
From Leh, you can try to make it to Turtuk and Thang in a single day but a lot will depend on the traffic at Khardung La Pass.
If you started from Leh by 7 am and reached Nubra Valley by 2 pm at most, you can plan to travel all the way to Turtuk to get there by 6 or 7 pm. Otherwise, it is a 2-day journey.
When we traveled from Leh to Hunder the day before, it took us 11 hours to complete a journey of 125 kilometers, thanks to the massive traffic on Leh Khardung La road.
Since we were already in Hunder, the distance we had to cover on this day was only 100 kilometers. It was not the first time I was traveling on this route and I already knew that the road ahead was smooth and in excellent condition.
My estimate was that we should reach Turtuk in about 4 hours and Thang in 5 hours at most which by the end of the day proved to be right.
Also Read: How to Plan a Trip to Ladakh – A Complete Travel Guide
About Thang
When you drive from Hunder toward Thang, you will first reach the village of Turtuk. From there, Thang is another 11 kilometers away and that is where the road ends. The village of Tyakshi falls on the way.
This entire area where the villages of Turtuk and Thang are located was claimed by Pakistan after the end of British rule in the Indo-Pakistani War of 1947. It became a part of Pakistan-occupied Kashmir and remained so for the next 24 years.
Then during the war of 1971, Under the command of Major Chewang Rinchen of Ladakh Scouts, this area was recaptured by the Indian Army. The border shifted and the three villages of Turtuk, Tyakshi, and Thang became a part of India.
Due to its proximity to the border, this region remained closed to visitors for the next 39 years, from 1971 to 2010. Things however slowly started to change with the increase in tourism in the last decade.
Ladakh started receiving hundreds of thousands of tourists each year but none of them was allowed to travel beyond Hunder. The villages of Turtuk, Tyakshi, and Thang still remained out of reach.
Turtuk & Thang
In the year 2010, the locals of Turtuk filed a petition for the remote but scenic valley to be opened up for tourists. Their argument was that this would help with their livelihoods and better connect this region to the rest of the country.
The petition was honored and that is how the story of tourism in Turtuk began in 2010. But it took another 11 years for Thang to see its first visitor.
It was the year 2021 when Thang was also made accessible to tourists. Now, you can drive all the way to this tiny village that consists of only a handful of houses.
Standing in Thang, one gets a clear view of the Pakistan side of the border and the village located there. This very fact has boosted tourism in this region as everyone is eager to see what an actual border looks like.
Also Read: How to Plan a Trip to Ladakh with Children
Hunder to Turtuk
We started from our hotel in Hunder at 8.30 am. It was drizzling when we started but a few kilometers after Hunder, the weather cleared and it was all sunny and sky.
It was a leisurely drive. We crossed Thoise, which is an Army transit camp, and a few kilometers from Bogdang, we reached an Army check post.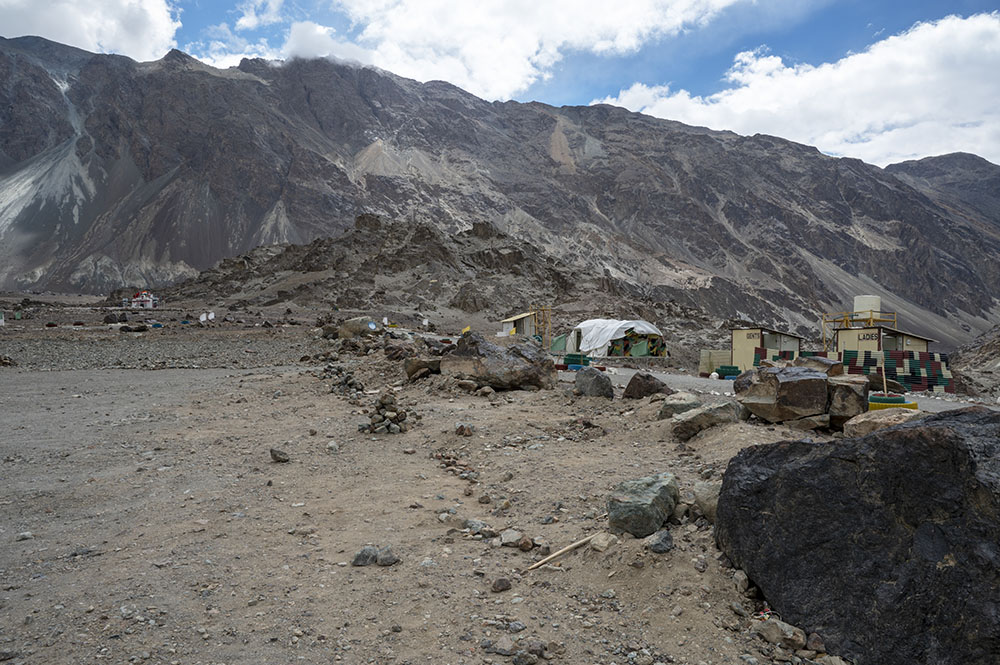 We were asked to stop and register ourselves there which we did. Our permits were validated and we were allowed to proceed further. Right next to the check post though, there was an Army canteen where we could not help but stop to get something to eat.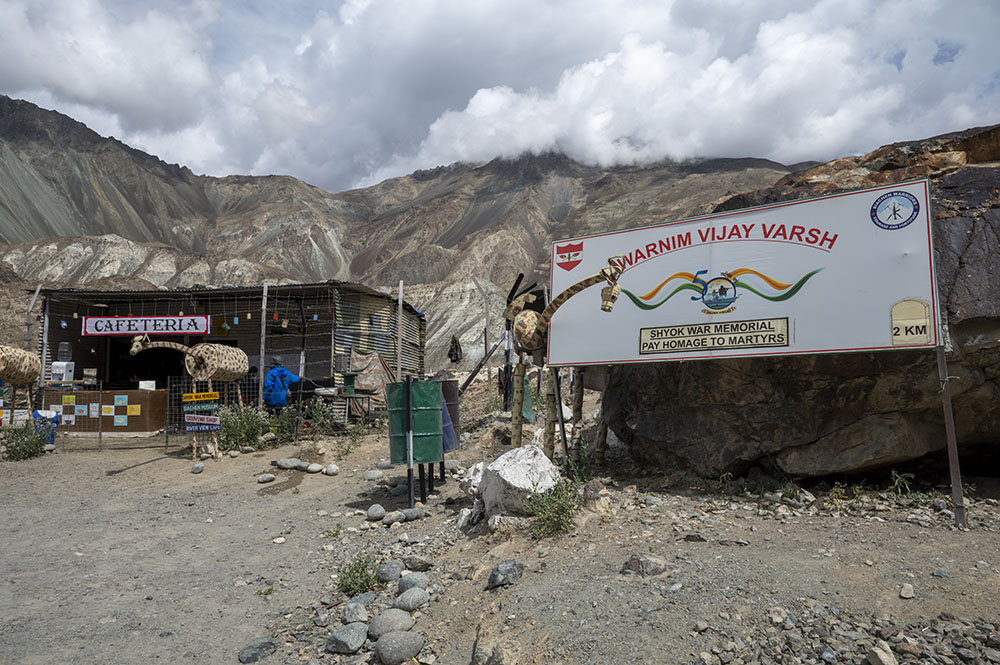 There are no eateries or dhabas on this route anywhere. After Hunder, this Army canteen was the first one that we came across and I fell in love with it almost immediately.
The vibe of the place was amazing. It just felt so alive with loud music, laughter, and chatter of the army men posted there, busy cooking so many delicious items.
It was hard to believe a place like this in the middle of nowhere. The menu was vast. They had tea, coffee, juice, Samoas, kachori, soup, maggie, omelet, jalebi, and several other items – all cooked by the army men sitting inside the small kitchen.
I think we spent about 30 minutes sitting there, just eating and relaxing. Finally, after our bellies could take no more, we left the place and continued our journey.
Also Read: How to Plan a Journey on Agham Shyok Road
Shyok War Memorial
2 kilometers after the canteen was the Shyok War Memorial where we stopped again. Tourism in this region is a new thing but it is gradually gaining pace. The number of tourists increases with each passing year and even the Army is making efforts to promote tourism here.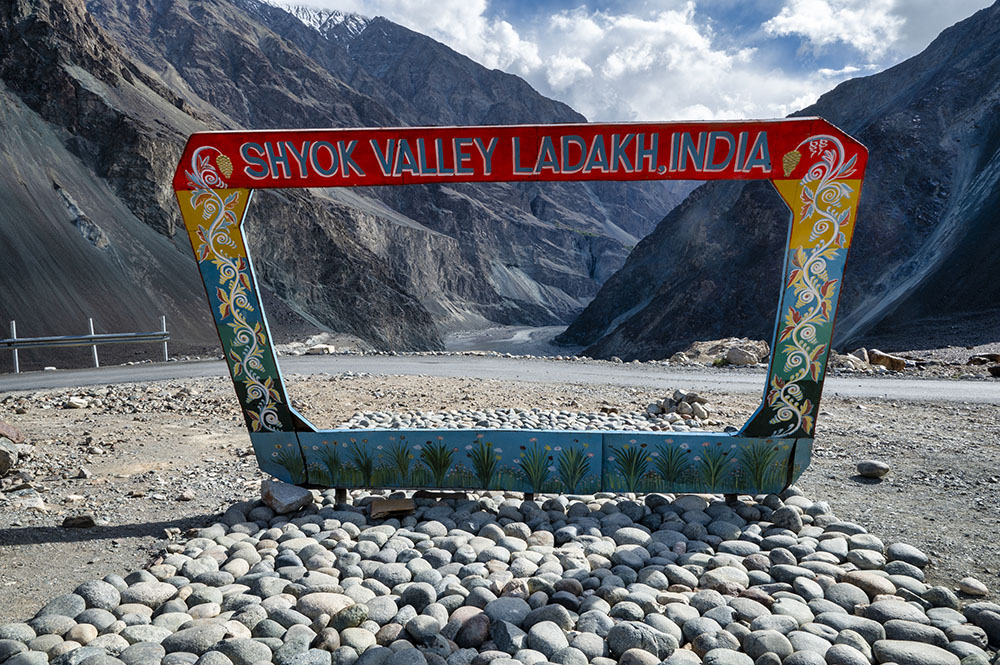 Shyok War Memorial is another step in that direction. It is more like a war memorial as well as a museum. Inside the complex, there are old gypsies, trucks, and several other old items used by the Indian army on display.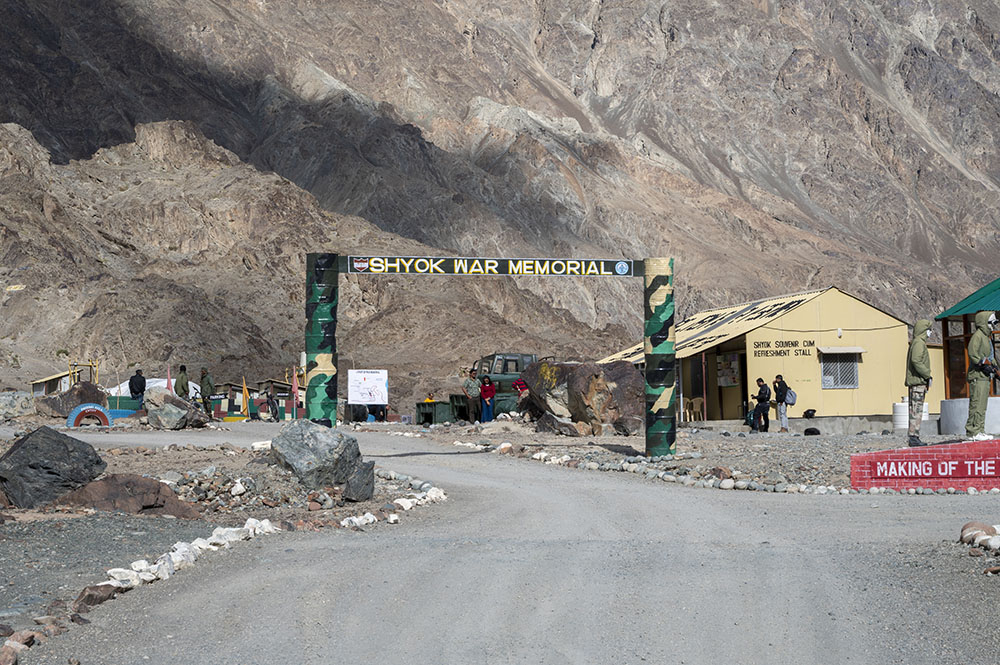 We parked our car and were just walking around when I noticed a souvenir shop. I could not help but to step in. What followed was an unplanned shopping of almost Rs. 5000.
There were really some great items available at very reasonable prices. I bought a couple of Army T-Shirts, a hoodie, a mug, a wall clock, caps, and some other trinkets. After spending another 30 minutes at the war memorial, our journey continued.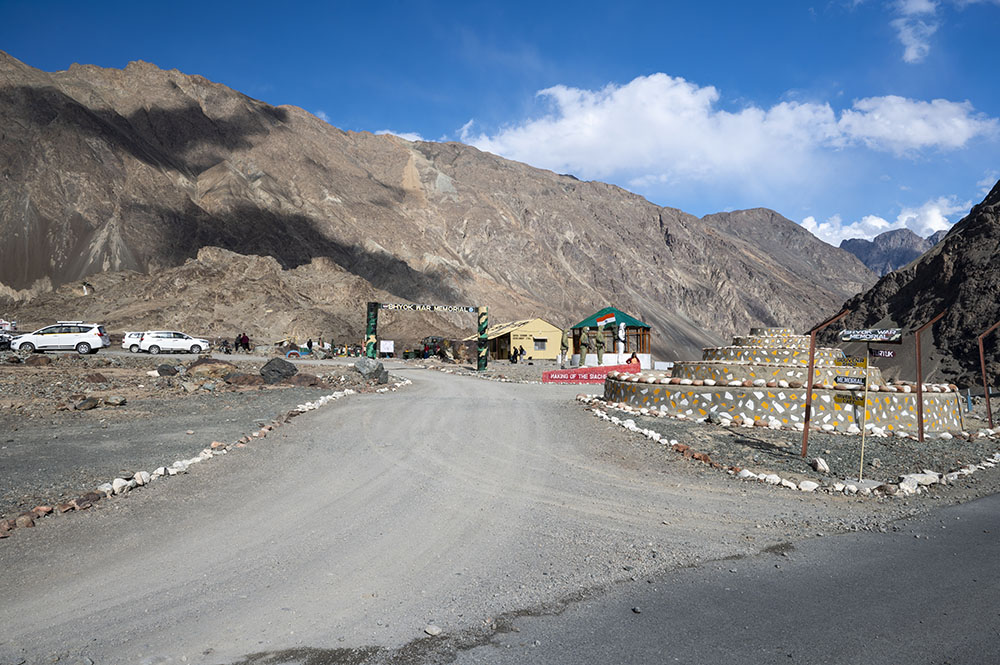 The condition of the road on this entire stretch is excellent. There are a couple of bad stretches in between but for the most part of it, it is a tarred and smooth road and the journey remains enjoyable.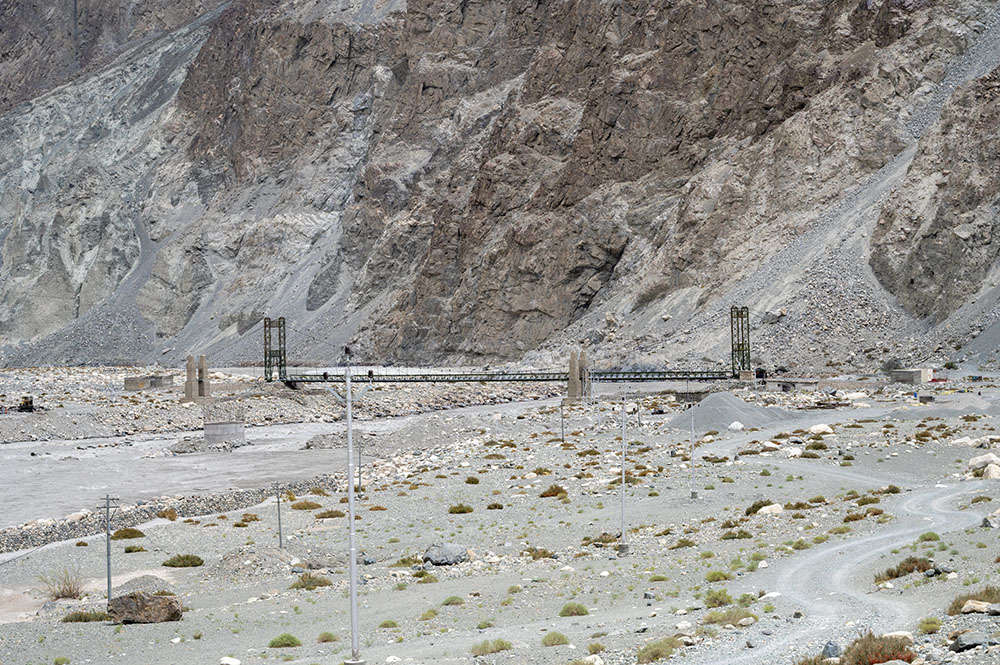 There is no steep downhill or uphill climb on the way. For the entire distance, you travel right next to the Shyok River. We started from Hunder at 9 in the morning and after a drive of 4 hours, We finally reached Turtuk Village at around 1 pm.
Tyakshi
Turtuk Village is divided into three parts. The first part is Chhutang located right on the main road. The other two parts, Youl and Farol are located at an altitude and are accessible by foot only.
To get there, you have to turn left from the main road and drive uphill for about 2-3 kilometers. Then you will have to leave your car where the road ends and walk a little bit to reach those two parts of the village.
We reached Turtuk and started thinking about what to do next. Should we stop and explore Turtuk or continue driving to Thang first and cover Turtuk on our way back?
We decided to go to Thang first, spend some time there, visit Turtuk Village on our way back, and reach Hunder by evening. So we continued driving along the Shyok River for the next 4 or 5 kilometers and we finally reached Tyakshi Village.
There is an Army check post in Tyakshi where you have to stop, make entries of your names in a register, and show your Aadhar Card before you are allowed to proceed.
The road after Tyakshi was in good condition initially but it starts to deteriorate as you get closer to Thang. When you reach Thang Village, where the road ends, it turns into a badly broken dirt road.
Also Read: How I Traveled to Leh by Public Transport
Thang Village
Nonetheless, after a journey of about 100 kilometers in 5 hours, we finally reached Thang – The last village on the Indian side of the border, located right along the line of control.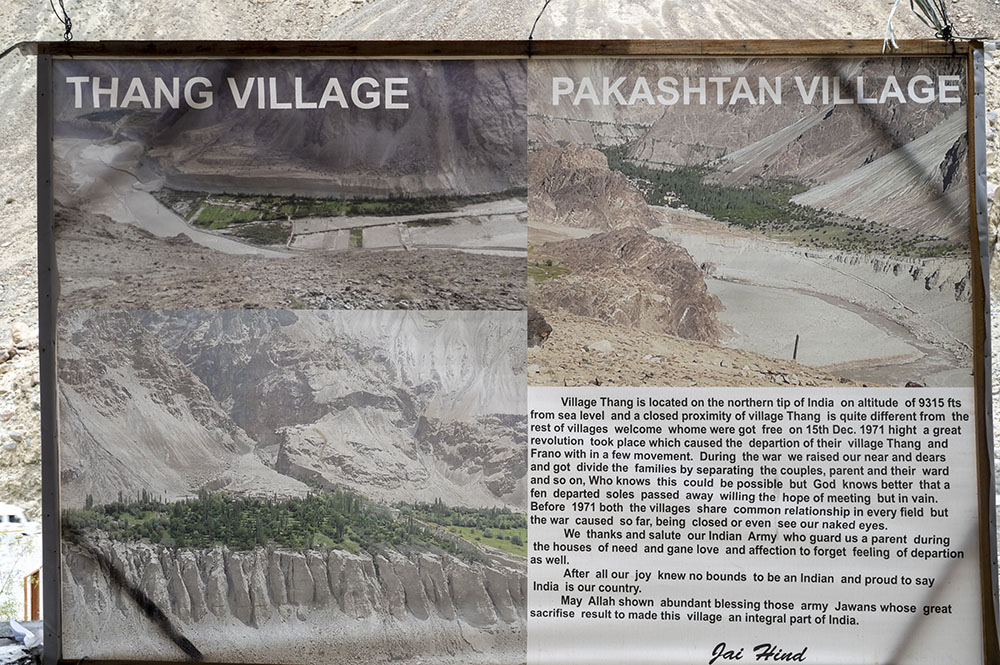 It was hard to describe our feelings while we stood in that small village. There was really nothing there, just a handful of houses, a couple of eateries, and a lot of tourists.
The locals were definitely happy with the tourism because it provided great support to their livelihoods. The entire village, though small, just felt so alive with so many cars and people moving around.
In fact, there is a LOC viewpoint where the locals would let you use a Telescope to get a glimpse of the Pakistan side of the village. All the tourists seemed so excited to go to the border viewpoint and get a closer look at Pakistan.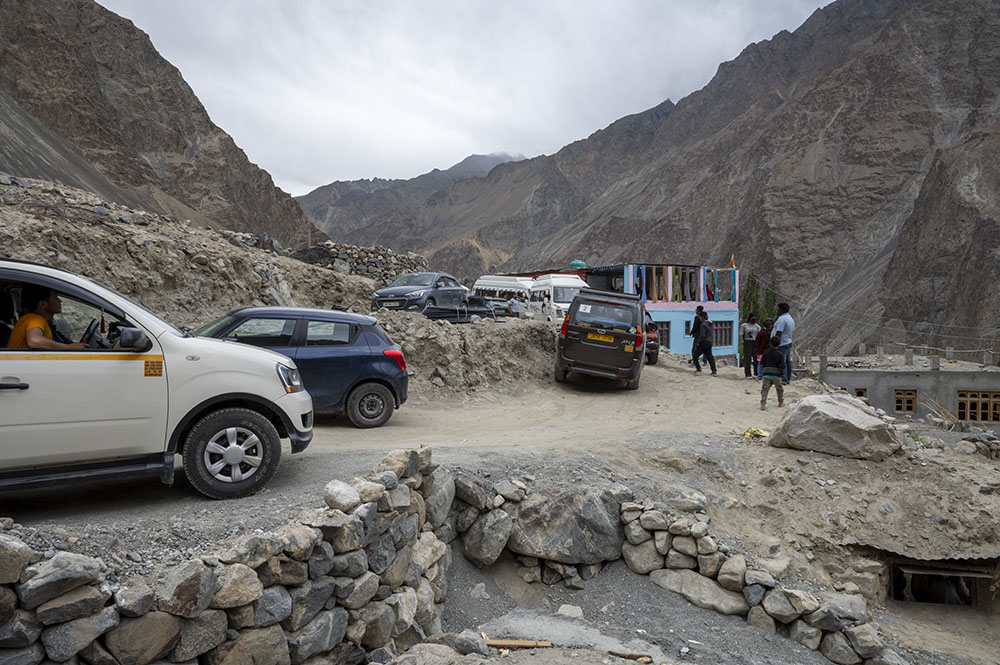 When you are in Thang Village, you are literally at the Line of Control between India and Pakistan. From there, you get a clear view of the Pakistani side of the village.
See that small patch of greenery at the far end in the picture below? That is Pakistan.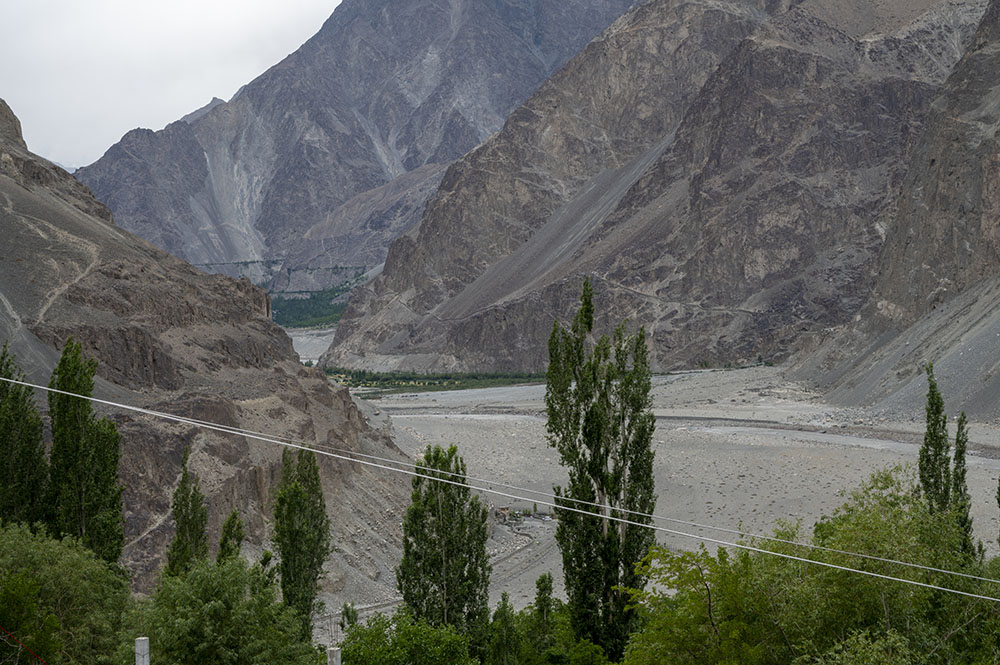 Shyok River here is what defines the border. It flows somewhere between the two patches of grasses you see in the picture, at the far end. On one side of the rider is India and Pakistan on the other.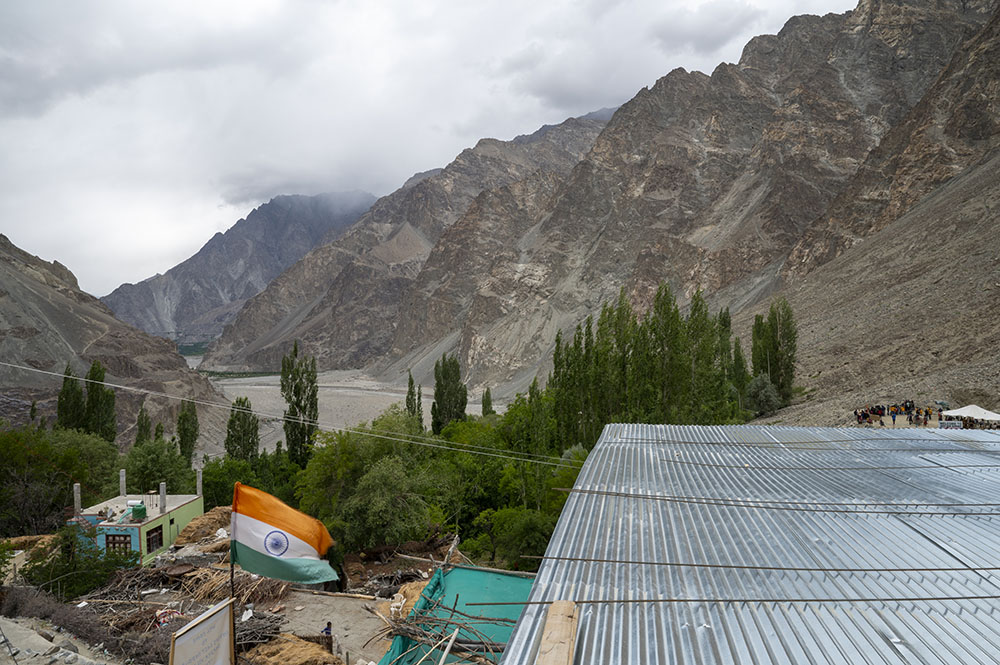 This is the point where the Shyok River flows from Pakistan into India.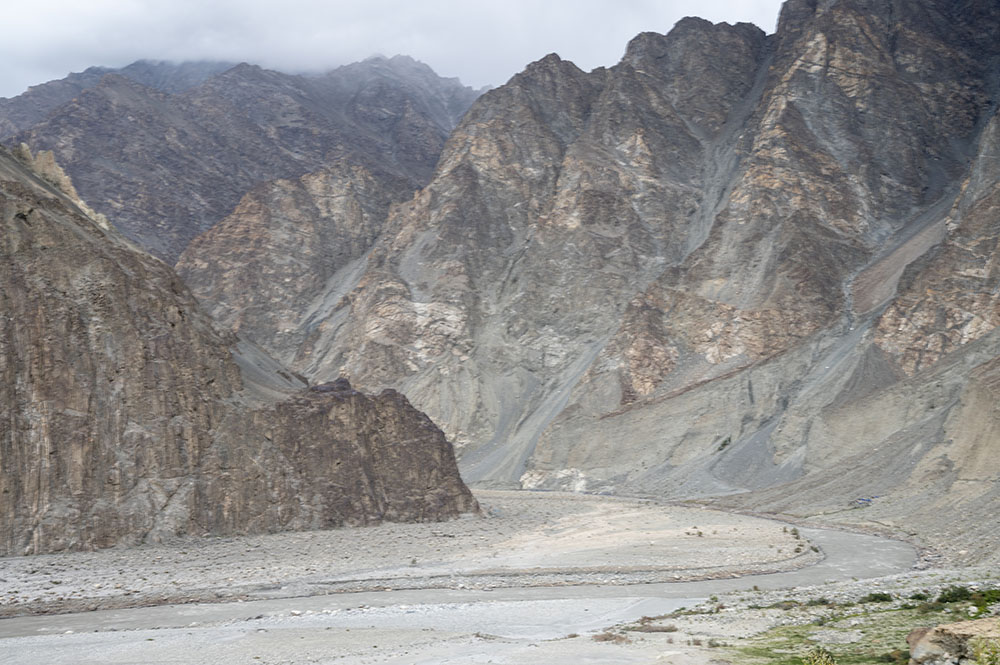 Thang & Frano Village
There are basically two villages we are talking about here. The village on the Indian side is called Thang whereas the village on the Pakistani side is called Frano.
Before the war of 1971, it was all one village. The distance is really very short and you can just walk between the two villages in 15 to 20 minutes.
After the war of 1971, the border shifted and the village got divided into two. I spoke to a few locals there and it was really sad to hear their stories.
Almost everyone in this village has relatives in the village on the other side of the border. They have no communication, no way to talk to each other because calls across the border are not allowed.
They can see the village across the border, and the people there who they know are their relatives. But they have no way to talk to them which kind of hurts, right? I mean they are families divided by the border, divided by the politics of all of it.
If you check out the video I posted above, you will hear me talking to a local man. His entire family is on the other side of the border and he is the only one in India.
His father just happened to be on this side when the war happened and he never got a chance to go back. If you talk to the locals here, you will hear numerous such stories. A line was drawn and everything changed, their lives changed. Their own families became part of a group that we consider enemies.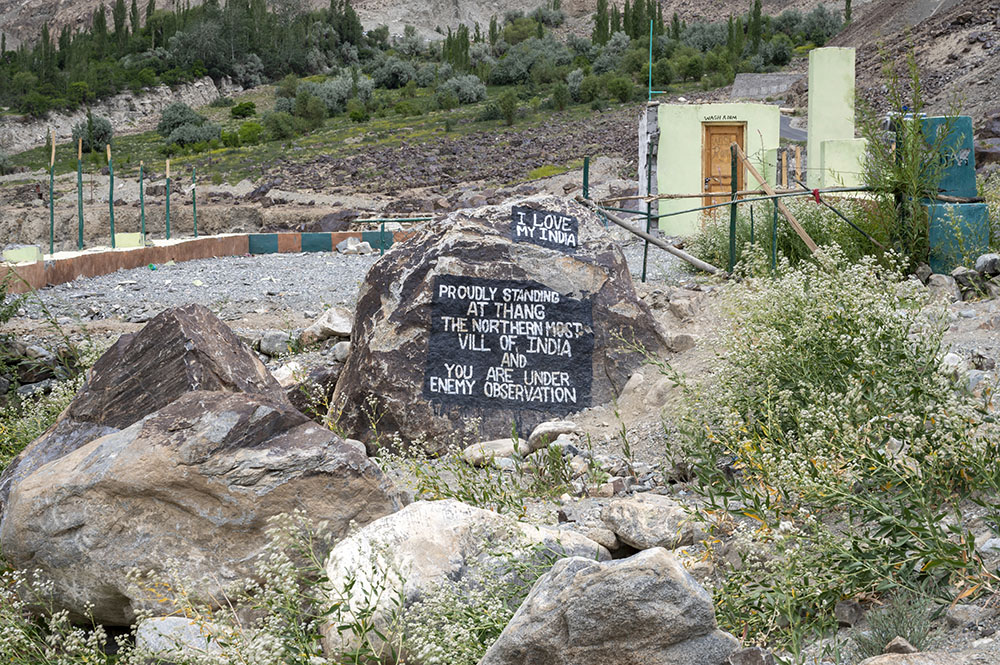 Where to Stay in Thang
As of now, there is no arrangement for a night stay in Thang Village and you will have to look for accommodation in Turtuk only.
But as the tourism here increases with each passing year, I am sure the option of homestays and guest houses will also come up in the village of Tyakshi and Thang.
Public Transport
There is no bus service available for Thang Village. By public transport, you can only get as far as Turtuk but for the journey to Tyakshi and Thang, you will either have to rent a bike in Leh or hire a private taxi.
A Bus for Turtuk leaves Leh every Saturday at 6 AM. Fare per person is Rs. 350. This bus will pass through Khardung La, Khardung, Khalsar, Diskit, Hunder, and Thoise.
The problem, however, is that this Bus is only once a week, on Saturdays. So if you cannot similarly plan your itinerary, you cannot travel by this bus.
There is however another way that you can travel to Turtuk by Bus on any day of the week. The first thing that you will need to do is to get to Diskit. For this, you will need to first board a shared taxi from Leh Bus stand for Diskit.
The shared public taxi stand is next to the Polo ground. Most taxis leave between 7 – 8 am every morning to Diskit or Panamik. Fare is Rs. 400 per person. It is an extremely comfortable way to travel. Depending on what time you started in Leh, this taxi will drop you at Diskit by 1-2 PM at most.
There is a daily bus from Diskit to Turtuk that you can board for the remaining journey. The fare is Rs. 100 per person. This Bus will arrive in Turtuk by 6 – 6.30 PM.
Also Read: How to Travel to Ladakh on Budget by Bus and Shared Taxis
Taxi Services
A private taxi will be the most convenient, time-saving, and comfortable way to travel. You can either rent a cab from Leh for your entire tour of Nubra Valley or you can rent a cab in Diskir or Hunder to visit Turtuk and Thang Village.
Now depending on the type of cab you chose, the fare can be anywhere between Rs. 10000 to Rs. 15000 from Leh. From Diskit or Hunder, it will cost a little less.
Finding shared cabs will be tough for Thang Village. From Diskit, you may get a shared cab for Turtuk but it will be very difficult to find one that can take you to Thang.
Permits for Thang Village
Your regular ILP will work for Thang Village as well. The entire procedure for procuring the ILP is now online. You register yourself, make the payment, and download a soft copy of the permit to your phone.
You are now not required to visit the DC office in Leh to get it stamped or validated. Just carry your permit on your phone and produce it at the Army check posts on the way.
What to See in Thang Village
There is not really a lot to see in Thang Village. The only thing that you come here for is to see a village located so close to the border and the feeling of standing right next to the line of control.
The scenic drive, natural beauty, and views on the way will be next on the list. You drive through a sparsely populated region where every turn of the road will make you want to stop and click as many pictures as possible.
There are a lot of tourist attractions in the village of Turtuk though. I have talked about those in detail in the next part of this travelogue which you can continue reading at the link below.
We spent about an hour in Thang Village and finally started on our way back. It was really a great feeling standing there, talking to the locals and listening to their stories. Thang is a place that I will highly recommend to anyone visiting Ladakh. Our next destination now was the village of Turtuk.
Thang Village in Ladakh – Conclusion
I hope the travelogue, pictures, and information above on Thang Village in Ladakh were of help. If you have any questions, you can contact me on Instagram and I will be happy to answer. You can also consider subscribing to my YouTube channel and asking a question there.
This error message is only visible to WordPress admins
Error: No feed found.
Please go to the Instagram Feed settings page to create a feed.